Word of mouth marketing is when a consumer's interest is reflected in their everyday dialogue. It's a low-cost (sometimes even free) and effective marketing method.
Many businesses consider word of mouth marketing the most valuable form of marketing because it enables you to spread good reviews about your product or service to a large audience, boosting brand awareness and loyalty.
Word of mouth marketing has been successfully used by many companies to get their customers to promote their brand by talking about experiences that they'd like to share with their friends and families.
Netflix, for example, used word of mouth marketing to make binge-watching popular with its organic tagline Netflix and chill. The company promoted it on social media which became a huge success.
In this article, we'll take a closer look at how businesses have used word of mouth marketing to connect with their target audience and boost sales. Along the way, we'll share actionable tips that you can use to engage customers with your brand.
But first, let's quickly take a look at why word of mouth marketing is arguably one of the most valuable sources of advertising.
---
Why Is Word of Mouth Marketing Important?
Word of mouth marketing – also called word of mouth advertising – is a modern form of simple word of mouth. It's one of the most effective forms of advertising for boosting brand recognition and sales.
Many businesses have adopted strategies that encourage customers to talk about positive experiences with their products.
According to HubSpot, consumers discuss specific brands casually around 90 times per week! The same study also reports that around 71% of people trust consumer reviews online. In simple words, consumers trust recommendations made by family and friends.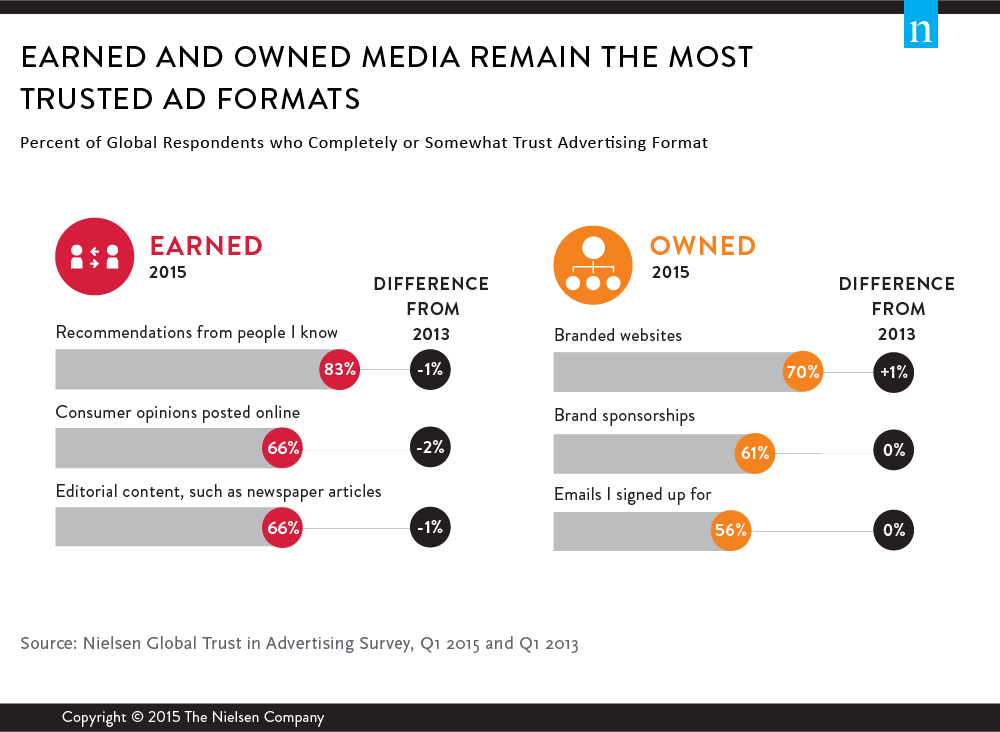 Word of mouth marketing is an honest promotion which helps you build trust with prospective customers. In fact, The Nielsen Company reports that 83% of customers trust recommendations from family, friends, and peers when making purchasing decisions. This goes to show that people don't believe advertisements to the extent they trust suggestions from family and friends.
In the context of digital marketing, user-generated content is basically a form of word of mouth marketing that enables customers to promote your brand. And one of the most effective types of user-generated content is online reviews.
This involves existing customers sharing their positive experiences with your products and services with prospective customers. According to BrightLocal, 72% of respondents say positive product reviews boost their trust in a company.
Check out our in-depth article to learn more about how product reviews increase conversions.
---
Benefits of Word of Mouth Marketing
Before we dig deeper into how you can come up with an effective word of mouth marketing strategy for your business, let's quickly step through some of the advantages of word of mouth marketing.
Instills brand loyalty
Successful businesses, whether online or brick-and-mortar – quickly realize that loyal customers lead to positive word of mouth about their product. To make the most of it, they focus more on building customer loyalty.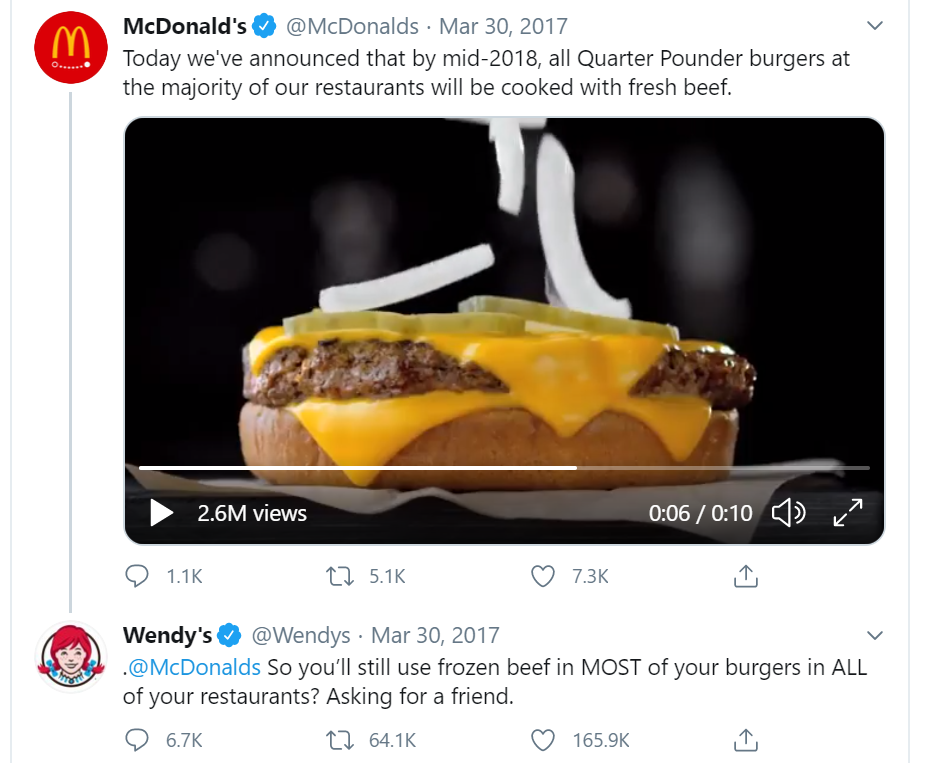 The thing is, these businesses know that while people don't always trust paid advertisements, they are much more likely to heed a recommendation by someone they trust. Trust drives consumer decisions and, in turn, sales.
Associating positive emotions with the brand through word of mouth can help differentiate them from the competition and enhance the company's brand image.
It's cost-effective
As mentioned earlier, word of mouth marketing is an inexpensive method of promoting your products and services. While businesses spend thousands (or even millions) of dollars to run TV or online marketing campaigns, word of mouth marketing is a comparatively low-cost strategy.
Moreover, it doesn't cost the consumers anything to spread the word about your company or your products. This is precisely why more and more companies are relying on their customers to share good product experiences with their friends and families.
Builds a community of brand advocates
Word of mouth marketing can help you build a community of brand advocates. This means when customers purchase your product, they tell their friends, families, and peers about it and share their experience on social platforms. These customers will likely support and vouch for your product online as well as offline.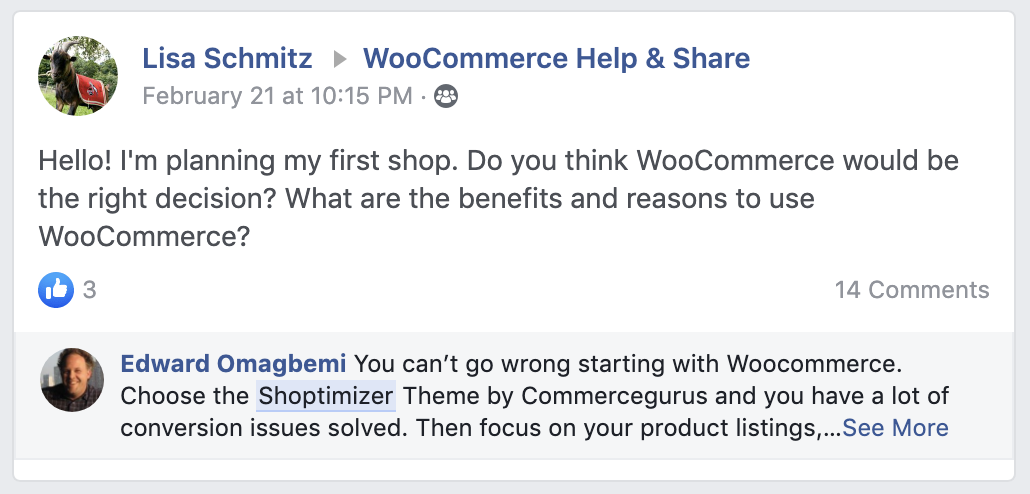 Take a look at how this customer recommends the Shoptimizer WooCommerce theme to a first-time online store owner and highlights its key advantage i.e. conversion optimization.
As a result, you can attract more and more consumers that will continue to interact with your brand post-purchase. A loyal community of fans stands as proof of your brand quality. It can help promote your brand and persuade others to buy your products, helping you increase customer retention.
---
3 Strategies for Word of Mouth Marketing
Here are some ways you can use word of mouth marketing to promote your brand.
#1: Ask for reviews
As a business owner, you should always be encouraging customers to leave a review. Online reviews are engaging, shareable, and (perhaps most importantly) unbiased.
You can use online product reviews to establish social proof. To take things up a notch, you can publish customer reviews and testimonials on your product pages and social media pages. This way, prospective customers will be more likely to purchase from you based on reviews they read from other people.
You can collect reviews and ratings on your product pages, social media, and email newsletters. CommerceKit, for example, is a powerful tool that can help you automatically collect reviews directly on your site.
Along the way, you might receive some negative reviews. But don't worry, we got you! Check out our article on why a bad review is actually good for tips on how to interact with customers that leave negative reviews.
Online reviews aren't the only type of user-generated content that can bolster your word of mouth marketing strategy.
Savvy digital marketers use social media to promote their content all the time. As your sales grow, you'll notice customers sharing user-generated content on their social pages. This includes engaging and shareable content containing images, videos, Tweet threads, or Instagram captions that highlight their positive experience with your products.
Forever21 example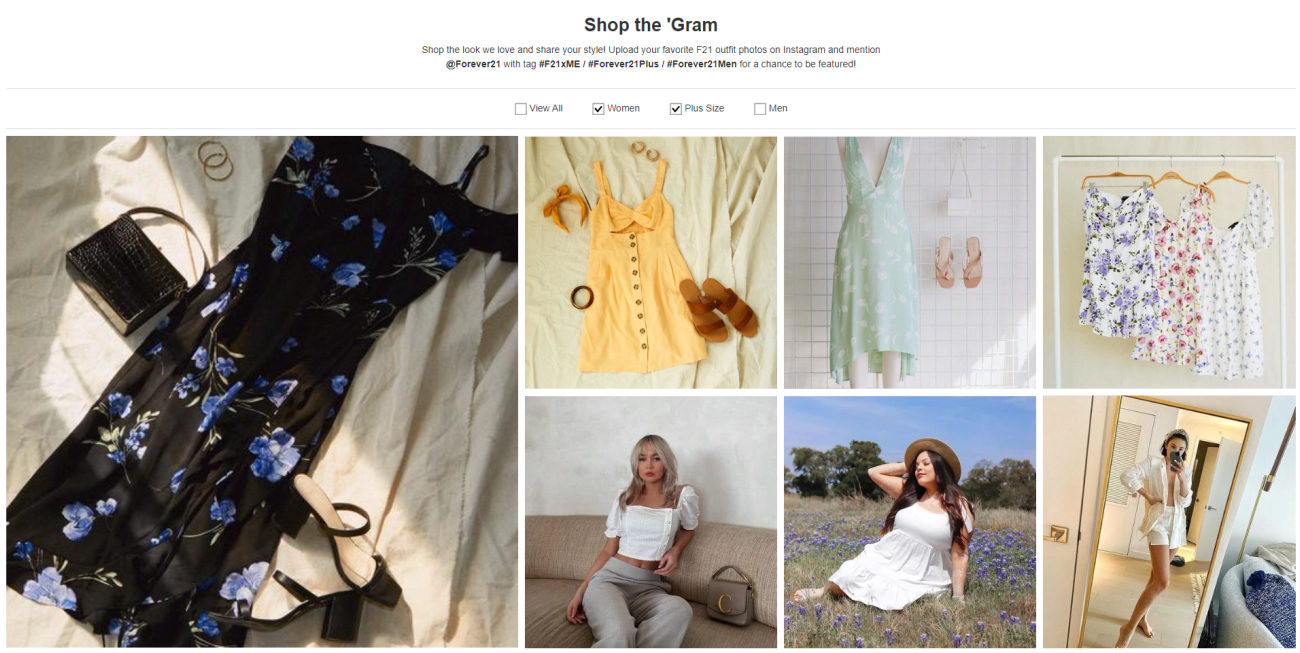 Apparel brand Forever21, for example, encourages buyers to share their style by uploading their favorite outfit photos on Instagram. Organic sharing like this is an effective way to boost your word of mouth outreach.
Promotional incentives, like coupons and exclusive discounts, are a great way to boost brand awareness. You can use your affiliate or referral program to give away points or perks for different types of user-generated content – more on this later.
Cluse example
Here's how Cluse does it: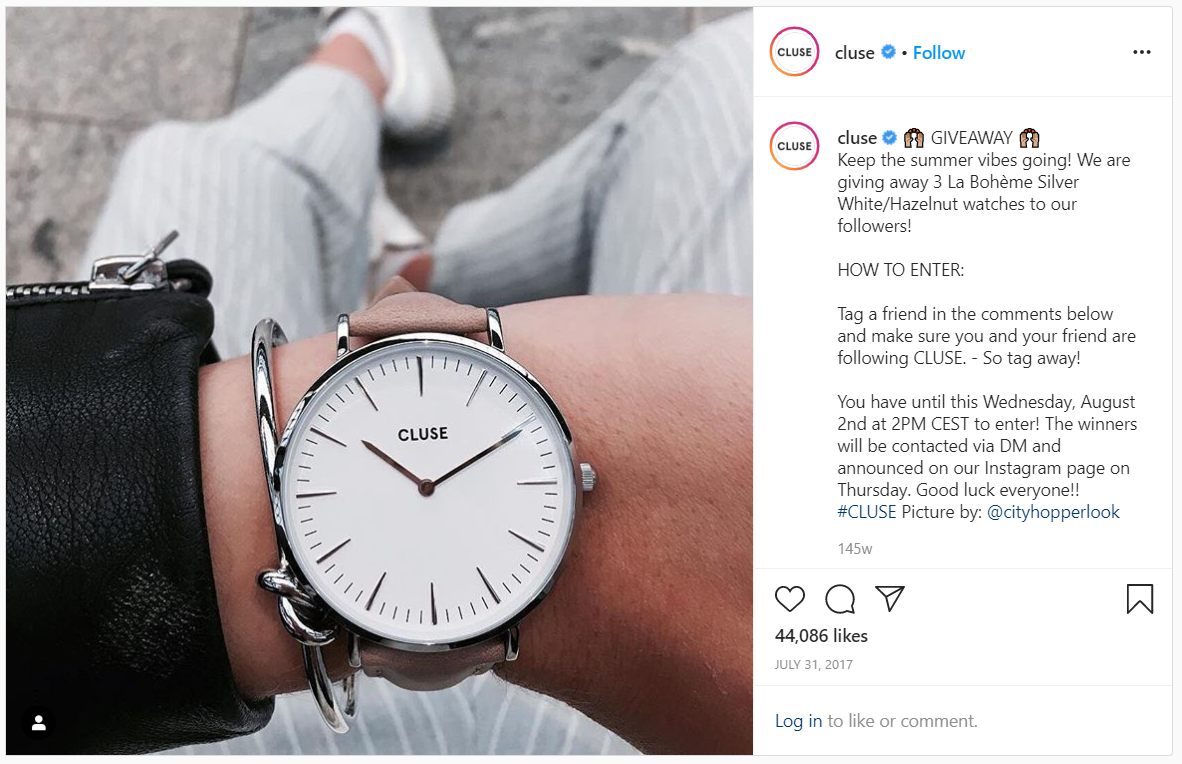 Cluse's giveaway post encourages its followers to tag their friends in a user-generated content post and also asks them to get their friends to follow its Instagram page.
Check out our article on how to ask for a review for actionable tips!
#2: Interact over social media
When brands start or join conversations over social media, it generates many opportunities for word of mouth marketing. Positive and memorable social media interactions help build a community around the brand.
Aviation American Gin example
Last year, when Popeyes Chicken announced a new chicken sandwich, it started an online battle between two fast-food giants Wendy's and Chick-fil-A. This gave Aviation American Gin a chance to get in the conversation in a playful way, and swoop thousands of valuable retweets on Twitter.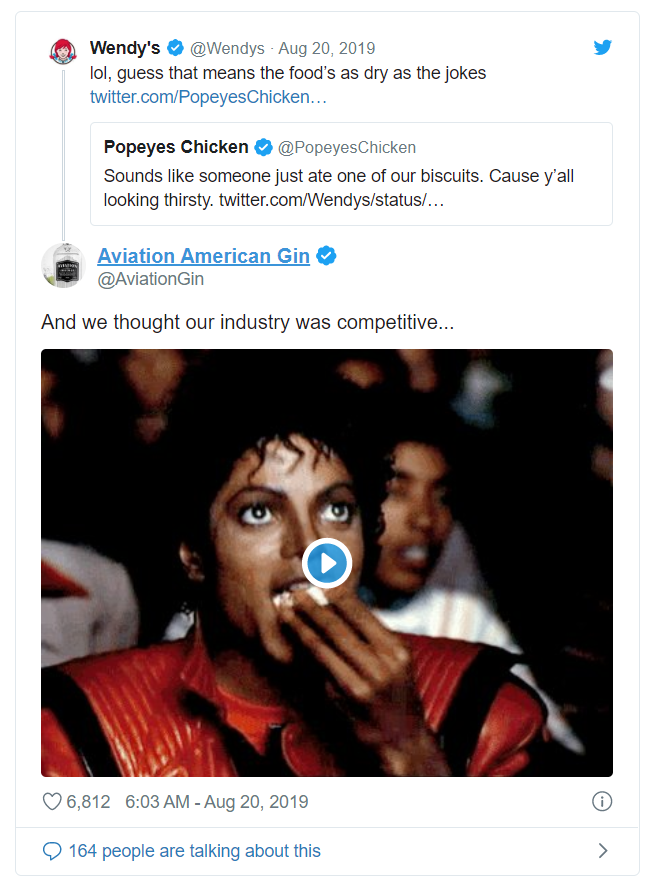 Aviation American Gin moved quickly at the fast-food heavyweights using other companies' social posts to its advantage.
This is a great example of why word of mouth marketing is one of the most effective types of outreach. This sort of savvy social media campaign has helped the company attract the attention of a large number of social media users looking for entertaining content to consume and share online.
Netflix Film example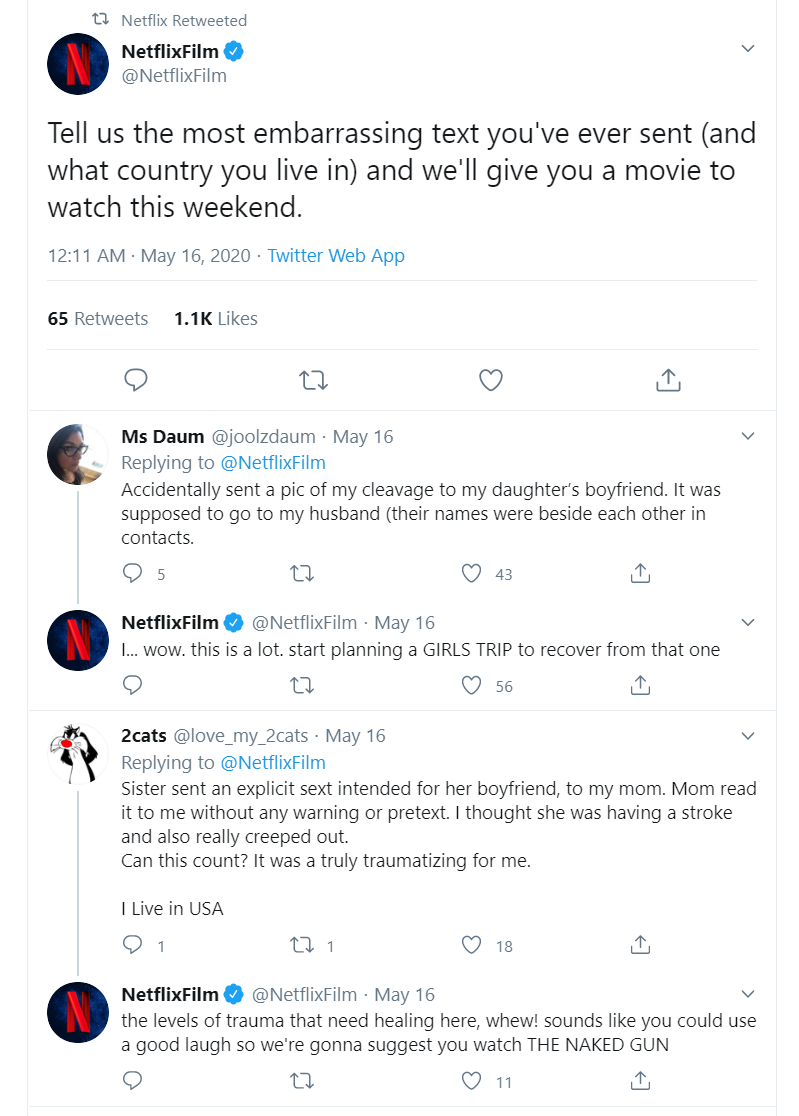 It's simple, really. Social media offers a powerful medium to communicate with your target audience and build a strong and authentic brand image. You can use it to inform, educate, and entertain your consumers as well as find new customers by getting them to engage with your content.
Another way you can increase your brand recognition on social media is by creating a hashtag. Remember the Forever21 example? The apparel giant tells customers to upload their outfit photos using the hashtag #F21xME.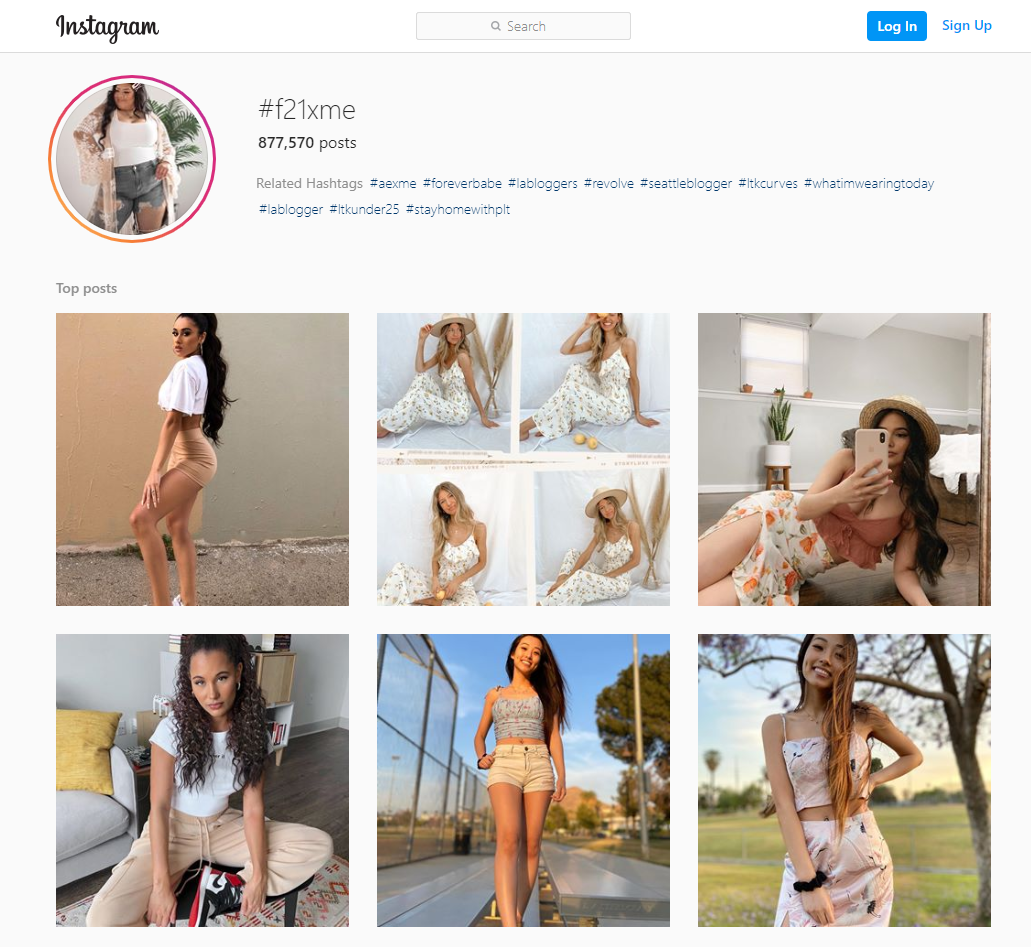 Hashtag campaigns are useful for building brand recognition and driving traffic. You can also use a hashtag on social platforms to start an online word of mouth campaign to share your promotional messages.
In other words, use your business hashtag every time you share a post on Instagram or Twitter and your customers will likely follow suit. Plus, hashtag feeds offer a quick and easy way to get in the conversations around your products. As a result, you can tap into conversations and respond to them in a timely manner. This, in turn, generates positive word of mouth from your customers!
Away example
A branded hashtag is a useful tool that can help you collect user-generated content. Here's an example of Away using #travelaway in their Instagram post: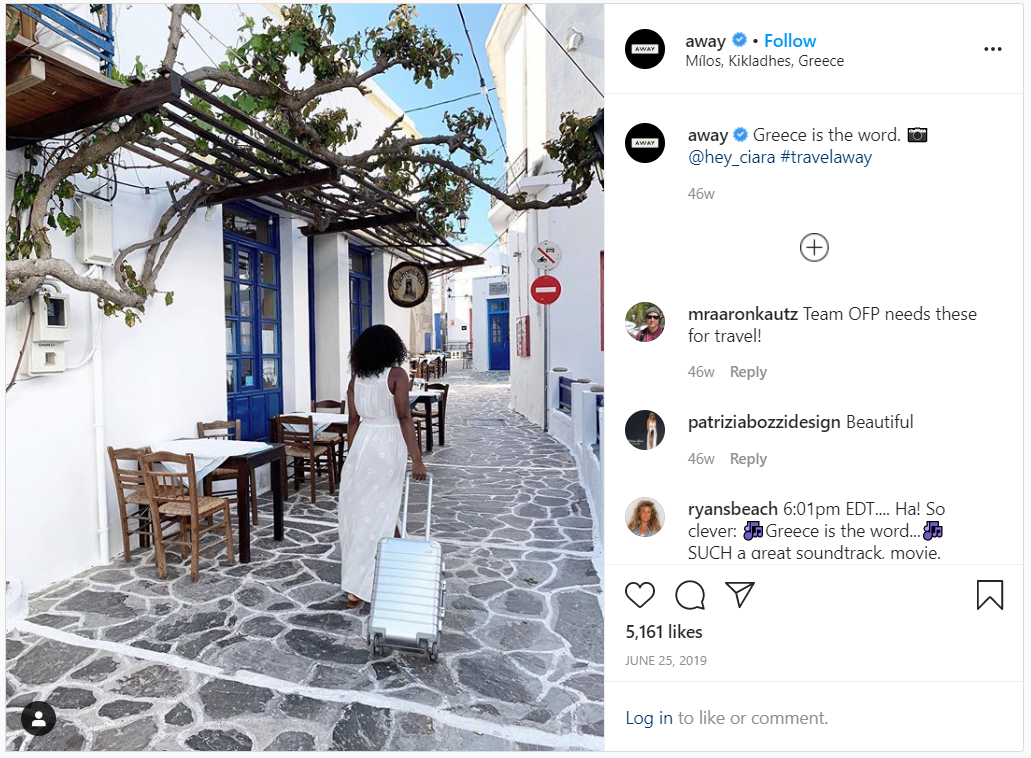 #3: Engage with consumers
A well-designed referral program can help you boost the results of your word of mouth marketing efforts. Encouraging existing customers to share positive words about you with their family, friends, and peers is a great way to attract new customers.
Your aim is to give customers a reason to share your brand with others, online or offline, and referral incentives are just the tools you need. You can offer coupons, credits, discounts, or free products to the referrer that leads to a purchase.
Similarly, you can incentivize customers to share user-generated content by tagging your brand on social posts or sharing product links on social pages.
7-Eleven example
The convenience store 7-Eleven encourages customers to post photos on social media using the hashtags #7ElevenDay, #TFW, and #slurplife for a free small Slurpee cup on July 11th.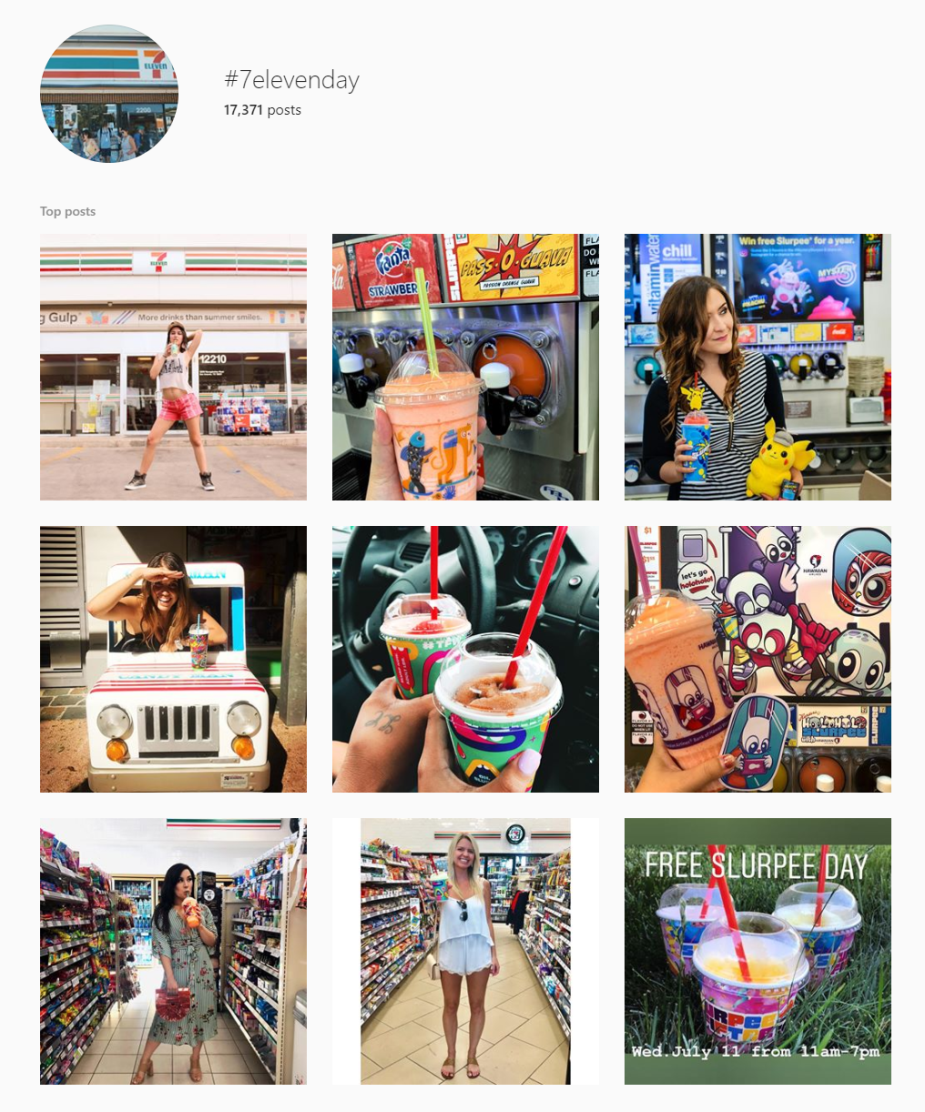 Affiliate marketing is also a great way to acquire new customers. Here's how you build an affiliate network: after you make a successful sale, ask the customer to refer their friend and earn a commission for the sale if their friend uses their referral link.
Niche bloggers can also help you promote your products on their blogs by including affiliate links in their content. Every sale leading from their referral will generate a commission for them while helping you boost your brand recognition.
You can also organize giveaways, contests, and lucky draws. All you have to do is tell customers to share user-generated content or the giveaway post on their social pages. This way, you'll be able to get customers to interact with your brand and generate organic traffic along the way.
---
Examples of Word of Mouth Marketing
Here's a quick question for you: What does a beverage company, a cloud storage solution, and a mattress manufacturer have in common? Word of mouth marketing.
Let's take a look at how different types of companies use word of mouth marketing strategies to create positive feelings and emotions about their products.
Coca-Cola
It's no secret that Coca-Cola is one of the world's most popular drinks. Over the years, it has run multiple campaigns which have led to positive word of mouth promotion for the brand and increased the consumption of Coke worldwide.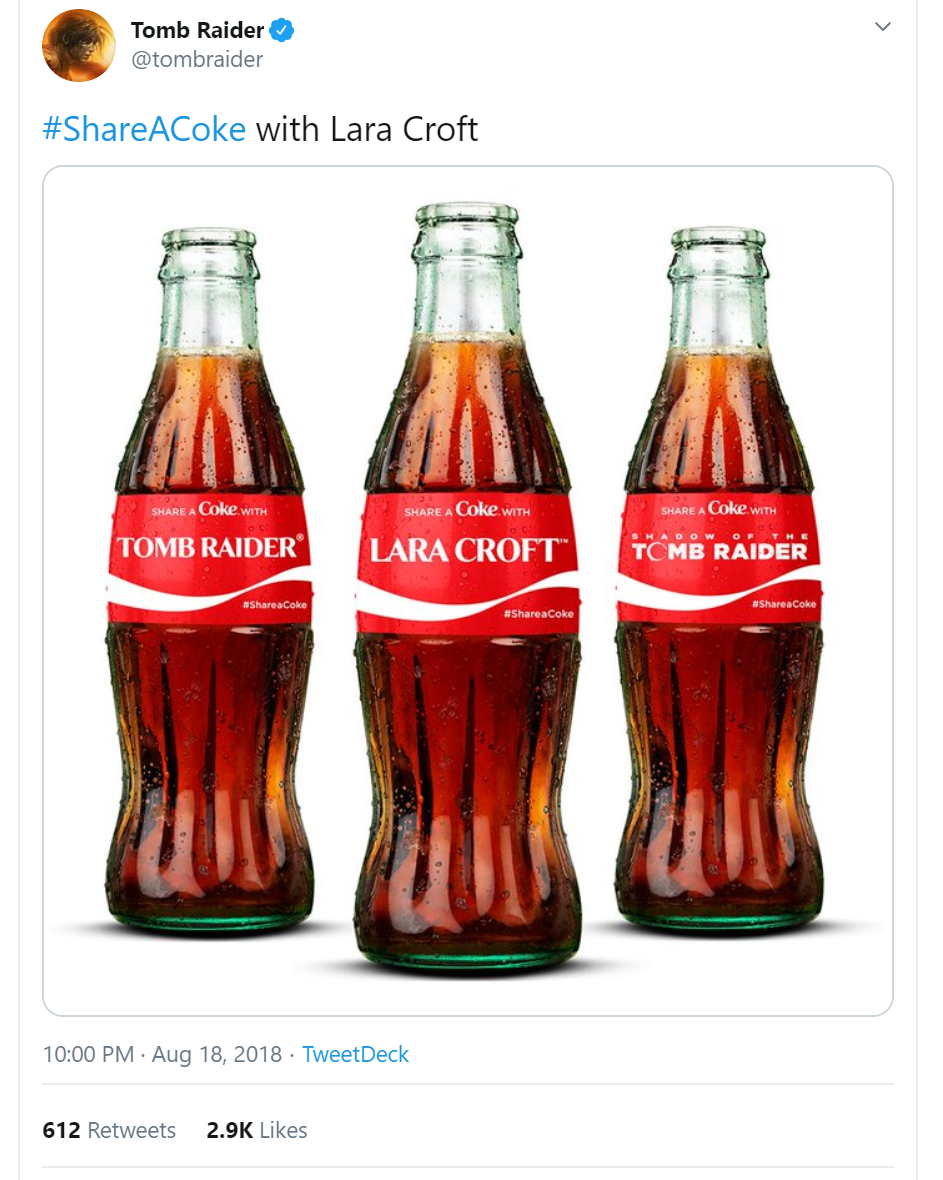 Its "Share a Coke" campaign was launched in 2014 to get consumers to view Coke in a way that boosts its consumption i.e. by getting people to share it with their friends and family. Its social media campaign asked customers to find bottles with common names (and uncommon spellings of common names!) on them and share it online using the hashtag #ShareaCoke.
Dropbox
Dropbox is an online storage company that has successfully used word of mouth to attract a lot of new customers. It offered free storage space in the early days with bonus free space for referrals that drew a lot of attention.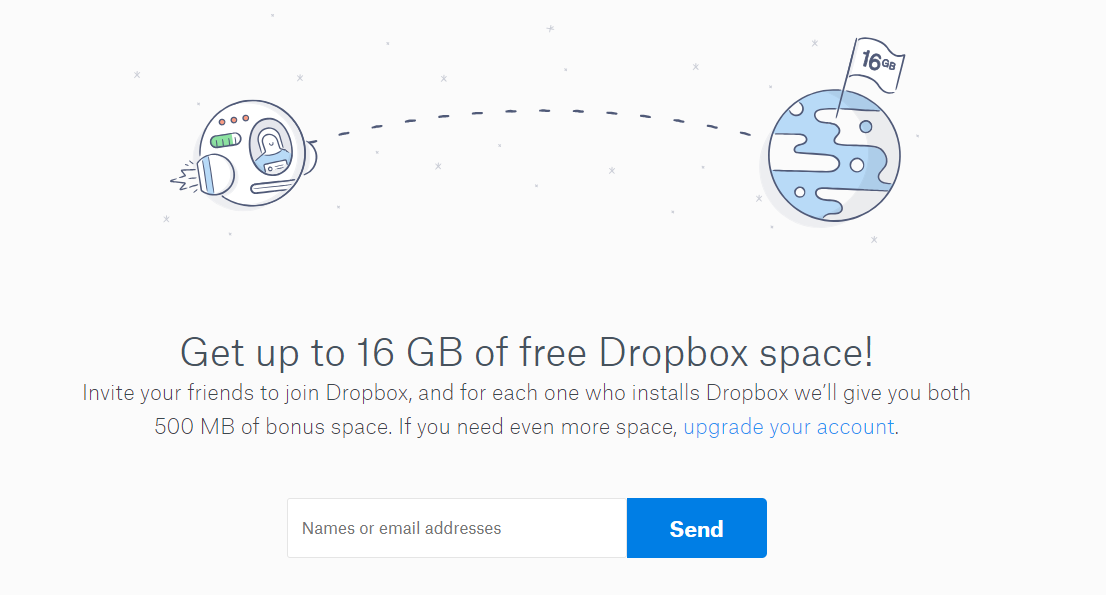 It offered 500 MB extra storage space to new users and the people referred by them. This campaign led to rapid growth in Dropbox's revenue.
Casper
Casper is an online company that produces mattresses, bedding, and other sleep-related products. For each of their mattresses, it offers a trial period for 100 days from purchase. Consumers can then decide to keep the mattress or return it.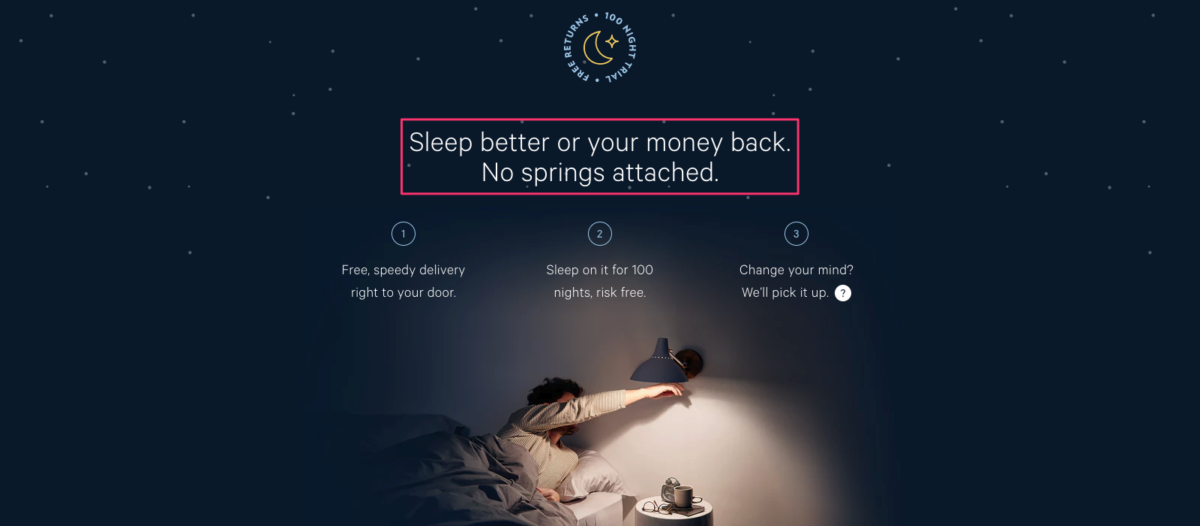 This customer-focused approach has clicked with consumers who prefer testing a product's comfort and durability. Casper also ran aggressive social media campaigns sharing customer reviews, helping it acquire more than one million customers in eight countries.
---
Conclusion
Word of mouth marketing is one of the most effective forms of marketing that involves giving customers reasons to share good opinions about your products with their friends and family. It helps you influence the customer's purchase decisions, build trust, and boost brand awareness.
To recap, word of mouth marketing builds a community of brand advocates who vouch for your products online and offline. There are tons of ways to make your business a topic of conversation. Asking for reviews, interacting over social media, and engaging with consumers is just the tip of the iceberg.
Ready to collect reviews and leverage word of mouth marketing to increase sales? Sign up for CommerceKit updates as we build it!