As an online store owner, if you're not actively collecting product reviews, you're most certainly missing out on sales. This is because seeing product reviews left by real customers builds trust with your brand and increases your store's overall conversion rate.
Here's why:
eCommerce product reviews persuade people to make a purchasing decision and are essential for building trust and increasing transparency. Not to mention, publishing product reviews from customers on product pages can help boost SEO.
In fact, according to the 2019 Consumer Research Report published by Salsify, 30% of respondents reported that they're interested in relevant product reviews left by people like them. And, on average across the age groups surveyed, shoppers said that they expect to see an average of 112 reviews before buying.
In this article, we'll take a closer look at why customer reviews are priceless and how product reviews increase conversions in your online store. We'll do this by explaining why product reviews are important, how buyers consume product reviews, and what makes up a good user-generated product review.
Let's get started!
---
Why Are Product Reviews Important for Buyers?
It's no secret that customers rely on product reviews to make an informed purchasing decision. And that's precisely why they're so important.
Product reviews eliminate some of the uncertainty people have when it comes to online shopping. Think about it this way: if you can't see or hold the product yourself, the next best thing is to read about someone else's experience with it, right?
To fully understand why product reviews are important for buyers, let's take a step back and go through the typical user flow of the average consumer.
When a customer lands on an online store and finds a product they'd like to purchase, one of the first things they do is look at product reviews and ratings.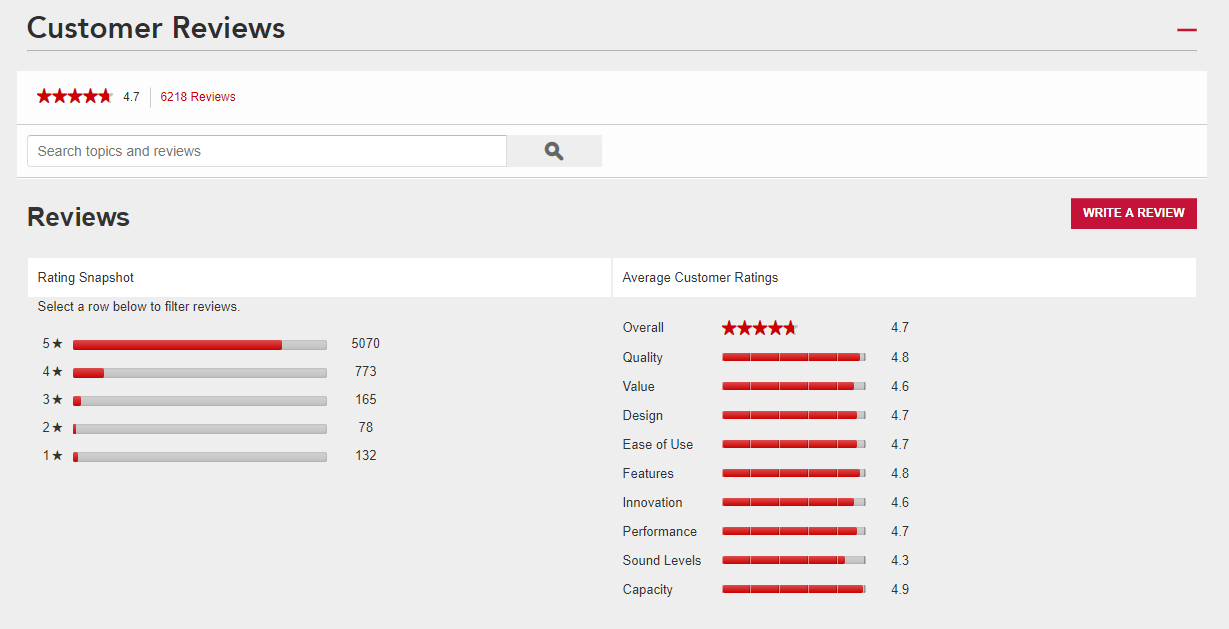 This includes:
The total number of reviews left by customers.
The number of 5-star reviews, 4-star reviews, 3-star reviews, and so on.
The overall score (or rating) of the product e.g. 4 out of 5 stars.
The reason customers make a beeline (right past the product copy) to the product reviews section is that they deem them more trustworthy than sales copy. This is because real customers give their unbiased opinion about the product and talk about their experience with it rather than trying to make a sale.
Some Examples
Take a look at this example from Forever21: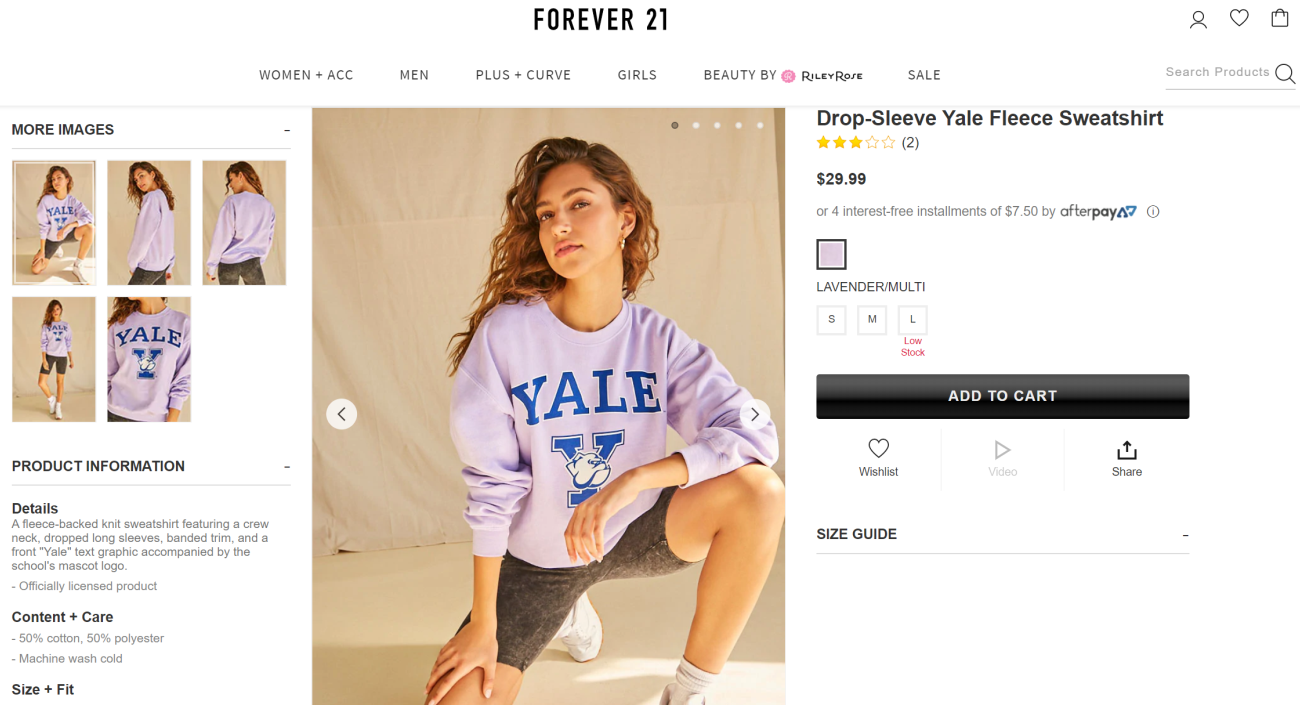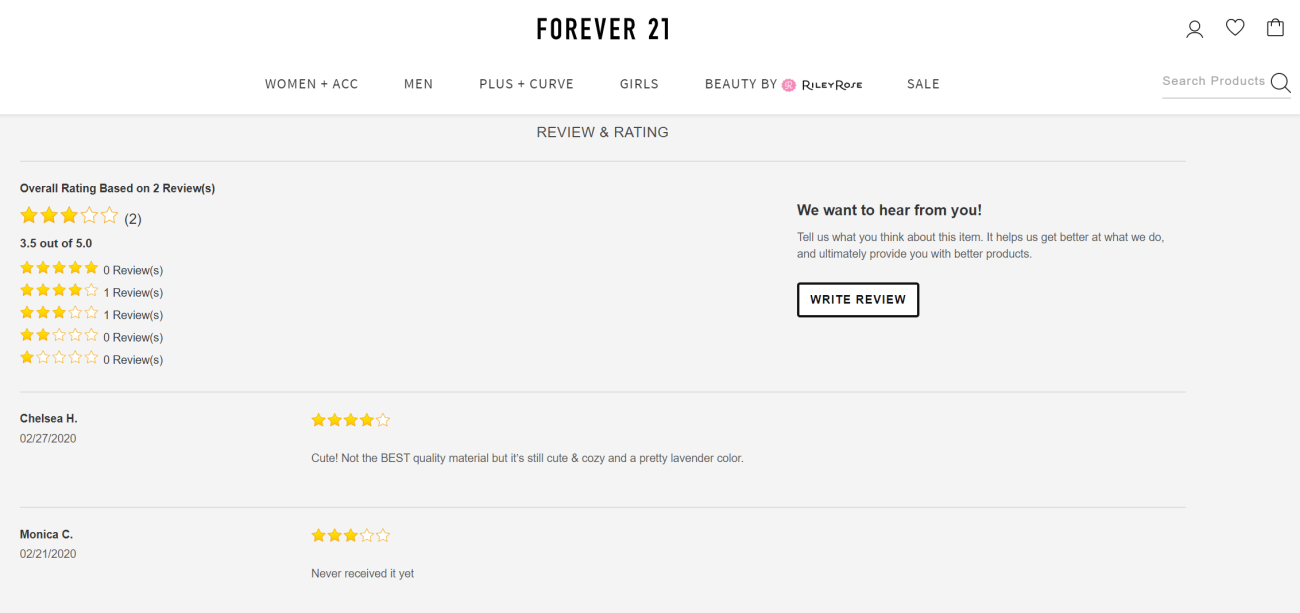 While the product description might indicate that the sweatshirt is made from high-quality material, a quick look at the product reviews says otherwise.
Check out these Product Page Best Practices for ideas on how to use great product descriptions.
It's also worth considering the correlation between product price and produce reviews.
Generally speaking, the higher the price, the more important the review. According to a recent report by the Spiegel Research Center, when reviews were displayed for a lower-priced product, the conversion rate increased by 190% and for higher-priced products, the conversion rate increased by 380%.
Here's an example: reading through product reviews is more important for a customer looking to buy the latest iPhone than someone who's looking for a new smartphone charging cable.
And, products with a higher number of reviews also have higher conversions. According to the same report, the purchase likelihood for a product with five reviews is 270% greater than the purchase likelihood of a product with no reviews.
This is also the reason why customers buy more from sites that publish reviews. For example, consider there's an online store selling a product that doesn't publish any user reviews versus the same product on Amazon (a site that publishes product reviews). Which store is more likely to make the sale?
The DJI Store, for example, doesn't publish customer reviews on their product pages. However, buyers can find tons of helpful reviews on Amazon.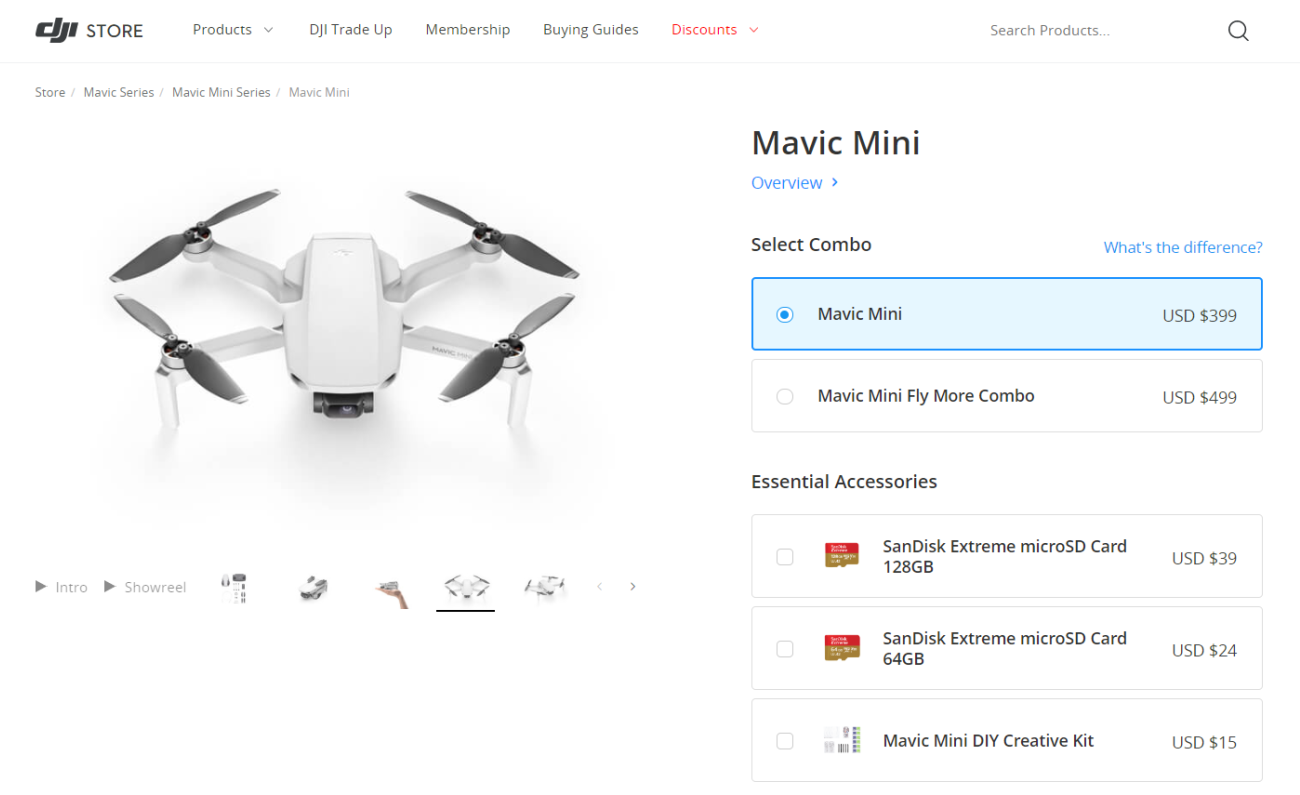 Customers are more likely to make their purchases on Amazon than on the official DJI Store website.
---
How Do Buyers Consume Product Reviews?
By now, we already know why product reviews are important for buyers. The next step is to understand how buyers consume product reviews.
One of the first things a prospective buyer will pay attention to is the quantity and quality of the reviews. More specifically:
How many people purchased the product?
How many people left reviews on the product?
What did the review actually say? Was it a positive review or a negative review?
This information helps ease the buying decision and fills in the knowledge gaps by providing useful information derived from real-world experiences. This allows prospective customers to make an informed buying decision.
Buyers consume two different types of online product reviews: internal product reviews and external product reviews.
Internal product reviews published on your own website, online store, or the product page. This gives you control over how you display the product reviews and encourages customers to make a purchase on your website.
External product reviews are those that are published on third-party websites. Some popular examples include Yelp and Google Reviews. These are great for building trust with your prospective customers because you can't remove user-generated reviews from these sites.
Both types of online product reviews are important for retailers. Check out some of the best WooCommerce reviews plugins if you're thinking of adding product reviews to your online store.
---
The Anatomy of a Good User-Generated Product Review
Now, you might be wondering what makes up a good user-generated product review.
For most online store owners, the primary goal of publishing product reviews is to build trust with customers and establish authenticity.
From a practical standpoint, this boils down to four key characteristics:
A good balance of positive and negative comments.
Credible reviewers.
Authentic description of product usage.
Thoughtful comparisons to competing brands.
Let's take a closer look at the anatomy of a good user-generated product review along with some real-world examples.
#1: Positive and Negative Comments
Good product reviews increase conversions because they contain a mix of positive and negative comments. And although it might sound counterintuitive at first, publishing negative comments and product reviews on your website breeds authenticity and lets prospective buyers know you're not moderating reviews for bias.
The most helpful product reviews are those that are the most balanced in terms of positive and negative comments.
Positive comments in reviews fill in the knowledge gaps buyers might have about your product. They let them know more about what it's like to use the product.
Customers understand that no product is 100% perfect, and they don't expect it to be. This is where negative comments in product reviews come in handy. They're there to build trust and increase transparency.
So, as an online store owner, your goal should be to acquire balanced reviews from your customers.
Let's step through a few examples:
Amazon
Here's a chunk of an incredibly in-depth review of the DJI Mavic Mini on Amazon.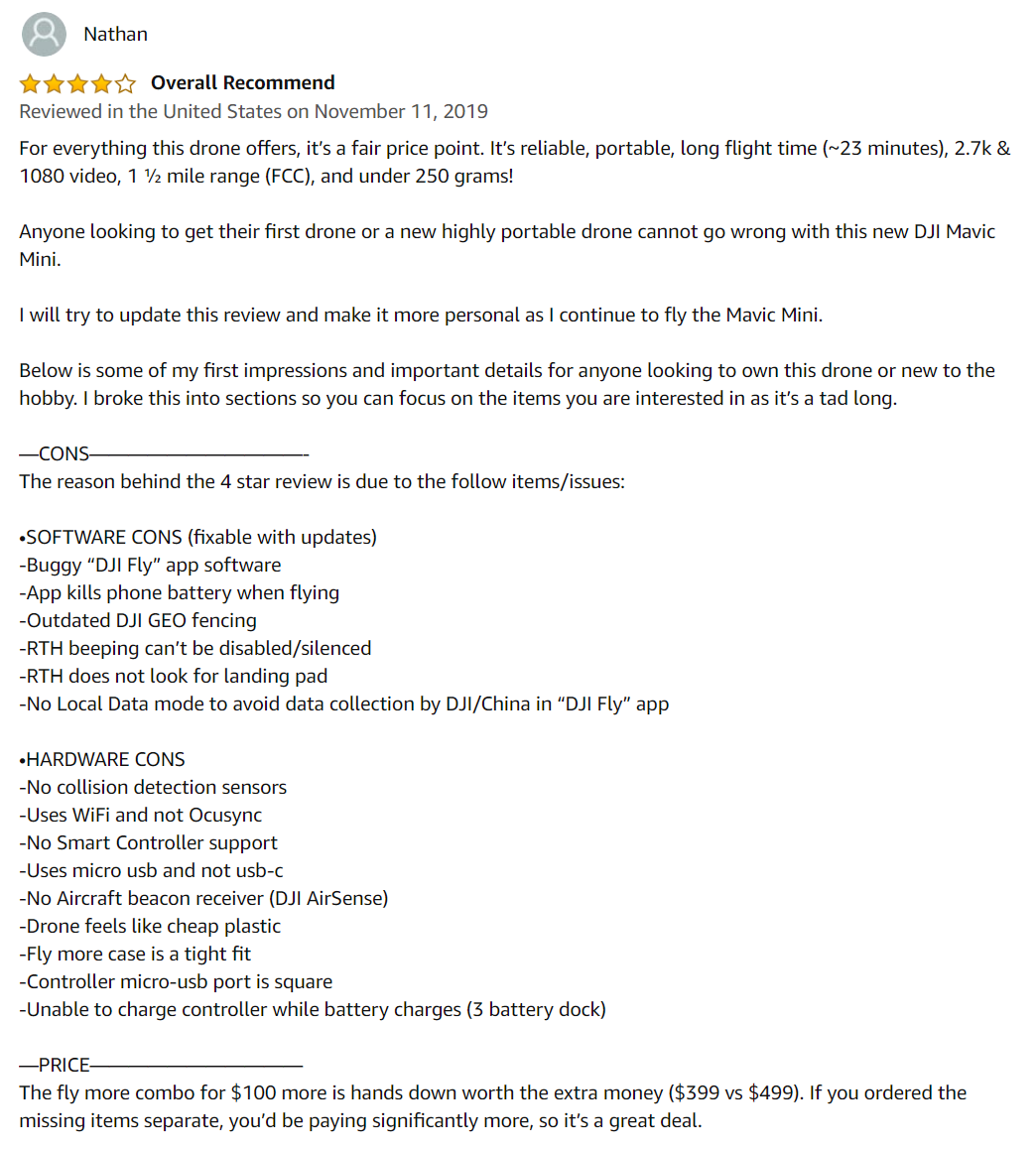 Notice how the customer starts off by sharing their personal experience with the product which consists of positive comments. Then they move on to explain the reason for giving a 4-star review by highlighting the software and hardware cons of the product.
This gives prospective buyers a clear understanding of the product they're thinking of purchasing and helps them make an informed decision. For example, a buyer might read that the software is buggy but it can be fixed with updates. Or, that the drone uses micro USB and not USB-C.
Asics
And here's a review of an Asics men's shoe:

The customer explains their reason for giving the product a 3-star review through negative comments rather than simply stating that they didn't like it. This provides more information for prospective buyers and lets them know what they can expect to get. Notice how three people said the comment was helpful?
Samsonite
Luggage brand Samsonite brings their Most Liked Positive Review and Most Liked Negative Review front and center for all of their products.
This increases transparency and helps build trust with the brand.
#2: Customer's Credibility
When it comes to product reviews, the quality of the review speaks to the customer's credibility. Customers that leave thoughtful and thorough reviews are generally considered to be more credible than those that leave short, one-line reviews.
Well-written and insightful product reviews have good grammar and proper spelling. They're informative yet clear and easy to understand.
Here's a look at some examples of good product reviews that come from credible customers:
Kate Spade
Take a look at this review on Kate Spade: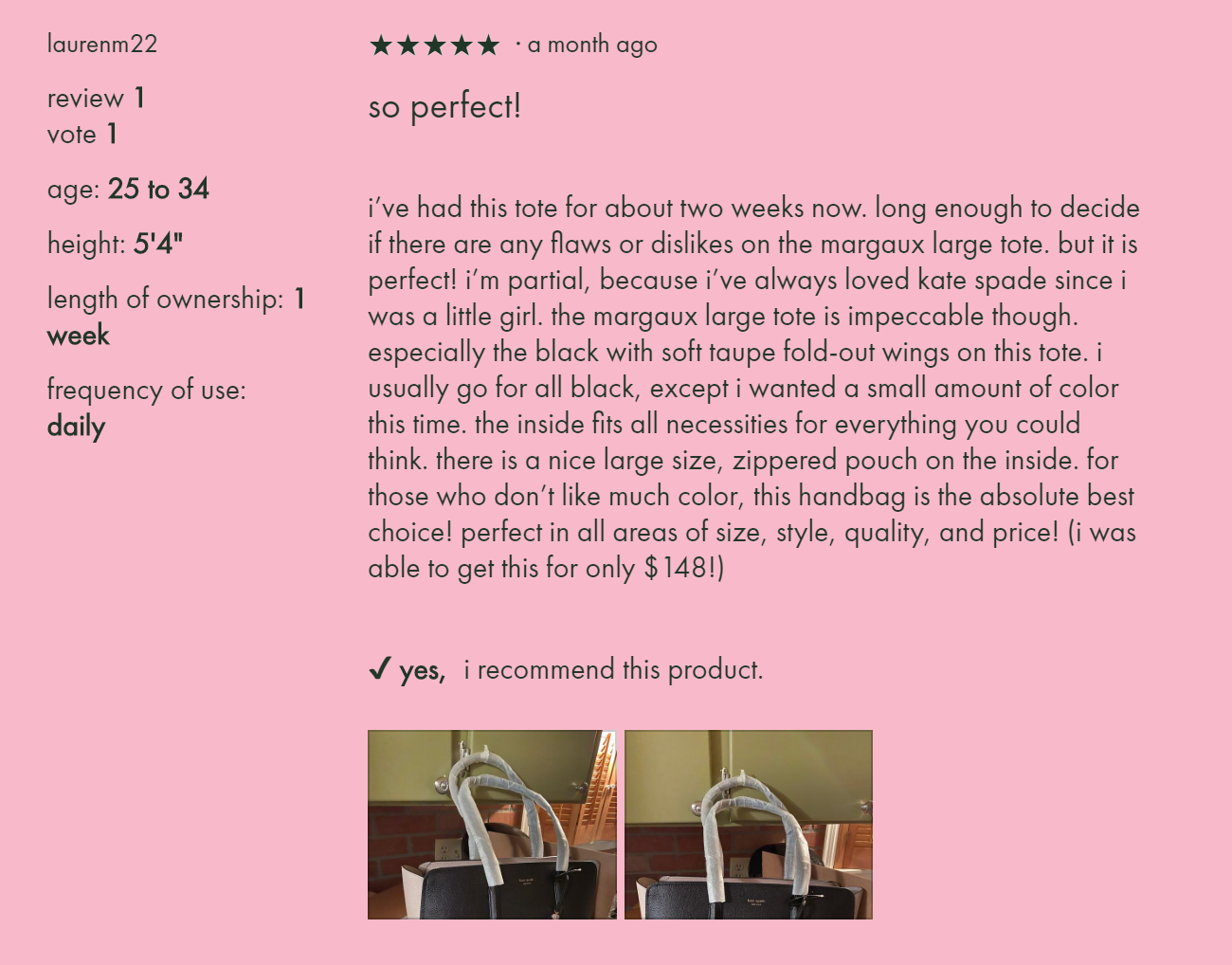 See how the customer has left a thoughtful and thorough review of the handbag they purchased which details how she uses the handbag and its standout features. In addition to this, the customer has also shared photos of the handbag she bought along with a quick overview of her age, height, length of ownership, and frequency of use at the time of writing the review.
This helps prospective buyers see the customer as a credible person which makes their review more authentic.
Nordstrom
And here's a Nordstrom review: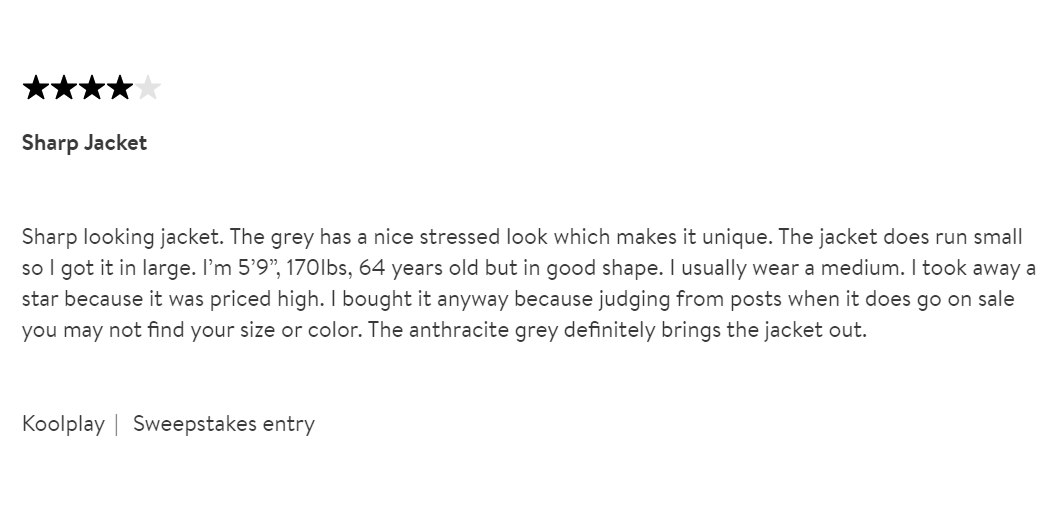 Notice how the customer starts by giving a brief account of their height and weight and explaining the thought process behind their purchase? This helps other buyers see the reviewer as a credible customer and helps them make an informed purchasing decision.
#3: Description of Product Usage
One of the key characteristics of good product reviews is that they provide a clear description of product usage. In other words, the customer explains their experience using the product and shares their personal opinion about it or makes a recommendation.
KitchenAid
Here's a review of a stand mixer that explains the customer's product usage and their overall opinion and recommendation.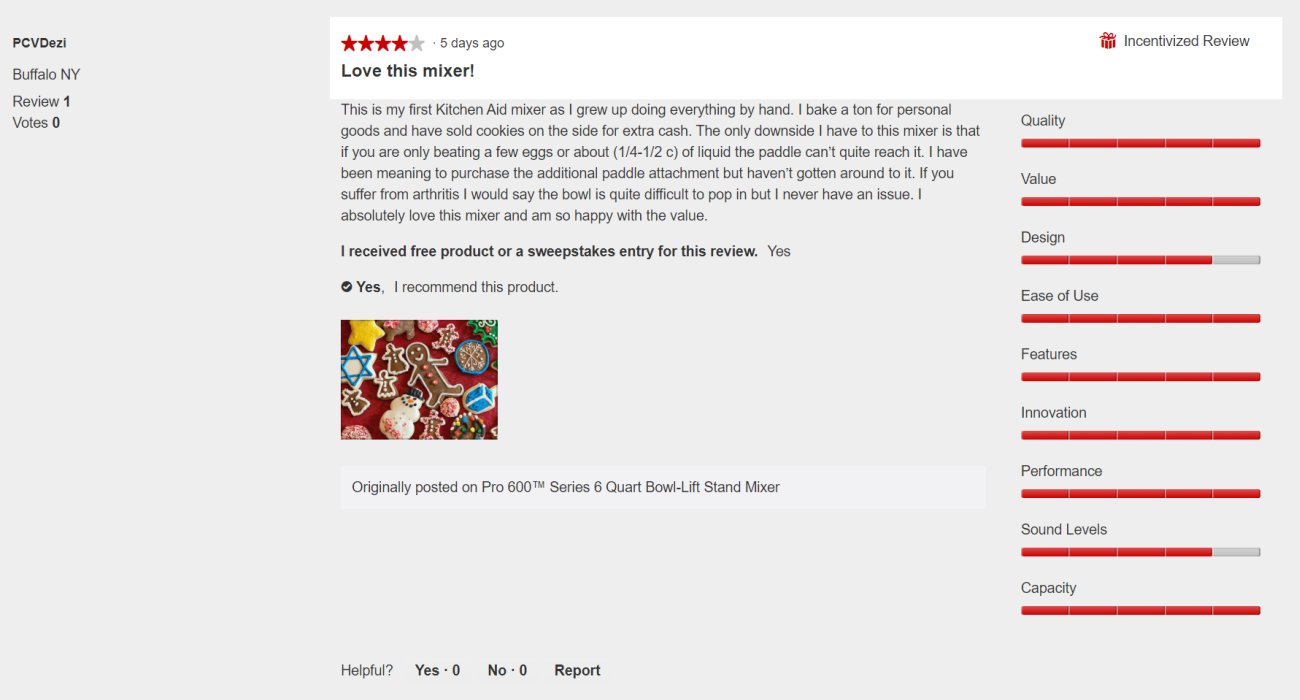 This lets the buyer know the shortcomings of the product based on real-world customer experiences. As a result, they're able to learn more about it simply by reading a review.
Philips Hue
And here's a Philips Hue review that explains product usage and the customer's experience in detail: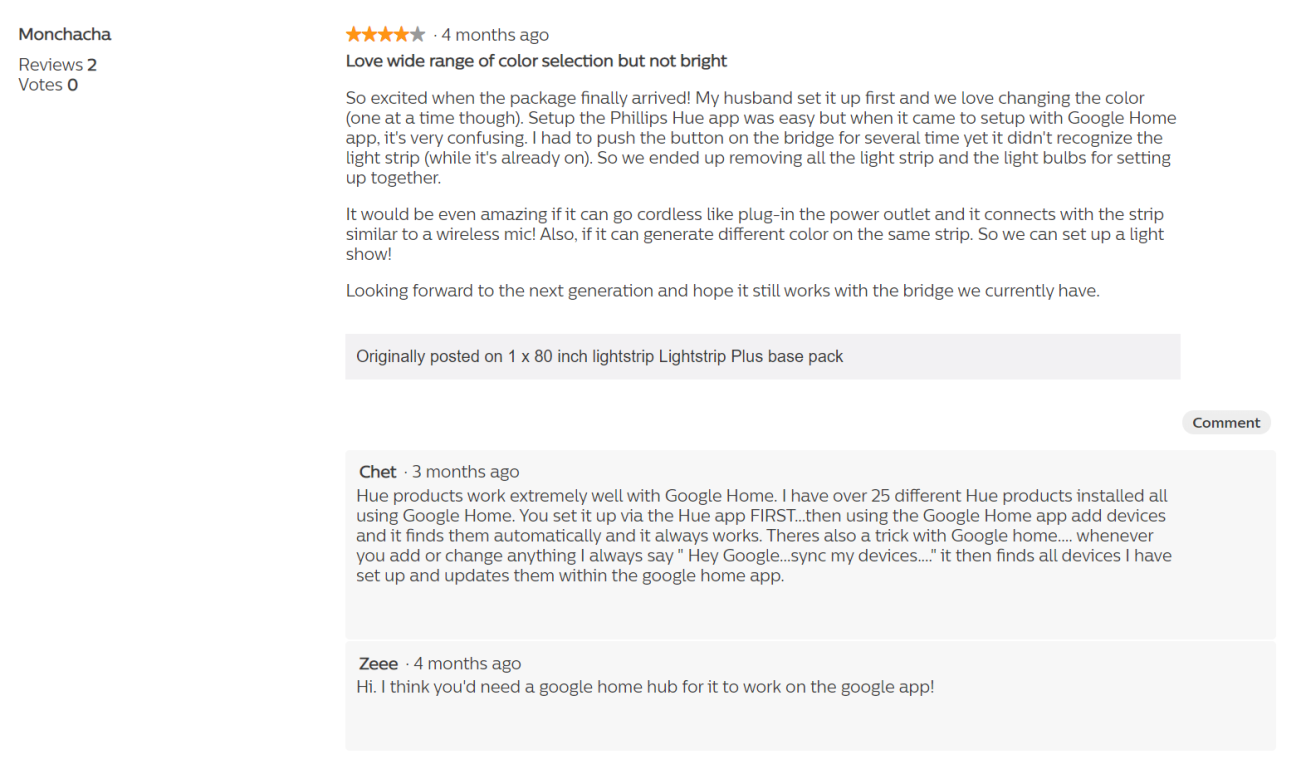 It lets buyers know what they can expect to get out of the box and what they'll need to do to get the product up and running.
#4: Comparisons to Competing Brands
One of the goals of publishing customer reviews on your website is to fill knowledge gaps. Product reviews that mention competing brands can help you do that while explaining to prospective buyers what sets your brand apart and what makes your product better than the rest.
So, good product reviews increase conversions by reinforcing the customer's existing knowledge and lets them know exactly how the product is better than competing products.
Amazon
Take a look at this review of the OontZ Bluetooth speakers: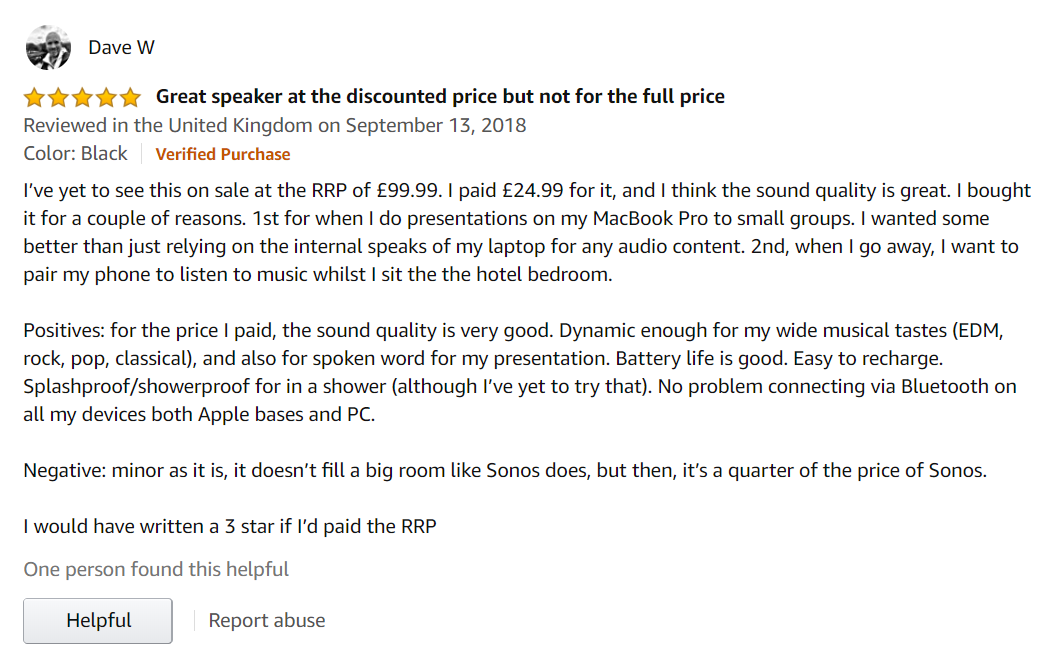 The customer compares the OontZ speakers they purchased to the Sonos speakers they previously owned and highlights the pros and cons. This gives buyers an idea of how OontZ compares to the competing product and helps them see the value.
And here's an HTC Vive Pro review that compares the VR headset to competitor Oculus Rift: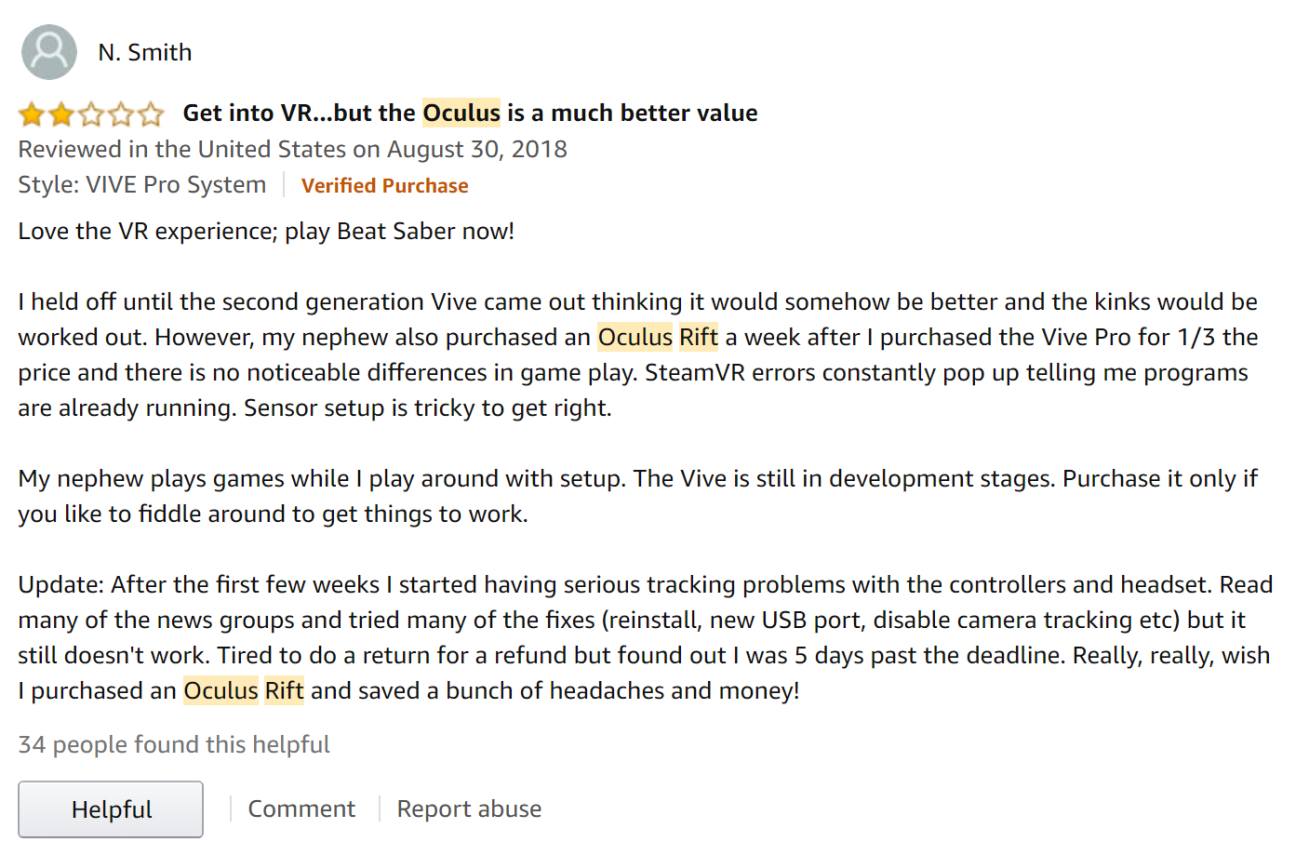 The review gives a detailed account of the customer's first-hand experience with the product and their take on a competitor product. The customer also gives their recommendation and explains the reasoning behind it which 34 people found helpful.
Now that you know what makes up a good product review, the next step is to get customers to provide good reviews for the products they purchase. Be sure to check out our in-depth article on How to Ask for a Review for ideas and actionable tips.
---
Product Reviews Increase Conversions
So, can product reviews increase conversions? Yes!
eCommerce product reviews are important to both retailers and buyers. They effectively eliminate the uncertainty of online shopping and help consumers make informed buying decisions. And, for retailers, the more reviews the higher the conversion.
Ready to leverage product reviews to increase conversions? Sign up for CommerceKit today!