Managing delivery and shipping charges is probably the most challenging aspect of getting started with an eCommerce website. Thankfully there are some great plugins to extend WooCommerce shipping options to cater for just about any business requirements.
Let's face it – configuring delivery and shipping charges on an eCommerce website is a pain. It's also one of the most overlooked aspects of setting up an eCommerce operation that many people new to eCommerce have no idea how to manage. A clients shipping strategy is always very close to the top of my list of questions when we start any new eCommerce project.
It can make the difference between a wildly profitable store and a massive failure. For many this will come as a surprise because it is the least visible aspect of the process of setting up an online store. Yet it is one of the most important to the customer. How many times have you been stopped in your tracks from placing an order online because shipping information was unclear, too expensive, not available or just plain confusing?
From the merchants perspective there are two major problems; 1.) not charging enough due to inflexible shipping options in your eCommerce software, or 2.) charging too much because of the same reason or out of pure fear – leading to lost orders.
There are also more fundamental challenges to shipping like deciding where exactly in the world you will ship your products to. Do you want to offer worldwide shipping? Better make sure you know the impact of this on your net profit per order. How will you manage the logistics of shipping a ton of orders all over the world just before the Christmas holiday rush? These are all questions that you need to consider carefully before you end up with a lot of pissed off customers.
WooCommerce and shipping
Out of the box, WooCommerce offers plenty of options on how to configure your delivery and shipping costs. But to be honest I've yet to see any open source eCommerce platform cater for all the shipping permutations that you as a customer might require. Nor would it be fair to think that WooCommerce or any other platform for that matter could cater for all scenarios. Every business is different. Every business has it's own subtle nuances that are important usually for good reasons to that business. The challenge then becomes finding a reliable way of extending WooCommerce to cater for your specific requirements. To that end, there are 2 fantastic premium WooCommerce plugins available that you should study carefully if you need to turbocharge WooCommerce for your shipping needs.
Table Rate Shipping from WooThemes
Table Rate Shipping from is a premium plugin sold via WooThemes. At $199 for a single site license it's not cheap. But this plugin will pay for itself quite quickly if you need to extend WooCommerce to provide Table Rate functionality. The plugin allows you to:
Create zones for target shipping destinations
Add multiple tables of rates per zone
Several types of table rate calculation: Per order, Calculated per item, Calculated per line, Calculated per class
Add rules based on Weight, Number of items, Number of items by class and Price
Add costs per row, per item cost, a percentage and per weight unit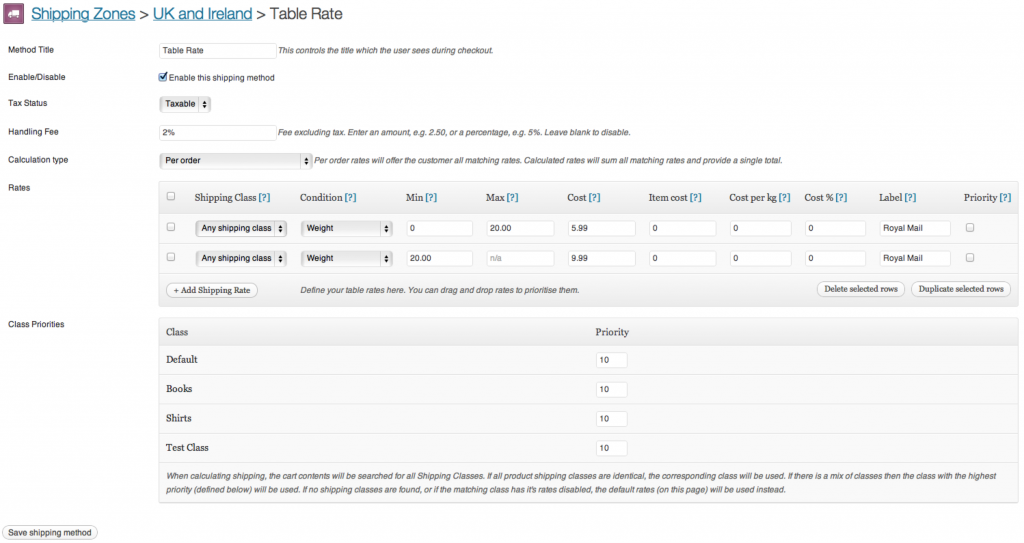 Table Rate Shipping for WooCommerce from Codecanyon
There is an alternative (and much cheaper at $21!) plugin available on Codecanyon which provides the same kind of functionality as the previous plugin.
I've not had the opportunity to use the Codecanyon plugin as of yet so I can't comment on how it stacks up against the WooThemes one, but it does have very good ratings over on Codecanyon and is the best selling WooCommerce plugin there so it must be doing something right 🙂