If you ask for customer reviews for your products or services, you're likely to get some negative reviews along with positive ones.
Here's the deal: getting negative reviews is part of selling products or running a business.
Not everyone will be 100% satisfied with your product or service which isn't necessarily a bad thing. In fact, a few bad reviews can actually be useful for your business. For starters, negative reviews give you an opportunity to interact with your customers and collect valuable feedback that can help you improve your products or services.
So, negative reviews are better than no reviews.
In this article, we'll dig deeper into why negative reviews are valuable and how they can help you improve customer relations. We'll also share some actionable tips on how you can turn them to your advantage.
But first, let's quickly take a look at what are negative reviews.
---
What Are Negative Reviews
If you're like most people, you probably research every aspect of a product before making a purchasing decision.
What does the product do? What do other customers have to say about it? Is it the right product for me?
Whether it's a phone charger on Amazon or a new jacket off Nordstrom, finding out what other people think about a product, service, or a business can help buyers make an informed decision.
Typically, this involves looking at everything from the product description to, you guessed it, reviews. And, there are two broad categories of customer review: positive reviews and negative reviews.
Negative reviews reflect a customer's first-hand poor experience with your product. Negative reviews can either be 'good negative reviews' or 'bad negative reviews'.
Here's an example of one such review in which the customer clearly explains their issue with the product after using it for some time.

See how the reviewer mentions that this particular product isn't as durable as the classic kind? Potential customers who read this review will be more likely to purchase a different product from the same brand. No wonder 121 people found this reviewer's comment to be helpful.
Now let's take a look at an example of a bad negative review where the reviewer doesn't explain the actual problem they have with the product.

If you sell products or services, you need both negative and positive reviews on your product pages. Here's why:
Positive reviews reinforce the customer's positive evaluation of your products and negative reviews reflect the honesty of your business and convey brand transparency. Put simply, it lets prospective buyers know that you don't bury negative reviews and lets them know you value transparency.
Be sure to check out our guide on how to ask for reviews for actionable tips and tricks.
---
Why Negative Reviews Are Valuable
Reviews – especially negative reviews – shape your prospective customer's opinion about your product and brand. Here are a few reasons why negative reviews are valuable:
Negative reviews build credibility for your store
Most online buyers are distrustful of products that receive perfect five-star reviews and over-the-top praise. In fact, more than two-thirds of customers trust online reviews far more when they see both positive and negative feedback.
Here's a great example of how Philips Hue shows both positive and negative ratings on product pages to present how users value their products.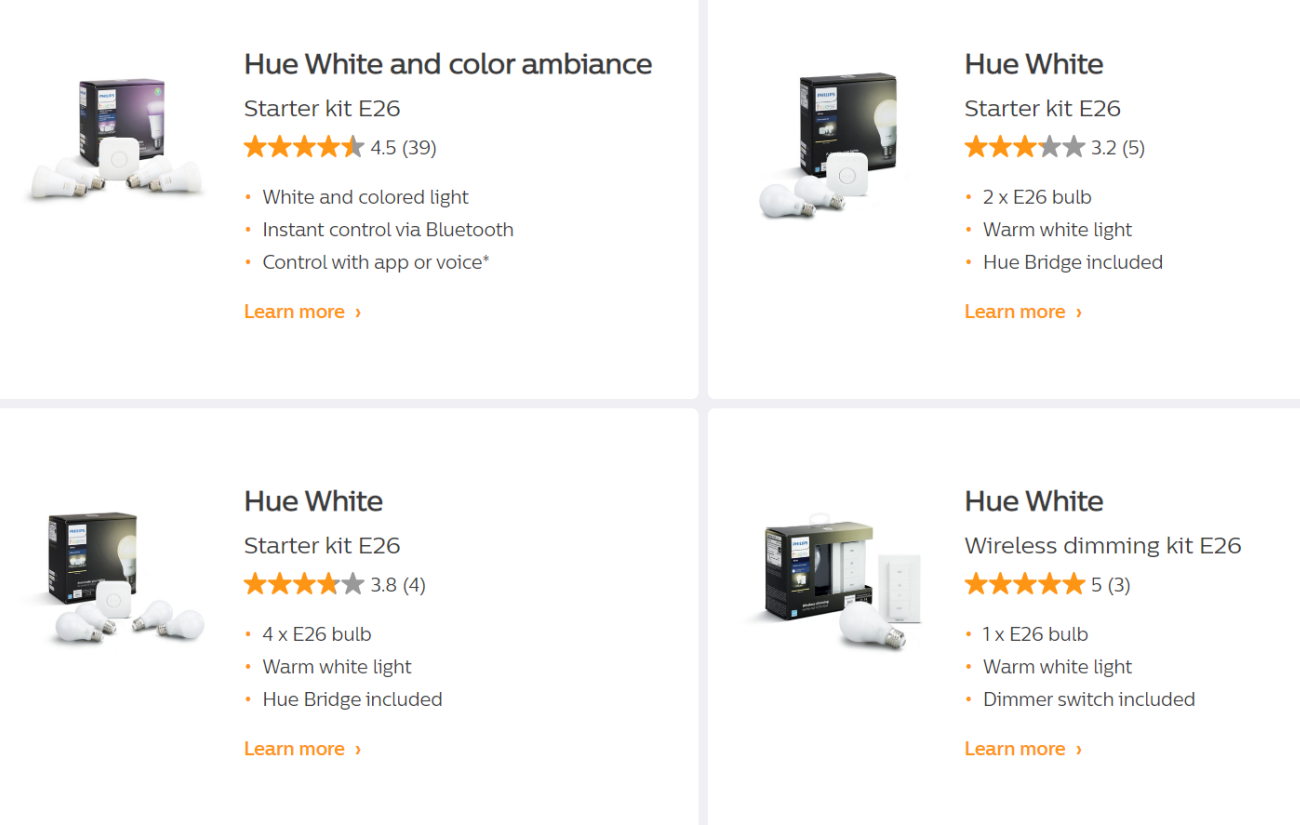 Notice how the Hue White Starter kit E26 has a 3.2 rating whereas the Hue White Wireless dimming kit E26 scores a perfect 5-star rating. This helps build credibility.
Samsonite takes things a step further by displaying both the Most Liked Positive Review and the Most Liked Negative Review.

Negative reviews on your product pages tell potential customers that your reviews section is honest and unbiased, and you value your customers and their opinions.
Keeping both good and bad customer feedback on your website establishes you as a credible and authentic vendor. As a result, this builds a positive brand image and boosts customer trust in your business.
Customers consider a five-star rating to be "hard to believe". However, according to the Spiegel Research Center, a product rating of around 4.0 to 4.7 is considered ideal across product categories to get site visitors to make a purchase.
Mixed or negative reviews trump having no reviews at all
Social proofing is a powerful tool used by digital marketers to influence their target customers' purchasing decisions and boost sales. For those unfamiliar, it's all about persuading people into buying a product simply because they've seen a review related to the product elsewhere.
As an effective marketing ingredient, social proofing helps you add weight to the argument you make about your product.
For instance, if you're saying that your new software enables people to improve work productivity and automate tasks, you can persuade a potential customer by highlighting an otherwise mixed review that reads "Although this tool packs everything we need to improve efficiency in the workplace, it's beyond our budget.".
Let's step through some examples:
Crate&Barrel includes plenty of reviews from customers on their product pages and allows visitors to sort them based on ratings.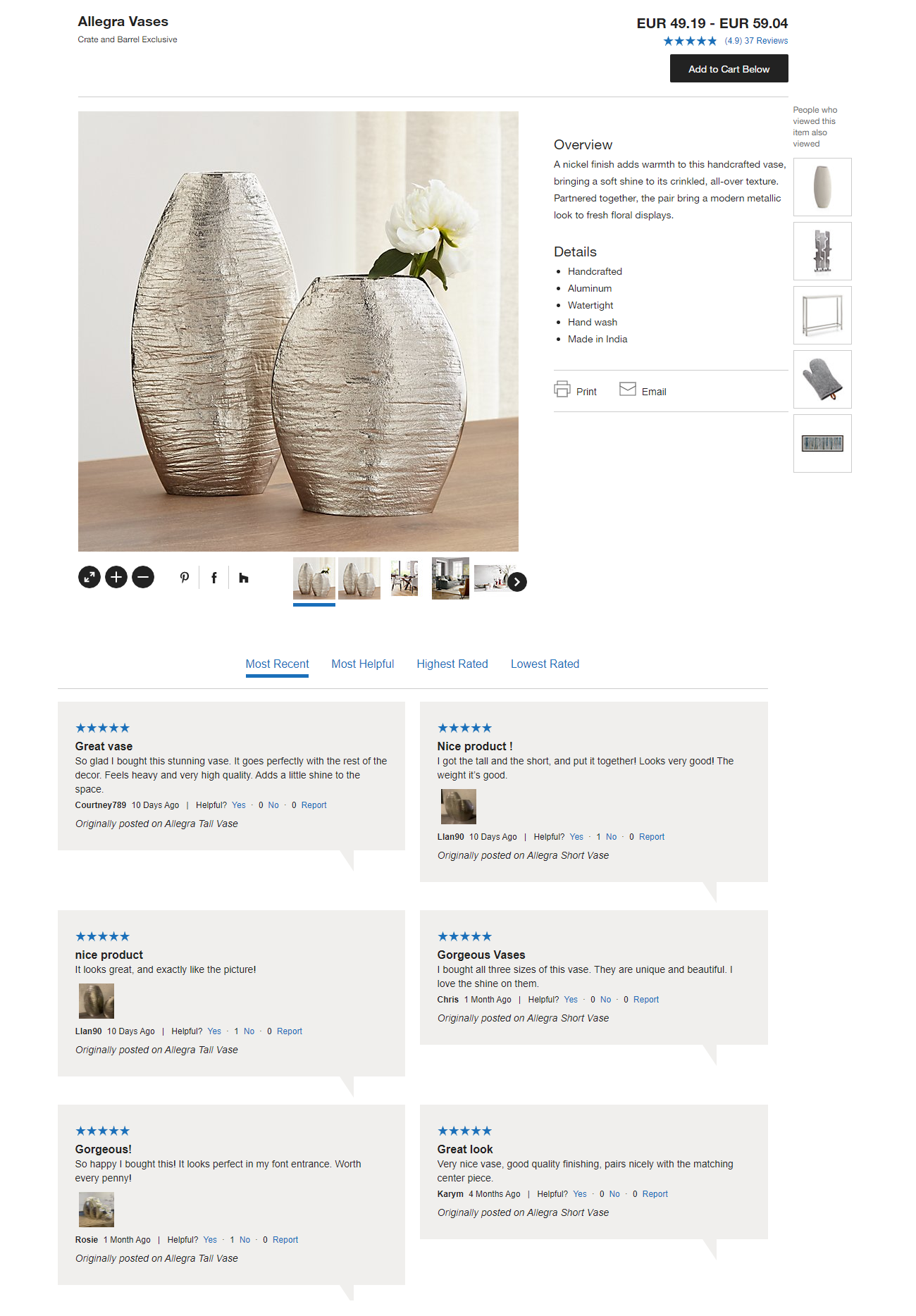 Before making a purchasing decision, customers want to make sure that other people have tried the product. According to a recent survey, a whopping 92% of customers will think twice about making a purchase if they don't see a review.
When people post mixed or negative reviews on your product pages, they're still helping potential customers learn more about your product.
So, the more reviews you have on your site, the more interested potential customers become about your products, and the more likely they are to spend time learning about it.
Negative reviews boost sales
You've probably heard the old adage: there's no such thing as bad publicity.
While it may seem counterintuitive at first, negative reviews can help you increase sales. This is because reviews educate customers about a product they would otherwise not know about.
According to a study conducted by Reevo, around 4.35% of people who read negative reviews make a purchase, compared to 2.35% of people who don't look for reviews. And the Spiegel Research Center reports that consumers spend four times as long interacting with negative reviews, with a 67% increase in conversion rate.
Check out our article on how product reviews increase conversions for more information.
This is because negative reviews enable customers to make an informed buying decision by showing them 'the complete picture'. Think of it this way: people aren't always going to agree with the negative reviews posted by other customers.
Here's an example of a negative review: I don't like my shirts to have a semi-spread collar as I don't wear a tie to work. If a customer reads a review like this and wears a tie to work they'd most likely consider this a feature and not a fault in the product.
---
How Negative Feedback Improves Customer Relations
Done right, negative feedback can help you improve customer relations and potentially retain customers at risk of churning. Let's take a look at how you can use negative reviews to connect with your customers and build better customer relationships.
Negative reviews bring you valuable feedback
Most business owners make the mistake of considering all negative reviews to be bad press for their brand. The reality is that bad reviews can potentially help improve the brand by providing insights into the customer's behavior, product usage, and sentiments.
Bad reviews will help you come up with helpful, actionable feedback for your products or services, enabling you to identify product defects and improve your offering.
However, it's important to bear in mind that not all negative reviews are useful. The simplest way to pick out helpful comments is to figure out whether or not they offer constructive, actionable feedback.
If the feedback can help you learn about the weaknesses of your product and ways to eliminate them, consider it valuable. But if it mocks your business without giving any specific examples, you can probably gloss over it.
Here's a review that will likely not stop many potential customers from buying the book. Notice how the reader's experience is neutral and they still found it to be interesting.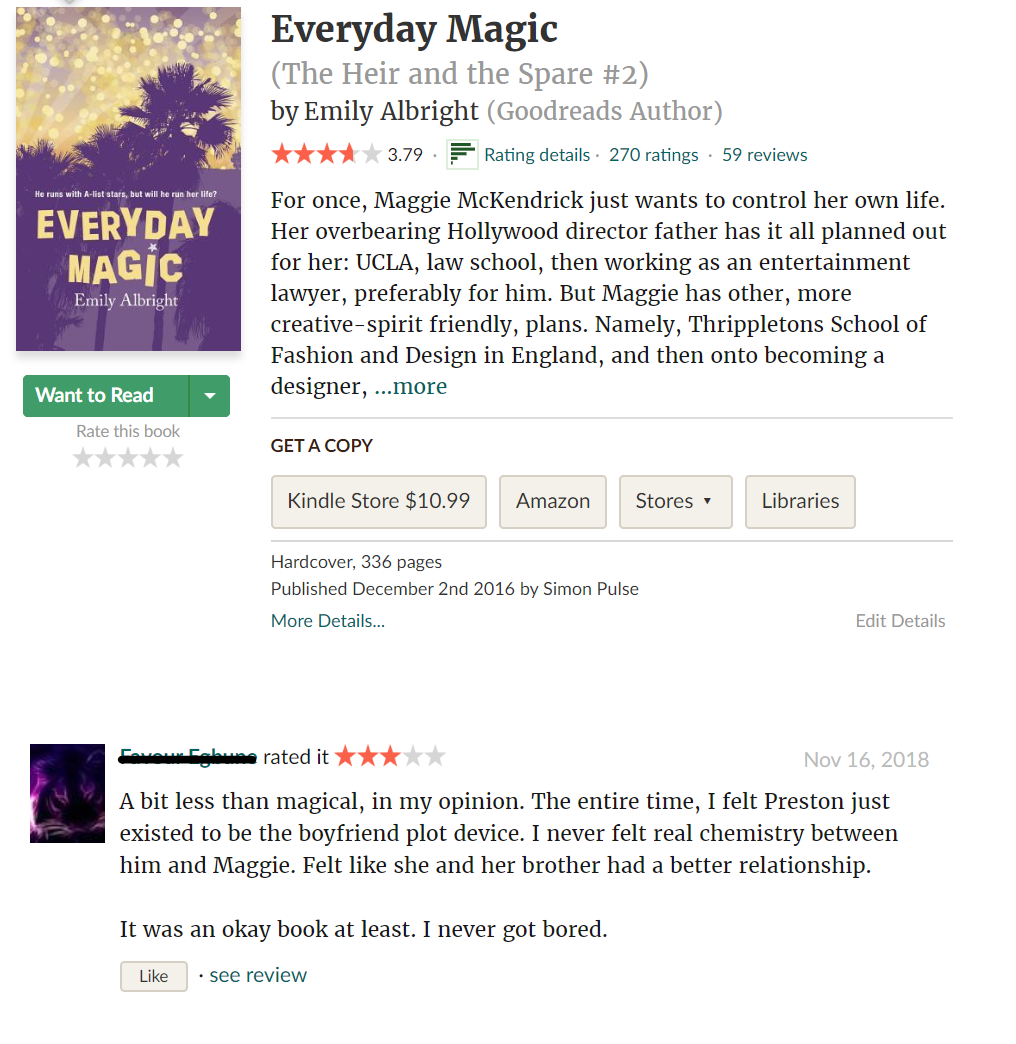 Negative reviews are an opportunity to engage your customers
You can use negative reviews to your advantage by engaging with reviewers to learn about the weaknesses of your product.
Moreover, quickly responding to bad reviews is a great way to demonstrate your website's excellent customer support. This way, any potential buyer reading a negative review will know that you care about your customers and value their opinion.
A study conducted by Harvard Business Review shows that the sooner you reply to negative reviews, the more likely you'll be able to retain your customers.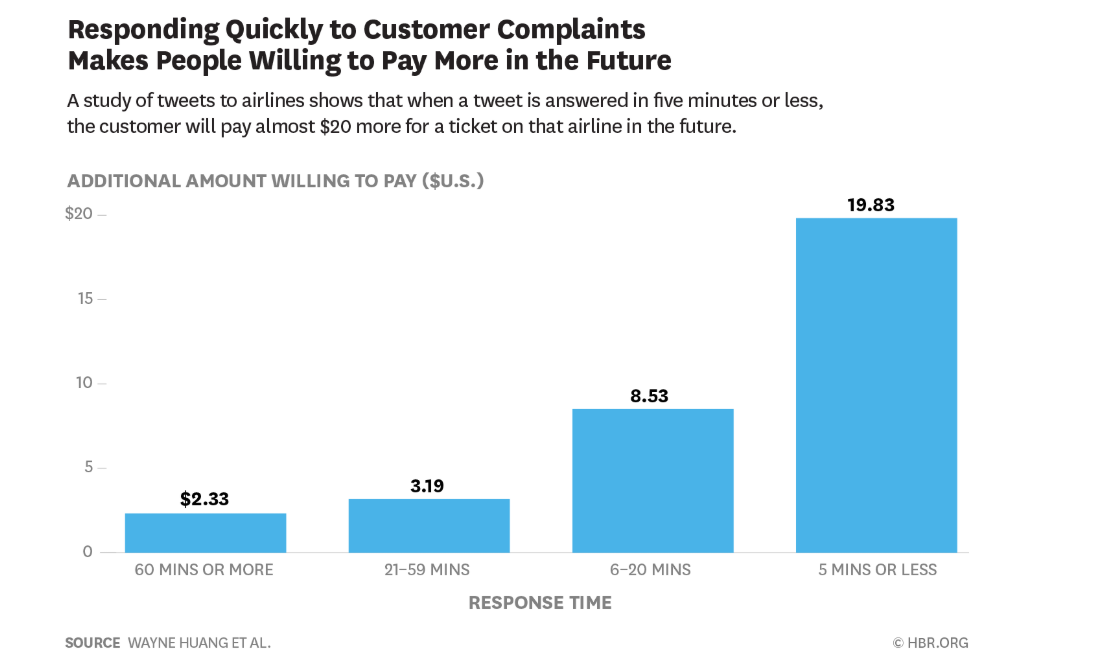 Here's a negative review posted by a Maybelline customer about a faulty product. The customer care representative responds to the negative review which shows concern and lets them know how they can get in touch with them to resolve their issue.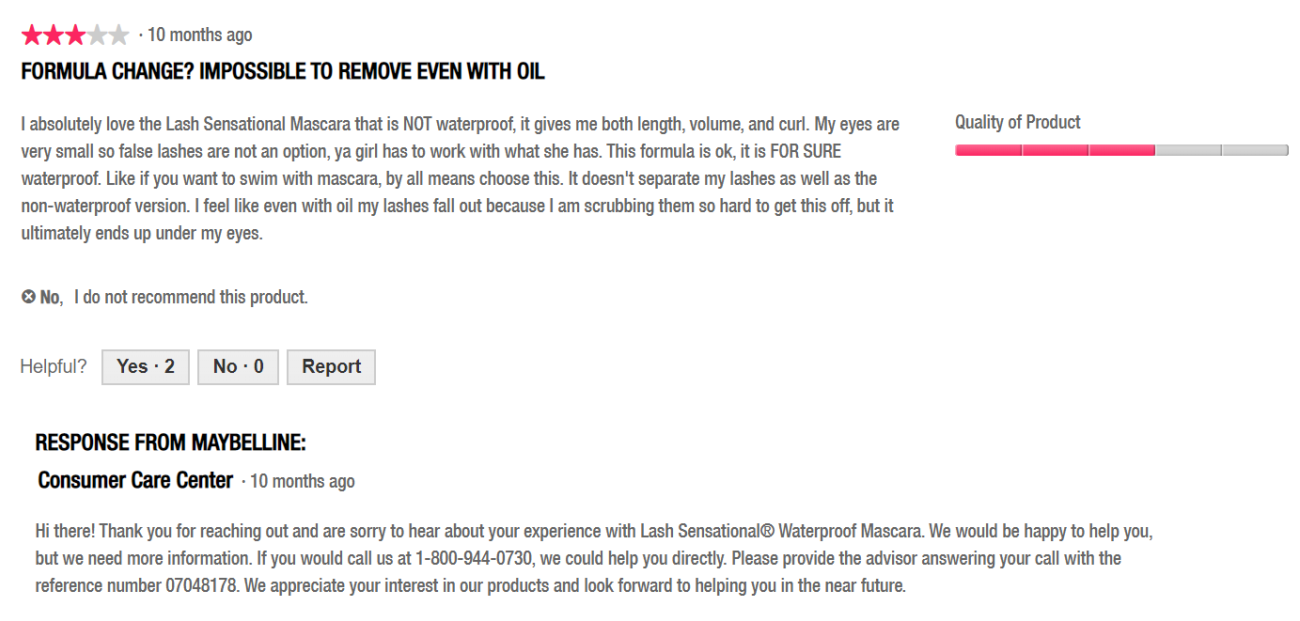 ---
How to Interact With Customers That Leave Negative Reviews
By now, you already know that negative reviews can be useful for your business. The next step is to learn how to respond to reviewers who leave negative reviews on your product pages.
Here, we'll share a step-by-step process on how you can respond to bad reviews in a way that helps convey brand transparency and enables you to build strong relationships with your customers.
Step #1: Learn about the issue
Start by verifying the relevance and validity of the feedback. If it's spam or contains profanity, delete it. Hint: the reviewer's name and email address can often help you confirm their credibility.
Once you've established them as a genuine customer, learn more about the issue they describe in their review. Did they receive a faulty product? Did they experience a technical error? Or was there an issue with packaging or shipment?
Next, figure out how you can solve their problem. It might be as simple as offering a replacement or repair. Finally, estimate the severity of the damage by figuring out the reputation and tone of the customer. Are they an influencer with a large social media following?
This information will help you craft a tailored response to the reviewer. For instance, if the customer complains about product damage during shipment, you can apologize for the inconvenience and offer to replace the product. It's also a good idea to discuss the customer's issue with the concerned department to prevent similar issues in the future.
Step #2: Create the perfect reply
Coming up with the perfect response is the most important part of the process. Your reply will not only be viewed by the customer who left the negative review but also other potential buyers.
When crafting a response to a bad review, start by acknowledging that you have taken note of the issue and apologize for the customer's poor experience.
Next, offer a quick and handy solution to the problem to lessen their grievance. Consider giving them a discount or freebie based on the severity of the inconvenience in addition to replacing the product.
Finally, assure them that you're taking steps to ensure it won't happen again.
Here's how Anker customer support staff responds to negative feedback by acknowledging the issue and apologizing for the inconvenience.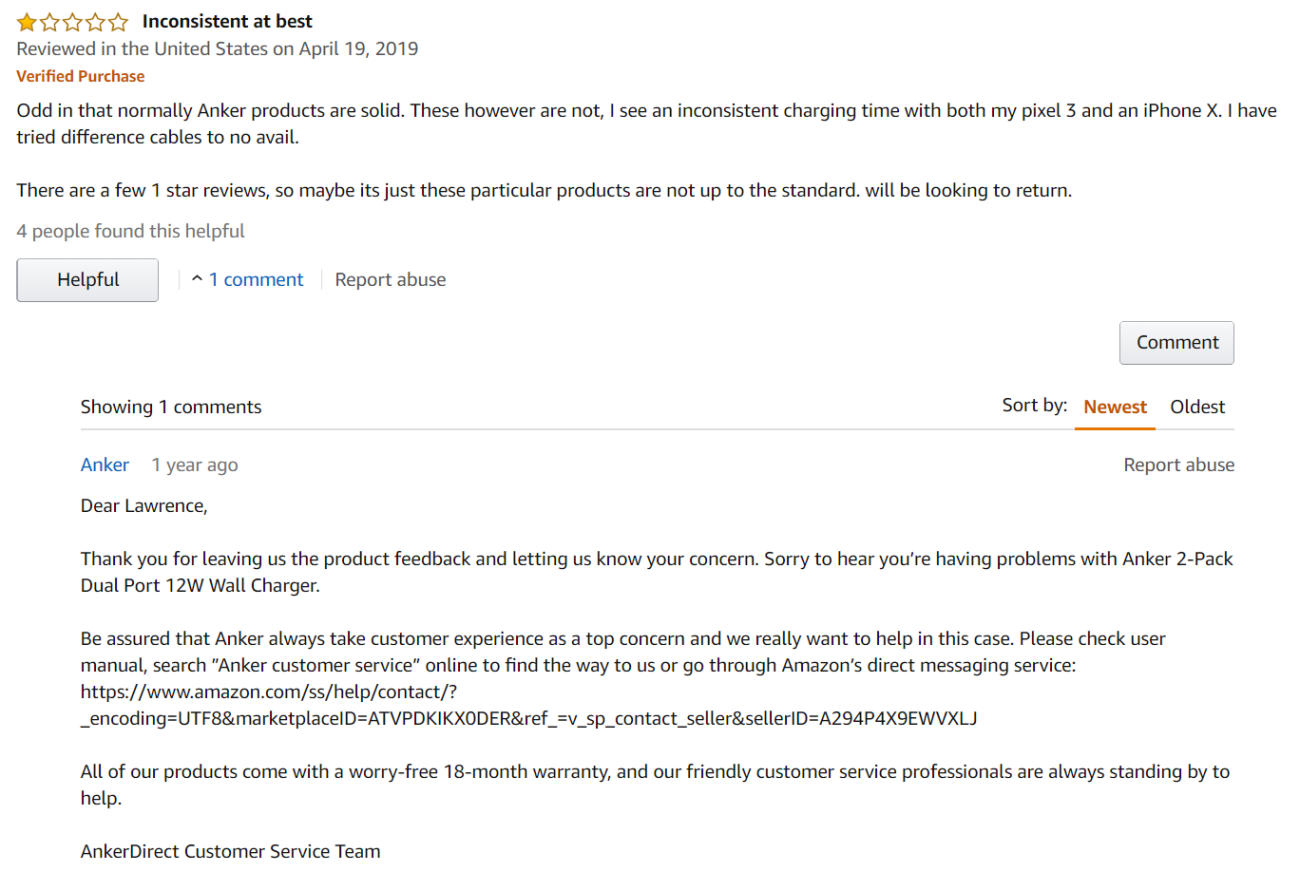 See how they assure the customer that they value their experience and quickly remind them of their 'worry-free 18-month warranty'.
Step #3: Ask them to update their review
By following these two steps, you'll be able to create an opportunity where the customer may update their negative feedback once their issue is successfully resolved.
At this time, you can reach out to the customer to gauge their emotions and politely request them to take down or update the negative review they posted.
Here's a negative product review posted on Amazon where the customer updated their complaint by mentioning the quick response from the vendor and helpful customer support.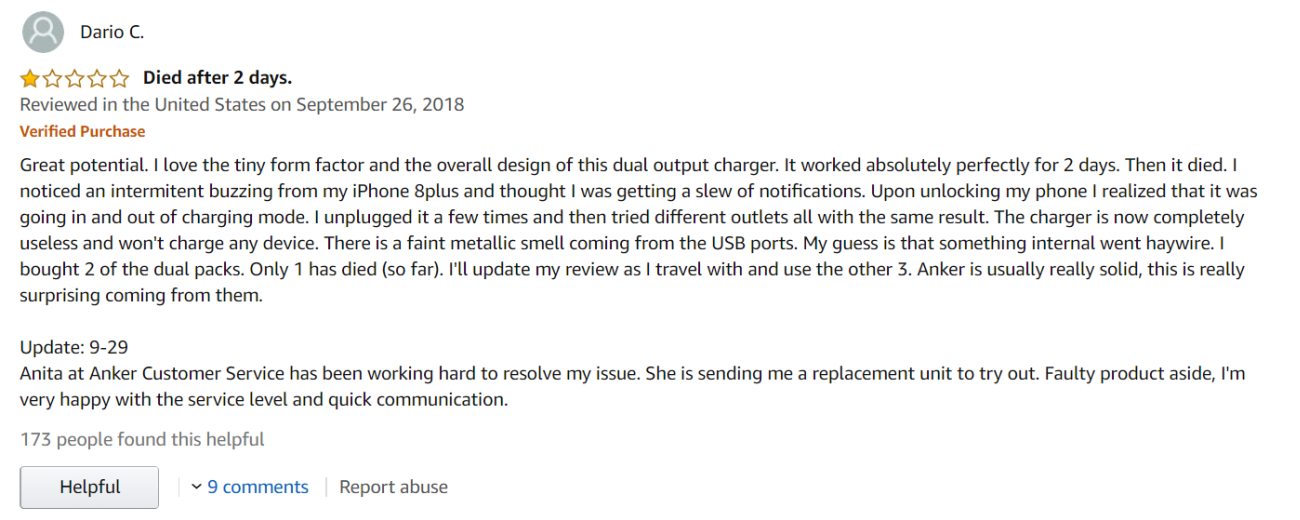 ---
Negative reviews aren't that bad
Negative reviews can offer realistic feedback into your products, services, and brand. They enable you to gather useful, actionable feedback from dissatisfied customers and use that information to improve your offering.
By publishing negative reviews on your product pages alongside the positive ones, you can:
Let potential customers know that you're on their side.
Help them get 'the complete picture'.
Make an informed buying decision.
We're building a new solution for reviews called CommerceKit – sign up for updates as we build it!