WooCommerce out of the box is perfect for a lot of online stores. But what if you want to add new product options like input boxes, dropdowns, gift messages, engraving messages and more? Say hello to the Product Add-ons plugin.
The Product Add-ons plugin is a bit of a swiss army knife plugin for WooCommerce and is one of my favourite WooCommerce add-ons. It's also one of the best selling WooCommerce plugins that WooThemes sell.
I reckon I recommend this plugin to one of our customers at least once a week and oftentimes it's more. As it's a plugin by WooThemes, it fits nicely within the existing WooCommerce UI conventions and extends the system nicely and intuitively to provide store owners with WooCommerce on steroids.
So what does it do?
Add required input fields to product details pages
Add text areas/description fields to let users enter optional product information such as:

Engraving messages
Gift card messages

Add upload fields to let users submit images/documents with product orders. This can be really cool for things like custom T-Shirt printing
Assign prices to fields – so for example add $3.99 for a custom engraving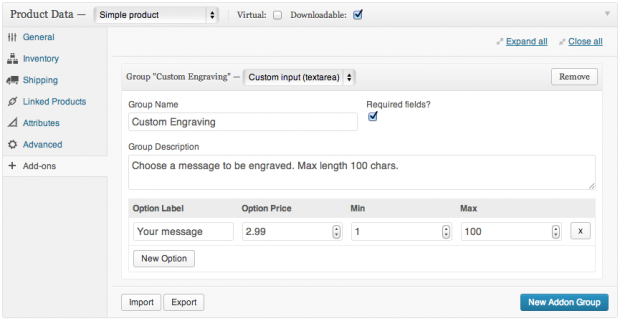 At $49 for a single site license this plugin is a real bargain for those that need a little bit more flexibility for their product pages.