Looking to launch your own eCommerce store? In our hands-on BigCommerce review, we'll help you decide whether this popular eCommerce platform is right for your needs.
Overall, BigCommerce is flexible for a hosted eCommerce platform, especially as compared to some other hosted tools. It also offers a multi-channel approach that's great if you want to also sell on eBay, Amazon, and other platforms.
Want to learn more? Keep reading and we'll go hands-on…
BigCommerce Review: A Look at the Features
BigCommerce is a hosted eCommerce platform. Basically, that means that you can just sign up for an account and start selling online – you don't need to mess with purchasing your own hosting, installing software, security, maintenance, etc.
This lets you focus on marketing and growth, rather than the technical details of running an eCommerce store.
BigCommerce actually offers two separate products:
Enterprise
Essentials
There's quite a bit of overlap between the two when it comes to the high-level features. But for this BigCommerce review, we're specifically focused on the Essentials side of things.
So what do you get with BigCommerce?
We'll take a deeper hands-on look at some of these features later in our BigCommerce review, but here are the high-level features:
Multi-channel sales – beyond your own eCommerce store, you can sell on marketplaces like eBay and Amazon, social media, offline, and more.
Flexible products – beyond core product details, you can add your own custom fields, plus more.
Customer management – keep track of your customers and all of their orders.
Pre-built themes – choose from free or premium themes to control your store's looks.
Flexible shipping – create flat-rate shipping zones or calculate live shipping rates.
Use any payment gateway – pick from a variety of payment gateways with no added fee (like Shopify charges).
App marketplace – extend your store with hundreds of apps.
WordPress integration – connect your store with WordPress for the best of both worlds.
Exploring Key BigCommerce Features
Now, let's get away from the marketing copy and go hands-on to show you some of the most important areas of your store.
Store Dashboard
To manage your store, you'll use the BigCommerce dashboard.
The main dashboard gives you an overview of your store's performance, as well as some tips to help you fully set up your store (which is convenient onboarding):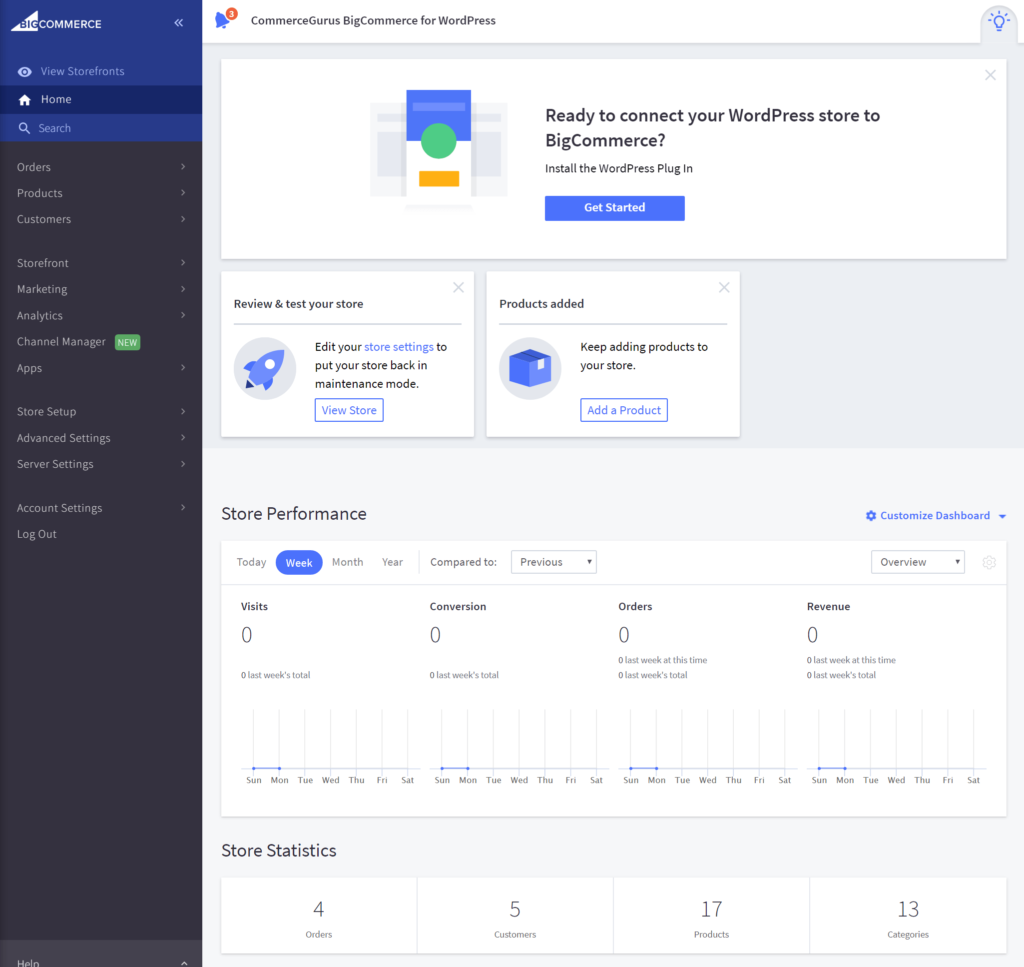 To manage your store, you'll use the menu options on the left.
Let's go through some of the most important areas…
Product Management
To add new products or manage existing products, you'll use the Products area: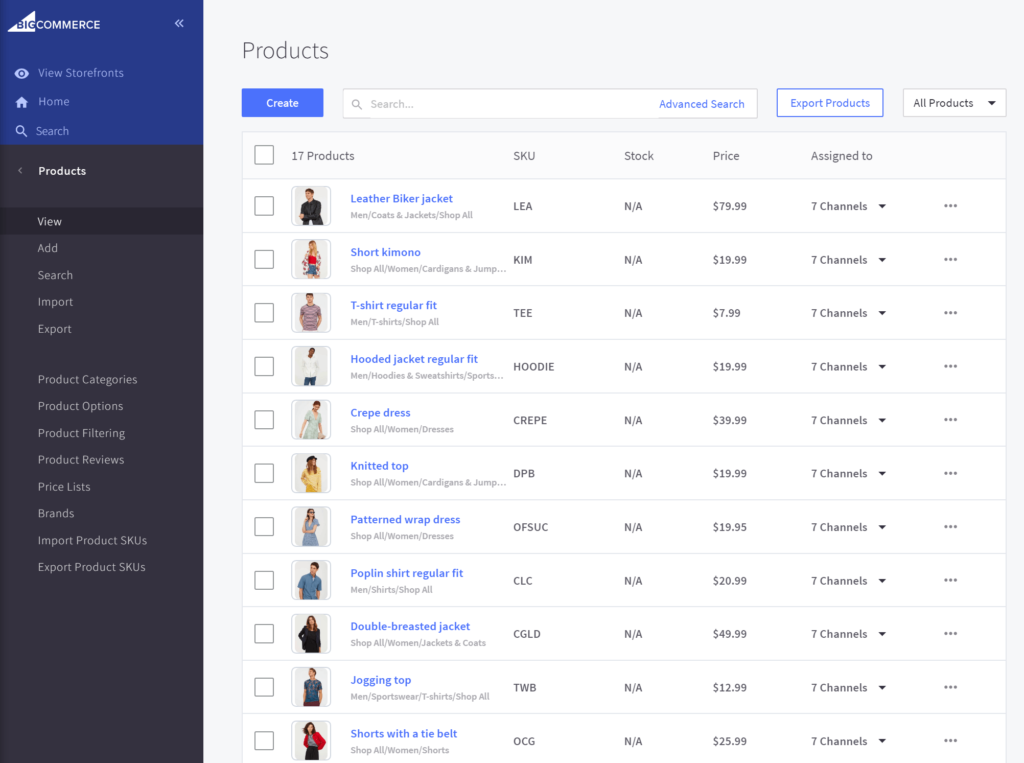 When you add a product, you'll be able to configure everything about the product including its:
Price
Tax classification
Dimensions
Images (and/or YouTube videos)
Inventory status
Variations (called "Options). E.g. different colors, sizes, etc.
Custom fields that apply to this specific product
Nitty-gritty details, like a bin picking number, special search keywords, gift wrapping eligibility, and more
Bulk pricing discounts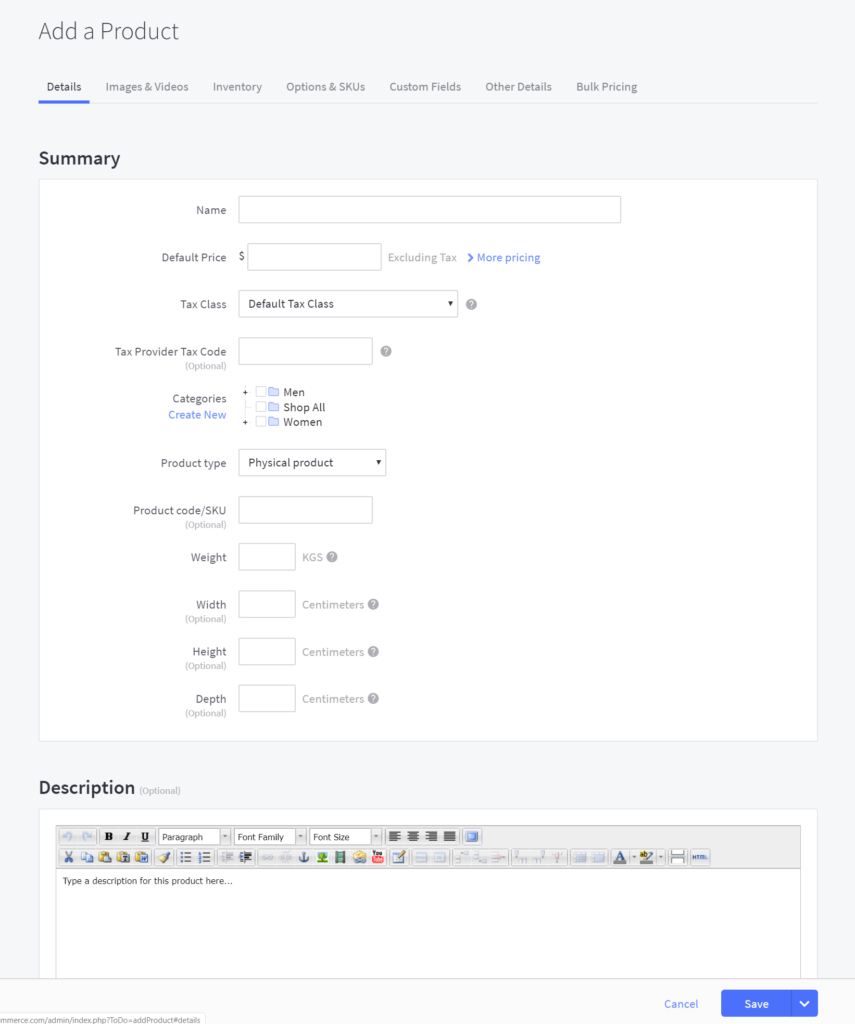 Order and Customer Management
Once you get some orders, you'll be able to manage them from the Orders area. You can filter orders by their status using the options at the top: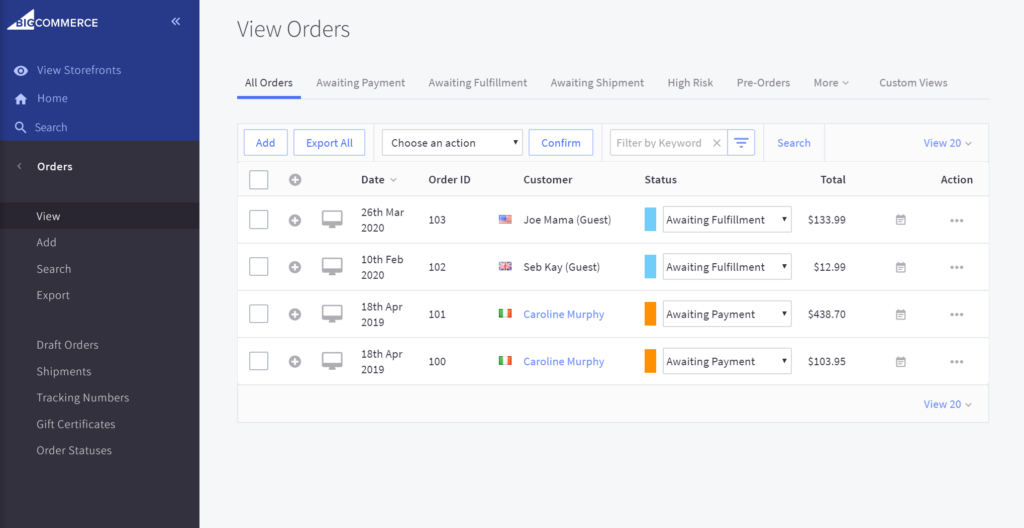 If you expand one of the orders, you can see more details about it: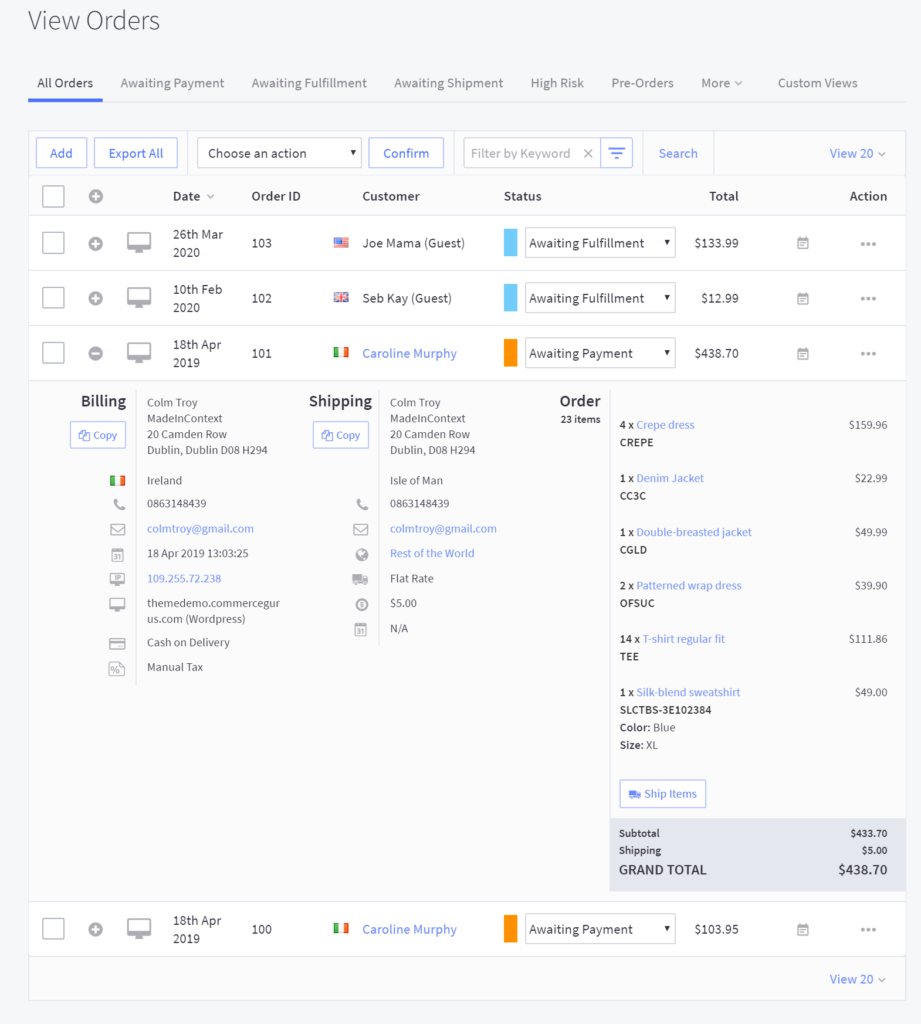 If you click on a registered customer, you'll also be able to see more details about that specific customer, including all of their past orders: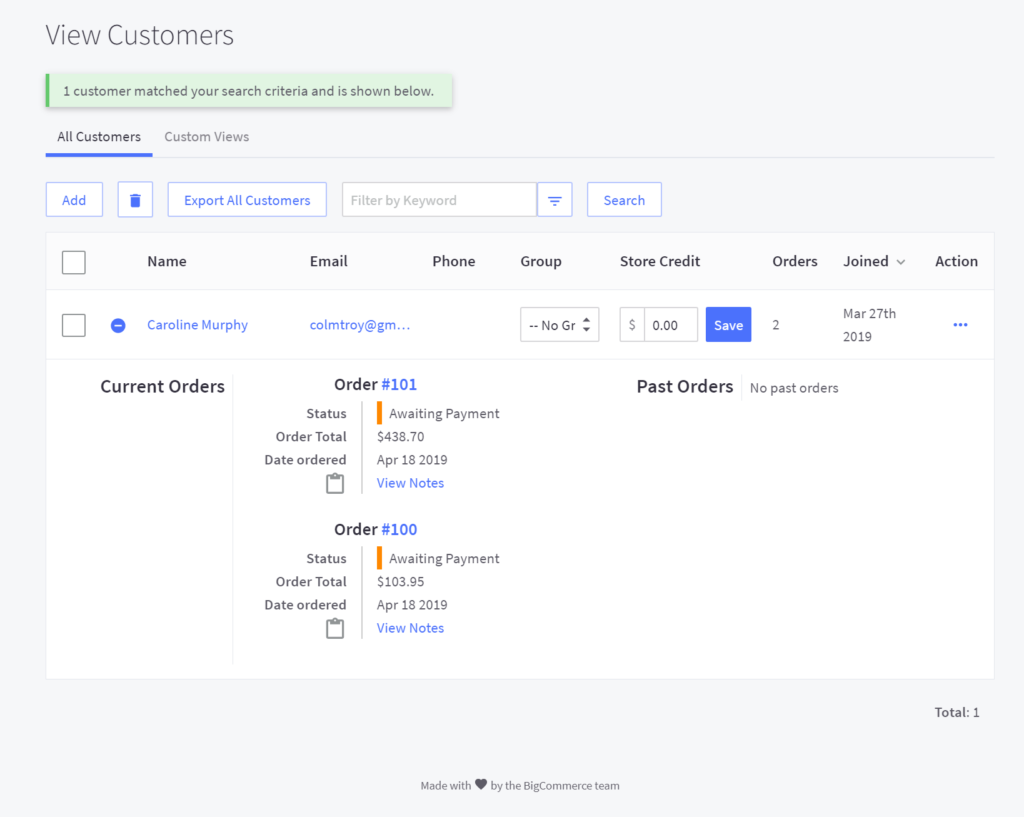 Themes
Themes help you control how your store looks to shoppers. If you want to use BigCommerce itself to host your store (rather than, say, connecting it to WordPress), being able to find a theme is important.
To help you do that, BigCommerce includes a built-in theme marketplace that offers both free and paid themes, all divided into different categories: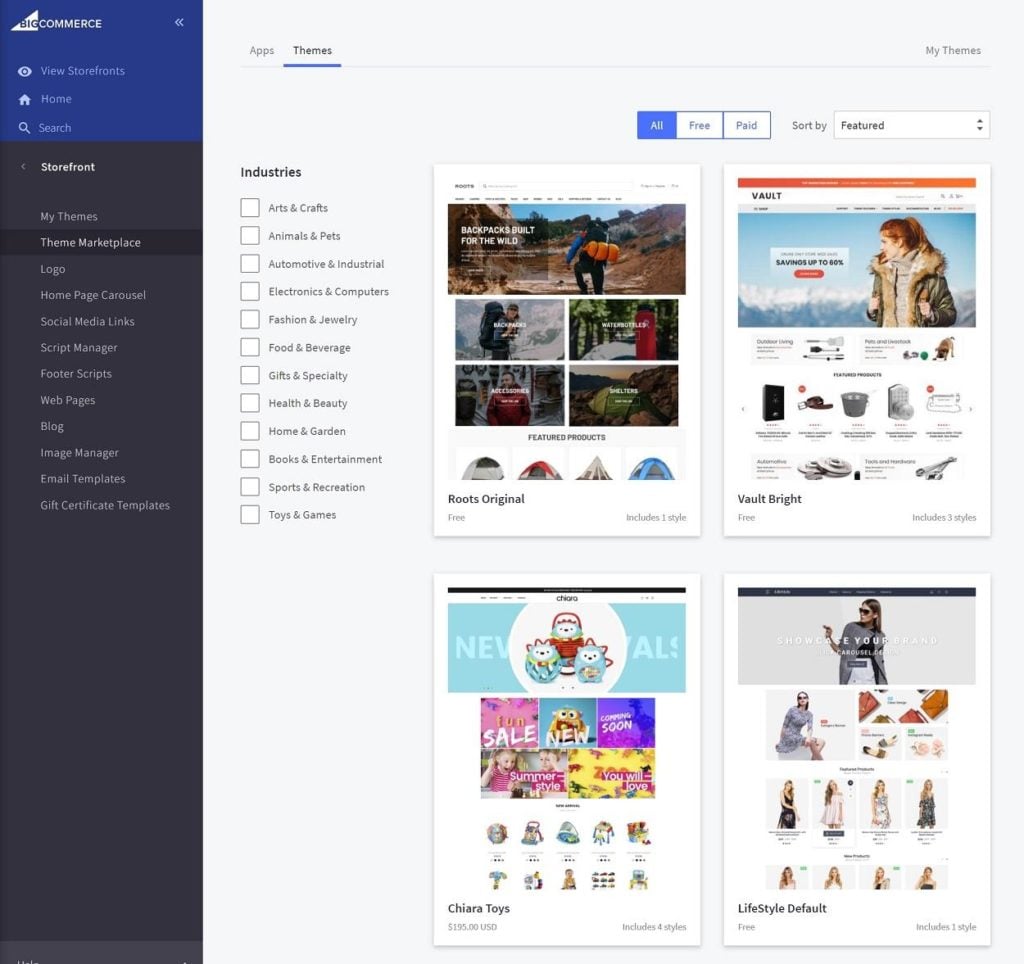 You'll find ~12 free themes for various niches. The free themes are basic, but totally viable for a store.
If you want access to more options, you can browse a much larger collection of premium themes, which range from ~$150-$225.
When you go to use a theme, you'll get an option to preview how it looks with your store/products. Then, you can add it to your store with just a few clicks.
Payment Gateway Options
Unlike Shopify, which offers its own built-in payment processor (and charges you if you want to use a third-party processor), BigCommerce relies on third-party processors like Stripe and doesn't charge any extra commission.
You'll get access to a broad range of payment gateways including in part:
Stripe
PayPal
Authorize.Net
Amazon Pay
2Checkout
Sage Pay
While BigCommerce doesn't charge you extra for any gateway, BigCommerce does have a special agreement with PayPal powered by Braintree that can save you some money on credit/debit card transactions (not regular PayPal transactions, though).
Your discount goes up depending on which BigCommerce tier you're subscribed to: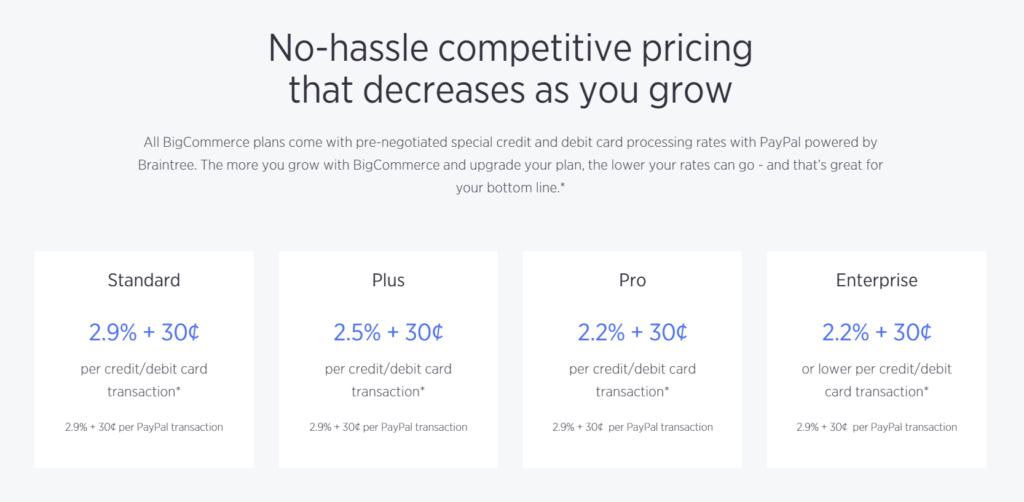 You can also integrate digital wallets like:
Apple Pay
Chase Pay
Venmo (via PayPal)
View a list of all supported payment gateways
Beyond online payments, you can also accept offline methods including:
Cash on delivery
Check
Bank deposit
Money order
Pay in store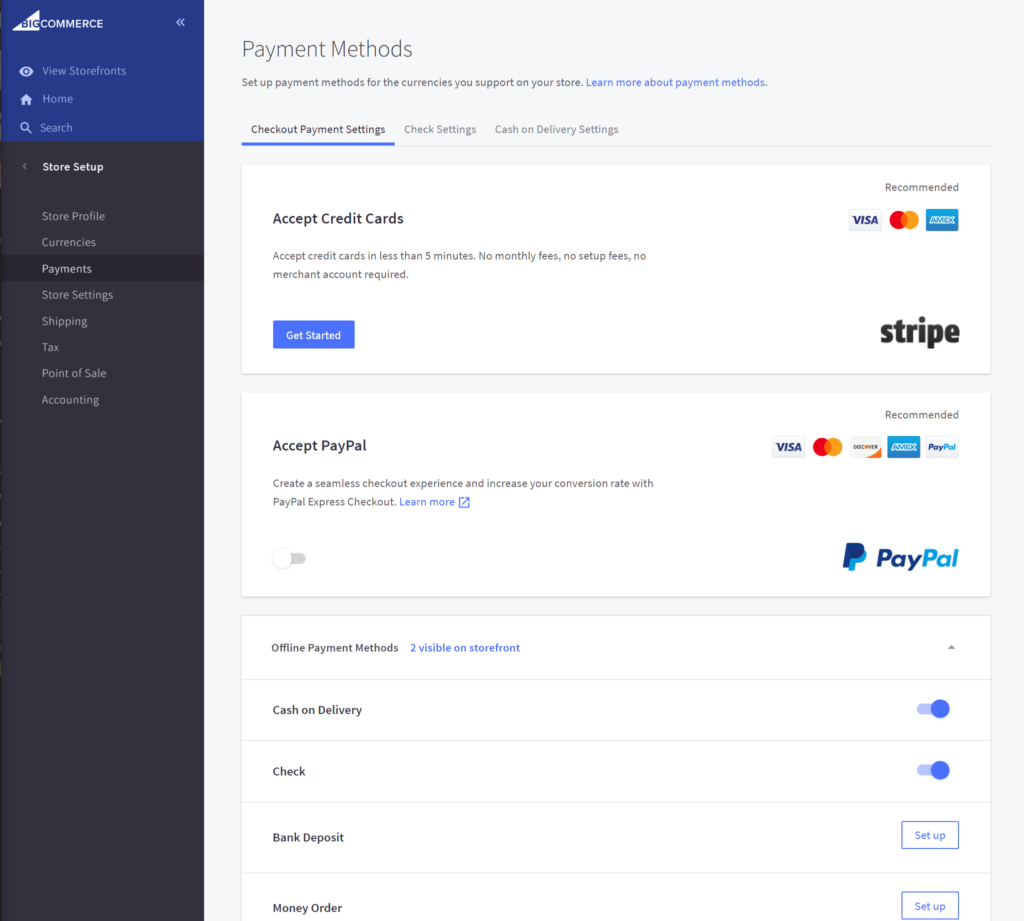 Shipping Options
BigCommerce gives you a good array of options for controlling shipping costs.
First off, you can set up custom zones for one or more countries (or states) where you deliver: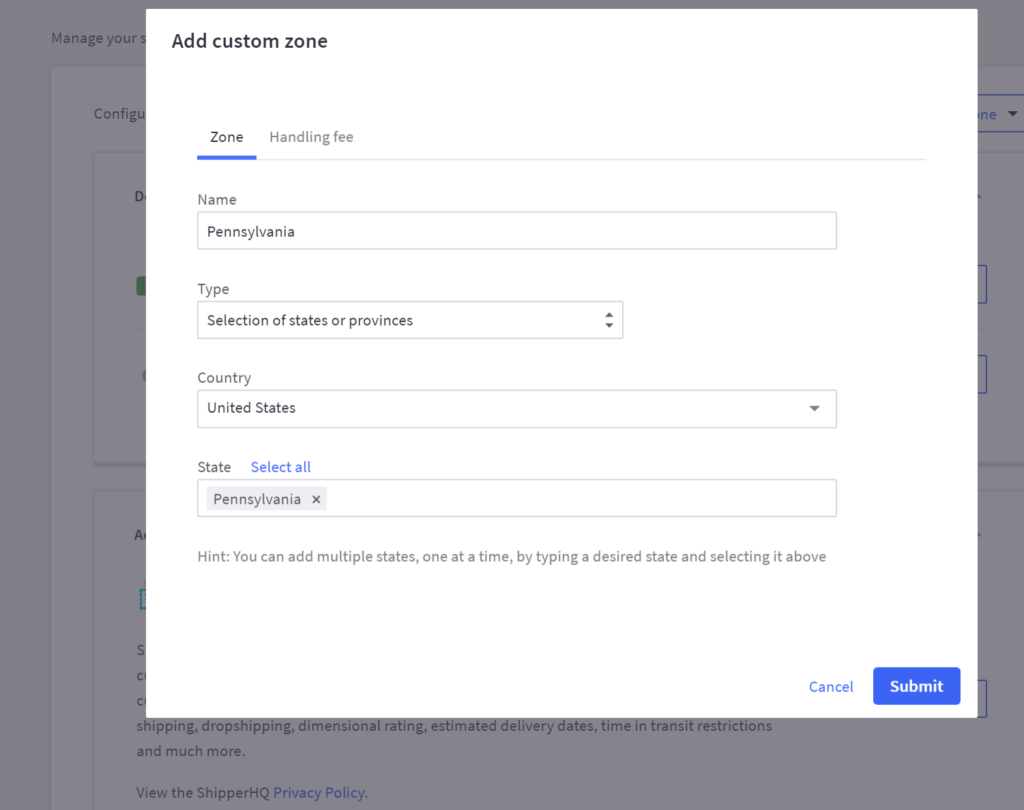 For each zone, you can choose from both static or real-time shipping quotes.
For static quotes, you can set up different options including:
Free shipping
Flat-rate (per order or per item)
Ship by (apply a fixed formula based on order value or total weight)
Pickup in store
You can also calculate real-time quotes by connecting to FedEx or UPS: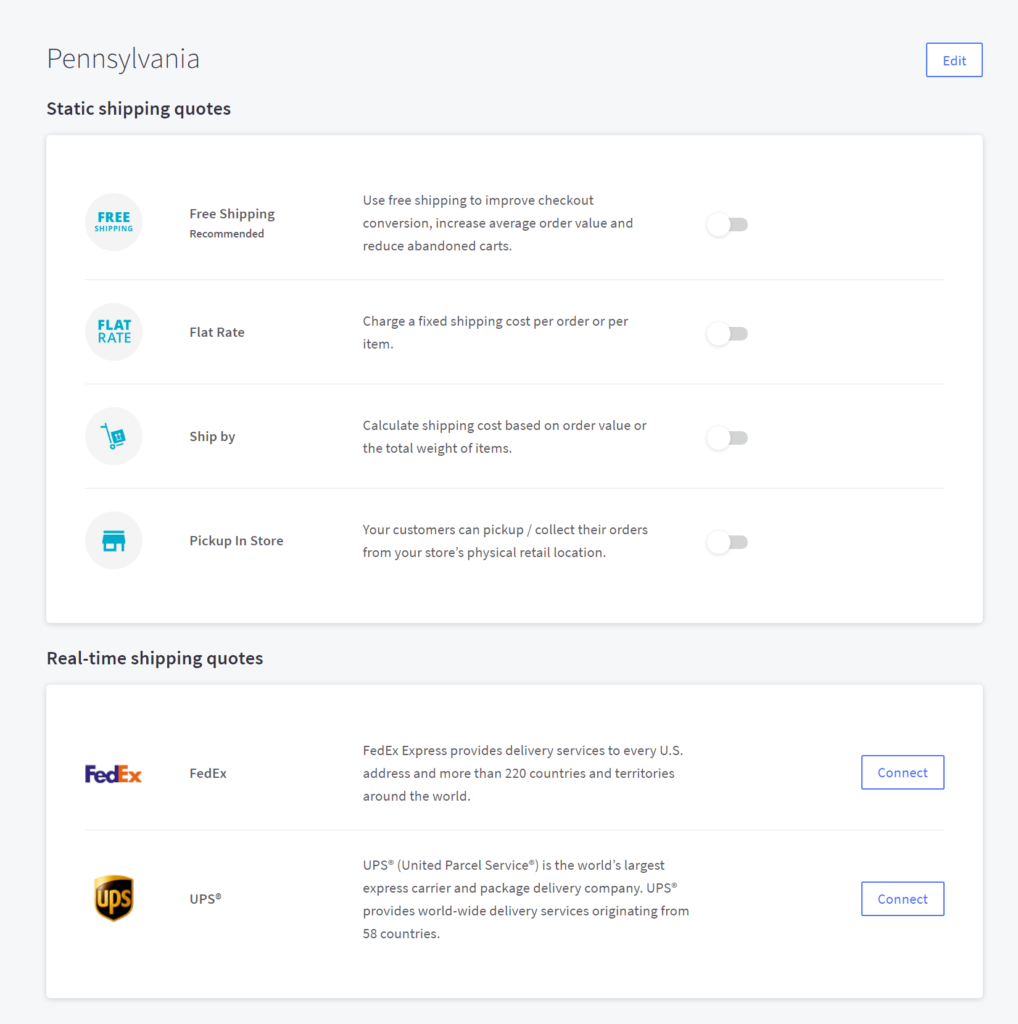 If you opt for one of the static shipping methods, you'll be able to conditionally set different prices. For example, if you use the "Ship by" calculation, you can enter different shipping charges for different weight ranges: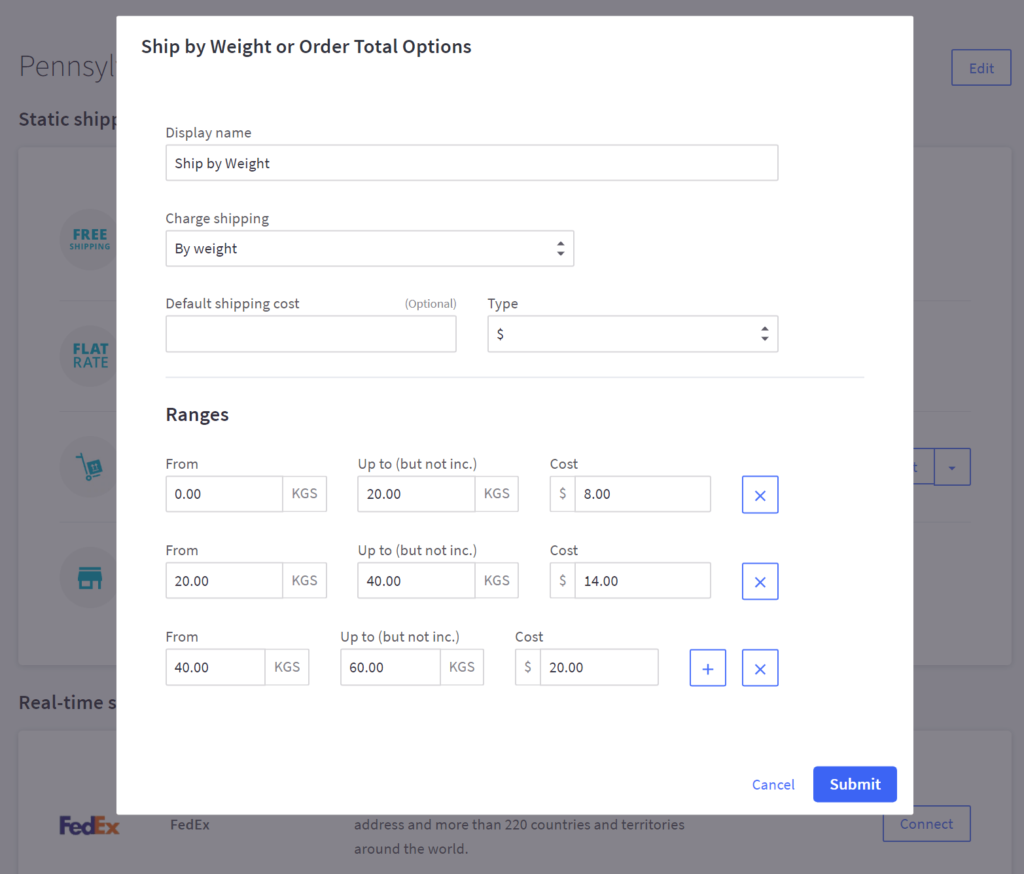 Finally, you also have the option to add a separate handling charge to each zone, in addition to any shipping fees/calculations.
All in all, you have a great deal of flexibility for setting up how you charge for shipping at your store.
Tax Calculations
To set up tax calculations, you get two options:
You can manually set up tax calculations for everything. This is time-consuming, but it gives you full control.
You can connect to the Avalara AvaTax service for automatic real-time tax calculations. Plans start at just $50.
App Marketplace
We've already touched on third-party apps a few times (e.g. the Avalara tax service above).
To see a full list of apps, though, you can browse the full BigCommerce Apps Marketplace.
Here, you'll find free and paid apps for:
Email marketing
Accounting
Customer support
Improved processes (e.g. shipping, taxes, order management, etc.)
Analytics
Product sourcing (e.g. print on demand or dropshipping)
Etc.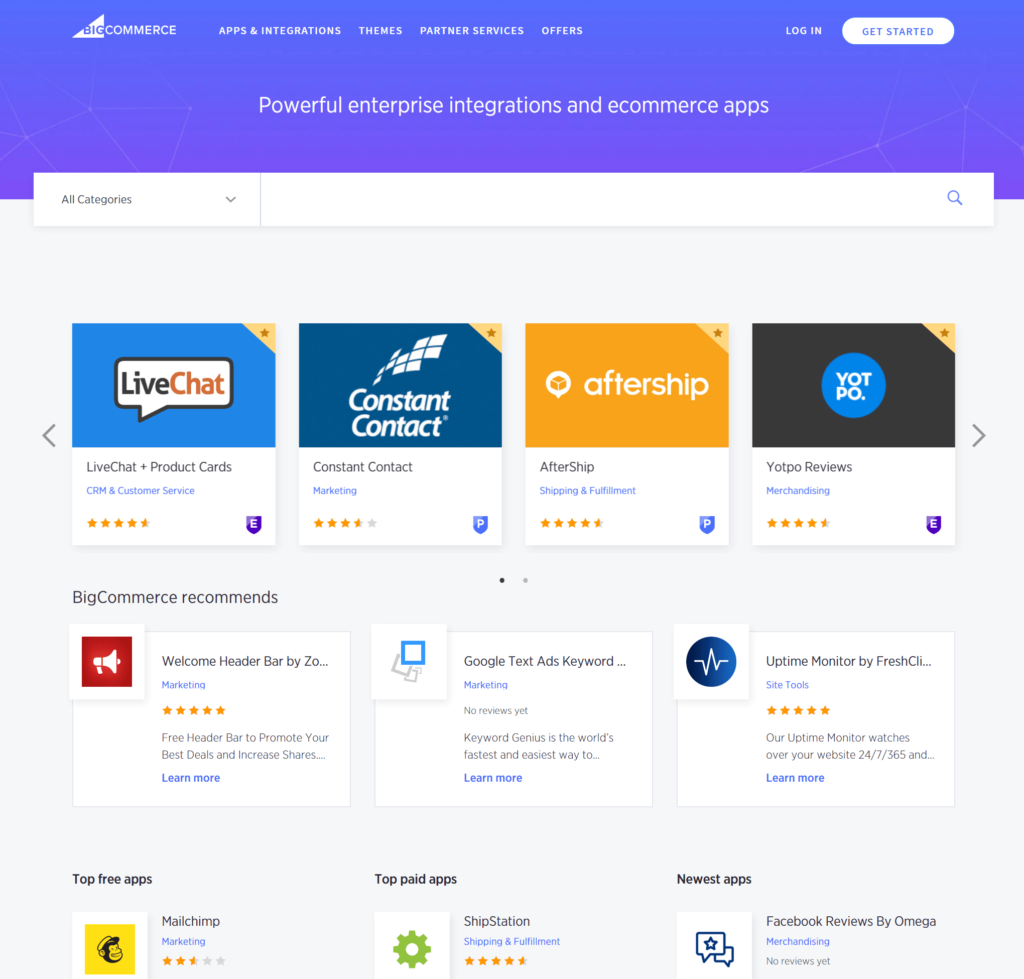 BigCommerce Pricing
BigCommerce Essentials starts at just $29.95 per month. Again, there are no transaction fees, no matter which payment gateway you use (beyond the payment gateway's fees, of course).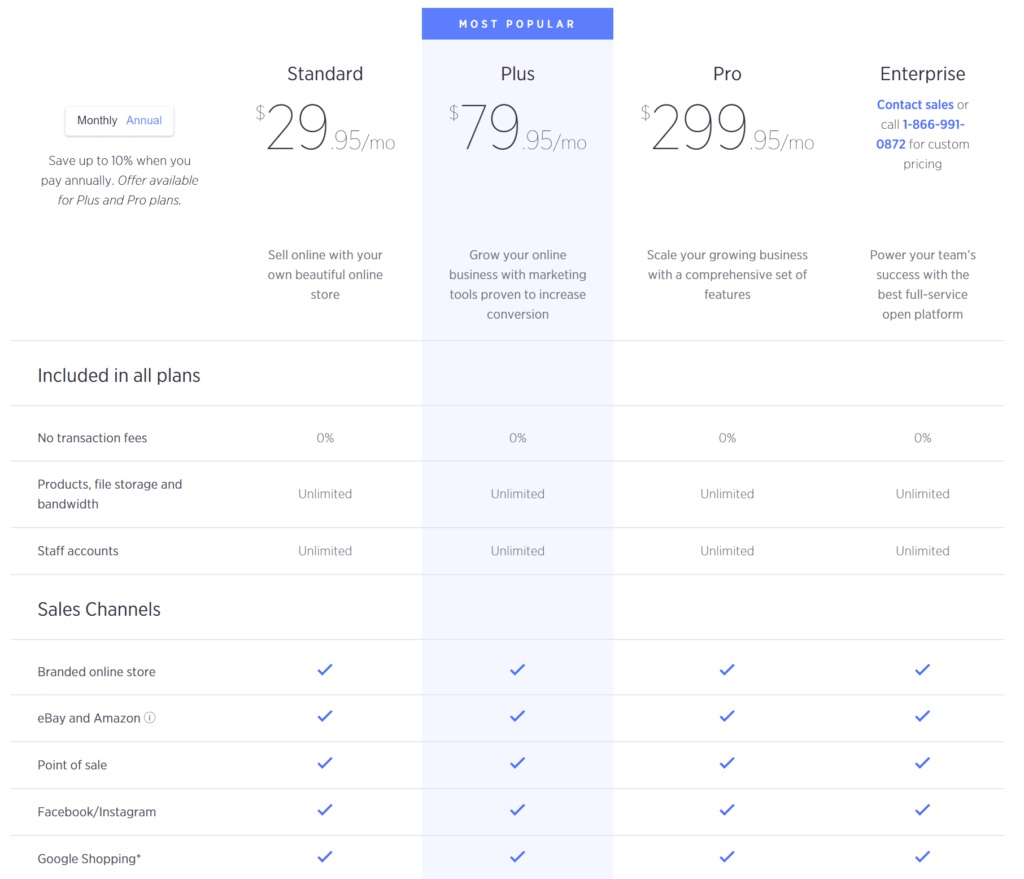 One notable thing about BigCommerce's pricing is that, in addition to some minor feature differences, you're charged based on your sales numbers based on the trailing 12-month average:
Standard – up to $50k
Plus – up to $180k
Pro – up to $400k
BigCommerce FAQs
Here are a few quick FAQs for questions you might have that we haven't answered already…
Is BigCommerce free?
No! BigCommerce is not free, but you can try it out for free with a 15-day free trial.
Can you use BigCommerce with WordPress?
Yes! There's a dedicated BigCommerce WordPress plugin that lets you fully integrate your store with your WordPress site.
Essentially, this means that you can use WordPress to control the front-end design of your site (with a theme like Shoptimizer), while still having BigCommerce manage everything on the back-end.
In a way, you get the best of both worlds – the flexibility of WordPress with the convenience of BigCommerce.
We have a dedicated post on using BigCommerce with WordPress.
Can you have a blog with BigCommerce?
Yes! BigCommerce includes its own built-in blog tool.
However, the editor is quite basic: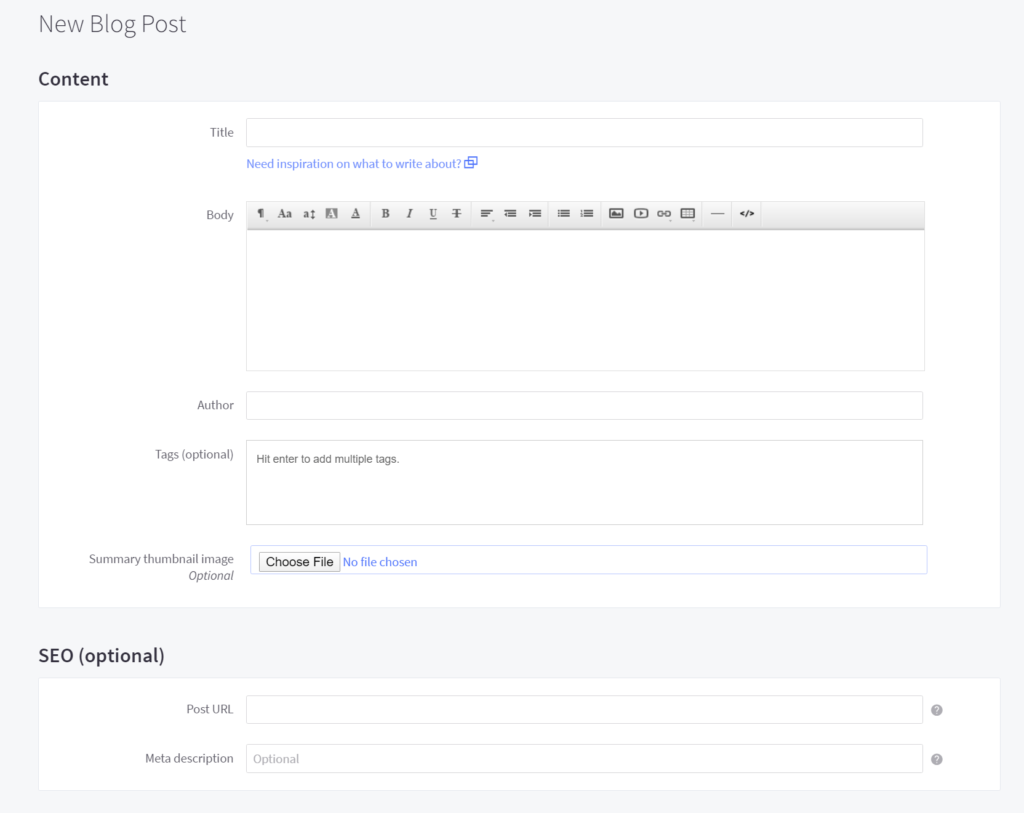 If you're serious about building a blog alongside your store, you might be better off pairing BigCommerce with WordPress.
Can you sell digital files with BigCommerce?
Yes! BigCommerce lets you sell downloadable products in addition to physical products. You can attach one or more digital files to the product and also set up some basic download controls including:
Expiring the download link after a certain amount of time
Setting a maximum number of downloads
BigCommerce vs Other eCommerce Platforms
To finish things out, let's compare BigCommerce vs two other popular eCommerce platforms – WooCommerce and Shopify.
BigCommerce vs WooCommerce
BigCommerce and WooCommerce both take a different approach to creating an eCommerce store.
Whereas BigCommerce is a hosted solution, WooCommerce is a free, open-source extension for WordPress that you can self-host on your own server.
That means you can fully modify and adjust the underlying code as needed (super flexible), but it also means that you're responsible for maintenance and security (more work for you).
WooCommerce is a great choice for eCommerce and, by the numbers, the most popular way to build an eCommerce store. However, you'll need to feel comfortable self-hosting your store (or hiring someone who is).
If you want the flexibility of WordPress and the convenience of BigCommerce, you can use BigCommerce with WordPress via a dedicated integration plugin. This might be a better option if you don't want to be responsible for your store's security/maintenance.
We have a dedicated post on using BigCommerce with WordPress.
BigCommerce vs Shopify
BigCommerce and Shopify are both hosted eCommerce platforms, so the basic premise is the same.
That is, you don't have to worry about any of the maintenance, security, etc. Instead, you can just focus on selling.
One big advantage of BigCommerce over Shopify is payment gateway flexibility. With Shopify, you're encouraged to use the integrated Shopify Payments gateway. You can use other payment gateways, but Shopify will charge you for doing so. This fee can be as high as 2%, which can really eat into your margins.
BigCommerce also does a better job at multi-channel selling.
At the same time, Shopify has done a good job of offering built-in features for some things BigCommerce requires third-party services for. For example, Shopify has mostly automated tax calculation from its built-in service, whereas BigCommerce requires you to use the separate Avalara service for automatic calculations.
Similarly, if you are happy to use Shopify's payments service, you might prefer that it's already bundled in.
Overall, most beginners will probably find Shopify to be a little more user-friendly. However, experienced users and growing stores might appreciate the flexibility and customization of BigCommerce.
Final Thoughts on BigCommerce
Overall, BigCommerce manages to offer you the hands-off nature of a hosted tool (when it comes to maintenance and security), while still giving you a good amount of flexibility when it comes to how you set up your store.
You can sell through multiple channels, and you also get multiple options for how you set up your eCommerce website.
One approach is to choose one of the BigCommerce themes and have BigCommerce host your front-end store for you. Or, if you want more flexibility, you can pair BigCommerce with WordPress. This gives you:
The flexibility of WordPress for controlling your front-end store and creating non-commerce content (like a blog).
The hands-off nature of BigCommerce for handling all your secure processes (like checkout and payment processing).
If you want to sign up for BigCommerce, click here.
And if you want to learn how to pair BigCommerce with WordPress, a dedicated BigCommerce for WordPress review is coming soon.