Finding the Best WooCommerce CRM platform for your business isn't easy. Once you achieve any kind of momentum with your online store you'll quickly discover that while WooCommerce is a great platform to manage your products and orders, it is still severely lacking when it comes to managing customers.
If you've gotten to a point with your online business that you're finding it difficult to stay on top of customer support it hopefully means that you've nailed the hardest part of building an eCommerce business – finding customers and making sales! So in a way this is a good problem to have 🙂 That said you don't want to kill your business growth and future potential by developing a reputation for poor customer service. Putting in place tried and tested processes for customer management is critical to scaling a highly successful eCommerce business. A key aspect of your customer management operations will be finding the right Customer Relationship Management (CRM) platform for WooCommerce.
Finding the Best WooCommerce CRM for your online store
Customer management is one of the weakest aspects of WooCommerce. In fact, there is STILL no centralized place where you can go to see your customer database!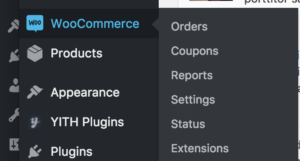 To find customers you need to first access orders – then start searching for customers using the Order search feature. There's no single screen where you can start to filter and organize your customers into groups that would be useful to an eCommerce business owner.
I don't know about you – but that doesn't seem all that intuitive – especially once you get to a point when you've tens or hundreds of new customers every day.
A key piece of infrastructure that is essential to growing your eCommerce business is simply does not exist in WooCommerce core right now – and I think if WooCommerce is to seriously make inroads with larger eCommerce players then this needs to be fixed.
Even if WooCommerce had a Customer module, chances are you would still probably need to invest in a dedicated CRM platform at some point as WooCommerce will never be a fully fledged CRM system.
My ideal WooCommerce CRM ideally should have:
Fully automated integration with WooCommerce – no need to manually sync data – this is a must have.
Ability to segment customers based on key eCommerce metrics like average order value, order frequency, profit margin, product category and so on.
Deliver customer support – this is critical – stop managing customer enquiries via email. It will change your life.
Plan and execute marketing campaigns based on customer segments. (e.g. Black Friday upsell campaign for product X+1 for customers who previously bought product X.)
Build customer profiles by gathering intelligence from the web (e.g. customer social profiles). A true CRM should also present a single view of all interactions with that customer from their initial visits to our online store pre-sale right through to post order enquiries and returns.
Integration with key WooCommerce features like discount codes/coupons and product variations.
To date, I've not found a single platform that does all of these really well. But some platforms come pretty close. Let's take a look at the best WooCommerce CRM platforms we've found thus far.
AgileCRM
AgileCRM is my top recommendation for a solid WooCommerce CRM.
Their starter plan ticks most of the boxes for what you need in a WooCommerce CRM. I also like that they also provide integration with their on-screen popups to offer personalized discount codes to customers so you can eliminate the need to use other standalone plugins for things like that and incorporate those kind of events into your CRM – very nice. They also offer exit intent and cart recovery functionality.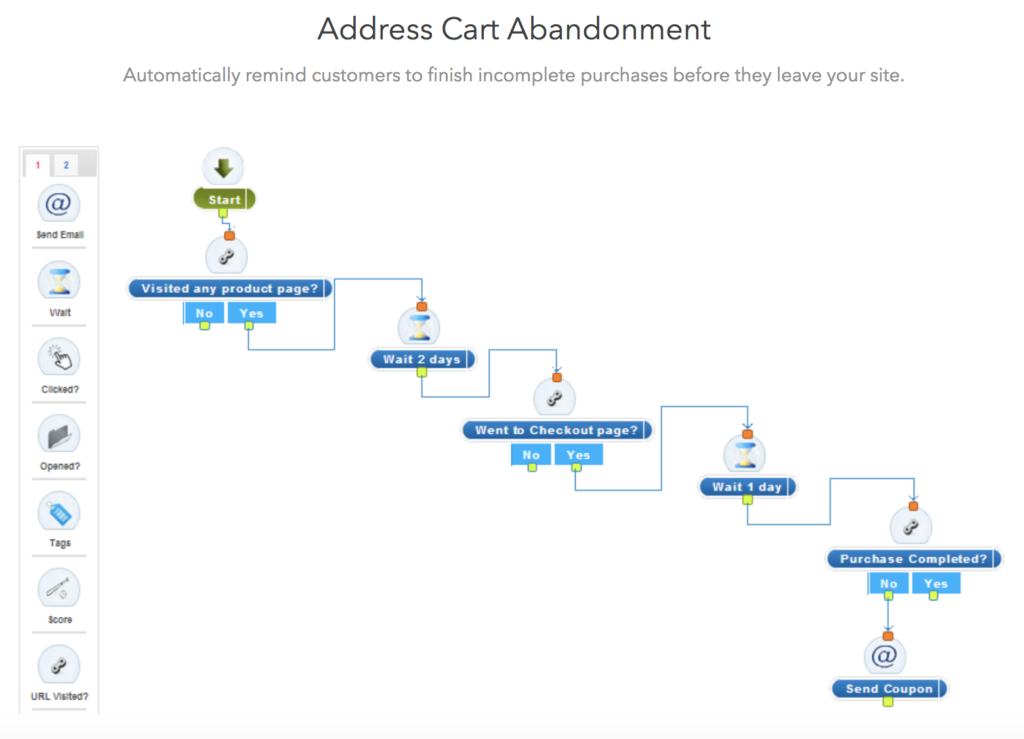 AgileCRM smart campaigns are where this platform really shines. If your customers browse to your brand new Coffee machine product but then choose not to buy and wander off somewhere else you can use AgileCRM to retarget those customers via a smart campaign. This works similarly to Facebook retargeting and is a really powerful way of expanding revenue from existing customers.
AgileCRM of course does a ton of other stuff that you would expect from a CRM platform so it's definitely the best place to start if you've never used a CRM with WooCommerce before.
Find out more about Agile CRM for WooCommerce here.
Cost: Free tier is free for up to 10 users. The regular plan which has most of the valuable CRM goodies is $49.99 per month per user which is pretty competitive.
Metrilo
Next up is Metrilo. Metrilo is a reasonably new entrant into the CRM world. Founded in 2014, Metrilo has grown rapidly over the past couple of years and has carved out a niche in eCommerce CRM for Shopify, Magento and WooCommerce. Their WooCommerce CRM integration is pretty comprehensive and includes the following:
Actions – track user behaviour – think Google Analytics but specifically tailored for WooCommerce
Customer Profiles – Get a single unified view of customers actions, orders and acquisition channels
Powerful segmentation – you can use the actions that people take on your site to create segments for marketing. With over 30 filters and filter combinations that work right out of the box. A great example of the kind of thoughtful integration between Metrilo and WooCommerce is the ability to automatically segment previously loyal/repeat customers who've not purchased in some time – who can then be targetted via a custom email campaign.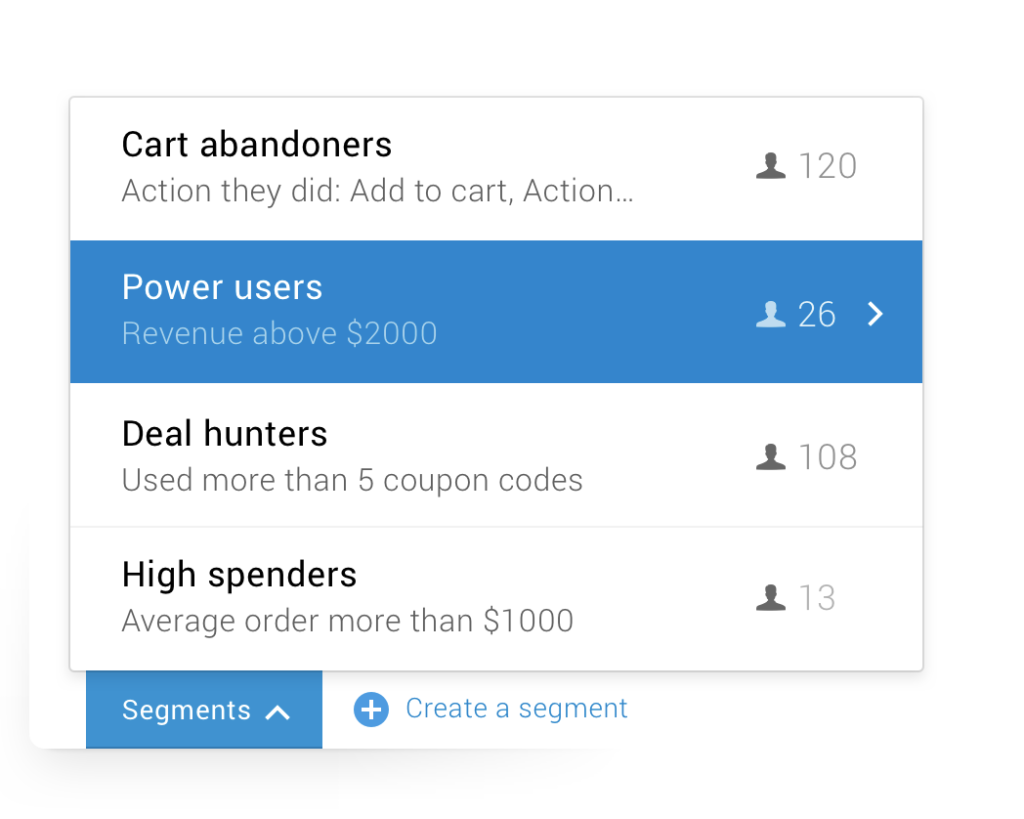 Cost: 14 day free trial. The Essential pPlan starts at $119/mo which gets you eCommerce analytics. $199/mo gets you that plus Retention Analysis and a Customer Database. $299/mo is the full Metrilo; all of the above plus Email Marketing and Automation plus Customer Feedback.
Sign up for a free Metrilo trial
Zero BS CRM
Zero BS CRM as the name suggests, is a no bullshit CRM for WordPress and WooCommerce 🙂 I've mixed feelings on Zero BS CRM. Zero BS CRM lives inside WordPress. In fact, they see that as one of it's key differentiators from the 50 or so CRM's they tested and found to not fit their needs before they built Zero BS CRM. I've found that WordPress and WooCommerce tend to struggle with large volumes of transactional data due to the underlying postmeta data structures inherent in WordPress. Perhaps Zero BS CRM use their own custom tables and indexes to avoid these scaling problems. In any event, it's for those scaling reasons I've tended to avoid WordPress native CRM's in the past.
Scaling concerns aside, ZBS CRM looks excellent. This is a no frills CRM platform. You won't find the ton of bells and whistles you'll find in AgileCRM or Metrilo – but what you will find is a core set of CRM features that have been executed incredibly well. Simplicity is at the heart of ZBS CRM. As ZBS CRM is self hosted within your WordPress install, it makes it the perfect CRM to use if you can't or don't want to share your customer data with a third party CRM platform.
If you're looking to start your WooCommerce CRM adventure in the simplest but most effective way possible, ZBS CRM is definitely the best place to start. (Just make sure you've got a solid WooCommerce hosting plan)
Cost: ZBS CRM Core is Free! Extensions are available from £29 per year.
Wrapping things up
We've identified 3 pretty compelling recommendations in our search for the Best WooCommerce CRM platform. While there are literally hundreds of CRM platforms in existence, very few of them have yet to implement deep integration with WooCommerce – so our 3 recommendations are clear leaders in the eCommerce CRM industry. I expect to see more activity in this space from the big players like Salesforce in the near future. If you've had great results with any of our recommendations or have your own recommendations for a WooCommerce CRM let us know in the comments below!