What would you do if you only had 30 days to prepare your online store for the holiday sales? What type of optimizations can you make to your WooCommerce store with such a limited amount of time to prepare?
If you are an online store owner who is starting out for the first time, finding what to optimize in such a short time is often difficult. That's why we have decided to help.
Black Friday and Cyber Monday (BFCM) are all about getting the most sales in the minimum time. To achieve that goal, you must have a clear strategy and an optimized website to reap the desired profits.
In this post we'll learn how to prepare your online store for the holiday season sales in a short span of time. We have 23 ways to get ready, almost one for each day.
Let's get started!
---
Fix your Hosting
To make the holiday season a success, most people start by optimizing their online store instead of focusing on the underlying hosting issues. This is the wrong approach. A below-average hosting can even force shut down the store to balance other websites. Therefore, if the store is experiencing traffic spikes, it is always advisable to scale it so that it can manage the influx of traffic.
Here are the top hosting measures that you can take to keep your online store on track during the holiday shopping spree.
1. Focus on Scalability
Ask yourself, or even your system admin – if you have one – is your store scalable? What will you do when you get an unprecedented traffic surge? How will you handle the traffic spikes? Unmanaged traffic spikes will force more downtime. Your site will stay down during the whole day making you will miss out on potential customers.
The solution is to get an eCommerce web hosting solution that is scalable and lets you scale your website at will such as the Cloudways managed hosting platform. It offers a 3-day trial for testing your website with the new hosting infrastructure.
2. Improve Performance
Next, you need to check if your site is performing at peak capacity. This means checking if the page is loading at optimum speed or not. A fast WooCommerce site is essential in general and a lack of performance can become a particularly serious problem during the holiday season. There are two solutions to this: Get a cache that optimizes server performance. You can also get an optimized hosting stack such as ThunderStack by Cloudways. It comes with three server-level caches to improve site speed and server performance.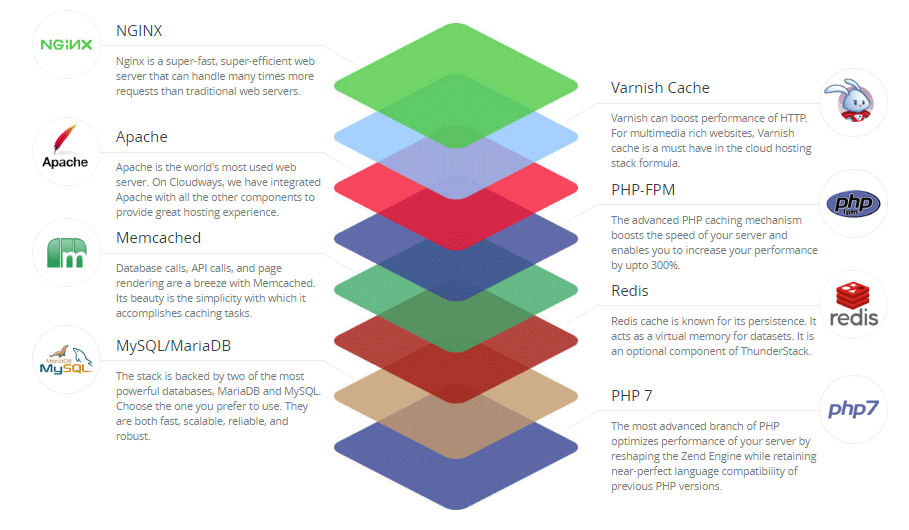 3. Add an additional Security layer
There is a cyberattack on a website every 39 seconds. Last year, 5000 websites were infected through cryptojacking. If you are not too careful, your website can experience the same fate. So, ensure that your hosting solution offers additional security layers. You need Two-Factor authentication (2FA), IP whitelisting, application isolation, and security firewalls. Most of these are only available on a managed hosting platform.
4. Measure server performance
As the holiday season is right around the corner, you must conduct a test to check if the server is performing at peak levels. Most server-level issues can be easily solved if the performance of its bandwidth, storage, RAM is optimum. You may need a control panel to measure all these server parameters.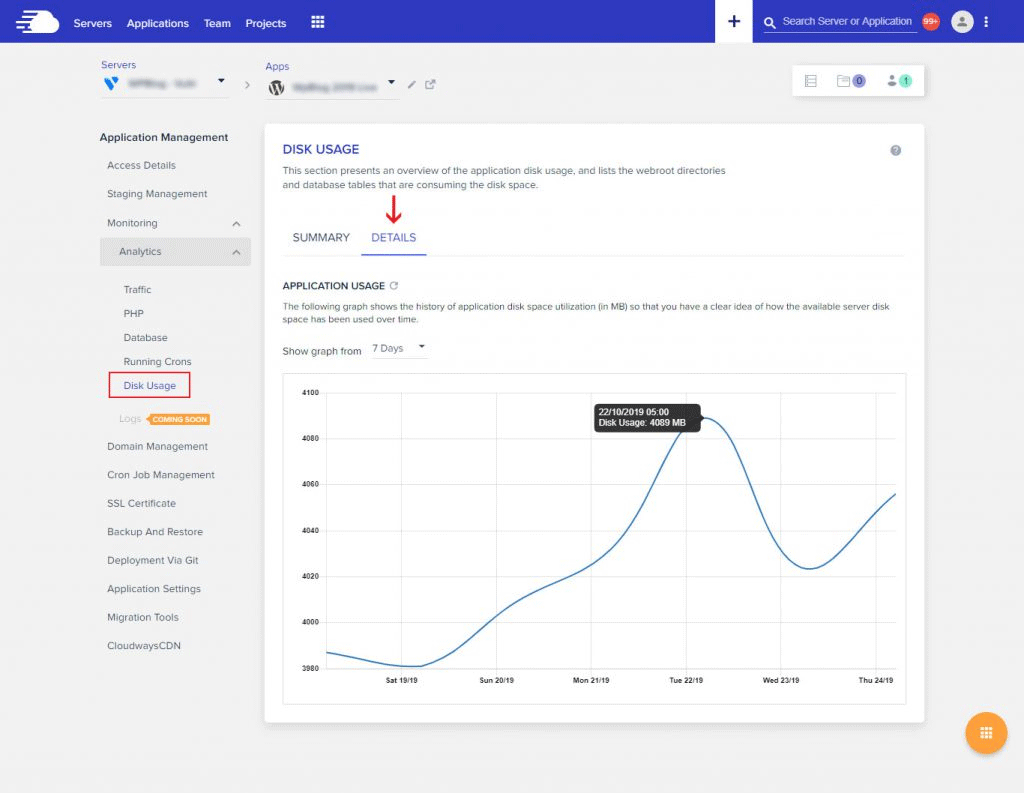 5. Change Data Centers If Necessary
It is essential to know where your site gets most of the traffic from. If the site is receiving traffic from a location in Asia while your server is in the US, your page will take more time to load. You must change the datacenter before the holiday season starts to improve page performance and rank higher in search engines.
6. Prepare rapid recovery plans
Backups are essential for every business and they are highly important for eCommerce stores during the holiday season. Think about it. Disasters can occur anytime. Your site can lose data. Hackers can wipe out your site's data without your knowledge. Make sure that your eCommerce store has an active disaster recovery plan in place. We like and recommend the team at BlogVault for ensuring that your store is regularly backed up.
---
On-Site Changes
Now that you have fixed the hosting-related matters on your server, it is time to prepare your website for the holiday season. Let's learn how to perform on-site changes.
7. Enhance the layout of your store
Is your eCommerce store attractive? Why would someone want to shop from your eCommerce store? Do you have any perks available? Experts say that users leave a website in less than five seconds if they don't see anything of value on a website. That's why you must have a proper layout that speaks for itself. This also includes creating a smooth visitor-journey. Take help from top eCommerce websites like our Shoptimizer WooCommerce theme and big brands such as AliExpress, Jet.com, and WalMart to know how they are marketing their products online.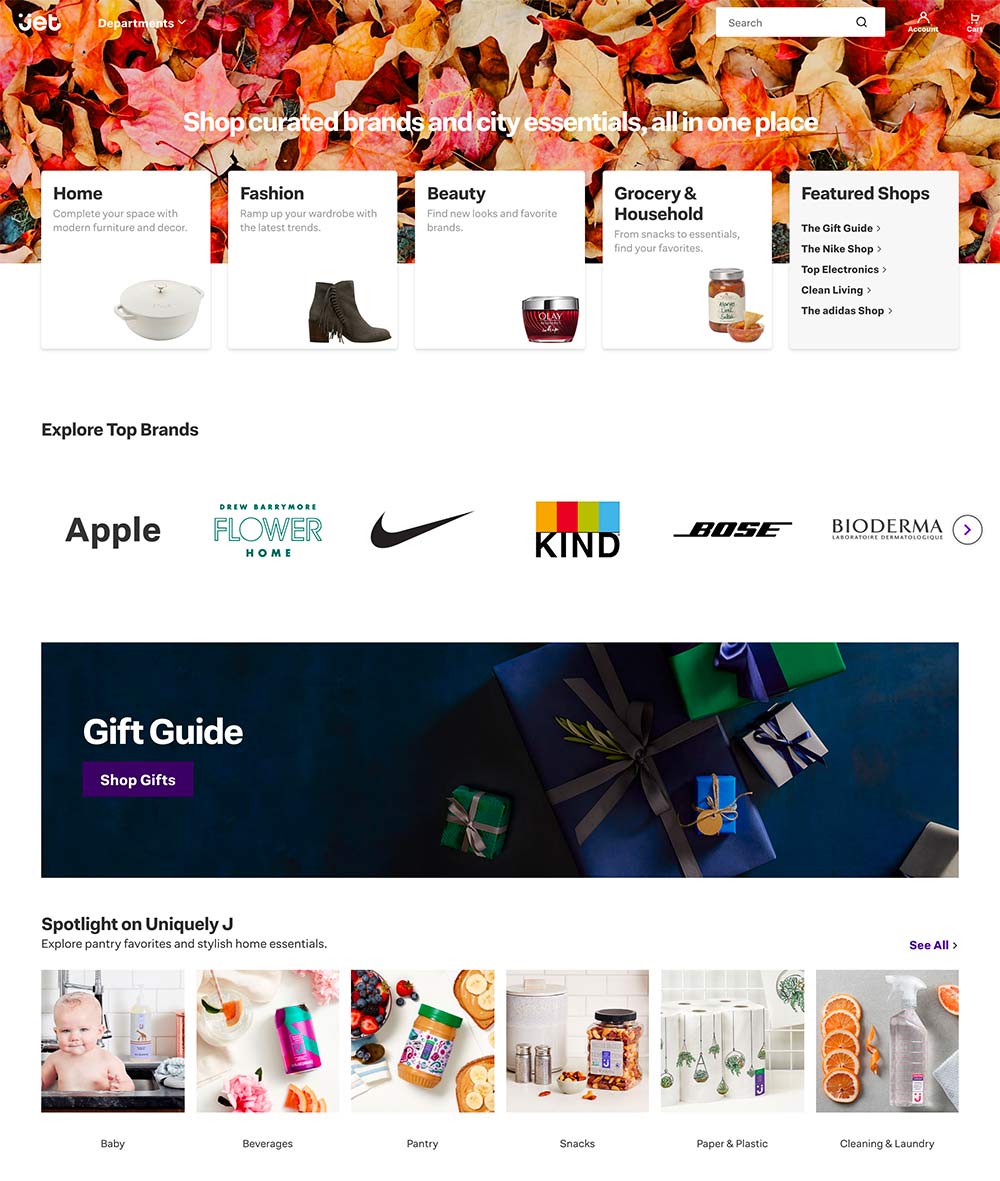 8. Optimize On-page SEO
To make your website appear in the search engines, you must optimize it through proper keyword placement, internal linking, and complete site architecture. For eCommerce stores, internal link building is as important as external link building because most of the link juice is passed through these links. If you are going to introduce a new landing page, make sure it is properly referenced, optimized, and has the right quantity of inbound links.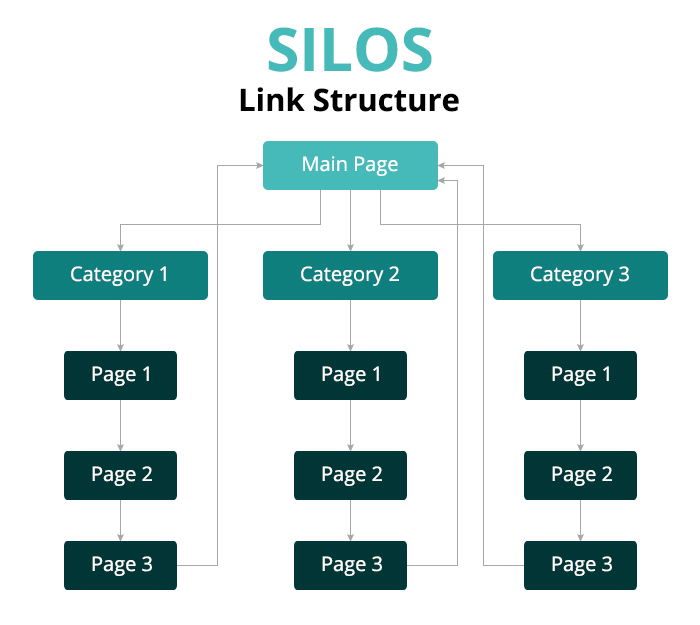 Silo link structure for landing pages
9. Create Holiday Focused Landing pages
Make sure that you have specific deals or discount pages available for each holiday event. For BFCM, have a discount page featuring all products at a discounted rate. These pages will get ranked on search rankings for their dedicated keywords, resulting in more traffic for your website.
You can use tools like ClickFunnels and LeadPages to create focused landing pages.
10. Enhance the checkout process
Streamline your site's checkout process by removing additional steps. A good checkout process only takes three steps to place an order. If the user has to go through more steps, there are chances that he/she will abandon the cart altogether.
---
External Communication and Off-page Changes
Once you are done with on-page changes, next focus on off-page changes to boost your store's marketing.
11. Create Social Events and Promote your Store
First of all, create a social event and promote your products on all social media channels that you actively use. You must have a social calendar detailing all the steps that you will perform throughout the holiday season. Next, use HootSuite, or SocialSprout to schedule social media posts. You can also run paid campaigns to market your products to more followers.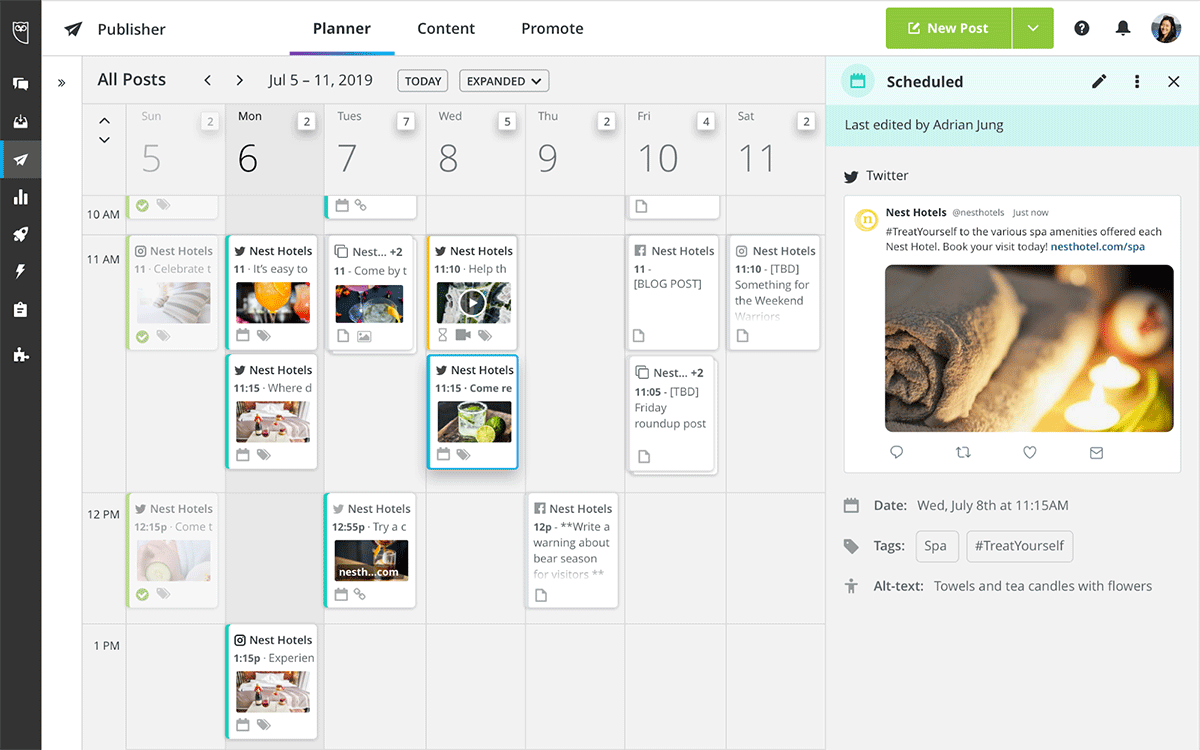 12. Plan a budget and marketing strategy for holiday season
You can advertise on Facebook, Twitter, Quora, Instagram, and other social media platforms. If you have a specific budget for your marketing campaigns, you can use these channels for marketing well before the holiday season begins. Create split tests, and advertise with micro-budget campaigns. Scale those that work.
13. Get email marketing done correctly
Email marketing can reap huge profits if done correctly. To market your store for the holiday season, make sure you create a complete funnel. The holiday season funnel will include awareness, consideration, decision, and conversion stages. Create a pattern of at least two emails for each stage so that you can convert potential subscribers.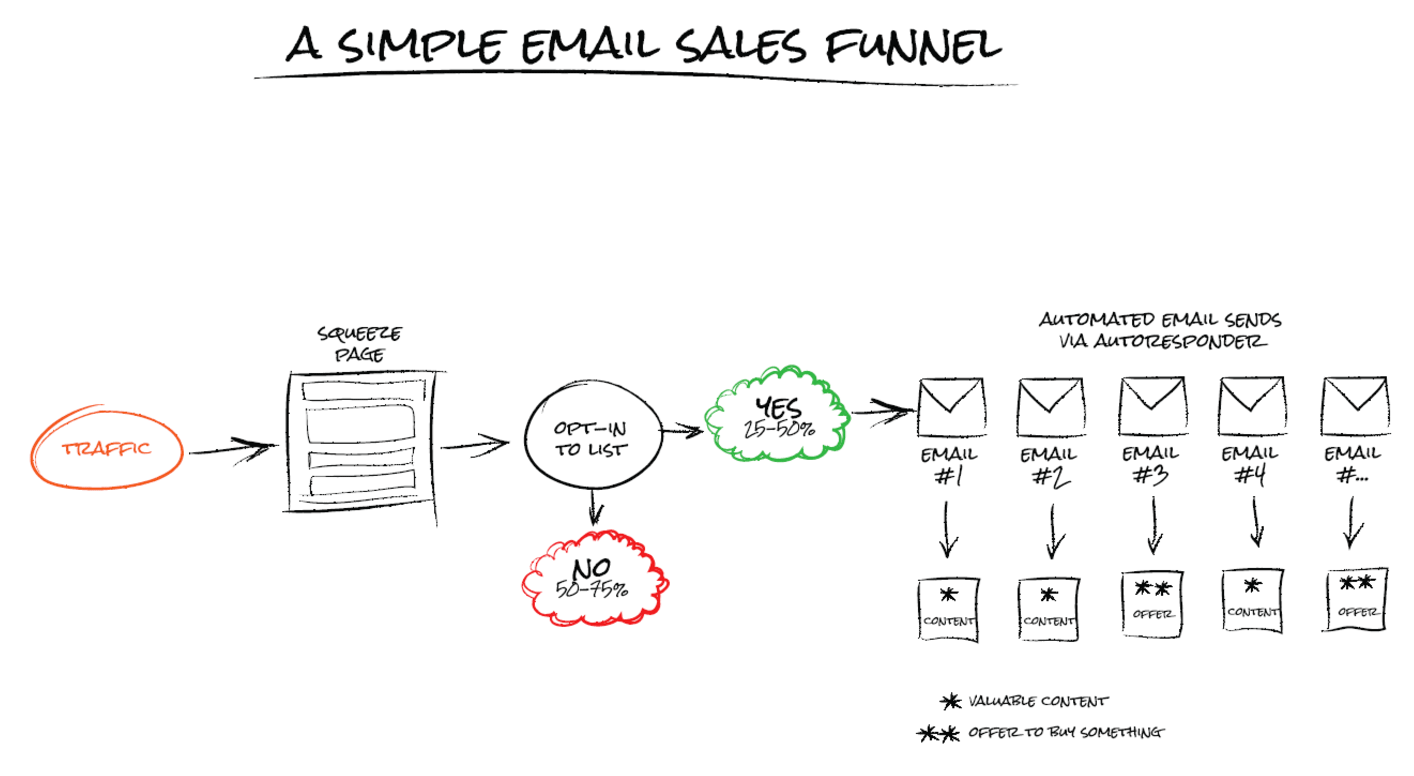 14. Add a Live Chat option
Add a Live Chat option on your eCommerce website because many people would want to get certain information when they come to your store. With the Live Chat option, you can cater to many requests at once. However, you can go one step further by adding a chatbot to answer most of the queries for the holiday season. We wrote about some free live chat services in our guide on eCommerce Customer Support.
15. Form partnerships
The best way to market your eCommerce store is by building partnerships with others in your niche. You can form a partnership with product websites that may be interested in promoting their products through your store. Simply pitch all potential stores and websites, and go ahead into a partnership with those that agree.
16. Reach out to influencers
Moreover, you should reach out to influencers to build partnerships. There are many reputed influencers out there for almost all niches. Reach out to them and ask them for a potential long-term partnership opportunity. Most of them will agree to your plan. You can compensate them through cashback or by turning them into your eCommerce store's affiliates.
17. Throw sweepstakes & conduct giveaways
It is always beneficial to get attention before an actual event, as this builds up a hype and gets you more prominence. You can get attention through sweepstakes, giveaways, and even gifting freebies.
---
Logistics and Shipments
As an eCommerce store, two-thirds of your store's success will depend on the logistics and operations. How can you make it successful? Let's find out.
18. Get logistics partners onboard
First of all, get a better logistics partner for your eCommerce store. Due to the influx of orders during the holiday season, it will become highly difficult to handle shipment by yourself. You can hire the services of third-party logistics (3PL) partners to ease the process.
19. Add clear shipping and return policies
Customers can become disgruntled when their queries are not answered on time. Many customer queries are related to shipping issues, returns of items, and others. You must have a clear shipping policy in place to improve sales during the holiday season.
20. Add free shipping promotions
The best way to lure in more customers to your eCommerce website, is to add free-shipping and promotional benefit options to deliver your products. Customers consider it a financial benefit to get products with free shipping. Also, it will help you earn more revenue through your service on top of the product commission.
---
Use Analysis and Measuring Tools
Now that we have covered how you can prepare your online store for the holiday season, let's learn what tools can benefit you to measure your success and help analyze results.
21. Use Heatmaps
Heatmap tools like HotJar, CrazyEgg are great at tracking user behavior on your eCommerce store. Use these tools on your landing pages to A/B test what works best for you.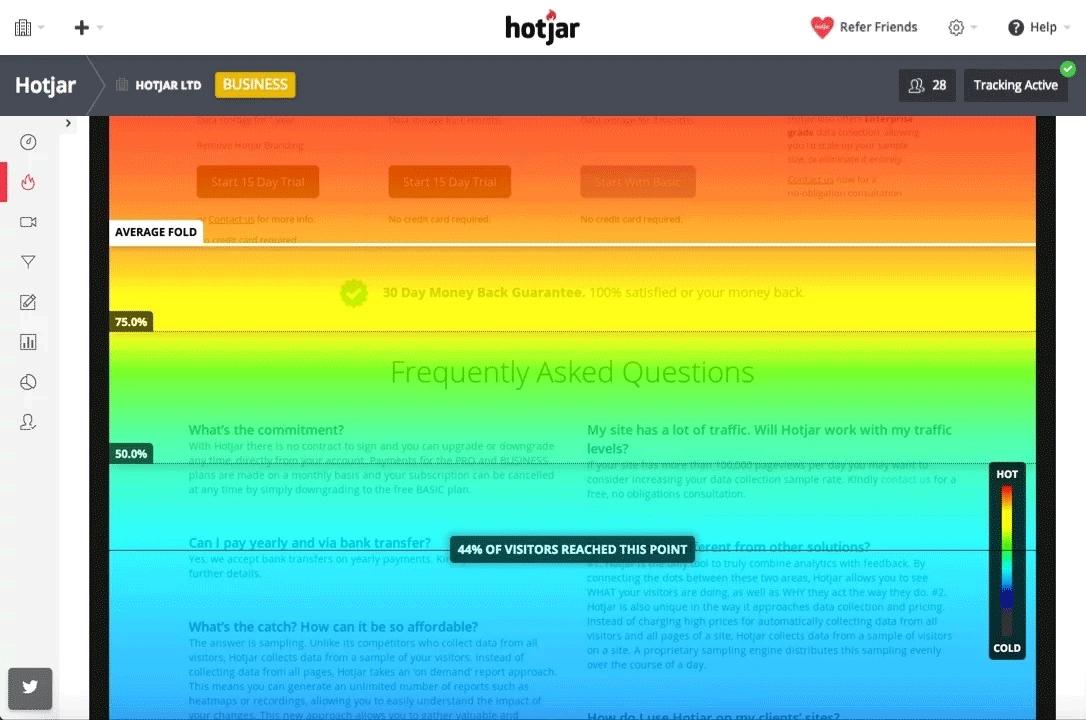 22. Google Data Studio & Analytics
Everyone uses Google Analytics, but only a few people use Google Data Studio. Do ensure that you have integrated Analytics with Google Data Studio to make data parameters easier to understand.
23. OptinMonster
Add exit popups, and upsell popups to your store with OptinMonster. These popups will allow you to sell more to your existing customers through smart product selection and targeted messages.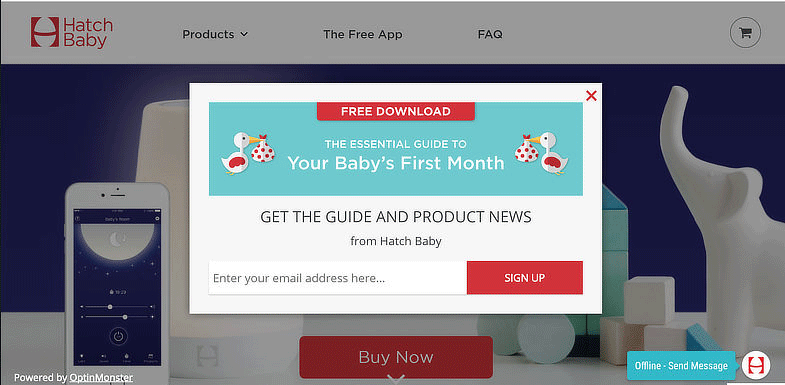 Verdict
Don't lose your customers through silly mistakes during the sales season. Since the eCommerce holiday season is right around the corner, we hope that our holiday marketing tips will help you prepare your online store within time and allow you to grab more sales.
Do remember that effort is the key to success. The more dedicated you are to your online store, the more you experiment, the more are your chances to succeed. Experience comes with practice. Even if you are unable to get more sales this season, just remember that you have learned at least something that can help your eCommerce store in the long run.
As the wise have said: Try and fail… and try again.
This post was in collaboration with Cloudways, a managed hosting platform that facilitates choice, simplicity, and performance.