This guide will help to you setup an effective Email marketing strategy for your WooCommerce website. It's basically impossible to keep up with all the changes happening on a daily basis in the world of eCommerce marketing. As an eCommerce website owner, be prepared to be constantly bombarded by Saas vendors trying to flog you the Next. Big. Thing. in the eCommerce marketing.
Here's my advice. Ignore every single last one of them until your Email game is on point. Some of the most profitable eCommerce stores on the planet are built on the Holy Trinity of eCommerce Marketing:
1.) Organic SEO
2.) Email Marketing
3.) Conversion Optimization
If you can nail all three, you will succeed in your marketing efforts. Today we're going to focus on Email Marketing.
What is email marketing?
Email marketing is the process of planning, executing and subsequent analysis of Email campaigns you send to all or part of your audience. Your audience is comprised of anyone who has consented to hear from you via email. This can be customers, lead magnet subscribers, abandoned cart users and everyone else in between. The keyword above is consent – never, ever send an email to someone who hasn't given you consent to do so – that's spam – whether you like it or not. More importantly, when it comes to GDPR – it's the law.
Why email marketing is important for eCommerce success?
Email marketing has been the consistent stalwart of online business since before the Web was invented. While other marketing tactics have come and gone – Email has consistently outperformed every other tactic.
Email marketing helps you to build lifelong relationships with your audience
It's getting more and more expensive to acquire customers. There was once a time where you could acquire traffic cheaply via Google Ads or Facebook Ads. Anyone who runs PPC campaigns will tell you the cost of those has risen dramatically over the past five years, and they're going to continue to get more expensive as big tech relies on revenue growth from Advertising to prop up revenue growth to justify inflated market capitalizations. Similarly, acquiring traffic via organic SEO is getting more and more expensive as the bar for content marketing quality gets pushed higher and higher every year.
This is why email marketing is so so important. Once you've spent precious resources acquiring traffic – any kind of traffic – it's essential that you convert that anonymous user to a lead (and an email address at a minimum) at the earliest possible opportunity. In doing so, your subsequent cost of communicating with that user on an ongoing basis will tumble. How? Well now that you've funnelled that user into an email campaign you can now communicate directly with that person – via email – one of the cheapest and most effective ways of talking to your audience.
Most critically, Email is something YOU control. Not Facebook, or Google or Amazon. Your list is a valuable business asset and as long as you maintain and nurture that list it may well be your most valuable business asset.
Email is fantastic for revenue growth
If you spend time building a relationship with your audience via well thought out, relevant campaigns they can be incredibly effective at driving revenue growth. Groupon is probably the single best example of how effective email can be at driving sales. Groupon basically built an entire new market for daily deals via email marketing. Statistics show time and time again that the ROI on email marketing is still exceptional. UK based DMA found in 2018 that for every $1 you spend on email marketing, you can expect a return of $32! I don't know that many Facebook Ad campaigns that scale to that level 🙂
Whether it's Flash sales, abandoned cart emails, welcome emails or coupon emails, customers have demonstrated that they still open and click on our emails. Don't get me wrong, Inbox fatigue is real, so you still need to carefully craft every aspect of your messaging.
Email can help you retain and grow your Lifetime Customer Value (LCTV/LTV)
One of the most important signs of the health of your eCommerce business is your Customer Life Time Value, or LTV for short. If it costs you $20 to acquire a customer and you're selling them a razor for $22 that might not sound like a great LTV – it's not. But if you can send them an email once a month reminding them to come back and buy new blades for $20 every few months – you might have an LTV somewhere closer to $200. Building an eCommerce business that allows for recurring purchases from loyal customers is one of the best eCommerce business models there is. In this type of business model, Email marketing can become the main catalyst for dramatic growth in customer LTV.
Email is here to stay
Email marketing really took off in the mid 1990's – almost 25 years ago! Consider how much the Web and technology has changed over that time. It's quite likely the next 25 years will see monumental changes in just about every way we communicate and do business online. But I have one prediction I'm almost certain about – we'll still be using Email! Sure it might have grown an AI leg or two by then – but the notion of an Inbox into which we control who communicates with us isn't going anywhere anytime soon. As you continue to build your email audience, your single most valuable business asset won't be at the whim of some BIGTECHCO and their latest attempt to eat into your profit margin.
How do I setup Email Marketing for WooCommerce?
The first thing you'll need is a Email marketing Mail Service Provider (or MSP for short). Why do you need one of those? Well, if all goes well you're going to be regularly sending emails to hundreds and thousands of email addresses. That's not the kind of thing that scales well by jumping into Gmail with a big bcc list 🙂 So one thing the big email service providers do really well is send email to large groups of people quickly and reliably. Even if you had a homegrown mass email system there's a really good chance that your delivery rate (the rate at which people actually get your email) will be shockingly bad. The big email providers like Gmail, Outlook, and Yahoo (do Yahoo count anymore?) are carefully protected to reject mail to untrusted sources. Even with excellent DKIM/SPF configs you can still be easily rejected by these guys and you're toast. The Mailchimps of the world spend huge resources ensuring the reputation of their email servers is squeaky clean. It's probably the number one reason to NOT try and roll your own email marketing software!
What is the Best Email Marketing Platform for WooCommerce?
There are so many options to choose from! There are literally hundreds to well known Email service providers. Here are my top recommendations, most of which I have directly used to send campaigns on a weekly basis for years.
Mailchimp – Best Email Marketing Platform for WooCommerce beginners
Mailchimp along with Campaign Monitor is one of the great pioneers of Email marketing. It's probably the most well known Email marketing service for all types of websites and remains one of the best options for beginners and email marketing pros. There are a ton of WordPress plugins which seamlessly integrated with Mailchimp. One of the most popular of these is Mailchimp for WordPress. Mailchimp for WordPress also provides full integration with WooCommerce.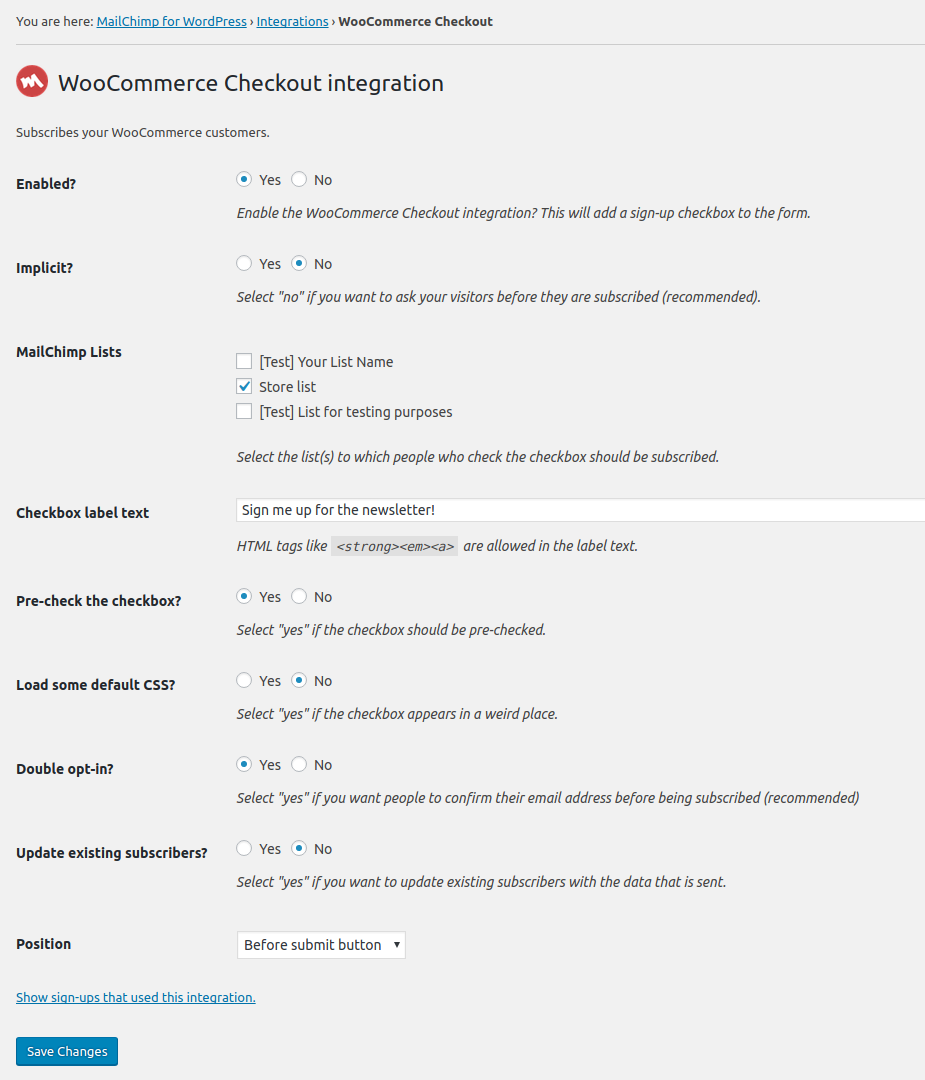 If you're in a rush and currently have no list then you should probably just stop here and go install Mailchimp for WordPress 🙂
Mailpoet – Best Email Marketing Platform for budget conscious WooCommerce store owners with a large audience
Mailchimp generously offers up to 2,000 active subscribers 100% free of charge. But after you cross the 2,000 subscriber mark things can quickly get VERY expensive. If Mailchimp is becoming more expensive than you'd like I would recommend checking out Mailpoet. We use it on several of our largest lists and it works really well. My biggest gripe with Mailpoet right now is that it doesn't give you the same sophistication as Mailchimp when it comes to Campaign performance analysis – but I suspect that will improve quickly in the future. In terms of the basic of list management and campaign execution – it's awesome. We chose to integrate Mailpoet directly with Amazon SES which means we can keep costs incredibly low and very large email lists.
Klaviyo – Best Email Marketing Platform for large WooCommerce stores
If you've reached the point where Email marketing becomes a Big Deal for your business bringing in serious revenue, then you might want to consider using Klaviyo. Klaviyo is easily the most advanced email marketing platform for ecommerce businesses I've ever seen. In the pas their WooCommerce integration has had a few rough edges, but it's gotten much better in recent months. In fact, I would only recommend you use Klaviyo if you've got a dedicated marketing person who can spend a lot of time getting the most out of it. But that shouldn't be a problem for you if you've reached the point where Email marketing revenues become a truly meaningful part of your business.