You've nailed your product. You've worked hard to acquire traffic to your online store. Everything looks tickety-boo. You've got Google Analytics real time view open on your monitor and you can see users adding your products to their cart. You start to get excited at the prospect of getting that sweet sweet sales notification. Then…nothing…crickets…
The sale never comes…
That's what an abandoned cart looks like. Some people will argue how long you should wait before you consider a cart to be abandoned. In short, don't wait long. Customers are increasingly fickle and distracted bunch. If you've not gotten the sale within 10-15 minutes of the cart being created – it has probably been abandoned.
WooCommerce abandoned cart emails can help you recover prospective customers who left your website without making a purchase. This is a great way to increase conversion rates and boost engagement on your online store.
Let's put everything into context before we begin.
Update: This guide previously explained how to send abandoned cart emails using a service called Jilt. However, since Jilt is unfortunately being discontinued on April 30, 2022, we now recommend using Metorik for sending WooCommerce abandoned cart emails.
---
What is an abandoned cart?
Before we jump into the specifics, let's talk about what an abandoned cart means.
It's when customers add products to their cart but don't end up checking out or purchasing them. This is a telling sign that the user has abandoned their cart and left your WooCommerce site.
For instance, if a user adds multiple products to their shopping cart and doesn't check out within the next 10 to 15 minutes, there's a high chance that it's been abandoned.
As a shop owner, you don't want to put in all the effort of directing traffic to your WooCommerce store only to find out customers are leaving their shopping cart without purchasing any products.
In fact, over 70% of site visitors will abandon carts when purchasing from online stores. At first glance, new WooCommerce store owners may find the rate of abandoned carts quite high but it's what's standard in the space.
If you're new to eCommerce that might seem quite high. Think about it – 7 out of every 10 people who show some commercial intent on your online store will simply never get over the line and buy your amazing product!
Other than your site visitors not finding value in purchasing your products, there can be many reasons for a high cart abandonment rate. Let's take a look at a few of them:
Customers researching products. Many people will visit your store to research products and see what's available. Depending on your industry, there is a high chance they won't purchase anything from your online store on the first visit.
High shipping costs at checkout. High shipping costs at checkout can also steer visitors away from purchasing all products in their shopping cart. If you don't offer free shipping with purchases from your online store and shoppers are shown the shipping costs on the checkout page, there's a high probability that they will abandon their cart. The sudden price change in their total order price can mess up the calculations a prospective customer might have made, causing them to leave their cart as is and exit your online store.
No discount or coupon codes. Many people won't place their order if they aren't receiving the best price for it. Discounts or coupon codes encourage customers to checkout quickly while also increasing the average order value. For instance, you can offer a "Buy 3 get one free" offer. This will incentivize shoppers to add more products to their cart and quickly checkout. Without any discount or coupon codes on your checkout page, you're more likely to see a higher cart abandonment rate.
Very difficult checkout process. If your checkout process is lengthy buyers will be more likely to abandon their cart than checkout from your online store.
Forcing users to register before they can checkout. Depending on your online store, you might want to let only logged-in users buy products from your WooCommerce website. Forcing users to register and log in to their user accounts before they can checkout can increase cart abandonment rates for your online store. A workaround is to offer a guest checkout option.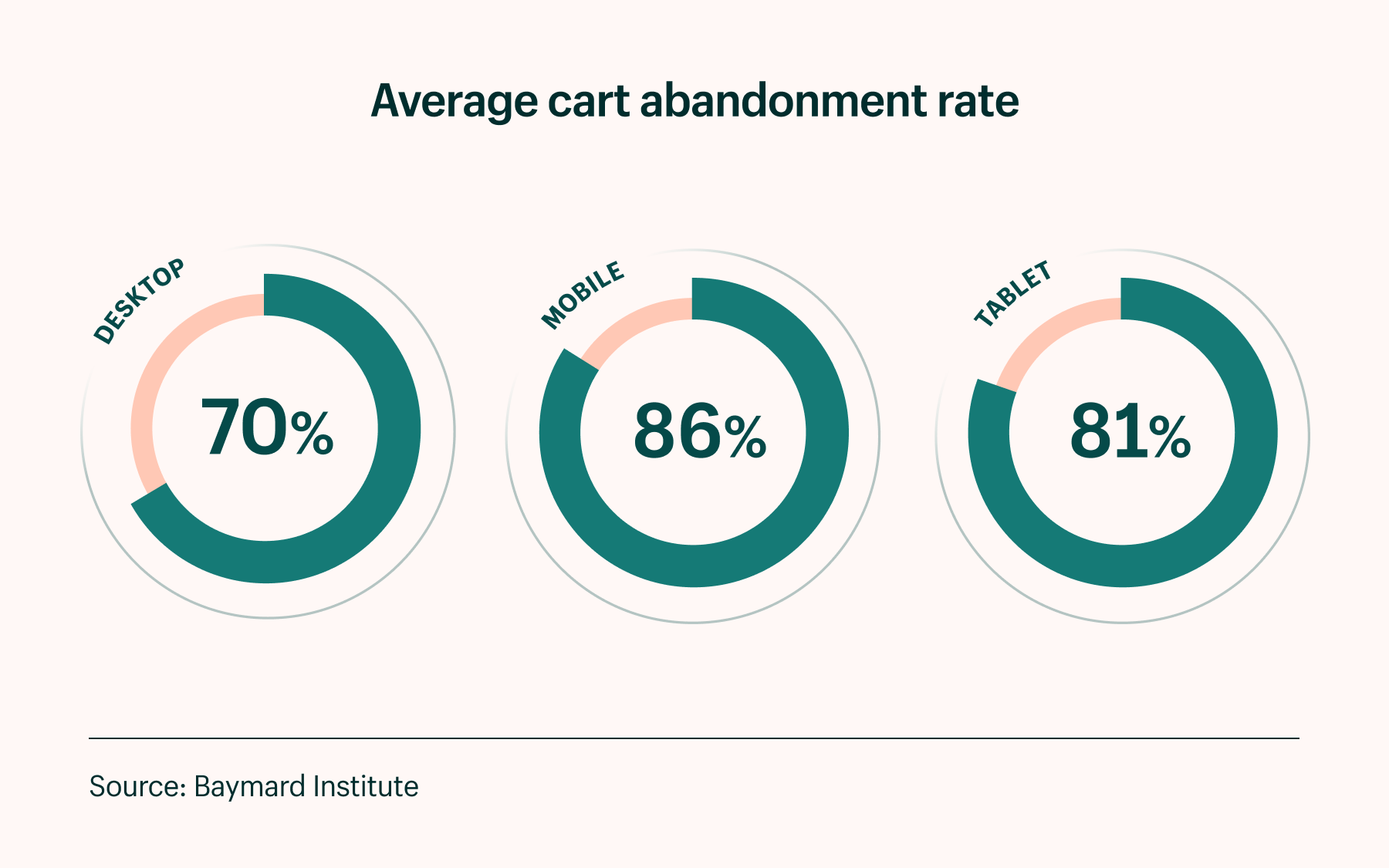 There are also other factors that contribute to the rise in cart abandonment rates over the years:
Increased use of mobile and handheld devices. With the ease of browsing the internet with mobile and handheld devices, many people who visit your online store using a mobile device may only be conducting research. For instance, a user might research products to buy using their mobile phone while they're on their way home and purchase their cart when they get home using their desktop or laptop device. With steady growth in the number of mobile users each year, there's a high chance the cart abandonment rates will keep rising, as well.
Increased eCommerce competition. With so many new eCommerce businesses launching, the competition level in just about every industry has increased significantly. As a result, it can be harder to capture the attention of prospective customers or divert traffic to your WooCommerce store. This can cause cart abandonment rates to keep increasing over time as customers have more options to choose from when selecting an online store to purchase products at.
---
Why is it important to recover abandoned carts?
Buyers who abandon their carts on your online store may have the intent to come back and purchase their order later.
Think of it this way: a user abandoning their shopping cart on your online store might have internet issues or payment issues. Or, maybe they were just researching products and saving them for later.
For instance, an individual who was adding products to their cart while waiting for their food at a restaurant did not really abandon their cart, they were just saving products in their cart to buy for later.
This is why a solid abandoned cart strategy can help you reel back customers or remind them that they have to check out from your online store. As a result, it can help optimize conversion rates and generate more revenue for your business.
In a world where digital distractions are only a glance away, recovering abandoned carts has moved from being a nice to have to a mission critical must have feature for all successful online stores. It's still somewhat a surprise to me that WooCommerce core still doesn't include a robust and reliable abandoned cart recovery feature. Thankfully as we'll see in a moment there are a ton of services and extensions that integrate abandoned cart features into WooCommerce.
---
How effective is abandoned cart recovery?
Cart abandonment recovery effectiveness is different for every business. In other words, depending on your business and the type of products you sell, your cart abandonment recovery effectiveness could be higher or lower than other businesses.
Let's take a look at examples of a few businesses' abandoned cart recovery processes and how they have managed to succeed in recovering some percentage of abandoned carts:
Recovering abandoned carts is a great way to increase revenue for your business. To do this, you'll need to set up an email sequence for sending out cart recovery emails to all potential users. If this is your first time setting up an abandoned cart recovery email sequence, you might have a lot of questions such as:
How many emails should I send in a cart recovery sequence?
When should I send the first and subsequent emails?
What should the title of each email in the sequence be?
What should the body content of each email be?
Should I include a coupon code or discount?
Let's dive deeper into these questions and help you understand what an effective abandoned cart recovery sequence should look like.
---
What does an effective abandoned cart recovery email sequence look like?
It's crucial to give your abandoned cart recovery email sequence a test before you send it out to real customers. You want to track important metrics including:
Open rate. The open rate tells us about the number of people that opened the email to read your message.
Click-through rate. The click-through rate represents how many people clicked on the links provided in the email. This is also a great way to identify links that have the highest click-through rate.
Conversion rate. The conversion rate is the percentage of people who actually proceeded to order after opening your email.
Revenue recovered. This tells us about how much revenue did the cart recovery email add to your total gross income.
Ideally, you want to achieve a conversion rate of 8-10% for emails you send out within 45 minutes of cart abandonment. In addition to this, for emails that you send out after 20 hours of cart abandonment, you should be looking for a 4-5% conversion rate.
For a better understanding, let's take a look at how an effective abandonment cart recovery email sequence should look like:
Cart Recovery Email 1 – 45 minutes after abandonment
You don't want to annoy your customers too quickly by sending a cart recovery email soon after it's abandoned. Instead, sending one after 45 minutes usually works the best. You also don't want to include any discount or coupon codes in the first email you send. This email should be more of a reminder for the customers to check out their shopping cart on your online store.
Cart Recovery Email 2 – 20 hours after abandonment
The second cart recovery email should be sent right around the 20 to 24 hours mark. This gives the user some time to relax and settle down before they are ready to make the purchase. For instance, a user who saved products while traveling to work can checkout once they reach home after the day shift. You also don't want to destroy value by offering discount codes and coupons in the second email, as well.
Cart Recovery Email 3 – 48 days after abandonment
You want to send a last and final cart recovery email after 48 days of cart abandonment. This is when you want to fully commit to recovering the customer by offering them incentives such as discount codes, return-back guarantee offers, and special free gift offers. Ideally, you want to build a relationship with your customer by including reviews and links to videos from influencers to help convince the user.
---
Examples of abandoned cart emails
Let's take a look at a few examples of abandoned cart recovery emails look like:
Mack Weldon

Mack Weldon takes a more modern approach to cart recovery emails by showcasing its products in an attractive layout. Their email message is worded in a friendly way to tell customers they have great taste. This validates the customer's choice and encourages them to pull the trigger on checking out their cart.
In addition to this, the email also contains a "Try on guarantee" that helps make it easier for customers to trust their products.
Taco Bell

Taco Bell sends out fully mobile-optimized cart recovery emails that let users directly grab their food by clicking on a button. This offers an easy way for customers to quickly purchase their order without having to go to the website, find and add the same products to their cart again, and enter their billing details.
They also incentivize users to download and install their mobile app to earn rewards and discounts on Taco Bell orders.
Stetson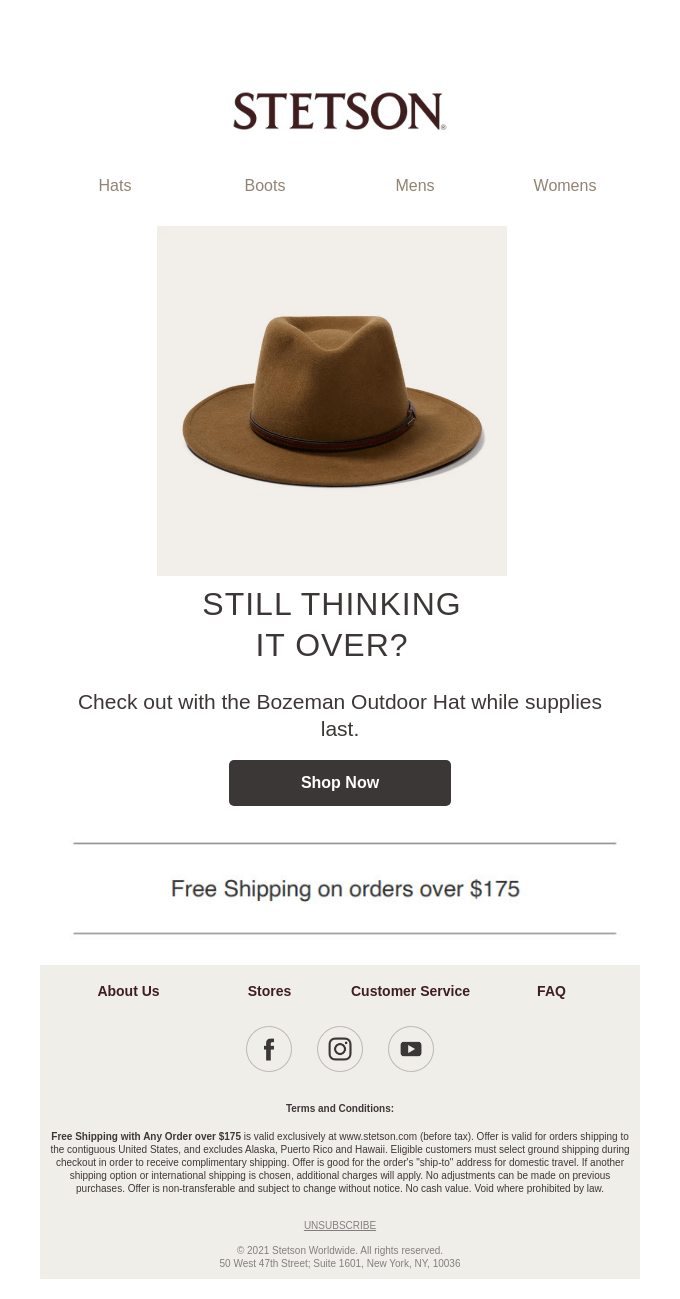 Stetson showcases a product while encouraging the customer to quickly purchase it before supply runs out. This creates FOMO (fear of missing out) in users so that they quickly purchase their orders.
The email also includes a free shipping discount which can also encourage the customer to quickly click on the big "Shop now" button.
Here are some more examples of effective abandoned cart emails.
It can be a challenge to recover abandoned carts, even for established, successful online stores. Since WooCommerce doesn't offer native functionality that can help recover abandoned carts, you have to use a separate, independent cart recovery system.
---
How to send WooCommerce abandoned cart emails using Metorik
After spending a lot of time trying out various tools, we've discovered that Metorik works the best for sending out WooCommerce abandoned cart emails. It's a great Jilt alternative and easy to get started with. Check out our full Metorik Review to see everything it can do if you're running a WooCommerce store.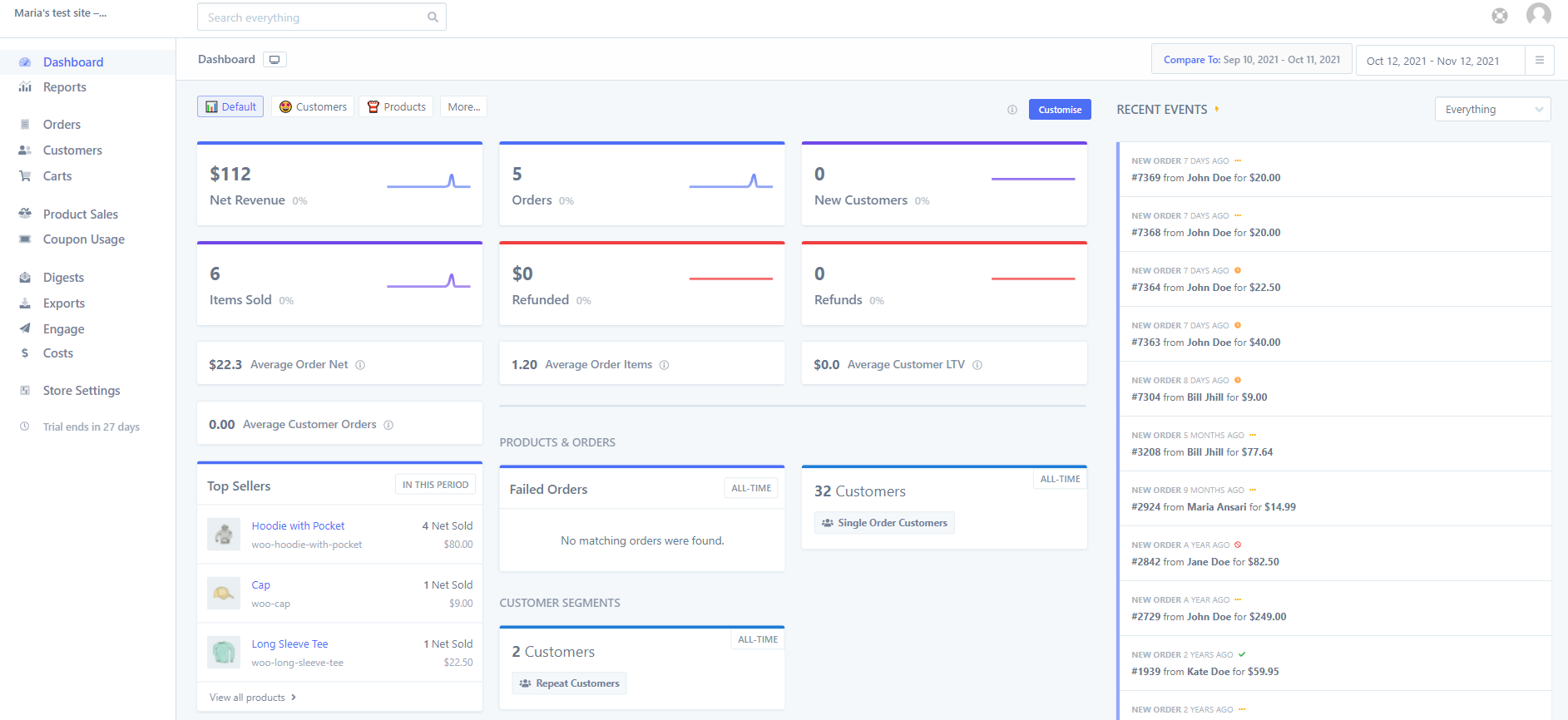 Metorik is an all-in-one platform that lets you manage your WooCommerce store and helps enhance it to maximize profits and growth for your business. It offers a wide range of tools that let you engage users on your site, offer subscriptions, track costs and profits, send abandoned cart emails and analyze cart data, and have access to detailed activity reports.
One of the best things about Metorik is that it offers a simple and clean interface for managing and analyzing all cart operations for your WooCommerce store.
Here's what you need to do to get started with Metorik:
Step #1: Create an account on Metorik
You can use the Metorik Engage feature for sending cart recovery emails directly from your WooCommerce store's email address. Use the wizard to create an account and connect it to your WooCommerce store.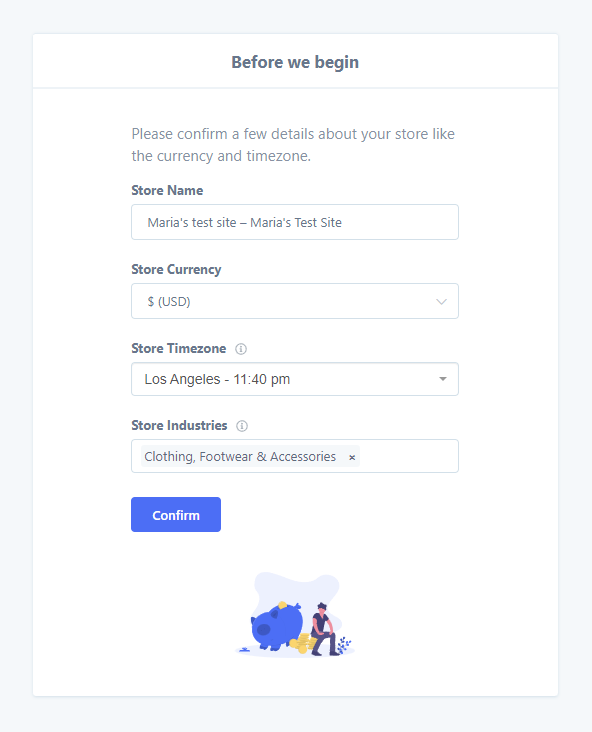 You'll be prompted to install the Metorik Helper plugin.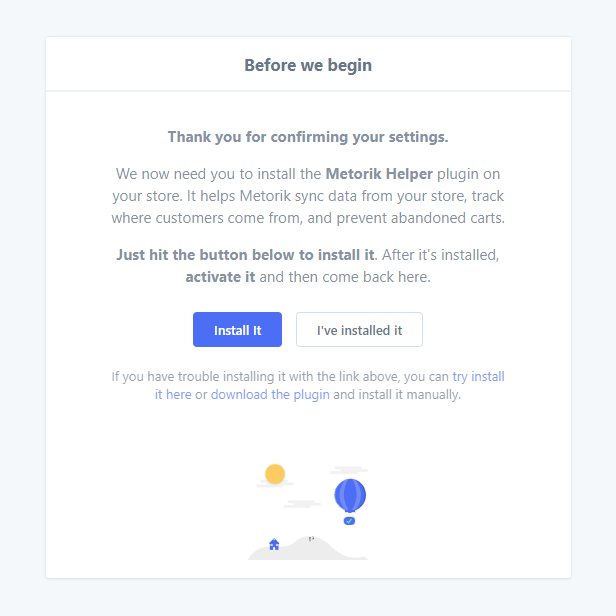 It'll also ask you if you want to enable cart tracking. This is important for sending abandoned cart emails through Metorik Engage. Click the Enable Cart Tracking button to continue.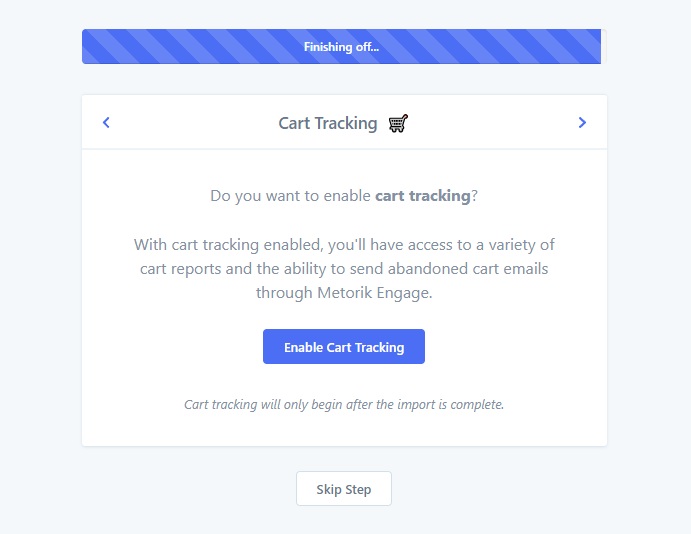 Once it's set up, you can automatically create cart recovery emails or you can also choose to manually create them yourself.
Step #2: Set the abandoned cart email audience
The next step is to create the abandoned cart recovery emails. To get started, head over to Engage → Carts from the Metorik dashboard. You can choose to let Metorik create two abandoned cart emails automatically for you or create them manually.

By default, the Abandoned Carts – Email #1 is sent 1 hour after a user abandons a cart on your WooCommerce site. While the Abandoned Carts – Email #2 by default is sent after 3 days a cart is abandoned and also includes a discount code.

You can edit the existing templates to change their name, audience, and message. For example, if you want to send this abandoned cart email 45 minutes after cart abandonment, go to the Audience tab and set the When should this abandoned cart email send? option to 45 minutes.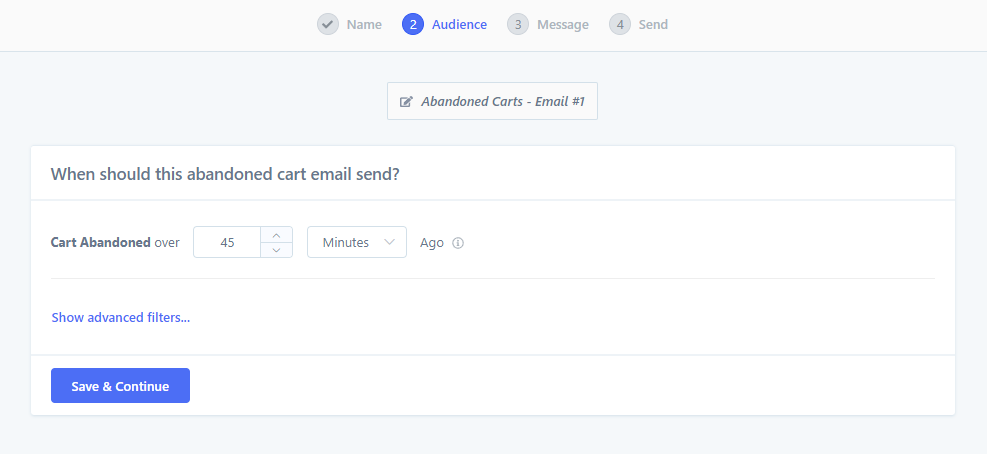 Metorik Engage also lets you set up advanced filters. You can use these to apply additional conditions to the abandoned cart emails you send out. For example, you can choose to send out abandoned cart emails 45 minutes after the cart has been abandoned if the customer had products from the Hoodies & Sweatshirts category added to their cart.
Step #3: Create the abandoned cart email message
In the Message section, you can create the email you want to send to users after cart abandonment. You can insert multiple components and variables for customizing your recovery email. This can help your emails stand out and encourage more users to revisit your website to complete their orders.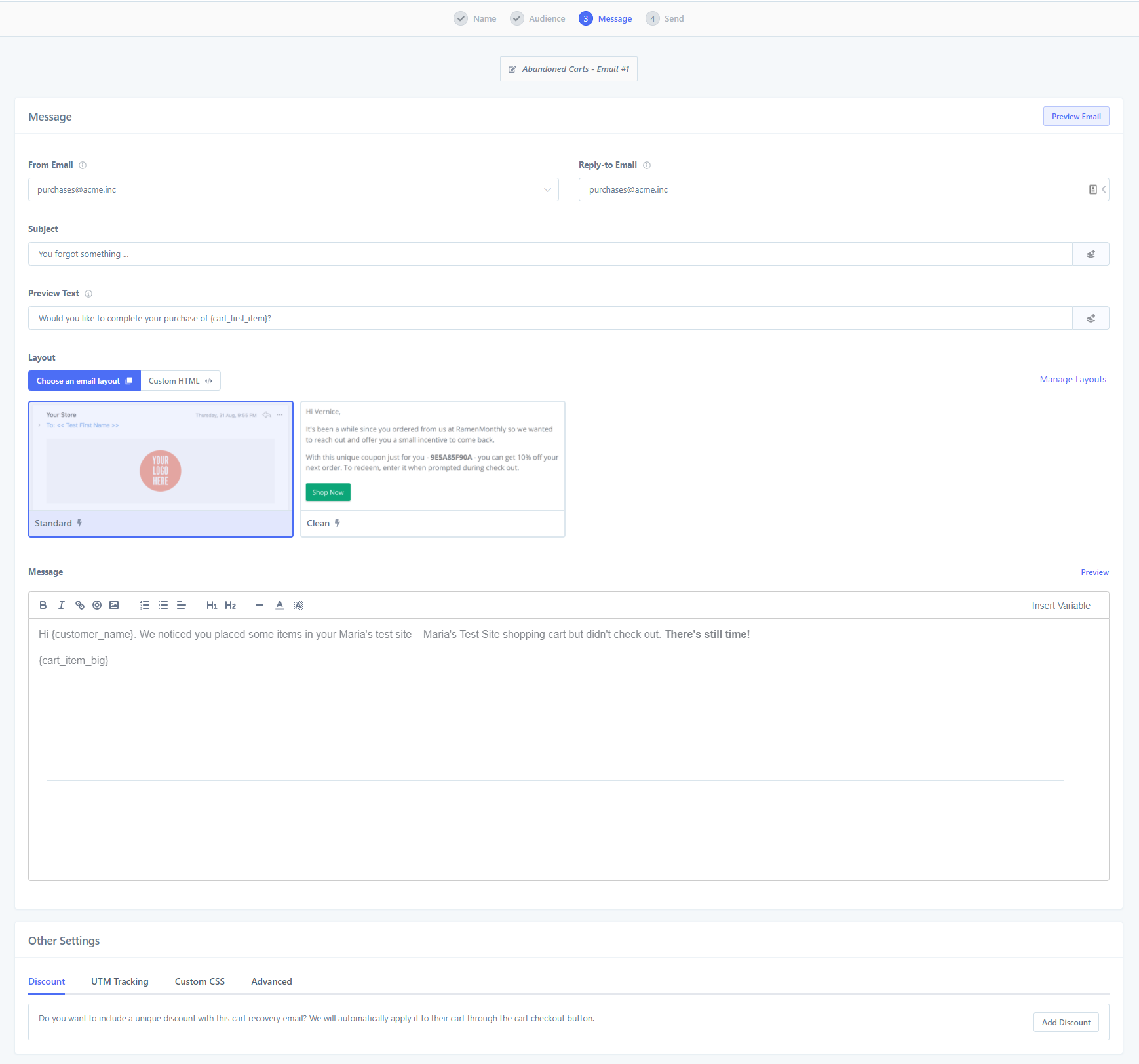 The Preview Email button lets you preview the abandoned cart email. This way, you can get an idea of what customers will see in their inboxes.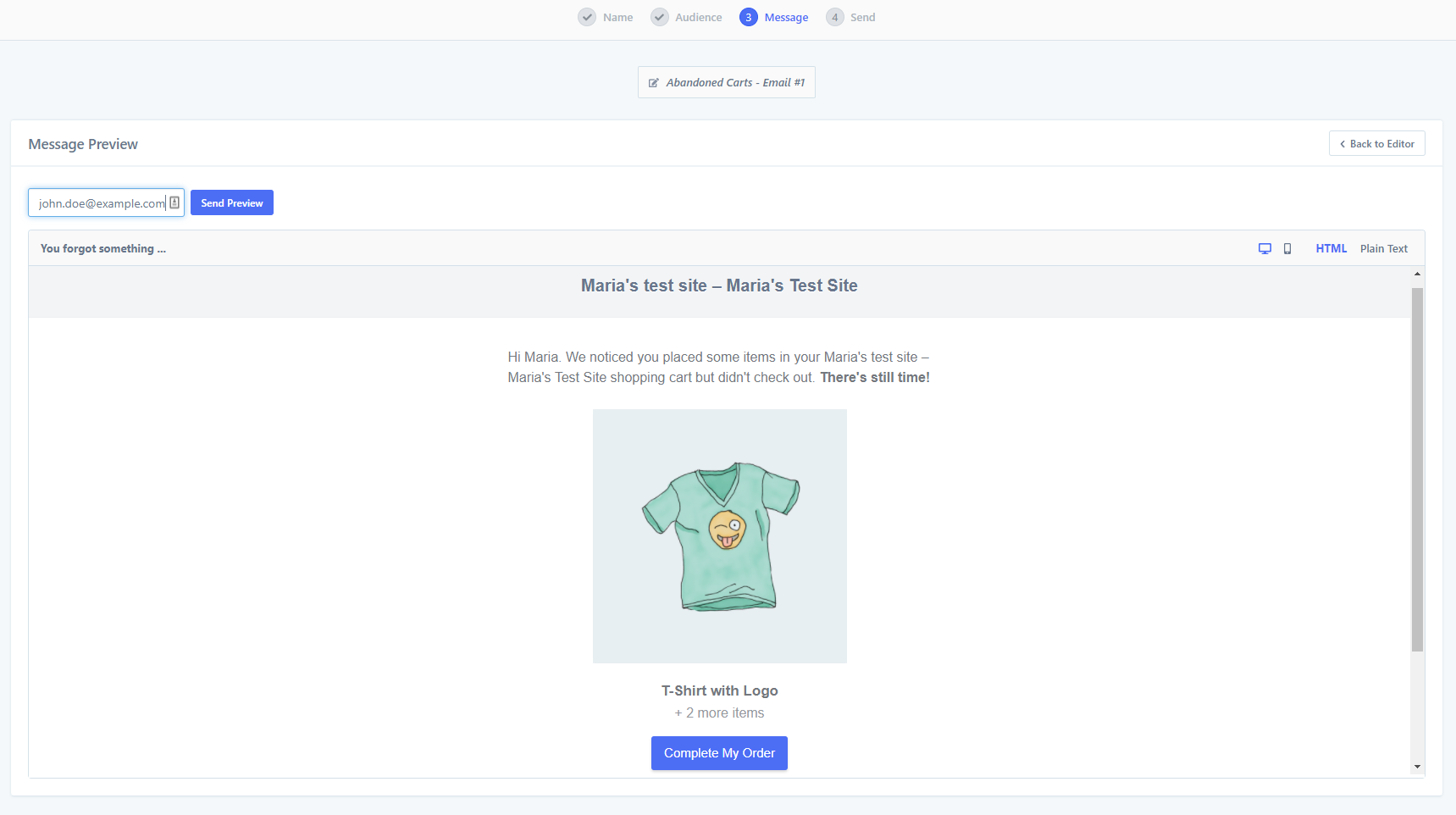 The last and final step is to activate your cart recovery emails to automatically send your unique abandoned cart recovery email to users when they leave your website without checking out.

All you have to do is click the Activate Automation button.
The great thing about Metorik is that it lets you individually monitor the stats of each cart abandoned recovery email on your WooCommerce site. You can analyze the total number of emails sent, number of conversions, the open rate, the click rate, gross sales, and the conversion rate.
---
Metorik pricing
Unlike other abandoned cart recovery systems and Jilt alternatives, Metorik offers all of its extensive features for free for 30 days from the date of subscription. After that, pricing ranges from $20 to $500 plus $25 to $300 for the Metorik Engage add-on, depending on your number of orders per month.
---
Conclusion
Using an effective WooCommerce abandoned cart email strategy is important for recovering sales and growing your bottom line. We've gone through a complete guide on optimizing abandoned carts on your online store and how a robust abandoned cart recovery system like Metorik can help recover lost sales. If you're looking for a solid Jilt alternative for sending WooCommerce abandoned cart emails, Metorik is worth a shot.
Over to you – I'd love to hear from you if you've spent time optimizing your abandoned cart recovery process. Let me know in the comments below!