Today we'll walk you through the process of how to send WooCommerce Abandoned Cart Emails, step by step.
What is an abandoned cart?
You've nailed your product. You've worked hard to acquire traffic to your online store. Everything looks tickety-boo. You've got Google Analytics real time view open on your monitor and you can see users adding your products to their cart. You start to get excited at the prospect of getting that sweet sweet sales notification. Then…nothing…crickets…
The sale never comes…
That's what an abandoned cart looks like. Some people will argue how long you should wait before you consider a cart to be abandoned. In short, don't wait long. Customers are increasingly fickle and distracted bunch. If you've not gotten the sale within 10-15 minutes of the cart being created – it has probably been abandoned.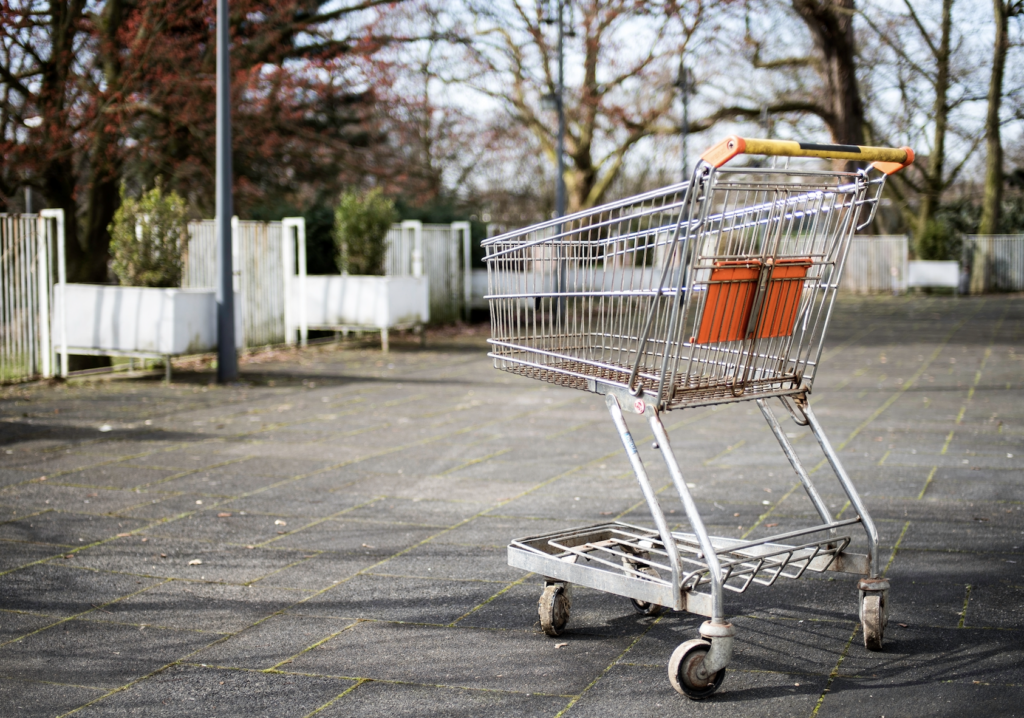 On average, approximately 70% of people will abandon their cart before completing a purchase on your online store.
If you're new to eCommerce that might seem quite high. Think about it – 7 out of every 10 people who show some commercial intent on your online store will simply never get over the line and buy your amazing product!
But don't take it personally! There are so many reasons that the rate of shopping cart abandonment has been so high:
Some of your customers are simply in research mode. A whopping 99% of visitors to your online store won't buy on their first visit. Depending on your industry it can take anywhere from 7-25 touchpoints with a visitor is convinced to buy from you.
If you don't offer free shipping and your shipping costs are not visible until customers reach the checkout you'll likely see higher cart abandonment as customers are often put off by high shipping costs at the last minute.
If you have a coupon code on your checkout but haven't offered a coupon to your customers by default you'll likely see higher cart abandonment rates.
Is your checkout process cumbersome or confusing? If so, your customers will run a mile.
If your checkout process is slow, your customers will get impatient and leave.
If you force users to register during the checkout process you will see much higher cart abandonment.
Statista confirmed our own findings in their research.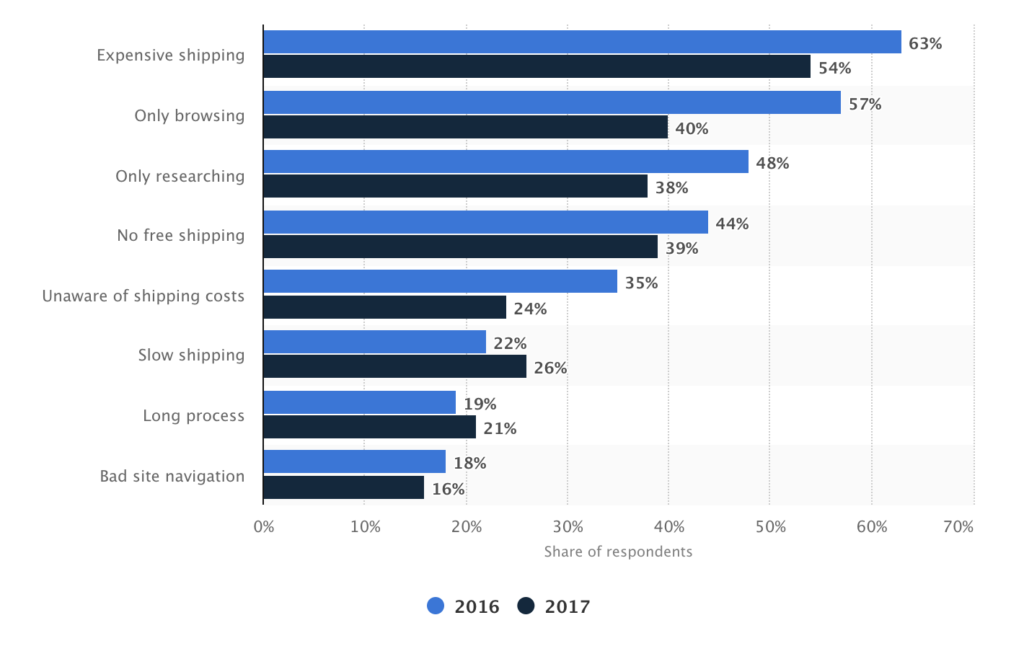 There are 2 other major factors which I think will drive an increase in cart abandonment in 2018 and beyond:
Increasing adoption of handheld devices – Checkout conversion rates on smartphones and tablets tend to be lower – in fact, research indicates that mobile conversion rates are 50% less than desktop. Customers often use their handheld devices to conduct research and then complete their purchase when they get home on their laptop or desktop devices. As more and more people move to a handheld only web experience, we're going to see lower conversion rates unless we do more to help convert handheld checkouts.
eCommerce Conversion rates are dropping – for anyone running an eCommerce business, this is a worrying trend. While eCommerce in general is taking off like a rocket, eCommerce conversion rates across all device types have been falling slowly over the past few years. There's simply more competition than ever. It's also a lot harder to command attention online. With more and more merchants moving online and customers having ever more distractions on their web devices, we can expect conversion rates to continue to fall.
Why is Abandoned Cart Recovery so important?
In a world where digital distractions are only a glance away, recovering abandoned carts has moved from being a nice to have to a mission critical must have feature for all successful online stores. It's still somewhat a surprise to me that WooCommerce core still doesn't include a robust and reliable abandoned cart recovery feature. Thankfully as we'll see in a moment there are a ton of services and extensions that integrate abandoned cart features into WooCommerce.
One of the first things I do when building a new WooCommerce store is configure a proven Abandoned Cart Recovery system to optimize my checkout conversion rates.
With so much competition, increasing digital distractions and changing customer buying behaviour, I now consider abandoned cart recovery to really simply be an extension of my core eCommerce funnel. The busy Mom who was half way through buying that new mattress on her tablet when her toddler got sick on the sofa didn't really abandon her cart – life simply got in the way. Your abandoned cart email is simply a helpful reminder to finish off what she was doing when she finished cleanup 🙂 Same goes for the guy who was halfway through buying those new bluetooth headphones when his cell connection dropped while on the train ride home. We know from research that as many as 75% of customers who abandoned their carts leave with the intent to return. A solid abandoned cart strategy simply helps our customers get stuff done.
How effective is Abandoned cart recovery?
While every online store will be different, we have a ton of quality case studies which show just how effective abandoned cart recovery can be to increase your revenue.
Peak Design recovered 12% of abandoned carts
Hubspot found that approx. 20% of merchants recover up to 20% of abandoned carts.
Ezra Firestone achieved a 9.4% recovery rate
WP Mayor recovered over $10,000 in lost sales
So it's clear that recovering abandoned shopping carts is a very effective way of increasing revenue.
In case it wasn't obvious already, most abandoned cart recovery systems rely on sending follow up emails to prospective customers after they've abandoned their carts. Although, we are now starting to see Facebook Messenger become an effective alternative. If you've never setup an abandoned cart recovery email sequence before you'll likely have a ton of questions about how to do this, including:
How many emails should I send in a cart recovery sequence?
When should I send the first and subsequent emails?
What should the title of each email in the sequence be?
What should be the body content of each email be?
Should I include a coupon code/discount?
Let's dive in and take a look!
What does an effective abandoned cart recovery email sequence look like?
Let me stress something really critical before making any recommendations on what should be in your abandoned cart recovery email sequence.
It's imperative you test the hell out of your cart recovery email sequence.
No matter what research or best practice recommendations suggest, every audience is different and will respond differently to receiving cart recovery emails. So I highly recommend you spend a few weeks conducting multivariate tests on your cart recovery process.
Rather than re-inventing the wheel, here are what I consider to the best case studies on Abandoned Cart Recovery Email Sequences.
6 email sequence on Boom By Cindy Joseph – Ezra Firestone is one of the smartest eCommerce minds on the planet. I consider his cart recovery email sequence case study to be the gold standard for how to understand just how effective this cart recovery stuff is. What I love most about this case study is the level of detail Ezra goes into to show every single penny of revenue recovered by each email in the sequence.
Klaviyo provide excellent insights into how some of the largest eCommerce stores vary the content of their recovery emails to boost conversion.
Shopify have some excellent examples of Abandoned Cart recovery email templates.
Backtocart recommend a 4 email sequence.
BigCommerce recommend a 3 email sequence.
Recommended Abandoned Cart Recovery Email Sequence for Beginners
If you're just starting out with your abandoned cart recovery testing process and don't have time to read our recommended case studies, here is our recommended starter email sequence:
Cart Recovery Email 1 – 45 minutes after abandonment
Research shows that carts effectively go 'cold' after 1 hour. But at the same time you don't want to annoy people too quickly. 45 minutes is our sweet spot. Don't include any discount/coupon codes in this first email. The tone should very much just be a gentle nudge to remind the user that they have an unfinished checkout. The tone should also not be apologetic. You are helping the customer remember! Ensure you show a clear call to action button and large images of the products in their cart.
Cart Recovery Email 2 – 20 hours after abandonment
Many of our case studies usually recommend sending your second email 24 hours later. I've found slightly earlier works better. My theory is that most people are creatures of habit, and if they were in a distracting environment the day before a 7pm, it's likely they'll be in the same distracting environment at 7pm the next day. So try sending your second email a few hours earlier. In fact, test 20, 22, 24 and 26 hours!
Again, no discounts or coupons in this second email. You don't want to destroy value too quickly. Take a leaf out of Ezra's case study and reinforce scarcity along with symbols of trust and social proof.
Cart Recovery Email 3 – 48 days after abandonment
This is where you bring out the big discount guns 🙂 Start with testing a 5% and 10% discount and see what impact on conversion both of these have. Remember, you should also be using your abandoned cart email sequence to build your relationship with your customer. Be sure to include reviews, links to videos from influencers and any returns or money back guarantees you offer.
Test, test and test again
For each email you'll want to track:
Open rate – how many people open the email
Click through rate – how many people click links in the email (and which links have highest click through rate)
Conversion rate – what % of people who got the email proceeded to order from it
Revenue recovered – how much revenue does this email add to your top line.
If you can achieve a conversion rate of between 8-10% for your Email 1 you'll be doing very well. For Email 2, 5-6% would be considered a great conversion rate. Conversion rates tend to drop off significantly for Email 3 and beyond.
Now that we've covered what we need to do, let's figure out how to do it with WooCommerce.
How to implement an Abandoned Cart Recovery Email Sequence in WooCommerce for Free!
After spending a ton of time experimenting with various extensions, plugins and services over the years, here are my top recommendations for WooCommerce Abandoned Cart recovery.
Best overall WooCommerce Abandoned Cart Recovery service – Jilt
Jilt, is run by top WooCommerce extension development shop Skyverge so you know this is going to be a very well polished web app.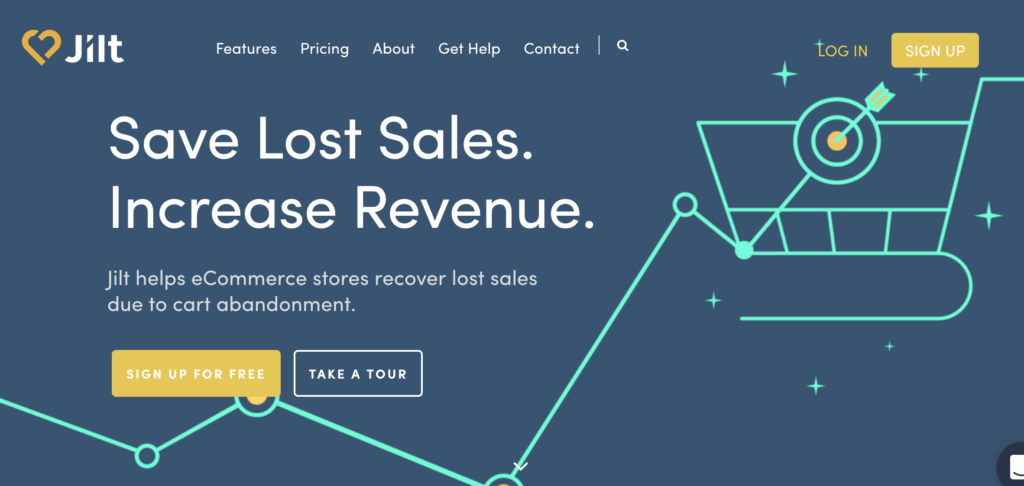 Here's why I believe Jilt is the best WooCommerce Abandoned Cart Recovery service.
Simplicity – many abandoned cart recovery apps get overly complex and cumbersome – Jilt spent a ton of time working on the UX for their app and the results have been worth it. Take a look.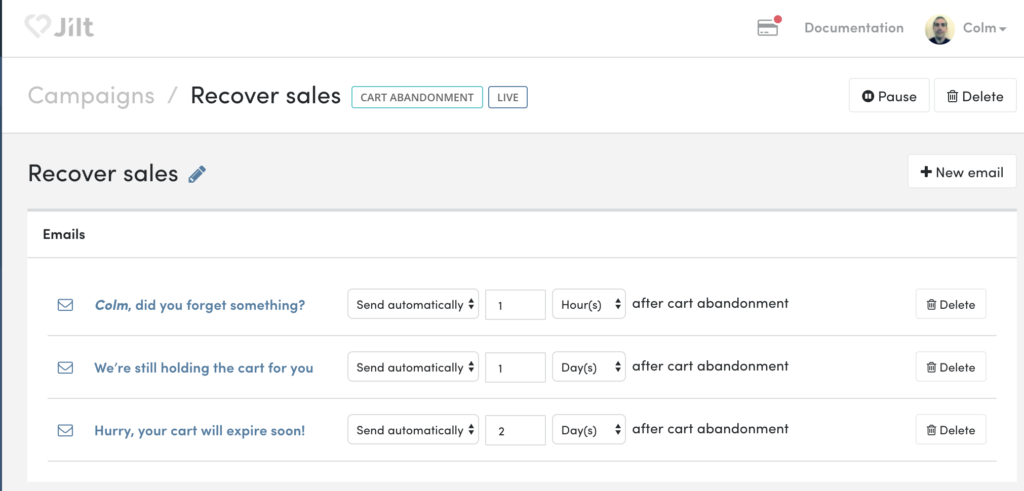 You can easily tweak email schedules from a single screen!
Editing the contents of each email in your cart recovery sequence is incredibly simple.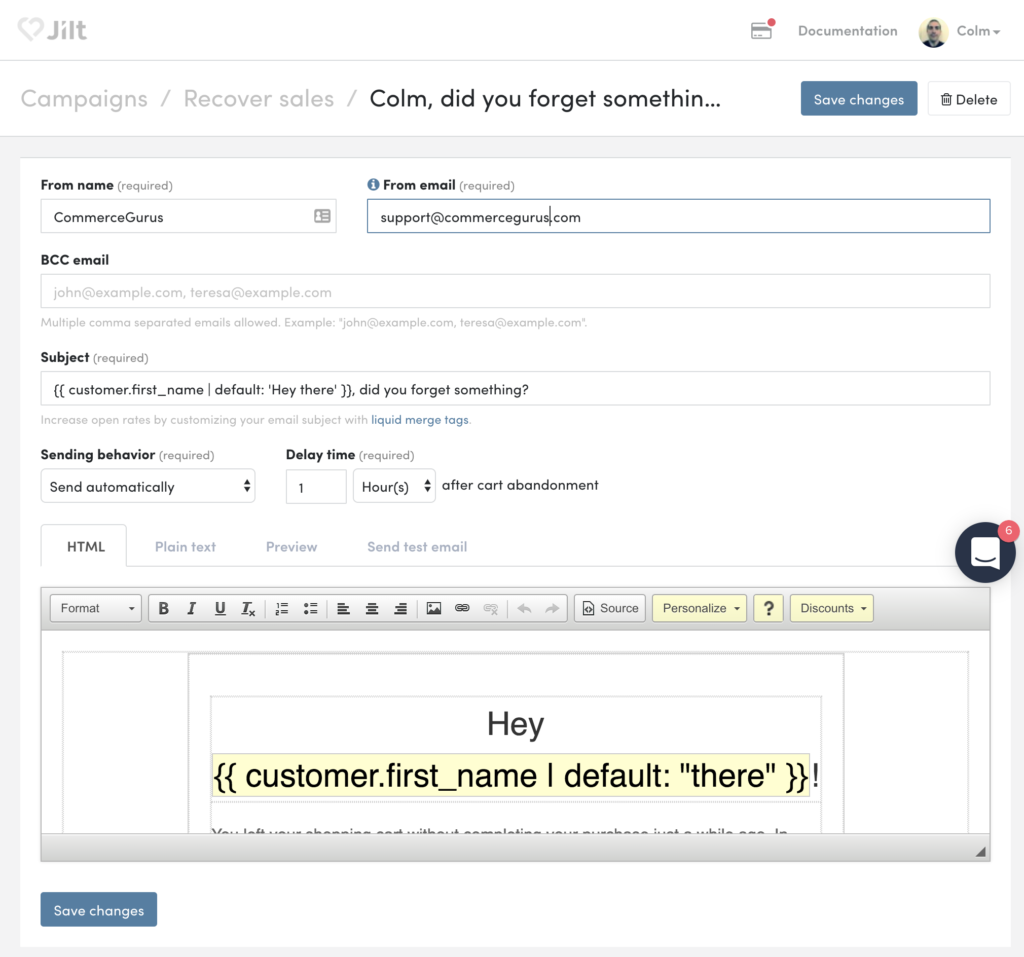 The Email preview tab allows you to quickly see what your customers will see.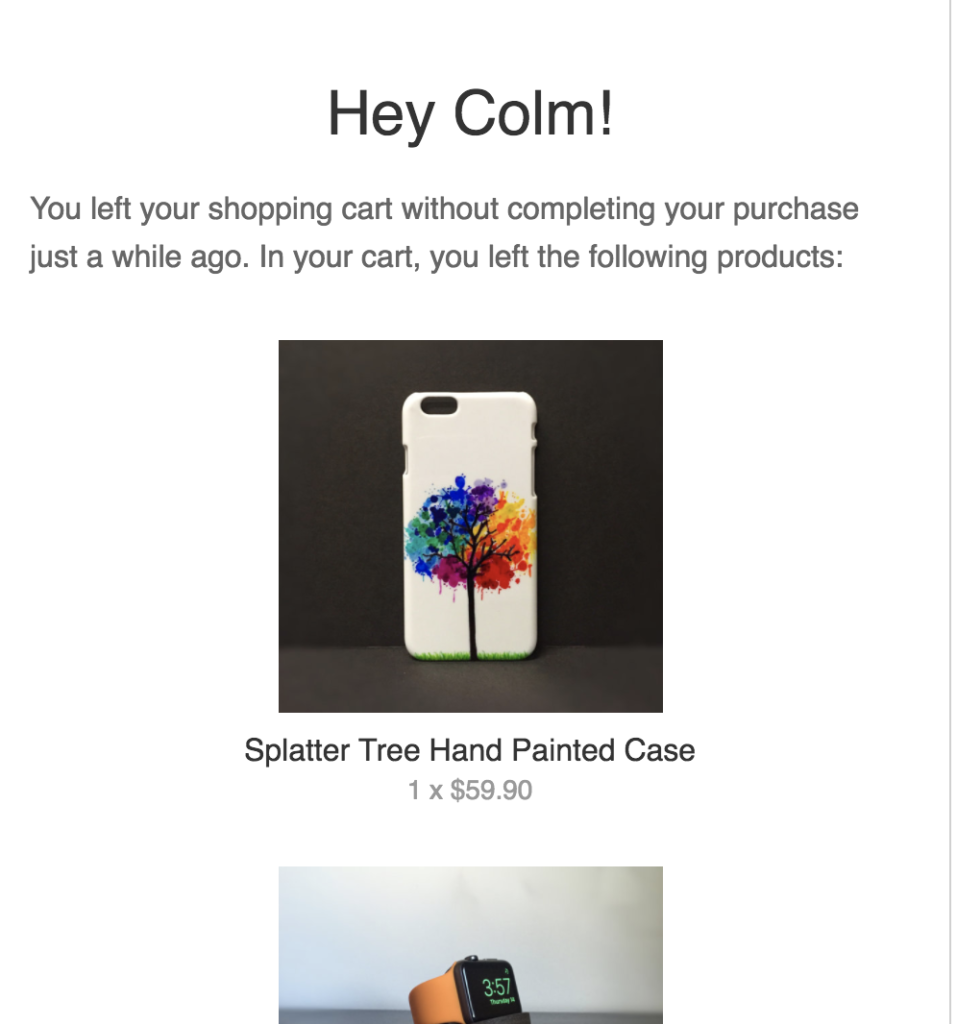 For each recovered order, you can see the full history associated with that order – this extends all the way to customer refunds which show up as "Order uncompleted". So your cart recovery stats will be 100% accurate unlike some other competing platforms (one of the benefits of using a service provided by one of the most respected WooCommerce extension developers!)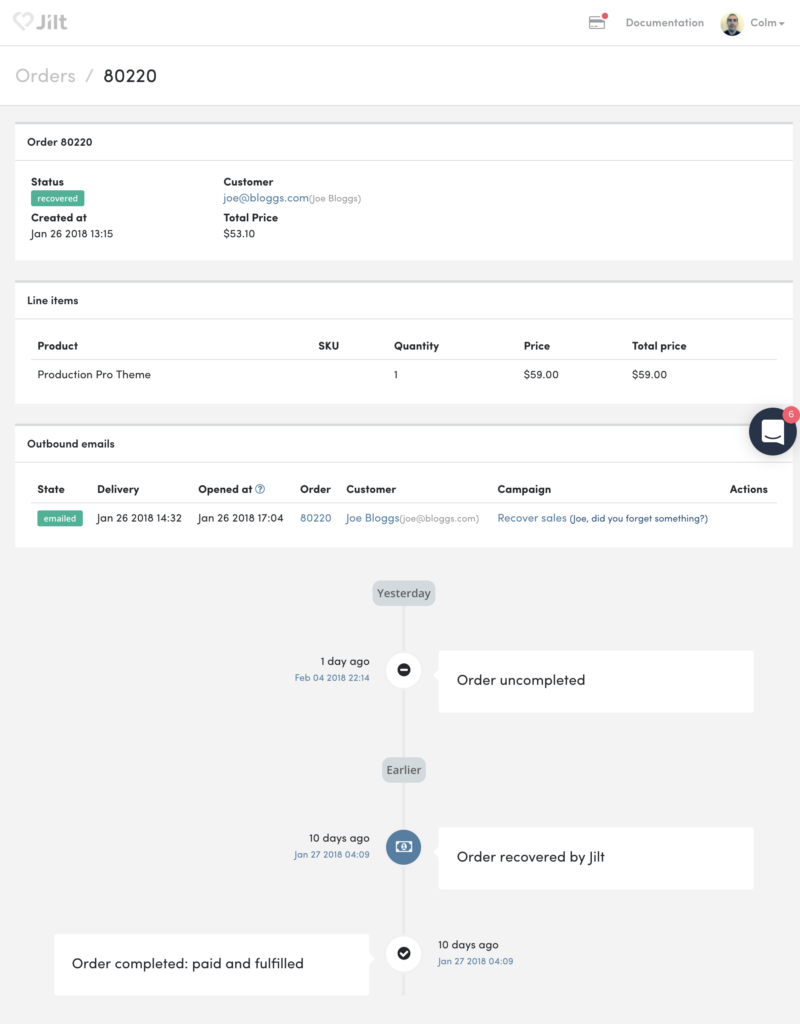 Because Jilt is a third party Saas app it doesn't pollute your WooCommerce database with a ton of poorly optimized records that can slow down your database significantly (particularly on larger WooCommerce stores).
Also, if your store doesn't get a lot of traffic and you use some alternative self-hosted recovery email plugins, your email schedule may be totally off as many alternatives depend on WP Cron to send your emails – which typically requires active traffic to your site to initiate. You won't have this issue with Jilt as emails are queued and sent by their web service and via their robust email servers – meaning Emails arrive when they should.
Awesome cart recovery stats – take a look at this gorgeous and useful dashboard.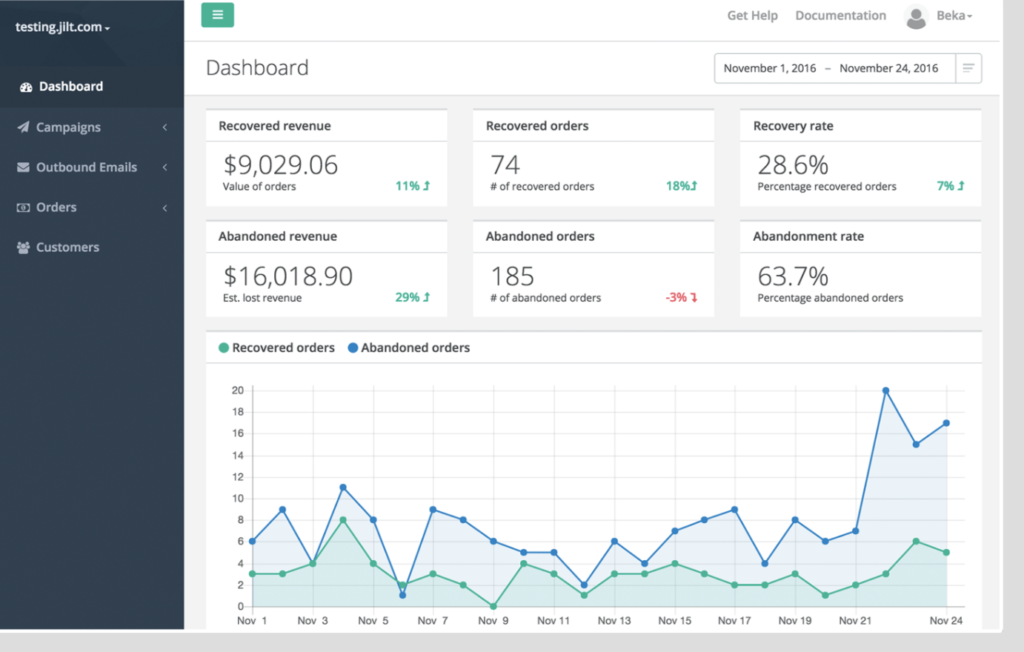 As you can see Jilt is tracking our abandonment rate AND our recovery rate. Jilt will also let you create discounts right in Jilt – so no need to jump back over to WooCommerce to configure that part of your recovery sequence.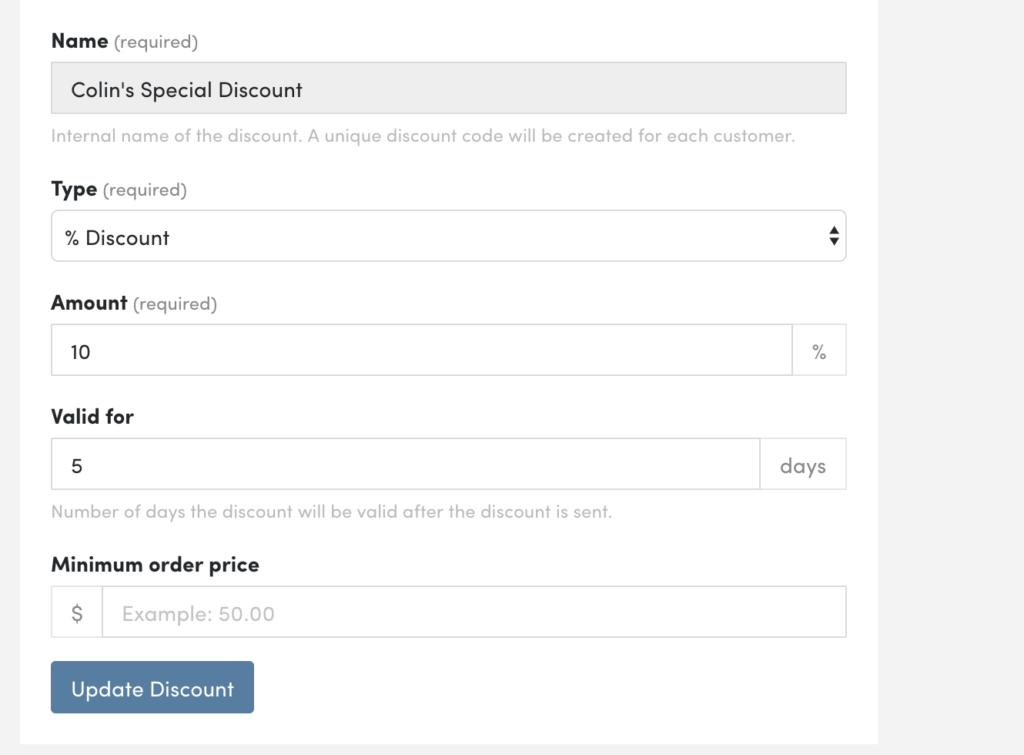 Get started with Jilt for free!
Unlike competing platforms, Jilt offers ALL features in a free plan. You basically get the first 25 customers for free. After that, pricing ranges from $29 – $299+/mo depending on the number of customers go through the system on a monthly basis. This is excellent value for money.
Plus they are simply a fantastic company to deal with! Honestly, if you're not using Jilt for WooCommerce Abandoned Cart recovery you're doing it wrong.
Get started with Jilt for free today.
Wrapping things up
Deploying an effective cart recovery process is becoming increasingly important for success in eCommerce. We've introduced you to some of the best research on how to optimize the recovery of abandoned carts. But you've be lost without a reliable platform to ensure your email sequence arrives on time to the right people – which is where Jilt comes in 🙂
Over to you – I'd love to hear from you if you've spent time optimizing your abandoned cart recovery process. Let me know in the comments below!