As an online store owner, you want to be able to manage and analyze your store's day-to-day activities easily. Right?
Imagine if you had a single dashboard that gave you a quick bird's eye view of your store's most important metrics. And what if you could get answers to questions like What was the best selling shoe size this month? or Which products are under-performing? without digging deeper into data scattered across multiple sources.
Certainly, you'd be able to take immediate action, improve the user experience, and grow your bottom line.
The only problem is that WooCommerce on its own doesn't offer much functionality for effectively managing your online store. This is why you need a robust tool like Metorik to help you properly run your WooCommerce store.
In this Metorik review, we'll start with an overview of the tool and go on to explain how it offers one of the best solutions for managing your WooCommerce store.
---
Metorik: Overview
Before we dig deeper into the Metorik review, let's get a quick overview of what it is.
In a nutshell, Metorik offers an all-in-one solution for properly managing your WooCommerce store. (It also supports Shopify!)
"WooCommerce offered some basic sales reports, but most customers want so much more than that. Our strength is giving our customers around the world a wide variety of reports and data analysis tools, and letting the customer customize them to their needs." – Bryce Adams, Founder of Metorik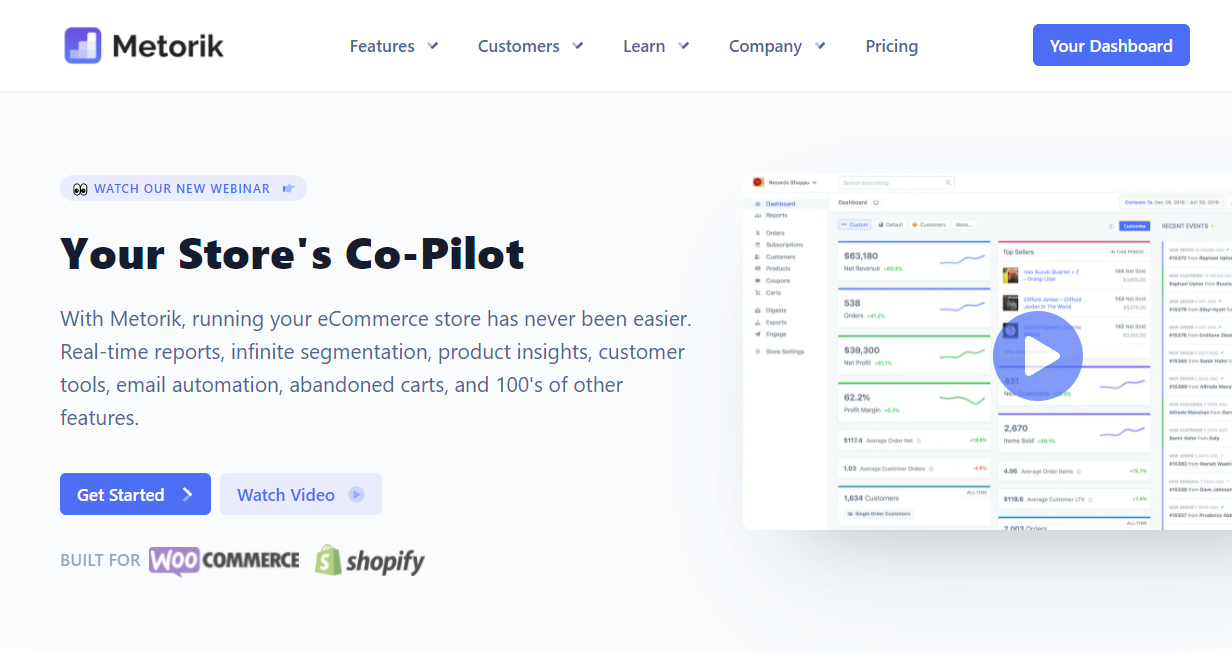 You can create real-time reports, segment your data, use email automation tools to boost engagement, and easily recover abandoned carts. As a result, Metorik not only helps attract new site visitors but is also a great way to increase conversions on your WooCommerce store.
It all depends on how you want to use it.
Metorik is one of the best tools available to help manage and run your eCommerce store. You have access to all the features you need to manage important tasks. Metorik integrates seamlessly with popular services including Facebook and Google Analytics. This way, you can make the most of Google Analytics data, reports on Facebook ad spend, view Freshdesk tickets in Metorik customer profiles, and much more.
---
Key features of Metorik
Metorik, out of the box, packs a lot of features. This means that there's no need to use other third-party plugins to add functionality to your WooCommerce store. It's also a great way to reduce costs as you don't have to spend a huge portion of your budget on subscribing to multiple tools or services and make sure they work together without a hitch.
Metorik offers you everything you need to easily manage your WooCommerce store and helps take it to the next level.
Let's dig deeper into the Metorik review to see the different features it offers:
#1. Real-time reports
A great way to start improving your WooCommerce store is by analyzing all the data you collect. Metorik lets you create reports using any metric including revenue, orders, customers, products, devices, refunds, customers, and customer retention. You can analyze all these important metrics and make informed decisions for your WooCommerce store.
Metorik offers an intuitive and easy-to-navigate interface for accessing all important data from Metorik reports.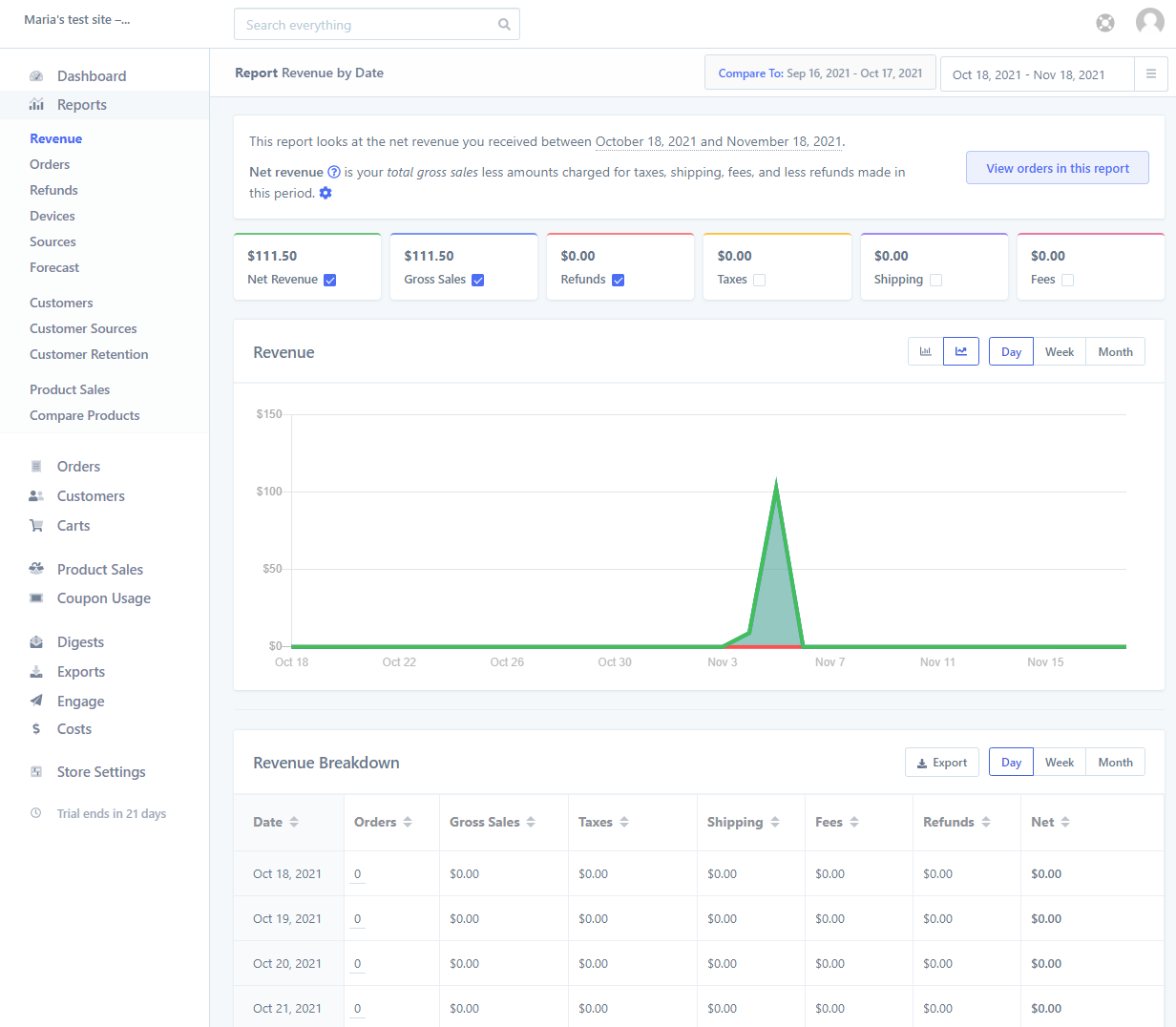 You can filter the data by date. For instance, if you wanted to look at how well sales have been performing recently, you can select the specific date range (last two weeks or last month) and analyze everything from customers' orders to abandoned carts.
It's also a great way to get to know your customers better using KPIs such as average order value, retention rate, or the time between repeat orders. You can monitor each customer through their individual customer pages and use the information to build stronger customer relationships.
The best part about Metorik is that it gives you full control over personalizing your reports. This means that you can add or remove the metrics that work for your business and share reports easily with the whole team.
#2. Powerful engagement tools
Metorik also offers extensive engagement tools that help increase product visibility and attract new customers to your store.
Using Metorik's automated emails feature, you can target customers and send personalized emails when they meet certain rules set by you. For instance, you can send a customer a personalized email when they purchase a specific product from your WooCommerce store or when they spend over a certain amount.
This not only helps enhance email marketing campaigns but also lets you segment customers and decide when emails should be sent. By automatically sending emails on time, you don't have to worry about missing out on crucial marketing opportunities.
Creating a personalized email campaign using Metorik's intuitive email builder is pretty simple, even if it's your first time doing so.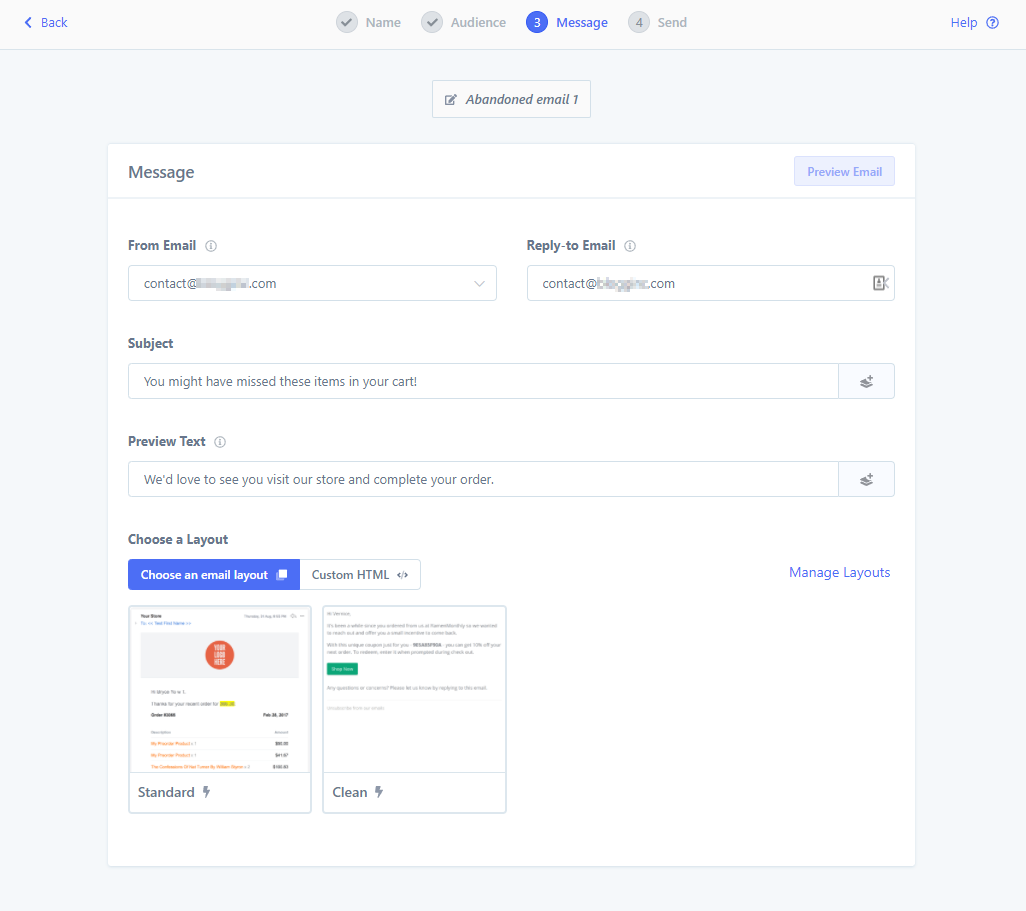 You can create highly customizable and responsive email designs within a few clicks and send them out to customers at the right time.
Additionally, Metorik also lets you automatically create and send coupon codes to customers through email.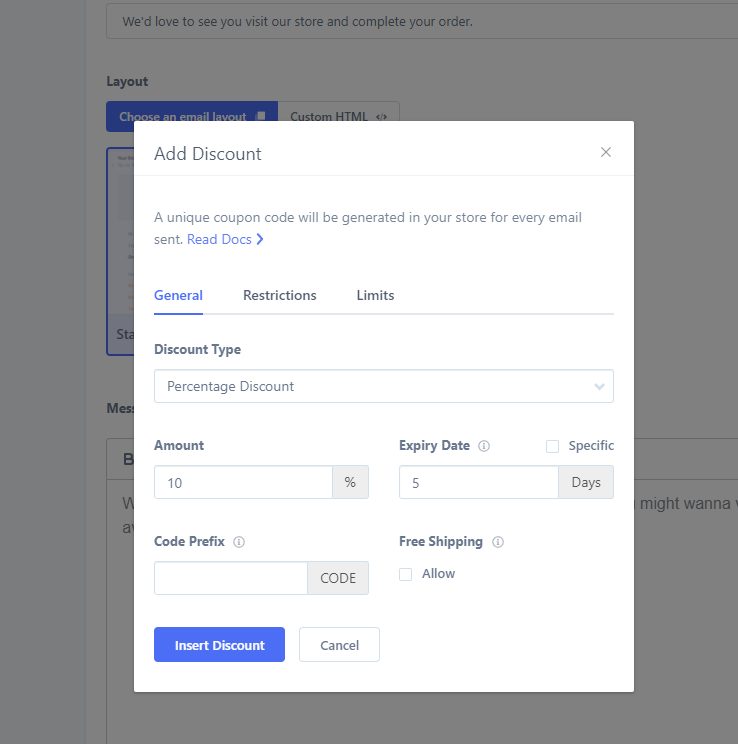 This means that you can send discount codes or coupon codes via email once customers perform a certain action or meet certain requirements.
#3. Track costs and profits
If you're using Metorik to manage your WooCommerce store, you don't need to use a separate tool to set product COGS. All you need to do is enter a price and press a button; Metorik handles the rest for you.
You can also set other costs and analyze them from a centralized place. This means you can add all shipping costs, transaction costs, customs costs, and product COGS of your WooCommerce store and manage them from a single page. This gives you a better idea of how much revenue your WooCommerce store is generating and how much goes back into keeping it running smoothly.
Metorik also lets you sync advertisements costs from Google Ads and Facebook Ads. This way, you can also sync all promotion costs from other platforms and analyze them with all other costs needed to run your WooCommerce store.
One of Metorik's standout features is the cost dashboard.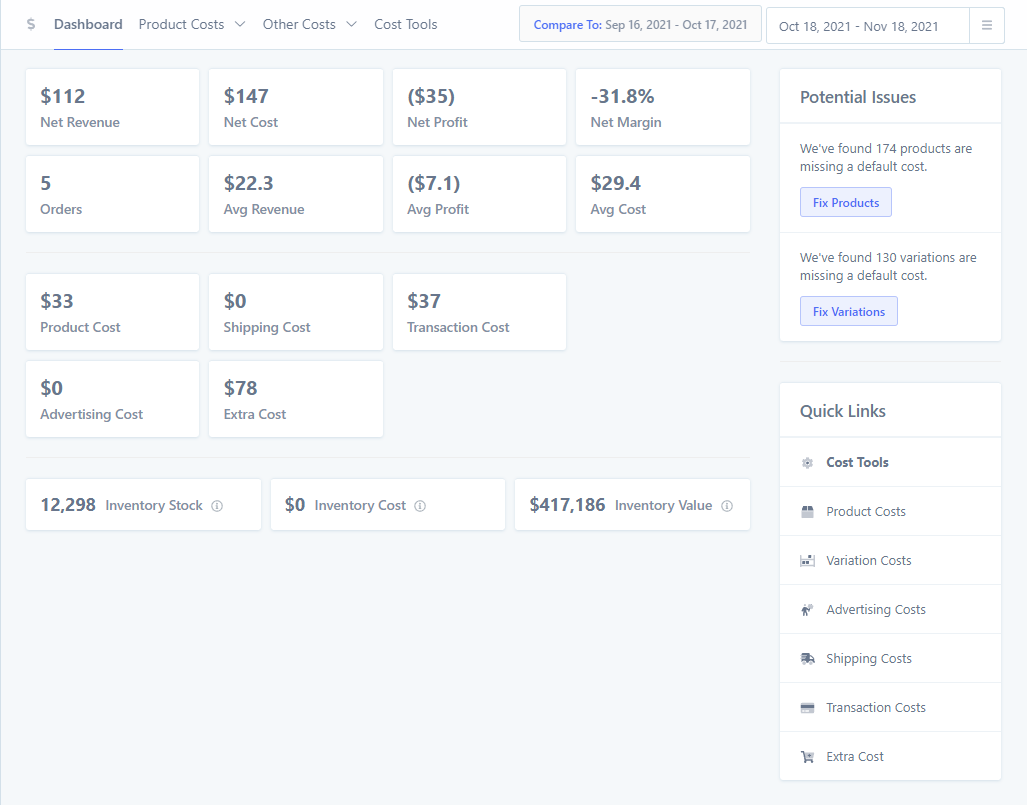 It creates little tabs for each cost you add to Metorik and clearly indicates the amount inside each tab.
#4. Automatically receive custom reports
Metorik lets users create and customize a report full of important data. This means that you can include any report total, KPIs, segment stats, and also a list of customers and create an all-in-one custom report. Using the intuitive report builder, you can compile all important data that C-suite executives, stakeholders, and department managers care about into an easy to analyze report.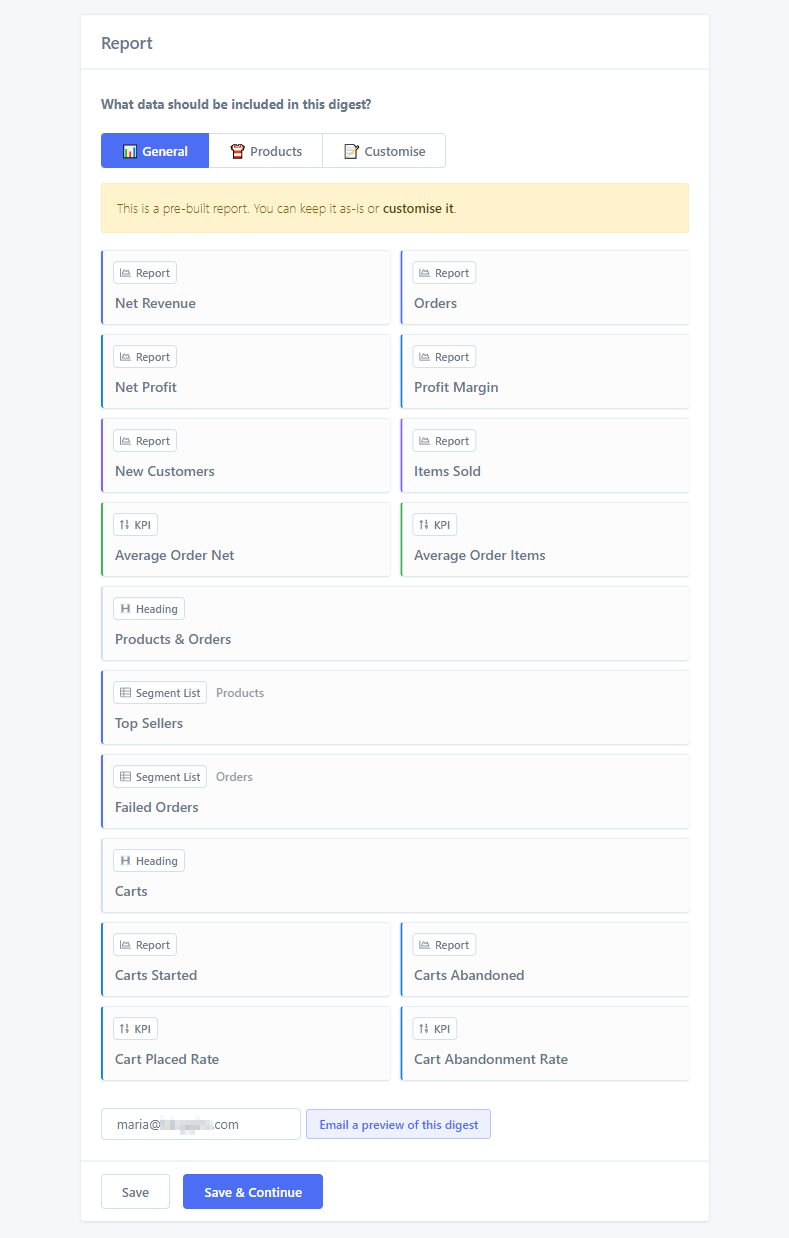 Once you're done creating your custom report, you have the option to share it with all team members via Slack or send it directly to staff members through email.
Additionally, Metorik gives you full control over when you want to receive digests.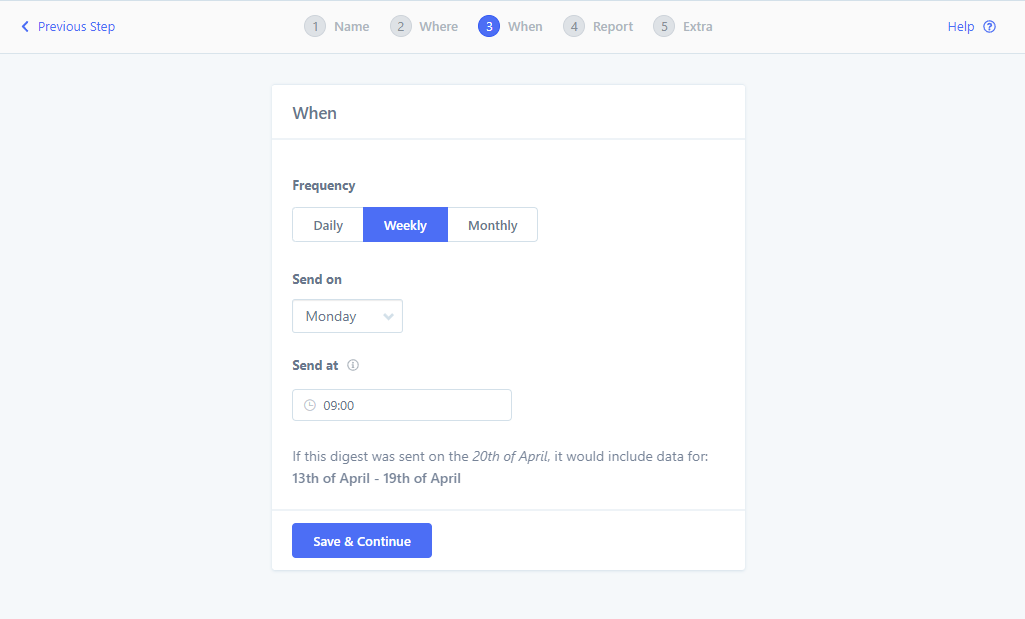 You can choose to receive daily digests, weekly digests, or receive them on a monthly basis. It also lets you choose the date you want to send them and what time they should be sent. This lets you manage and control who should receive your store's digests and decide when they should be sent out.
#5. Manage WooCommerce subscriptions
Using Metorik, you can also manage all WooCommerce subscriptions data. You can analyze WooCommerce subscription data by looking at important metrics such as monthly recurring revenue and active subscriptions on your WooCommerce site. You can later filter each report by product or category and calculate how well your subscriptions are doing.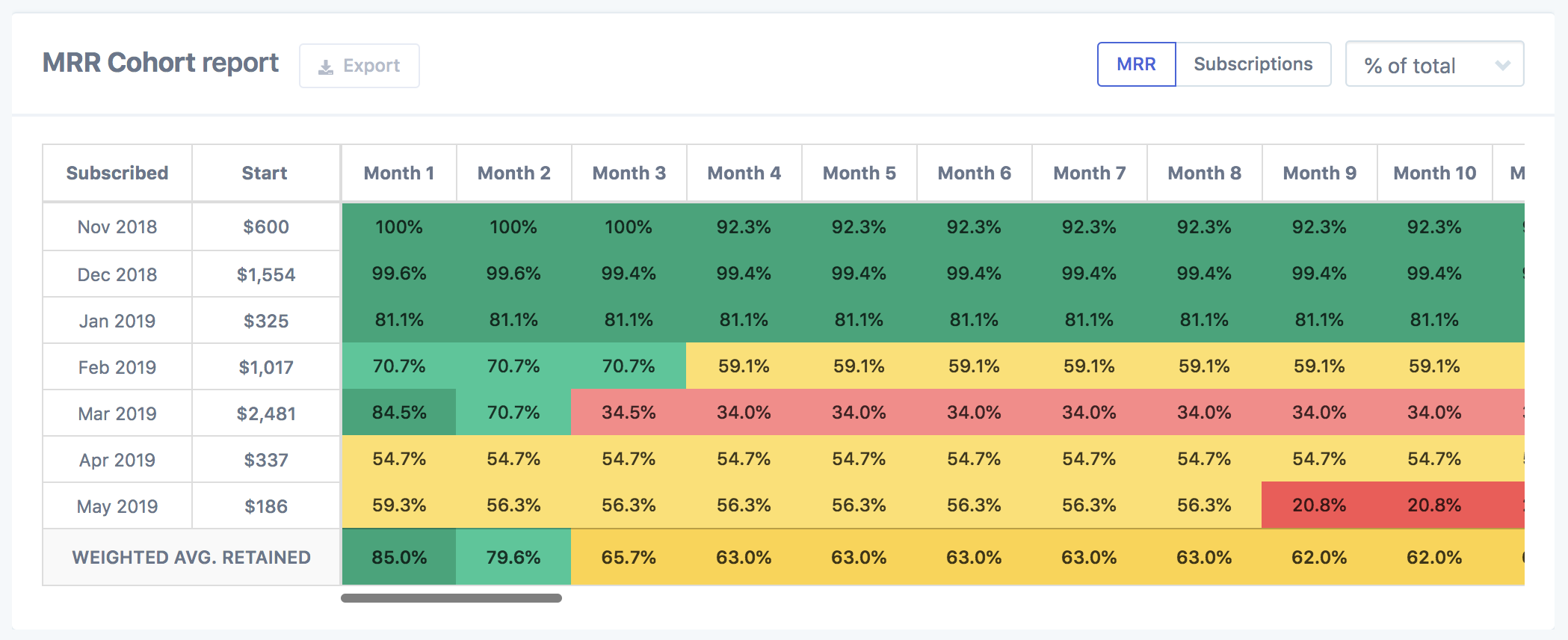 If you offer WooCommerce subscription products on your online store, it's important to take a look at metrics such as retention rate, churn insights, and a detailed cohorts report. This will tell you the exact percentage of customers that are cancelling their subscription plans and the percentage of customers that stay subscribed. You can also take a look at the cohorts report to determine how well your WooCommerce subscriptions perform over time.
Segmenting your WooCommerce subscriptions is also important for understanding where each one is coming from.
Metorik lets you segment and analyze WooCommerce subscriptions from a single dashboard. You can take a look at suggested smart segments and view the stats for segments all at once. This helps you figure out things such as when subscription renewals are coming or how many subscriptions were cancelled in the past week for a specific segment.
#6. Recover abandoned carts
Metorik offers an effective way to track every cart that's created on your WooCommerce store in real-time. Without impacting your website's performance, Metorik tracks every user's cart and the stage they are in. This means you can tell whether the customer is still adding products to their cart or checking out from your WooCommerce store.
You also have access to detailed reports about customers shopping behaviour. This lets you track the cart abandonment rate, the average cart value, the abandoned items, and the cart recovery rate for your WooCommerce store.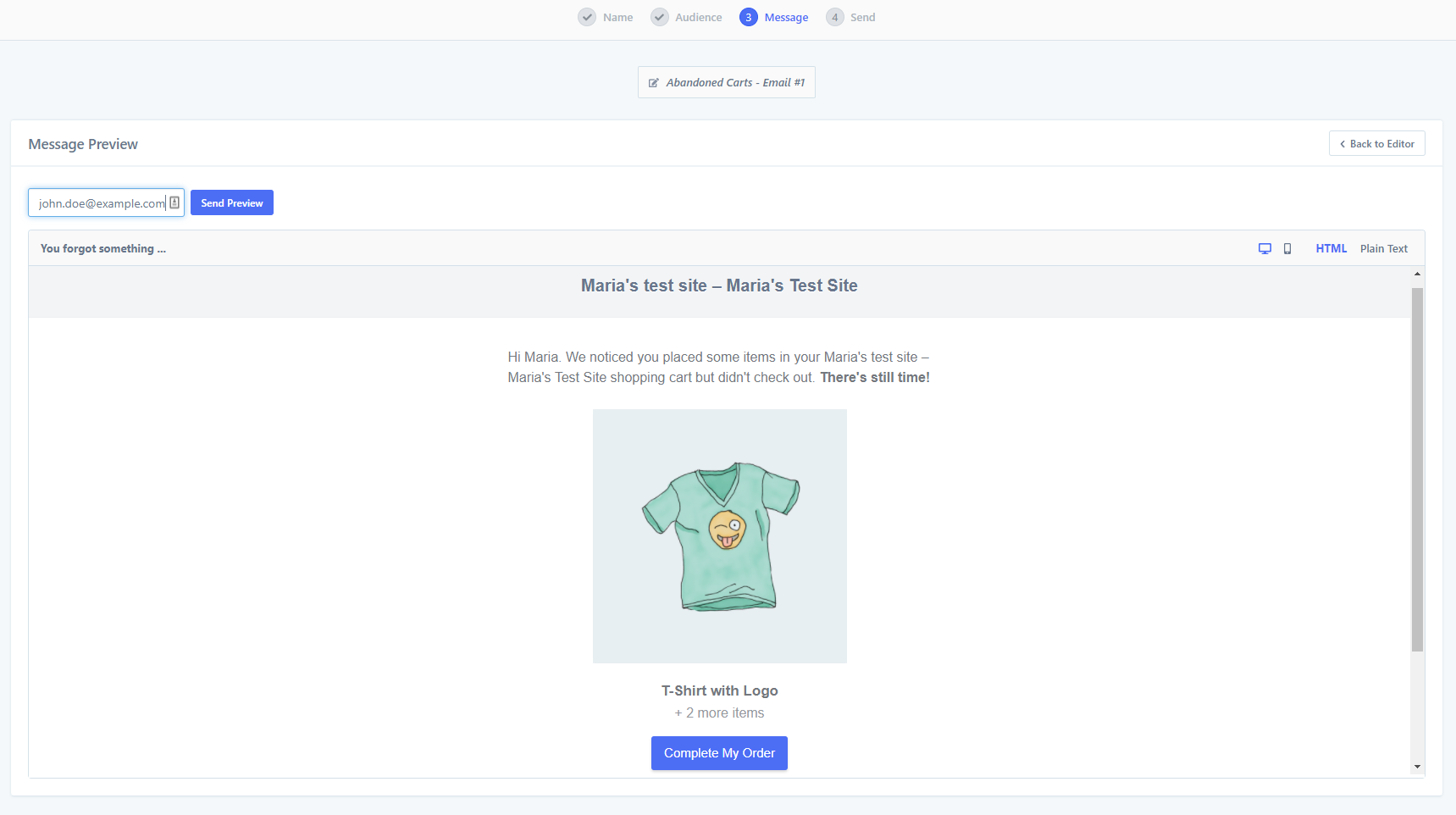 With Metorik, you can essentially segment any data that are analyzed and recorded by the tool. This also means that you can segment and manage carts on your WooCommerce store. You can see each cart individually, see who created it, the items in the cart, and if any abandoned cart recovery emails have been sent to the shopping cart's owner.
Check out our article on how to send abandoned cart emails for more information on sending WooCommerce abandoned cart emails using Metorik.
Metorik is GDPR compliant and offers cart tracking consent features. This way, you can let customers know that you're storing their email address and cart to send them reminders. It also gives customers the option to opt-out of receiving reminders.
#7. Segment data easily
As mentioned earlier, Metorik lets you segment everything instantly as a way to better analyze data and help you make better, informed decisions for your business.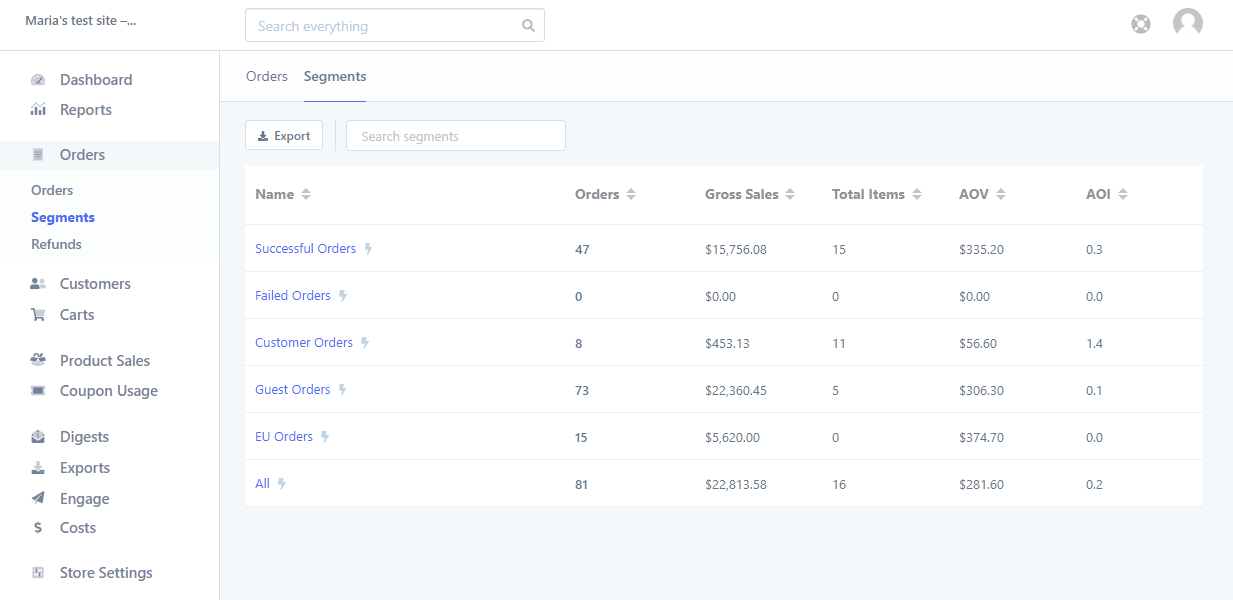 You can segment all order data on your website, your customers, all products available on your WooCommerce store, and all the subscriptions you offer. In addition to this, Metorik also lets you save and share segmented data with your teams or for later use.
---
What else can you do with Metorik?
Here are some other noteworthy features you can expect to get with a Metorik-WooCommerce integration:
Easily export your eCommerce store's data. Metorik offers powerful tools that let you export all data from your WooCommerce store. You can customize columns and include line items for your order reports before exporting them. Additionally, you can also track the recent exports using the track exports page. This way, you can re-download previously exported reports and keep a track of everything in one place.
Manage your WooCommerce products better. You want an easy way of managing WooCommerce products from a single place. Metorik's intuitive inventory management tools let you analyze your inventory level, inventory cost value, and inventory sales value. This essentially gives you a proper overview of all your WooCommerce products in a single place. It's also a great way to figure out your store's best-selling products or the worst-selling ones.
Extensive integration support. Metorik's integration with other apps and services helps you effectively analyze all data on your WooCommerce site, even the data that's not generated by Metorik. This means that you can manage Google Analytics data or Facebook Ad data using Metorik.
---
Metorik pricing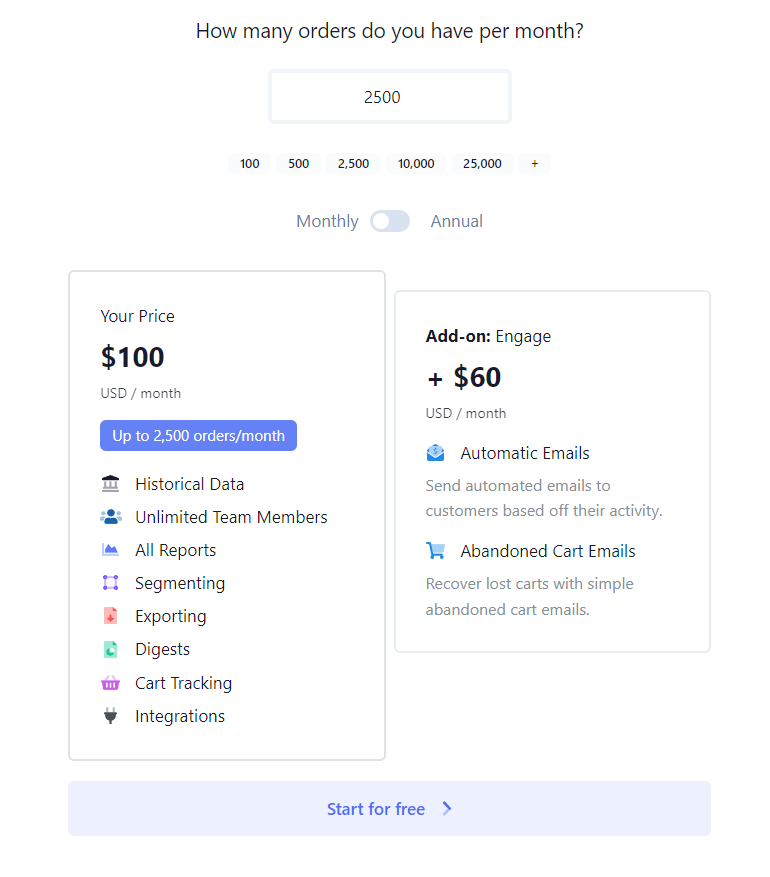 Metorik's pricing plans start at $100 per month for 2,500 orders and is decided based on the number of orders your online store processes each month. You can also purchase the Engage add-on feature for $60 per month for 2,500 orders.
---
Conclusion
Managing everything from orders to abandoned carts can be intimidating for most online website owners, especially if you're just starting out. Using an all-in-one data management tool like Metorik can help effectively manage and improve your WooCommerce store.
The way we see it, it's a must-have tool for store owners.
Once you're all set up, Metorik is the only thing you'll need to look at to get an accurate picture of how your store is performing. You can build your dashboard however you'd like, manage customer relationships, recover abandoned carts, and so much more.
We covered everything you need to know in this Metorik review and, hopefully, you're in a better position now to take the next step.
The Shoptimizer theme is fully optimized from the get-go and can help you create an attractive WooCommerce store. This way, you can display your WooCommerce products better and stand out from your competitors.