So you want to start a dropshipping store…that's awesome! But there are a lot of moving parts when it comes to building a successful dropshipping store, so it's natural that you might be looking for a helping hand to guide you along the way.
To make getting started a whole heckuva lot easier for you (and put you on the path to success), we've created this massive dropshipping tutorial covering everything from what dropshipping is to how to pick dropshipping products and how to actually build your store.
UPDATED!
We just released a brand new mega in-depth video tutorial on How to create an eCommerce Website using WooCommerce and AliDropship – the absolute best combo for getting started with WooCommerce Dropshipping in 2021. The tutorial covers everything from scratch right through to taking your and fulfilling your first order. Check it out below.
If you prefer to follow a text based guide, please read on 🙂
You also might've noticed from the title that this guide is specifically focused on WooCommerce dropshipping, not Shopify like a lot of other guides.
We'll explain why we recommend WooCommerce over Shopify for dropshipping in more detail later on. But overall, we think WordPress and WooCommerce makes a great dropshipping platform because:
It's the most popular way to build an eCommerce store, according to BuiltWith.
It has the lowest entry costs, which is great if you're working on a budget.
You have zero restrictions or limitations on what you sell (whereas Shopify stores have to abide by the Shopify Terms of Service, as well as Shopify Payments' Terms of Service, unless you want to get whacked with a 2% fee on all transactions).
Because this WooCommerce dropshipping guide is over 6,000 words, you can use this handy table of contents to jump around to different areas. But if you're totally new to dropshipping, we recommend starting at the beginning!
There's a lot of ground to cover, so let's dive in!
What Is Dropshipping? Drop Shipping For Dummies 101
If you're reading a guide about dropshipping, there's a good chance you already know what dropshipping is. In that case, just click here to skip to the next section, because everything I'm going to talk about here is for people who are totally new to the concept.
Alright, so if you keep hearing this "dropshipping" term and you have no idea what the heck it means, here's your dropshipping 101 crash course.
Dropshipping is all about how an eCommerce store fulfills product orders.
Think of the traditional model:
Acme Store buys thousands of products and stores them in a warehouse
Acme Store creates a website to sell those products
John the customer comes along and buys a product from Acme Store
Acme Store walks into their warehouse, picks up that product, and puts it in the mail
Works great, right? Well yeah – if you have a warehouse and enough money to buy thousands of units!
But if you don't have those things, the traditional model isn't very accessible.
Dropshipping eliminates those requirements and makes it easier for anyone to start selling on the Internet.
Instead of storing and shipping products yourself, you'll form an agreement with a third-party so that you accept orders, but the third-party handles storing inventory and shipping it to customers.
So here's how it works with dropshipping:
Acme Store makes an agreement with Cool Manufacturer, Inc. about certain products
Acme Store creates a website to sell those products
John the customer comes along and buys a product from Acme Store
Acme Store sends John the customer's details to Cool Manufacturer, Inc
Cool Manufacturer, Inc. ships the product to John the customer
And just like that, you've completely eliminated the need to have your own warehouse and purchase inventory in bulk. Better yet, you can work from anywhere, which is why dropshipping is especially popular with location independent workers.
The Main Benefits Of Using The Dropshipping Model
There are a lot of reasons to like the dropshipping model over the traditional model:
Low investment and overhead – because you don't need to purchase inventory up front or find a place to store it, your upfront investment and ongoing overhead costs are pretty much nonexistent (beyond hosting and marketing your store, of course).
Easy to get started – beyond lowering the upfront investment, it also lowers the complexity of getting started. You don't need to wade through lease agreements, shipping providers, inventory management, etc.
Not tied to location – because someone else is handling the location-dependent parts for you, you're free to move around as you want.
Scalability – dropshipping eliminates much of the complexities involved with scaling your business. You won't have to hire new warehouse staff, find a bigger warehouse, etc. Basically, the only thing you'll need to scale is your ability to offer customer support.
Are There Any Downsides To Dropshipping?
Of course – as Heinlein will tell you, there ain't no such thing as a free lunch. If there weren't any negatives to dropshipping, there'd be no reason for the traditional model to exist!
The biggest downside is the effect on your margins. This can hit you in two ways:
Because your supplier is handling fulfillment, you'll lose some of your margins there because your supplier will charge a higher price for performing that service.
If you sell products that are easy to dropship, you'll face competition from other stores that are taking advantage of the low barriers to entry, which can push prices down and hurt your margins from that angle, as well.
Beyond that, you'll still be the one offering front-facing support at your store. So if a supplier messes up an order, you're going to have to deal with that mistake even though it wasn't your fault. That can certainly make for some frustrating situations (and it's why you need to be very careful and only choose reliable dropshipping suppliers).
Dropshipping 101 FAQ – Some Common Questions
Here are some common questions you might have after reading that introduction:
How do I find dropshipping products? It's not that hard – we'll cover that in this article.
How do I create an eCommerce store to sell my products? Using mostly free open-source software. We'll show you how.
How much money do I need to start dropshipping? It's hard to give one answer here. While you can really shoestring it if needed, you're better off if you have $300+ to dump into your store to get it started.
What Do You Need To Start Dropshipping?
So – dropshipping isn't perfect, but for most people, especially solo entrepreneurs, it's the best way to get started selling online.
Now…how the heck do you do it? We're going to cover the high-level foundational elements of your dropshipping store in this section. But don't worry – we'll get plenty more nitty-gritty and hands-on in a couple sections.
At a basic level, you only need two core elements to start dropshipping.
Element 1: Dropshipping Product(s) And Supplier(s)
Yeah – no duh. Step one is always going to be finding quality products that you can dropship. There are two parts to this:
The products themselves – you need to find quality products that are in demand for whatever niche you're in. This is a balancing act of finding products that people want to buy, but not products that are already totally swamped with competition.
A RELIABLE supplier – you need to find a supplier who not only has those products, but is also reliable enough to ship orders promptly and just generally offer a good level of service to your customers.
Remember – you're relying on your supplier for the fulfillment process, so if you can't trust them to be reliable, you're going to end up with some pretty unhappy customers.
We'll discuss how to pick a product niche and find a reliable supplier in the tutorial section later on. Remember – right now we're just concerned with laying out the theory behind dropshipping.
Element 2: Your eCommerce Store
Once you have products and a supplier, you'll need an eCommerce store to actually sell them.
Some people will just dropship on Amazon or eBay, but that's not really what we'd recommend because the competition is fierce and it's a lot harder to differentiate your brand.
Instead, we recommend creating your own branded eCommerce store (e.g. yourstore.com). While you'll lose the built-in audience of something like Amazon, the benefits more than outweigh that most of the time because:
You can differentiate yourself with branding. On Amazon, it's hard to stand out against people who might be selling the exact same product. With your own store, you don't have to compete directly against those products.
You'll build long-term assets. For example, you'll be able to build your own email list. Email has one of the highest return on investment (ROI) of any eCommerce marketing channel, so being able to create an asset like this is a smart long-term play that makes you less reliant on paid marketing channels.
You're in control. You never need to worry about losing your livelihood because of an issue with your Amazon or eBay account.
You Know The Dropshipping Theory, Let's Get More Hands-On
At this point, you should have a pretty good idea of what dropshipping is, how it works, and the basics of what you need to get started.
Now, we're going to start taking this dropshipping guide a bit more hands-on. Instead of focusing on theory, we'll get into more of the "how-tos" of dropshipping with specific recommendations on the best tools to use and where to find products and suppliers.
Then, we'll actually take you step-by-step through how to create your own dropshipping store, including all the technical setup steps.
To do that, let's start with our recommended eCommerce platform for building your dropshipping store…
Why You Should Use WooCommerce For Dropshipping (Not Shopify)
If you've read a few other dropshipping guides, you might have noticed that a lot of people seem to tell you to use Shopify. We're not going to do that.
First off, one big reason you see it recommended so much is that Shopify has a really talented marketing team. And beyond that, Shopify has a generous affiliate program, which means that all of those people who are recommending Shopify get paid a hefty commission if you sign up through them.
WooCommerce, on the other hand, is free open-source software, which means we get paid diddly-squat if you end up using it.
To be fair to Shopify, though, it's not all marketing hype. Shopify is definitely a quality product. And the Shopify team does a great job of making it simple to create an eCommerce store (including a dropshipping store). The issue is just that if you only looked at most dropshipping guides, you'd think Shopify was the be-all-end-all of creating an eCommerce store.
But if you actually look at the data, WooCommerce is the most popular way to build an eCommerce store in existence, with Shopify sitting back there in second place: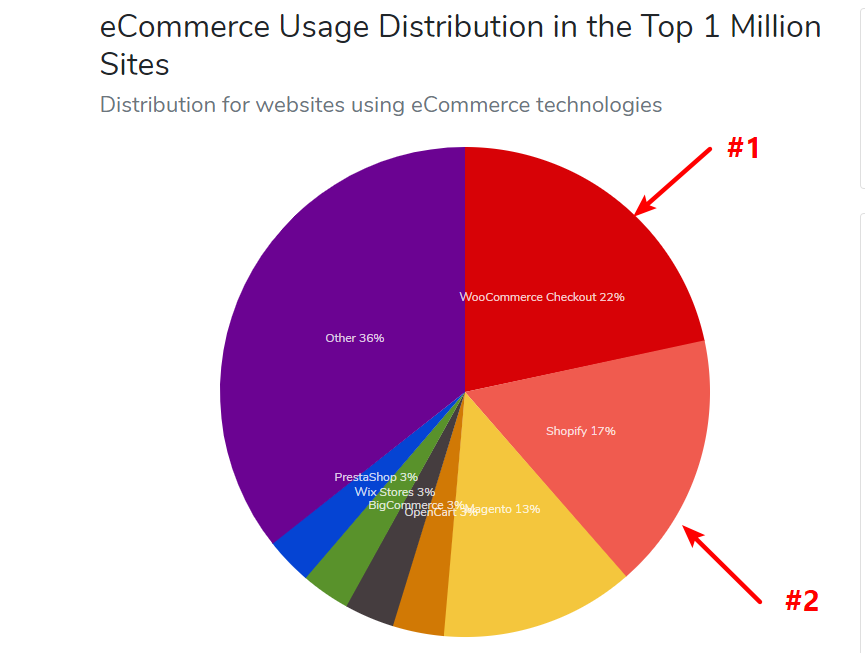 So this isn't some far out recommendation – we're telling you to go with the King.
What is WooCommerce?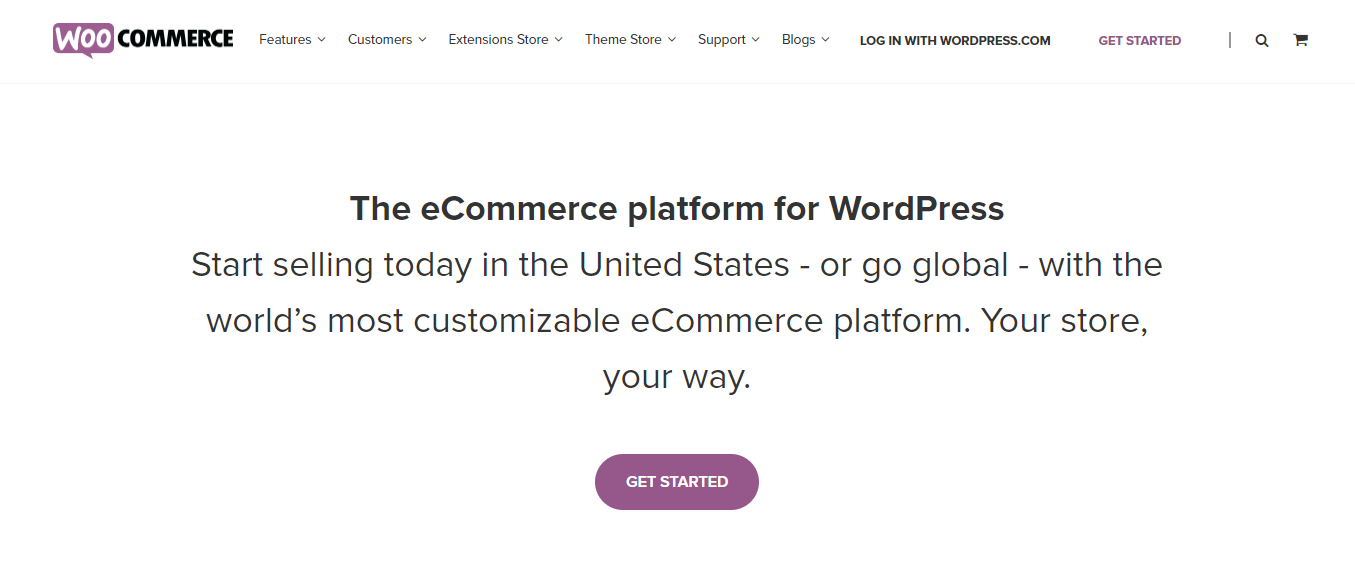 WooCommerce is an eCommerce platform that's built on WordPress. If you haven't already heard of WordPress, it's by far the most popular way to build any type of website. The WordPress software powers a whopping 39% of all the websites on the Internet (yes, that number is as insane as it sounds).
WordPress is popular because it's an incredibly flexible content management system. A content management system is just a fancy way of saying "tool that helps non-technical people manage a website". The "content" can be anything – including eCommerce products!
To create an eCommerce store with WordPress, you take that massively popular WordPress foundation, and you add on the equally massively popular WooCommerce plugin to create your eCommerce store.
WooCommerce is an eCommerce plugin for WordPress developed by Automattic. Automattic is the company behind WordPress.com, and it's no small fry. It's a billion dollar company, which means you have plenty of resources backing your store's platform.
Why We Like WooCommerce For Dropshipping Over Shopify
Explanation time:
Why do we think WooCommerce is better than Shopify for dropshipping?
There are three main reasons.
#1. Price
First, there's price.
WordPress is 100% free and the core WooCommerce plugin is also 100% free. All you need to run a WooCommerce store is your own hosting, which you can get for as little as $5 per month (though we definitely recommend upgrading once your store starts growing).
There are some other optional costs that you probably will want to pay for. But if you're looking to bootstrap your dropshipping business and have a limited budget, WooCommerce lets you get started with your store for less than $100. Then, you can start expanding with better hosting and more premium extensions as you grow.
Shopify, on the other hand, is going to cost $29 per month no matter what. Shopify doesn't care if your store is brand new and you're not getting sales yet – they're still going to hit you for at least $29 per month. Premium Shopify themes are expensive too ($140+), and premium Shopify Apps require a monthly fee, as well. Plus, if you want to use your own payment gateway, Shopify is gonna hit you with another 2% transaction fee on everything you sell.
Basically, unless you can afford to start throwing around money right away, WooCommerce will let you start off cheap and then scale as your business grows, which means you can bootstrap your dropshipping store on a shoestring budget.
#2. Flexibility
We know:
"Cheap" by itself is not a good reason to pick something.
That is, if WooCommerce sucked, it doesn't matter how cheap it is, it still wouldn't be a good option for dropshipping.
But WooCommerce doesn't suck – remember, we're talking about the most popular eCommerce platform in existence here.
Because you actually install the WordPress and WooCommerce software on your own web server (whereas Shopify is just a service), WooCommerce gives you way more flexibility than Shopify.
With Shopify, you can only do what Shopify lets you do.
With WooCommerce, you can do whatever you want because you have full access to your site.
Don't worry – you don't need to be a developer to take advantage of that flexibility, either. WordPress and WooCommerce let you use something called "plugins".
Plugins come in both free and premium flavors and let you "plug in" new functionality to your store without needing to know a lick of code.
Right now, there are over 56,000 free WordPress plugins alone. And you can also find tons more premium plugins for all types of functionality (like automatically importing products from AliExpress, or managing your different dropshipping suppliers).
#3. No Product Restrictions
Finally, WooCommerce is just more "free". Not free as in price – free as in you don't have any restrictions.
When you use Shopify, you have to abide by their terms of service. That means there are some things you just can't sell with Shopify.
Now, the terms for the Shopify store itself aren't too bad unless you want to sell guns (we're not sure if there are many dropshipping suppliers for guns, anyway!).
But here's where Shopify gets you:
When you create a store at Shopify, Shopify also has you use the Shopify Payments system to process payments. You don't have to use it. But if you want to use a different payment gateway, Shopify will charge you a 2% transaction fee for everything you sell.
So…that's a pretty big stick if you want to use a different payment gateway.
And here's the thing:
Shopify Payments' Terms of Service is a lot stricter than the regular Shopify terms. Here are some of the things you can't sell:
E-cigarettes or accessories (including liquid)
Marijuana paraphernalia
Age restricted goods or services
Fetish gear
Sex toys
"Unauthorized sale or resale of brand name or designer products or services"
Hair extensions
"pseudo-pharmaceutical products that make health claims (e.g. retinol creams, lash growth serums, products containing hyaluronic acid, etc.)"
"Sale of a legal substance that provides the same effect as an illegal drug (e.g., salvia, kratom)"
Ok, that probably won't affect most stores.
But when you use Shopify, you always need to remember that you're playing by someone else's rules.
And if they decide to change those rules one day, you're screwed.
Because WooCommerce is open-source software, there are no rules about what you can sell (as long as you're able to find a way to process payments. Worst comes to worst, you can always accept Bitcoin!).
What You Need To Create A WooCommerce Dropshipping Store
Ok, so hopefully we've convinced you that WooCommerce makes a good option for dropshipping. Now…what do you actually need to create a dropshipping store with WooCommerce?
1. Hosting And A Domain Name
Your domain name is your store's permanent address on the Internet – e.g. amazon.com. You'll want to pick something that's:
Relevant
Brandable
Memorable
Beyond your domain name, you'll also need your own website hosting. This is what actually powers your WooCommerce store, and it's where you'll install the WordPress software.
When you're just getting started, we recommend SiteGround because they:
Are affordable – you'll pay just ~$70 for your entire first year.
Have great performance – quick page load times are essential for any eCommerce store.
Offer a free SSL certificate – an SSL certificate is absolutely essential for eCommerce stores as it keeps your shoppers' information safe and encrypted.
Make it easy to install WordPress – so that you can start building your store right away.
Have stellar phone and live chat support – in case you run into any issues.
Once you sign up with SiteGround, they'll give you an option to automatically install WordPress and WooCommerce so that you can hit the ground running when we show you how to build your dropshipping store: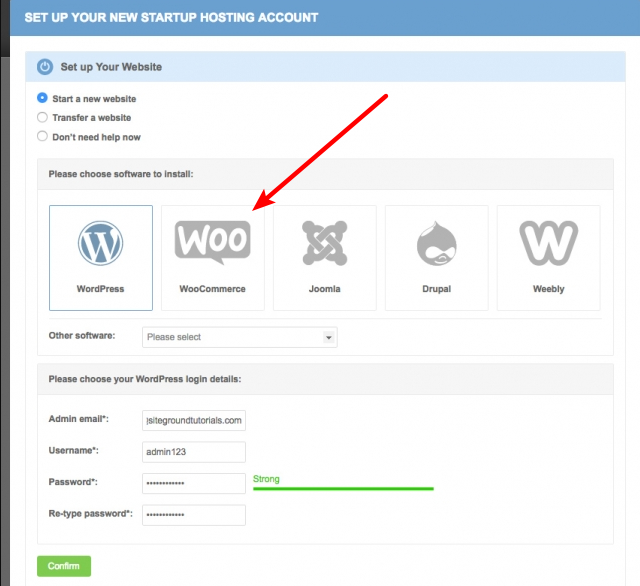 SiteGround also gives you an option to purchase your domain name, which will cost you ~$15 per year.
2. WordPress And The WooCommerce Plugin
WordPress is open-source software that you can download from WordPress.org. And you can also download the free WooCommerce plugin from WordPress.org.
Normally, you'd need to install both these pieces of software on your host, but if you use SiteGround, SiteGround will do everything for you (as you saw above).
3. A Conversion-Oriented WordPress/WooCommerce Theme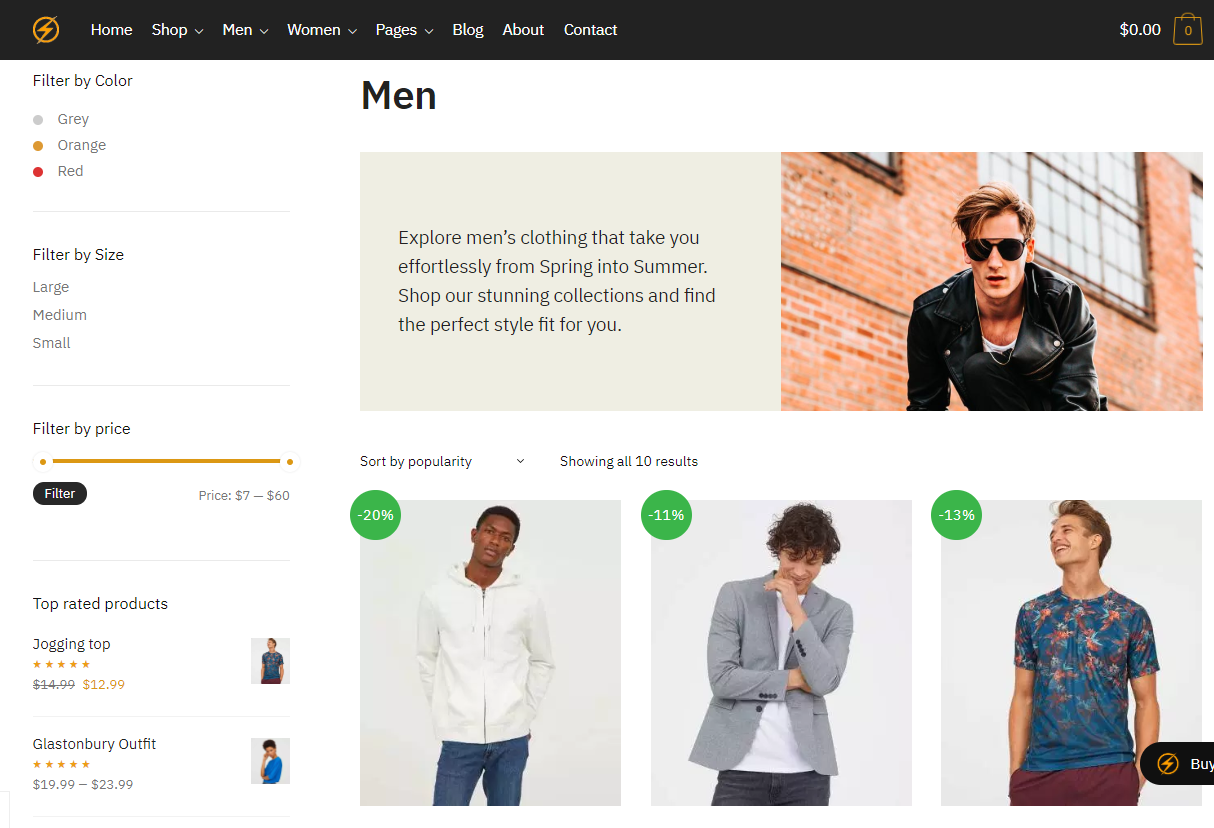 Your site's "theme" determines how your store looks, which will play a big role in how likely people are to purchase from your store.
The percentage of visitors that actually make a purchase is your store's conversion rate. And if you want to have a high conversion rate, you need a WordPress theme that's optimized for conversions.
If you're on a budget, you can find plenty of free WooCommerce themes. But if you can swing it, buying a premium option is usually a good idea. Premium WooCommerce themes usually cost ~$60-$100.
4. Optional: A Dedicated WooCommerce Dropshipping Plugin
This one is optional because it really depends on what type of relationship you want with your product supplier(s) (which we'll cover next).
If you're only selling a few targeted products from a single supplier, you can just use the normal WooCommerce functionality to manage your products.
But, if you want a bigger catalog, another option that some dropshippers use is to purchase a plugin that lets you connect directly to AliExpress suppliers.
Ok – we haven't touched on AliExpress yet, so that might not mean anything to you yet. So, now's probably a good time to cover how to find products for dropshipping. Just remember that you can automatically connect to AliExpress as we go through the next section.
How To Find Dropshipping Suppliers And Dropshipping Products
Alright – we're getting there, folks. We're now at the spot where you can start making meaningful decisions that will, step-by-step, get you to the point of your very own fully-functioning dropshipping store.
Right now, it's time to choose what products you want to sell, and which supplier you want to use to deliver them to your customers.
What Makes For A Good Dropshipping Product
While you'll find some stores that sell a little bit of everything, most successful dropshipping stores pick one specific product niche and focus their efforts there.
So…how do you pick your niche? What's a good product to dropship?
Basically, you're looking for products that:
Are popular enough that people are looking for them, but not so popular that you're drowning in competition
Have a price that gives you enough margin to make sense
Yeah – sounds simple enough in a two bullet list, but it's going to take some research to find the winner.
If this is your first dropshipping store, we're a big proponent of trying to sell what you know. While it's not a requirement that you're familiar with your niche, it will make things a lot easier, especially on your first go-round.
You'll have insights that other people don't have, which can help you understand which products people need.
Beyond sticking with something you know, here are some more specific tips…
Under $200 Is The Sweet Spot For Product Pricing
When you choose your dropshipping products, try to keep them under ~$200 or so. $200 is within most people's "impulse purchase" range, which means easier sales. Convincing someone to spend $75 isn't that hard – but $750 is going to take a lot more time!
Additionally, refunds are going to be a major pain if you go above $200, as it makes the stakes of accepting product returns a lot more dire.
Also, watch out for MAP pricing (minimum advertised price). Basically, if you choose a product with MAP pricing, there will be a hard price floor set by the manufacturer that you're not allowed to go under.
Be Aware Of Product Dimensions/Weight
A lot of dropshipping products are going to be shipped straight from China, which means shipping can take a long time, and the costs can add up.
ePacket shipping changes that and makes shipping from China more affordable (and faster!). But it has limits…
ePacket shipments can only be 4.4 pounds (2 KG) max. And there are also similar restrictions on dimensions.
So…if you're planning to find Chinese dropshipping suppliers (like using AliExpress), your life will be a lot easier if you can find products that will fit within ePacket's requirements.
Some Specific Places To Start Your Product Search
With those guidelines in mind, here are some tips to help you come up with ideas for dropshipping products:
Browse Amazon for ideas. Amazon accounts for more than 50% of all product searches, so it's always going to be a good spot to see what people are interested in.
Consider social shopping sites. Sites like Fab, Massdrop, Wish, etc. can help you unearth trending products.
Use keyword research. Good old fashioned keyword research using tools like Keyword Planner and KWFinder can help you find which products people are searching for in Google (put Amazon and Google together and you'll have access to almost all product searches). Google Trends can also let you see how demand is changing over time.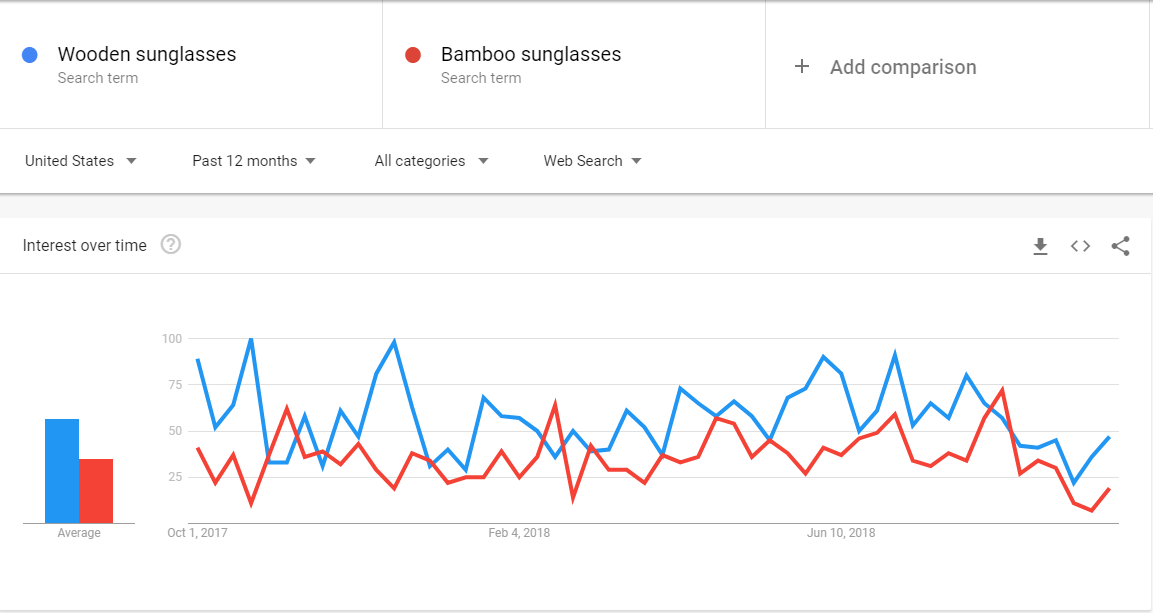 Where Can You Find Dropshipping Suppliers For The Product(s) You Choose?
Once you find a product that you want to sell, you'll need to find a reliable dropshipping supplier that can handle fulfillment for you.
In the next section, we'll share some tips for the "reliable" part. But for now, let's just focus on the "where" part of the equation.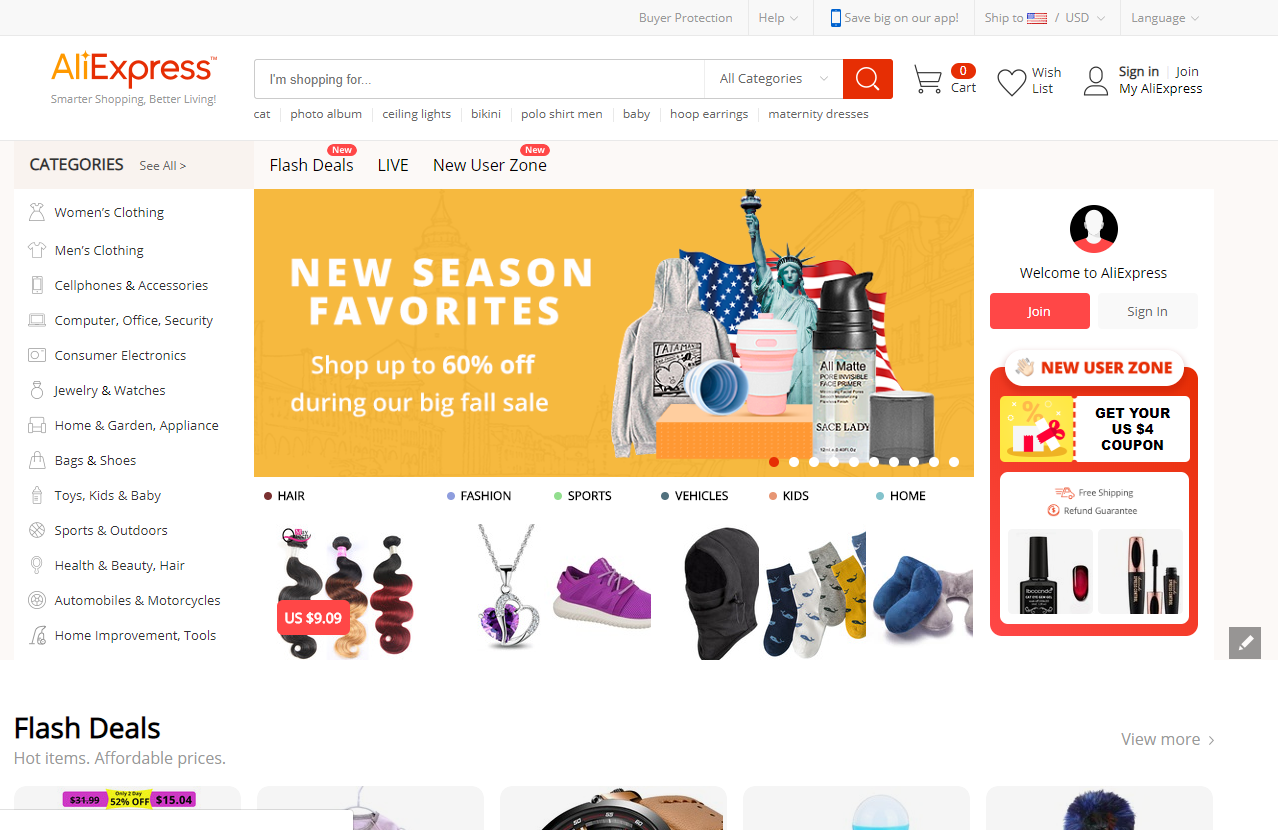 Here are some of the various ways in which you can find dropshipping suppliers:
AliExpress – AliExpress is probably the most well-known source for suppliers. It lets you connect to a range of Chinese suppliers for easy fulfillment. You can also find dedicated WooCommerce dropshipping plugins that make it super easy to manage fulfillment via AliExpress.
SaleHoo – SaleHoo is a popular tool that can help you research products. It also includes a huge supplier directory to help you find pre-vetted suppliers.
Google – you can find suppliers via Google…but it's a battle as many suppliers don't have great online presences. The upside is that if you can unearth a hidden supplier, you might have a competitive advantage versus people who just choose the first option on AliExpress.
Worldwide Brands – Worldwide Brands is a long-standing directory of wholesale suppliers, but you'll need to pay $299 for access.
Local trade shows – if you're willing to travel, attending a trade show in person is a great way to meet a range of manufacturers and suppliers.
How To Pick A Supplier For Your Dropshipping Business
Ok – you found a dropshipping supplier via one of the methods above. Now – how do you find out if they're reliable?
First – watch out for red flags! Good suppliers will not charge ongoing monthly fees just for doing business (per-order fees, on the other hand, are pretty standard).
Beyond that, a reliable dropshipping supplier should have no problem mailing out some samples (though you'll likely need to pay for these).
When you communicate with suppliers and get your samples, pay attention to:
How long shipping takes (including how long it actually takes to get in the mail – not just the overall shipping time) – the faster your supplier gets products in the mail, the happier your customers will be.
Product quality – a quality product means more satisfied customers and fewer returns.
Good communication – because you'll be forming an ongoing relationship, you want a supplier who's responsive and easy to get in contact with.
Once you find the winning supplier for your products, you're ready to actually build your WooCommerce dropshipping store.
How To Create Your WooCommerce Dropshipping Store: Step-By-Step
At this point, you should:
Understand how dropshipping works
Know why WooCommerce makes a better option for dropshipping than Shopify
Understand the basics of what you need to create a WooCommerce dropshipping store
Be able to find quality suppliers with the products that you want to sell at your store
Now, it's time to actually create your WooCommerce dropshipping store.
This part of the guide will get a bit more technical as we walk you through the actual process of building your store.
Step 1: Sign Up For Hosting At SiteGround And Install WooCommerce
In this first step, you'll create the barebones WordPress/WooCommerce website that you'll use for your store.
This is basically the underlying engine for everything you do later on in this guide.
Sign Up For SiteGround Hosting
You already know why we recommend SiteGround for new dropshippers.
To get started, go to SiteGround and sign up for a plan. We recommend the GrowBig plan because it does a great job of balancing price with features/performance: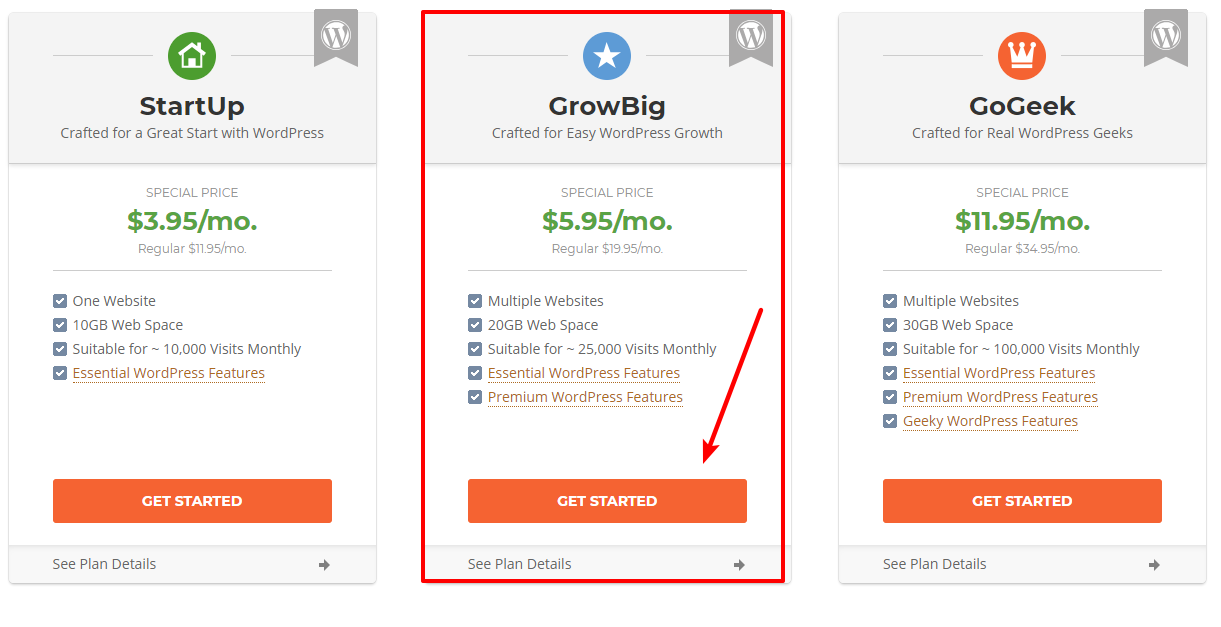 On the next page, you can register the domain name for your dropshipping store. It will cost you $15.95 per year. Or, if you've already purchased your domain somewhere else (like GoDaddy or Namecheap), you can choose the option for I already have a Domain:
Then, you'll need to enter your basic account details and payment information to finish out the process: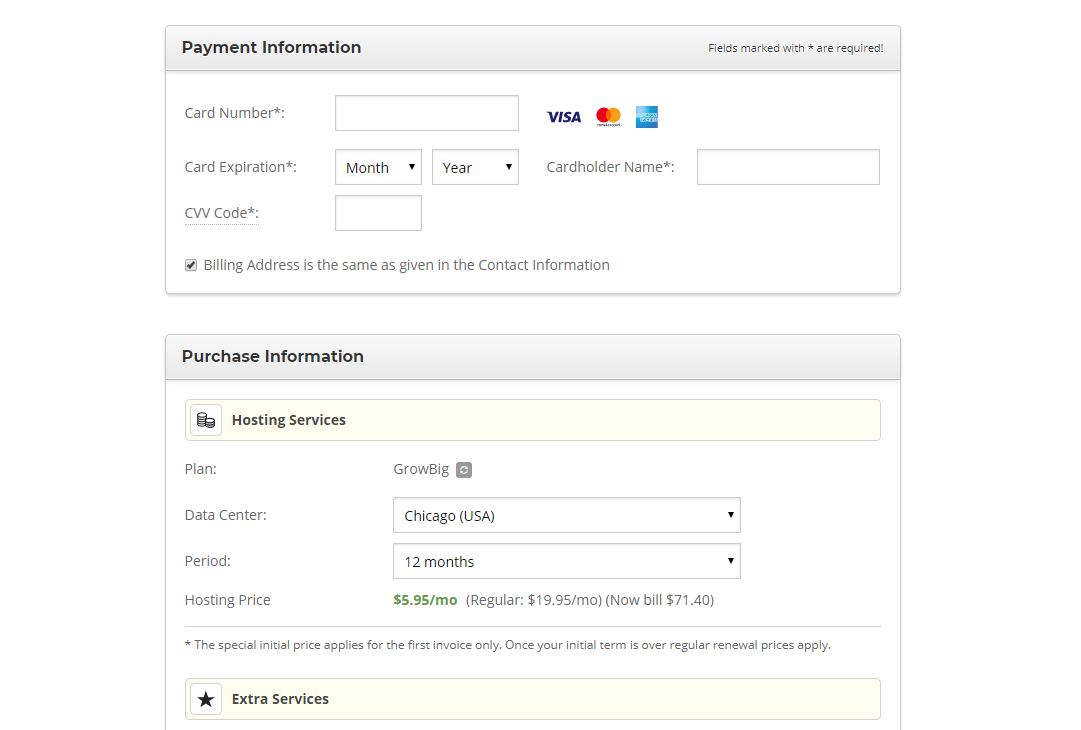 Install The WordPress Software And WooCommerce
Once you've signed up for SiteGround, you'll need to install the core WordPress software (remember – WooCommerce is an extension for WordPress, so you need WordPress before you can install WooCommerce).
Again, one of the reasons that we like SiteGround is because they make it super easy to install WordPress.
When you log in to your SiteGround account for the first time, you should see a prompt for the Setup Wizard.
This wizard will let you install WordPress and WooCommerce in one simple action. When you see the prompt, select the option for WooCommerce. Then, you'll also need to enter WordPress login details below. You'll use those login details to log into your WordPress dashboard once the install process finishes: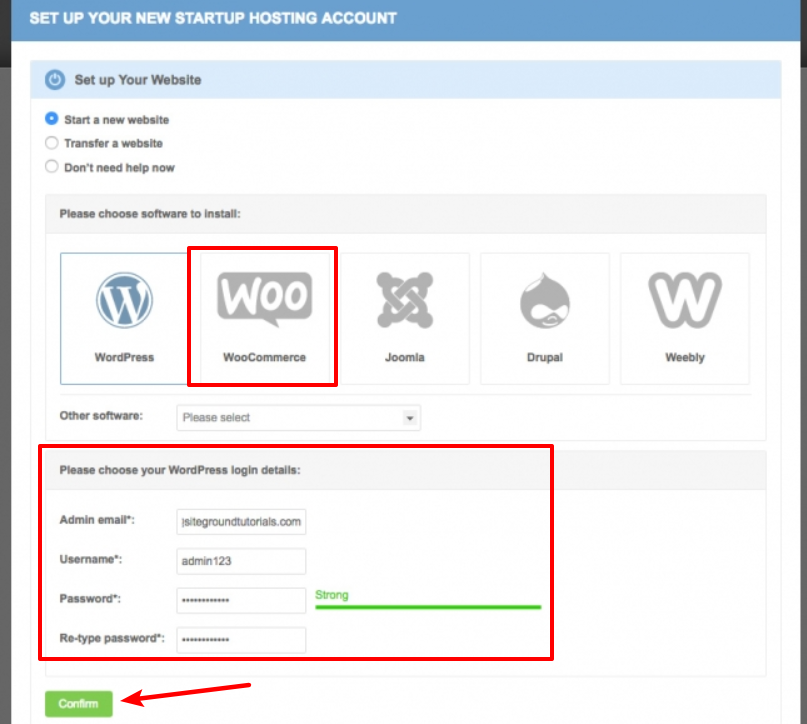 Once you click Confirm, you should see a quick summary page. All you need to do is click Complete Setup to finish the process and install WordPress and WooCommerce: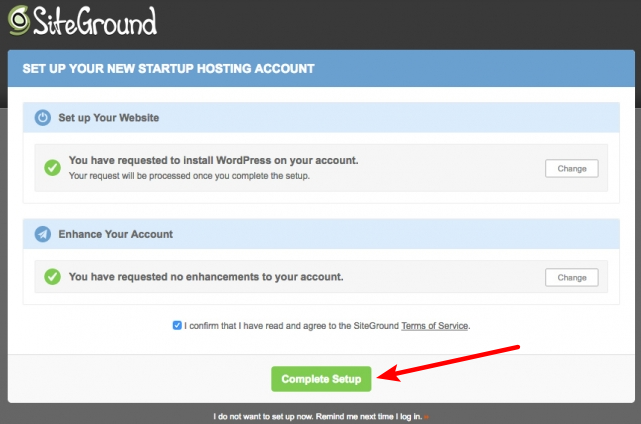 And then you should see a success message!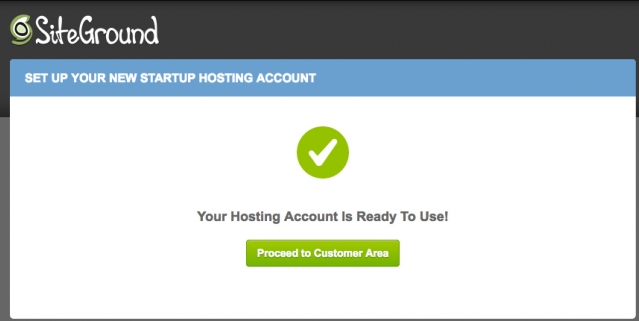 Step 2: Configure WooCommerce (Payment Gateways, Shipping, Etc.)
At this point, you should have a working WordPress site with the WooCommerce plugin installed.
Next, you need to configure the WooCommerce plugin.
To access your WordPress dashboard, append "/wp-admin" to the end of your store's domain name. For example, "yourdropshippingstore.com/wp-admin".
You'll then be prompted to log in. Use the login details that you entered in the SiteGround Setup Wizard to enter your dashboard. Then, you should see something like this: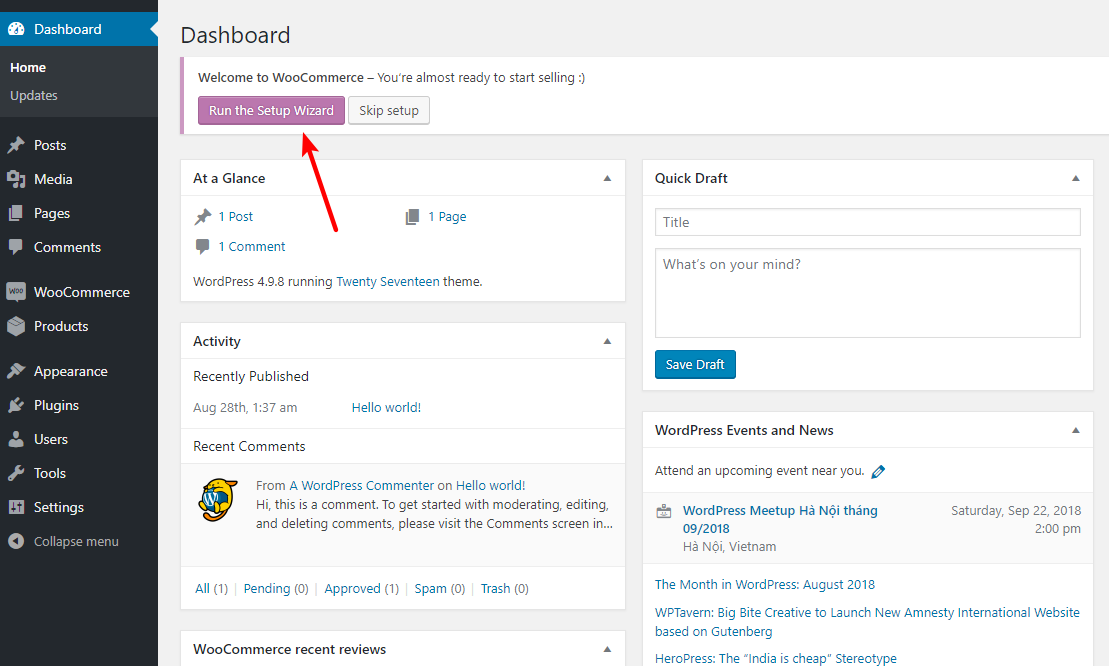 To configure WooCommerce, click on the Run the Setup Wizard button.
This wizard will help you configure the core functionality for WooCommerce, like which payment gateways to use, how to calculate shipping, etc.
Store Setup Tab
On the first tab of the setup wizard, enter basic details for your store like:
Its location
Which currency you want to use for payments
What type of products you sell (for a WooCommerce dropshipping store, you'll probably want to select I plan to sell physical products)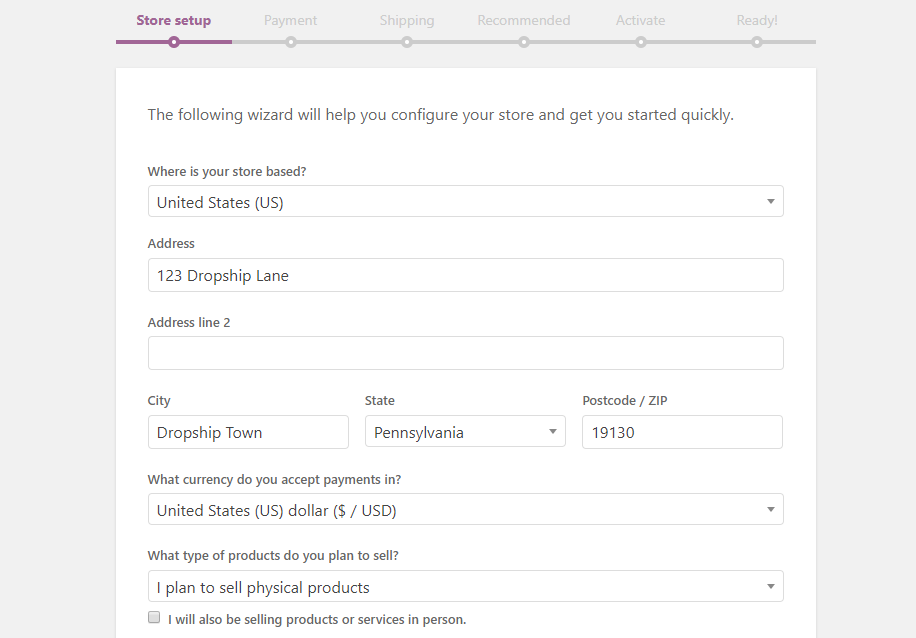 Payment Tab
In the Payment area, you'll need to configure which payment gateways you want to use. By default, you'll have Stripe and PayPal, which are good options for most stores.
If you want, you can even have WooCommerce create a Stripe account for you by checking the box.
We recommend leaving these two gateways enabled (the default). But if you want, you can always use different gateways: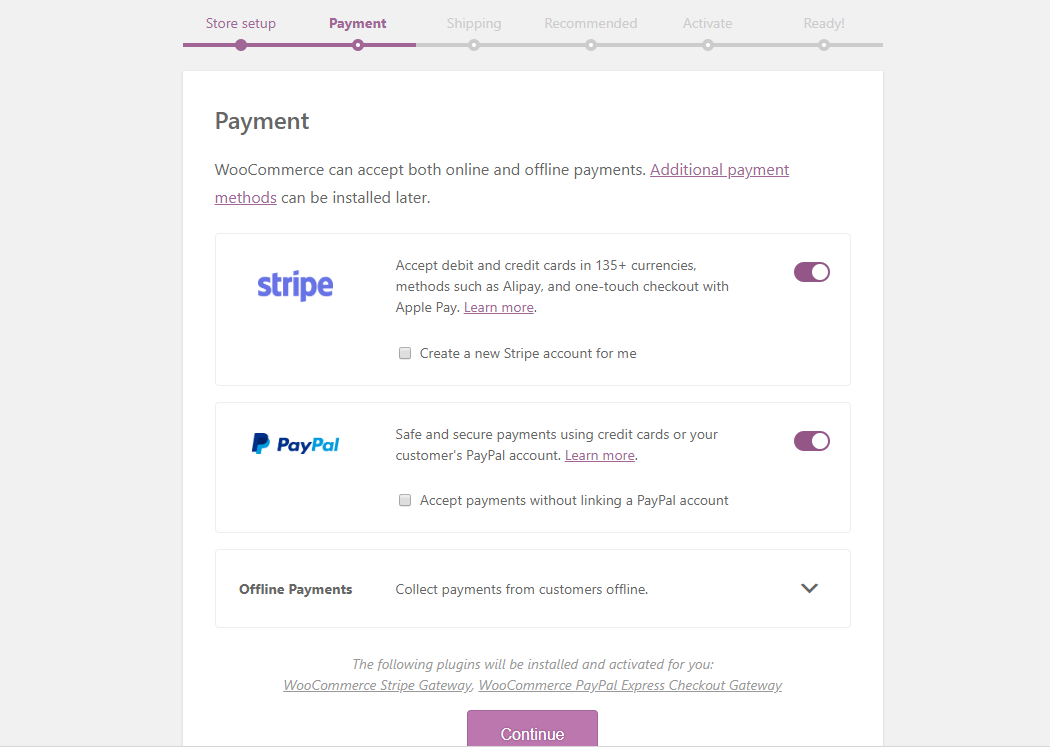 Again, one of the nice things about WooCommerce is that you can use any payment gateway that you want, and there are no extra fees for doing so (like with Shopify).
Shipping Tab
In the Shipping area, you can configure how WooCommerce handles shipping rates for your products.
For dropshipping stores, shipping can be a bit tricky because you might have multiple dropshipping suppliers, which means that each supplier might need a different shipping calculation.
For now, we recommend choosing either the Live Rates or Flat Rate option. Later in this guide, we'll address some of the different ways that you can handle calculating different shipping rates for different suppliers: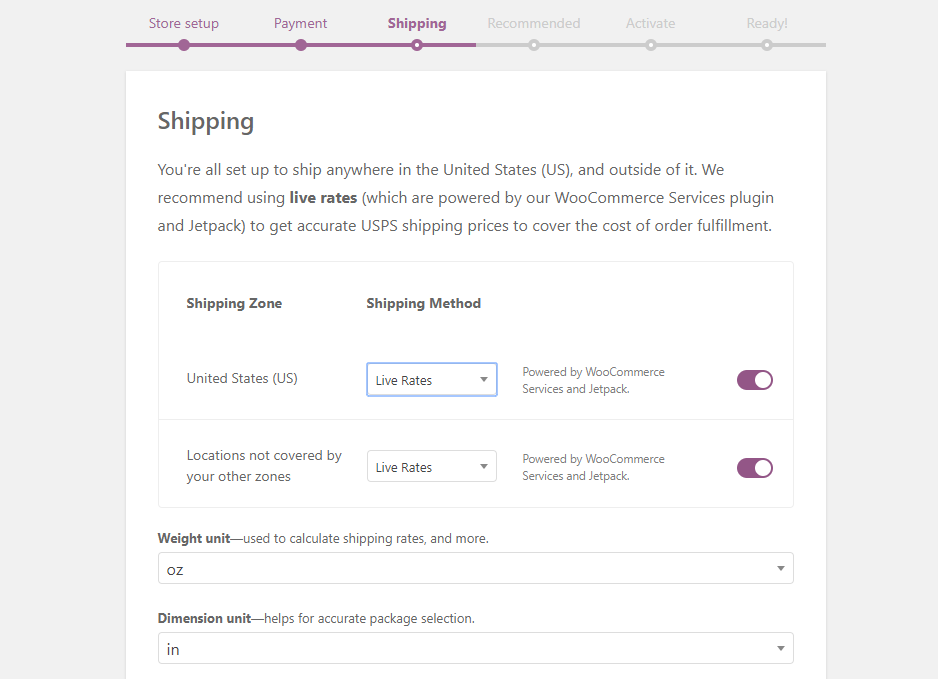 Recommended Tab
In the Recommended tab, WooCommerce will suggest some other tools for you to use. We recommend that you uncheck most of these options, as we'll cover a better option for your store's theme in the next section.
The only thing you might want here is the Automated Taxes tool: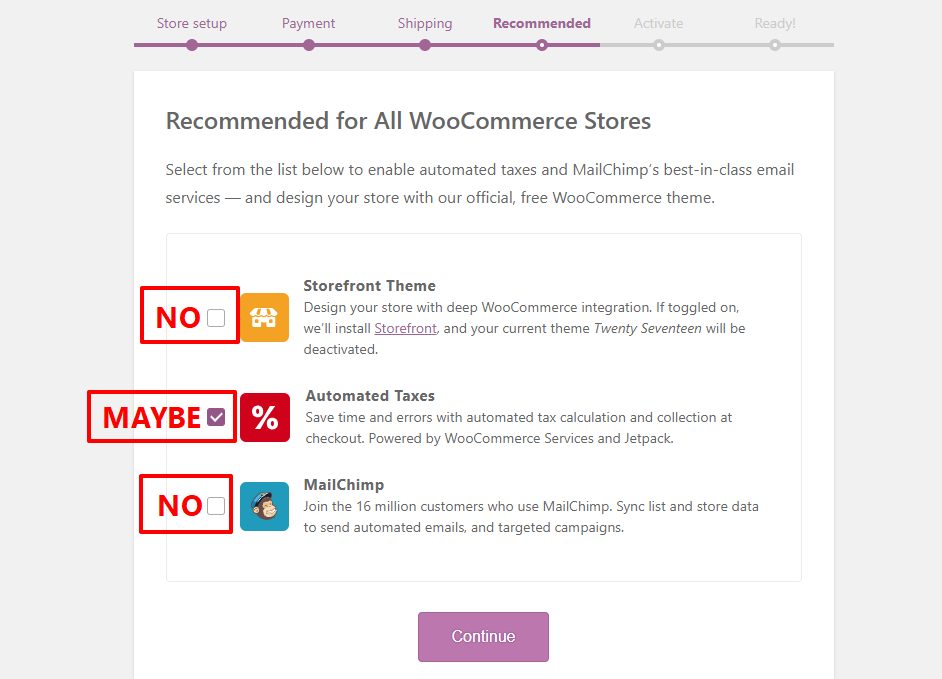 Activate Tab
If you chose to use automated tax calculations and live shipping rates, you'll need to activate your store with Jetpack in the Activate tab. To do that, click the Continue With Jetpack button.
If you don't want those services, though, you can click the Skip This Step option at the bottom of the screen: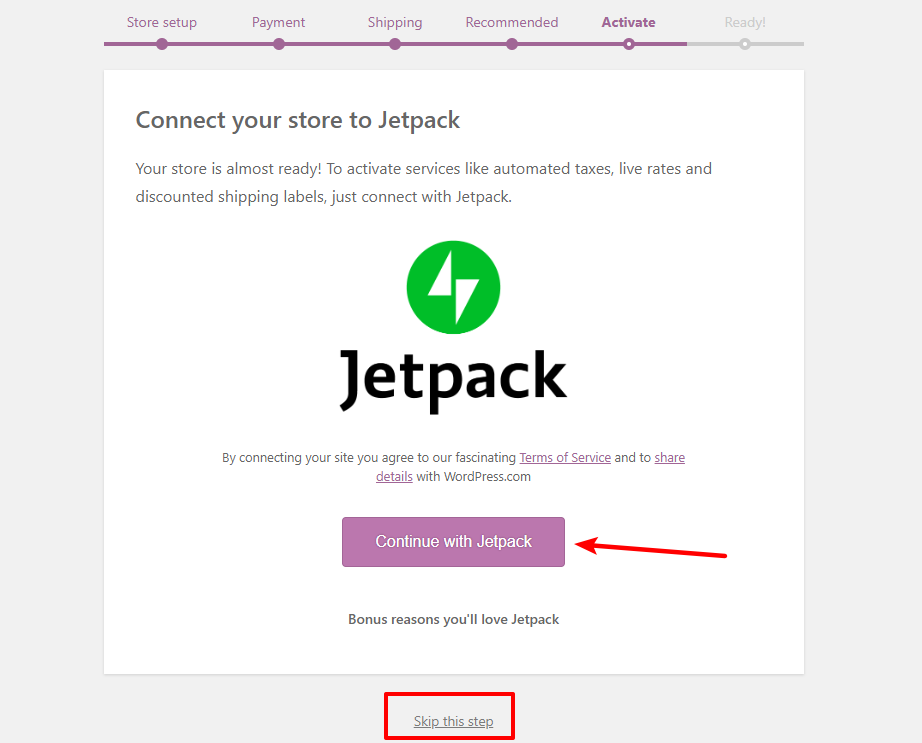 And once you do that, you should see the success screen. Go ahead and click the Visit Dashboard button to head back to your WordPress dashboard: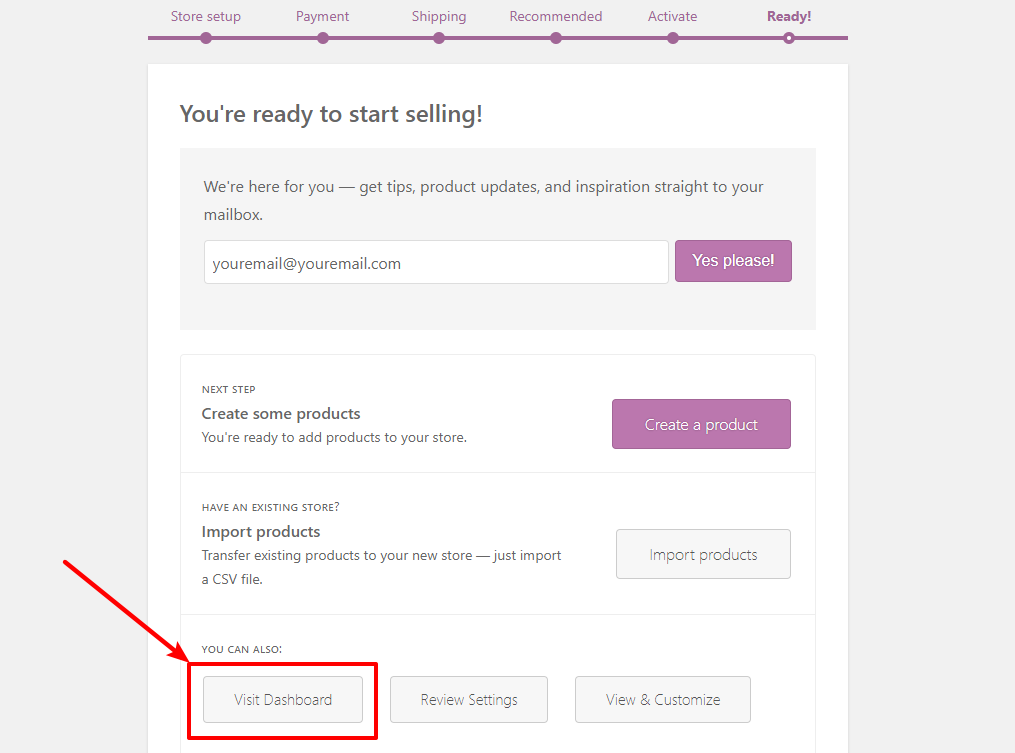 Next, you're ready to choose your WooCommerce dropshipping store's theme.
Step 3: Pick Your WooCommerce Dropshipping Theme
Your WooCommerce store's theme affects how it looks. It's an incredibly important decision because your store's design has a huge impact on your conversion rate (again, that's the percentage of visitors who end up making a purchase at your store).
Basically, your theme is the difference between an ugly store like this: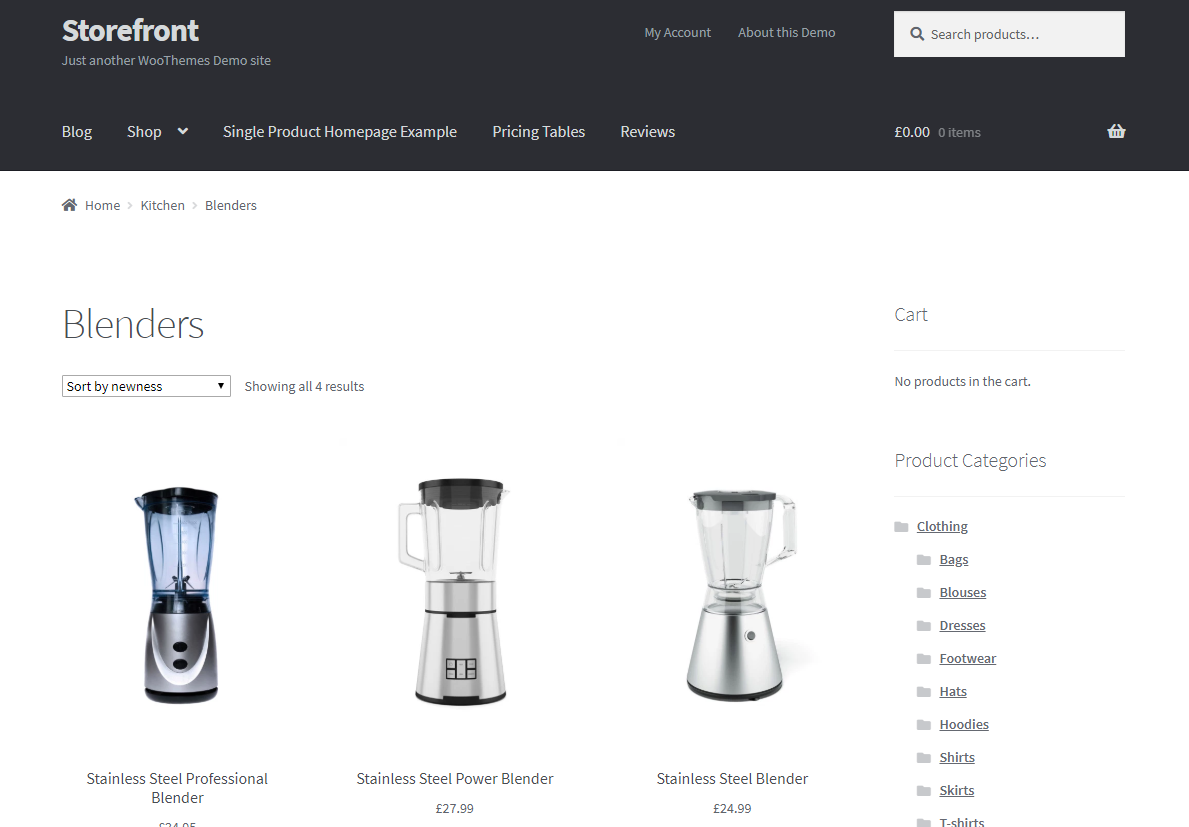 Or a conversion-optimized store like this: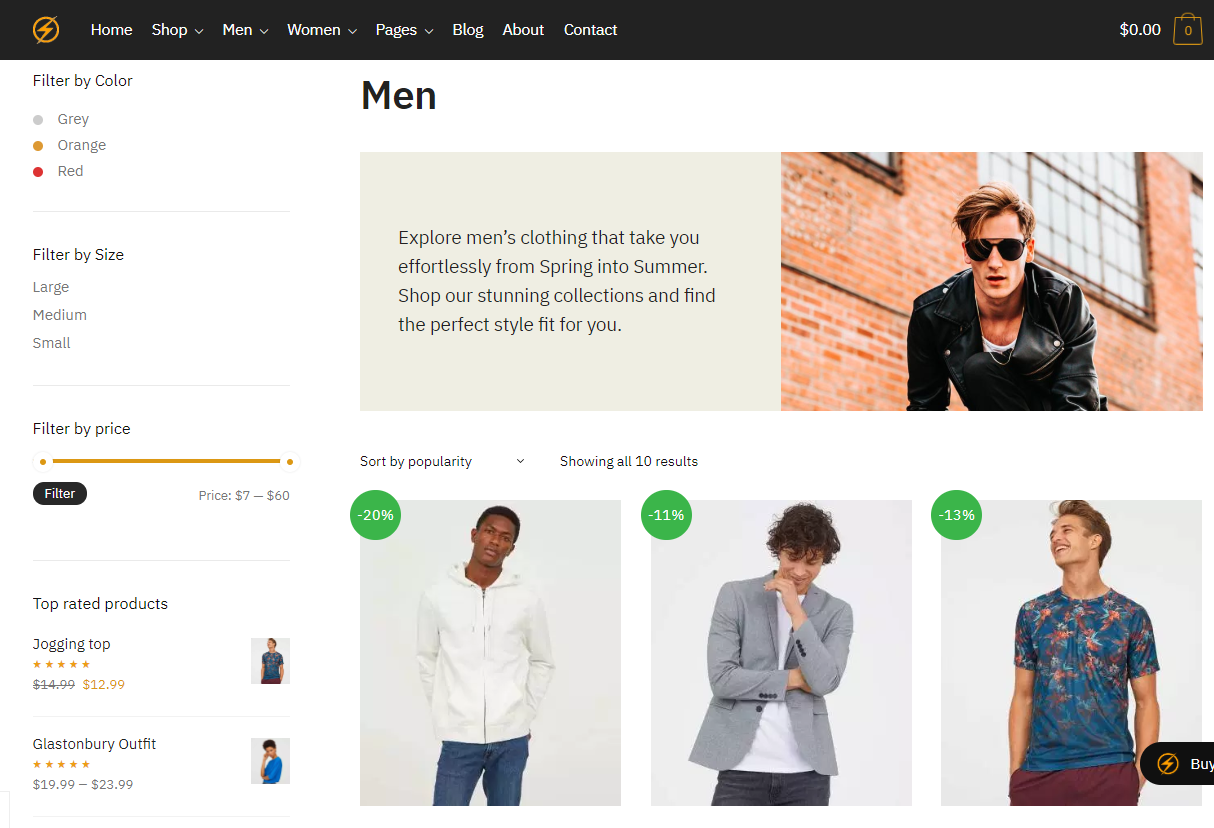 There is a ton that goes into building an eCommerce site that converts, which is why the Baymard Institute has spent more than 32,000 hours performing usability research on how to create an effective eCommerce store.
For example, the Baymard Institute can tell you that, based on real evidence, "product quickview" features probably aren't a good idea.
Don't worry – we're not expecting you to read the full results of those 32,000 hours of research.
If you want to benefit from that research, though, you can choose an evidence-backed WooCommerce theme like Shoptimizer.
Not only does Shoptimizer load quickly (which is also a big part of your conversion rate), it's also built on many of the recommendations from research groups like Baymard Institute.
Basically, it's going to set you up with a conversion-ready dropshipping store from day one.
And it also utilizes the drag-and-drop Elementor page builder, which means that you'll be able to customize your dropshipping store using a simple, visual drag-and-drop editing interface (yes – it's more flexible than Shopify's theme customizer!).
You don't have to use Shoptimizer, but we highly recommend it, and we'll use it to demo setting up your theme in the next few sections.
Install And Configure The Shoptimizer Theme (Or Another Theme That You've Picked)
If you opted to purchase the Shoptimizer theme, you'll be able to download a ZIP file of the theme after your purchase.
To install it, go to Appearance → Themes in your WordPress dashboard. Then, click on Add New: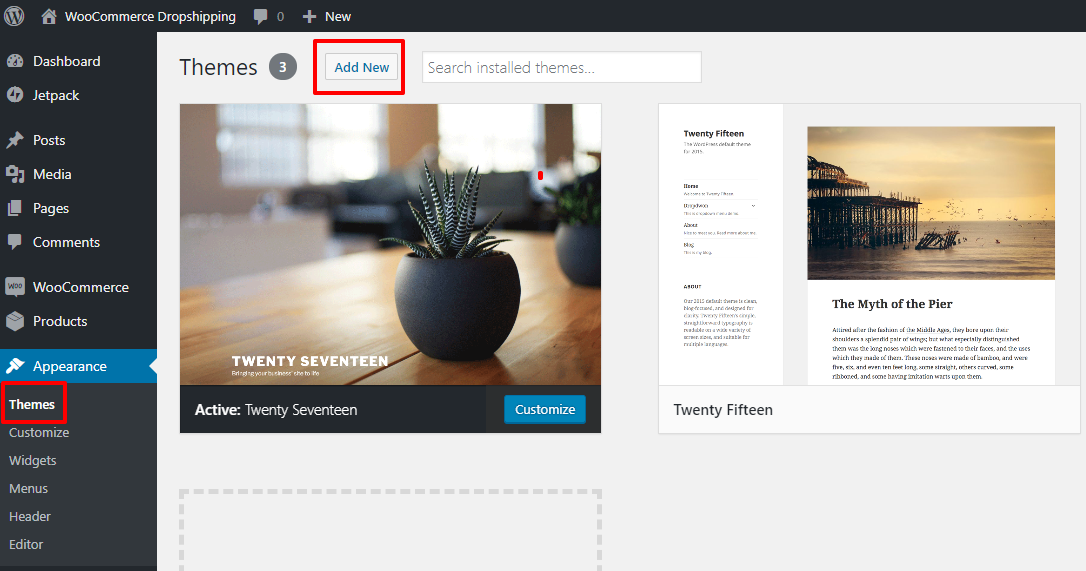 On the next page, click the option to Upload Theme and select the ZIP file: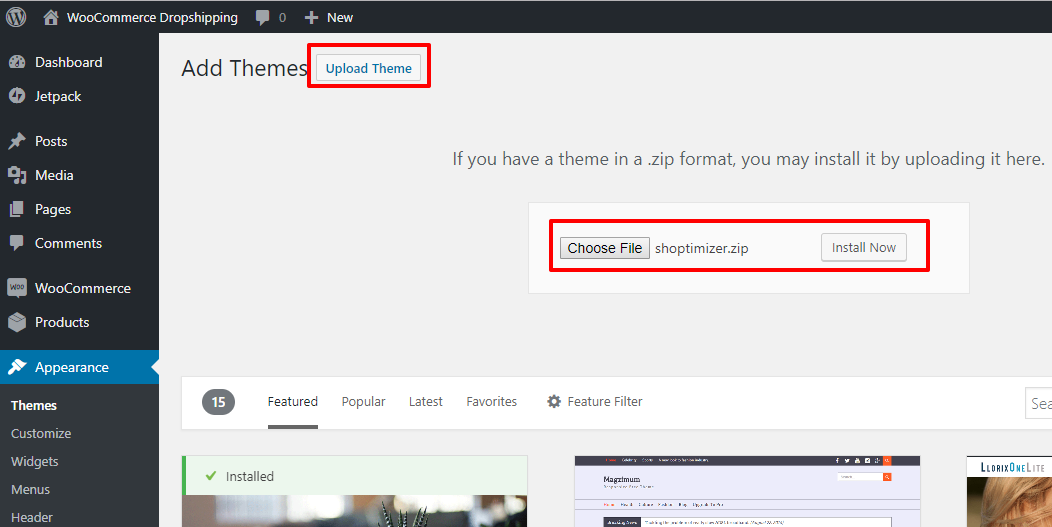 Then, click Install Now to install your new theme. Once the install process finishes, make sure to click the Activate link to make your new theme active: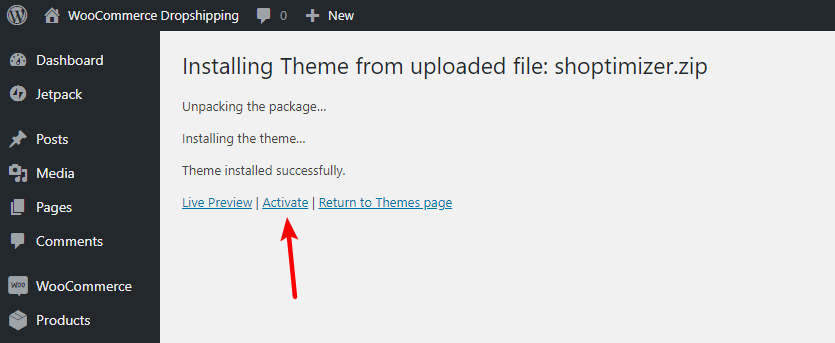 After you've activated your theme, your theme might recommend that you install some plugins.
For example, Shoptimizer recommends a few plugins to enhance its functionality. We'd suggest installing these plugins, which you can do by clicking the Begin installing plugins link: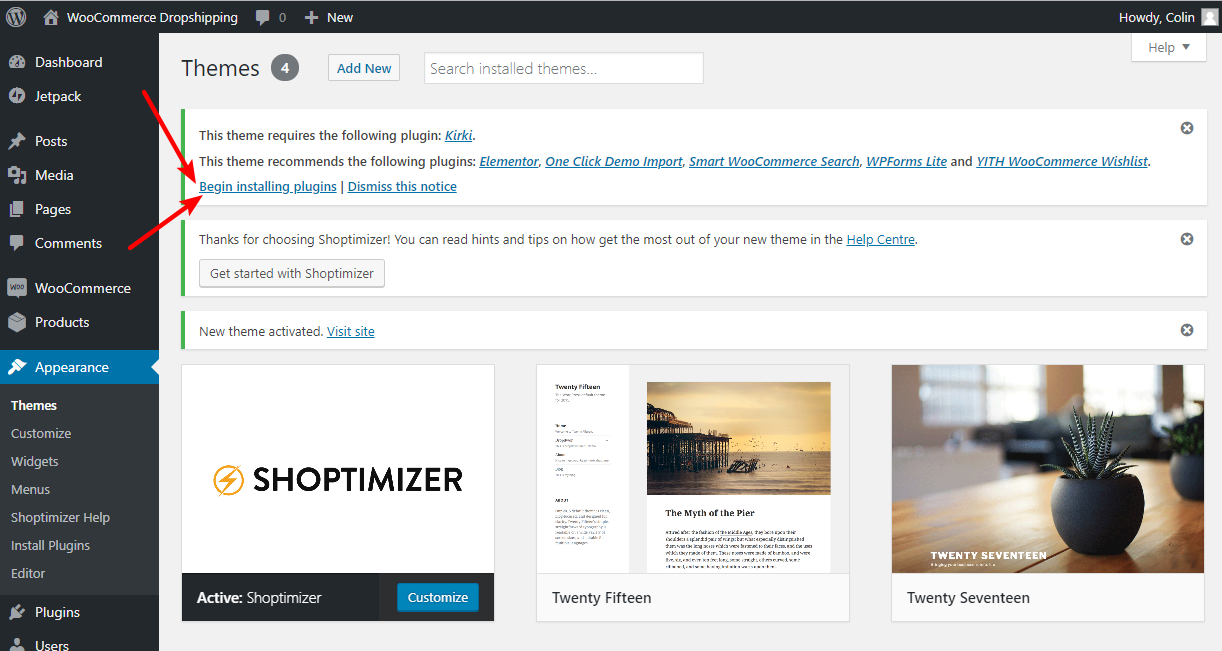 Once you've installed all the recommended plugins, you'll want to do one more thing:
Customize your theme to make it your own.
If you're using Shoptimizer, you can customize the theme by going to Appearance → Customize and using the real-time WordPress Customizer. As you make changes using the beginner-friendly interface, you'll automatically see those changes reflected on the live preview of your site: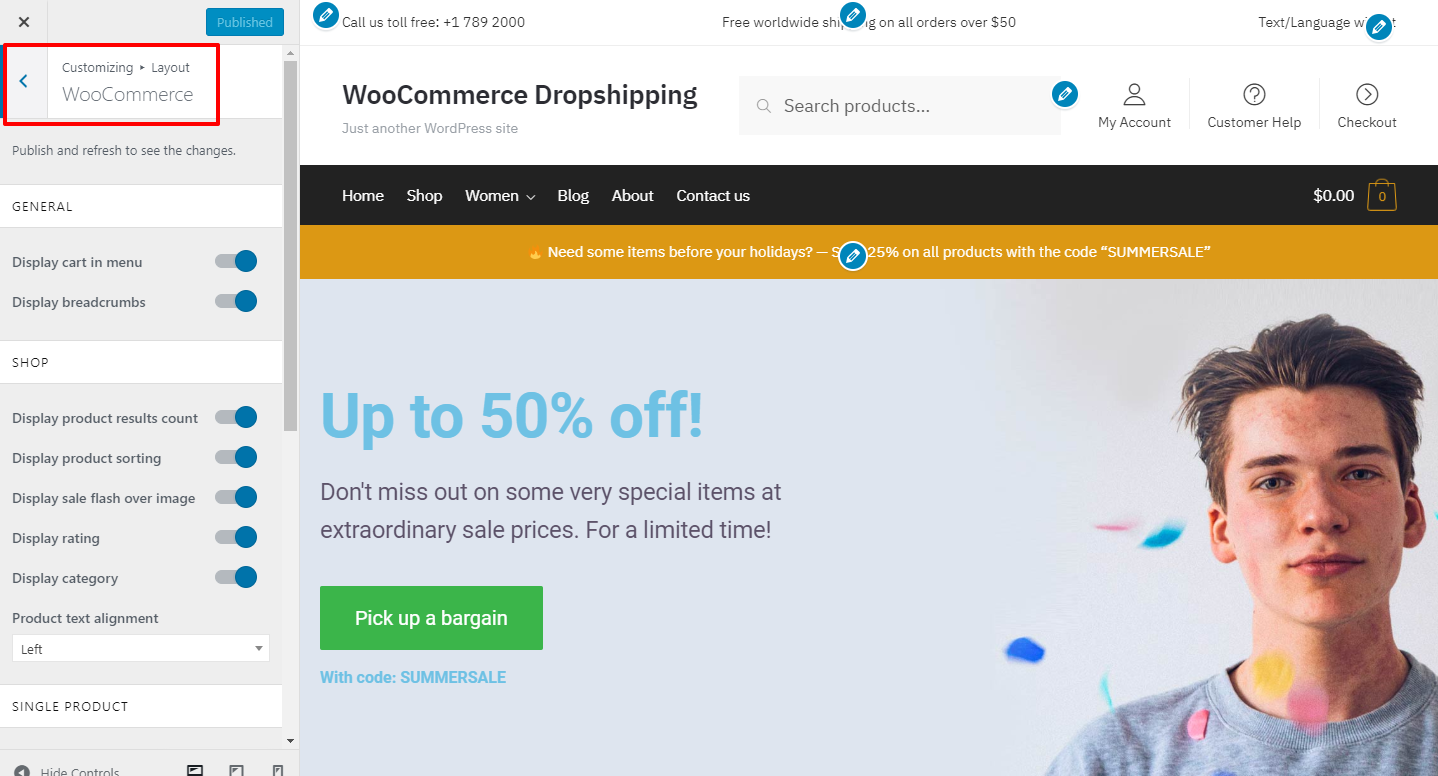 For some pages, Shoptimizer also lets you customize content using the drag-and-drop Elementor page builder. To edit these pages, just click the Edit With Elementor link and use the simple visual, drag-and-drop interface: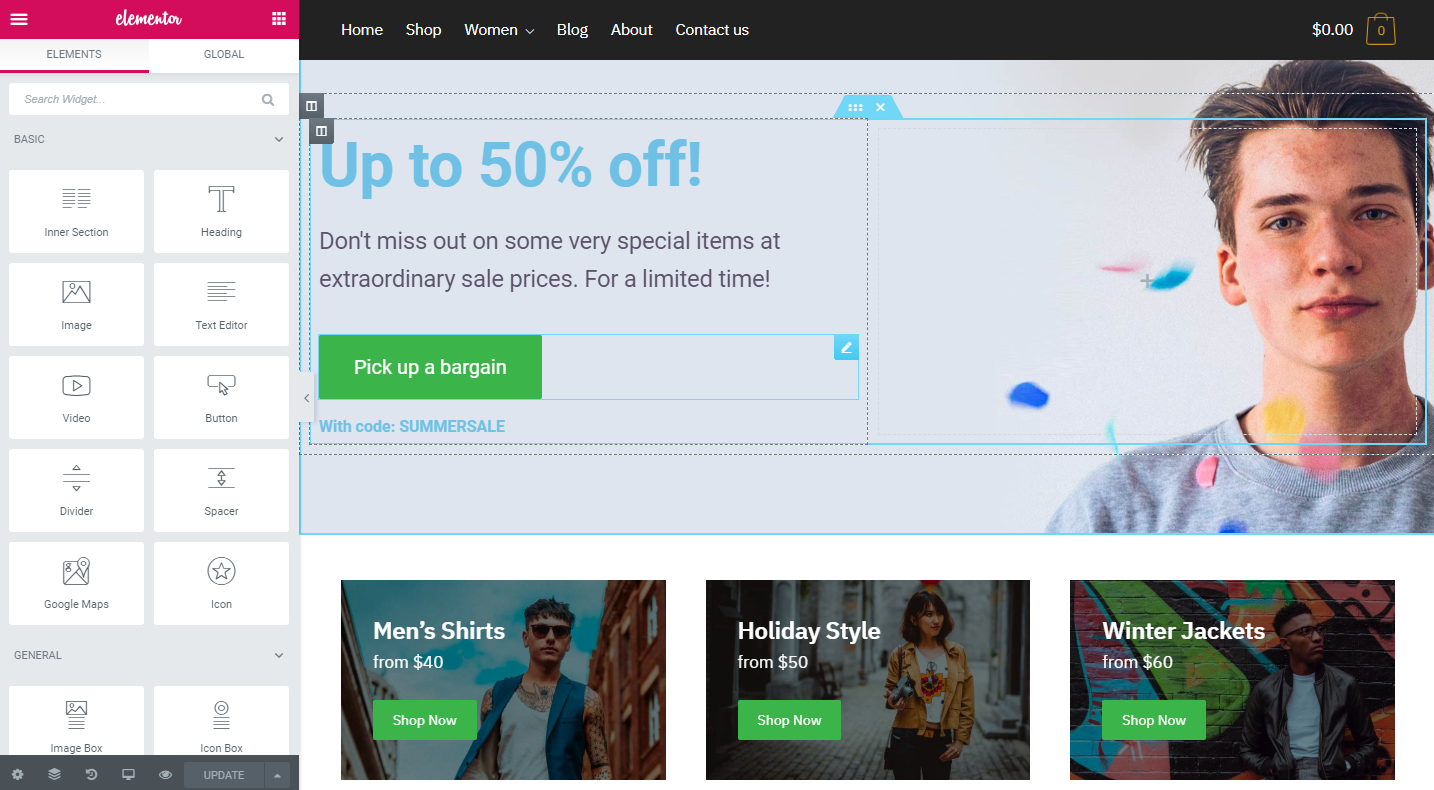 Shoptimizer also gives you an option to import demo data, which you can read about here.
Step 4: Add Your Products (Either Manually Or Automatically)
Once your store is properly configured and looking great, you're ready to add the dropshipping products from your suppliers!
How you do this depends on what type of products you're actually selling.
If you are…
Only selling a few products, or using a private relationship with a dropshipping supplier, you'll probably want to use the default WooCommerce product management system.
Sourcing products from AliExpress, you'll probably want to use a WooCommerce dropshipping plugin to automate the process for you.
Let's go through both options…
How To Add Products With The Native WooCommerce Interface
Again, this is a good method if you have a private agreement with a dropshipping supplier. That is, you're not using something like AliExpress.
To add your products, you just go to Products → Add New in your dashboard. Then, you can use the interface to add all your product's details: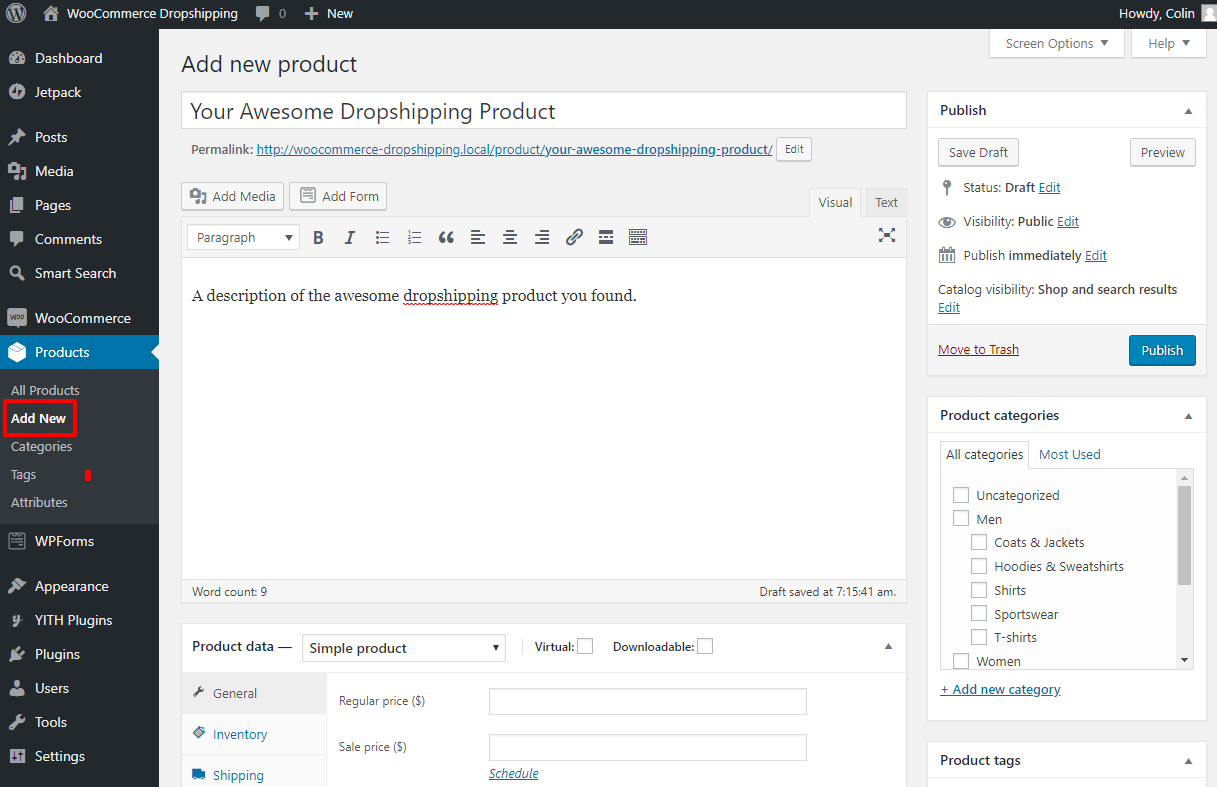 The only tricky area here is the Product data box:

Here, you can choose from different product types. These types can get a little complicated, so we're actually going to link you to an external resource here. Check out the official WooCommerce docs to learn when to use the different product types.
Once you finish adding your first product, you'll need to repeat the process for all the dropshipping products that you want to sell.
To streamline managing products from different dropshipping suppliers (and then transferring orders to those suppliers), we recommend a solution like WooCommerce Dropshipping Suppliers Pro.
It will help you extend the core WooCommerce product interface with:
An option to assign different products to different suppliers
Custom shipping rates depending on the supplier
Automatic emails to dropshipping suppliers when someone orders a product
This plugin will cost you $59, but it will also save you a ton of time and let you have more accurate shipping rates.
How To Add Products From AliExpress
If you're going the route of sourcing products straight from AliExpress, there are some dedicated solutions that can pretty much automate the entire process from adding products straight on through to fulfillment.
The most popular here is WooDropship. Beyond the features that we'll get to in a second, the nice thing about WooDropship is that it lets you get started for free for the first 7 days. After that, paid plans start at just $14 per month.
Here's how it works:
You select the products that you want to sell from AliExpress (you can even use the Chrome Extension to select products while browsing AliExpress).
WooDropship handles adding products to your WooCommerce store, including a built-in image editor to help you clean up AliExpress product images. You can also edit all the product information as needed.
Customers purchase products using the normal WooCommerce shop interface.
WooDropship helps handle order fulfillment with AliExpress.
There are also some other helpful features, like the ability to sync prices and automatically apply your own markup so that you always get the right margins.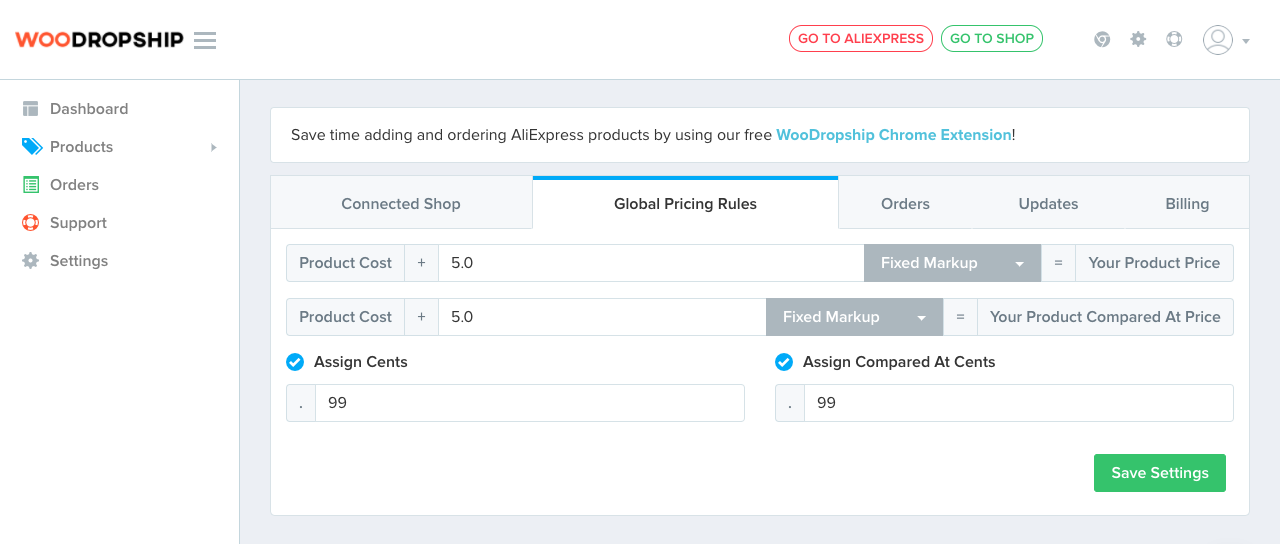 To get started:
Step 5: Consider Other WooCommerce Plugins
At this point, you have all the core functionality that you need to have a working WooCommerce dropshipping store.
But as we explained earlier, one of the big benefits of WordPress and WooCommerce is the huge array of plugins that you can use.
For example, you can find plugins to:
Help you grow your store's newsletter
The plugins that you choose will depend on your needs. But we definitely recommend that you round out your store with additional plugins for any other essential functionality that you want.
How To Promote Your WooCommerce Dropshipping Store
There might be a few other things you need to tweak at your store, but at this point, you should pretty much have a fully-functioning dropshipping store built with WooCommerce.
Now, you need some customers!
Learning all the different strategies to promote a dropshipping store would require a whole monster guide by itself, so we're not going to go too deep here ourselves. But we did collect a bunch of great resources from other people that will help you start getting customers to your store.
Here's your reading list!
How To Maintain Your Store And Deal With Fraud, Chargebacks, Etc.
Here's the not fun part of running a dropshipping store:
As you start to receive orders, you're inevitably going to have to put out some fires to keep your store running smoothly.
Some of these fires are legitimate – like returns. While others are less legitimate – like fraud or illegitimate chargebacks.
Either way, they aren't fun to deal with. Again, we're going to opt to give you a reading list here, as these topics require some nuance:
Get Out There And Create Your WooCommerce Dropshipping Store
And that wraps up our big guide to using WooCommerce to create a dropshipping store! We hope you found the guide useful. And if you have any questions or suggestions for improvement, please don't hesitate to leave a comment!