Did you know that 86% of consumers abandon their shopping carts due to the cost of shipping? In other words, customers who are prepared to place their order will bounce off the checkout page due to high shipping costs.
In fact, eCommerce brands lose upwards of $18 billion in sales revenue per year because of cart abandonment! By improving your online store's shipping policy, you can set the right expectations and minimize cart abandonment due to high shipping rates.
So make your shipping policy easy to find. Include a link to it in your footer. According to Baymard's research, 20% of eCommerce stores fail to do this basic step.
In this post, we'll take a closer look at how you can create a better eCommerce shipping policy and go over some of the best shopping policy examples to take inspiration from.
---
Creating a better eCommerce shipping policy
Ideally, you want to offer next-day shipping to all customers on all items you sell.
However, this isn't always realistic, especially if your online store caters to customers across the country or the world. For instance, if your business is located in the US, it's not possible to deliver orders the next day if customers order from the EU.
If your online store has a solid shipping policy that lets customers know about the shipping charges for different regions and expected delivery times, you can reduce cart abandonment and improve the user experience.
Let's take a closer look at some of the key elements you should focus on when creating a shipping policy for your eCommerce site:
Shipping costs
One of the most important aspects of any solid shipping policy is declaring standard shipping costs for the items you sell and the regions you ship to.
For example, you can specify the standard shipping cost for US and EU customers. This way, all customers will have a better idea of what to expect when ordering from your online store.
International shipping rules
You need to inform shoppers about the international shipping rules to justify higher shipping costs.
Let's say your online store is local to EU customers but you also ship orders to the US. This means you need to inform all US customers about the international shipping rules, the customs tax if applicable, and the legal requirements.
This not only ensures your online store abides by all legal rules and regulations but is also a great way to cater to all types of customers, even if they're geographically located on the other side of the globe.
Processing times
In an ideal scenario, you want to ship orders as quickly as possible to avoid disappointment and decrease the chance of customers canceling their orders due to late delivery. However, this isn't necessarily always the case as some products require extra time before they can be shipped to customers.
For instance, if you sell customizable necklaces or watches with custom engraving, it can take a few days for you to prepare the product. The same goes for products like made-to-order furniture. For this reason, it's important to inform customers about the processing time for specific products that can be purchased from your online store.
All information for returns and cancellations
When creating your eCommerce shipping policy, it's also important to ensure that you include all information regarding returns, refunds, and cancellations. This saves you from any legal trouble later on and is a great way to keep shoppers on your online store informed about the order return and cancellation process.
---
Top 8 eCommerce shipping policy examples
Let's take a look at some of the best eCommerce shipping policy examples and see what they did right.
BeanBox is a coffee distributor brand that's dedicated to delivering the world's best coffee to its customers. Users can pay for the subscription plan as well as buy coffee products directly from their website.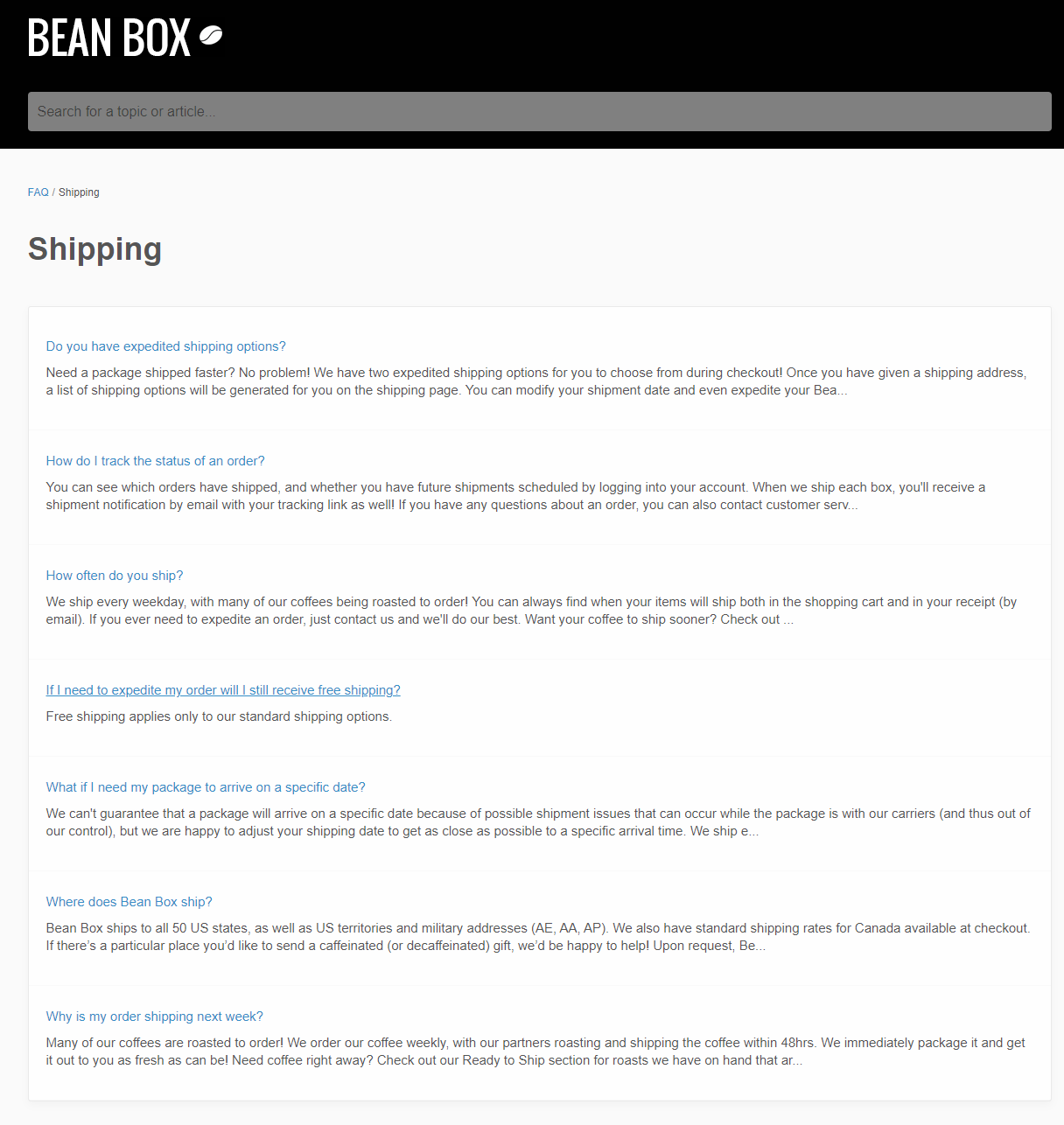 BeanBox takes a simple approach to a shipping policy that effectively answers all relevant questions about shipping when ordering from them. As a result, customers don't have to do any guesswork when ordering coffee products from their website. Since the brand ships all orders on Wednesdays, they have a smart way of informing their customers about the standard shipping times using the FAQs section.
BONLOOK is an eyewear brand that sells everything from prescribed eyeglasses to fashionable sunglasses.
Their shipping policy is designed to help answer common questions about international shipping, delivery times, total shipping charges, and other useful information about order exchanges. This way, customers can learn about the shipping costs and get a better idea about when they will receive their order.
Merchant of York is an online store that sells household items from some of the top brands.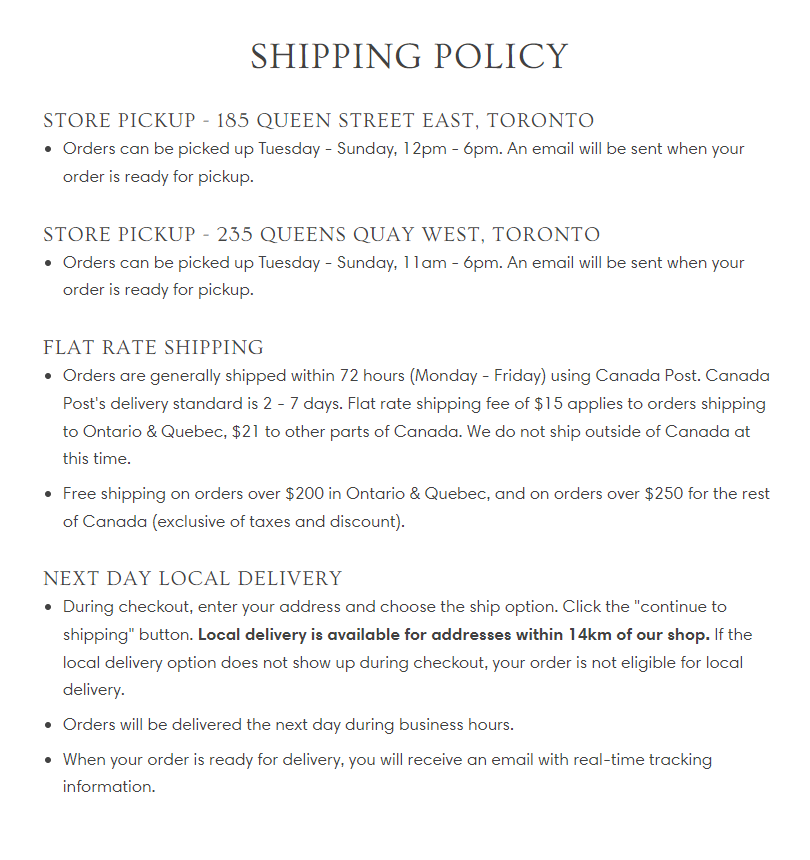 They've used a more straightforward approach to create their shipping policy. Merchant of York lists all types of shipping methods along with additional information that's useful for their local customers. For users who are not local to them, they offer additional information about the shipping fee as well information about the "Next Day Local Delivery" option.
Kigurumi is an online animal onesies store that has a great shipping policy designed for offering the best user experience to their customers.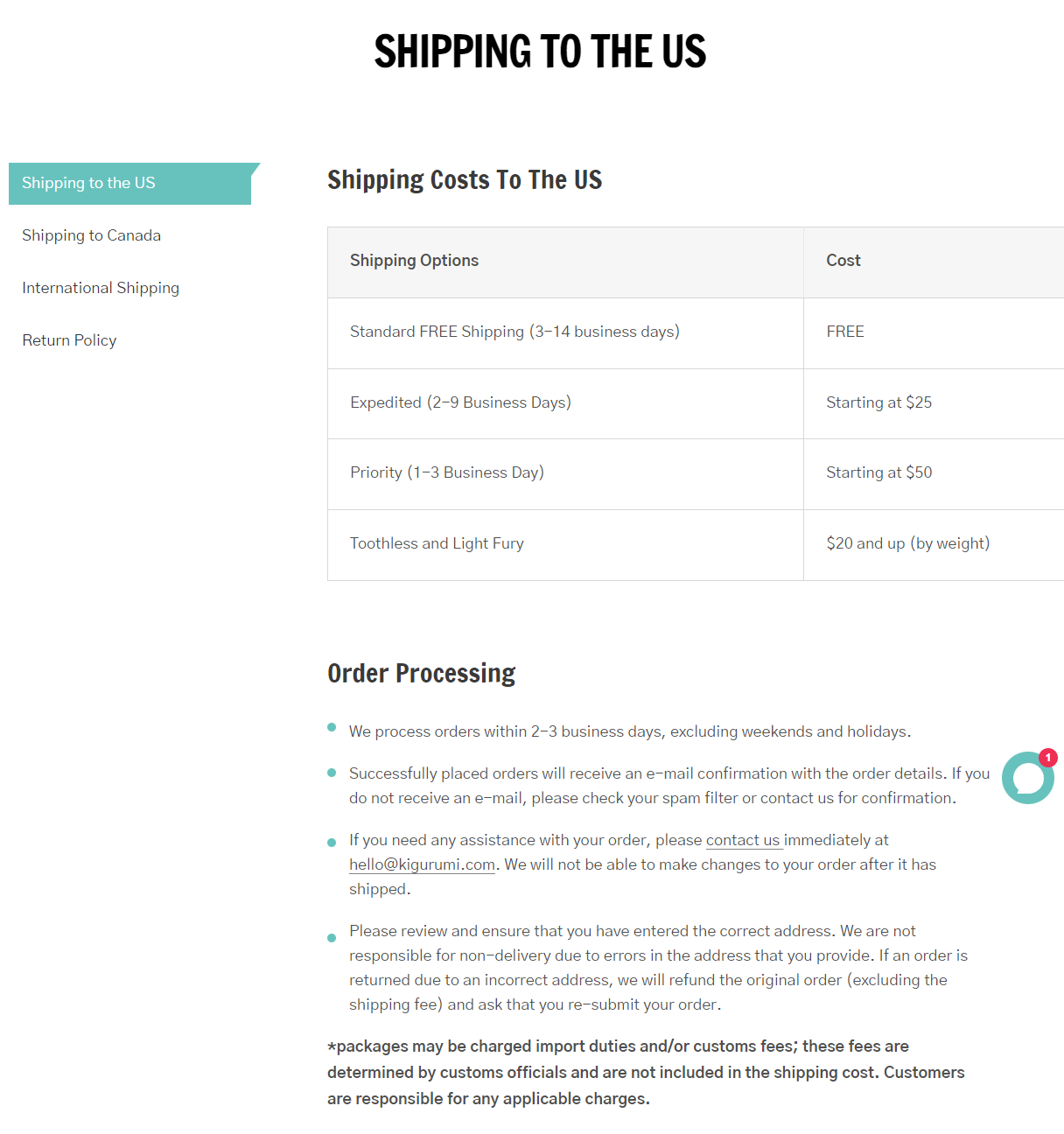 The brand uses a table-style format to break down delivery times in detail so it's easier for all of its customers to understand and develop realistic expectations. Each supported shipping option's corresponding delivery times are specified in multiple rows and the order processing details are explained in easy-to-read bullet points at the bottom.
Billy! is an apparel and fashion online store that does a great job of explaining its shipping policy to shoppers.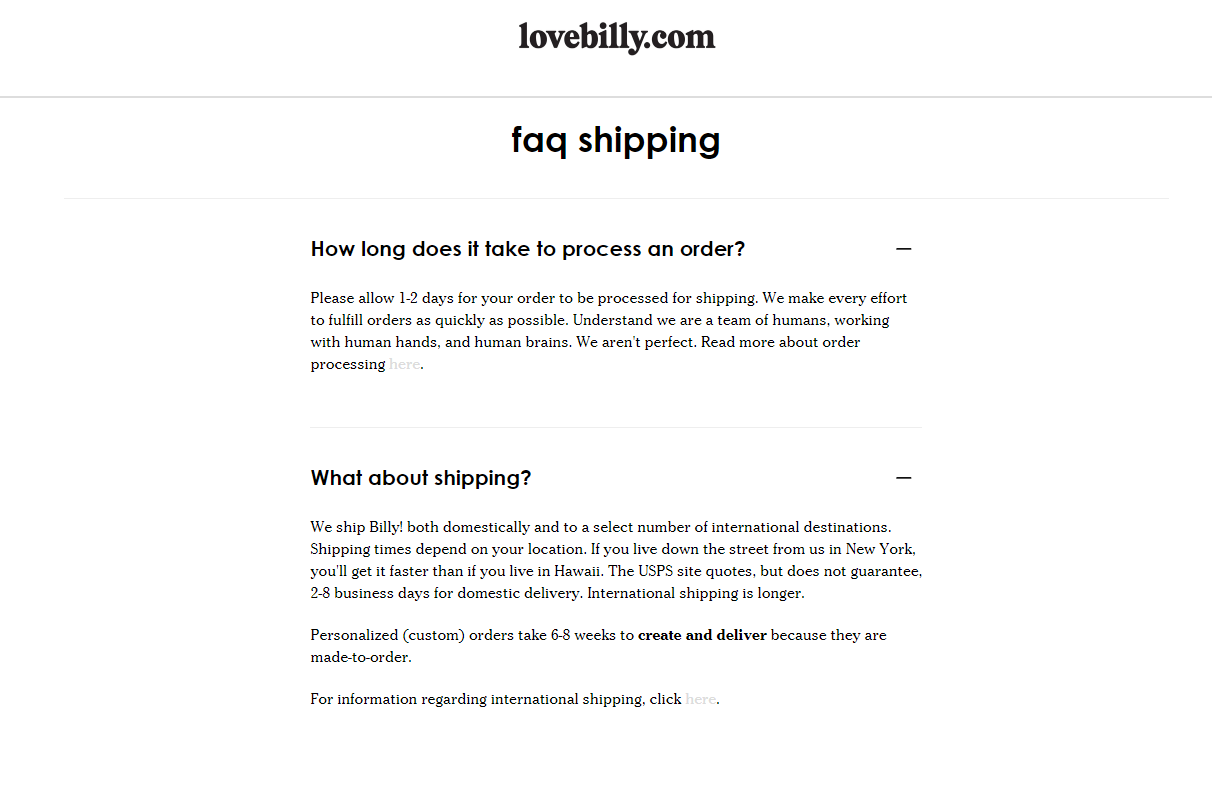 They have deliberately split the shipping policy over multiple pages. Hence, it's easier for all types of users, even less tech-savvy ones, to navigate and find the information that's applicable to them. In addition to this, they have linked other useful policy pages such as the order processing page and returns policy page so shoppers can quickly navigate multiple policy pages without having to search for them themselves.
One of the most popular eCommerce sites, Amazon also uses a great shipping policy that's an excellent example to take inspiration from.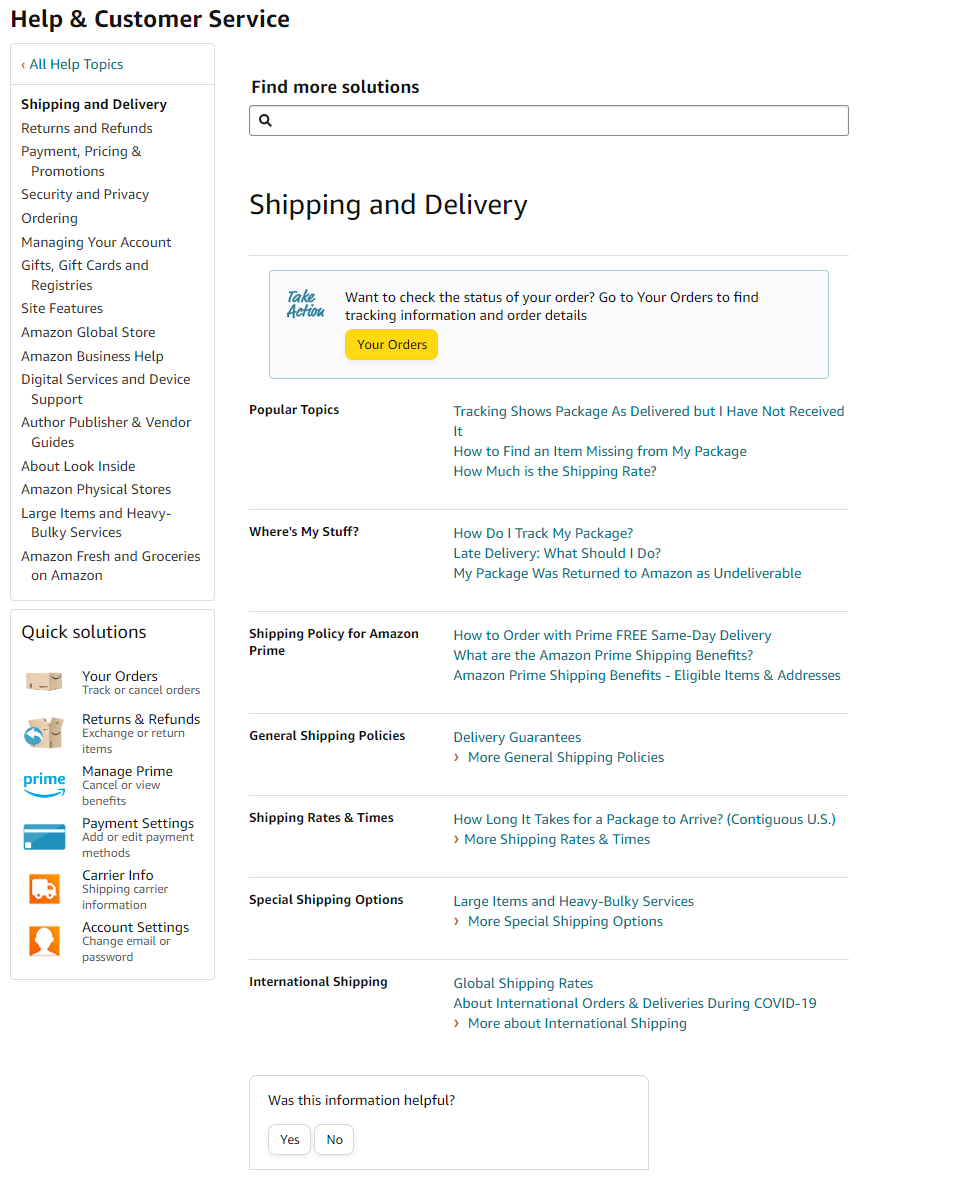 While they clearly specify all policies under a single page, they have also added an order tracker and a search tool so customers can quickly find the information they're looking for. This helps enhance the shopping experience and is a great way to encourage more conversions.
Another big name in the eCommerce industry, Target also follows the same path as Amazon and provides customers with a professional shipping policy that's incredibly detailed.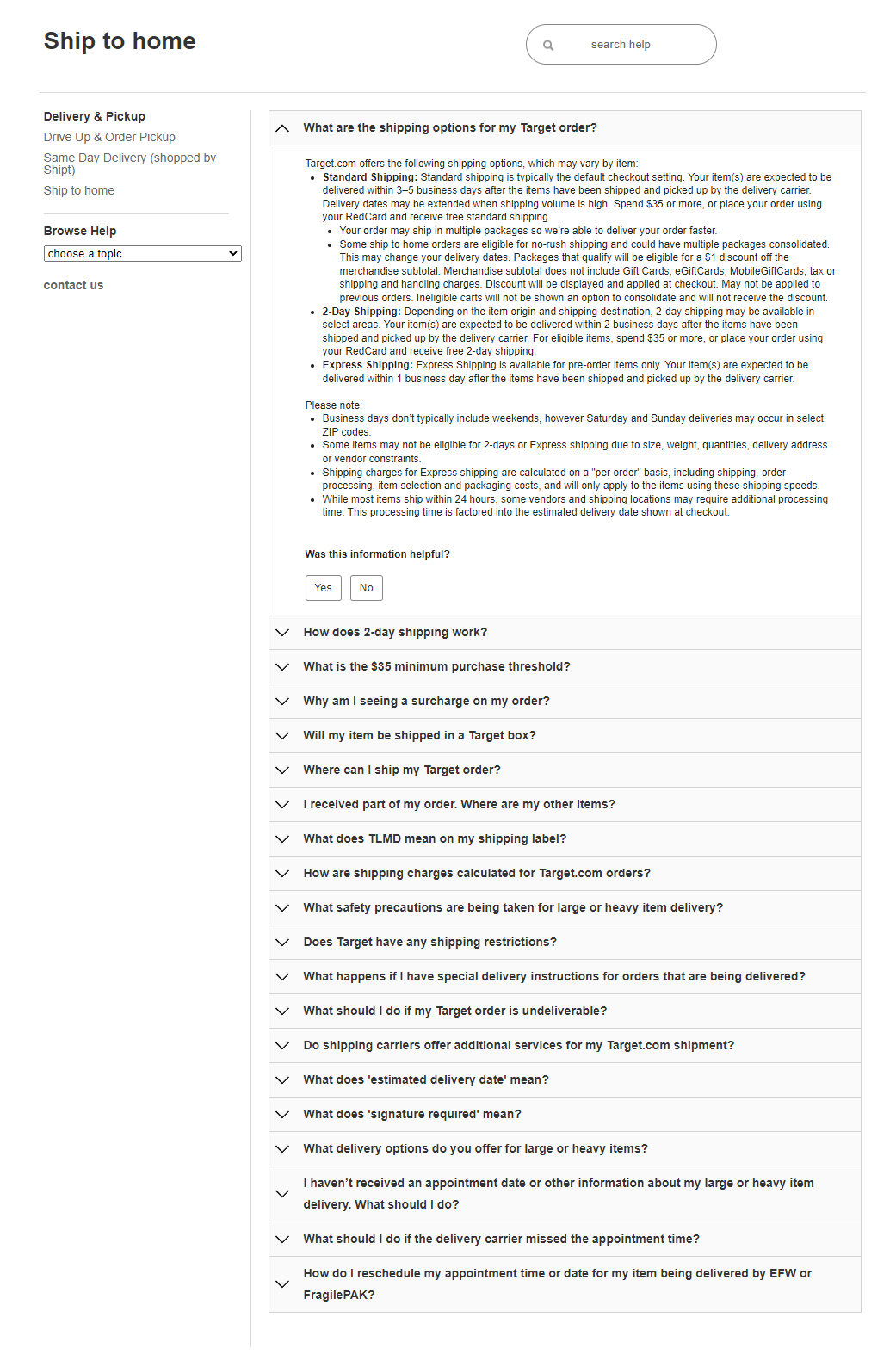 They have used an FAQs section to explain the shipping policy to users and have provided clear "Notes" or tips for customers who are ordering from them. Offering all information about your shipping policy on a single page might cause clutter but is excellent for making it easier for customers to stay informed without having to navigate through multiple pages.
GOAT is a professional marketplace for purchasing and selling sneakers online. It requires sellers to ship the sneakers to their warehouse to be authenticated before they are sent to the buyer. This is why they've explained all the intricacies of their ordering and shipping process in their shipping policy.
This helps answer common questions their customers may have such as when they will receive the order, how much shipping costs, and which shipping companies are used to ship orders. It's a great way to keep customers well-informed when purchasing or selling sneakers on their website.
---
The best way to improve your eCommerce shipping policy
While it's great to break down your shipping policy and showcase important information such as shipping costs and delivery timelines, offering free shipping to customers if they spend over a certain value is also a great way to improve your eCommerce shipping policy.
You can encourage customers to spend more on your online store and ultimately increase the average order value of your eCommerce site. This is an effective way to boost profits and use the shipping policy all year round without having to worry about cutting down on revenue.
For instance, you can set your store up in a way that if a customer spends over $55, they will be eligible for free delivery. This encourages customers to spend more than they had originally planned to and makes it more likely for them to go through with their orders instead of abandoning the cart due to shipping rates being too high.
How to enable free shipping in WooCommerce
You can implement free shipping on your eCommerce site by using the CommerceKit plugin.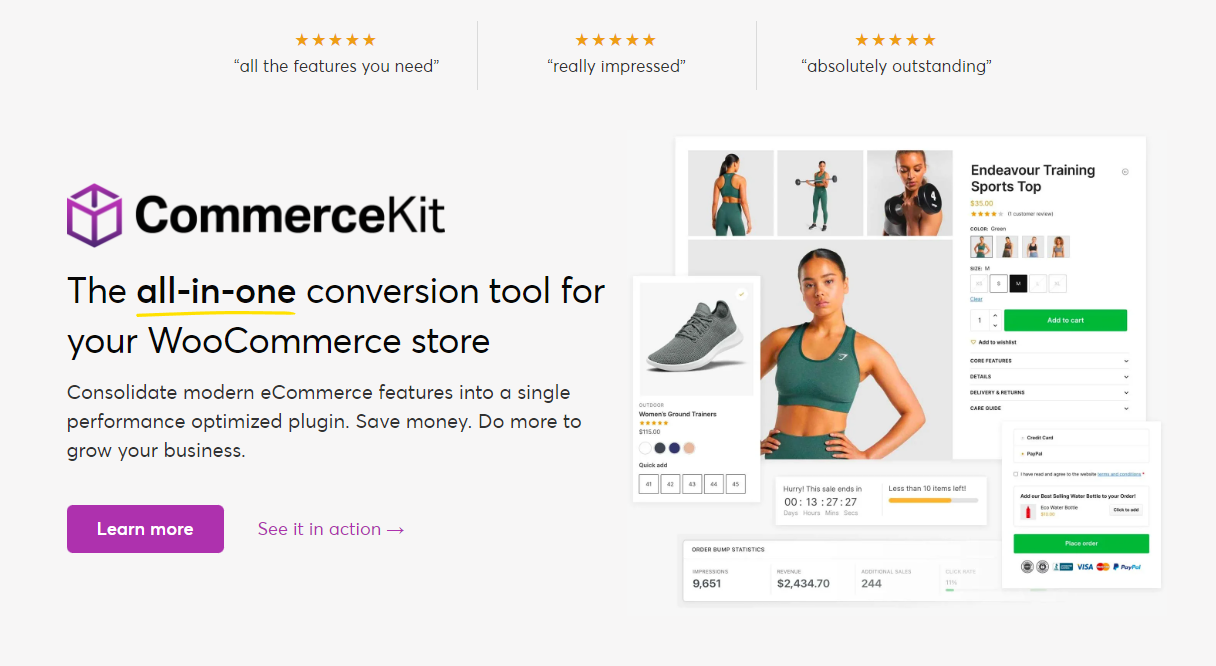 The Free Shipping Progress module lets you show customers a free shipping amount threshold. This way, it's easier to encourage shoppers to buy more from you so they don't have to pay extra for shipping.
The best part is that CommerceKit is very easy to use and doesn't require any prior coding knowledge to showcase a free shipping amount progress bar on your eCommerce site.
Here's what you need to do:
Navigate to WooCommerce → Settings → Shipping and click on the Shipping zones link from the top.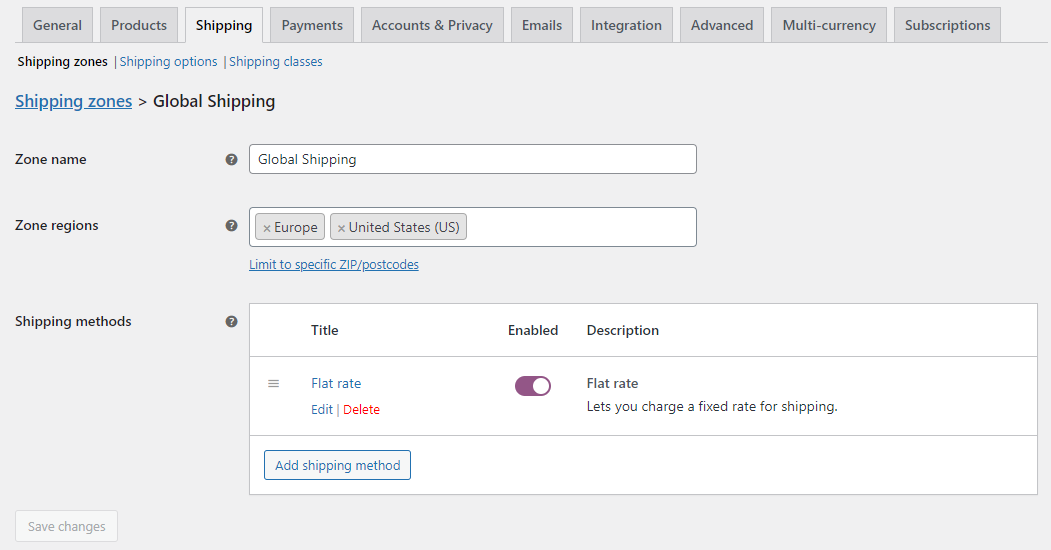 Go to the edit page of your shipping zone or create a new one depending on where your online store ships to and click on the Add shipping method button.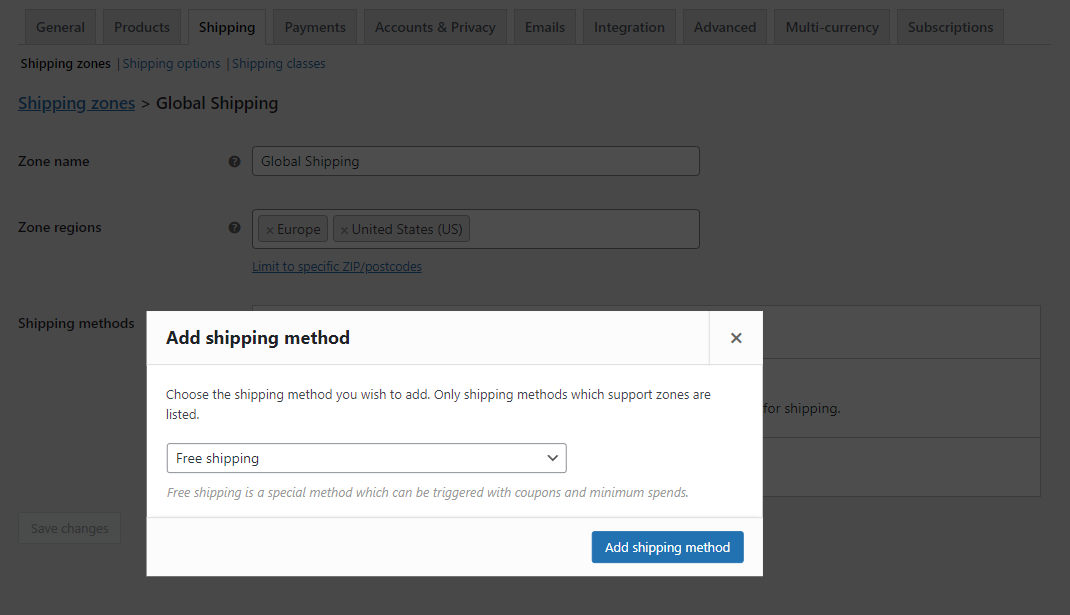 Select Free Shipping and click on the Add shipping method button once again.
Now, click on the Edit button next to the free shipping method to specify the minimum amount customers have to spend before they get free shipping.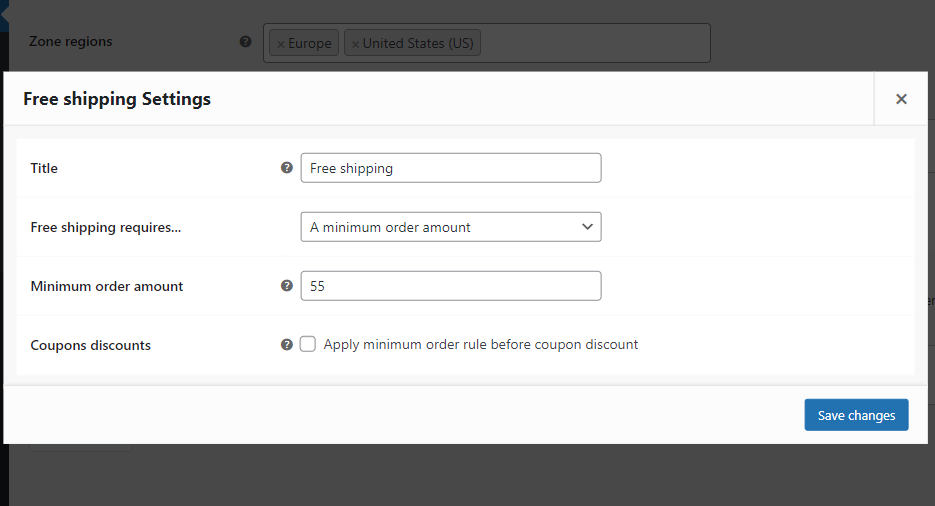 Select A minimum order amount using the Free shipping requires… dropdown menu and specify the minimum order value using the Minimum order amount field. Once you're ready, click on the Save changes button to continue.
With everything in place, all that's left is to enable the free shipping notification feature in CommerceKit's settings. Navigate to CommerceKit → Free Shipping Notification and check the Display on the cart page checkbox.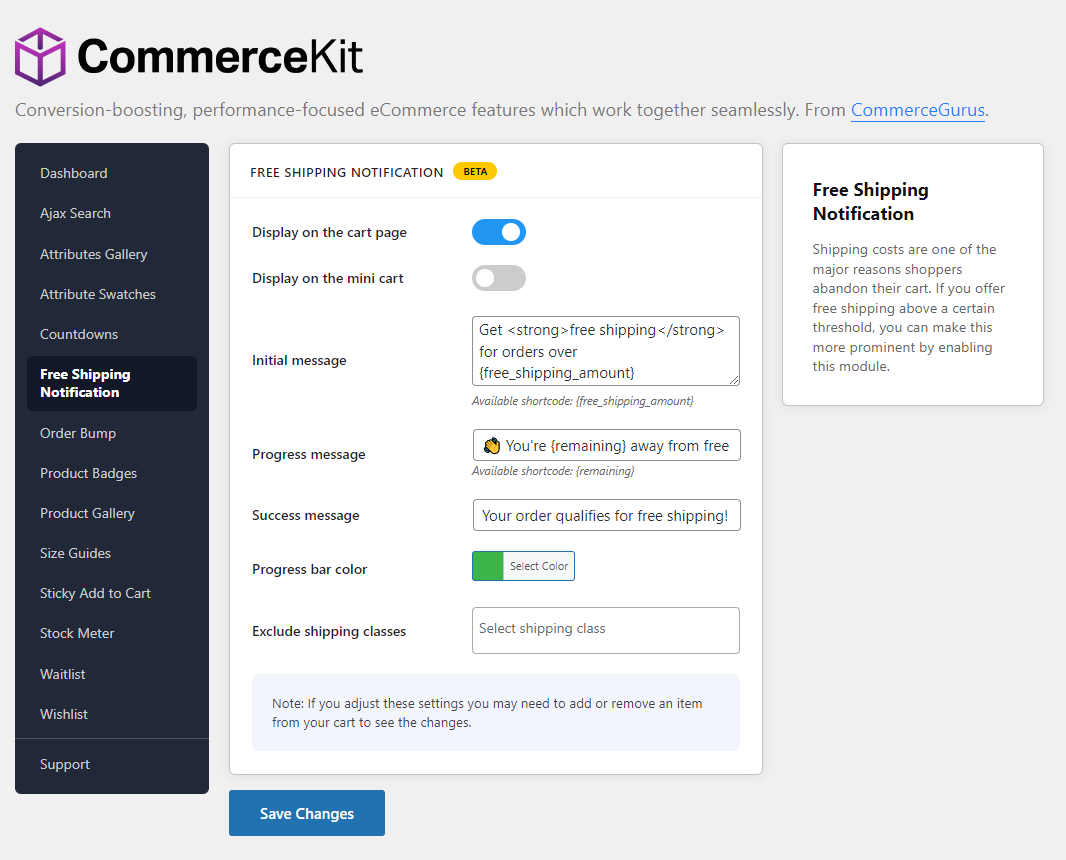 Click on the Save Changes button to continue.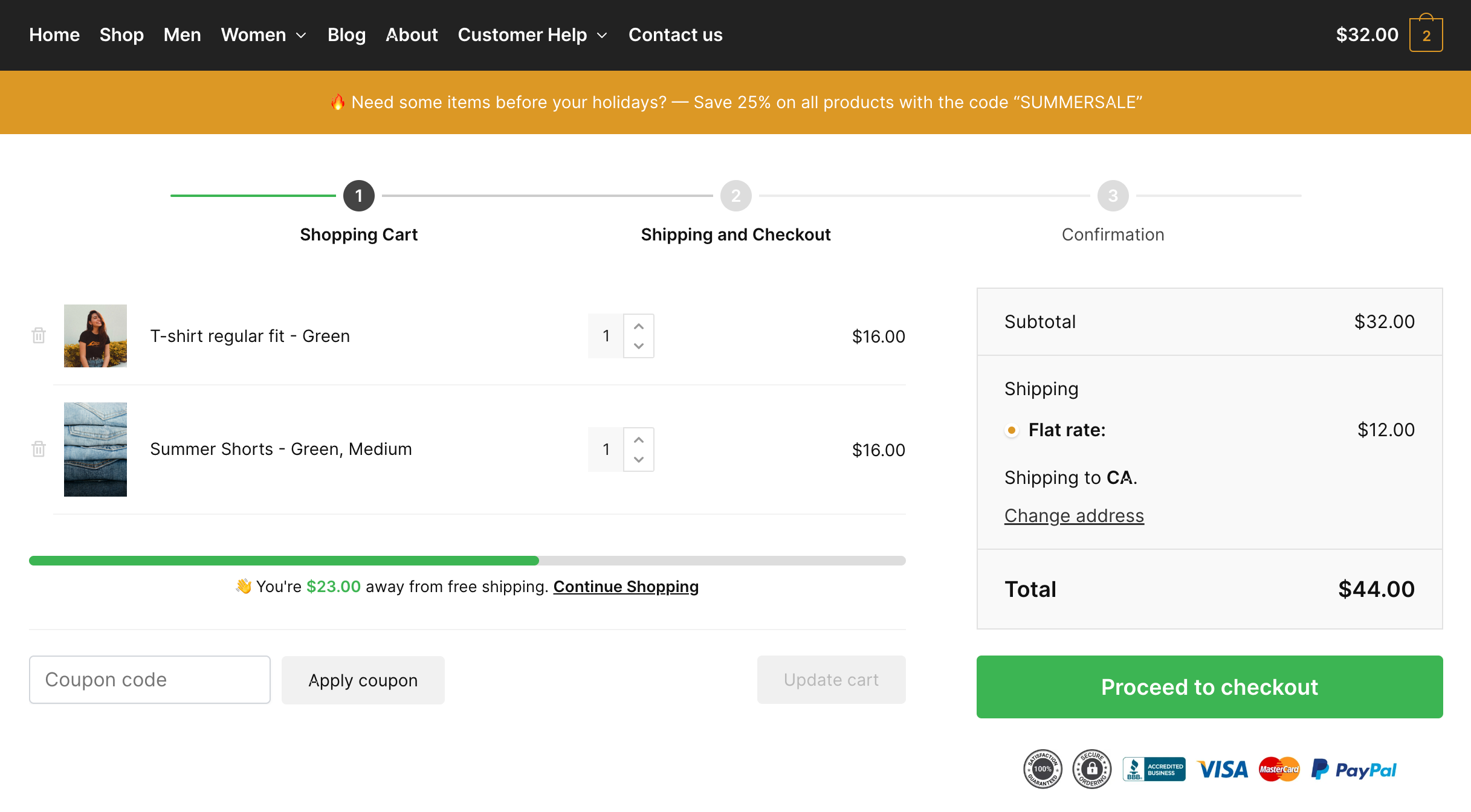 Customers can view the free shipping progress bar when they visit the cart page. This encourages them to reach the minimum order amount and add more items to their shopping cart to qualify for free shipping.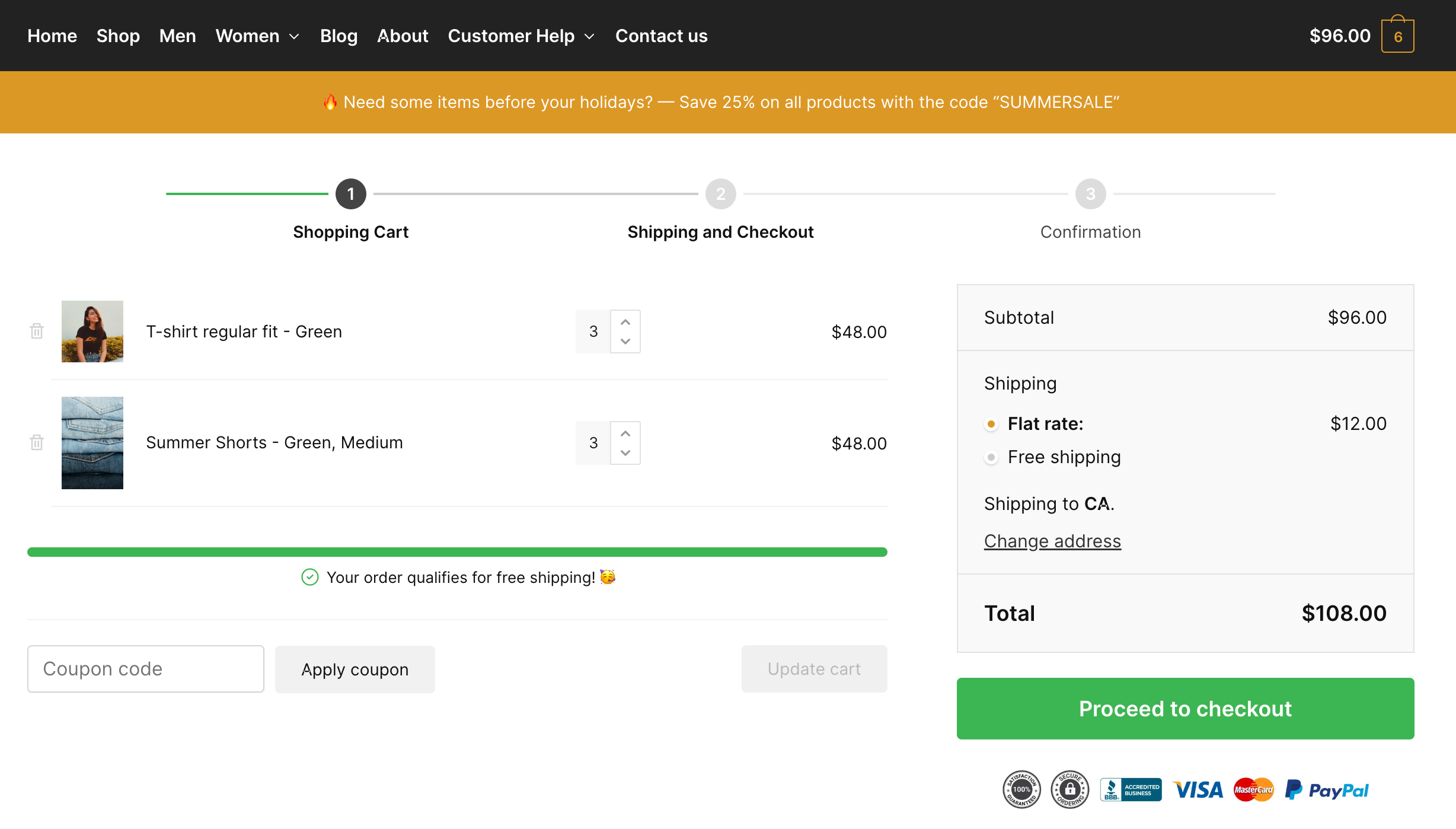 This will let customers select the free shipping method when checking out and help reduce the chances of them abandoning their cart due to high shipping costs.
---
Create the perfect eCommerce shipping policy today!
Creating the perfect eCommerce shipping policy for your business can be challenging and it might take a few tries to get it right. If you're using a plugin like CommerceKit, you can compliment the written policy with a visual progress bar which highlights a free shipping offering, should you offer one.
The best part about the robust plugin is that it comes completely free as a part of the Shoptimizer theme. This means you get double the value by paying one price and ensures that your eCommerce site is fully conversion-optimized.
Ready to create the perfect eCommerce shipping policy? Get the Shoptimizer theme today and get the CommerceKit plugin for free.