If you're trying to figure out Shopify pricing then you've come to the right place! Let us walk you through our comprehensive guide to Shopify pricing and by the end of this guide we promise you'll know which is the right Shopify plan for you.
Shopify is EATING the eCommerce world
Shopify has taken the eCommerce world by storm over the past few years. For the longest time, eCommerce software could have been described in one word – frustrating. Shopify was a massive breath of fresh air for online shop owners for 2 big important reasons.
Simplicity – Shopify was (and still is) so damn simple to use compared some other platforms that have been around since the Web 1.0 era. Simple for both the online store owner AND for the customer. Shopify didn't necessarily bring anything new to the online shopping experience for customers, they simply distilled the best possible user experience and bottled it into a software platform for the masses – something that no other eCommerce platform had truly nailed before Shopify came along. All the other big eCommerce platform vendors had their own little quirks which made them frustrating to use – both as a store owner and as a customer buying something online.
An awesome ecosystem – Shopify invested heavily in making it really easy for designers and developers to make themes and apps to personalize Shopify to specific store owners requirements. This has in recent years extended to include a vibrant community of store owners who exchange success stories (and failures) which really helps to make Shopify a compelling platform to base your eCommerce business on.
But if you're new to Shopify you're probably wondering which is the right pricing plan for your eCommerce business. There are many different things to consider if you're thinking about getting started with Shopify so let's dive in and take a look.
How many Shopify pricing plans are there?
There are 5 Shopify Pricing plans in total that cater from those who are just dipping their toes into the world of eCommerce right up to some of the most successful online stores on the planet. These plans are:
Shopify Lite Plan
Basic Shopify Plan
Shopify Plan
Advanced Shopify Plan
Shopify Plus
Let's take a look at each plan.
Shopify Lite Plan
The Shopify Lite Plan is Shopify's most basic pricing plan. It's a very limited option as you don't actually get a online store – you just get a Buy button!
Shopify Pricing Recommendation – who should get the Shopify Lite plan?
I would only really recommend this plan if you have no intention of running your own online store at your own domain name. (Although if you do already have a basic website you can add your Buy button to it – but that's not a proper eCommerce solution). If that sounds like you, then Shopify Lite might be perfect for you.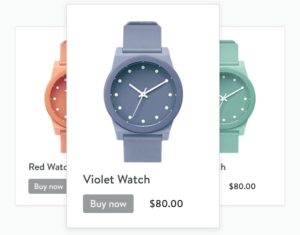 I know it's common in 2018 for some businesses like Cafe's, Delis and very small businesses to run their digital marketing solely via Social channels like Facebook, Instagram and Twitter where they can more easily reach their audience. Shopify Lite is a great option for those kind of businesses as you won't end up spending any more than the bare minimum on your eCommerce platform. For anyone else, Shopify Lite will be too limited.
Shopify Lite Pricing
Shopify Lite costs $9/mo. Full details on Shopify Lite.
Basic Shopify Plan
Ok so now we're talkin' proper eCommerce 🙂 With the Basic Shopify Plan you get a fully fledged online store – not just the Buy now button that comes with Shopify Lite. Key features of the Basic Shopify Plan include:
Upload unlimited products
Unlimited file storage (important for catalogs with lots of high quality images)
2 staff logins
24/7 support (really valuable to non-technical eCommerce beginners)
Fraud analysis (if you use Shopify Payments which I highly recommend if you can, to limit your risk of fraudulent transactions, which is important to everyone but critical to your survival when just starting out in selling online)
Manual order creation (which is really useful for customers who might contact you to replace an item they ordered by mistake)
Discount codes – a must have
Website and blog – Shopify's webstore functionality is second to none. While their blogging features are nowhere near as good as what you'll get with WordPress, they'll be fine for most beginners.
Free SSL certificates – no longer a luxury – I now consider this a must have for public perception if nothing else
Shopify Pricing Recommendation – who should get the Basic Shopify Plan?
The Basic Shopify Plan is a great starter plan for anybody who is on the fence about getting started with an online store. You get the most important features and functionality you need in an online store at the best price possible. This makes the Basic Plan a pretty low risk investment for new/untested eCommerce businesses. If you're starting an eCommerce business as a side business while holding down a 9-5 day job, the Basic plan is pretty much as good as it gets. If you're an existing eCommerce business coming from WooCommerce, Magento or BigCommerce I wouldn't recommend the Basic Shopify plan. Why? You'll most likely feel a little constrained by the lack of some advanced functionality like Gift Cards, Abandoned Cart Recovery and Advanced Reporting that you don't get with the Basic Shopify plan.
Basic Shopify Pricing
Basic Shopify costs $29/mo. plus Credit Card and Transactions fees.
Basic Shopify Credit Card and Transactions fees explained
If you've never ran an online store before this is probably a good time to explain some some basic costs you'll always have to pay with Shopify (and pretty much any other eCommerce platform).
Debit/Credit Card Processing Fees
Any time you pay for something with a Debit/Credit card, the card provider charges the merchant a fee for facilitating the transaction. This is one of the main ways Card issuers like Visa and Mastercard make money. This fee is almost always paid by the merchant rather than the card holder. As a store owner you will rarely be dealing directly with Card issuers like Visa and Mastercard. Instead you have a commercial relationship with a Payment Gateway provider (or Payment Provider as Shopify also commonly refers to them as).
The Payment Gateway/Provider handles all the complex technical plumbing that allows card transactions to be executed in real time including the secure transmission of card details to the correct Bank or Financial institution the card was issued by, through to the completion of the transaction.
With a platform like WooCommerce or Magento you will have to find an extension for the payment gateway that makes the most sense for your business (based on transaction volume, your location in the world and many other factors like your risk profile, banks preferences etc.) This is also true for Shopify – with one additional option. Shopify itself also offers the option to be your payment gateway via its Shopify Payments service. If at this point your eyes are starting to glaze over I don't blame you 🙂 Suffice to say, Shopify Payments is an excellent starting point to pick as your payment provider if you can avail of it for a few reasons:
Keeps things very simple – no need to go through any additional sign up/vetting process with another payment gateway.
Orders and payments are all captured together in the one place. When you use an external payment gateway you'll likely end up having to do reconciliations between Shopify and the gateways admin area – yuck!
Additional enhanced checkout options are available (at an extra cost) like Shopify POS, Shopify Pay and Apple Pay.
Chargebacks are easier to manage as the chargeback process happens right within Shopify.

Shopify Payments vs. Third Party Payment Gateway – which is cheaper?
This is a tricky question to answer. In fact there is no simple answer! If you choose Shopify Payments your Card payment fees are much simpler as you have just one set of fees. If you choose a third party payment gateway you'll have a set of charges from the third party payment gateway AND Shopify will then also charge a separate fee that they call a Transaction Fee. This transaction fee is a hefty 2% on the Basic Shopify plan! So if you were to use Stripe as your third party provider, your total transaction charge would be:
Stripe gateway fee: 2.9% + 30 cents per transaction
Shopify transaction fee: 2%
That's a whopping 4.9% + 30 cents in total – pretty spicey!
For the Basic Shopify Plan, Shopify Payments will cost you 2.9% + 30 cents – and no additional transaction fees for online payments and 2.7% and 0 cents for In Person transactions.
Depending on your business and where you are in the world, you might find a third party payment gateway who can offer you extremely competitive fees. The best advice is to talk to fellow online store owners in your country and via eCommerce forums to find the best deal for your business.
The biggest downside to Shopify Payments is that it is currently limited to just the United States, Puerto Rico, Canada, the United Kingdom, Australia, or Ireland.
So long story short, if you can avail of Shopify Payments in your country it's probably going to be the best option for you – but do make sure to shop around just in case!
If Shopify Payments isn't an option for you then you'll have no choice but to shop around and keep in mind the additional 2% Shopify Transaction fee you'll need to factor into your business projections.
Shopify (Standard) Plan
The standard Shopify Plan (or simply called the "Shopify Plan" on the Shopify website), is unquestionably the most popular Shopify pricing plan. In addition to all the Basic Shopify features you also get:
5 staff accounts
Gift Cards – essential for retail orientated online businesses that rely on holiday sales
Abandoned cart recovery – for me, this is the stand out feature of this plan. Abandoned cart recovery was once just something the big players in the eCommerce industry did. With shortening attention spans and the proliferation of mobile devices, a solid cart recovery process is almost a must have eCommerce feature.
Better Shopify Shipping rates
Shopify Pricing Recommendation – who should get the Standard Shopify plan?
If you're beyond the initial market testing phase, I strongly recommend the standard Shopify pricing plan. While your subscription fee will jump a good bit from the basic plan (see below) you'll be unlocking some seriously valuable features that are the critical to almost every successful major eCommerce business in 2018. You'll also benefit from lower credit card/transaction fees.
Shopify (Standard) Pricing
Shopify (Standard) costs $79/mo. plus Credit Card and Transactions fees as follows:
Shopify Payments: 2.6% + 30 cents for online, 2.5% + 0 cents for In person transactions
Transaction fees: 1% when you use a third party payment provider.
Advanced Shopify Plan
Once your online store transforms into a very successful business you may end up with a lot more members on your team who need access to Shopify. You'll also probably reach a point where advanced financial reporting and much tighter control over your shipping costs become essential to scale profitably. This is where the Advanced Shopify plan comes into it's own. From a pure feature set perspective there's not a lot of difference between the standard and advanced pricing plans. In addition to the standard plan, you get:
15 staff accounts
Best possible Shopify Shipping rates
Advanced report builder – save filtered reports and create your own custom reports from scratch
Third-party calculated shipping rates – this can be extremely important at scale especially for heavy goods being shipped internationally.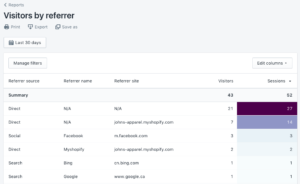 Shopify Pricing Recommendation – who should get the Advanced Shopify plan?
Honestly, you'll know you need Advanced Shopify when you need it 🙂 Given the big increase in price it's unlikely you'll need Advanced Shopify until you bump up against the staff capacity limits of the standard plan. Beyond that, if you're doing a sufficient volume of sales to be in a position to get better card processing rates from third party payment gateways you may find that that along with more competitive shipping rates mean that they more than offset the additional monthly costs. In fact, the monthly subscription cost shouldn't really be an issue to you at this point. Your monthly shipping and card/transaction costs by this point will likely be far higher than the Advanced plan pricing. A good indicator would be annual sales in excess of $150,000.
Advanced Shopify Pricing
Shopify (Standard) costs $299/mo. plus Credit Card and Transactions fees as follows:
Shopify Payments: 2.4% + 30 cents for online, 2.4% + 0 cents for In person transactions
Transaction fees: 0.5% when you use a third party payment provider.
What is Shopify Plus?
Shopify Plus is an enterprise level (or in other words – fricking expensive!) eCommerce platform. Shopify Plus is used by some of the worlds biggest online stores. In fact while it's easily the most expensive Shopify pricing plan, it would still be considered quite cost effective compared to other enterprise level eCommerce platforms like Magento Enterprise, Demandware and Hybris.
With pricing starting at around a minimum of $2000 per month, Shopify Plus isn't really competing against the other Shopify plans we've walked through in this post. Shopify Plus is an alternative platform to either other very capital or labour intensive platforms that can sometimes cost millions of dollars a year to run.
If your eCommerce business reaches a point where you need to build out integrations with advanced account and CRM platforms then you'll probably have to consider Shopify Plus. You may also have to consider Shopify Plus if you bump up against the technical limits of the main Shopify platform for product variations and the checkout experience.
My advice is to forget about Shopify Plus until your eCommerce business is doing in excess of $1-2M per annum.
Wrapping things up
At first glance, Shopify Pricing looks pretty straightforward. But as we've seen, transaction fees can play a big part in what Shopify truly ends up costing you.
An excellent way to save money on your Shopify fees is do pay annually. A 10% discount is available on all plans if you pay upfront for 12 months, and a 20% discount if pay up front for 2 years.
My advice would be to pay monthly until you've established a stable monthly revenue and then switch to annual billing as quickly as possible to lock in some nice savings to reinvest in your business.
Don't forget you'll also end up with some additional costs along the way such as Theme Costs, App Costs, Domain name renewals and perhaps some additional Saas services you subscribe to – so Shopify is by no means your only source of costs when it comes to running an eCommerce business. But those are for another day 🙂