Online reviews have transformed the way customers make purchasing decisions. It's why online marketplaces (like Amazon) and eCommerce sites have incorporated review systems into their customer experience strategy.
The majority of consumers actively look for product reviews when browsing products and services online. As an online business owner, an online review system can help you build trust with your target audience, increase transparency, and create value for consumers.
Now, you may wonder:
I've been asking for reviews via email, why do I need a review system?
Or:
Our customers have been reading and sharing reviews on Yelp for years. Why should we switch to a review system?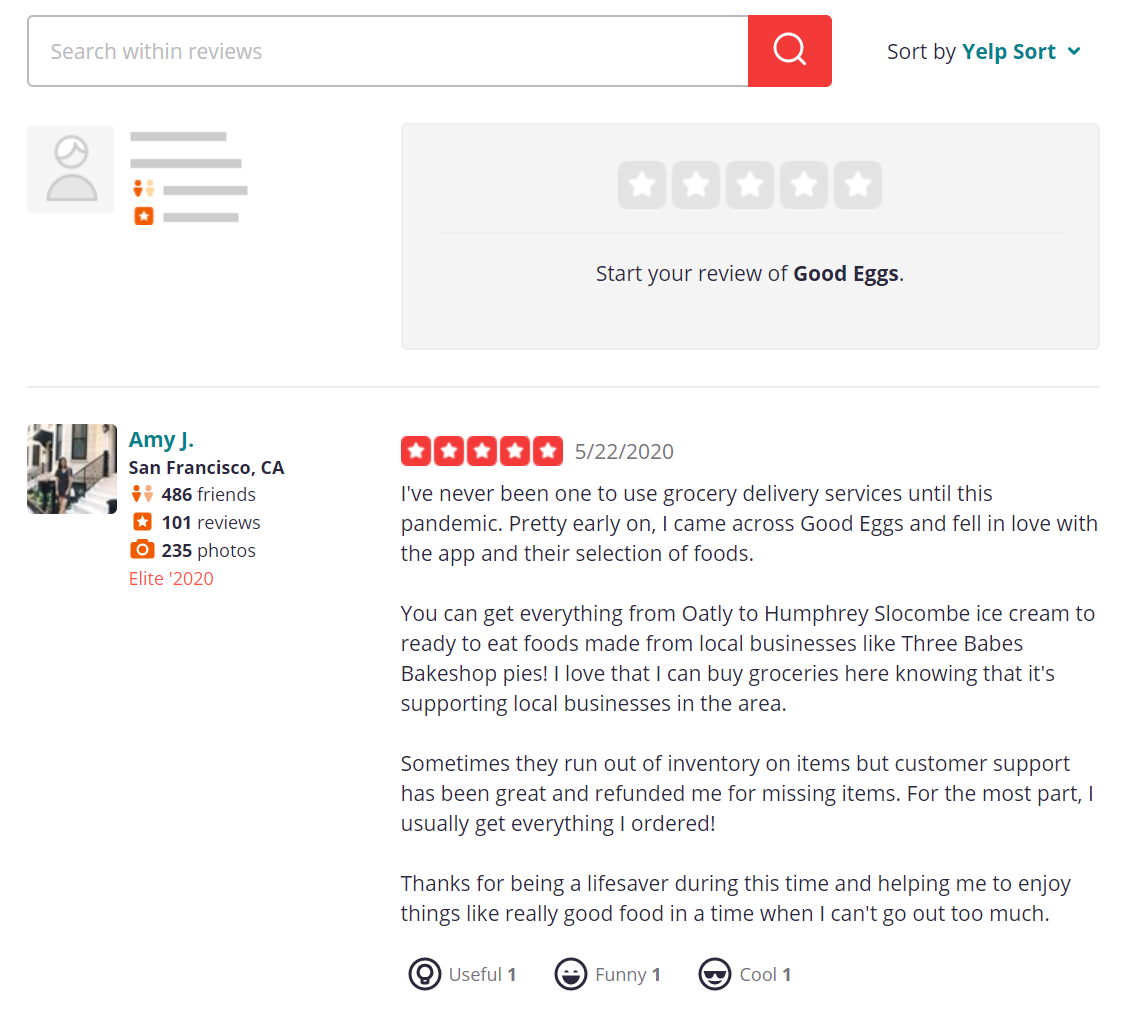 It's quite simple, really. If you want to help prospective customers learn about your offerings, you need a robust online review system that lets you:
Collect and showcase reviews on your site,
is search engine optimized, and
offers analytics and tracking features.
In this post, we'll dig deeper and explain what a review system is, why you need it, and how it can help you boost conversions and build trust with your customers. Along the way, we'll also share helpful tips on how the most important features you should look for in a review system for your business.
Before we jump into the good stuff, let's quickly take a look at some of the more traditional ways to get reviews and why it's time to try something different.
---
Traditional Ways to Get Reviews
There are two main ways businesses ask customers for reviews – via email and on third-party sites.
#1: Asking for reviews manually using email
If you're just starting out, you might want to steer clear of a complex review system and, instead, use a simple and proven review collection strategy AKA sending review request emails.
And, hey, we totally get it! It's an effective way to gather feedback and build strong customer relationships without breaking the bank.
In fact, asking for reviews via email is great because you get a dedicated channel to communicate with your customers one-on-one. You can ask targeted questions and keep communications personalized. Plus, there are tons of email marketing services that let you create and send review request emails to customers.
Mountain Hardware asks customers to leave a review once they've had a chance to get to know the product.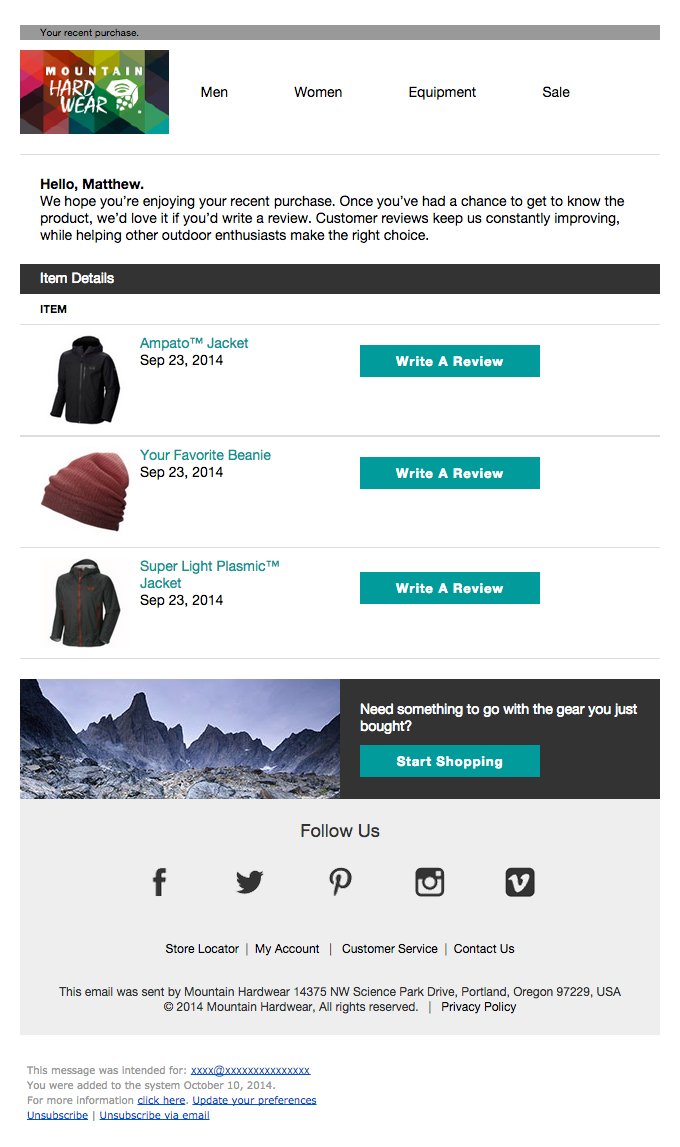 Here are some actionable tips to keep in mind:
Depending on the types of products or services you're selling, you might be sending out a review request email one week after customers receive the product or onboard your platform. This gives them plenty of time to try it out and form an opinion that they'd be happy to share with you.
Since you have full control over the questions you ask in your review request emails, it's a good idea to ask open-ended questions instead of simply asking for a star rating.
You should also experiment with the questions you ask in your review request email to see what works best for your target audience.
The problem
The problem with asking for reviews via email is that it's not scalable.
Emails are great for businesses that are just starting out and are looking for a cost-effective way to get reviews.
However, they involve a lot of manual work which means someone on your team will have to craft and schedule review request emails, keep track of customer responses, and gauge sentiments. Yikes!
#2: Letting customers post reviews on third-party sites
Did you know that 84% of people trust online reviews as much as friends? That's right!
That's probably why so many companies rely on third-party review sites to gather useful feedback from their customers and share it with prospective customers, all on a single platform. It helps them stay informed about what people are saying about their brand, products, and services.
The benefit of a third-party site is that your customers probably already use it to read reviews about other products they're interested in. In other words, it takes the friction out of asking for reviews and ensuring prospective customers see reviews left by others.
And, all you have to do is let your customers know via email or at checkout that they can share their review on GetApp, Yelp, Google My Business, or social media platforms (like Twitter or Facebook).
TradeGecko sends customers a personalized email politely asking them to leave a review on GetApp: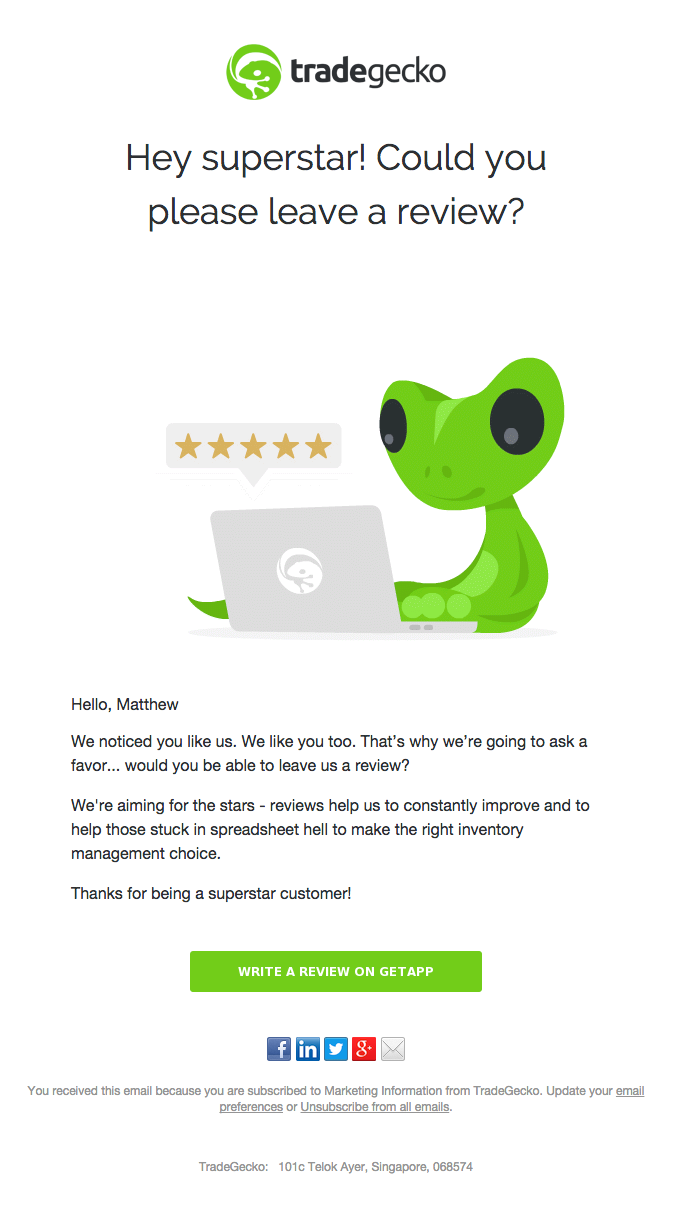 The Rancho Valencia Resort and Spa doesn't publish reviews on their business website. They do, however, have 345 Google reviews.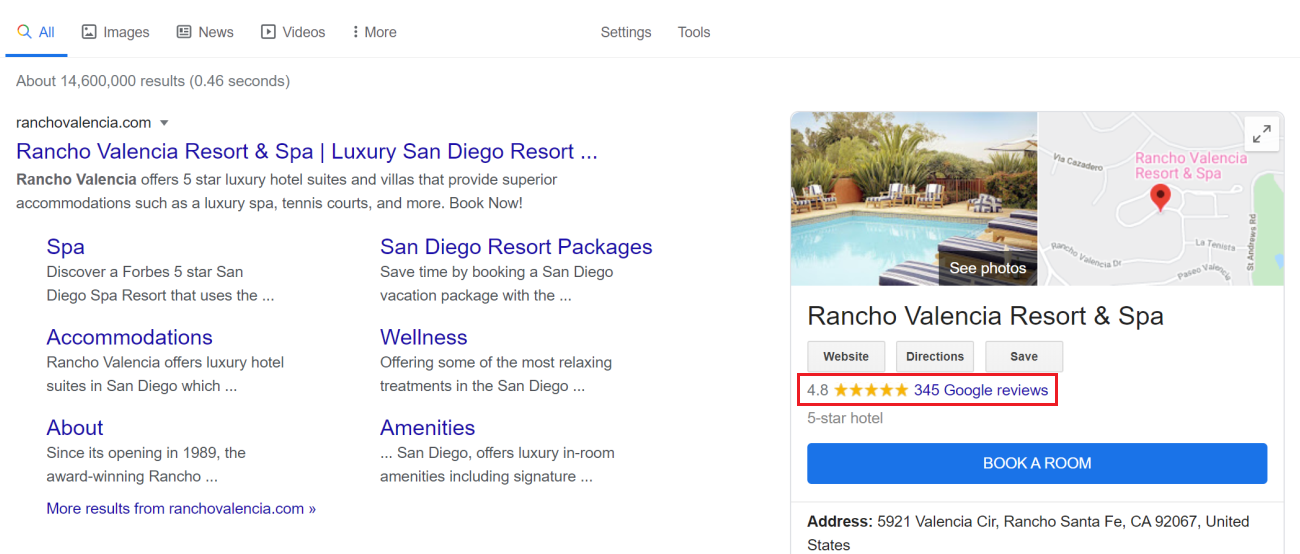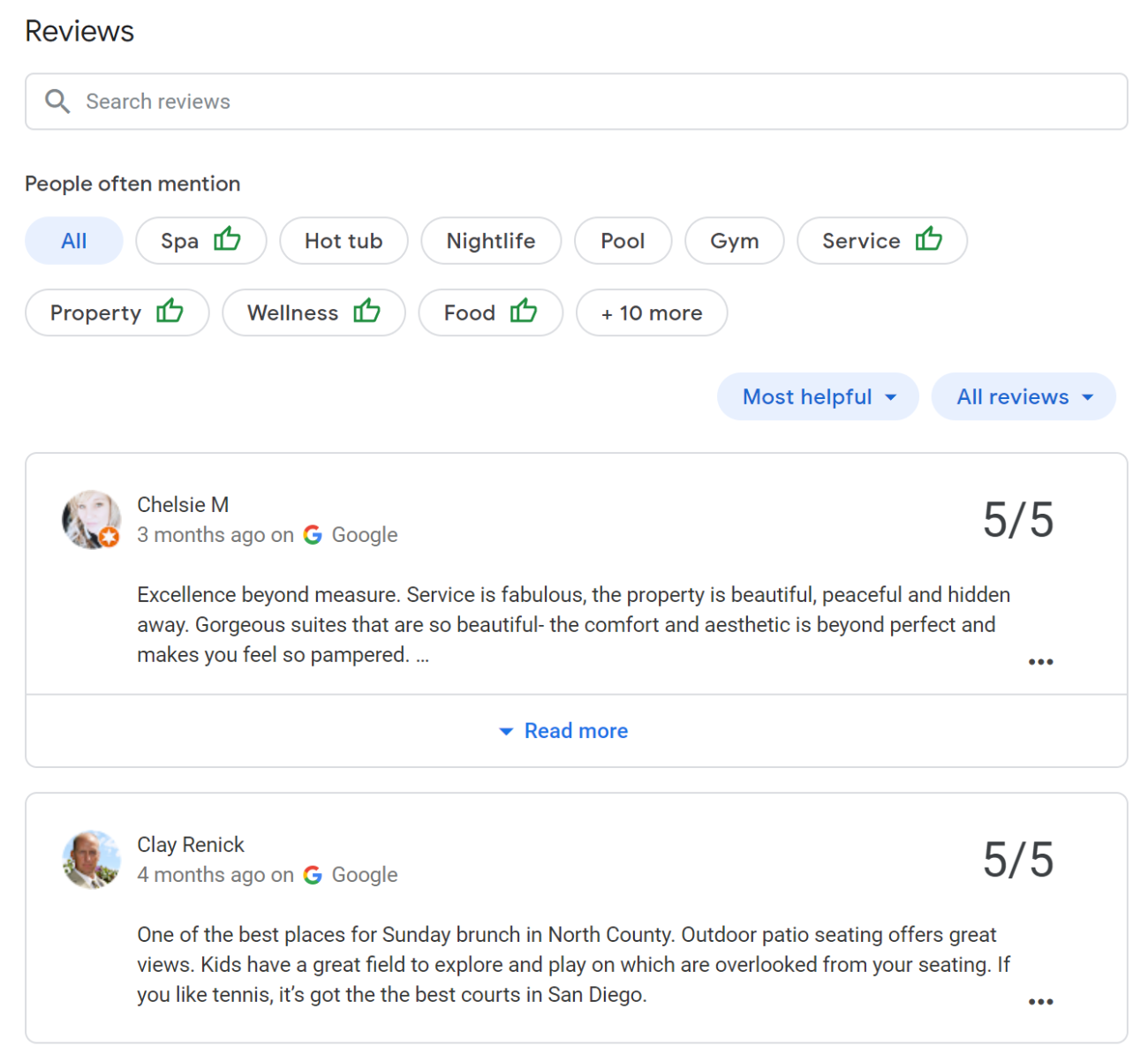 The great thing about third-party review sites is that it enables you to implement a transparent review collection process which helps build confidence in customers.
The problem
The problem with collecting reviews solely on third-party sites is that you don't get control over tracking and analytics.
Third-party sites give you less control over how you can respond to customer reviews. Plus, it's difficult to keep track of customer responses from third-party platforms and analyze reviews to understand customer sentiments.
The good news is that there's a better way to collect reviews from customers that combines the best of both traditional approaches.
---
What Is a Review System?
A review system is a tool that enables you to gather feedback from your customers about their experience with your product or service and display their opinions publicly on your eCommerce site. You can then use this to increase customer trust, improve conversions, and boost sales.
Amazon's review system highlights the top positive review and top critical review to increase transparency and help customers make informed buying decisions.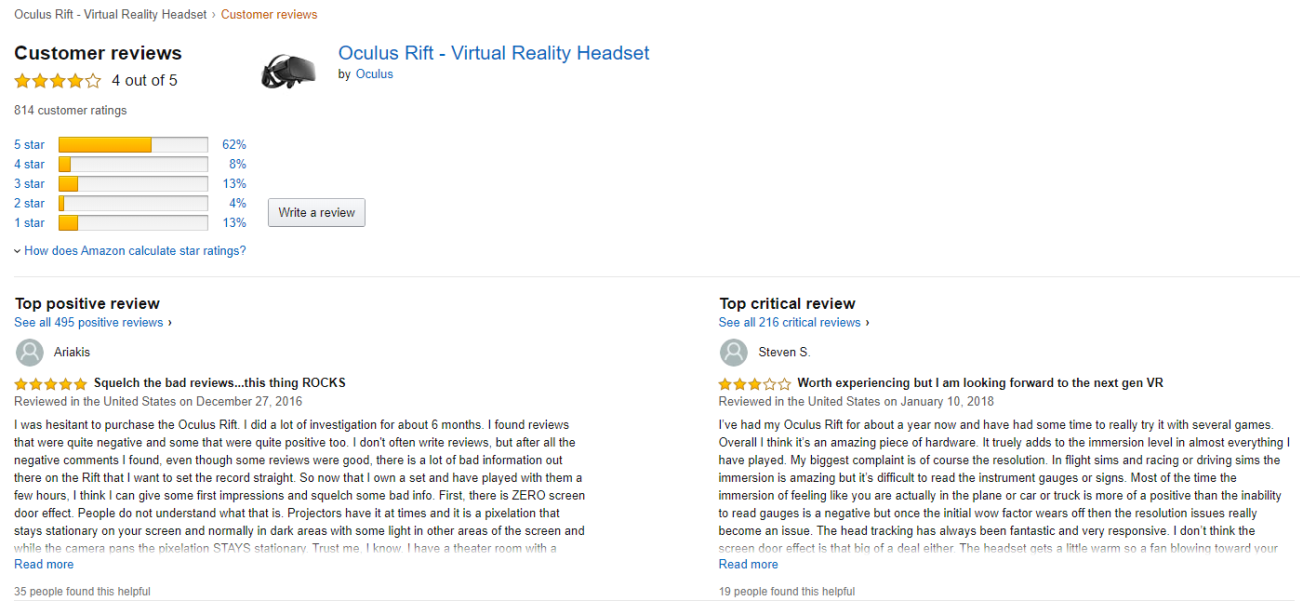 Reviews vs testimonials
Keep in mind, however, that reviews and testimonials aren't the same things. They both differ in the way they are collected and used for marketing purposes.
Reviews give customers an honest, unbiased look at a business and its products whereas testimonials are cherry-picked by the business from customers that leave positive feedback.
As a business owner, it can be scary to open yourself up to unbiased customer reviews. However, having reviews is very important, even negative reviews. Setting up a dedicated space on your site where customers can drop their reviews is a good start, but a good review system can do so much more.
Check out our article on how product reviews can help you increase conversions for more information.
You need a review system that lets you automatically set up triggers to request reviews from customers. This reduces manual work giving you more time to focus on core business tasks.
Most review systems allow you to showcase customer reviews on your product pages or homepage. This is a great way to reduce barriers to conversion and boost sales.
Dr. Martens' displays customer reviews on each product page with pros, cons, and the photos.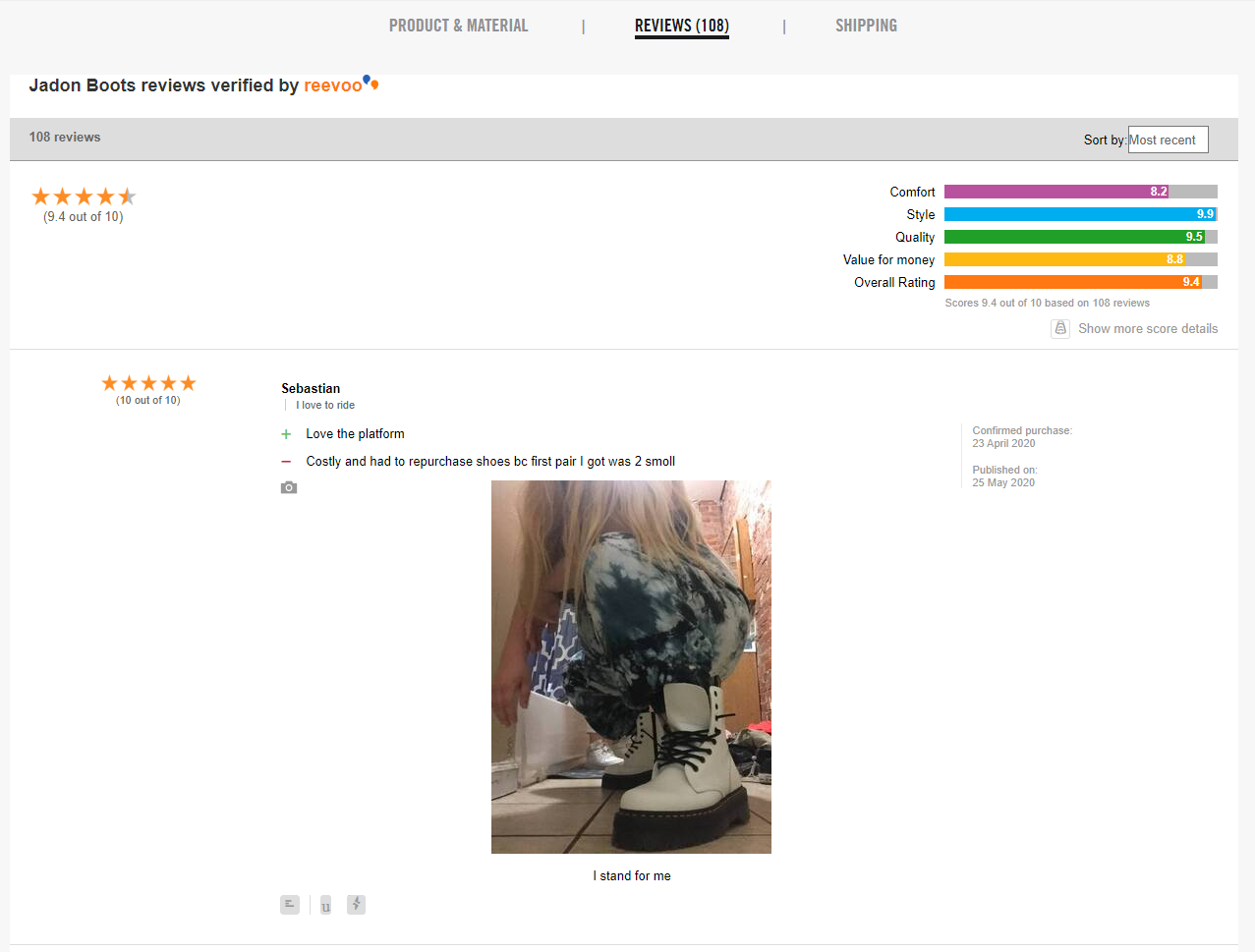 It should also let you conduct customer review analysis to distinguish between good reviews versus bad reviews. This makes it easy to keep track of negative reviews and respond to them in a timely manner.
Review systems vs WooCommerce reviews
If you use WooCommerce to power your online store, you probably already know that WooCommerce reviews simply display product reviews mixed in with blog comments.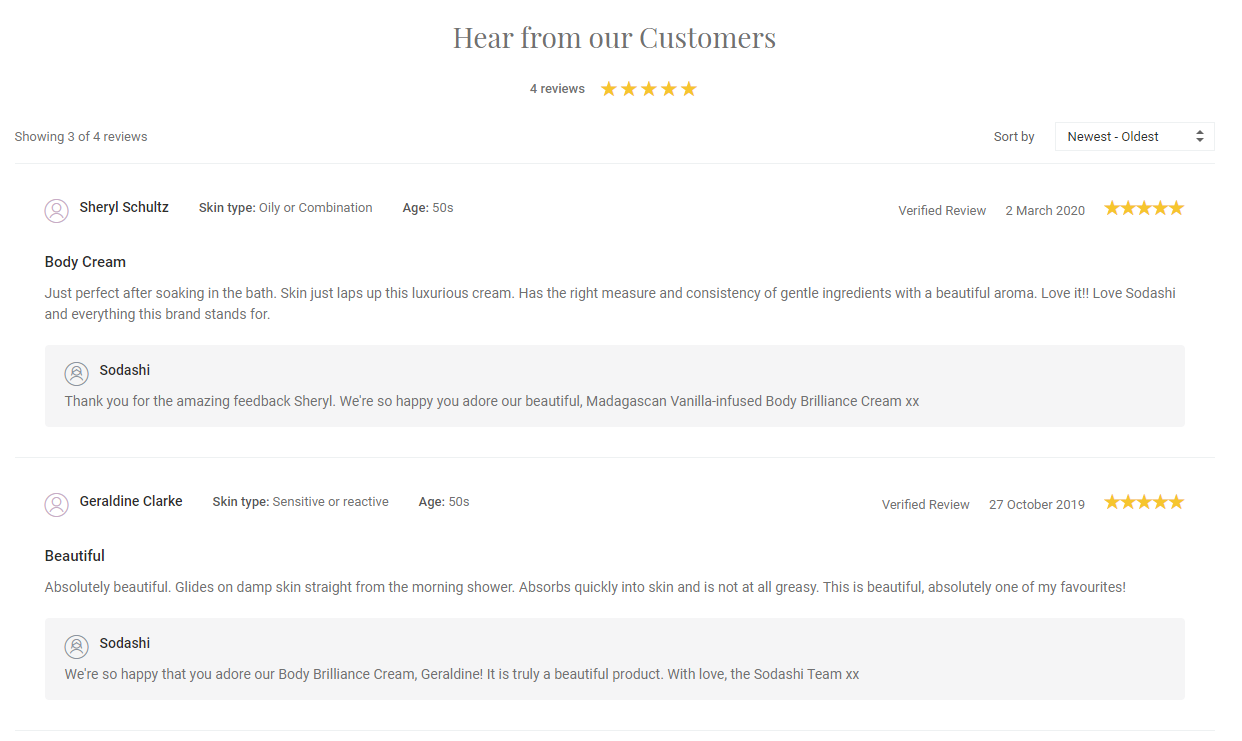 They don't let you sort reviews on the basis of positive or negative sentiments or ratings. A review system, on the other hand, implements rich snippets in SERPs.
For those unfamiliar, rich snippets are search results with added data displayed. Popular search engines such as Google and Bing have created a semantic vocabulary known as schema markup that helps search engines better understand what information users can find on a web page, helping them generate the best match for search queries.

You can use schema markup to improve your site ranking in SERPs which helps you attract more customers to your product pages and increase the click-through rate.
Next, let's step through some of the key features of a good review system.
---
Key Features to Look for in a Good Review System
As we mentioned earlier, there are a few key features all good review systems have.
Collecting reviews
A good review system should make it easy to gather reviews from customers automatically after different interactions. If you run an eCommerce store, this might be a week after the customer's purchase.
Many review systems use AI to seamlessly gather product reviews, ratings, and Q&As, allowing you to send optimized review request emails. Others offer both email and on-site popup review collection features.
Tripadvisor has a detailed review collection form that makes it easy for people to leave a review.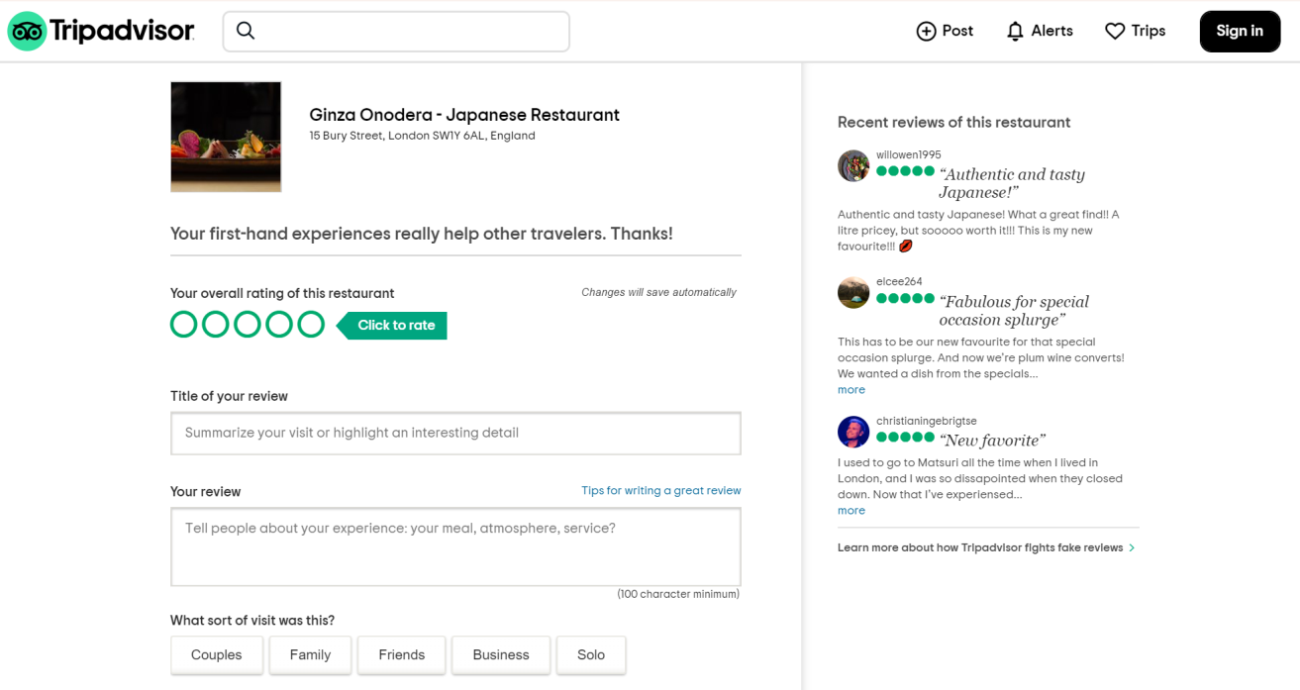 In addition to this, review systems should also allow you to create custom questions so you can get substantive answers from shoppers and customize each form to fit your specific needs. You can even incentivize customers with exclusive discounts and coupons to share their reviews, for example, by using the Shoptimizer WooCommerce theme.
To take things to the next level, you might consider setting up a community Q&A feature on your online store that allows your team as well as past buyers to quickly respond to customer questions and concerns.
Here's how Amazon does it: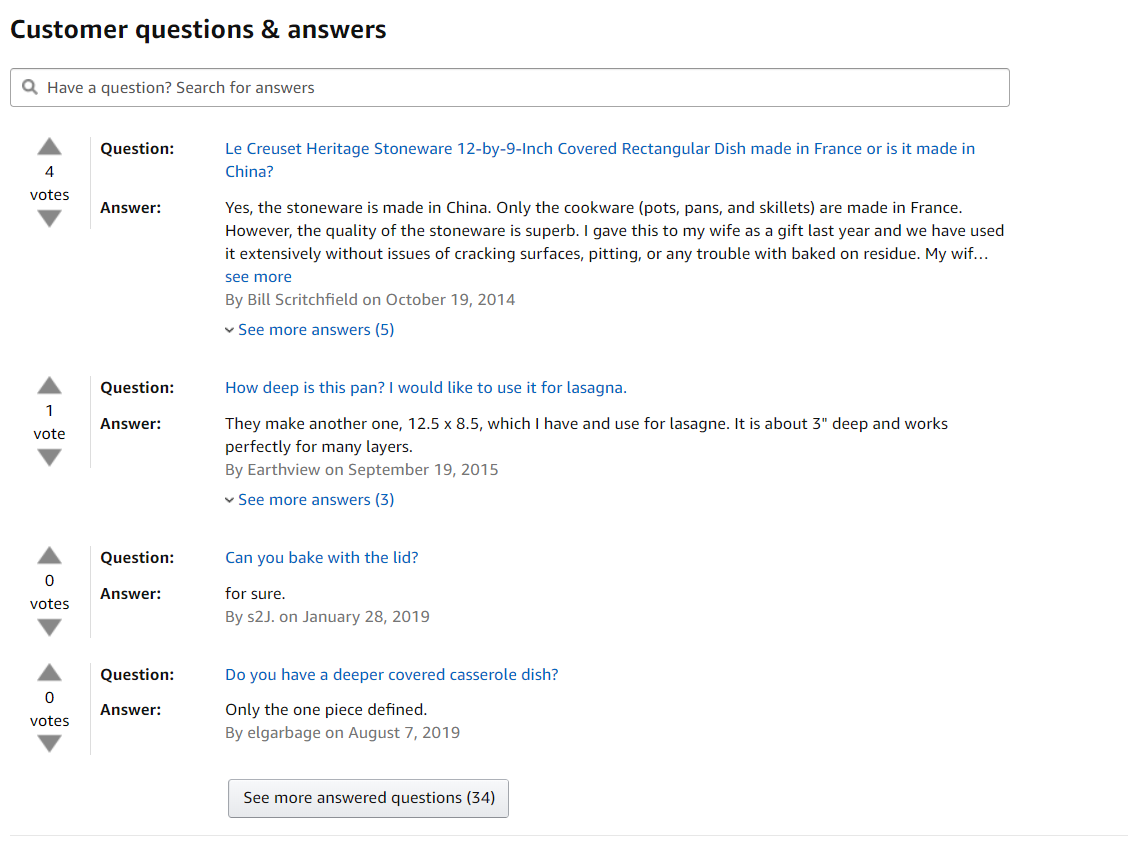 If you're using WooCommerce to power your online store, check out our roundup of the best WooCommerce reviews plugins.
Showcasing or displaying reviews
Collecting reviews from customers is the first step. You also need a simple and effective way to publish them on your eCommerce site. Displaying reviews of popular products on your homepage increases product discovery by new customers and can potentially help you boost sales.
99designs, for example, display ratings and a link to their customer reviews page on their homepage.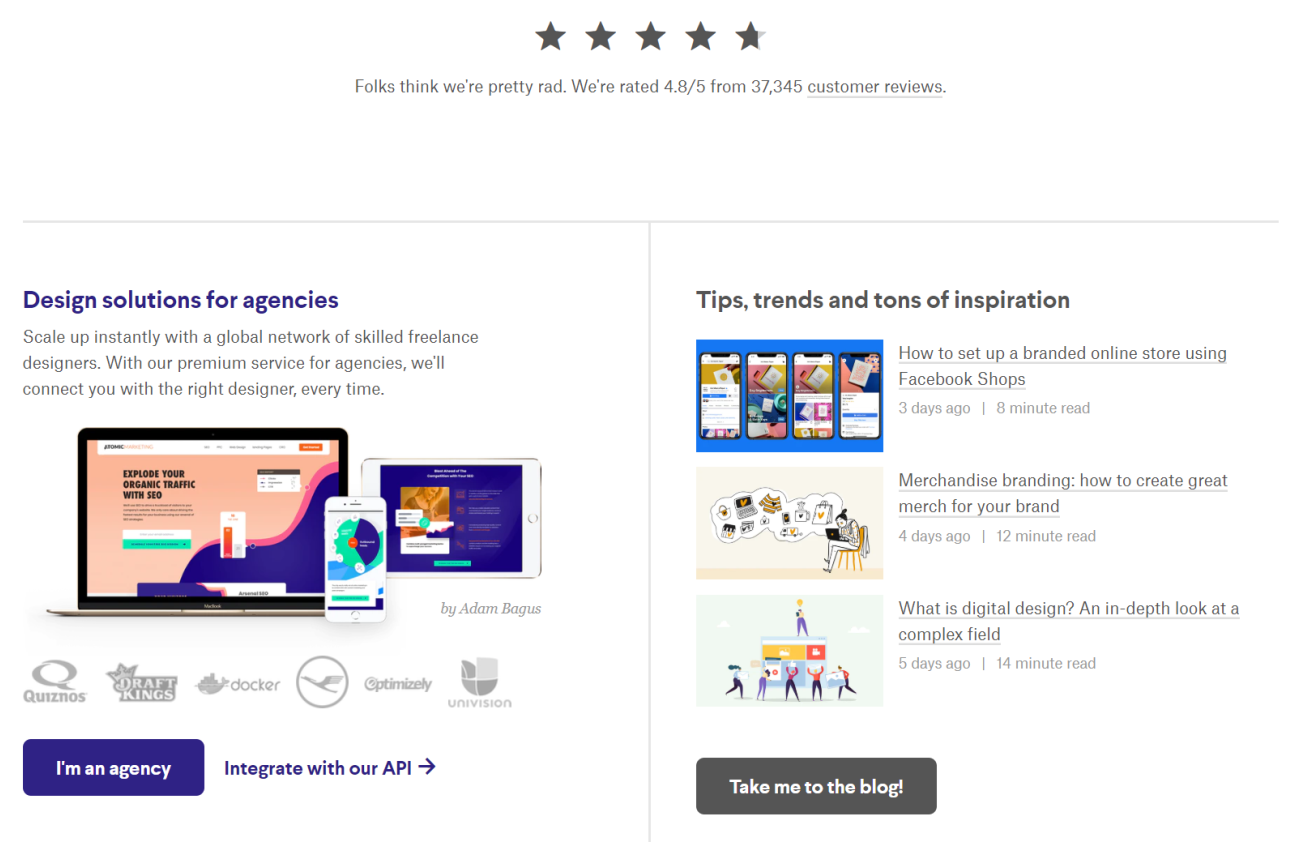 In addition, the review system should offer sorting features so customers can quickly land find the best products you have to offer based on reviews and ratings. This way, they can land on the most popular choices without having to sift through the entire product catalog.
Check out our in-depth article on product page best practices for actionable tips!
A review system gives you the opportunity to showcase high-rated products and reviews on your checkout page. This is a great way to validate the customer's buying decision, decrease shopping cart abandonment rates, and create upselling opportunities.
Search engine visibility
When it comes to ranking organic search results, customer reviews on your eCommerce site can offer useful keywords for Google to pick up on. Your review system should help you leverage Google to increase brand discovery and drive traffic from search engines.
For instance, you can successfully increase conversion rates and boost sales by displaying product ratings in your Google Shopping ads.
And adding your seller ratings to Google Adwords campaigns is a great way to increase your click-through rate.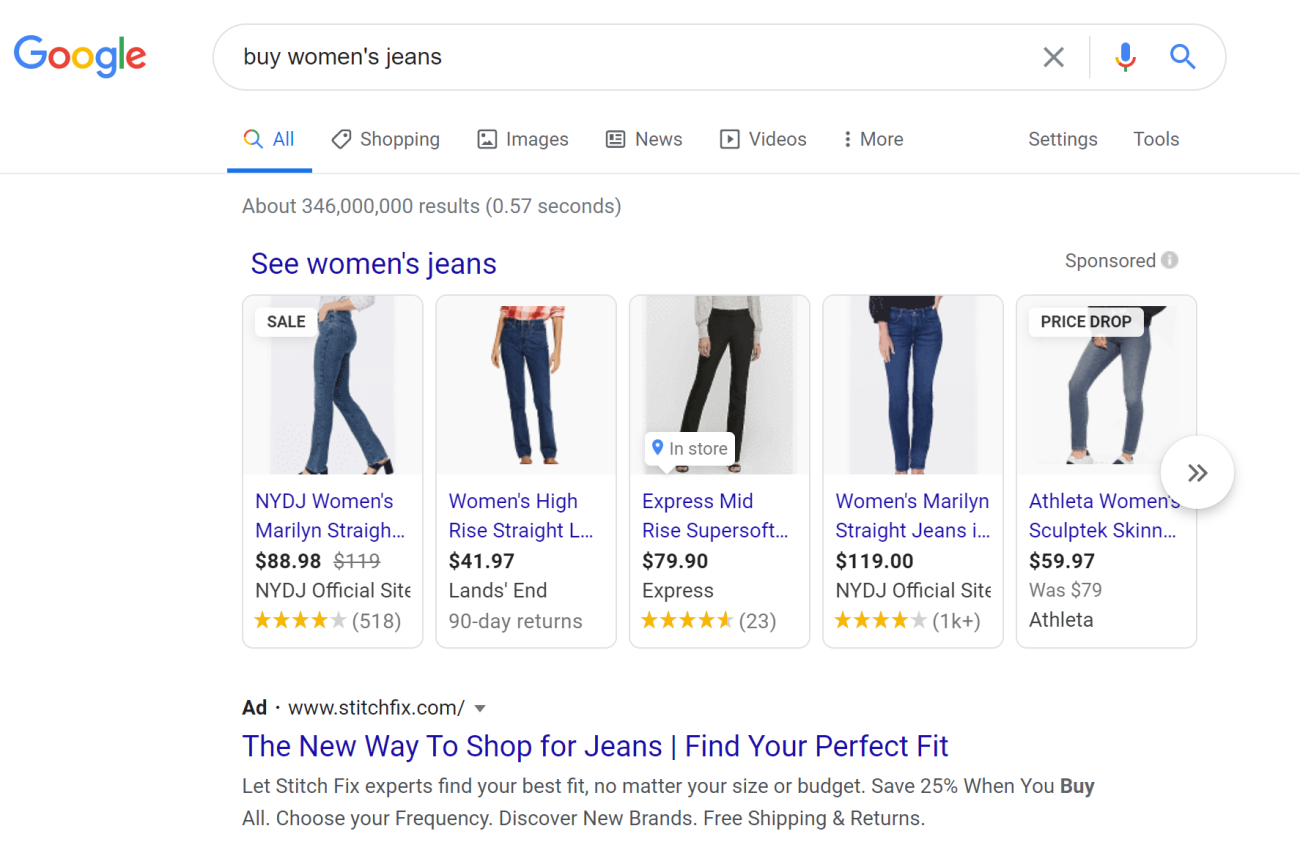 A good review system also comes with built-in rich snippets support. This way, you'll be able to target keywords and display your product rating in organic search results.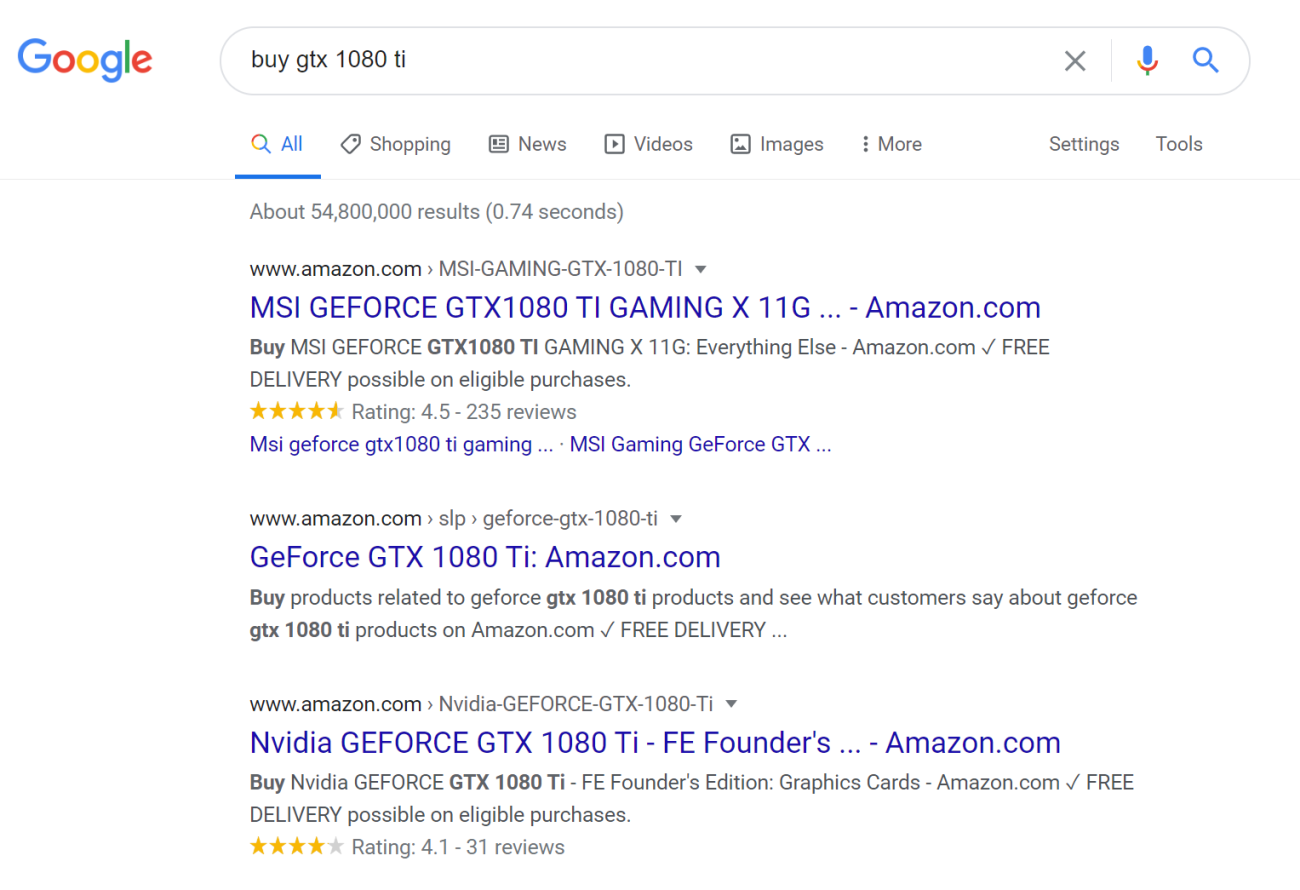 Not to mention, it lets prospective customers know that (1) you're selling the product they're looking for and (2) other people have purchased it and reviewed it – before they even land on your store!
Analytics and tracking
A robust review system will help you keep track of and analyze review content from the same platform. This is especially useful for growing businesses.
Analytics enable you to get an overview of customer reviews and understand how well your products are performing. This way, you can identify popular products and see which products have room for improvement.
By tracking reviews, you can identify, understand, and resolve common pain points customers face with your products or services. In addition to this, you can see how the rating system affects your bottom line.
---
Capitalize on Customer Reviews
A review system helps businesses deliver positive and meaningful customer experiences across channels and touchpoints. It does this by making it easy for businesses to automatically collect reviews and share them with visitors directly on their eCommerce site.
In addition to this, it also helps improve search engine visibility and increase click-through rates. And, finally, you can use a review system to analyze customer reviews and better understand how they affect your bottom line.
It's time to add a robust review system to your eCommerce tech stack and increase sales. Sign up for CommerceKit today!