As the number of eCommerce sites continues to grow, so does the opportunity for fraudsters to scam online merchants. In fact, eCommerce retailers deal with an average of 206,000 web attacks per month.
The worst part? Scammers mimic the behavior of legitimate online shoppers to hide their fraudulent activity.
As a store owner, you need to take steps to protect your WooCommerce store from malicious attacks and fraudulent orders.
In this guide, we'll go over everything you need to know about fraud protection for WooCommerce stores and the tools that can help you against fraudulent activity.
---
Online fraud in eCommerce
Before you can take steps to prevent fraud on your online store, you need to understand what it is. So, let's start with the definition.
By eCommerce fraud we mean all frauds that take place on any eCommerce platform using stolen or fake credit card information, with false identities.
Compared to a traditional brick-and-mortar store, online stores are especially targeted by hackers who steal personal and financial information in order to use it on eCommerce stores to purchase products.
With more than 5 million live WooCommerce websites, hackers find a way to manipulate credit card information and scam you. They can use credit card information purchased from the dark web and use it to checkout from your eCommerce store, without actually paying themselves. The rightful owner of the credit card then calls their bank and declines the payment, leaving you having sold a product without receiving money for it.
In some cases, such credit card frauds on your eCommerce store can lead to you paying a fine to the bank for processing the transaction again. There are also many other types of frauds used by hackers to manipulate eCommerce stores that you should be careful about.
Forter's Fraud Attack Index report shows the impact of COVID-19 on buyer behavior and eCommerce fraud trends.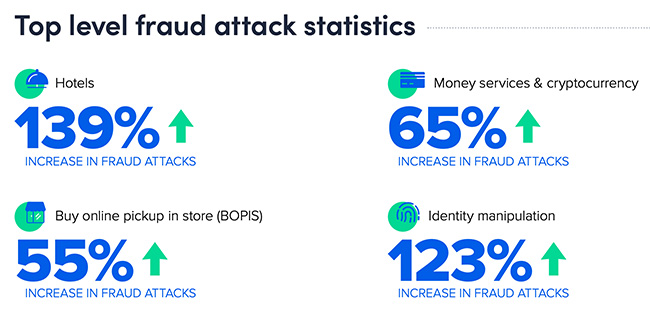 According to anonymized statistics of events detected by Kaspersky Fraud Prevention, fraudulent transactions increased from 34% in 2019 to 54% in 2020.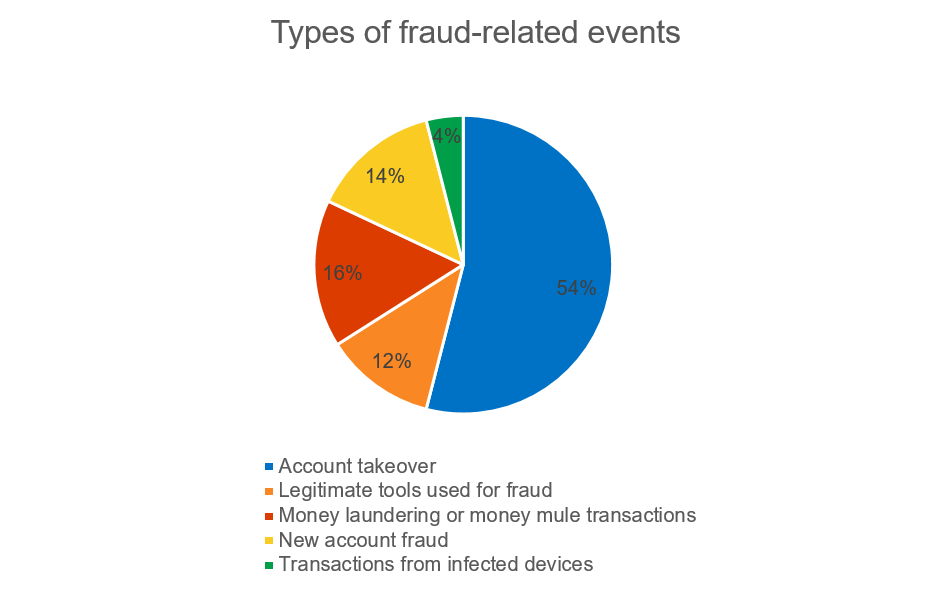 eCommerce fraud is evolving with time as hackers keep coming up with advanced methods and using powerful tools to successfully scam you and your customers. Before trying to prevent eCommerce frauds from happening on your online store, you first need to understand the many types of frauds that take place on WooCommerce stores.
---
Types of frauds WooCommerce stores may encounter
It's easier to defend against the enemy if you know who your enemy is. The same concept applies to store owners who are trying to prevent eCommerce frauds on their online stores.
Let's take a look at various types of frauds that WooCommerce stores may encounter:
Identity theft
Identity theft is also known as impersonating someone you're not. Hackers will steal personal information about your clients and use that information to impersonate them. This leaves you clueless when the hacker that's impersonating your customer orders from your WooCommerce store. As soon as the actual customer finds out, they put in a request to refund their order.
Merchant fraud
Merchant fraud works in a pretty simple way. A fraudster merchant will sell products to customers that don't really exist. In other words, the customer pays a price for a non-existent product and will most likely end up submitting a complaint on the eCommerce site. In this type of fraud, the eCommerce site has to pay for the customer's refund and the fraudster merchant walks free.
Card testing fraud
Card testing fraud is when hackers use fake credit card information to check out from your online store. This fake credit card information could be of some other individual who ends up opening a legal dispute for the purchase order. This again leaves you without money after selling a product.
Phishing
Phishing is a common type of fraud that's seen all over the internet. It's when a fraudster fools an individual into giving away all their crucial information by clicking on a fake SMS or email. This is one of the most effective methods for hackers to gain personal login details or information from unsuspecting users, even people who are tech-savvy.
Fake orders
Fake orders are pretty common for eCommerce stores that offer cash on delivery for their products. Hackers order an expensive item from your online store and checkout using the cash on delivery method. When the delivery man reaches the billing address, the package is stolen from the delivery man. This leaves the eCommerce business liable for the damages.
Friendly fraud
Another clever trick that fraudsters use to order from your WooCommerce store without paying is using a friendlier approach. Customers place their order normally from your online store and then request a chargeback and claim that their card was stolen and used without their permission. Trusted customers may also be a part of this type of fraud.
Credit card fraud
The most common type of fraud that WooCommerce stores face is credit cart fraud. Hackers find the credit card information of customers by purchasing it off the dark web or by stealing it. Then they use the stolen credit card information to order from your WooCommerce store. It's a store owner's responsibility to ensure safe card payment on their online store. This leaves the online store responsible for paying back or compensating for the money the fraudster used.
Return fraud
Since most online stores offer a return policy, hackers and fraudsters abuse the policy to earn money or get a free product in return. Usually, the returned goods are illegally obtained or damaged which leaves store owners paying for the losses.
Knowing all the types of frauds that occur in online stores is important for preventing against them. This way, you will save money, offer a more secure shopping experience, and improve customer loyalty for your brand.
---
How to prevent WooCommerce frauds
Now that you know what the common types of WooCommerce frauds are, let's dig deeper into how you can prevent them from occurring on your WooCommerce store.
Set up 2FA on your WooCommerce site
Two-factor authentication (2FA) is a great way to make your online store secure. You can let users log in using their username, password, and by authenticating the log-in through their registered email or via a 2FA app.
This makes it impossible for hackers to access user accounts, steal their financial information or address, or place orders. Hackers will not only have to guess the password but will also need to have access to the user's email and the authentication app. This prevents users' personal and financial information from being used without their consent to purchase products from your WooCommerce store.
You can set up 2FA on your WordPress website using the free WP 2FA plugin.
Observe customer behavior
Observing and identifying suspicious behavior can help you prevent fraud on your WooCommerce store.
For instance, you can take note of what customers usually buy on your WooCommerce store, the log-in attempts that somebody goes through for accessing their account, the order size, the user's payment methods, and the user's average shopping time.
This will give you a better idea of when someone other than the user is trying to order on your WooCommerce site using their account. In addition to this, you can also take note of the date of the first registration of users on your online store and identify suspicious customer behavior. If the customers just signed up minutes ago, the chances of them ordering a huge order just seem fraudulent.
Promote strong password usage
Using hard to guess, strong passwords across your WooCommerce store is a great way to prevent hackers from accessing customers' or team members' accounts.
Ideally, you want to make it a requirement for users to enter a complex, strong password that contains lower case letters, upper case letters, numbers, and a symbol when registering on your online store. You can also make it mandatory for users to enter a longer password, preferably longer than eight characters.
On top of using other fraud preventing methods, using strong passwords also reduces the chances of hackers accessing your customer's or team members' accounts on your online store.
Track shipments
Tracking order shipments on your WooCommerce store is also a great way to prevent WooCommerce frauds from occurring. You can assign a tracking number to a product before you ship it. This will tell you exactly where your order is being shipped to and reduce the chances of hackers trying to get packages delivered to fraudulent locations or fake addresses.
Customers would also benefit from knowing where their order is. Additionally, it makes it easier for them to trust your eCommerce store with their financial information.
Use an Address Verification Service
Along with tracking shipments, you can also use an address verification service. This is a service provided by banks that helps store owners detect suspicious transactions on their online stores.
Here's how it works: the bank authorizes the credit card transaction against the billing address of the credit card owner. Once everything matches perfectly, then the bank will let you know if you should accept the transaction or not.
---
WooCommerce fraud protection plugins
You want to use a robust WooCommerce fraud protection plugin to prevent WooCommerce frauds on your eCommerce store and keep a lookout for hackers.
These are our top picks:

Spam protection, AntiSpam, FireWall by CleanTalk is a robust plugin designed to help you prevent all types of spam submissions on your eCommerce store.
It lets you protect your online store without having to use CAPTCHA, questions, animal counting, puzzles, and math questions. You can stop spam orders, comments, registrations, bookings, subscriptions, surveys, and contact emails on your WooCommerce store. It's also worth mentioning that Spam protection, AntiSpam, FireWall by CleanTalk has very low proven false-positive rates. For WooCommerce orders, it's a mere 0.016%.
If you upgrade to the $8 per year plan, you can get access to CleanTalk's cloud-based spam filtering service. The tool uses a series of tests that are invisible to website visitors to protect against spam bots, and includes WooCommerce spam. If you use WooCommerce, this is the one to go for.
Pricing: Free.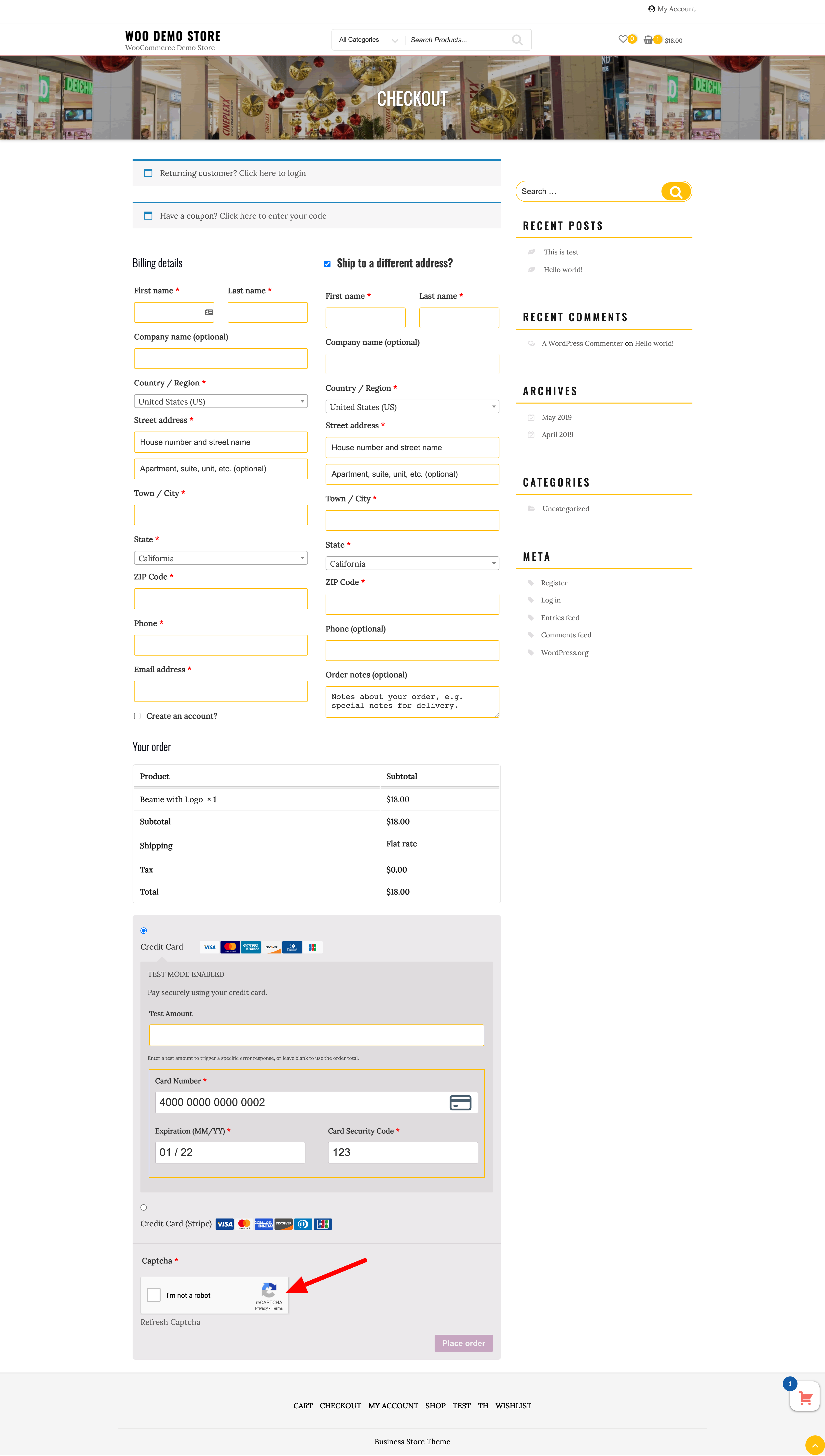 reCaptcha for WooCommerce is a simple to use plugin designed to help you protect your eCommerce store from hackers and fraudulent attacks.
It works effectively against spam bots and hackers trying to access your eCommerce store by implementing a reCAPTCHA system on your website. This lets you stop spam submissions, fake registrations, and guest orders, and lets you enable reCAPTCHA on specific parts of your online store.
Pricing: Starts at $29 per year.

FraudLabs Pro is a professional, all-in-one solution for preventing some of the most common eCommerce frauds on your online store.

It lets you identify a fraud order using a point or score system and is very simple to set up on your eCommerce store, even if you're not tech-savvy. Using the FraudLabs Pro version, you can:
Validate IP addresses
Validate credit card information
Set up email address validation
Set custom validation rules on your online store
This is great for making your WooCommerce store secure from all types of common and uncommon eCommerce frauds.
Pricing: The FraudLabs plugin is free to download and use for 500 transactions per month which is ideal for small stores. You can also purchase the pro version which starts at $29.95 per month for the Mini plan. That covers 1,500 transactions per month.
---
Bonus: what else can you do to prevent disputes and frauds in WooCommerce?
Here are some other steps you can take to prevent disputes and fraud:
Collect necessary information. Collect necessary information from customers without disrupting the user experience. Most disputes are lost because of a lack of information from the store owners' side.
Communicate with customers. You want to effectively communicate with your customers to let them know about your payment and return policies. This helps prevent disputes and problems for you in the future. Check out this article for more information on what to include in your return and refund policy as well as examples of how other businesses have done it.
Use fraud detection notification systems. There are many fraud detection services – like ClearSale and Riskified – that give you an edge over hackers by informing you of suspicious activity. This way, you are able to prevent hackers from placing orders on your WooCommerce store. As a result, it can reduce eCommerce frauds and prevent any losses for your business.
---
Conclusion
It's important to protect against hackers and fraudulent users on your WooCommerce store so that you don't overspend and compensate for fraud on your eCommerce site. Once you're familiar with the most common types of fraud that occur on eCommerce sites, you can identify them better and prevent hackers from scamming you.
Did you know that Shoptimizer is fully compatible with most fraud protection plugins for WooCommerce? This means you can prevent scams and frauds from occurring on your WooCommerce store while maximizing legitimate sales.