A warehouse management system (WMS) is made up of software and processes that enable businesses to manage and control warehouse operations from the moment materials or products arrive at a warehouse to the time they are shipped out to the customer.
WooCommerce can be integrated with a WMS which eliminates manual and repetitive tasks by automating warehouse processes. This helps businesses increase productivity and deliver a seamless logistics experience to their customers.
In this post, we'll take a look at some of the best warehouse management systems for WooCommerce and highlight their standout features to help you find the right one for your eCommerce store. But first, let's take a minute to discuss what warehouse management systems are and how a WMS can help you optimize your logistics processes.
---
What Is a Warehouse Management System?
Warehouses are at the center of manufacturing and the supply chain because they store all the raw materials required in production processes as well as the finished goods. Warehouse management systems ensure that materials and finished products move through warehouses efficiently and in a cost-effective way.
WMSs offer a variety of features including inventory tracking, picking and packing, and receiving and putaway. It also gives a clear view of a company's inventory at a given time and location and handles order fulfillment operations from the distribution center to end customers.
For example, if the raw materials required for production don't arrive in time or parts get lost in the warehouse, it can slow down or disrupt the entire supply chain. The purpose of a WMS is to ensure these activities run smoothly using inventory management and ensuring that products and materials are properly stored, accurately labeled, packed, and shipped out of the warehouse.
Put simply, a warehouse management system is essential for running a warehouse because it brings efficiency and accuracy to a company's supply chain. Any business that wants to make inventory management easier, faster, and more efficient can benefit from using a WMS.
Warehouse Management System Key Features
Here are some of the key features you should look for in a warehouse management system for WooCommerce:
Easy integration. It should seamlessly integrate with WordPress and WooCommerce.
Warehouse design. It should help you modify workflow and picking logic to ensure that your warehouse is built to optimize inventory allocation. A good WMS enables you to maximize the overall efficiency of your warehouse operations and storage space, and adapts to higher sales volume in peak season and lower sales volume in the off-season.
Inventory tracking. You need access to advanced inventory tracking tools and automatic barcoding and tagging systems to ensure that products can be easily found when they're ready to be moved out of the warehouse.
Picking and packing. Warehouse picking is considered one of the most labor-intensive and expensive activities for warehouses. Your WMS should support a variety of picking and packing methods including zone picking, batch picking, and wave picking. Moreover, you can optimize pick and pack workflows by letting your warehouse staff use task interleaving and lot zoning functions.
Receiving and putaway. It should offer inventory putaway and retrieval along with pick-to-voice and pick-to-light features to enable warehouse staff locate goods quickly and accurately.
Shipping. Your WMS should enable you to send bills of lading before the shipment, make invoices and packing lists for the shipment, and send advance ship notices to the recipients.
Reporting and analytics. A good WMS gives useful business intelligence to managers, enabling them to evaluate warehouse performance, improve warehouse operations and maximize all available space.
Now that you have a basic understanding of why companies use warehousing management systems to improve warehouse efficiency and productivity, let's dive in further to see which WMS you should go with for your WooCommerce store.
---
7 Best Warehouse Management Systems for WooCommerce
WooCommerce doesn't offer WMS functionality out of the box. However, you can easily integrate your WooCommerce store with a warehouse management system.
Here, we'll run the rule over some of the best warehouse management systems for WooCommerce that can help you optimize warehouse operations, lower operating expenses, and gain visibility across your supply chain.

ShipHero is WMS software for WooCommerce that offers tools to help you optimize your eCommerce operations.
You'll be able to connect directly with your shipping carriers and set rules for shipment to make sure you don't overpay. ShipHero lets you track shipping costs, enabling you to optimize the carriers and methods you're using.
This tool can help you customize and automate workflows, set order priorities, and offer personalized order packaging to your customers. ShipHero can also determine the right ship date based on assigned shipping methods.
In addition to this, ShipHero gives you access to a lot of useful built-in features so you don't have to manually keep records or integrate with multiple third-party apps.
Customer orders are loaded into ShipHero as they are created. Moreover, they are automatically assigned to relevant locations as they come. You can also put orders on hold or flag them for inspection, depending on your configured rules. This helps you validate addresses and detect frauds.
Additionally, ShipHero offers one-click integrations with a variety of shipping carriers and ecommerce platforms including FedEx, DHL, UPS, Amazon, Walmart, eBay, WooCommerce, Shopify, and Etsy.
Price:
Brand WMS starts at $1,850 per month
3PL WMS starts at $1,995 per month
Enterprise WMS starts at $70,000 per month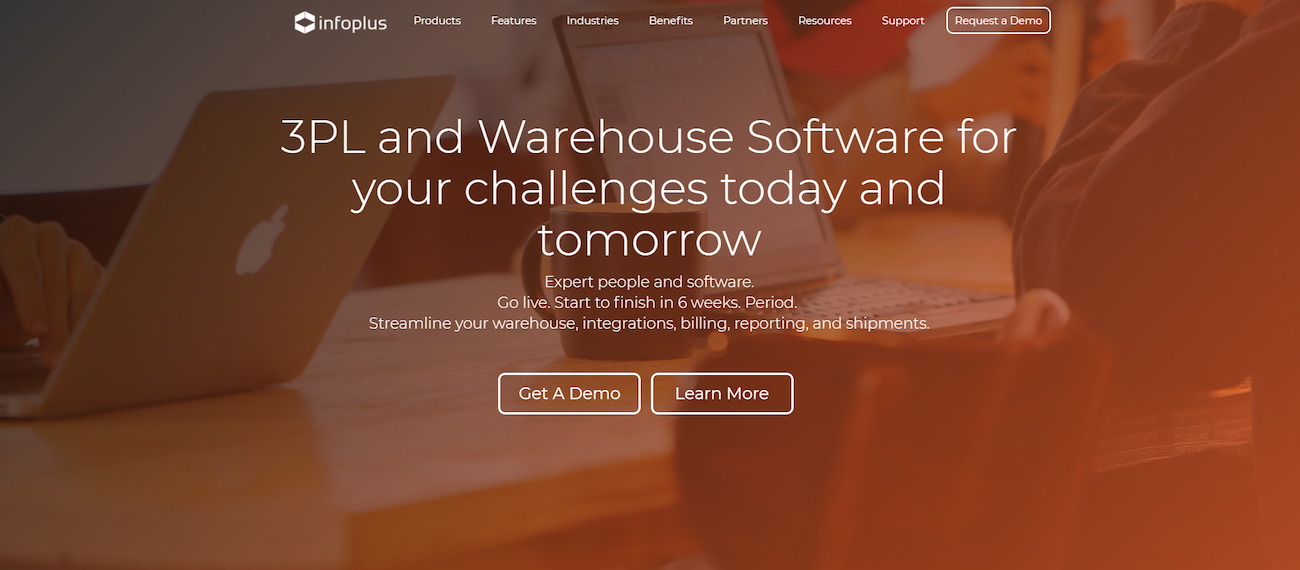 Infoplus is a cloud-based WMS software that helps you automate warehouse operations including inbound receiving, inventory control, picking and packing, and shipping.
With Infoplus, you also get powerful inventory management tools that enable you to control and track inventory levels, generate low and high stock level alerts, and perform inventory adjustments. As a result, you'll be able to manage purchase orders and send advanced shipping notifications to recipients, and generate receipts to load inventory.
Infoplus supports integration with various shipping channels so you can choose the best available shipping rates for your business.
In addition to this, users can track order statuses in real-time and get information about returns and exceptions.
Infoplus also provides customizable templates for creating warehouse documents including shipping, pick lists, and packing slips. It offers a user-friendly interface that gives you access to custom workflows, building blocks, and automation.
Price:
Infoplus Warehouse Manager costs $695 per month
Infoplus 3PL Warehouse Manager costs $895 per month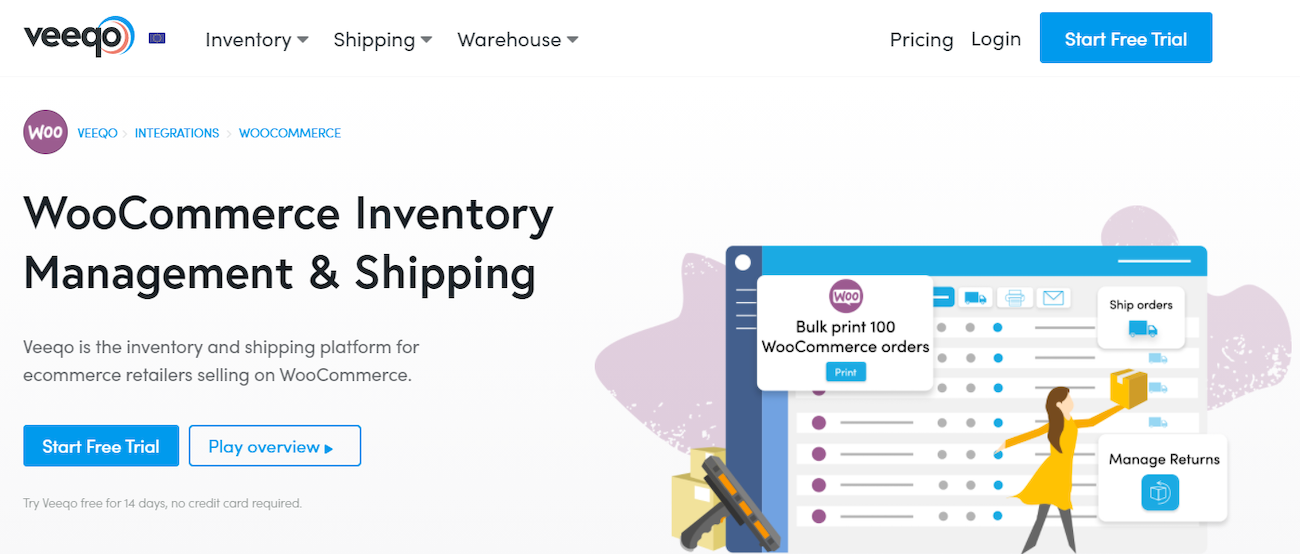 Veeqo is an inventory and shipping platform built for eCommerce stores. It enables businesses to synchronize their inventory across all their sales channels, manage orders, forecast new orders, and pick and pack products with accuracy and speed. Veeqo also enables you to optimize inventory management and track order fulfillment.
You'll be able to add new products and import from sales channels. It also lets you hide certain products from your sales channels.
In addition to this, Veeqo can easily handle different kinds of orders, create sales orders, import and export through CSV files, select a shipping solution, and print invoices, all from a central portal.
Its built-in barcode scanning feature makes it easier to accurately receive and input purchase orders and track orders.
Veeqo also supports integration with various shipping and eCommerce platforms including Shopify, Magento, BigCommerce, WooCommerce, Amazon, eBay, USPS, UPS, DHL, and FedEx.
Price:
Accelerator plan costs $156 per month
High Growth plan costs $202 per month
Premium plan costs $260 per month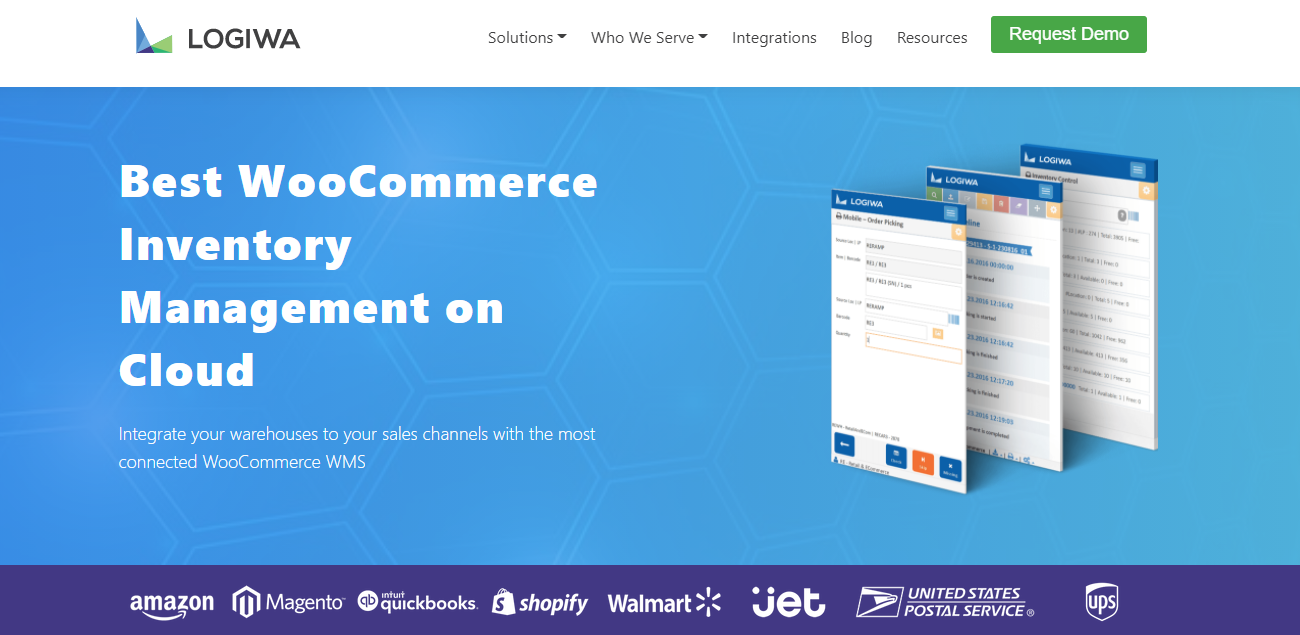 Logiwa is a cloud-based WMS solution that comes with inventory management and order fulfillment tools for eCommerce stores. It helps you manage and control picking, packing, and shipping in real-time.
You can sync multichannel inventory and orders to improve warehouse efficiency and reduce operational costs. Some of its order management features include dropshipping, backorder management, manual order entry, and shortage handling.
You'll be able to automate picking workflows using picker performance tracking, paperless picking via barcode scanning, real-time cluster picking, and walking path optimization.
Moreover, it gives you access to powerful reporting features to help you measure performance, analyze stock levels, and stay informed about shipment and transaction history.
Logiwa supports integration with a number of marketplaces, shipping, eCommerce, and accounting platforms. These include WooCommerce, Magento, Amazon, Shopify, Walmart, QuickBooks, Xero, UPS, USPS, and FedEx.
Price: Request a quote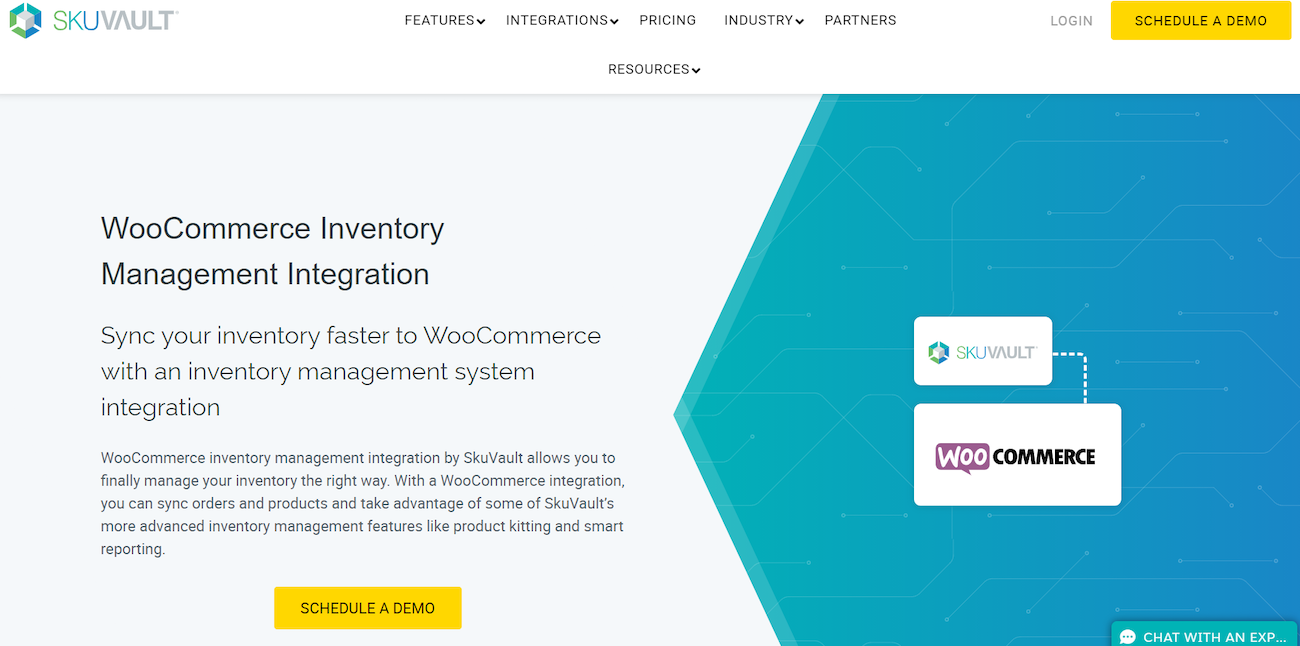 SkuVault is another cloud-based inventory and warehouse management system built for eCommerce stores.
You'll be able to create SKUs and set attributes to easily and accurately locate inventory in your warehouse. SkuVault gives you increased transparency into your inventory by converting case quantity into individual quantity. This way, you can track received case packs as well as individual units within them.
In addition to this, you can use barcoding and cycle counting to optimize your warehouse speed and accuracy.
SkuVault helps automate your warehouse operations and generate paperless pick lists, speeding up picking, packing, and shipping tasks.
Moreover, it offers a wide range of reports to help you stay on top of warehousing decisions including replenishing stock and purchasing decisions.
SkuVault also offers integrations with various marketplace, accounting, shipping, and eCommerce integrations including Amazon, eBay, BigCommerce, QuickBooks, ShipStation, ShipWorks, Shopify, and WooCommerce.
Price:
Growth plan costs $269 per month
Pro plan costs $409 per month
Enterprise plan costs $809 per month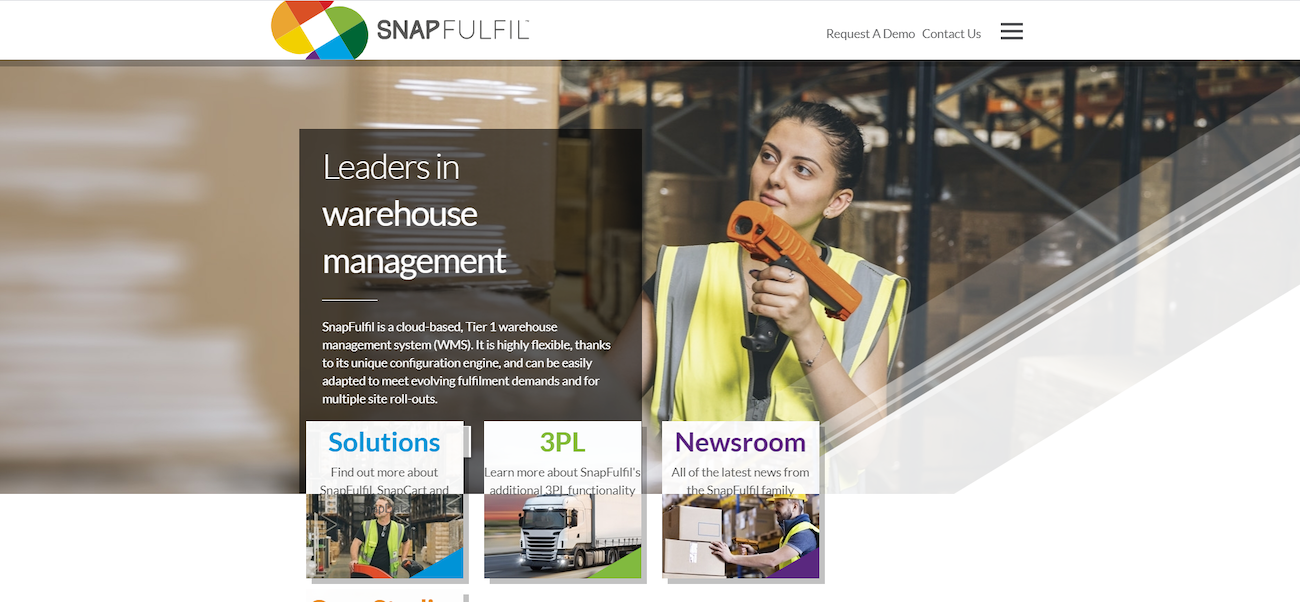 SnapFulfil is a powerful warehouse management solution that helps you automate and optimize warehousing activities.
Its route optimization feature enables supervisors to figure out the shortest possible routes for delivery trucks. SnapFulfil offers Parcel Labelling that helps you easily track the movements of items throughout the supply chain.
In addition to this, SnapFulfil comes with a user-friendly dashboard that gives you visibility into different warehouse metrics, helps managers make informed decisions and view performance reports. It offers multi picking capabilities including wave, multi-zone, and pick and pass.
It also integrates with popular shopping carts and carriers and ERP systems including Amazon, Magento, Salesforce, Oracle, UPS, USPS, FedEx, and Microsoft Dynamics.
Additionally, some other useful features include space utilization, optimized picking, warehouse control, auditing, automatic replenishment, historical data, and returns handling.
Price: Starts at $4,000 per month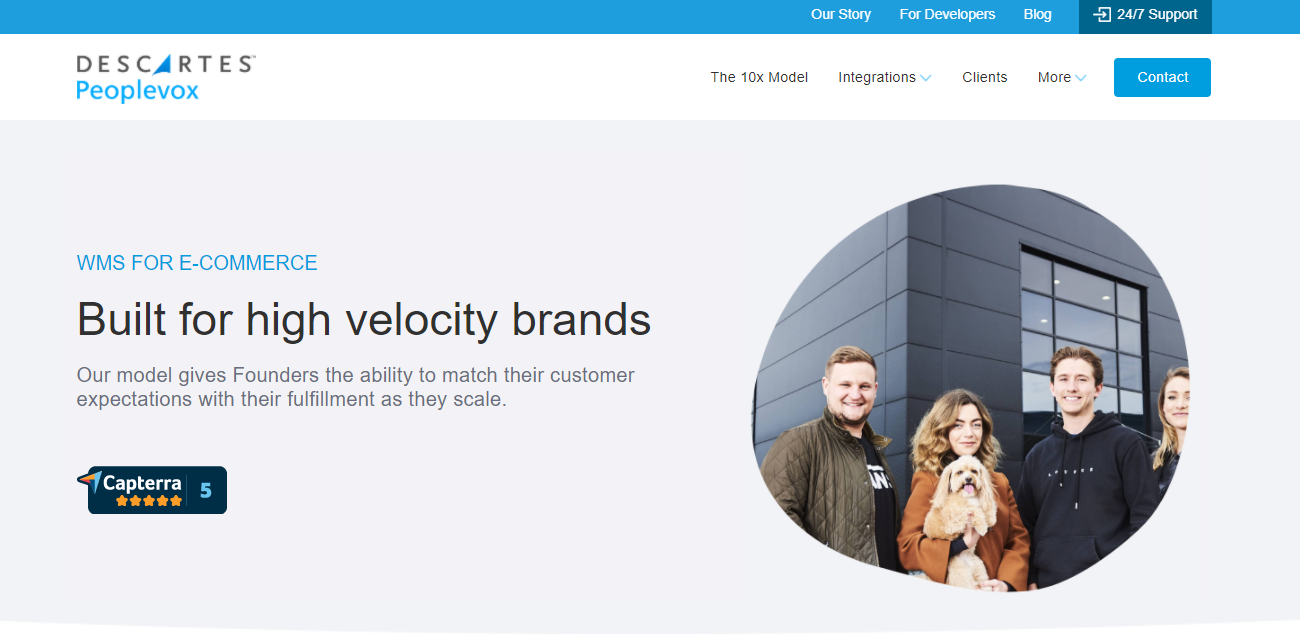 Peoplevox is a popular warehousing and supply chain management solution built for eCommerce stores. It supports integration with various ERP systems, shipping, and eCommerce platforms including WooCommerce, Shopify Plus, BigCommerce, Magento, Shippo, Sendcloud, Shipster, NetSuite, and Linnworks.
You'll be able to set rules that let you print different shipping information for each order. You can also create basic purchase orders using Peoplevox and export them via CSV to send to your suppliers.
In addition to this, Peoplevox lets you store more than one item in each location. You can also use it to assign items to multiple locations. Its multi-location warehouse management tools offer inventory data across multiple locations in real-time.
Moreover, you can easily toggle on or off exact steps in each workflow to suit your particular business requirements.
Price: £800 per month
---
Wrapping Up
Warehouse management systems are used by B2C companies of all sizes to optimize storage space, lower operating expenses, and increase inventory visibility across the supply chain.
Integrating your WooCommerce with a WMS helps eliminate manual and repetitive tasks through automation. As a result, you're able to increase productivity, improve shipping management, and optimize the supply chain.
Aside from using the best warehouse management system for WooCommerce, you also need to have a WooCommerce-optimized theme like Shoptimizer to deliver a great shopping experience to customers.