Did you know that recent studies show 18% of people don't trust stores with their credit card information?
Customers often perceive some parts of a page to be secure. For instance, you can customize the design of your eCommerce page and include trust badges to give your pages a more secure look and feel overall. This design format also influences customers' "gut feeling" about your eCommerce store's page security. Trust badges can also make the checkout page look visually more secure and reduce cart abandonment on your WooCommerce store.
In this post, we'll dive deeper into the basics of trust badges and see how effective they are for eCommerce stores.
---
3 types of trust badges on eCommerce stores
Trust badges are essentially badges or seals that you add anywhere on your eCommerce store to instil trust and a sense of security in customers or site visitors. While trust badges work great on checkout pages, you can also show them on the homepage of your eCommerce site. It lets site visitors know right off the bat that your site is legit and that you collect data through secure third-party service providers. In other words, the trusted third-party service provider has agreed to place their badge on your site thus ensuring that all data collection is safe and secure.
Displaying any sort of trust badge or seal on your eCommerce site will inspire a sense of security for your site visitors. Next, let's take a closer look at some of the most popular types of trust badges you can display on your eCommerce store:
#1: Security badges
Security badges are trust seals issued by SSL certificate vendors. They help customers on your eCommerce store feel more secure and safe when giving out their personal data or payment information.

A security badge is a great way to let site visitors know that your eCommerce store is fully SSL-protected and offers a secure way for users to purchase products online.
You can get security badges from the most popular SSL certificate vendors such as Norton, McAfee, and TRUSTe to show that your eCommerce site is encrypted with the SSL protocol.
#2: Third-party endorsement badges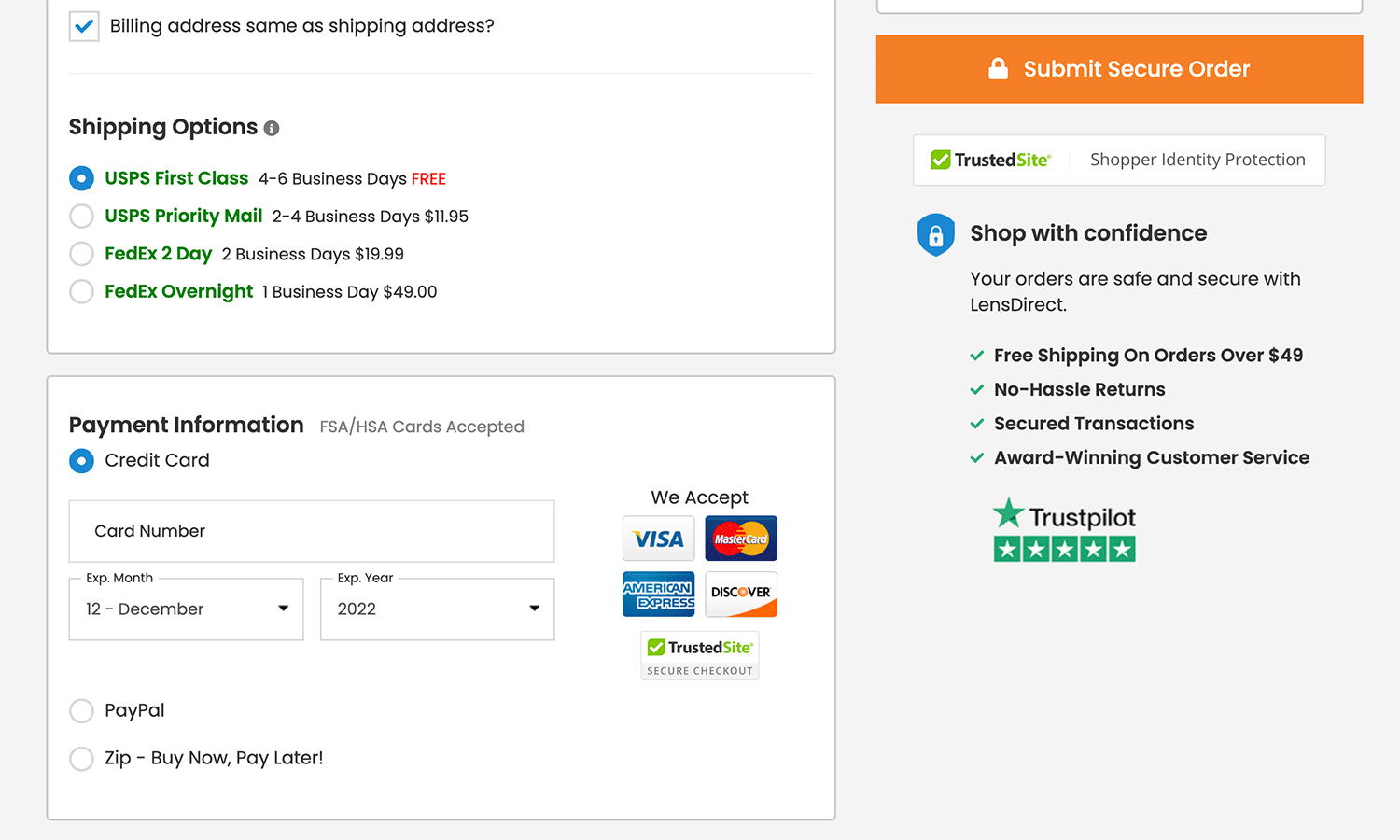 Third-party endorsement badges help you build more brand credibility with the help of an outside party.
The example above using third-party endorsement badges on their checkout page. You can use verification services to establish authenticity and instil trust in customers who are interested in making purchases on your eCommerce store. Some of the most popular third-party endorsement badges include Google Trusted Store and TrustedSite.
#3: DIY Seals
DIY seals are "home-made" trust badges that you can show on your eCommerce store.
These seals are not issued by any third-party service and can be completely designed or created in-house. For instance, you can display anything from a "Secure checkout" badge to a padlock that lets users know at a glance that your store's checkout is secure.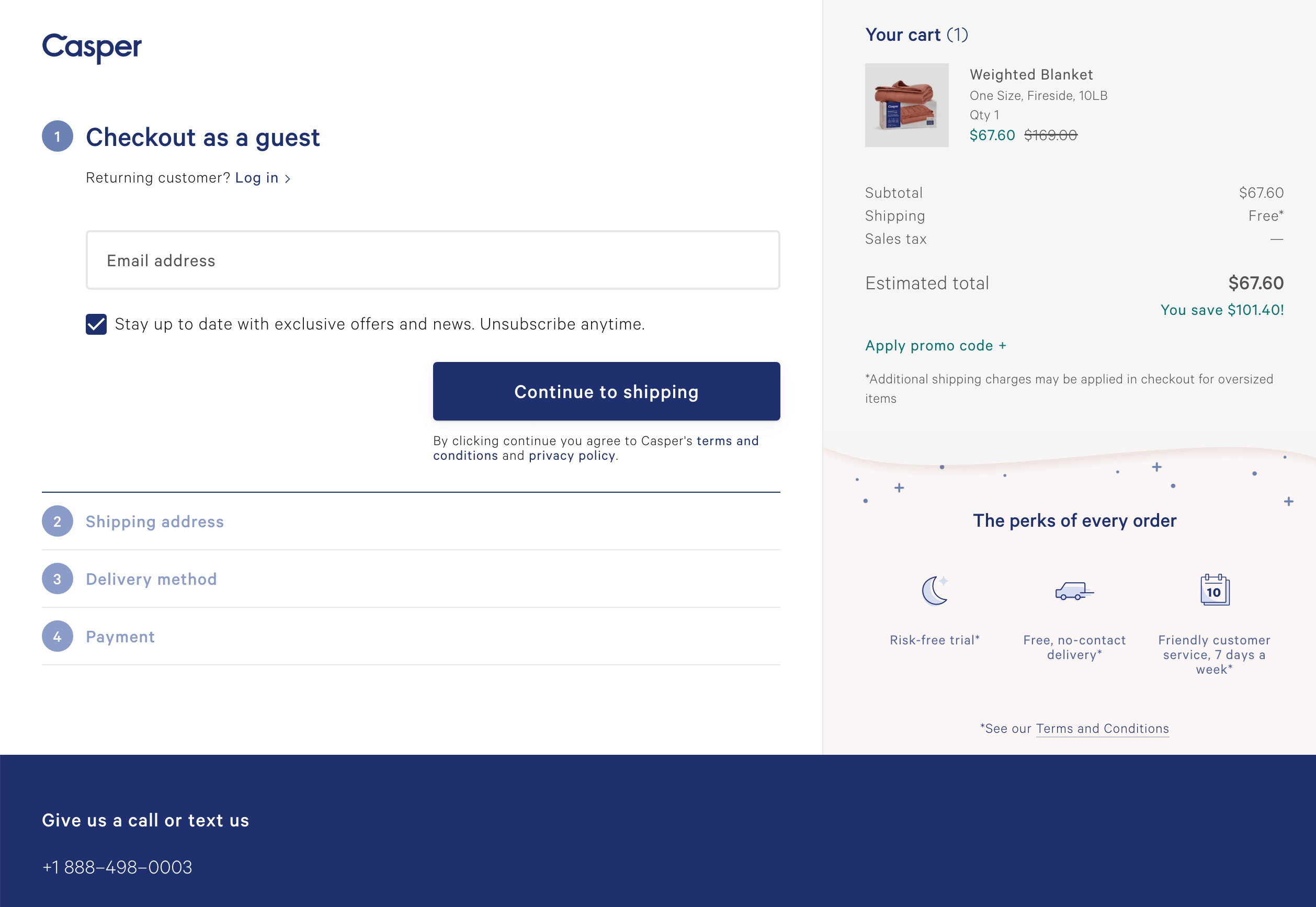 In the example above, Casper includes DIY badges to create confidence in the customer before ordering. Their badges cover "Risk-free trial", "Free, no-contact delivery" and "Friendly customer service, 7 days a week".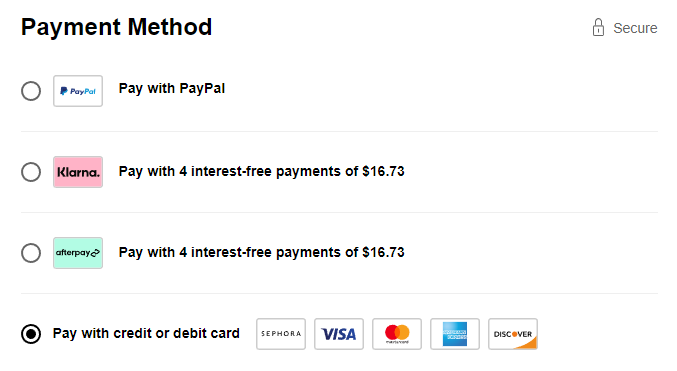 This way, you can display visually appealing, custom DIY seals on your eCommerce site and make claims about the security of your online store.
While these trust badges are completely made up, according to research done by Baymard Institute, remarkably a DIY seal performed better than the SSL seals tested. This means you don't have to rely on other types of trust badges if your DIY seal is good enough and instills trust in your customers.
Other notable trust badges
Let's take a look at some of the other eCommerce trust badges that can help you offer a more secure checkout experience:
Accepted payment badges
Showcasing accepting payment badges is also a great way to encourage more purchases on your eCommerce site.
For instance, if you accept Apple Pay payments, you can display a badge that shows your eCommerce store is Apple Pay-friendly. Similarly, you can display credit card logos or the PayPal logo to let customers know which payment methods you support.
Money-back guarantee badges
Customers who want to purchase products online will feel much safer if their money is fully protected with a "Money-back guarantee".
Displaying money-back guarantee badges encourages users to make purchases on your eCommerce site without having to worry. It also reminds your customers you'll refund their money if they're not happy with the product.
Free shipping badges
If your online store offers free shipping, the best way to showcase that is by using a free shipping badge.
It's a concise notification or reminder that lets customers know they won't have to pay any shipping fees. While online shopping is convenient, most users might abandon their cart due to high shipping costs.
This is why if your eCommerce store offers free shipping, it's worth displaying it on the checkout page (and your mini cart) using a free shipping badge. Our CommerceKit plugin even offers a free shipping notification option which highlights how far away you are from claiming free shipping on your current cart contents. This can also help you reduce cart abandonment and increase sales.
---
Which trust badges work best?
Different studies from some of the top institutions have been conducted to see which trust badges are the most recognizable to customers. Let's take a closer look at some of them:
The Baymard Institute conducted a research study on which trust badges perform the best on eCommerce sites.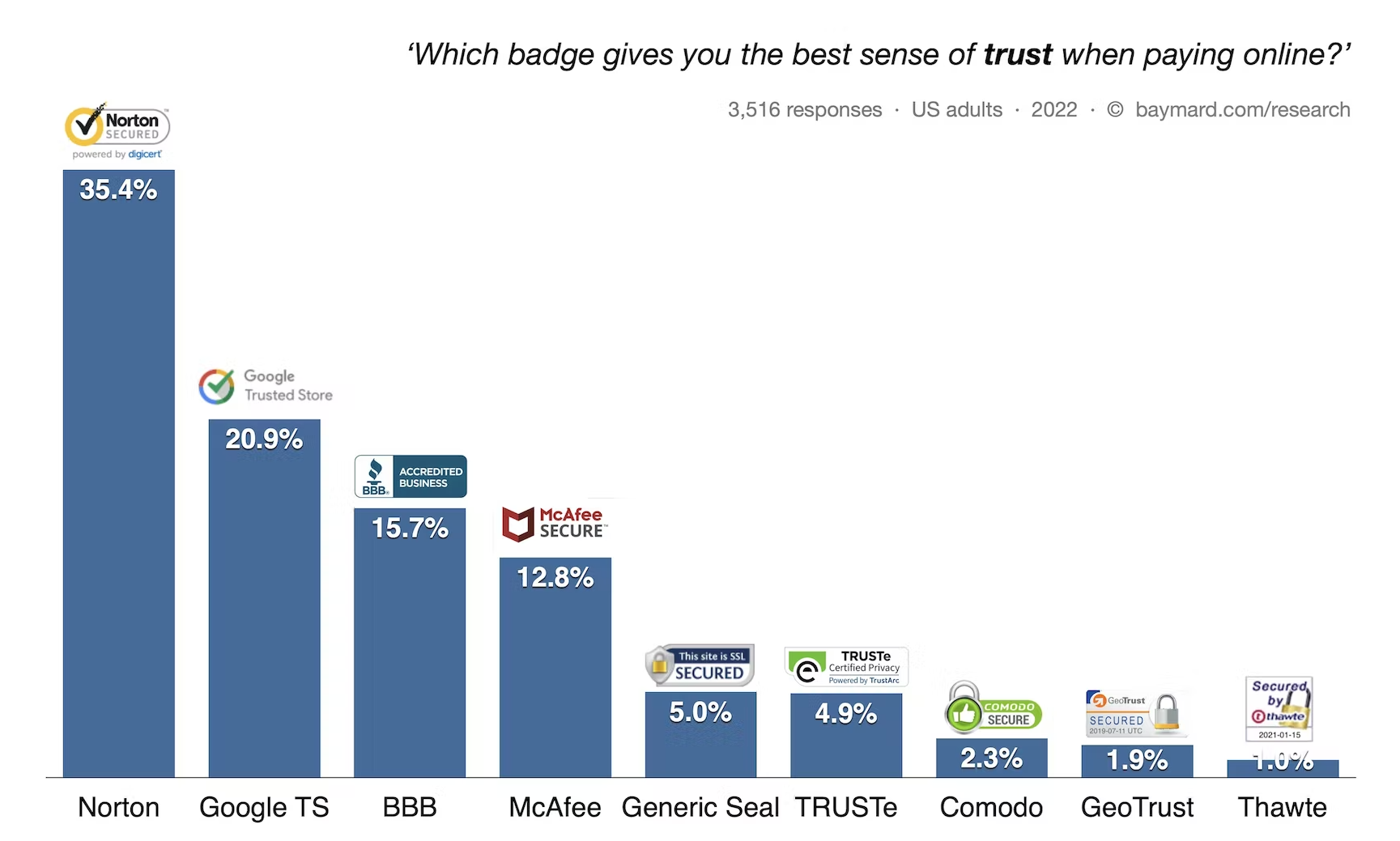 Users were simply asked which trust badges give the best sense of trust and security when shopping online. Out of 3,516 responses, 35.4% of users chose the Norton SSL trust badge, 20.9% chose the Google Trusted Store badge, 15.7% opted for the BBB Accredited Business seal, and 12.8% went with the McAfee trust badge.
This clearly shows that users trust the Norton SSL trust badge more than others when shopping online from eCommerce stores.
Tests conducted by the Baymard Institute from also included a completed DIY seal. The DIY seal performed significantly better than even SSL seals issued by established vendors (except Norton). What this means is that having a security badge, seal, or icon is what's important.
Another research study on how secure trust badges make customers feel by ConversionXL tells us about some of the most widely recognized trust badges.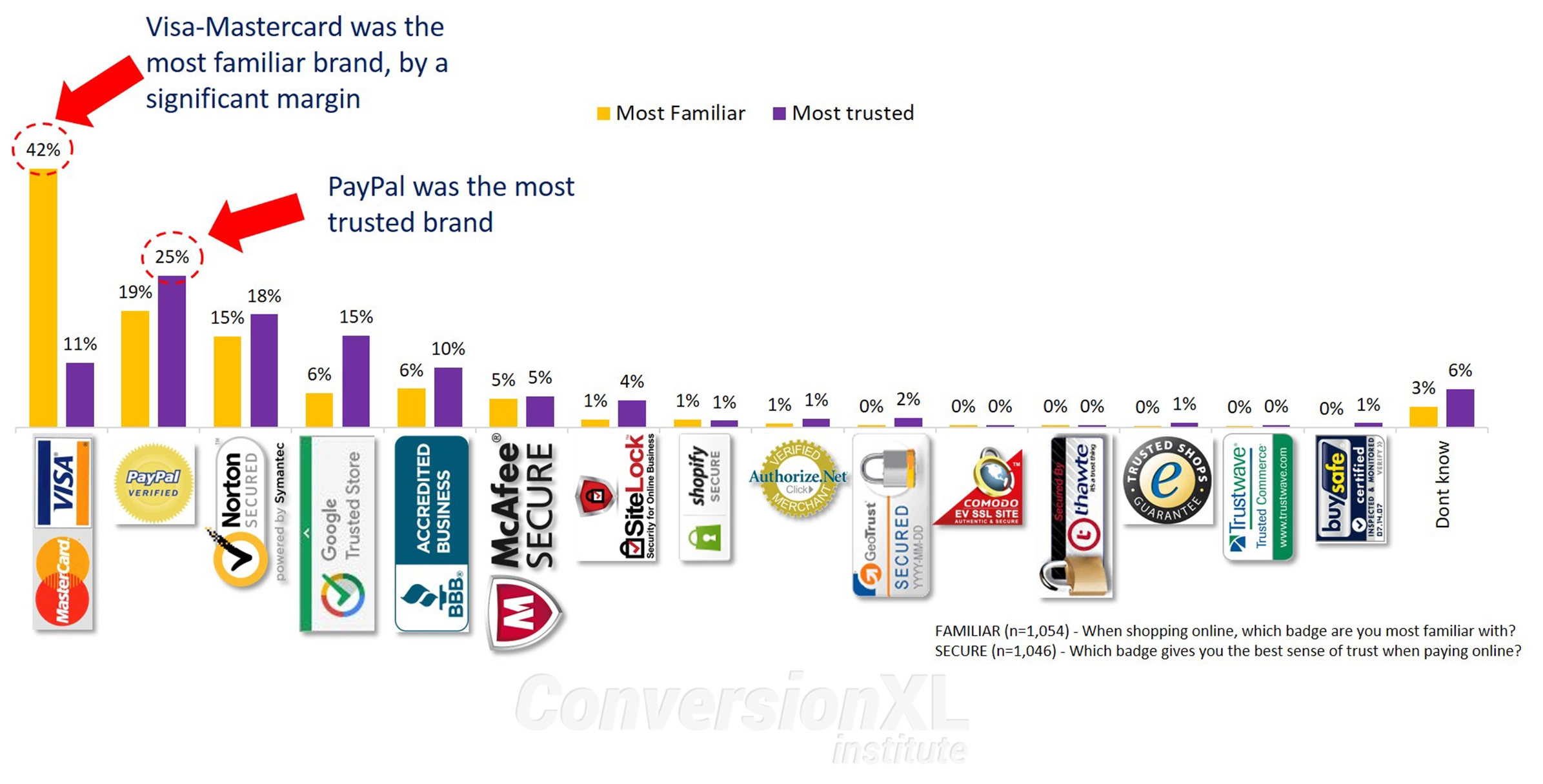 Among the top options chosen by users were PayPal, Norton, Google Trusted Stores, Mastercard/Visa, and TRUSTe. Similar to the study conducted by The Baymard Institute, it showcases that most users feel more secure with trust badges issued by the most well-known services.
Research from actualinsights that was conducted back in 2011 also offers some insightful information on the best trust badges to display on your eCommerce store.
They tested 20 different trust badges including PayPal, McAfee, TRUSTe, Authorize.Net, SSL Value, Rapid SSL, and ScanAlert to see which ones customers focus on the most when shopping online. Some trust badges that got the most recognition were McAfee, PayPal, Verisign, and Better Business Bureau.
---
Do trust badges on eCommerce stores actually work?
Let's discuss some of the major reasons why trust badges are important for any eCommerce store and go over some of the reasons why businesses need to display them.
Customers have payment security concerns
eCommerce stores face cart abandonment issues for a variety of reasons. Encouraging users to make purchases on your online store can be challenging. In fact, eCommerce store brands lose more than 75% of sales to cart abandonment and in some instances, it can go as high as 83.6%.
One of the major reasons for cart abandonment is payment security on your eCommerce store. If customers don't feel secure entering their payment information when checking out from your online store, there's a high chance they'll abandon their cart. In addition to this, if your eCommerce store does nothing to instill a sense of security, it also makes customers feel uneasy sharing their personal information with you.
This makes it even more important for eCommerce businesses to use trust badges and seals to let prospective customers know that their payment information will be secure.
Trust badges can help
Studies also show that there is a direct correlation between trust badges and the conversion or sales an eCommerce business experiences. A reputable brand, Blue Fountain Media, experienced a 42% increase in sales after adding a Verisign trust badge to their eCommerce store. That's almost double the sales by simply displaying a trust badge!
Similarly, Virtual Sheet Music increased its conversion rate by 31% after using a trust badge and experienced an additional 13% increase after using an SSL certificate badge. This means, more customers feel easy giving out their personal and payment information when they can visually see that the eCommerce site has SSL certification.
Another study conducted by the team at Clean Energy Experts shows that they experienced a 137% increase in conversions after displaying a trust badge.
The key takeaway from this is that adding a trust badge will build more trust with customers and can lead to an increase in sales or conversion for your eCommerce brand.
Should you use a trust badge on your eCommerce store?
The short answer is: yes.
Trust badges are essential for any eCommerce store, especially for small businesses that may have a hard time building their credibility or backing up claims.
Big-name brands like Amazon have already built trust with their customers and convincing them to make purchases at this stage is easy. On the other hand, small businesses and eCommerce stores that aren't as established may find it important to use trust badges to build trust with customers and ensure their personal information or payment information is secure.
This further validates that small eCommerce stores and businesses benefit greatly from using trust badges and helps them build more credibility.
Where should you add a trust badge to your eCommerce store?
Once you've figured out which trust badges you want to display, deciding where to showcase them can be a challenge. The most important pages are the checkout page, product page, and any page where you ask customers for personal information.
The cart and checkout page
Displaying trust badges on the cart and checkout page of your eCommerce store can help you reduce cart abandonment. Since most users abandon their carts from these pages, a trust badge can help them feel more secure and prevent them from bouncing off your eCommerce site.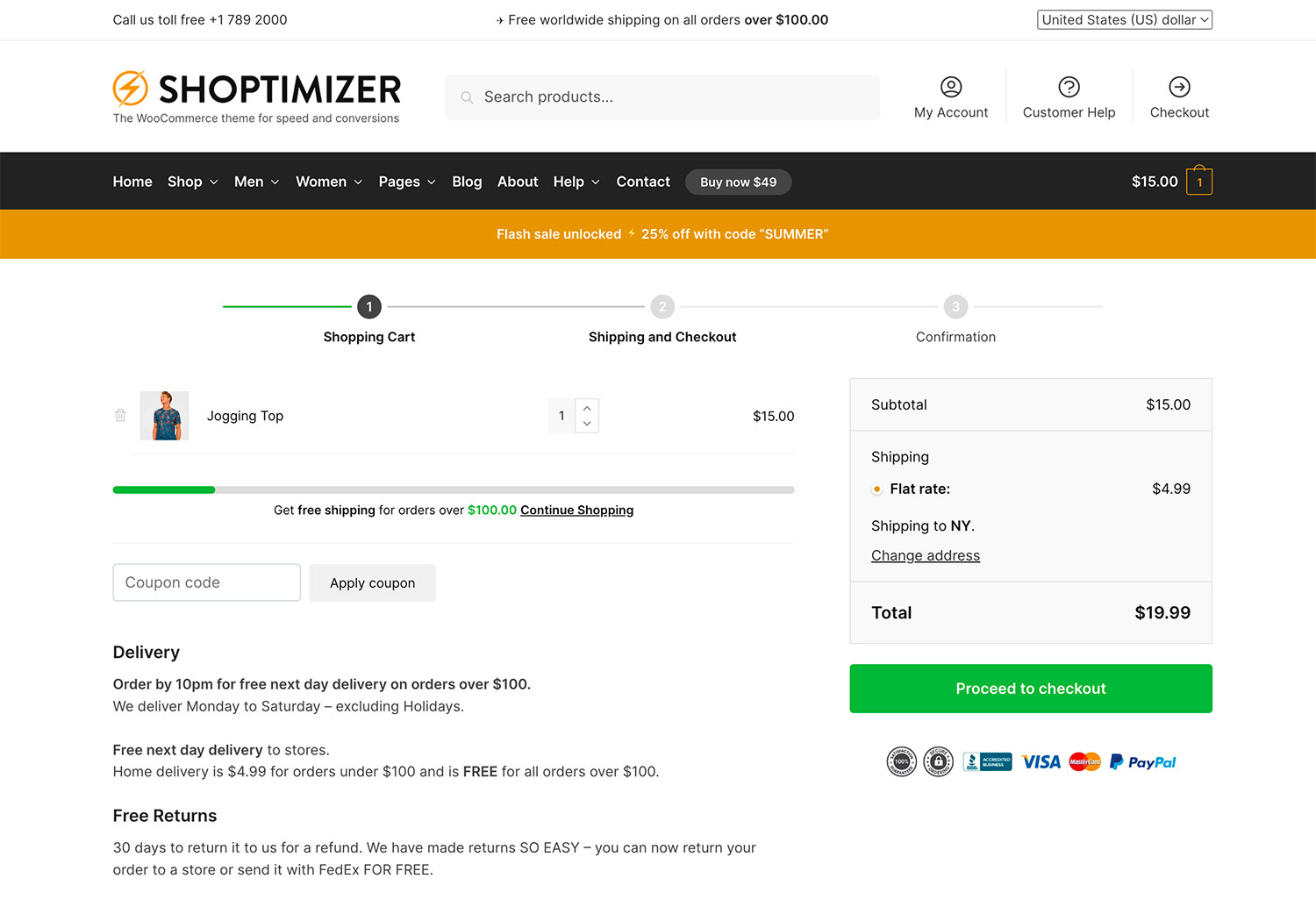 It helps develop a sense of trust at the most important stage in the checkout process. Ideally, you want to display the trust badges or seals near the checkout button so that it grabs the shopper's attention and convinces them to fill out their details and place their orders.
Product pages
In addition to this, if you sell products on your eCommerce site, you might also want to display trust badges on product pages.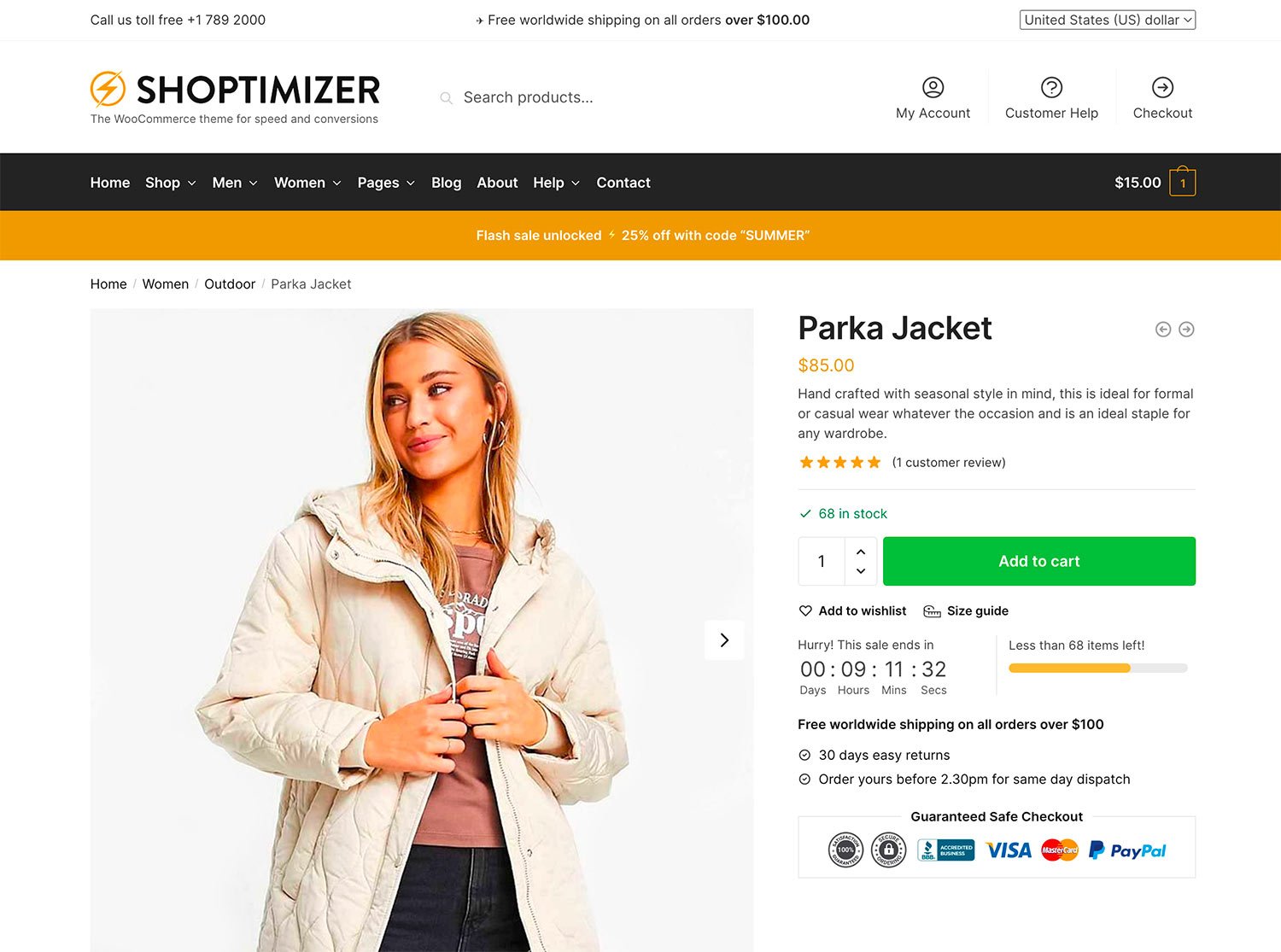 Since customers will visit the product pages to add items to their shopping cart, it can help make them feel more at ease. It's also an effective way of nudging your customers toward the checkout page and reduces cart abandonment on your eCommerce store.
Any page where you ask for personal information
If your eCommerce site offers user registration or newsletter registration, displaying trust badges on these pages can help you get more sign-ups. Since a trust badge helps users feel more at ease, they will trust your brand with their personal information such as their full name and email address.
---
How to add a trust badge to your WooCommerce store
While you can add trust badges to your WooCommerce site by editing the code in your child theme, it's not always the best idea – especially if you don't have experience with coding.
It's much better to use a theme like Shoptimizer. The theme suggests three key spaces for displaying trust badges.
The first place to display a trust badge is on your shop's product pages which all shoppers visit to add products to their shopping carts. You can enhance the shopping experience and create a sense of security in your online store well before customers reach the checkout page. This little nudge can be the difference between customers abandoning their cart and checking out with their order.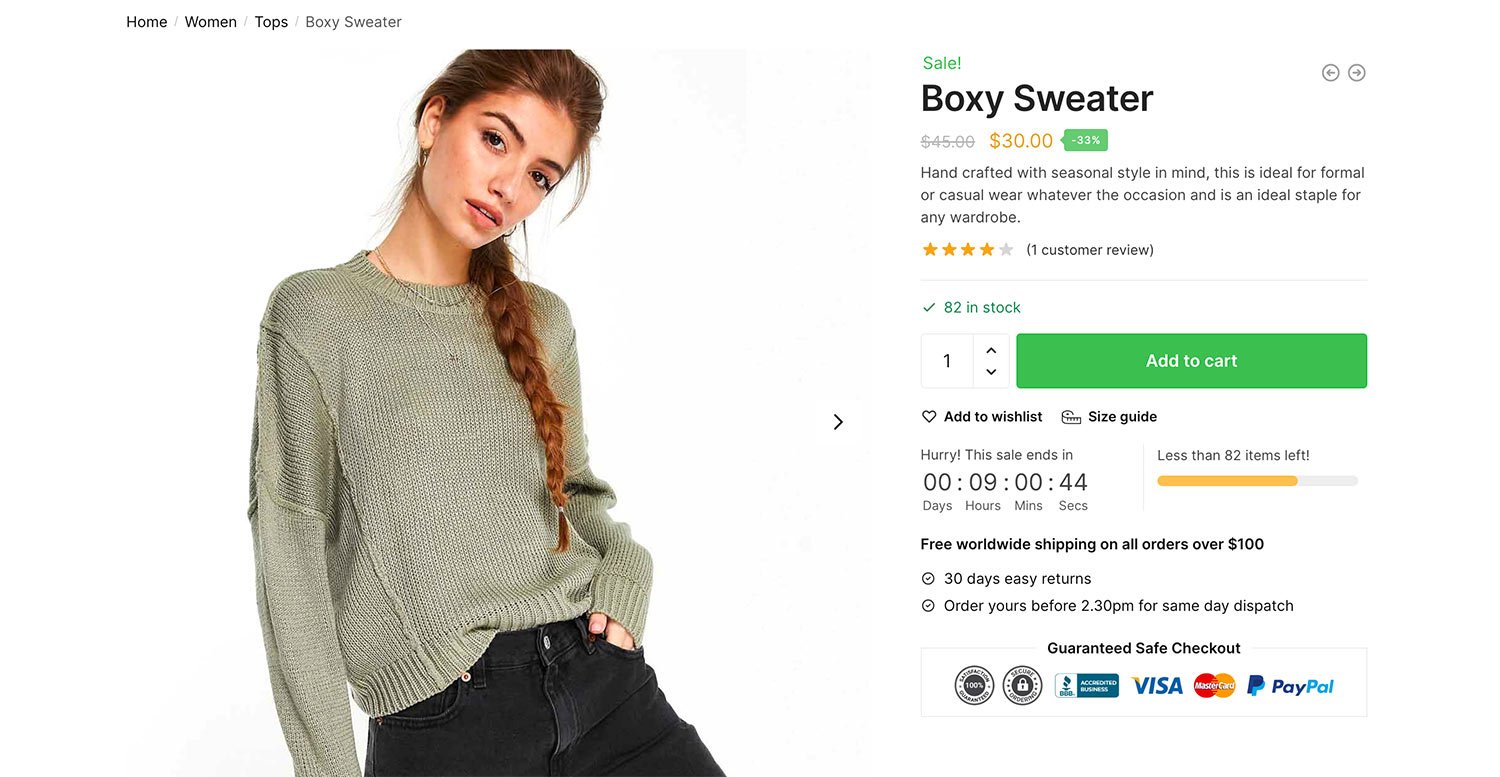 Shoptimizer also lets you display trust badges on the cart and checkout pages to ensure customers feel at ease entering their personal information and their payment details.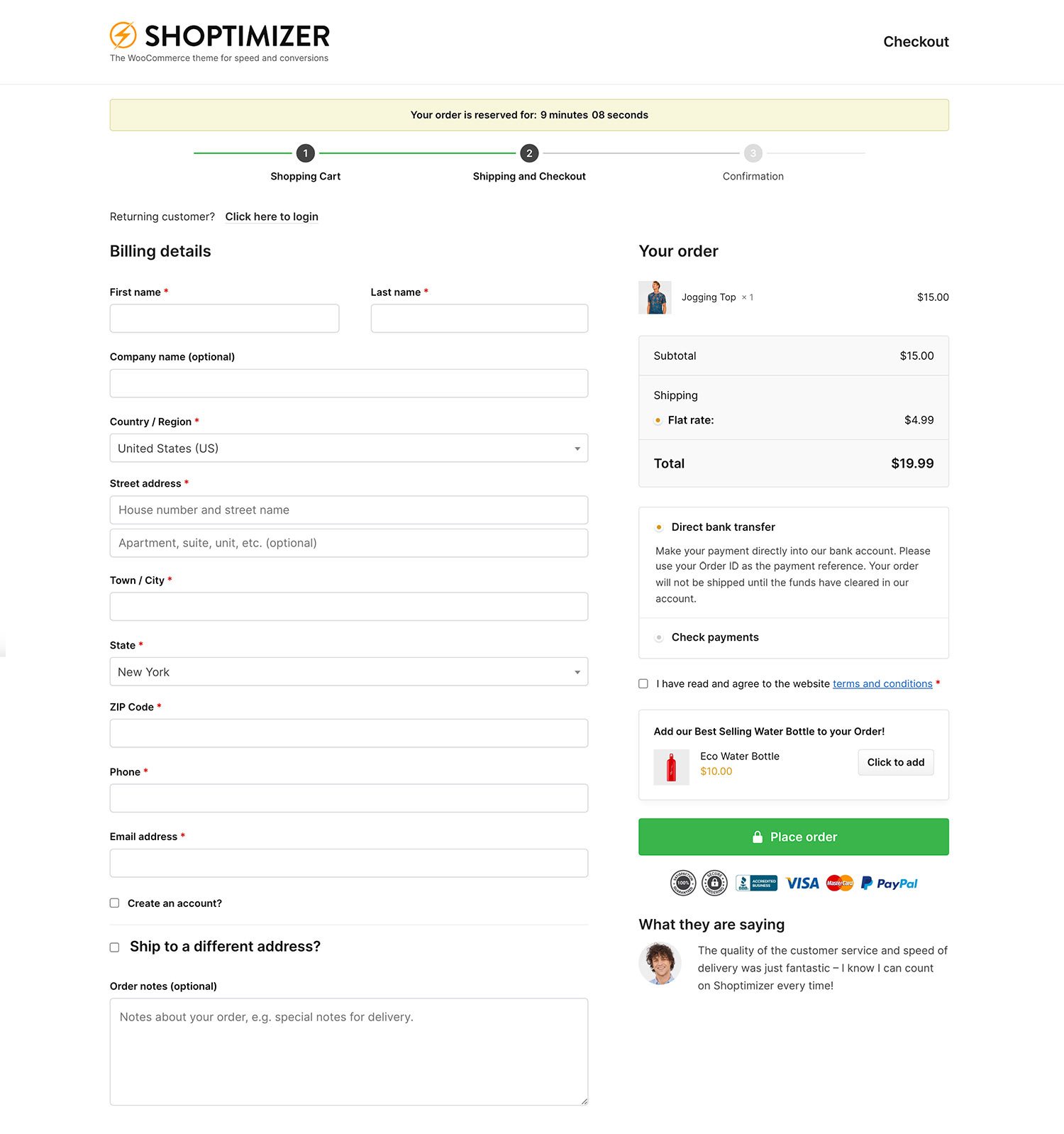 This way, customers will be more likely to perceive your online store as being secure.
It's important to understand that you first have to purchase the trust badges from relevant vendors and go through the verification process before you can display them on your WooCommerce site. All demo data within Shoptimizer is purely placeholder content, intended to be replaced.
For example, if you want to display Visa, Mastercard, and PayPal badges on your eCommerce store, you need to ensure that your online store supports these payment gateways and your checkout allows customers to complete an order using these methods.
---
Conclusion
Customer trust is one of the key elements that determine the success of your eCommerce store. Many customers have a hard time trusting new or small eCommerce stores with their personal information, especially if it's their first time. This makes it even more important for small businesses to use trust badges on important pages of their online store.
You can display multiple types of trust badges including security badges, third-party endorsement badges, and DIY seals to make your eCommerce store seem more secure and trustworthy. The best places to display trust badges are the cart, checkout and product pages of your eCommerce site.
Do you use trust badges on your eCommerce store? If not, why not? If you do, have you noticed an uptick in conversions afterwards? Let us know in the comments below.