Some exciting news for WooCommerce users popped up in our news feeds yesterday evening. WooThemes just announced the release of a brand spanking new iOS app for WooCommerce.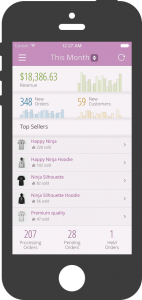 The new iOS app is an interesting development for WooCommerce users as it means you should now be able to manage your shop on the go via your smartphone via a mobile optimized user experience.
Developed in partnership with the WooCommerce tech wizards over at SkyVerge, it's clear that a serious number of man hours went into the creation of the initial release of the app. The SkyVerge crew have taken full advantage of the relatively new WooCommerce REST API to power the iOS app. Without the REST API I imagine the development time for this app would have been a much more time consuming task. SkyVerge continue to work with WooCommerce to extend the Product side of the REST API which will no doubt allow the iOS app to be quickly extended in future releases. The onboarding/setup process for the app is similar in many ways to the main WordPress iOS App and means it should be pretty straightforward to non technical WooCommerce users to get setup with the new app quite quickly.
Feature summary
Simple setup process powered by the WooCommerce REST API.
Concise mobile optimized Dashboard.
Full access to WooCommerce product catalog and product details.
Full access to all WooCommerce order summaries and order details.
Support for up to 4 stores at present. (The team have confirmed this will be expanded in the near future as the REST API expands.
WooCommerce for iOS – Initial impressions
I've not had a lot of time to use the app in detail yet but initial impressions are very good. The user interface has been carefully crafted by James Koster and plays to the strengths of iOS interface guidelines best practices.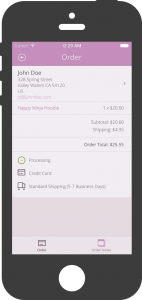 I can see this being a really useful app for shop owners who are constantly on the move. Like all good smartphone apps it's important to identify how use cases translate to a smartphone device from the desktop. I think SkyVerge and WooThemes have done a great job at considering this for their initial app release. I suspect as a store owner that I would benefit most from the ability to manage and process orders on the go. That is a clear cut winning use case for a WooCommerce iOS app. I'm not certain that a smartphone device is the best place to manage a product catalog but again it would be useful for quickly monitoring and managing stock levels on key items.
Currently the app is iOS only. I think this is a smart strategy as time will tell if there is demand for an Android version. Some people have also balked at the fact that the app costs $4.99. In my opinion that's simply nonsense. It's a drop in the ocean compared to the value the app is delivering and represents a very fair price for what could become a critical aspect of a WooCommerce store owners daily workflow.
I'd love to know more about the design and development process that WooThemes and SkyVerge undertook to create the app, the challenges they faced during the process and what the future holds for the app. With services like AppPresser becoming more mature I think it's only a matter of time before we see more and more interesting smartphone applications appearing for WordPress plugins like WooCommerce. In fact AppPresser has already got an eCommerce bundle which allows you to create pretty cool iOS apps for WooCommerce on the frontend. WooThemes also featured an AppPresser case study back in April.
Congrats to WooThemes and SkyVerge on the launch of WooCommerce for iOS!