If you've decided to use WordPress for your business website then, chances are, you're also using WooCommerce to power your online store. WooCommerce is a free eCommerce plugin for WordPress that's designed for small to large-sized businesses. In addition, there are hundreds of free and paid extensions that online sellers can use to grow their business.
According to BuiltWith, over 3.8 million websites use WooCommerce. However, since the WooCommerce plugin is open-source, it's difficult for store owners to get support for the plugin.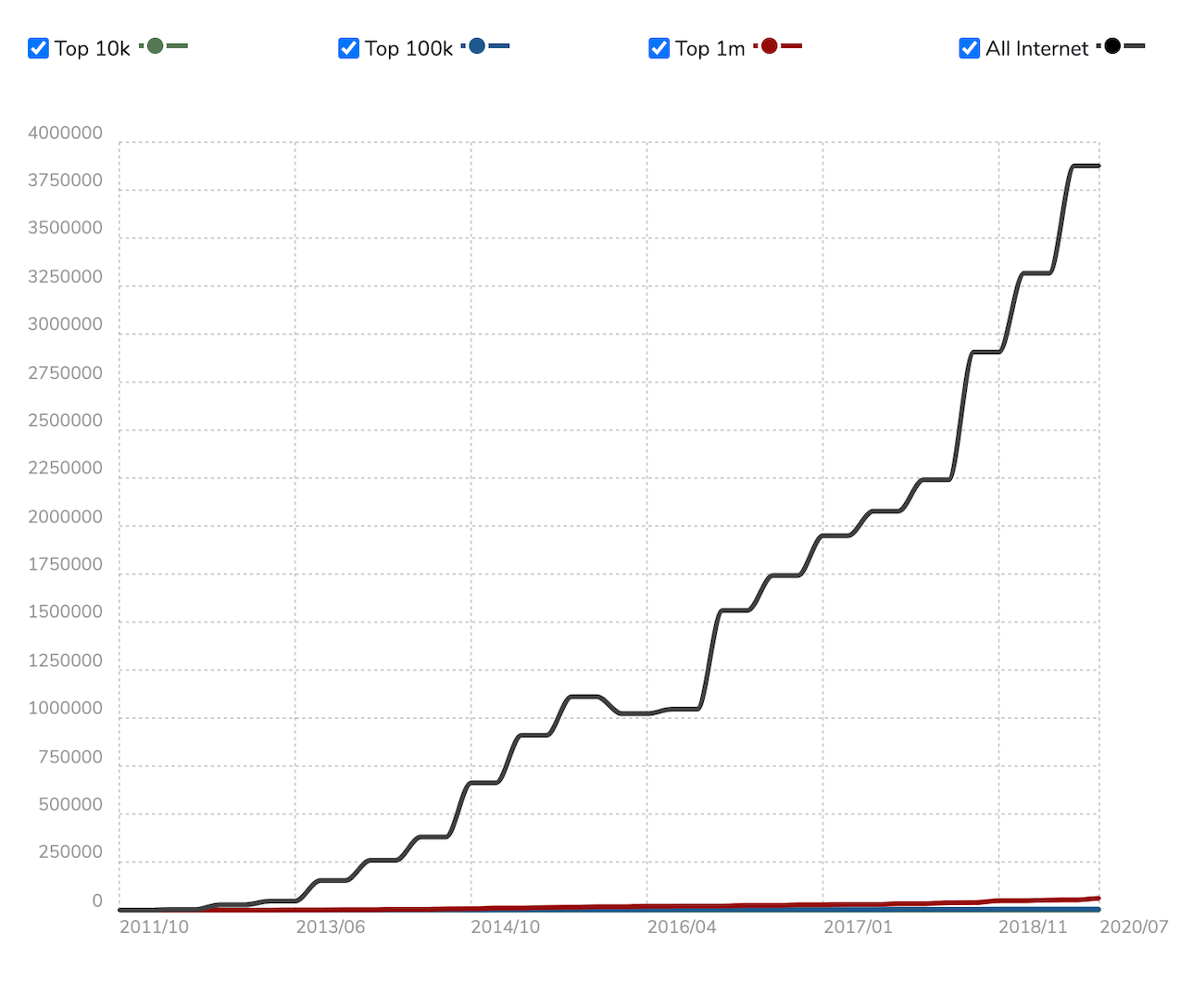 The good news is that there are plenty of other ways to get WooCommerce support for your online store since the WooCommerce community is large and active. You can refer to forums and documentation, enlist the services of a WordPress maintenance company that offers WooCommerce support, or purchase an online course.
With this in mind, in this article, we'll share some of the most popular WooCommerce support channels as well as different ways to get custom development for your online store.
How to Get WooCommerce Support for Your Online Store
As we mentioned earlier, WooCommerce is an open-source eCommerce plugin for WordPress. This means that there isn't an official support channel where you can go to submit a ticket for any issues you encounter with your online store. However, there are plenty of different platforms and websites that offer WooCommerce support.

Here are some different ways to get WooCommerce support for your online store: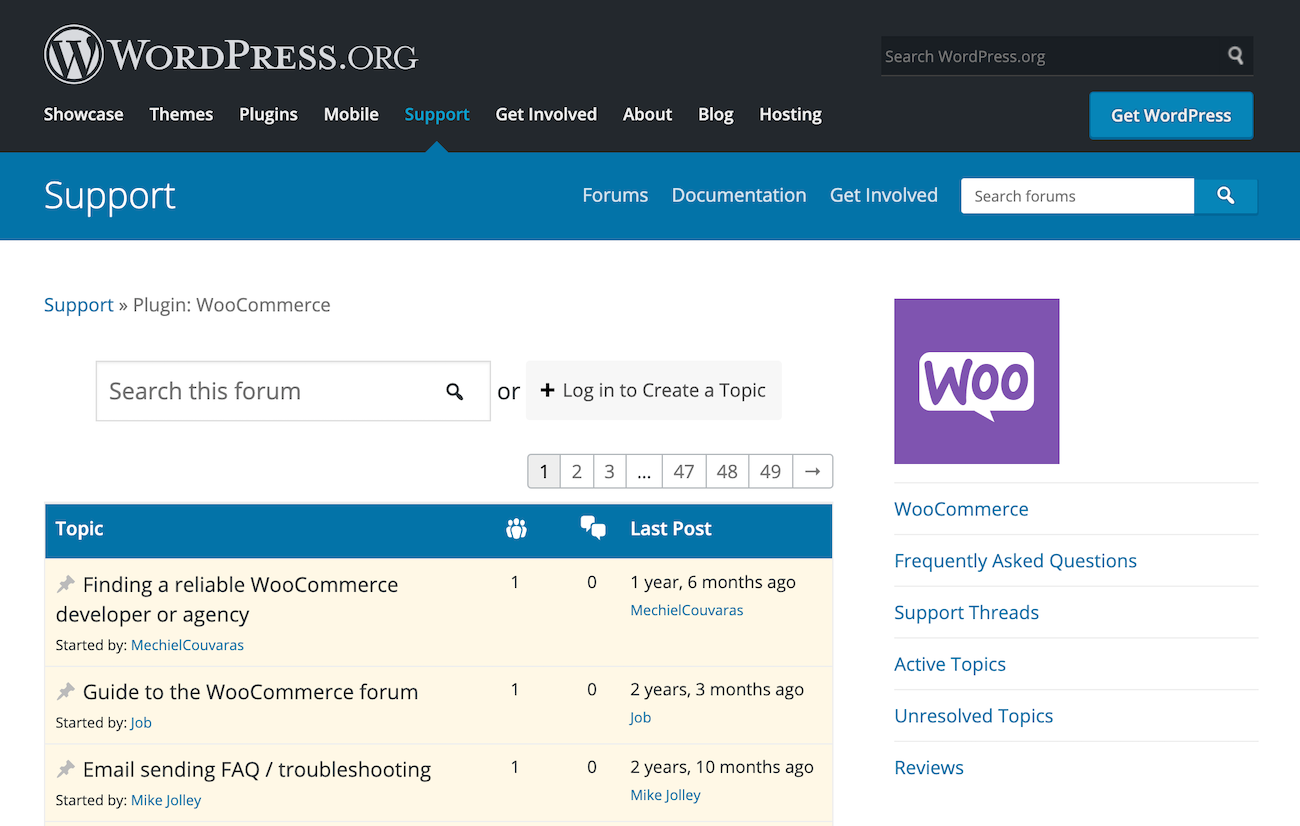 Since the WooCommerce plugin is free to download, you can get it from the official WordPress plugin repository. And, like all free WordPress plugins, you can get support from the community by going to the Support tab and creating a forum post.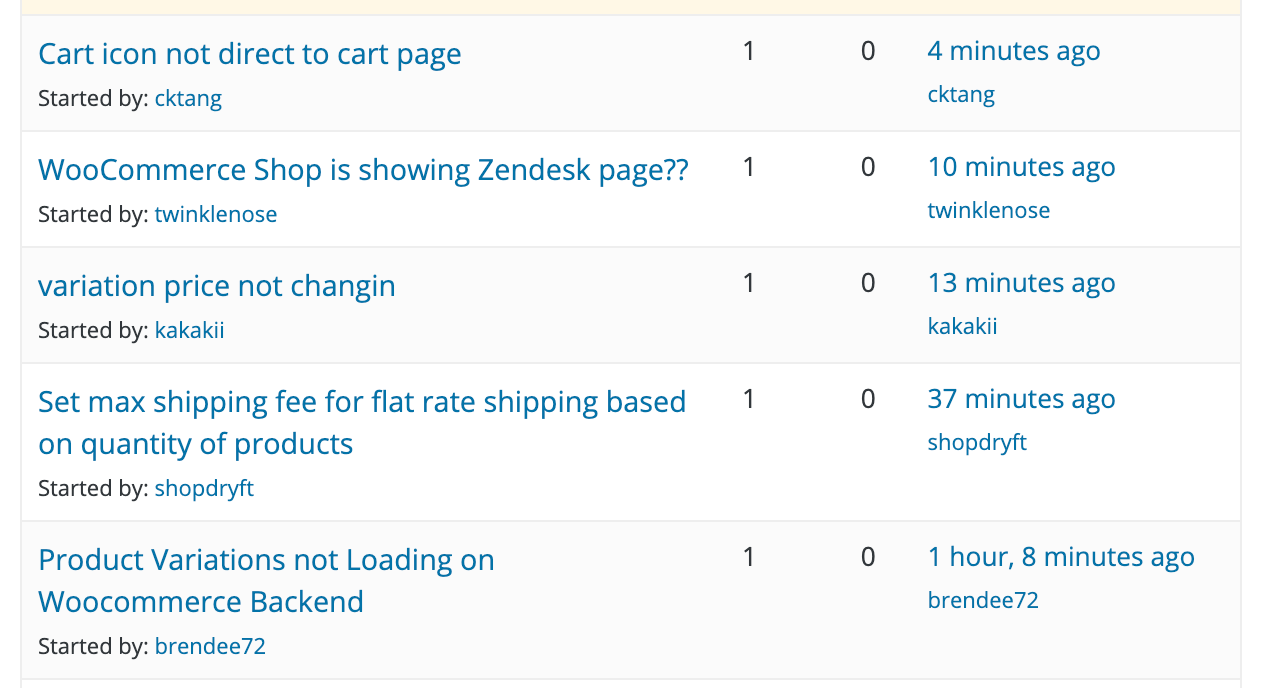 You can search the forum for a topic or login to your WordPress.org account to create a new forum post. At the time of this writing, the latest forum post was created four minutes ago.
For example, if you were having trouble bulk editing product prices by percent, you would simply run the search query through the support forum to see if anyone else has posted about a similar issue. This is the simplest way to get WooCommerce support for your problem.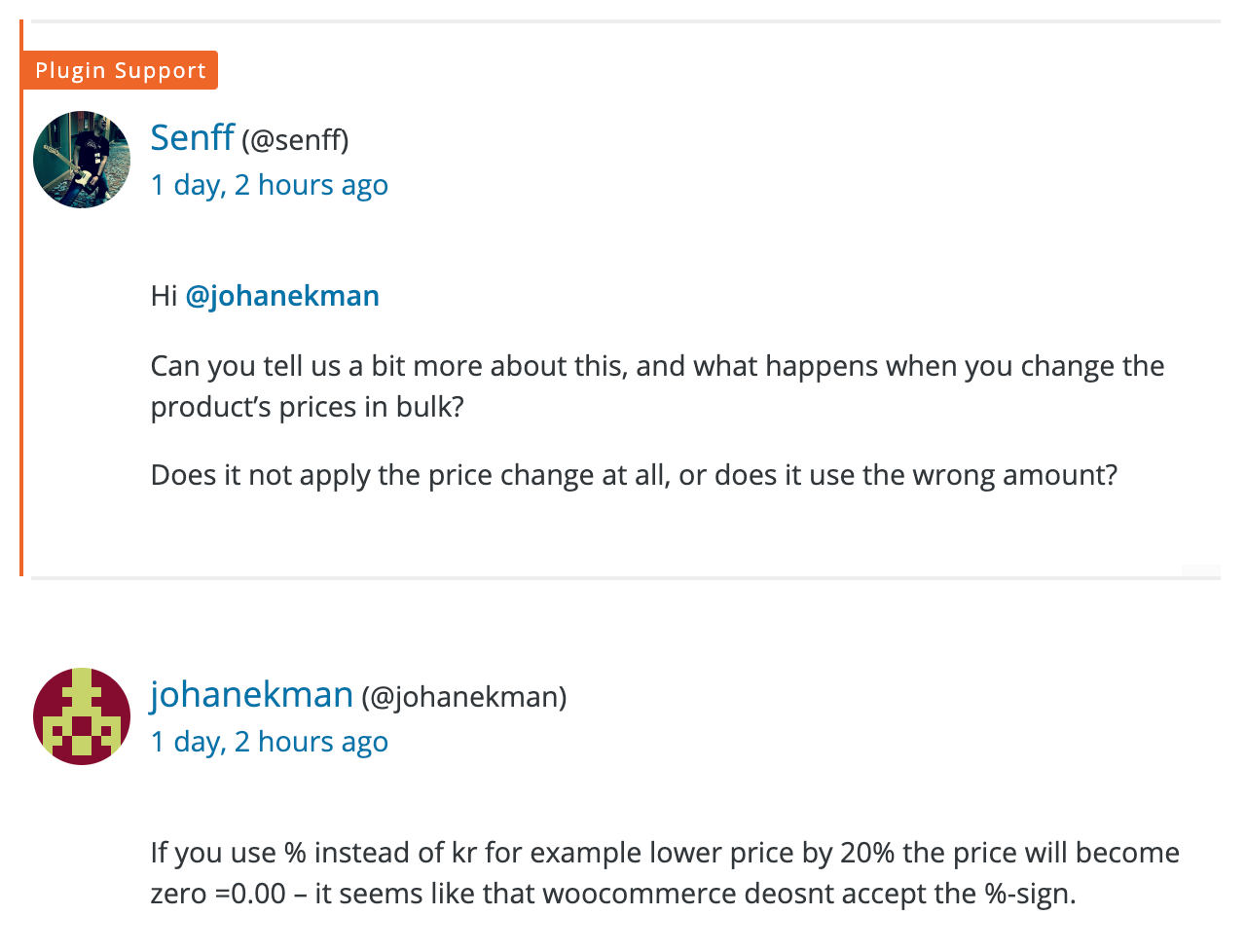 However, if no one on the forum has faced a similar issue before, you'll have to create your own forum post and wait for Plugin Support or a community member to respond to your query. You can choose to have responses sent directly to your email. The WooCommerce community is pretty active so you can expect to get a response within a day or so.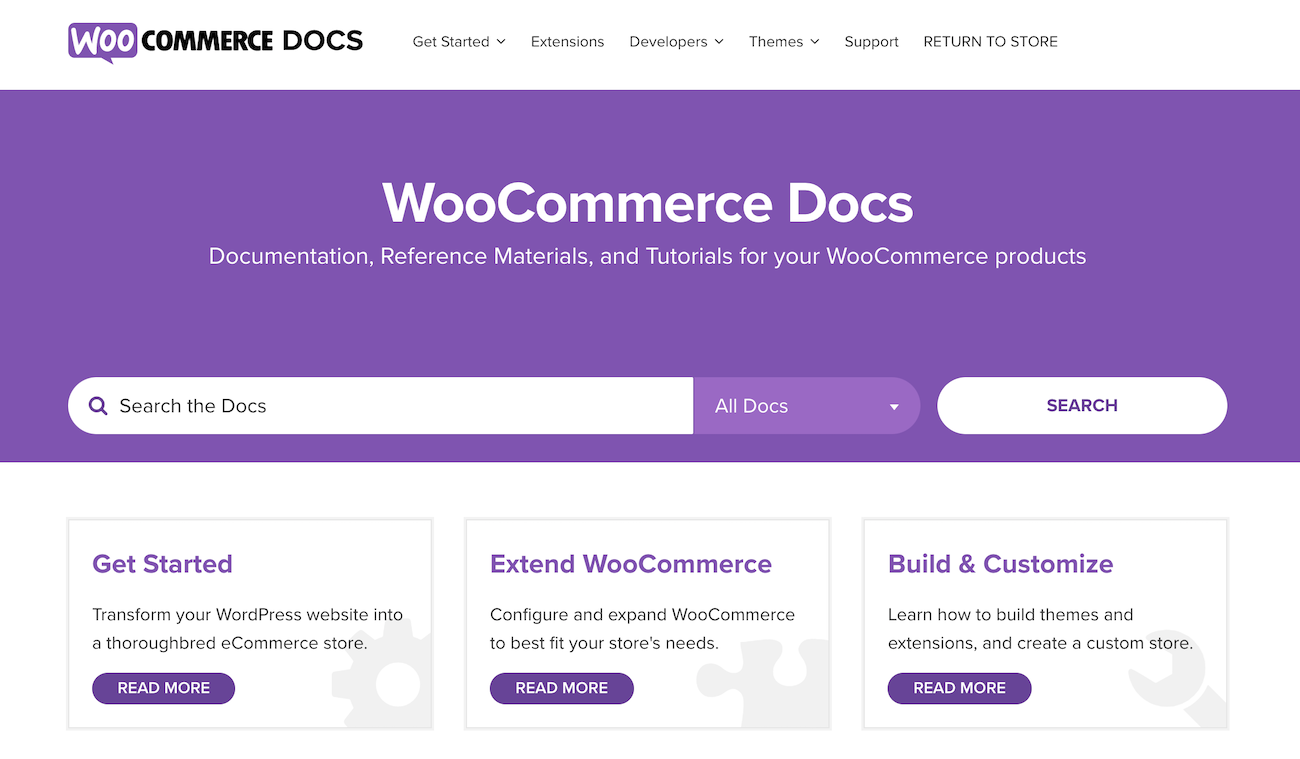 The WooCommerce.com website has a separate Documentation section that's useful for getting up and running with the eCommerce plugin. You can also find developer documentation which is useful for anyone looking to extend the core plugin's features.

You can use the search bar to search through the documentation quickly or browse through the different topics. The getting started with WooCommerce topics cover everything from installation to selling products and shipping options.
For example, if you wanted to learn about Setting Up EU VAT Rates for Digital Products, you would find documentation complete with step-by-step instructions, resource links, and screenshots. This is perfect for store owners and shop managers that may need help with basic WooCommerce configuration.
Note: It's worth keeping in mind that the WooCommerce Docs cover only a limited number of topics.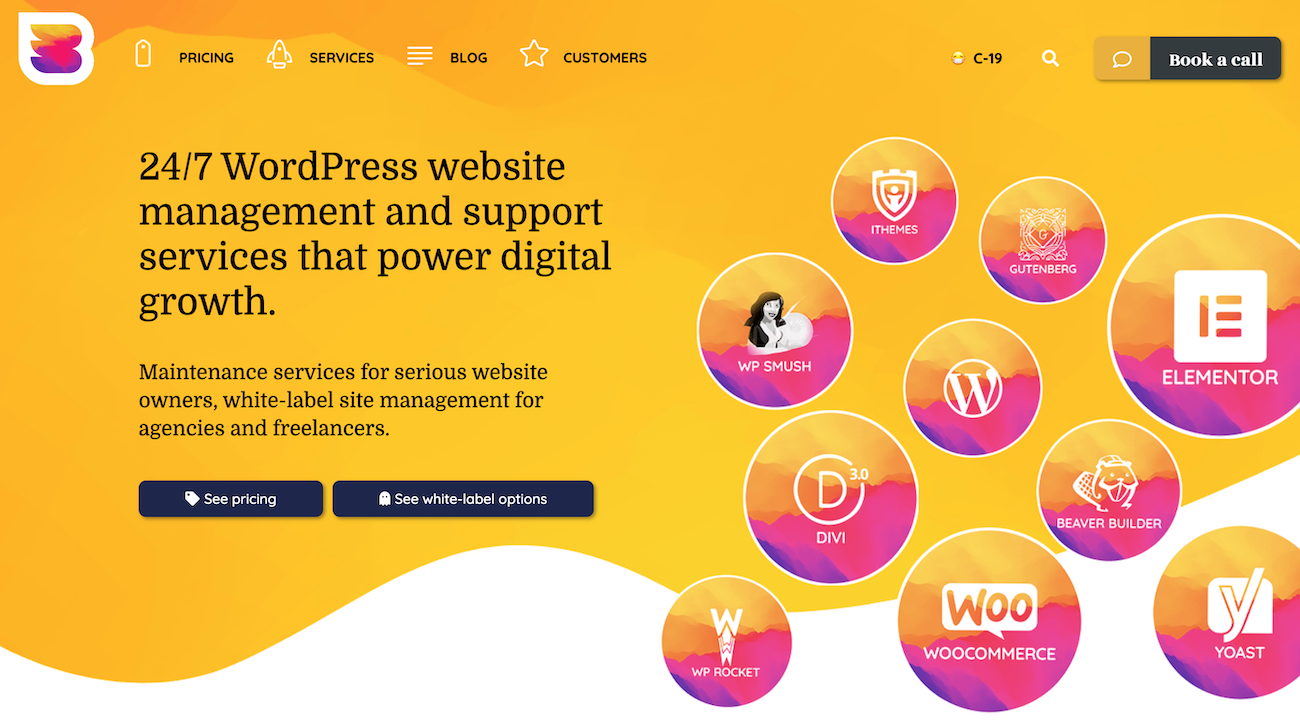 WP Buffs is a 24/7 WordPress website management and support service provider. You can sign up for a care plan or maintenance package for your WooCommerce store. The experts behind the scenes offer priority support for websites with eCommerce functionality as well as speed optimization, mobile optimization, cloud backups, and malware removal.
In addition to this, WP Buffs also provides website edits and troubleshooting conflicts directly with plugin companies. So, if you run into a plugin conflict with WooCommerce, the team will help you resolve it. For example, if a WooCommerce add-on isn't playing nice, the WP Buffs experts will get in touch with the add-ons developers to find a fix. This way, you don't have to worry about the technical side of website maintenance and can focus on growing your business.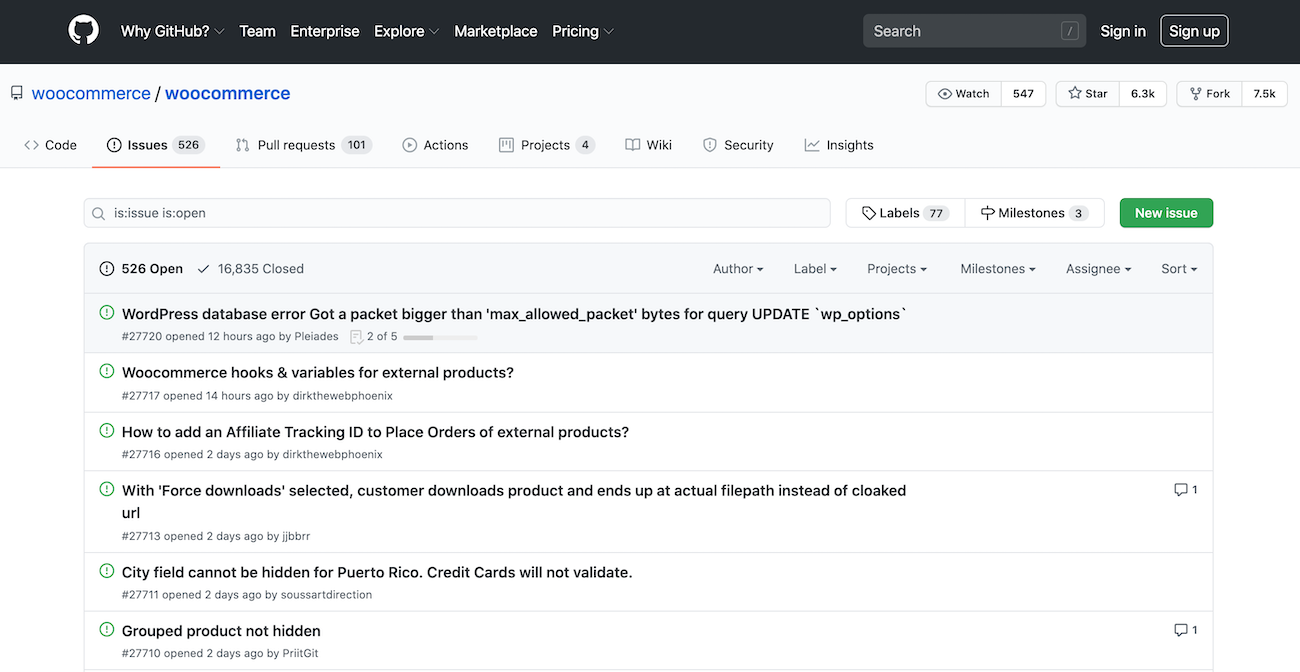 WooCommerce Github has an Issues section where users can post any issues they're facing with custom WooCommerce code. For example, if you're having a problem with adding an affiliate tracking ID to place orders then the WooCommerce Github would be the best place to ask for support.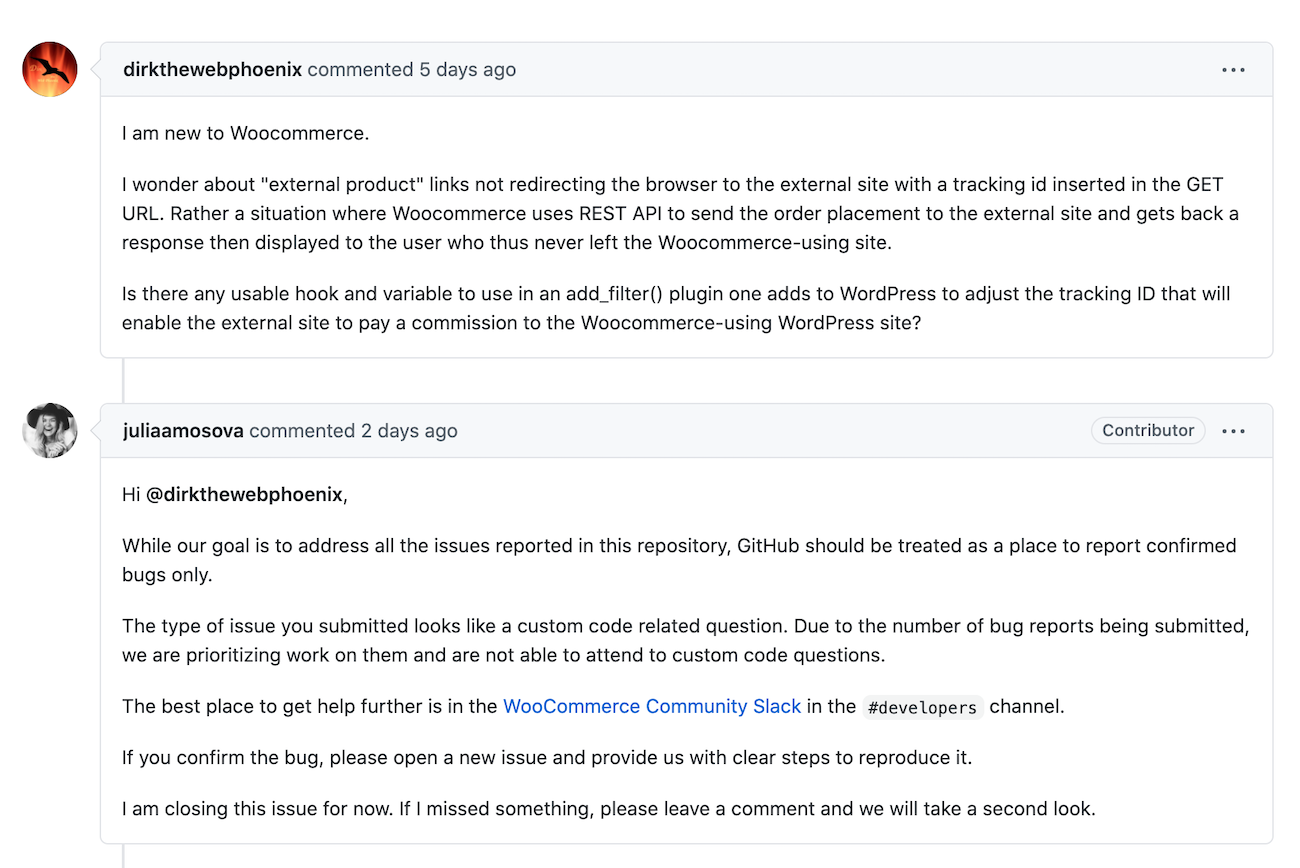 It has an Open and Closed section for issues that are still being resolved and issues that have been resolved. It's a good idea to search both sections on the WooCommerce Github to see if someone else has already posted about it before creating a new post. You can add images and screenshots to your posts to better explain your issue. Once you've posted an issue, you can expect to get responses from other WooCommerce Github members.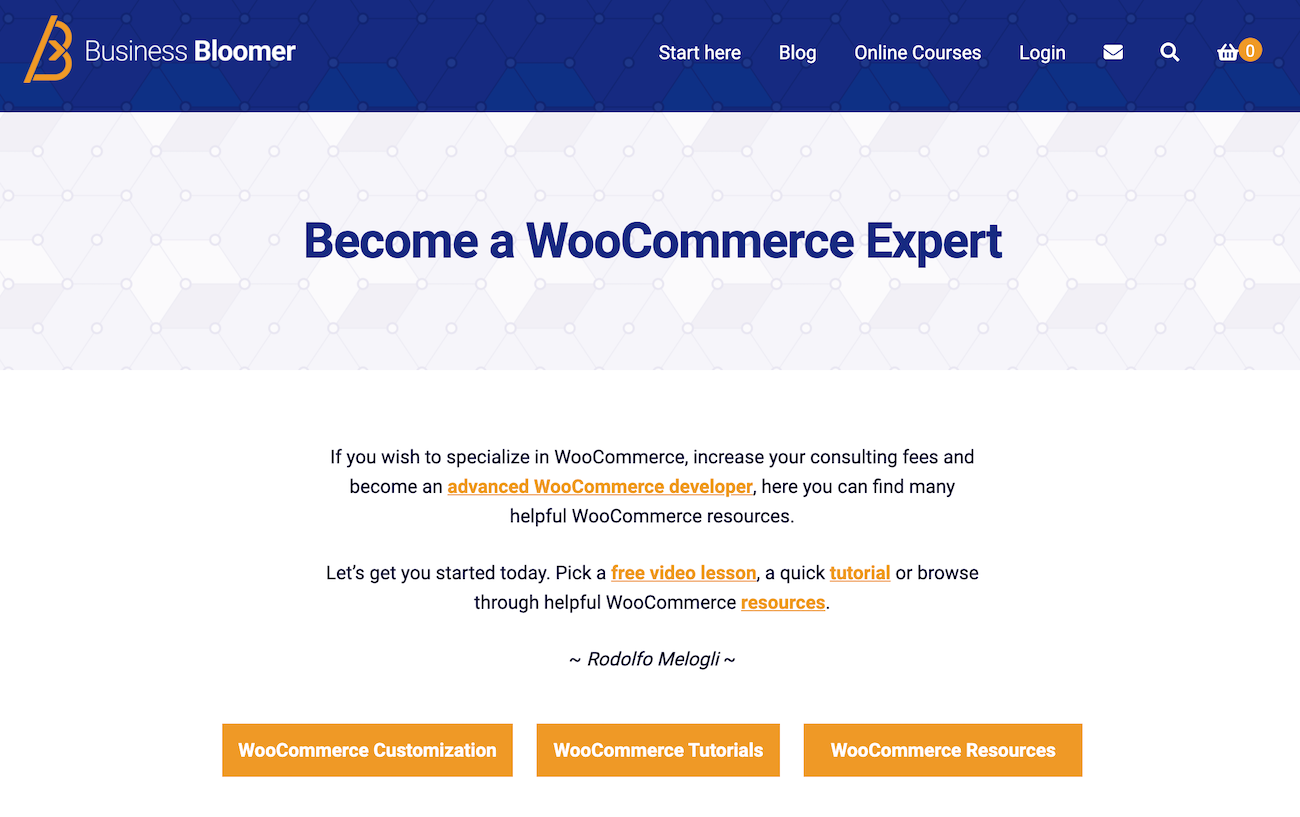 Business Bloomer helps WordPress users, aspiring developers, and online store owners become WooCommerce experts. The website has resources, videos, and online courses on WooCommerce customization, tips, snippets, tutorials, visual hook guides, and PHP coding shortcuts.
In addition to this, Business Bloomer's founder, Rodolfo Melogli, also publishes blog content regularly with WooCommerce tips and tutorials which is free to access. The website is perfect for DIY users who'd like to learn more about WooCommerce and how they can customize their online store without hiring a developer. You can also purchase an online course to become a WooCommerce expert yourself!

Recommended by the official WooCommerce website, WooExperts are hand-picked experts who are always up to date with the latest WooCommerce developments. At the time of this writing, 27 experts are listed on the website.
WooExperts are located all over the world including the United States, United Kingdom, Germany, India, and Australia. Different WooExperts offer different types of WooCommerce support at different rates (starting at $50 per hour). For example, Zen Agency can help you with all aspects of WooCommerce development, integrations, product builders, unique product filtering, and migrations.
This is great for anyone that needs quick fixes for their WooCommerce store or has small tasks they'd like to outsource. Instead of figuring out what's wrong with your store, you can tap into the knowledge of experts and have your issue resolved quickly.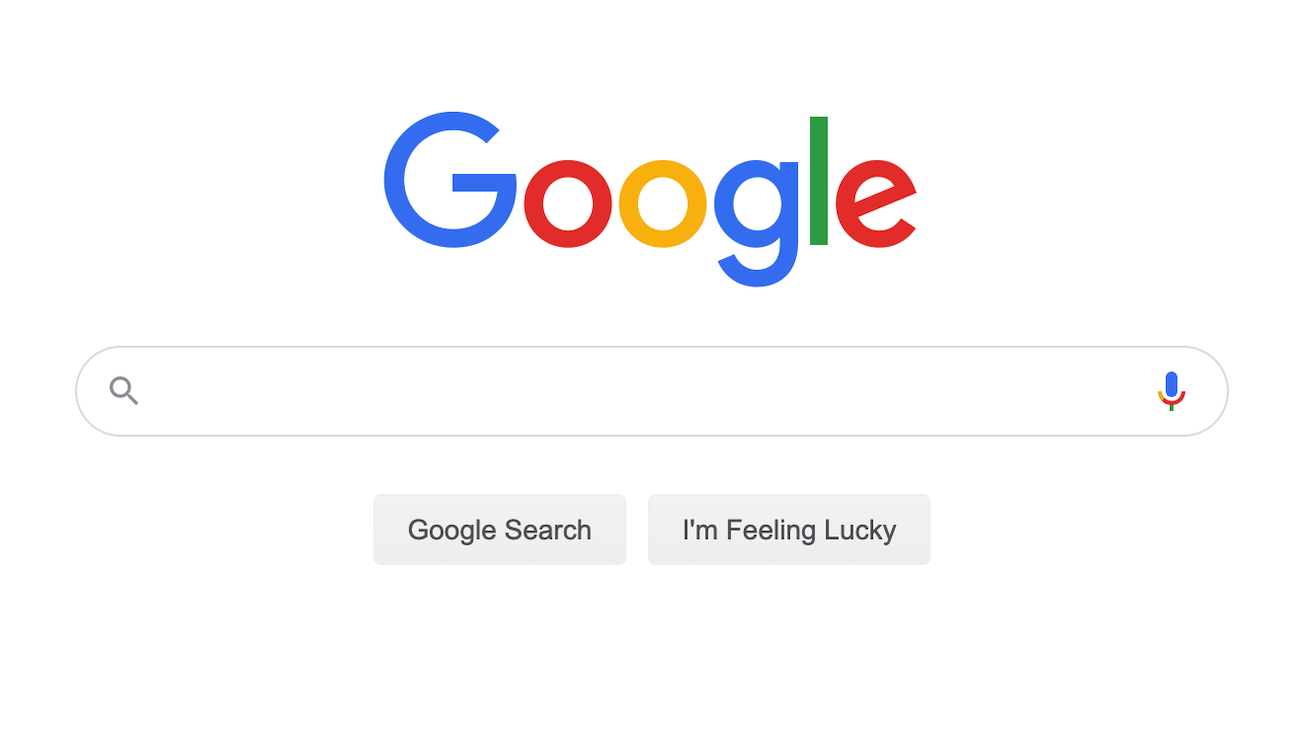 Search engines, like Google, are great for finding WooCommerce support. It's particularly useful if you know exactly what you're looking for. There are many high-quality websites out there that publish tutorials and blog posts on WooCommerce-related topics. Most tutorials have complete, step-by-step instructions and screenshots to illustrate exactly what you need to do.
If you know what it is you need help with, you can simply run search queries in Google search to find WooCommerce support and help. Most of the time, you'll be able to find an answer on the first page of Google search results which should only take a couple of minutes. Google search is also a great way to find themes, plugins, and extensions for your WooCommerce store.
How to Get Custom Development for WooCommerce
As an online store owner, you might need to get custom work done on your WooCommerce-powered store from time to time. For example, you might need a simple feature added to your store that doesn't warrant installing a plugin. Or, you might need something specific and can't find a suitable plugin for it.
It's worth mentioning that WooCommerce store owners should be careful when finding custom development service providers on sites like Fiverr.com. You'll want to make sure the developer has a good star rating, relevant experience, and positive reviews from previous clients.
Here are some reputable sites where you can get custom development done for your WooCommerce-powered store: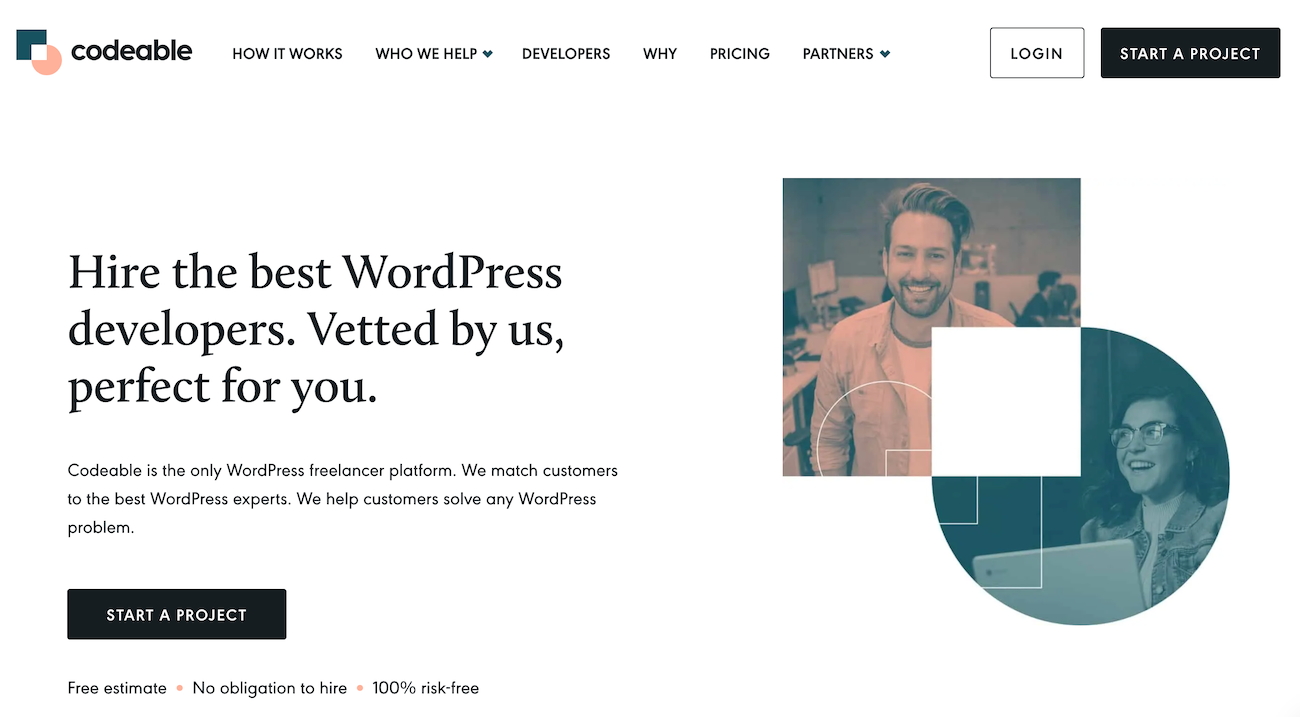 Codeable is a WordPress freelancer platform that helps business owners find experts (including WooCommerce experts) to help them resolve issues with their website. You can start by submitting a project or consulting an expert depending on your specific needs.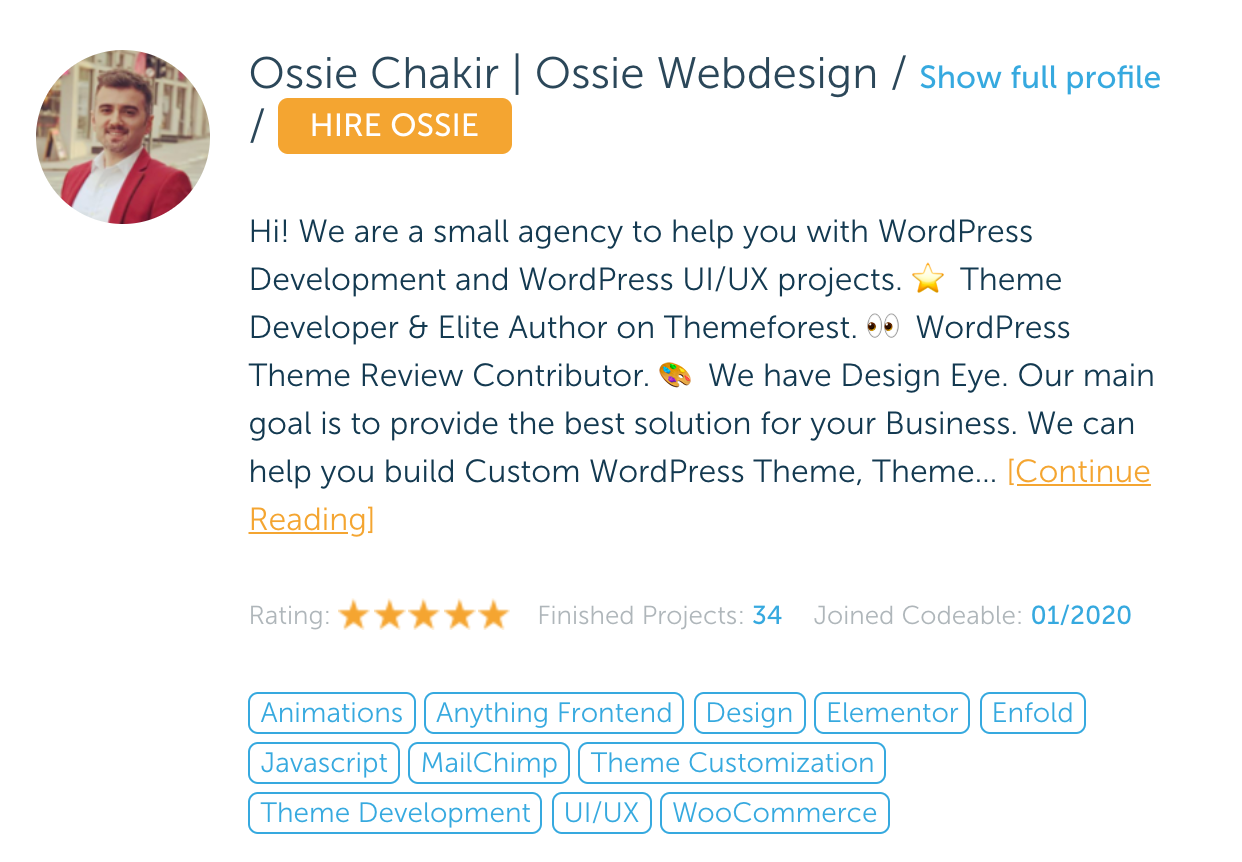 Similar to other freelance platforms, you can see a list of WooCommerce experts along with their profiles. This means that you can pre-vet freelancers based on their skillset, ratings, reviews, and projects they've completed.
Codeable freelancers can help you with everything from small tasks and quick fixes to full custom development work. So, if you need to have your store's database optimized or require custom plugin development, Codeable is the place to go. The freelancer platform is officially recommended by reputable WordPress brands, including WooCommerce.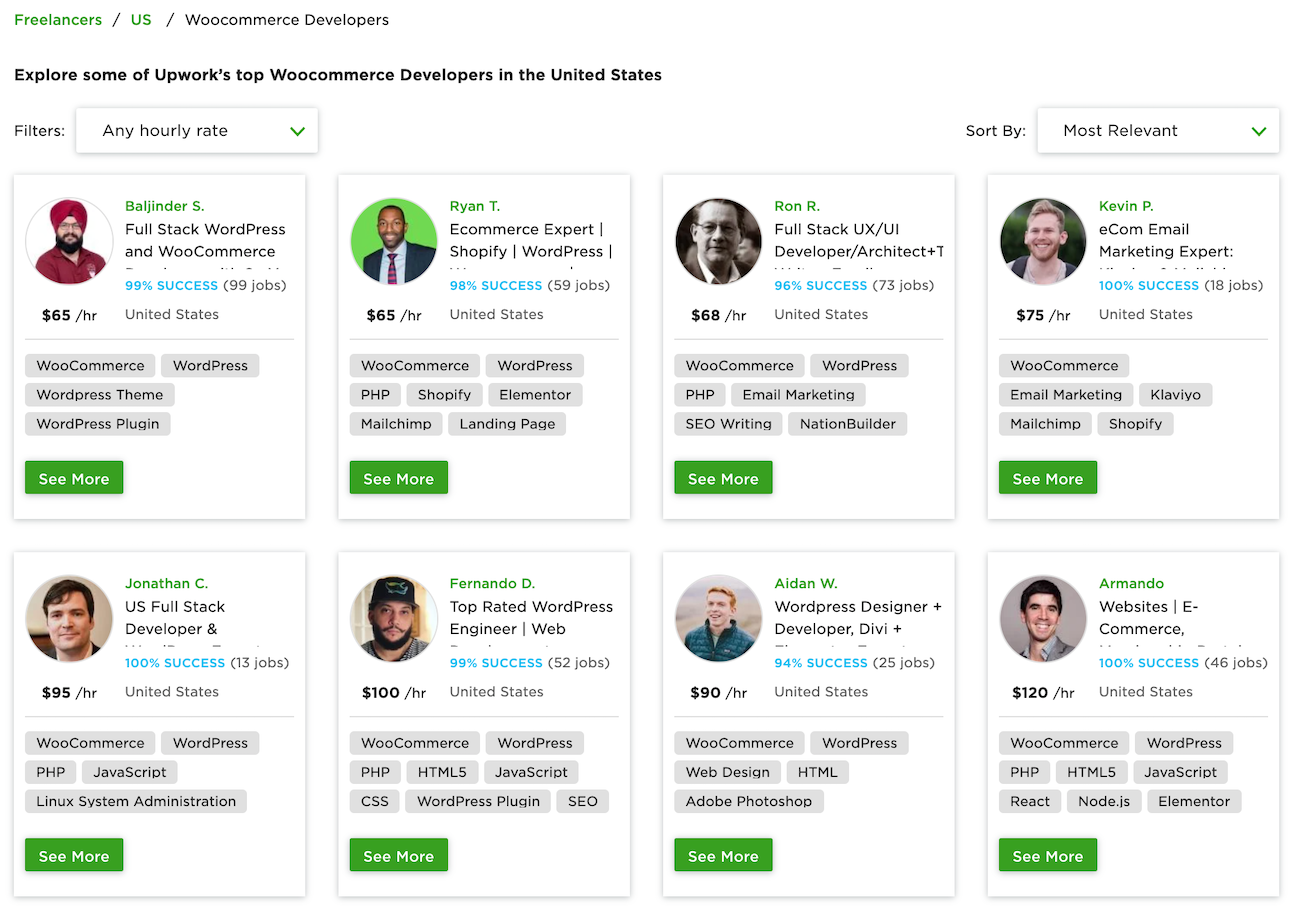 Upwork is a freelancing platform where you can find WooCommerce developers to help with WooCommerce support, quick fixes, and custom development. To get started, you can either post a job or start an offer with a freelancer.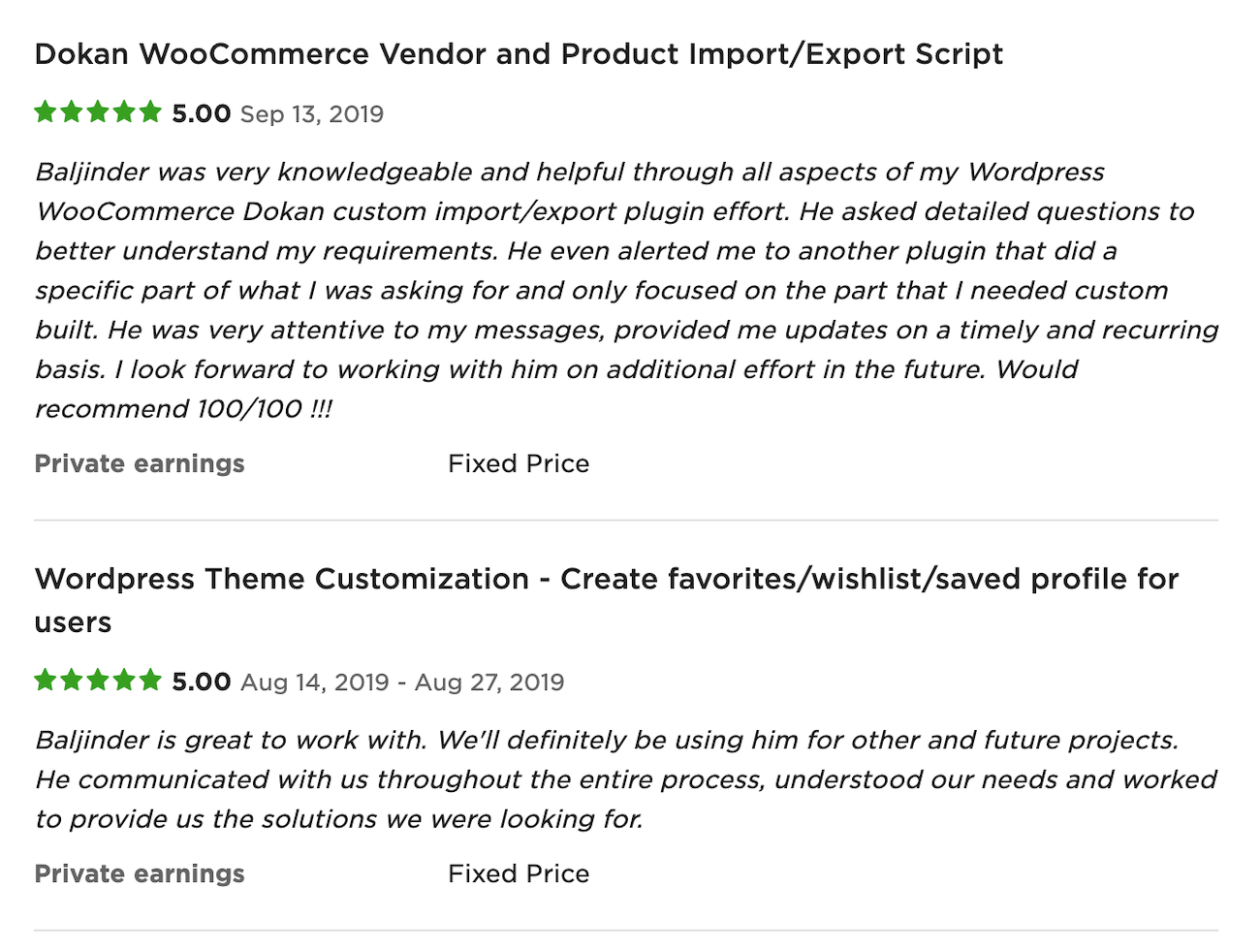 WooCommerce developers on Upwork can help you with a variety of tasks including custom code or scripts for WooCommerce, theme building, website edits, migration, and much more. Before hiring a freelancer, it's a good idea to go through their profile to see if they've worked on similar projects before. You should also read through reviews from previous clients to get an idea of what it's like working with them.

Stack Overflow is an open online community for people who code. It has answers for coding questions for all sorts of technologies, including WooCommerce. Users can ask questions, answer questions, and vote on answers.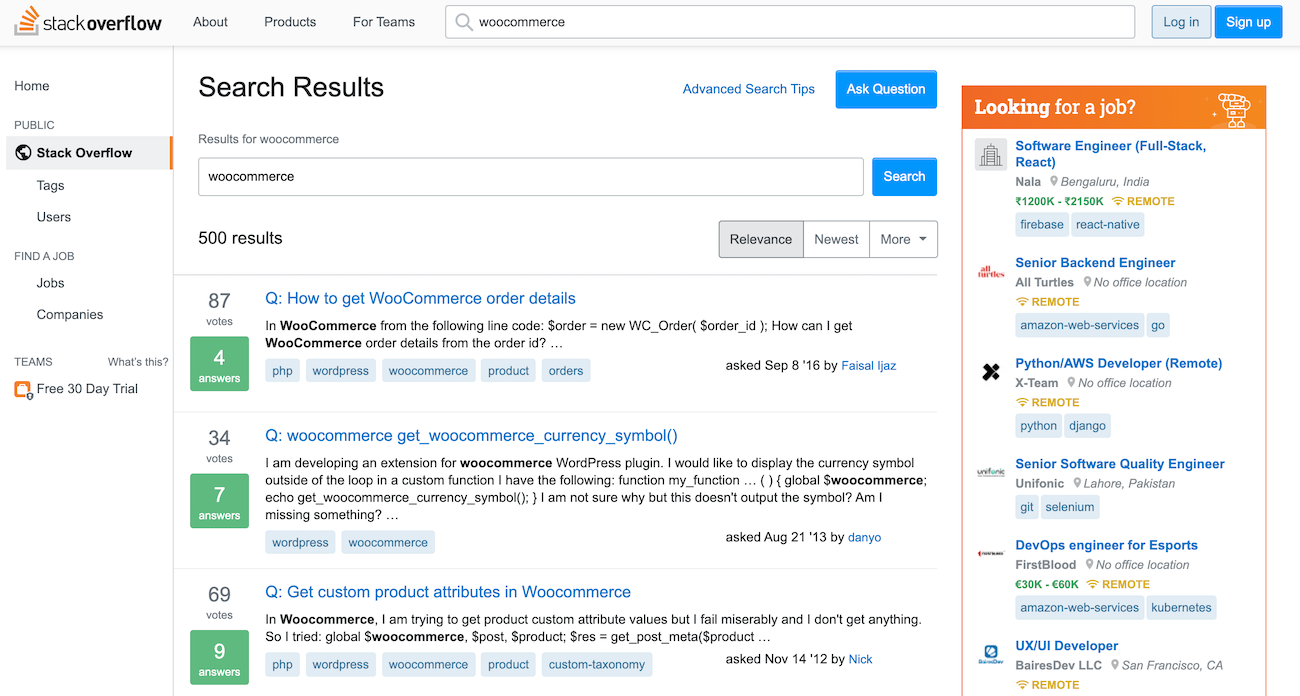 If you're thinking of writing your own WooCommerce code snippet or script then Stack Overflow is definitely a bookmarkable resource. Once you've created an account on Stack Overflow, you can ask questions to get answers from community members. It's a good idea to add relevant tags to your question so community members can quickly find them. The platform also gives you the option to accept an answer, upvote (or downvote) answers, and leave comments on answers.
One of the best things about Stack Overflow is that it has a large community. This makes it a great WooCommerce support resource. You can run search queries to see if someone else has already posted about the same issue you've run into and, chances are, you'll find an answer without having to ask a question first.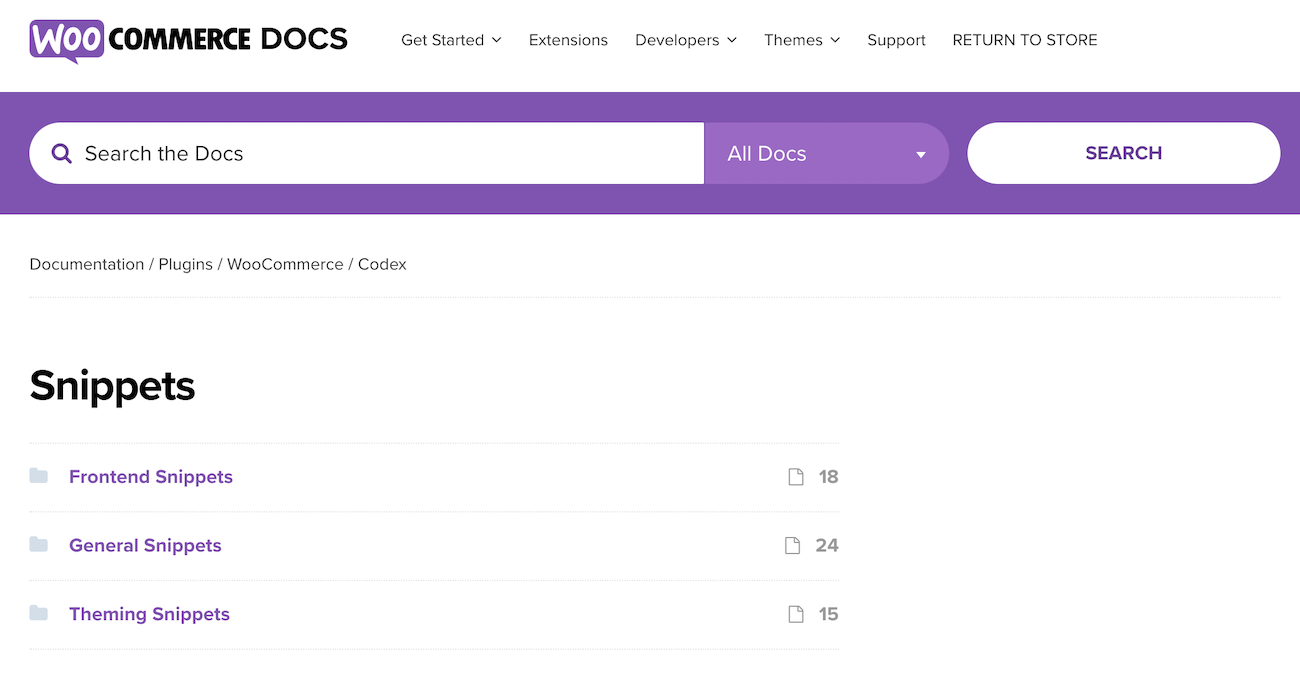 The official WooCommerce website has a Snippets Archive that has frontend snippets, general snippets, and theming snippets for developers. In addition to this, there's also a section on best practices for customizing WooCommerce. Each code snippet also has a brief explanation to go with it. So, even if you're not a developer, you can follow the detailed instructions and add snippets to your WooCommerce store.
For example, the frontend snippets section has code snippets for a variety of WooCommerce customizations such as:
Excluding products from a particular category on the shop page
Custom tracking code for the thanks page
Making price widget draggable on touch devices
Applying a coupon for minimum cart total
At the time of this writing, there are 57 code snippets in the archives that you can add to your WooCommerce store.
Get WooCommerce Support for Your Online Store
Whether you're an online store owner, shop manager, or developer, you'll likely need some sort of WooCommerce support to keep your store running smoothly and making sure it's conversion-optimized.
We shared some resources for getting WooCommerce support and custom development done for your online store. Hopefully, you're in a good position now to take the next steps.
It's also important to make sure you're using a WooCommerce-optimized theme on your website. The Shoptimizer WooCommerce theme, for example, is optimized for speed and conversions out of the box. Plus, it comes with support directly from the developers.
Are there any other resources you use to get WooCommerce support? Let us know in the comments section below.