Brands invest a lot of resources to design and publish visual marketing content on their website and social media pages. And you probably do, too.
What if I told you that you could reap the benefits of visual content marketing without adding to your budget?
Sharing user-generated content or customer submitted photos that feature your brand and promote your products and services helps you easily reach out to your audience and build credibility. Most importantly, you can save on the marketing budget!
In this post, we'll take a look at why you should create a visual marketing strategy based on user-generated content. We'll also share some actionable tips to help you get started with a step in the right direction.
---
Visual Marketing: A Brief Overview
Visual marketing is all about using engaging visual content such as images, videos, and graphics to promote a product or service. From a business perspective, it involves using unique and relevant images to attract new customers and increase brand awareness.
Visual content marketing examples include (but are not limited to) images and photos, video, user-generated content, data visualization, and infographics.
Clothing brand Guess launched its #InMyDenim viral campaign to encourage customers to share videos on TikTok.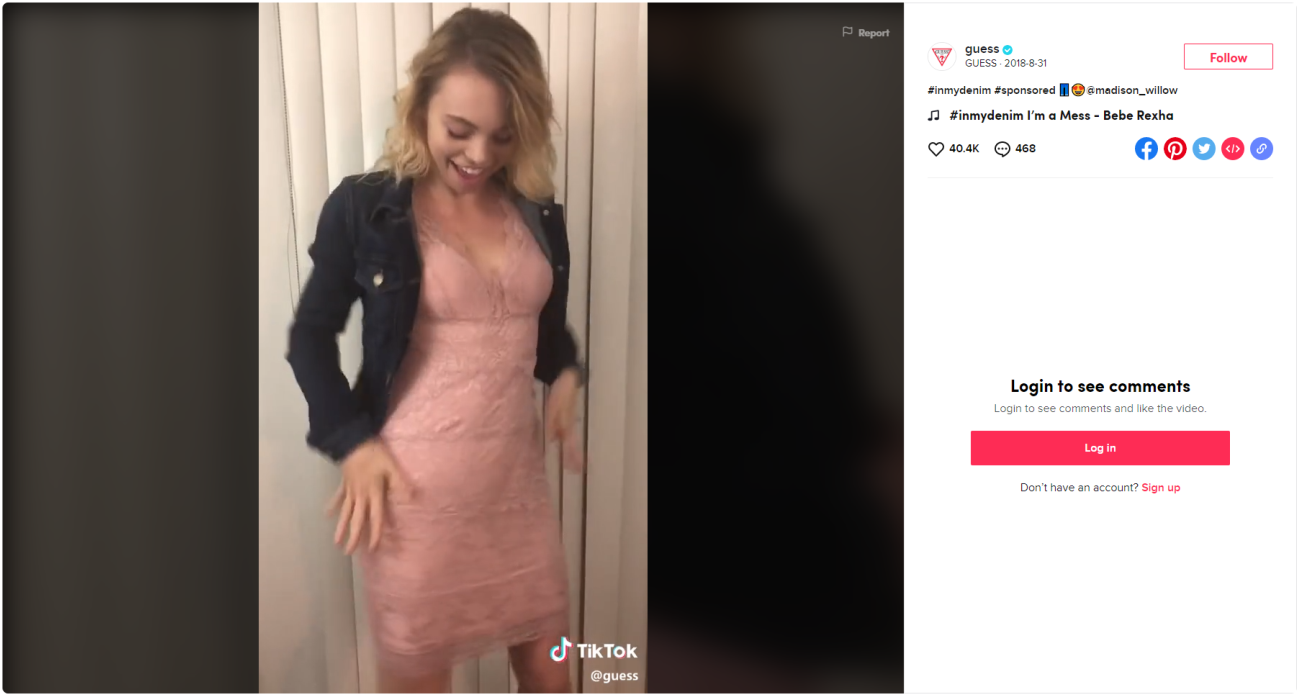 Studies indicate that 93% of human communication is visual. So, it's no surprise that visual content is more engaging than plain textual content and is 40x more likely to be shared on social sites.
In other words, people respond more to visual messages than they do to plain text. This is precisely why implementing visual elements in your marketing can make your content memorable while helping you increase brand recognition.
Put simply, visual content helps customers retain information about your brand better thereby helping you stand out from the competition. What digital marketer doesn't want that?
---
What's the Value of Using User-Generated Content for Visual Marketing?
Did you know that purchase anxiety is one of the main reasons why many people are often unable to make a purchase decision or postpone it till later?
This is especially true for online buyers who feel unsure about whether the product will meet their expectations. Product photos can leave room for doubt in potential buyers because, most of the time, they don't realistically represent the product.
This is where user-generated content can help you convert unsure prospects into confident customers and loyal brand advocates.
MVMT Example
Watch company MVMT shares customer-submitted photos along with their own product photos on their product pages: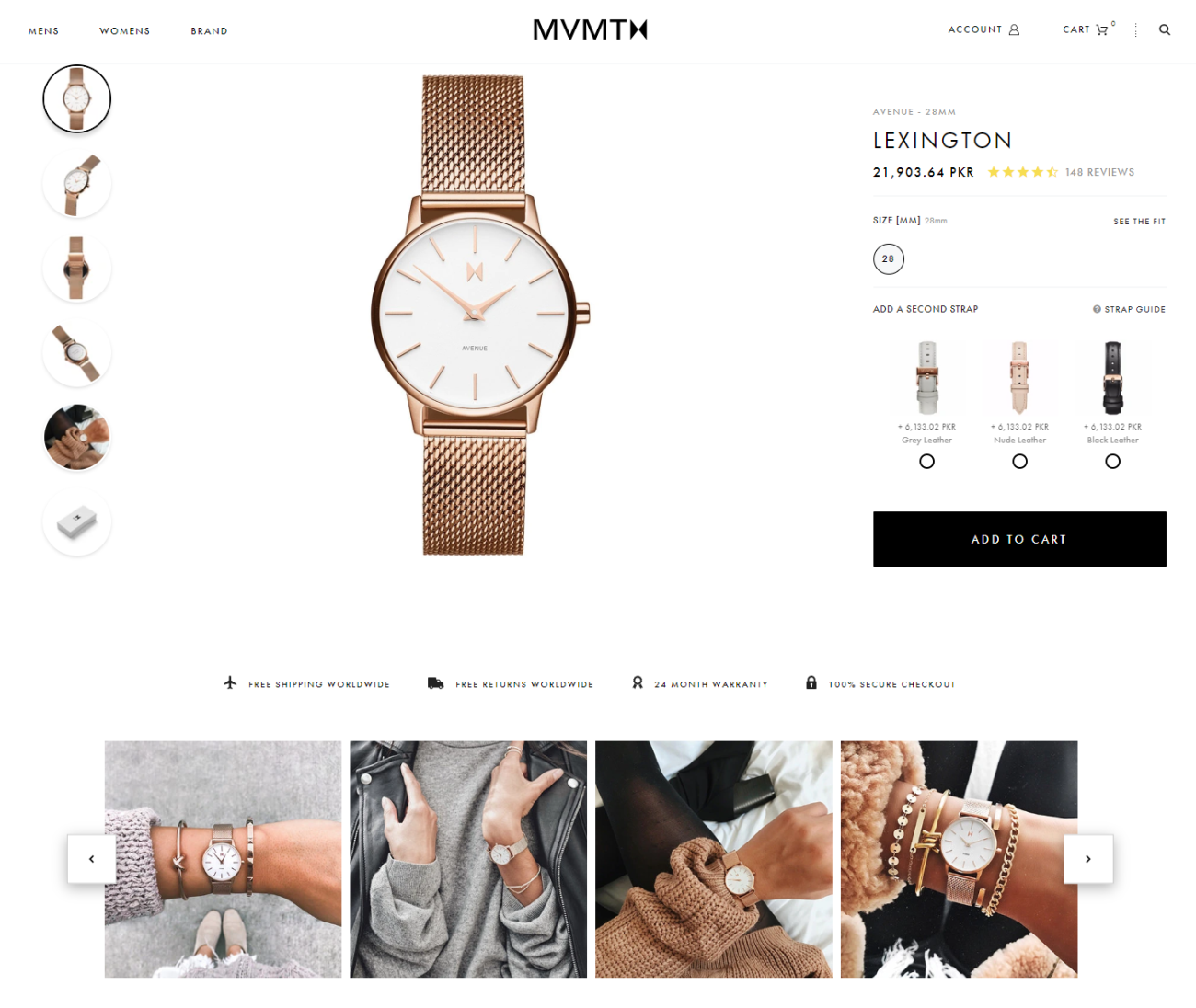 While most online shoppers don't trust photos created by brands, they're more likely to believe in reviews left by other customers. And when they see other satisfied customers enjoying your product, it helps reduce their purchase anxiety. Makes sense, right?
Customer submitted photos put their worry to rest and tips the customer's purchase decision in your favor. They let people know what they can expect to get by purchasing your product.
---
Collecting User-Generated Content for Visual Marketing
Every day, more than 1.8 billion photos are shared on social media sites. This makes it difficult for marketing teams to sift through all of them to find the best ones i.e. the ones that are closely related to their brand.
However, there are some much easier (and simpler) ways to collect customer photos and reviews for your content marketing. Here are two popular ways brands collect and share user-generated photos:
Method #1: Collect Photos With Reviews
Encouraging existing customers to share positive experiences about your products through reviews is a great way to reach out to your target audience. Reviews offer a great way to establish social proof and attract new customers and you can use this opportunity to solicit photos from customers.
The best time to ask for photos is when your customers are writing a review of your products. It's easier to get them to share photos when they're engaging with your brand such as during customer support interactions, via email, or over social media. Most people would be happy to take a picture of their product and share it with you.
Xero Shoes Example
Here's how Xero Shoes makes it easy for customers to add photos to their review: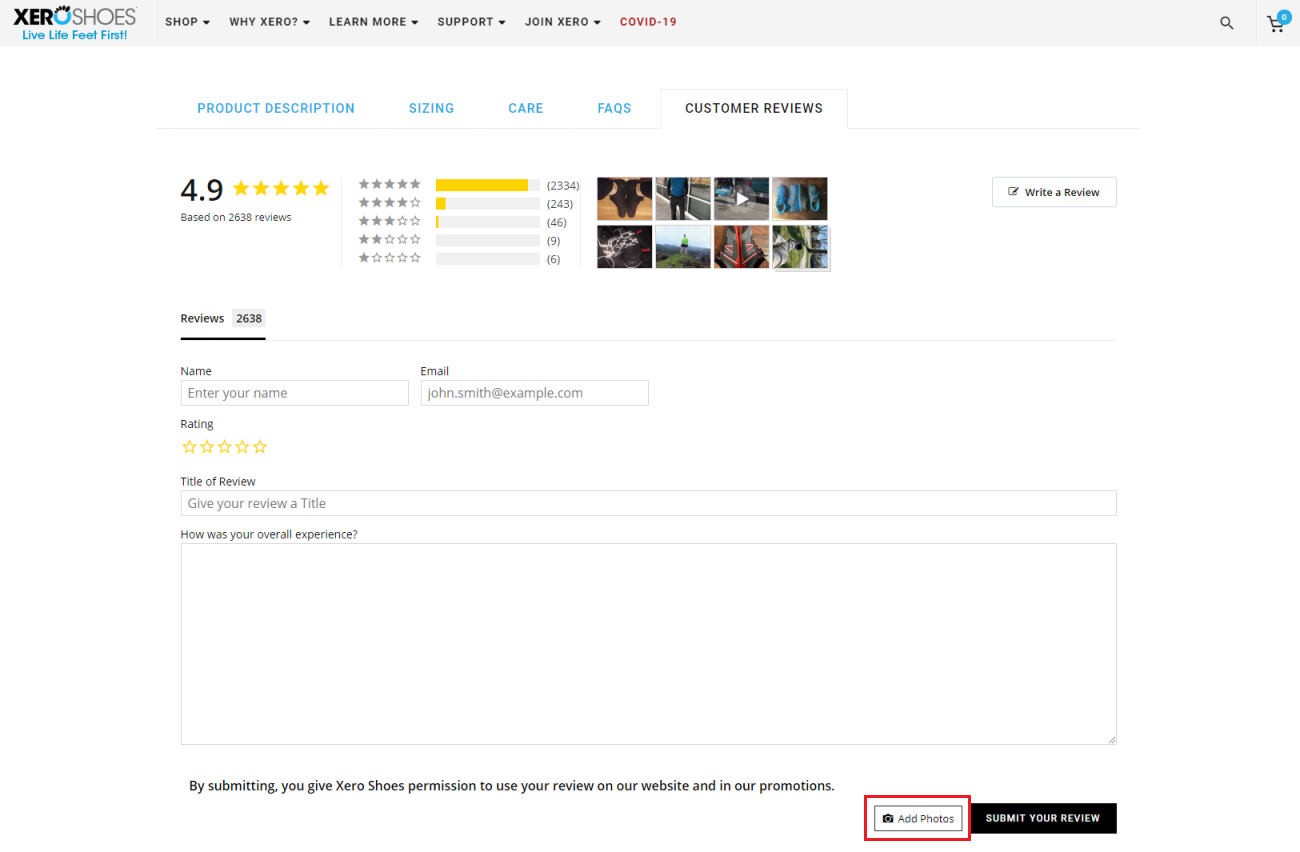 Our best advice is to use an automated review system with moderation features to collect photos on your product pages.
Even though customer photos can help you enhance your brand perception, you can't compromise on your brand's visual identity. This is why you should take measures to ensure that customer submitted photos are not published without approval.
You can also make it easier for customers to submit their photos by implementing a photo collection system that allows them to share images directly from their smartphone or tablet.
Method #2: Curate Photos Over Social Media
Social sites have enabled businesses to promote their content to a wider audience. And it might be time for you to jump on the bandwagon.
A well-designed visual marketing strategy can help you create brand desire, showcase and inspire brand loyalty, and build a compelling content library for your social media channels.
Most customers like to share user-generated content on their social profiles. This includes shareable and engaging content such as photos that highlight their positive experience with the products they purchase.
Everlane Example
Retail company Everlane uses customer's photos on their Instagram page to promote their rainboots.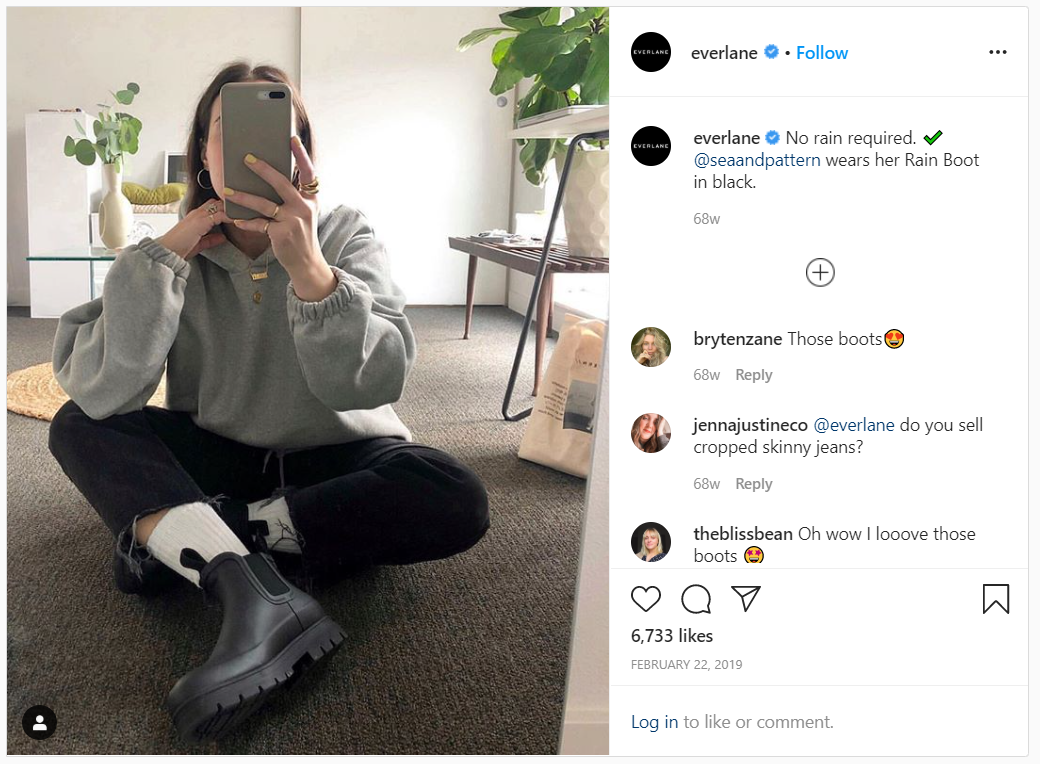 Pro tip: Don't forget to credit your customers in the post you share or retweet!
Here's another tip for you: you can start conversations about your brand on social media sites (such as Instagram, Facebook, and Twitter) by creating a unique hashtag like #YourBusinessName and encourage customers to use it when posting their photos. This helps you view and collect all of your user-generated photos from one place.
Forever21 Example
Popular apparel brand Forever21, for example, uses several different hashtags on Instagram – #F21xME / #Forever21Plus / #Forever21Men – and encourages customers to share their photos for a chance to be featured!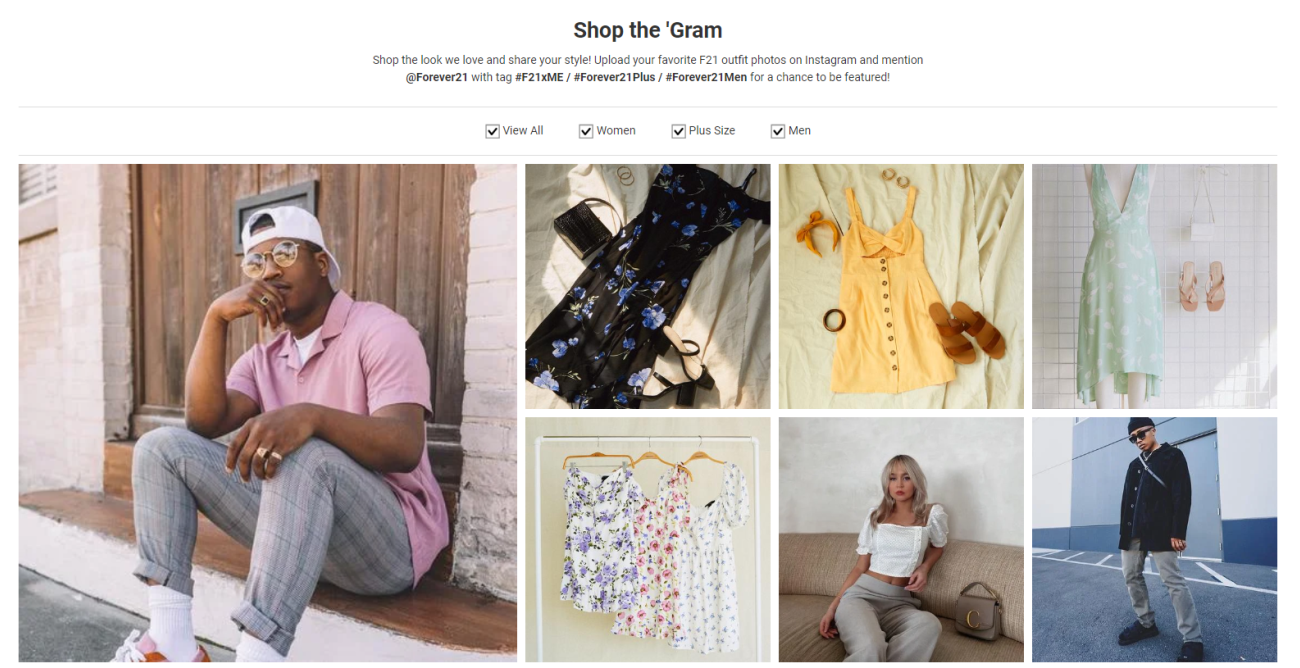 You can also hold contests or giveaways that require shoppers to post photos on their social media pages. This will help you boost customer engagement with your brand as well as generate organic traffic.
However, make sure to ask for permission before you use customers' photos on your product pages or social media pages.
---
How to Use User-Generated Content for Visual Marketing
Here are some ways you can use user-generated content to connect with your customers and promote your brand:
Add User-Generated Photos to Your Website and Landing Pages
When brands create or join conversations on social media, it enables them to generate useful content for their other digital marketing channels, as well.
For instance, you can collect user-submitted photos from your customers and display them on your website's homepage, product pages, category pages, and landing pages (sales pages).
Here's another tip for you: showcase customers' positive experiences on product pages along with their reviews. This can help you increase conversions.
Kate Spade Example
The Kate Spade store displays reviews on their product pages and lets customers upload their own photos of the product they purchased.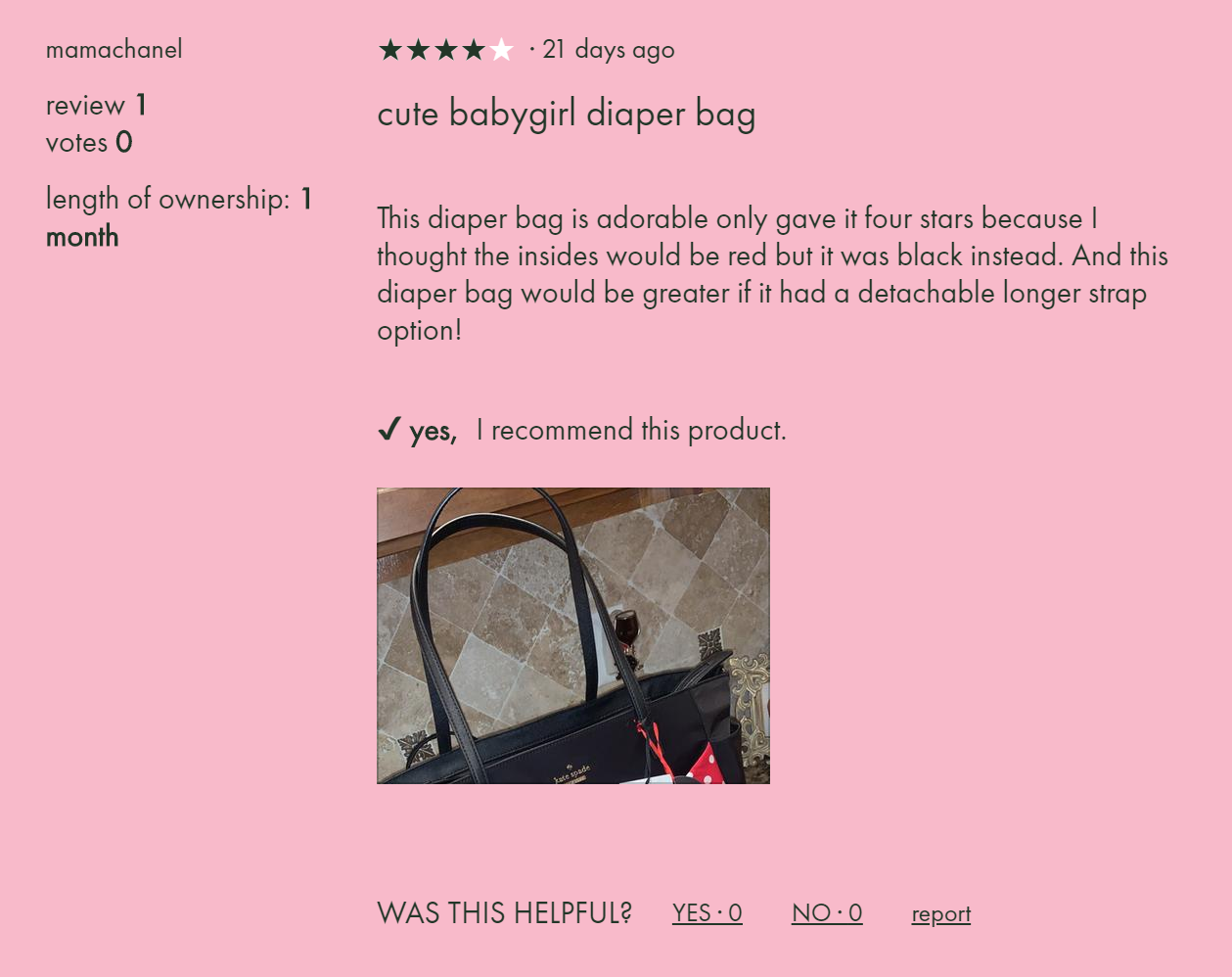 This is a great way to add a visual element to your content. Around 80% of customers say that user-generated content has a high impact on their buying decision.
To take things a step further, you can create specific image walls for different categories and landing pages on your online store. As a result, you'll be able to display your content and keep potential customers engaged with the buying process.
There are a number of benefits of adding UGC photos to your website and landing pages. It helps build trust with your target audience by letting them know what they're going to get before they order. For example, if you run a restaurant, you can allow potential diners to virtually check out the dining experience using customer submitted photos.
Under Armour Example
Under Armour encourages its customers to upload photos of themselves wearing Under Armour products to social media using the #IWILL hashtag. The best ones get featured on Under Armour's official website.
Customers view user-generated content as more authentic than content created by businesses as it lets them know two things:
That others have also bought the same product.
That their experience with that product was positive.
Share User-Generated Photos on Your Social Media Feed
You can increase the effectiveness of your social media posts by sharing user-generated photos. Sharing photos of customers using your product and having a positive experience is a time-tested marketing technique that can help you promote your business and improve brand awareness.
One of the ways you can use user-generated content on social media is by sharing a social media post and tagging the person who originally posted it.
Similarly, if your business has a promotional offer or a new product coming out, you can create a photo submission contest to give freebies away to the best ones. This will help you engage with potential buyers and drive sales.
Color Street Example
Color Street regularly shares user-generated content examples on their social pages. It does this by frequently asking its customers about their favorite nail polish strips: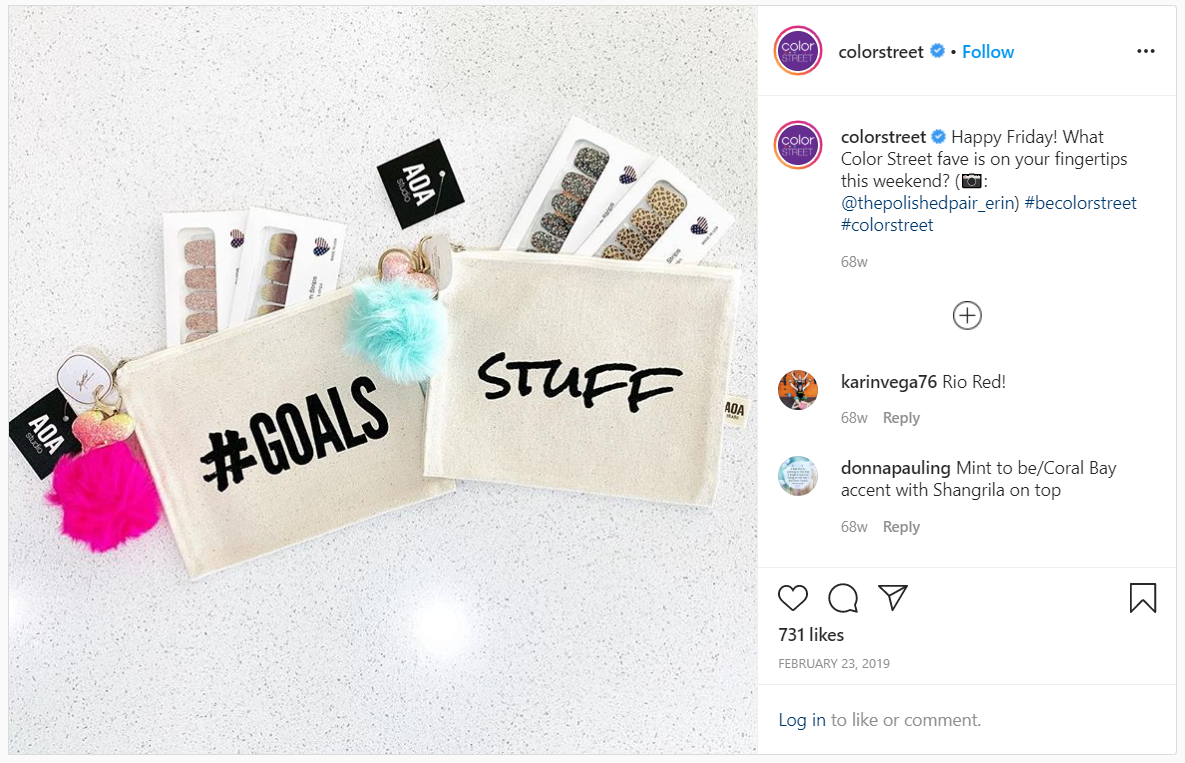 In addition to this, adding user-generated content photos to your social media posts is a great way to boost your conversion rate and increase your average order value.
Repurpose User-Generated Photos
By repurposing the best content from your customers, you can enable prospective customers to get an in-depth look at your brand. However, creating fresh, new, and great-looking content for your social media pages can be a constant challenge for many businesses.
When you do have it though, there are tons of ways user-generated content can be repurposed across your different digital marketing channels. For example, you can share a Facebook post of a satisfied customer on your product page and an Instagram shout out can become a product testimonial.
Product testimonials are great for nurturing customer trust in your brand. Customers love reading them (and actively look for them) before making a purchase. User-generated content offers a free and easy source of social proof and testimonials. It makes it easy for prospective customers to visualize the product, helping you increase conversions and ultimately boost sales.
In addition to this, you can repurpose and curate user-generated photos into a content library or customer gallery on your website. This way, you'll always have relevant material to share with your audience.
Starbucks Example
Let's look at an example of Starbucks using user-generated content on their Instagram. Its iconic logo is instantly recognizable by followers. Here, the brand has reposted the photo from one of their followers showcasing their product while crediting the original creator of the photo: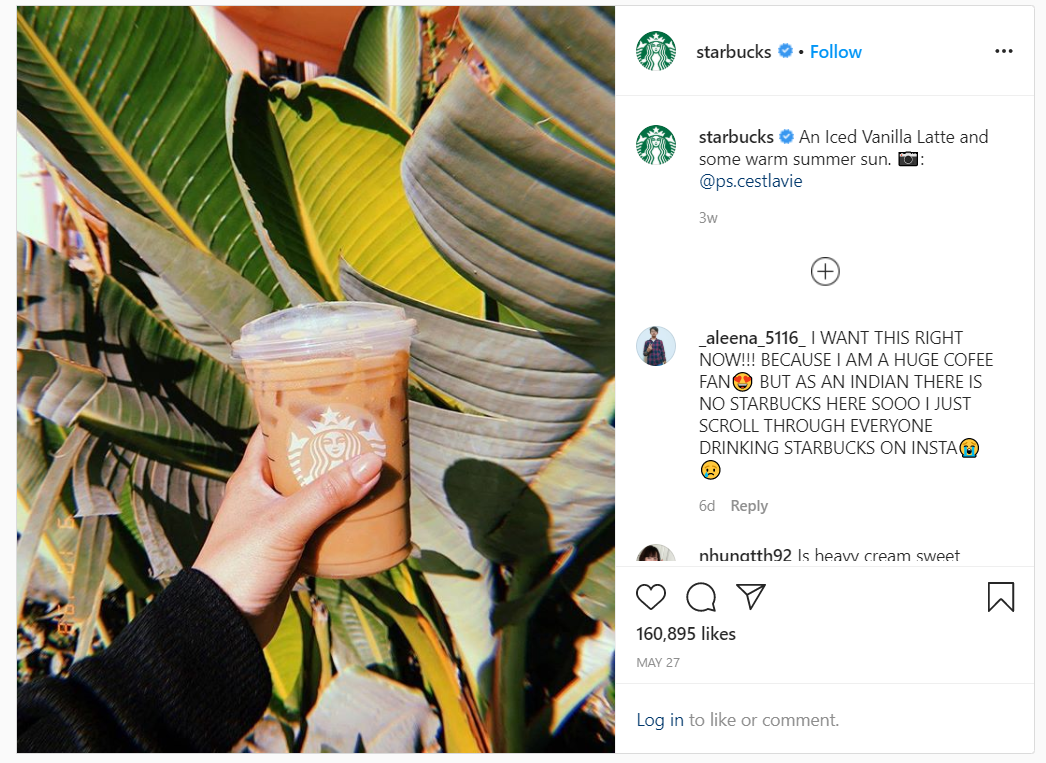 ---
Bonus: Improving Your Visual Marketing Strategy
Running a successful user-generated content campaign can flood your marketing team with tons of customer photos that can be repurposed to generate a steady flow of content.
Here are some actionable tips you can follow to get better results:
Tip #1: Help prospective customers visualize themselves using the product
Customers love seeing other people use your product before they buy it. 32% of US customers would be more likely to purchase a clothing product if it was showcased by a fellow consumer.
A great way to make your user-generated content more influential, trustworthy, memorable, and effective for your brand is by requesting customer photos that show them using your product.
This way, you'll be able to highlight the benefits of the product in a personal way. It also helps customers see how they can use it and reinforces the customer's buying decision.
Tip #2: Encourage people to be in the photos
Would you be more likely to buy a product if a person you feel a connection with posted a photo showing how great their experience with it was? Chances are you'd likely purchase the product.
People tend to respond better to photos with people in them – especially if those pictures include a face. This is why brands ask customers for selfies to use in their ad and social media campaigns.
Let's say you want to run a contest. You can get customers to include a face in a photo by asking them to share a selfie with the product.
Tip #3: Focus on emphasizing the customer experience
When you allow your audience to see how your products are used in real life, it lets them experience the perceived benefits of your products.
So, when asking for photos from customers, you should encourage them to get creative with their photos. Ask them to share new and creative ways of using the product.
---
Ask Customers to Send in Photos
Sharing customer submitted photos with your audience:
Reduces the purchase anxiety of nervous buyers,
Enhances brand perception, and
It helps you reach out to your target audience.
To grow your brand, you'll need to create a visual content marketing strategy that enables you to promote your products, boost sales, and increase customer trust in your brand.
Ready to leverage customer submitted photos to increase conversions on your online store? Sign up for CommerceKit updates!