It's vital in eCommerce to ensure a customer can quickly enter their billing details and get through the payment process with as little fuss as possible.
That's why I'm interested in this address autocomplete plugin for just $11 which uses Google's Places API to quickly return location results as soon as you start typing.
The idea is primarily to save time but it's also useful to prevent typing errors, e.g. a zip code entered incorrectly in a rush.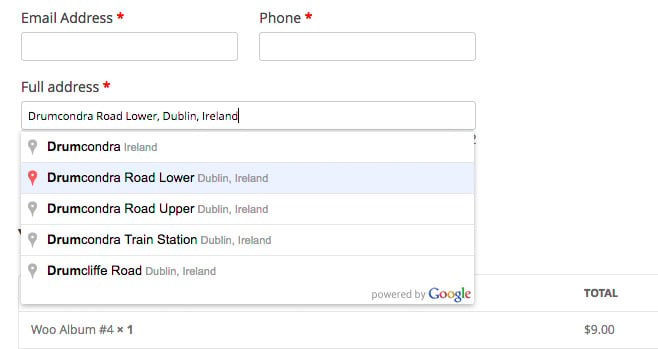 It works like this:
The plugin regroups and hides the components of the address : address_1, address_2, city, state, postcode, country.
It adds a new "Address field" based on Google Places API.
The user begins to type the address and Google completes it.
The user chooses the correct address among Google suggestions.
The hidden field appears, automatically filled with data.
Note: As of 18th September this plugin currently isn't compatible with WooCommerce 2.2 so if you're running this, it would be better to wait for an update.
You can checkout the Google Address Autocomplete for WooCommerce plugin here.