We'll be looking at open source eCommerce platforms upon which you could build your online store. These platforms are all completely free, with source code you can access and change. All of them are self-hosted so you'll need to have your own web server first of all before you can go about installing any of these.
These are the free eCommerce platforms we're going to cover:
Why choose an open source eCommerce platform?
Many business go open source rather than using proprietary platforms. So what's the difference? Well, open source software's code is completely transparent, you can view every line and make whatever changes you like. Nobody owns it. Many open source platforms have burgeoning communities around it, who write extra extensions and code for it, keeping it up to date and fresh. You can often find a forum post from a community member detailing how they solved a particular problem.
All of these platforms are installed on your own server, so the code and the database belongs to you. If privacy and maintaining customer records are important to you this is a key consideration.
And perhaps most importantly of all, open source software is free. What is most noteworthy is that there is no yearly licensing bill. This may not apply to third party extensions or plugins but the core eCommerce foundation for every example within this list is cost-free.
Now, because it's free – upkeep and maintenance of these eCommerce platforms has to be done by you (or developers hired by you). Many people who don't want this hassle go with a proprietary option such as Shopify or Wix with a monthly fee. But if you're comfortable with installing software, open source eCommerce platforms have some terrific benefits.
Let's look at some great open source platforms which could power your eCommerce store.
For WordPress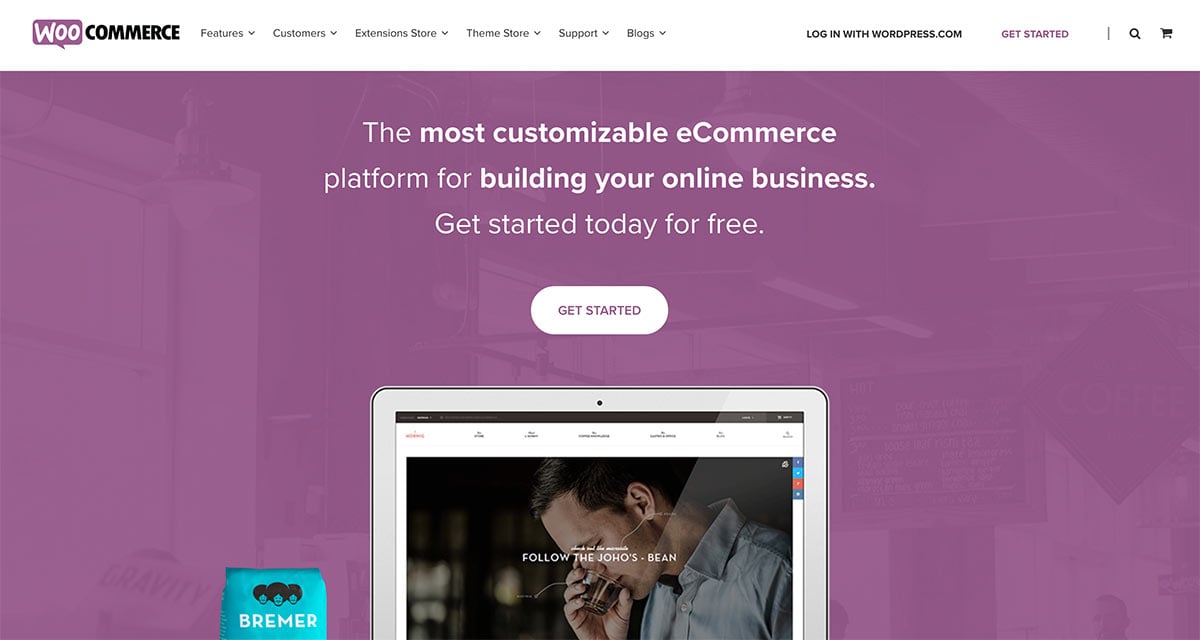 Used by 28% of all online stores, WooCommerce is the largest of the open source eCommerce platforms. It's a plugin for WordPress, the world's most popular CMS and is extremely simple to install onto any WordPress powered site. Its community is huge and there are vast amounts of tutorials, guides, resources, and general assistance available online for it. It's massively extensible and there are thousands of plugins which add additional functionalities including WooCommerce Subscriptions, WooCommerce Memberships, and lots more.
You can even easily build an entire Dropshipping business with WooCommerce, we've documented everything in a comprehensive guide. We're using it to power our popular Shoptimizer WooCommerce theme and we've been building WooCommerce compatible themes since 2014. Since then it's continued to grow in popularity and would therefore be our number one choice to power your eCommerce store. Of all these solutions, WooCommerce has the biggest user-base and is the most flexible.
Key Advantages:
The most popular open source eCommerce platform in the world on the most popular CMS.
A huge amount of tutorials, resources and developers available who are familiar with WooCommerce. Massive customization potential to make any kind of eCommerce store.
Key Disadvantages:
Who is using WooCommerce?
A lot of top eCommerce stores. I've put together a list of over 38+ great WooCommerce examples.
We are 🙂 From CommerceGurus itself to our extremely popular Shoptimizer WooCommerce theme, we have faith in this eCommerce platform to power your store.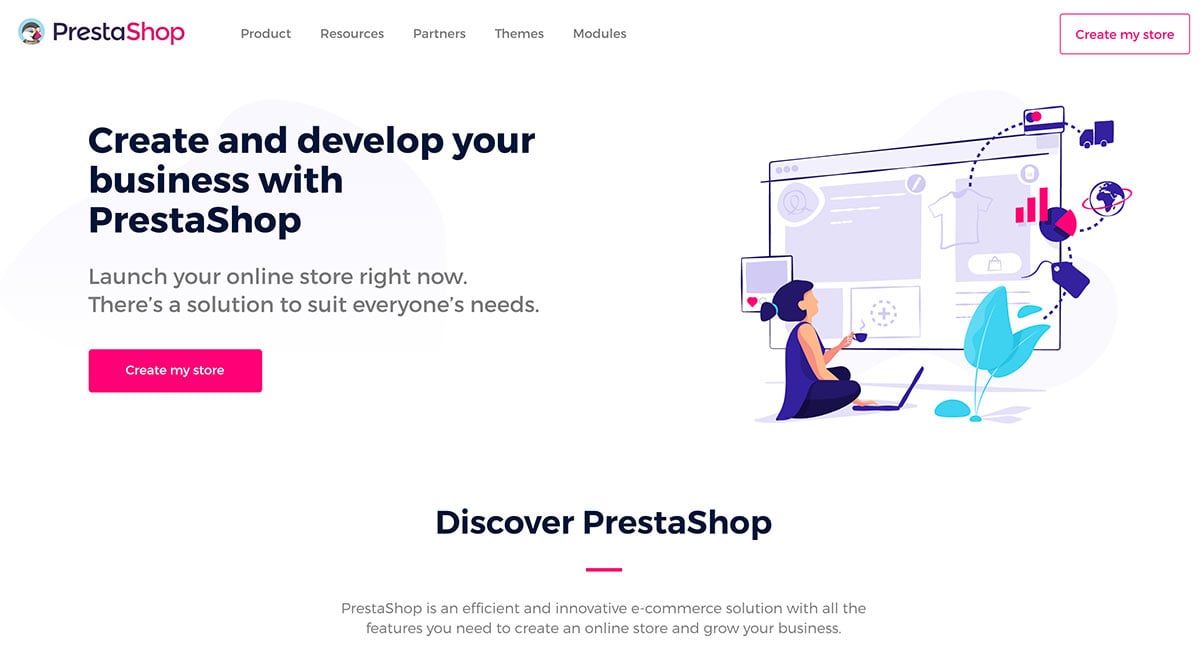 PrestaShop is an open source eCommerce platform from France, first launched in 2007. It is one of the most popular solutions for selling and has over 270,000 stores using it around the world. Similar to many platforms, the core product is free, but most of the additional themes and modules you'd need to pay for. PrestaShop is also multilingual from the start, it works in 40 languages from the translation module in its back-office. Futhermore, there's an intuitive area for setting up products. You can even use expiry dates for time-sensitive items. You can also sell downloadable items with PrestaShop. There are an extensive list of marketing options such as special offers, discount codes, free shipping, affiliate programs, and gift wrapping. Finally, coupled with an extensive marketplace of third party add-ons and a large userbase, PrestaShop would as a result be a solid foundation for any eCommerce store.
Key Advantages:
One of the major eCommerce solutions, used by worldwide brands.
Strong PrestaShop community with excellent support materials.
Key Disadvantages:
Because it's totally eCommerce focused, doesn't work particularly well as a regular CMS for pages and blog posts.
Requires access to a PrestaShop developer, especially for custom theming and to manage the upgrade process.
Who is using Prestashop?
La Redoute
K-WAY
Le chocolat des Français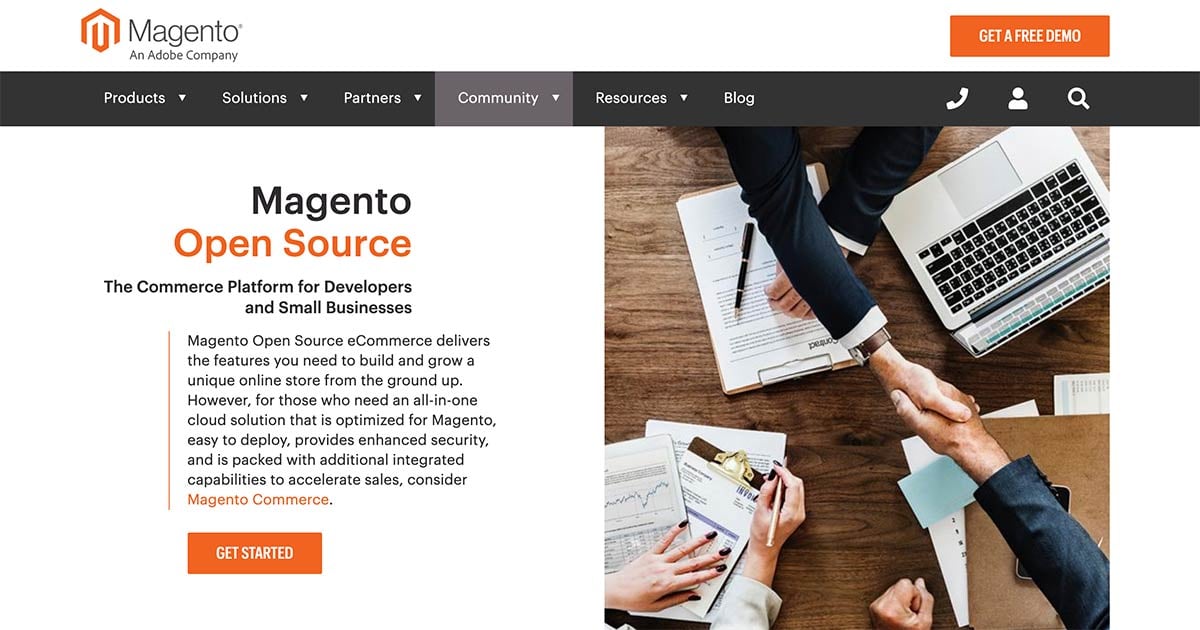 Magento is an extremely powerful open source eCommerce platform, which is particular geared towards larger stores with big catalogs. It offers a huge amount of functionality as standard but does require a decent server to run it – it's very resource-heavy. Features such as multi-currency, taxes, discounts, shipping, languages, and payments are handled with ease. You can configure products, orders and invoices; the Magento admin panel is clean and extremely functional. It powers over a quarter of a million stores around the world and is used and trusted by major brands as diverse as Helly Hansen and Burger King. Furthermore, their docs and knowledge base are extremely comprehensive and there are plenty of developers versed in integrating Magento, although they typically don't come cheap.
Key Advantages:
Large and active developer community with tonnes of modules available for it.
One of the best solutions for bigger stores with a lot of products.
Key Disadvantages:
Requires a powerful dedicated server to run which consequently can have expensive monthly costs.
Maintaining and updating Magento requires access to a developer familiar with the platform.
Who is using Magento?
Celtic Football Club
British Heart Foundation
Paul Smith
For WordPress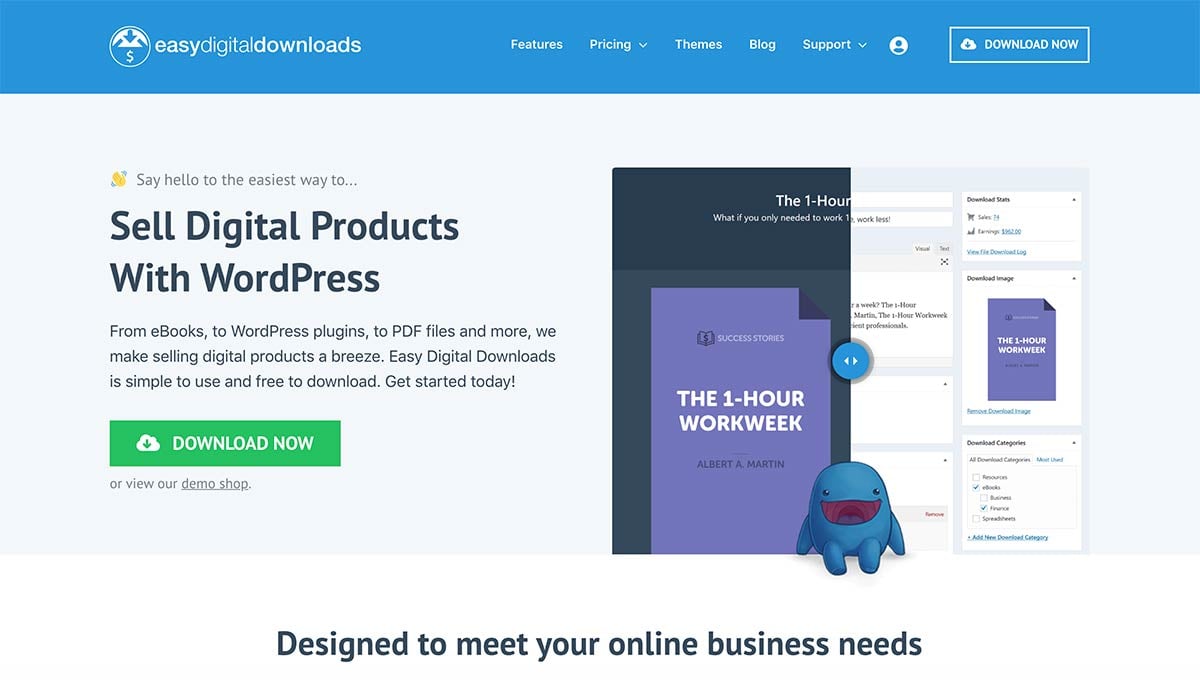 Unlike most of the other eCommerce platforms on this list, Easy Digital Downloads, is as the name suggests, solely for digital goods. It's a plugin for WordPress, the most popular CMS in the world, so it's very simple to start selling on an existing site built with that platform. It's lightweight and wouldn't overpower your site – you should be able to run it even on basic hosting. You can use it to sell PDFs, music, eBooks, video, photography, themes, plugins, any zip file really. There are excellent customer management and reporting features, it's straightforward to track lifetime value for a user and see the trajectory of sales month-to-month.
Discount codes are comprehensive also and it's intuitive to limit them by product or by usage. The extensions library is excellent and although most of the good ones are paid-only it's a straight-forward way to add more sophisticated features such as software licensing – an essential component if you're selling themes or plugins. Finally, if you're selling digital goods and use WordPress, Easy Digital Downloads is the one to go for.
Key Advantages:
Plenty of (paid) official add-ons available such as software licensing and recurring payments.
Comprehensive way to sell digital products, and simple to incorporate onto an existing WordPress site.
Key Disadvantages:
You'd need to pay for a license for many useful features such as PDF invoices, upsells, and the add to cart popup.
Limited customer support in the free version.
Who is using Easy Digital Downloads?
A Better Lemonade Stand
Pixel Union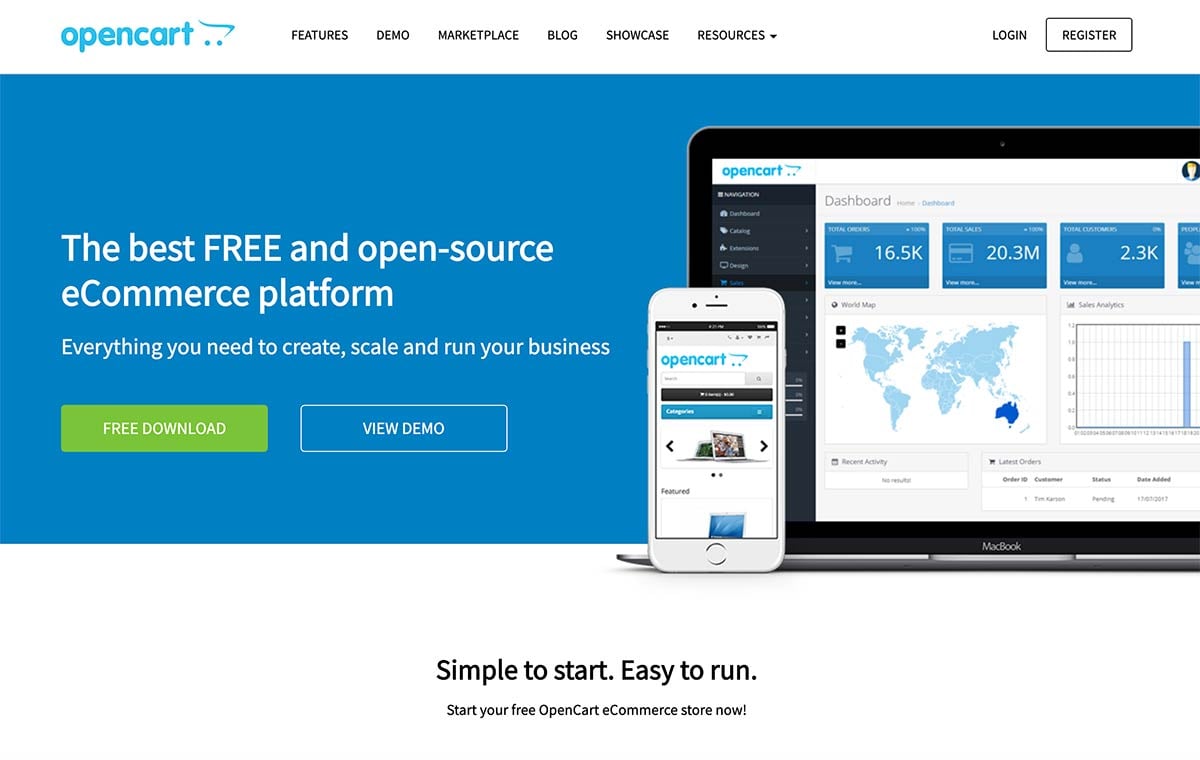 OpenCart remains a major player in the eCommerce space, with about 4% of the top million stores running it, slightly ahead of BigCommerce at present. It's fully open sourced and is available under the GNU General Public License. The core of OpenCart is quite lightweight, additional features are added by either free or paid add-ons so it can get pricey, depending on your requirements. The dashboard is modern looking and clean, it would be easy for store owners to add and modify their items without too much difficulty.
It's also got a large community around it, so finding resources or developers familiar with the platform should be pretty straightforward. Furthermore, their official forums contain over half a million posts which is an indicator on how popular this open source eCommerce solution is. It's an important consideration when deciding what to go for.
Finally, if you're interested in this platform, it's also worth also taking a look at Arastta eCommerce which is a fork of OpenCart.
Key Advantages:
Large extension marketplace available for additional functionality.
Used by over 340,000 eCommerce stores around the world including some big organizations such as the British Red Cross.
Key Disadvantages:
Official themes on the marketplace look quite dated. As a result, I'd instead look at ThemeForest for more modern designs such as the Journal theme.
Tricky for beginners without PHP and development knowledge.
Who is using OpenCart?
British Red Cross
Ecos Paints
Augason Farms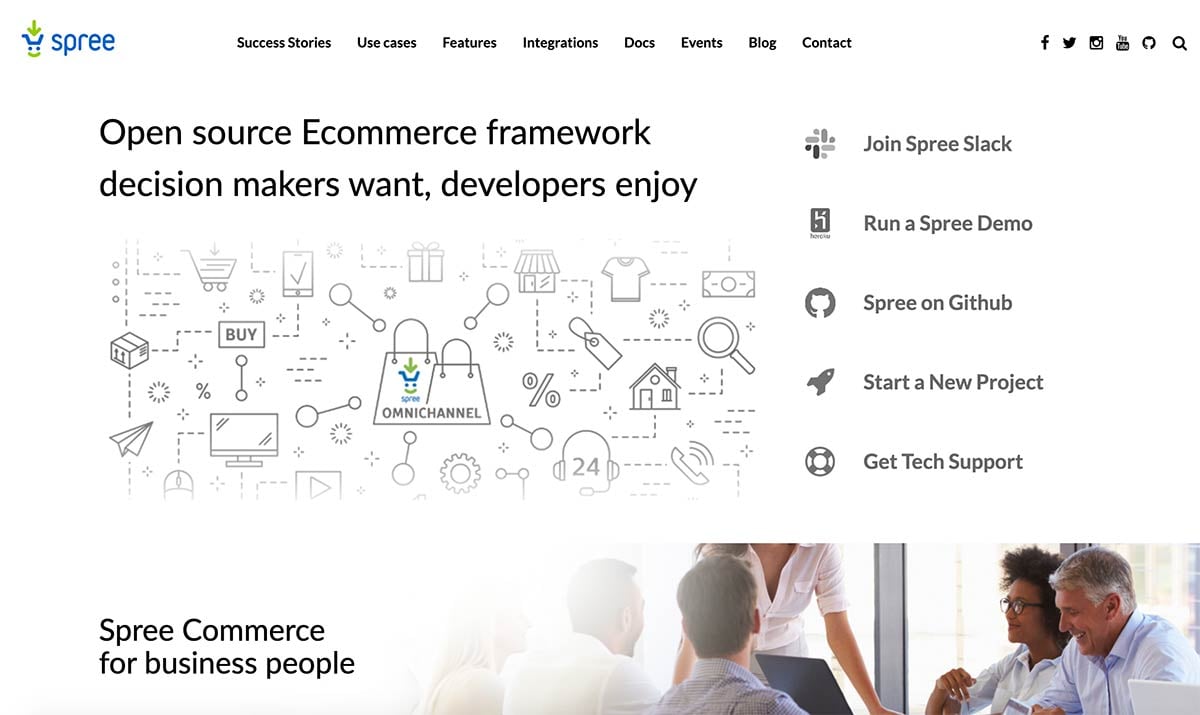 Spree Commerce is a popular piece of eCommerce software, built upon Ruby on Rails. It was created in 2007 and has been an open source project since 2015 when it was acquired by First Data. It's used by some major companies in the eCommerce space such as Blue Bottle Coffee and Huckberry which would give significant confidence in using it. Spree have done a great job with their Success Stories section and there's a terrific selection of brands in different niches using it, with a detailed case study of each. Furthermore, it's noticeable how professional each of the stores using it look and how customizable it evidently is to create such a variety in the resulting designs.
There are 3,000 members on their Slack channel and 760+ contributors along with over 800,000 downloads so this is a platform you can trust moving forward with your eCommerce store. If you're going the Ruby on Rails route, I'd also recommend looking closely at Solidus, a most noteworthy fork of Spree.
Key Advantages:
Used and trusted by major brands like Huckberry.
Faster development with Ruby on Rails and highly customizable.
Key Disadvantages:
Needs access to a Ruby on Rails developer.
Worth also looking at Solidus which has advantages over Spree in a couple of areas.
Who is using SpreeCommerce?
Mack Weldon
Everlane
Huckberry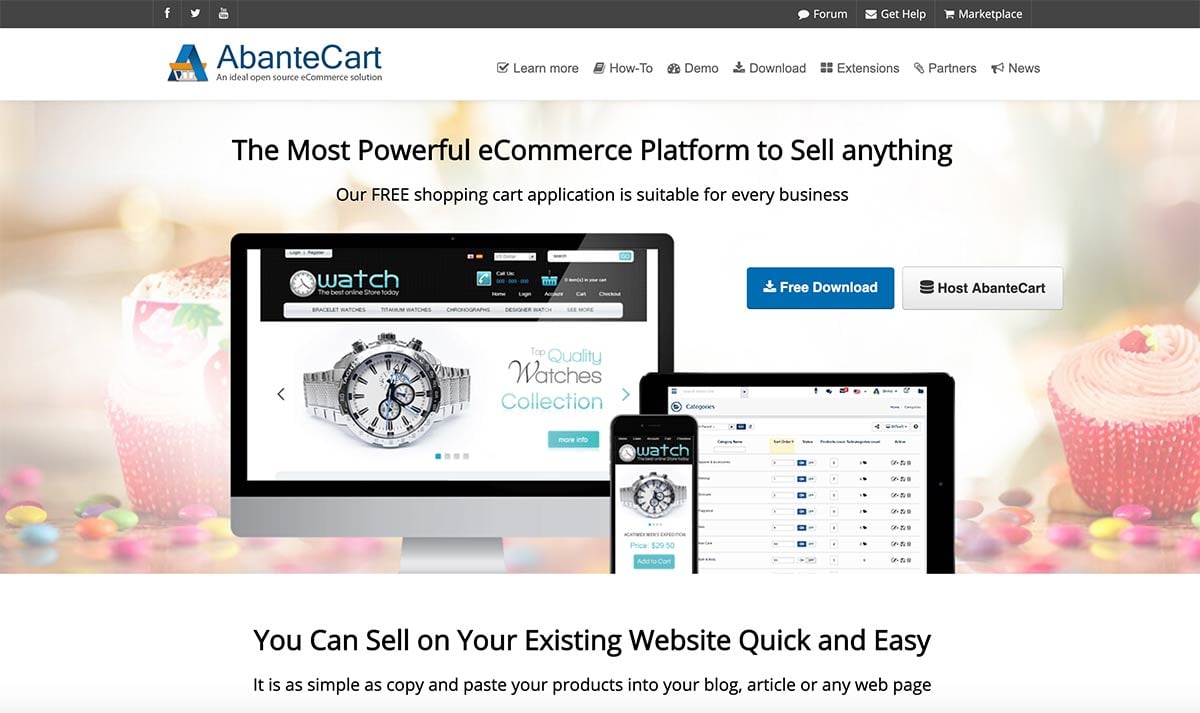 AbanteCart has been around since 2011 and is an eCommerce solution coded in PHP. Abante is a Filipino word meaning "to lead" – and while you couldn't yet call it a class leader in this field it does have some admirable features. AbanteCart handles both physical and digital products and you can add unlimited items, provided your server can handle it. Similarly, the backend editor allows you to add and edit items relatively easily.
Even though the overall interface looks pretty dated, it does the job. In addition, there is an AdanteCart marketplace with both free and paid add-ons. They cover the key categories such as payment providers but you'd need to carefully check to see if ones you require are being maintained by the developers. As a consequence, with a smaller community of users there is a greater danger of plugins being abandoned. Furthermore, support is primarily provided though their own community forum, with paid support also available at an hourly rate.
Key Advantages:
Quite easy to use, you can even use it if you have an existing website by embedding code it automatically generates.
Has a passionate user base and is regularly updated.
Key Disadvantages:
Default theme, and even the paid alternatives look quite dated and uninspiring.
Doesn't have the resources of some of its other open-source competitors.
Who is using AbanteCart?
UniversalCoin
First Fidelity Reserve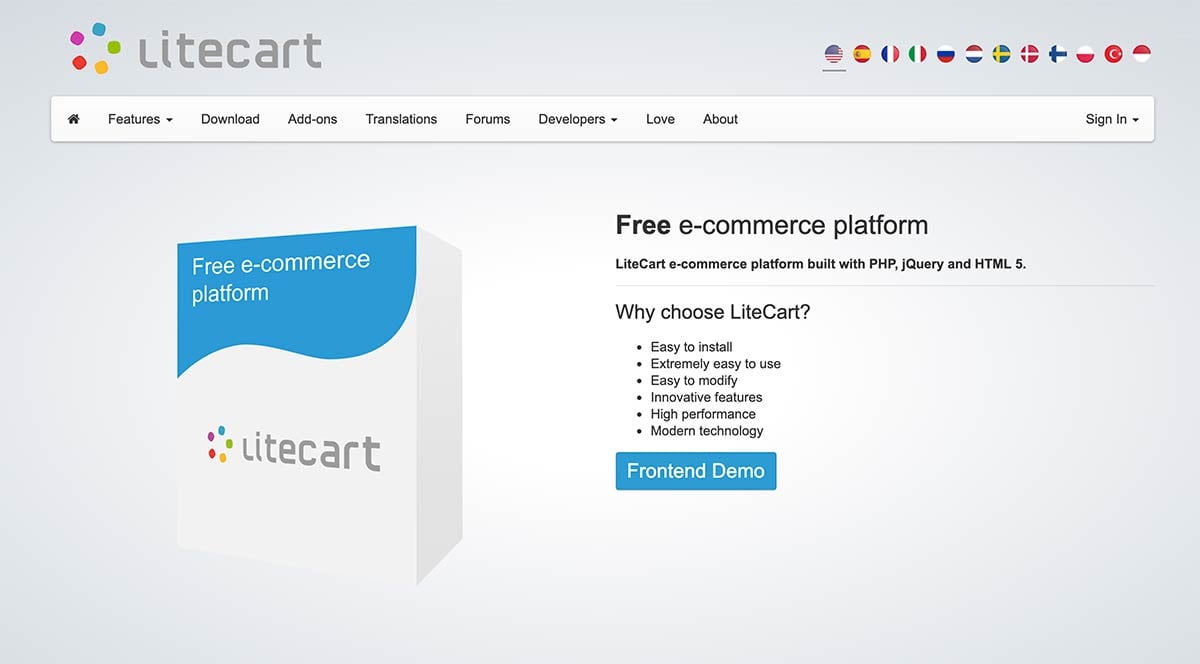 LiteCart is an interesting eCommerce platform from Sweden based upon PHP, HTML5 and jQuery. Their performance chart comparisons with other eCommerce systems are interesting with LiteCart's load speed and overall number of requests significantly better. Since the data used was from 2017, I wonder what up-to-date tests would reveal. It's got a working demo, for both the frontend and backend, and although it looks a little dated, it works pretty well. As a result, you can edit the catalog like any other store and use multiple currencies and languages. There are also over a hundred add ons for additional eCommerce features such as payment gateways and shipping modules. LiteCart latest release was available on the day I wrote this review so it is clearly being kept up to date and is therefore in active development.
Key Advantages:
Excellent performance metrics compared to rival platforms.
Regularly updated, at least at the time of this review.
Key Disadvantages:
Like many other eCommerce platforms on this list, lacks decent themes to showcase features in a beautiful way.
Still a small community using it so hard to find many tutorials or resources.
Who is using LiteCart?
Viking Importing
Indra Birawa Store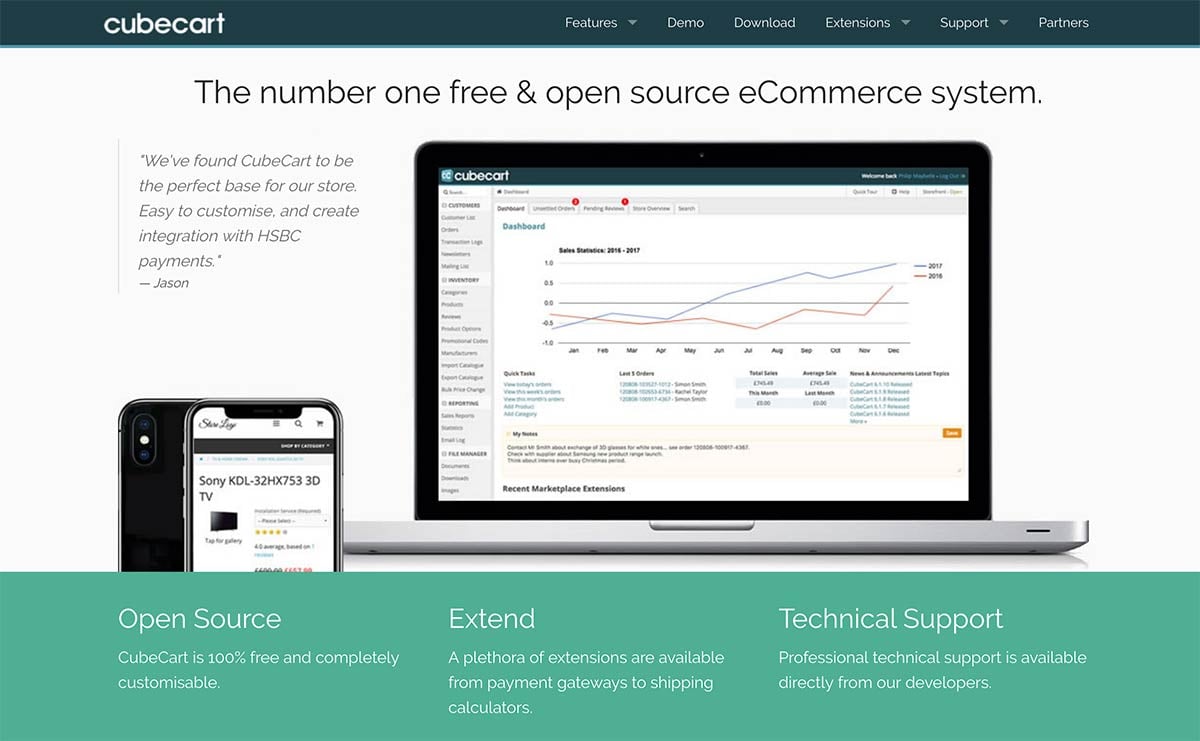 CubeCart is a completely free and eCommerce platform from the UK. They've done a great job incorporating success stories into their site and unlike many others on this list it's easy to find examples of it in the wild, with often glowing recommendations from store owners. The site includes a working demo of the front and backend so you can get a feel for it right away. The default demo is basic but built upon the Foundation Framework from Zurb so it would be easy for a web developer to get to grips with it. In addition, it's actively maintained and includes a plethora of additional add-ons, both paid and free within its marketplace. Finally, if you're based in the UK in particular, you might find CubeCart has the features most suitable for your store.
Key Advantages:
Actively developed and maintained.
Supported by experienced staff, it seems to be highly recommended by many users.
Key Disadvantages:
The live stores don't look particularly modern design-wise.
Still a small player in the eCommerce space, more add-ons available elsewhere.
Who is using CubeCart?
Mister Trendy
We Love Fabric
Prism Solar
For WordPress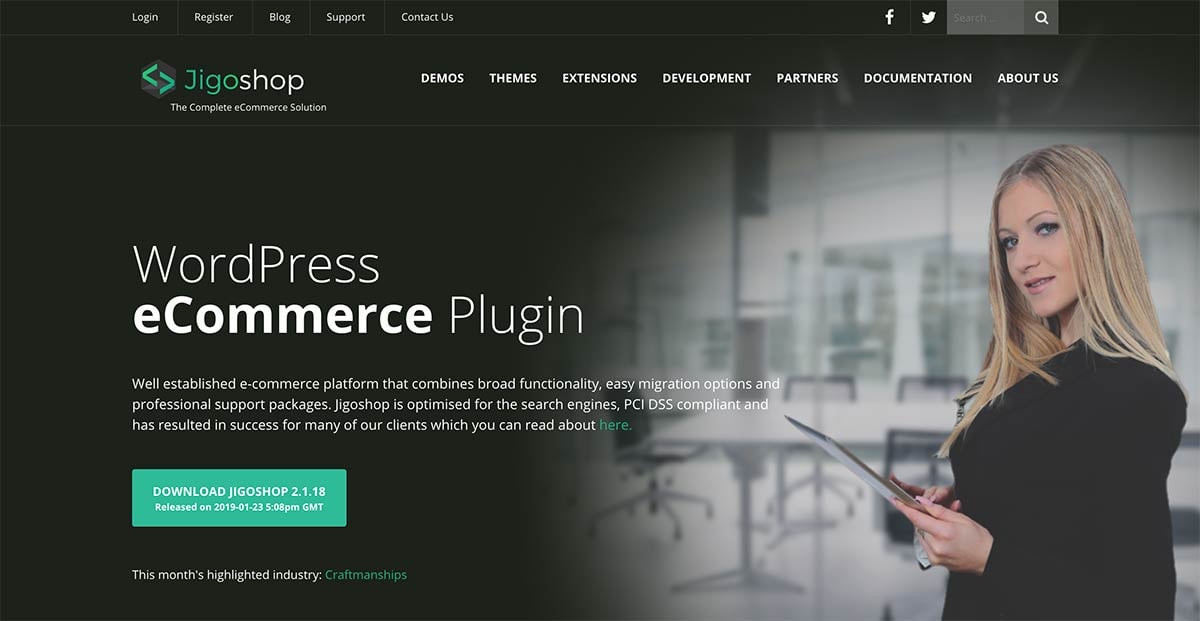 JigoShop is a free plugin for the popular WordPress CMS and provides easy to use eCommerce capabilities. It was developed originally in 2011 and is known as the first eCommerce plugin for WordPress. It was later forked and as a result its two lead developers Jay Koster and Mike Jolley left the project and joined the rival WooCommerce team. JigoShop was revolutionary for its era but its use-base has steadily declined as more and more developers moved to WooCommerce and it's a minor player among eCommerce platforms today. Furthermore, it is also infrequently updated which is a worry when choosing an eCommerce solution. At the time of writing, it's been over 6 months since the last release.
Key Advantages:
The original eCommerce plugin for WordPress, if that is important to you.
Easy installation, even for beginners.
Key Disadvantages:
Has long been overtaken by WooCommerce which has a vastly larger ecosystem of tutorials, guides, plugins and developers.
Down to only 400 active installations compared to 4+ million for WooCommerce.
Who is using Jigoshop?
iclean.gr
Sissy Roo's Closet
Angel Bean
For Joomla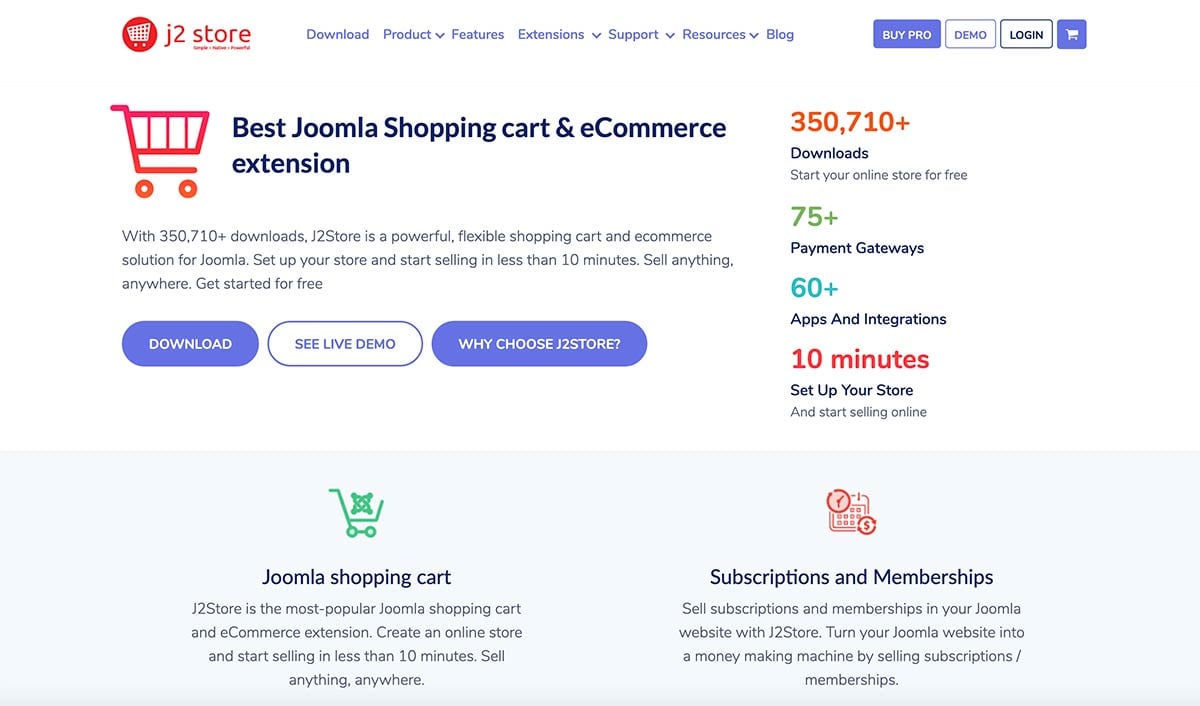 J2Store is a very modern looking Joomla extension which provides eCommerce functionality. As you can see in the screenshot above it's popular with over 350,000 installs and includes numerous payment gateways and apps for additional features such as subscriptions and memberships. It's got one of the nicest default eCommerce installs on this list, called "ShopLook". They did a good job with the initial look and feel. There are also quite a large number of templates available. In addition, unlike many of the other open source eCommerce solutions on this list, most of designs are modern and look professional. In conclusion, if you're running a Joomla-based website this is the shopping cart solution I'd go for.
Key Advantages:
Excellent user guides and live demos give you confidence before using it.
Large number of extensions and an active developer community involved in the project.
Key Disadvantages:
The free version is open source and GPL licensed but you'd need to upgrade to the non-opensource Pro version to access a lot of additional useful features such as coupons and vouchers.
No free payment gateway extensions included, you'll need to pay for Stripe and PayPal separately.
Who is using J2Store?
The Canny Company
Guerilla Drone
Certa Books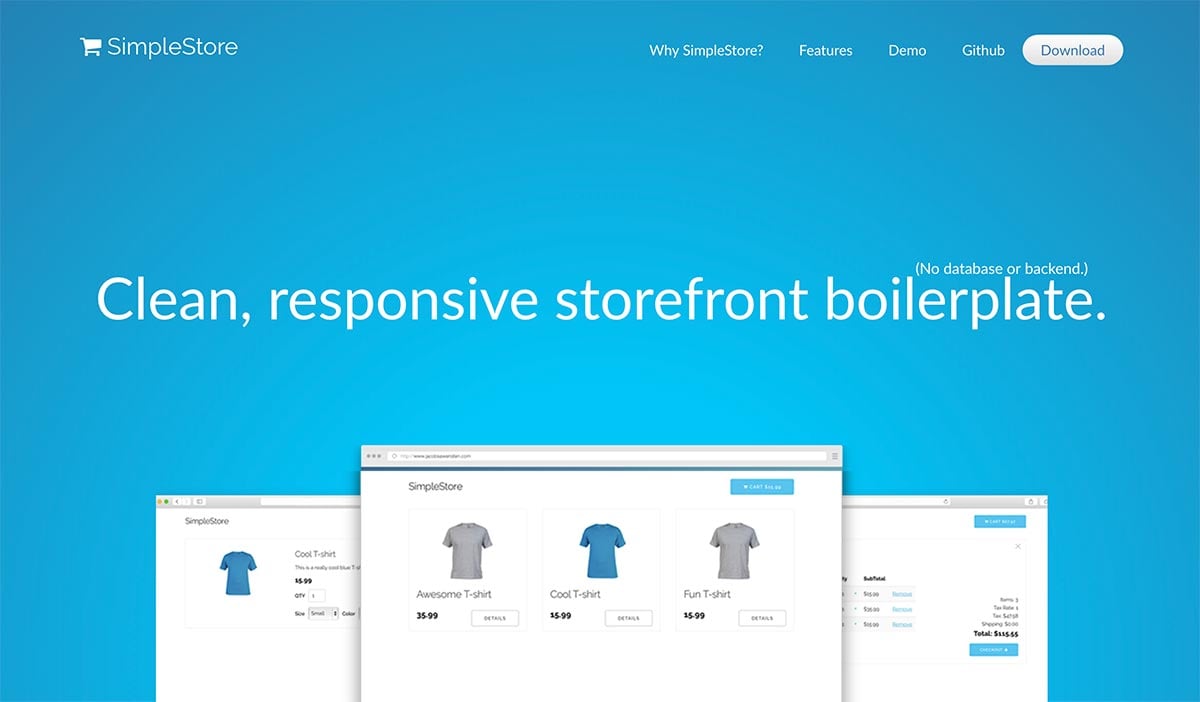 SimpleStore is a javascript powered eCommerce platform which can get you up and running in minutes. Since it just regular HTML, CSS and JS, you don't need any backend database – it's entirely client side. It's built on the Skeleton framework so it's lightweight and fast. It includes unlimited product attributes and you can apply multiple shipping methods to your items. You can process orders using PayPal, Google Checkout and Amazon Payments and it works with multiple currencies. With javascript pretty much ubiquitous on every website these days you could consequently see more entirely-JS powered solutions in the future.
Key Advantages:
Can run this even on a static HTML website and as a result, no database is needed.
Lightweight, the demo is impressively quick.
Key Disadvantages:
Infrequently updated, the main codebase was developed in 2015 and hasn't changed.
Hard to find any examples of live stores using it or any visible community of users.
For Joomla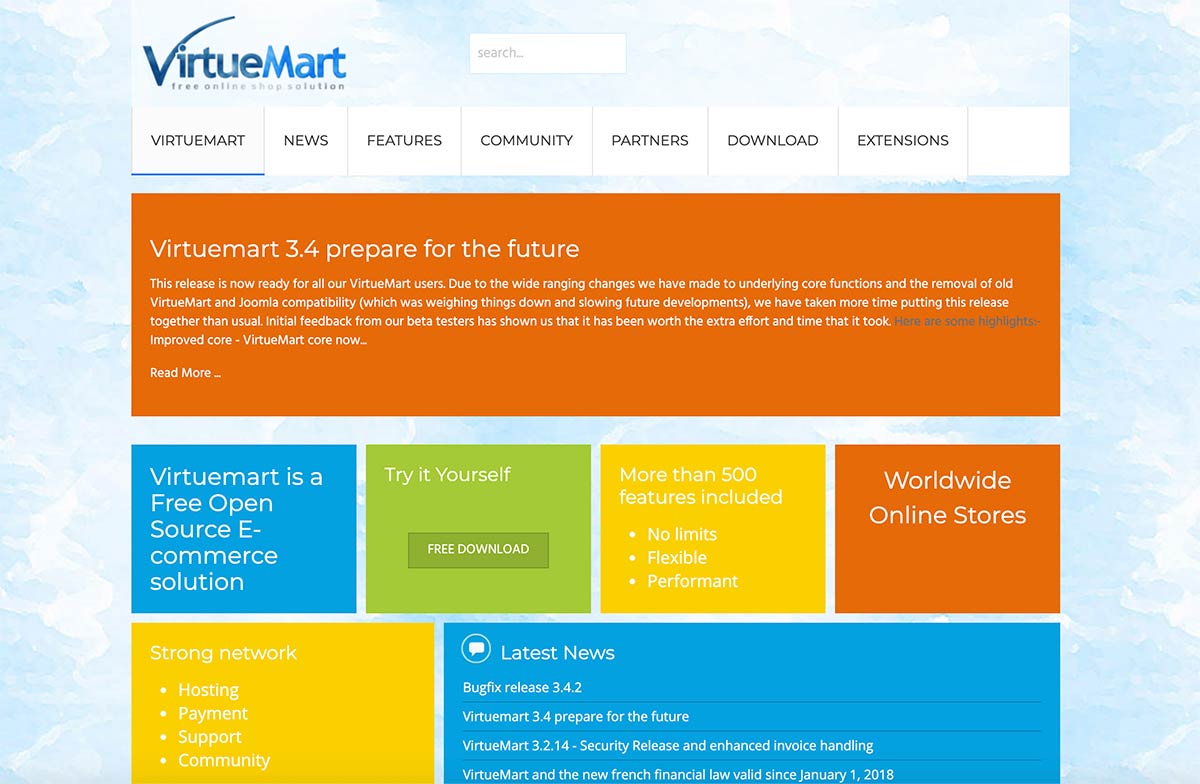 VirtueMart is an open source eCommerce solution for the Joomla Content Management System. It's a plugin so requires Joomla to be first installed on your server, and then this sits on top, providing store functionality. It requires a level of technical knowledge to implement this system and certain features which are usually standard such as social media and mobile responsiveness are lacking. Items can be filtered by best sellers and recently added. Guest checkout and one-click ordering is offered out of the box, but other nice-to-haves such as discount codes, gift certificates are missing from VirtueMart. Therefore, if you have to go the Joomla route I'd look instead at J2Store for an eCommerce solution.
Key Advantages:
Allows you to add eCommerce functionality to an existing site powered by Joomla.
Numerous add ons available for Joomla – as a result there is a decent marketplace of third-party extras to choose from.
Key Disadvantages:
Not regularly updated, if you're running Joomla then J2Store seems more of a future-proof choice.
Forums fairly quiet, the official Twitter account hasn't posted since 2018.
Who is using VirtueMart?
zwilling.in.ua
natuurgadgets.nl
hanfhaus-reutlingen.de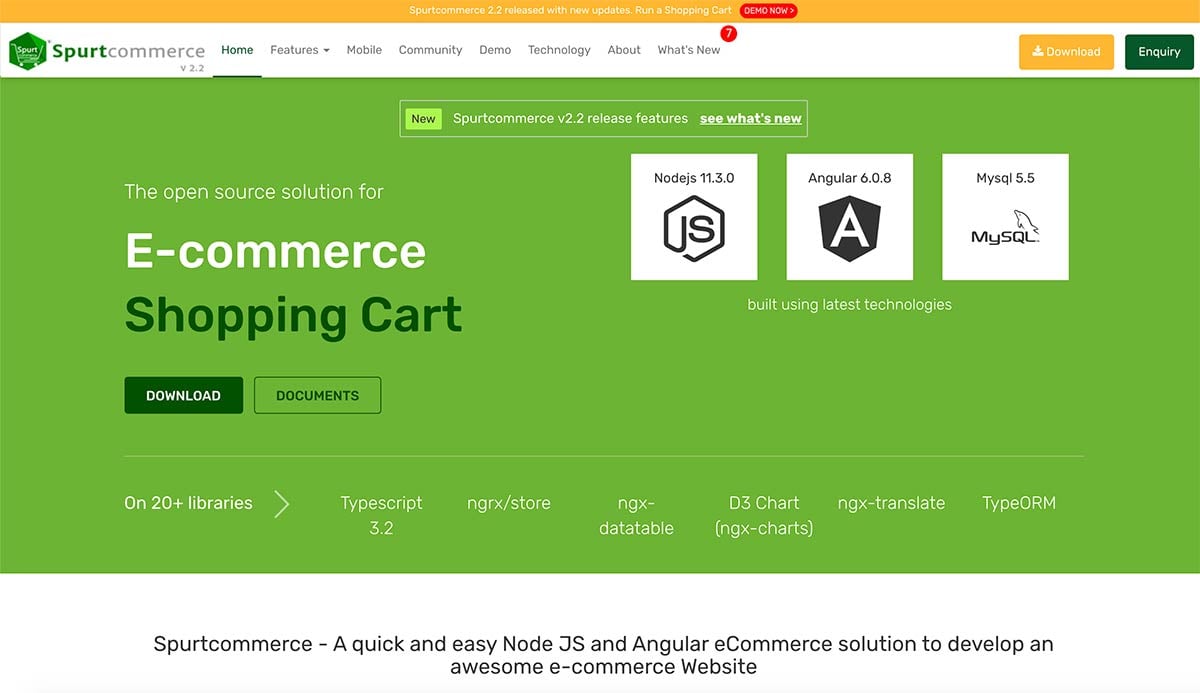 Spurtcommerce is an interesting eCommerce platform built on the modern frameworks of Angular and Node JS. Built on this underlying technology base, it's impressively fast and you're a developer with these skills, you'll save time and costs by using Spurtcommerce as the foundation of your store. The eCommerce implementation isn't as sophisticated as other options on this list and if you want to create anything custom, you'd need to program it yourself or hire somebody from their list of preferred partners.
Key Advantages:
Excellent documentation and the community forums are active.
Modern frameworks used which are optimized for fast loading sites.
Key Disadvantages:
Basic eCommerce implementation and you'll need developer-level skills to make changes.
Hard to find any examples of live stores running it.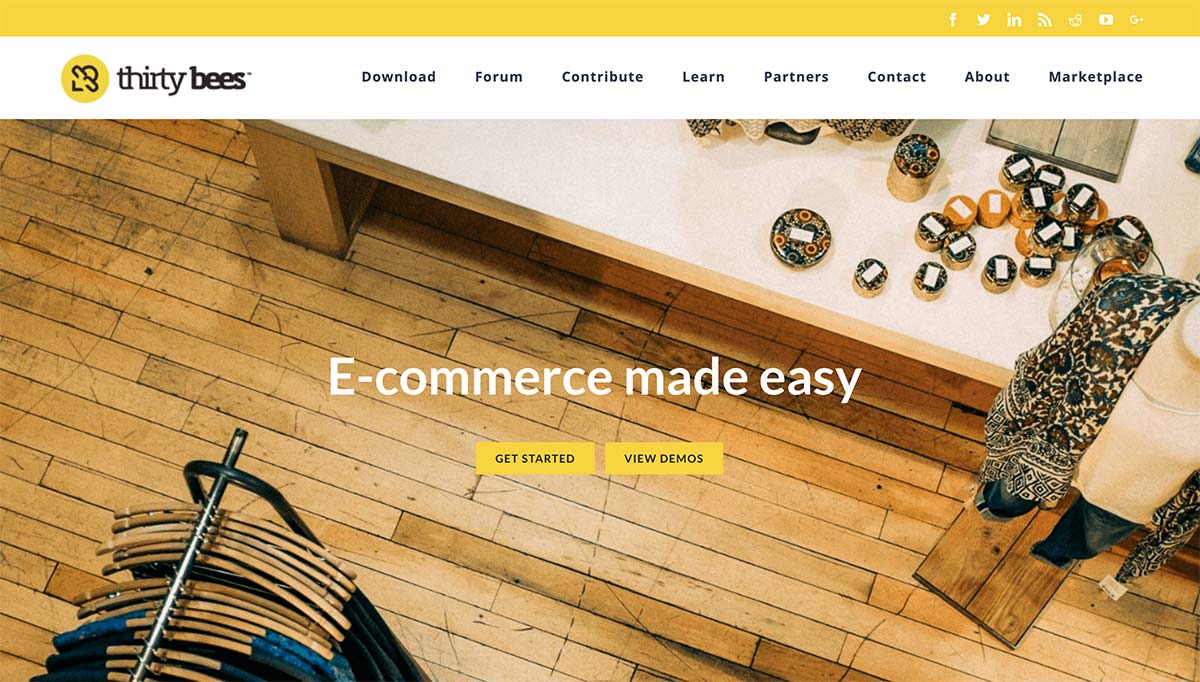 Thirty bees is a fully featured eCommerce platform with a backend interface where you can add products and track sales. It includes a responsive design with a one page checkout as standard. Furthermore, it has a raft of useful features as standard including multiple currency support, PDF invoices, product filtering, and advanced tax settings. It's a fully open-sourced piece of software and as a result you can view every line of code on Github. This wasn't a platform I had come across before and although it doesn't have a huge user base as yet, it has a regularly updated blog and a passionate community around it.
Key Advantages:
The speed scores are impressive with a loading time on the demo of 0.469 seconds.
Plenty of useful modules included as standard, and has a marketplace of third-party apps.
Includes decent documentation to help you get started.
Key Disadvantages:
Needs more themes, the community default one is the only option at present.
Backend admin area design seems a little dated.
Who is using thirty bees?
EcoWarehouse
Chesspoint
Sus & So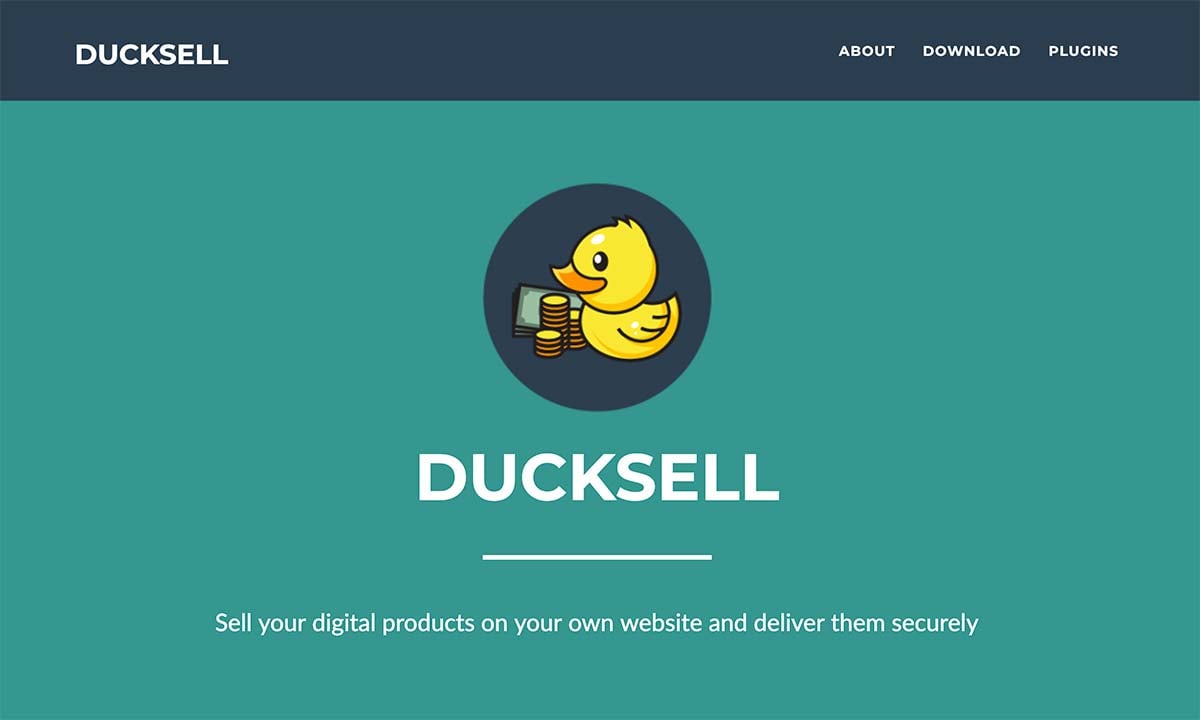 DuckSell is an open source PHP script which allows you to sell digital products to your customers. You can use it for any kind of secure download such as ebooks, templates, software, audio files and videos for instance. It creates a unique and secure URL for each purchase which does not reveal the true location of the file on your server. Tracking cookies and basic analytics are included so you'll know where your customers are located and how they are finding your store.
Key Advantages:
A simple way to incorporate digital downloads on any PHP based site.
Works with multiple currencies and languages.
Integrates with a number of useful plugins such as 2Checkout, BitPay, PayPal, and MailChimp.
Key Disadvantages:
For digital products only, cannot be used for physical items.
No frontend interface, this is just server-side code.
Not frequently updated and with sparse documentation it requires programming skills to implement.
For Drupal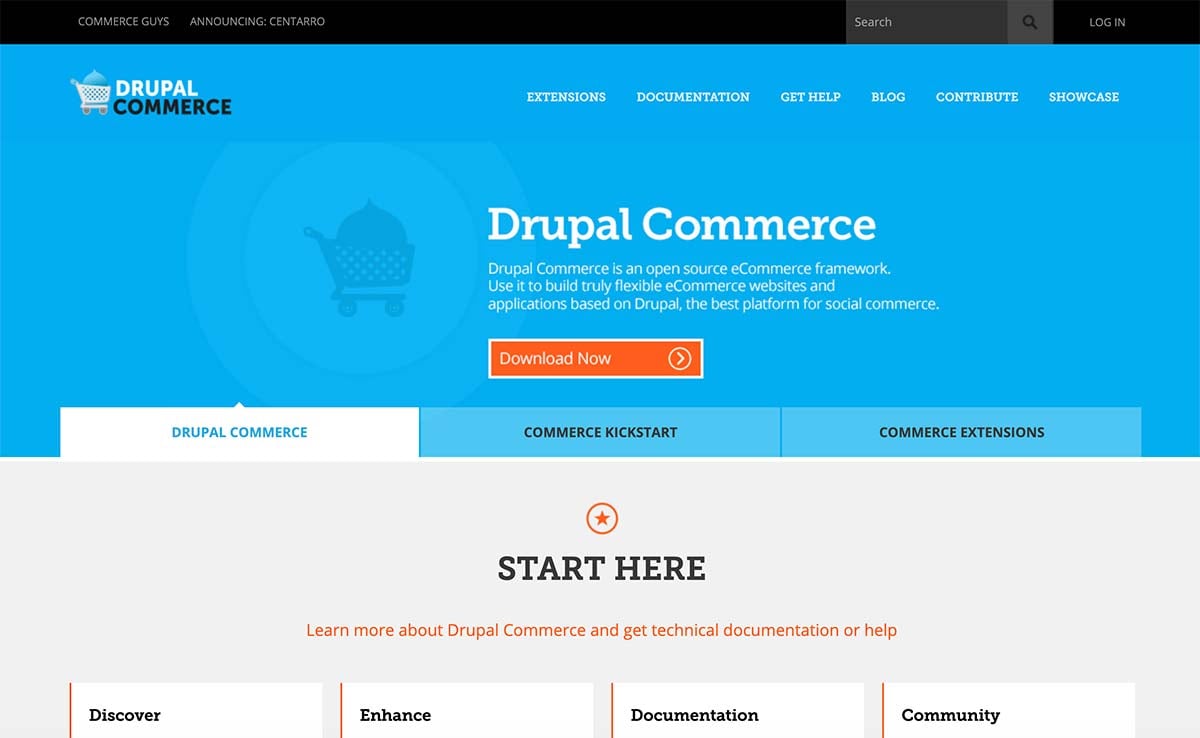 Drupal Commerce is an open source platform built from the ground up to integrate seamlessly with Drupal, an enterprise-level CMS. If your existing website is running Drupal, this is a good option to add eCommerce functionality, it's as easy as adding a module. It includes an ajax powered one-click checkout, which performs all of the payment processing on the one page. There are integrations available for all of the major payment providers such as PayPal, Stripe, and Authorize.NET. Every part of your store can be customized and improved – it's a very flexible piece of kit if you have access to developers and have specific requirements. In summary, if you're not familiar with Drupal then I'd avoid this, as the learning curve is big for people new to this software.
Key Advantages:
Deep integration with Drupal as expected so if you're already running a website powered by this CMS, you can have a seamless eCommerce section.
Drupal modules are typically all free so it's easy to extend it with additional features without it costing anything.
Key Disadvantages:
Steep learning curve, and as a result you need to be very familiar with Drupal development.
Not as many online tutorials and resources compared to other platforms.
Who is using Drupal Commerce?
Olsson & Gerthel
Lush
Cartier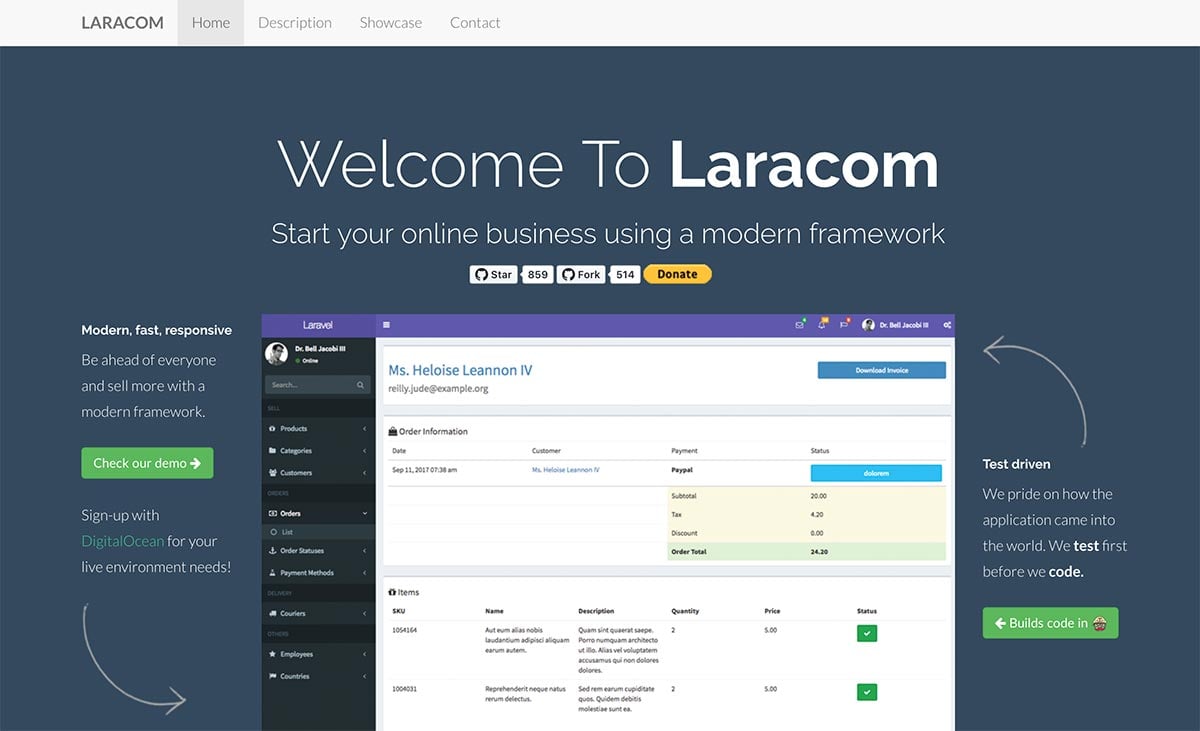 Laracom is an open source eCommerce solution for the Laravel PHP framework. This is one of the more modern frameworks and is designed around beautiful code and speed. Features include customizable products such as SKUs, cover images, and prices. PayPal, Stripe, and Bank Transfer integration is included as standard and you can use Shippo for multi-carrier shipping processing. It includes a guest checkout and the customer orders screen is good with decent detail regarding each user who purchased. There's a mobile responsive design for the admin and front-end views of your store and the interface looks clean and modern. Finally, its documentation is quite sparse and you will need to be at a developer-level standard to attempt to run this for your store.
Key Advantages:
Uses the modern Laravel PHP framework.
Admin area looks clean and attractive, works well on mobile also.
Key Disadvantages:
Need access to developers and be familiar with the Laravel framework to integrate this.
Very little documentation and a small community using it.
Who is using Laracom?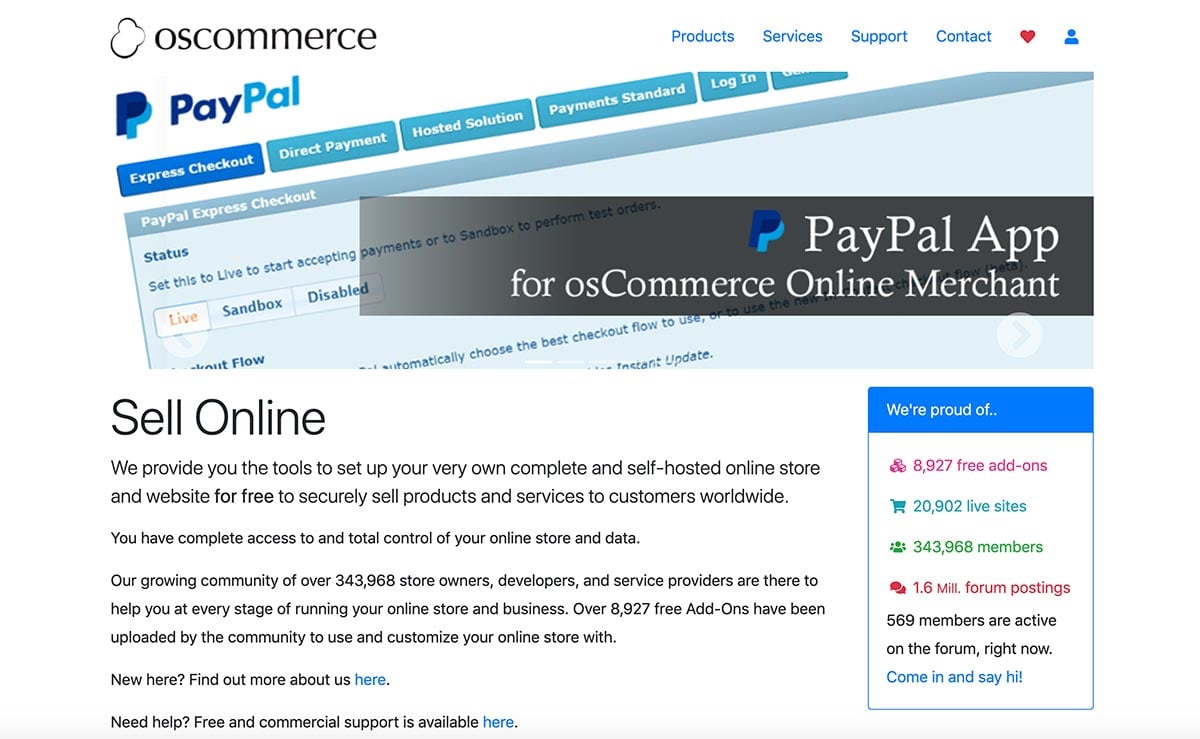 osCommerce is a self-hosted, open source eCommerce platform that has been around since 2000. With over 340,000 active stores using it, it remains a major player in eCommerce despite a dated looking admin and themes which look a tad old-fashioned these days. Although cutting edge for its time, it faces stiff competition from more modern open source platforms such as WooCommerce, Magento and PrestaShop. osCommerce takes more time to maintain and keep up to date and begins to creak when you have a large product catalog compared to the alternatives.
Key Advantages:
Long established with a passionate community around it.
Big marketplace of free extensions, it can be customized and extended.
Key Disadvantages:
Designs and admin look quite dated.
Lags behind other platforms when it comes to regularity of updates and overall features.
Who is using osCommerce?
Natural Zing LLC
Beauty 360°
Forma y Fuerza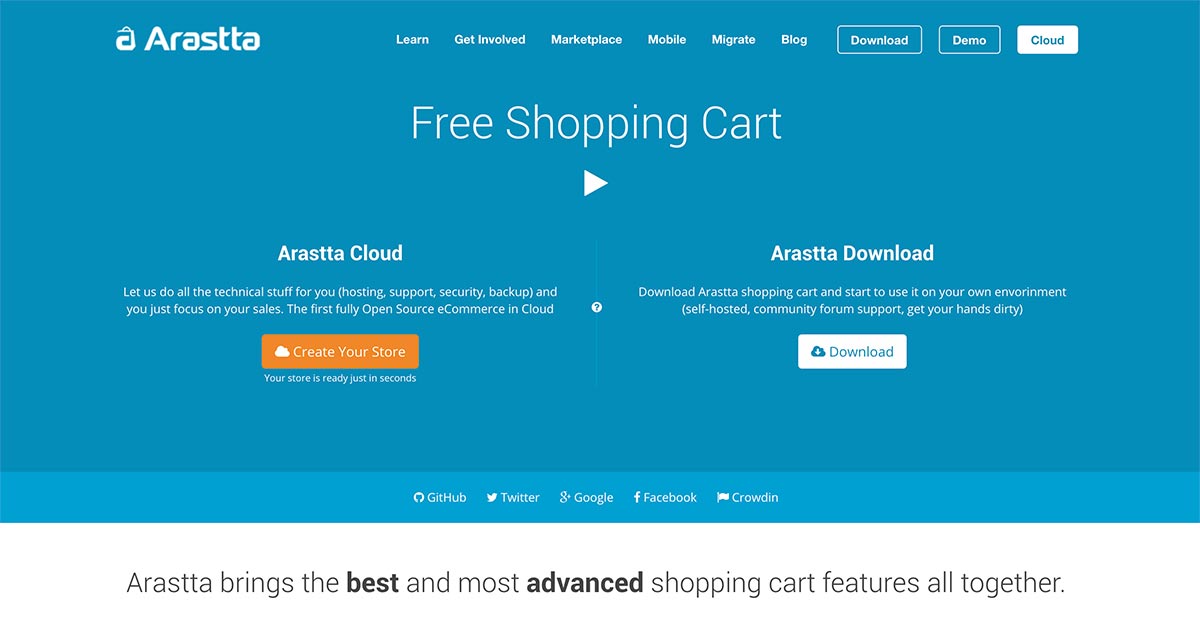 Arastta is a fully open source and community driven eCommerce solution from Turkey. It's built with technologies such as Symfony, Doctrine, MVC and Bootstrap so it's easy to get to grips with if you're familiar with any of these. It's actually a fork of OpenCart and as a result many of the addons and themes for that are also compatible with Arastta. Unlike OpenCart, SEO url's are possible by default and you can translate these naturally into different languages if you're running a multilingual store. It includes a Layout Editor which allows you to drag and drop modules or widgets into place, it's similar to how WordPress operates. Furthermore, there are a bunch of additional addons you can include on your store such as affiliate programs, coupons, gift cards, and customizable email templates.
Key Advantages:
Offers a cloud version which takes care of all the technical implementation.
Based on OpenCart so many of the themes and addons for that system also work with Arastta.
Key Disadvantages:
The last release was in April 2017, it's unclear if it's still in active development. The blog was last updated in the same year.
Official forums are also very quiet.
Who is using Arastta?
fritidsnett.com
gurudiscgolf.com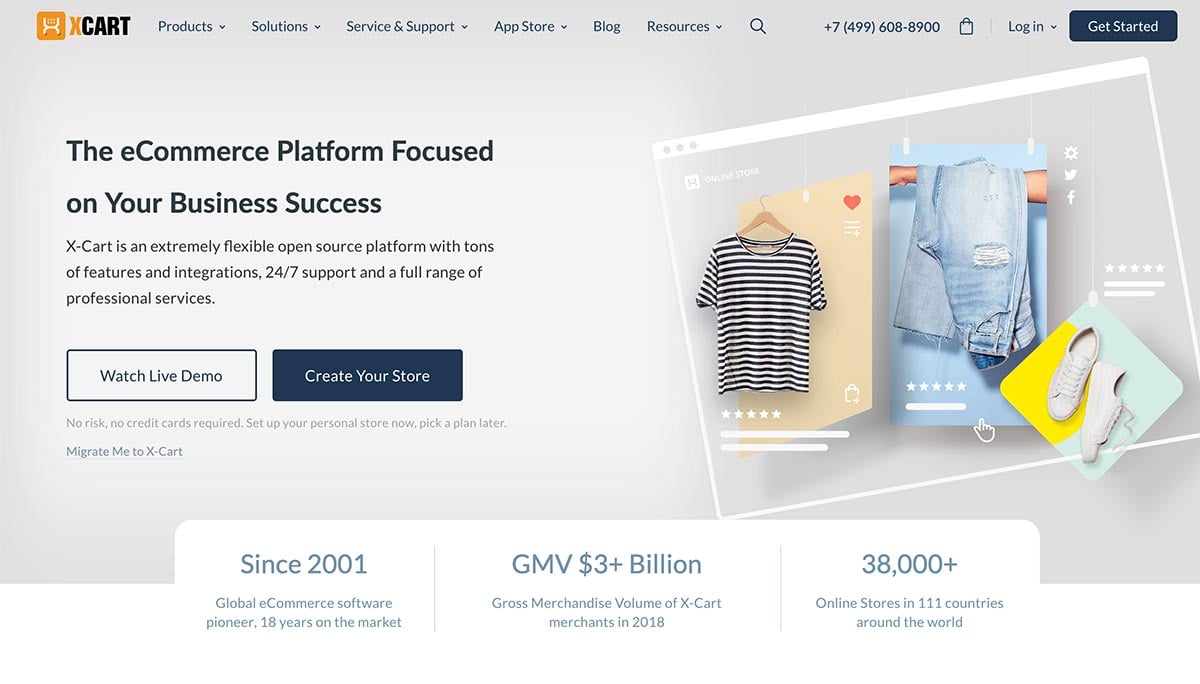 X-Cart is an open source eCommerce platform, originally developed in 2000 by Ruslan Fazlyev from Russia. At the time of its release, it was the first ever PHP shopping cart software. It powers over 38,000 stores around the world and has consequently processed in excess of $3 billion in orders. It's a highly scalable piece of kit and you can customize it to your liking so long as you have the skills and developer resources available. Furthermore, visiting the success stories section will give you a feel for what is possible with X-Cart and you'll see a broad range of major brands using it with clean, professional designs. Finally, you can sell pretty much anything with X-Cart, including physical, digital, and subscription-based services.
Key Advantages:
Plenty of extensions in the X-Cart marketplace.
It's PA DSS certified and PCI compliant for the protection of customer data.
Key Disadvantages:
There are a limited number of themes available compared to other platforms.
Technical support is paid only.
Who is using X-Cart?
CARiD
Trademark Hardware
Oak Hall
Did I miss any other examples?
Now finally I'd like to hear from you. Which of the open source eCommerce examples listed above is your favourite? Or maybe I missed some noteworthy open source eCommerce platforms which should have been included. Either way, let me know by leaving a comment below right now.