What essential features would make up the best WooCommerce theme? We've been building WooCommerce themes for some time, starting with Captiva in 2014 and our best seller, Adrenalin in 2015 and our oft-imitated Suave in 2016. Over the past few years, we've noticed a proliferation of multi-purpose themes on marketplaces such as ThemeForest. These, on the whole, tend to feel 'heavy'. By including dozens of javascript files, image sliders, icon libraries and the like, speed dramatically suffers.
And speed is really important when it comes to eCommerce. Research has demonstrated that even an extra 1 second of load time affects conversions by 7%.
I've admired a new wave of themes such as GeneratePress, OceanWP, Astra, and WooCommerce's own Storefront. These tended to be much lighter and far more focused on speed than bulk. I wanted something as lean as Storefront but with a more modern design and additional conversion features.
So, that's where Shoptimizer came about. It's lean and lightweight with impressive loading times and doesn't use any template overrides.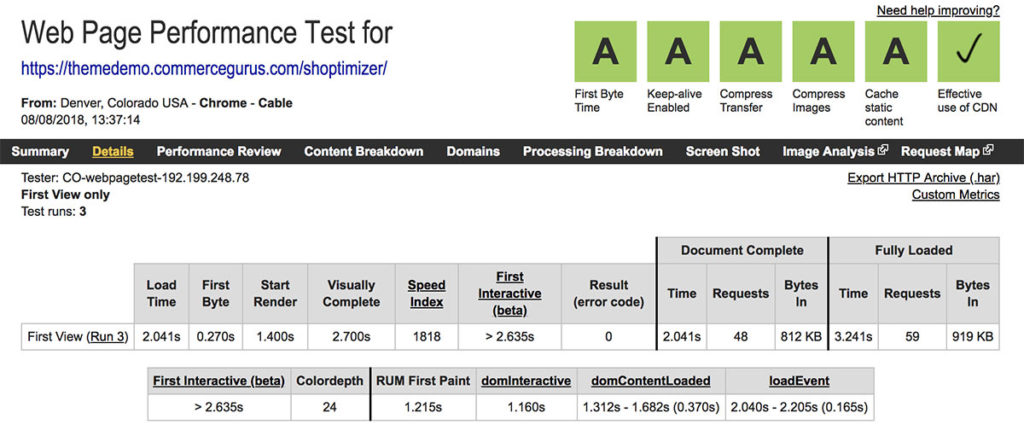 Speed, why is it important?
Too many eCommerce themes focus on huge images with loading effects that really impact on site loading speeds. Researching just how much even an extra second detracts from conversions is quite startling.
If your store takes an extra second to load, pageviews drop by 11%.
47% of people expect a site to load in 2 seconds or less!
If your store makes $10k a day, a one second quicker response time can generate an additional $700 daily. Huge!
You might like the animated effects on your site but it's unlikely potential customers hang around long enough to admire them. A slow site will hemorrhage customers and your competitors will benefit.
We built Shoptimizer to be super-lean and it includes theme options to ensure a minified CSS file is loaded, as well as 'Critical CSS'. Critical CSS is a stripped down stylesheet which contains just the elements necessary to display the initial viewport on key pages. This gives the crucial impression of speed as everything else loads in the background. To build the best WooCommerce theme we spent a great deal of time researching conversion techniques covered by the excellent Baymard Research Centre. Here is a summary.
---
Additional conversion features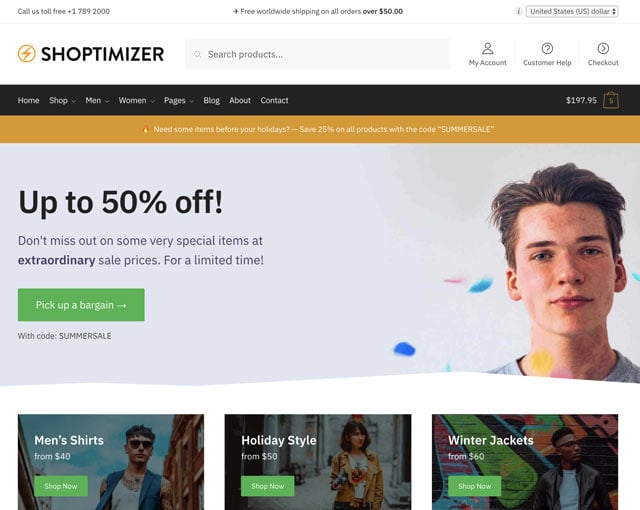 No homepage slider
It might seem strange to start with a feature that's missing but sliders have been proven to add a huge amount of extra weight to homepages. People rarely wait around for each slide to display – the downsides when it comes to loading times are significant. A simple, well-planned hero image with a straightforward call to action has been proven to be far more likely to convert.
Additional product fields
Research has shown that 24% of online shoppers in the US have left a site when they can't quickly see shipping information. One solution to this is to put it right on the product level. Shoptimizer includes the ability to add key messages and trust badges right on the product page next to the call to action button.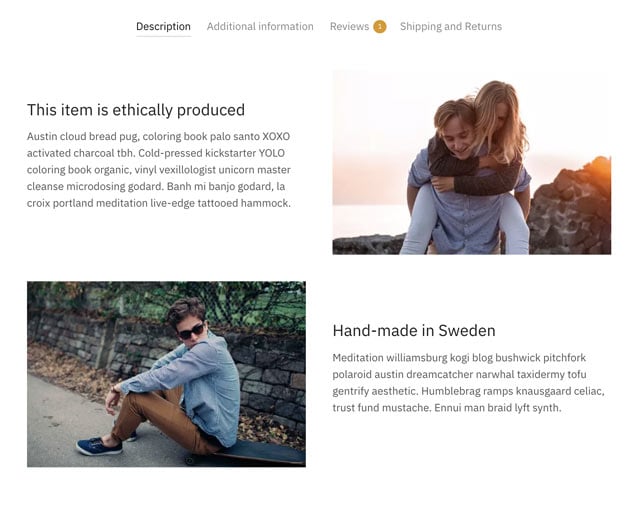 Create a richer product details layout
Many stores don't spend much time on actually explaining the products they sell. We've included compatibility with page builders which allows you to create a far richer product details layout. By using thumbnails and headings, it helps people scanning the item to see if it's right for them.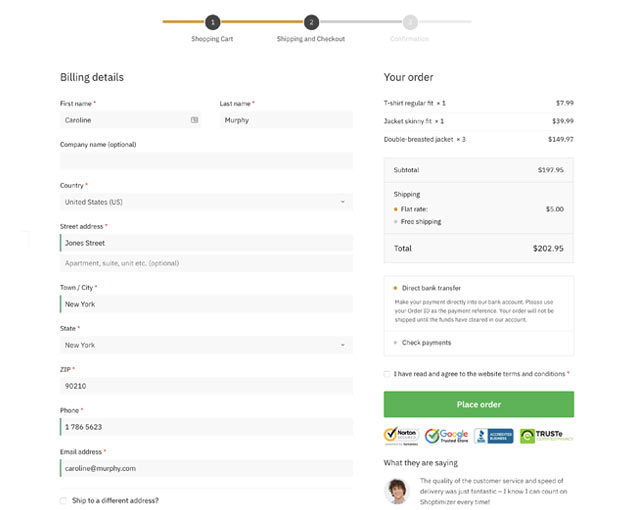 Distraction-free checkout
We've included a theme option to create a minimal checkout to really focus customer's attention on the task at hand. It includes a step-by-step guide so that they know where they are in the process. Also, including the option to include a testimonial and trust badges add a sense of security for new customers.
---
Page builder support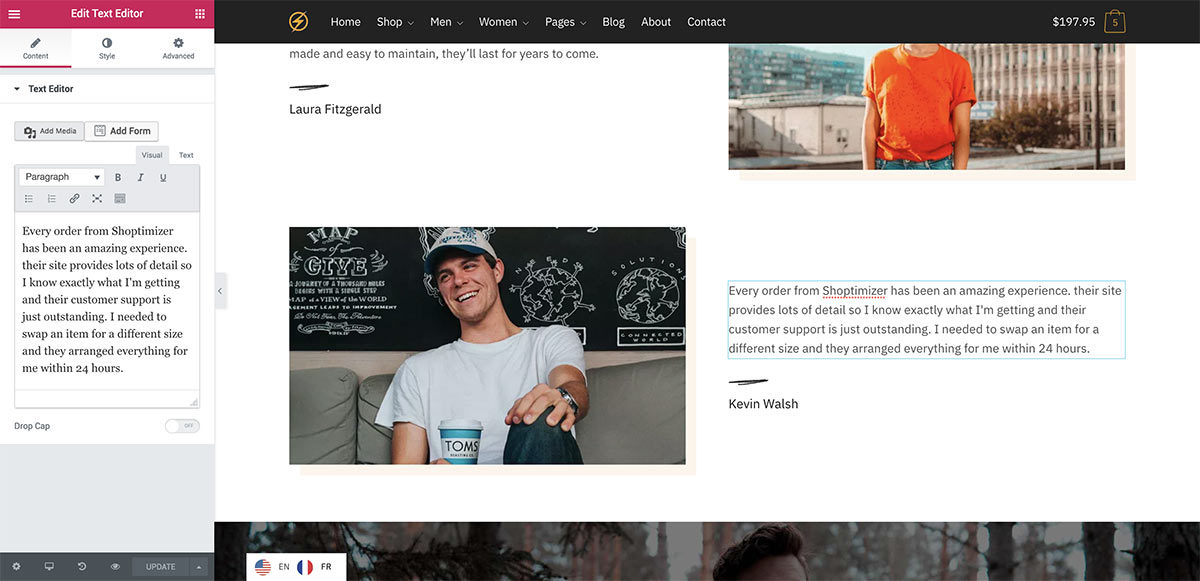 People do love page builders. Until Gutenberg develops further there does need to be an easy way to lay out content within a grid and include common elements such as an accordion or a Google Map with simple controls for editing. We're familiar with many, including Site Origin, Visual Composer and Beaver Builder but decided to include Elementor as part of the demo data.
It allows anyone to quickly create a vibrant homepage with an easy to adjust interface. By creating templates within it and spinning out multiple versions you can also set up a campaign in Google Analytics to test which version converts better.
Plus popular 3rd party plugin support
Folks who run WooCommerce stores love the flexibility that third-party plugins offer so we've been spending time ensuring that popular ones such as the official plugins from WooCommerce.com, YITH's collection including their wishlist and size guides, Aelia's currency converter and Weglot's impressive multilingual product are perfectly compatible with Shoptimizer. In fact, you can see many of them in action right on the demo site!
Support is also really important to be the best WooCommerce theme
We've included 12 months of support as standard with Shoptimizer. We find that support is more important for any WooCommerce store than say, a standard business website. So, the basic support plan we have included with Shoptimizer has doubled from 6 to 12 months. While this covers theme queries, we'd also really recommend an on-going support plan (Perform Plan Pro) with a company such as WPBuffs.
These guys are super friendly and can arrange regular backups – content editing, plugin updates, or anything you throw at them 24/7. These days, an arrangement like this is almost essential if you're running a WordPress business. It allows you to focus on being a store owner and not having your time consumed being a part-time web developer. Every hour wasted with (essential) WordPress maintenance is an hour not being used to promote your products.
Try Shoptimizer today!
We'd love you to try Shoptimizer today. It's available from us directly here at CommerceGurus.com and you can take a look at our demo site to see it in action. Plus, you can get 20% off the best WooCommerce theme for your store with the coupon code speed20.