Customer service is at the heart of all business, and eCommerce companies are no different. As a result, in order to maximize customer loyalty and streamline the customer experience, the vast majority of eCommerce businesses rely upon the function of online customer service software.
But what exactly does eCommerce customer service software offer – and which is the right one for your business? To help answer these questions, CommerceGurus has produced the following guide to 13 of the best eCommerce customer service software packages.
*All prices stated are subject to the package chosen.
---
Best for: multi-faceted businesses with complex customer requests
Freshdesk is an incredibly effective online help desk solution thanks to the flexibility and organization provided by its intuitive ticketing system and omnichannel support. We use it ourselves as the main support hub for customers of our Shoptimizer WooCommerce theme.
Collectively, the software's three pillar features, Messaging, Contact Center, and Support Center, enable your business to operate live chat, telephone, and customer support tickets, seamlessly from one space.
Price: Free – $199 per user/month.
Pros
Easy to use
Intuitive multi-channel chatbot
Omnichannel support
Has a free plan
Cons
Costs can accumulate quickly
---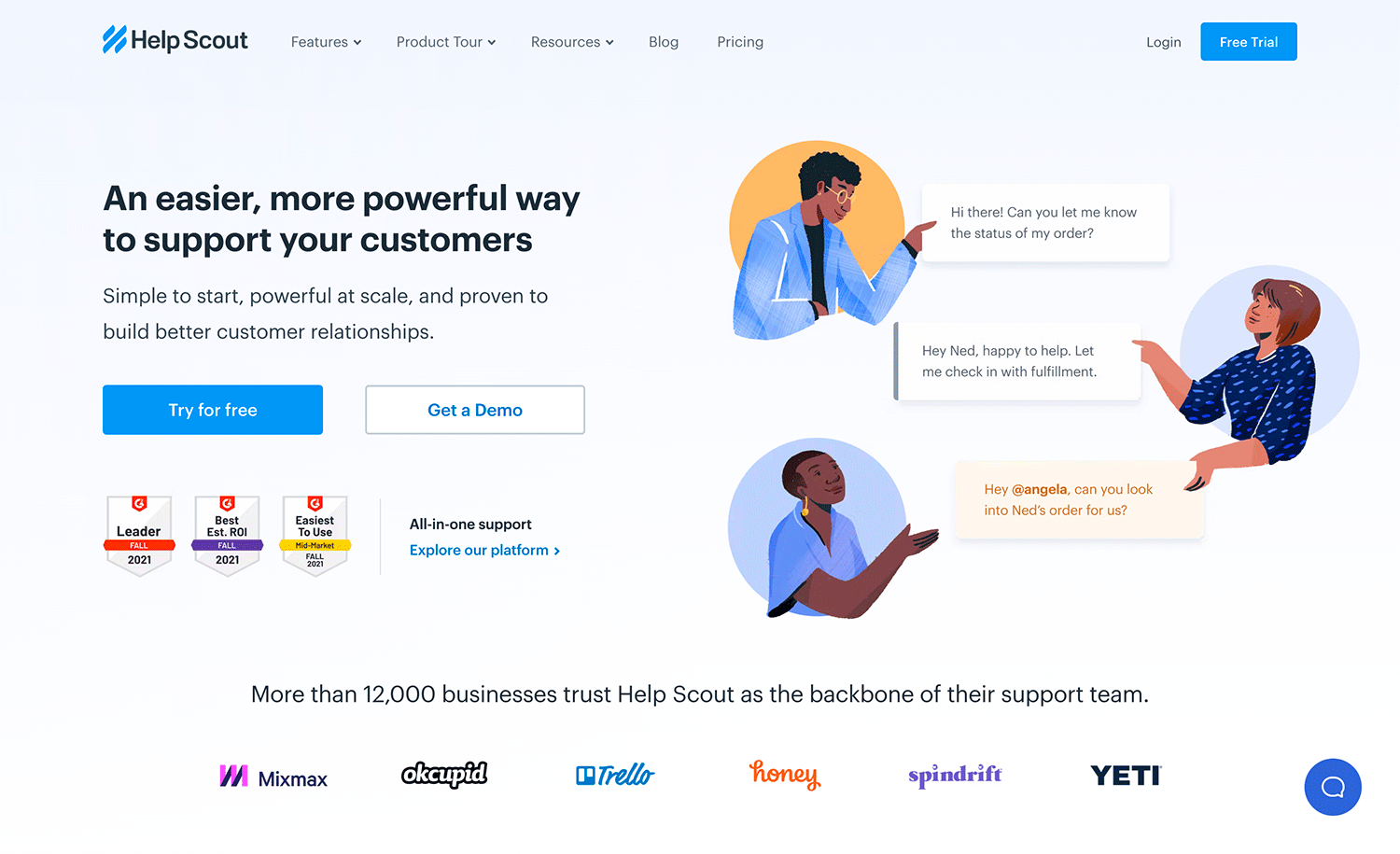 Best for: ease of use.
Help Scout's clean, easy-to-navigate design makes it easy to use for agents of all experience levels. That said, this simplicity does come with some sacrifices as Help Scout doesn't provide telephone support, customer tags, or browser extension compatibility.
That said, what it does, it does well and if omnichannel support isn't a must for your online business, you'll benefit from Help Scout's advanced reporting function, shared conversation inboxes, and, potentially, a considerable discount.
Price: $20 – $60 per user/month.
Pros
Advanced reporting function
Shared conversation boxes
Discount for qualifying organizations
Cons
No telephone support
Lack of compatibility with browser extensions
Lack of IT asset management
---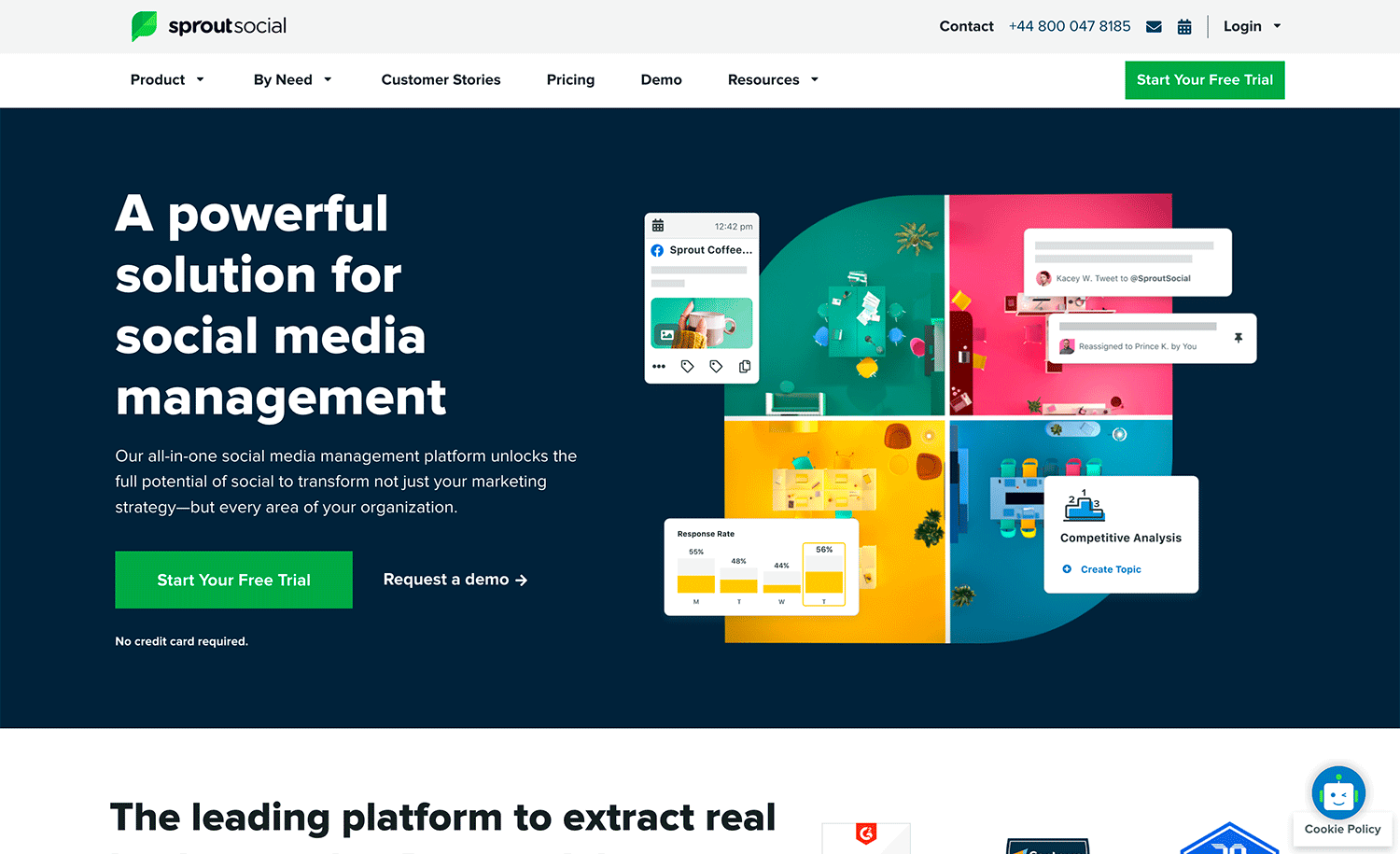 Best for: social media listening.
Sprout Social is an easy-to-use eCommerce customer service provider that offers an admirably comprehensive customer service experience. This includes a user-friendly interface and a wide range of reporting options right through to its excellent social media management and listening functionality.
The latter is a particular badge of honor, enabling users to monitor consumer sentiment and trends in real-time. However, due to its price, Sprout Social is, perhaps, best reserved for eCommerce companies with a large social media presence.
Price: $99 per user/month (standard package).
Pros
Shared, company-wide inbox
Intuitive social listening and management
Refined team workflow tools
Cons
Premium features reserved for higher subscription packages
Costs escalate quickly
---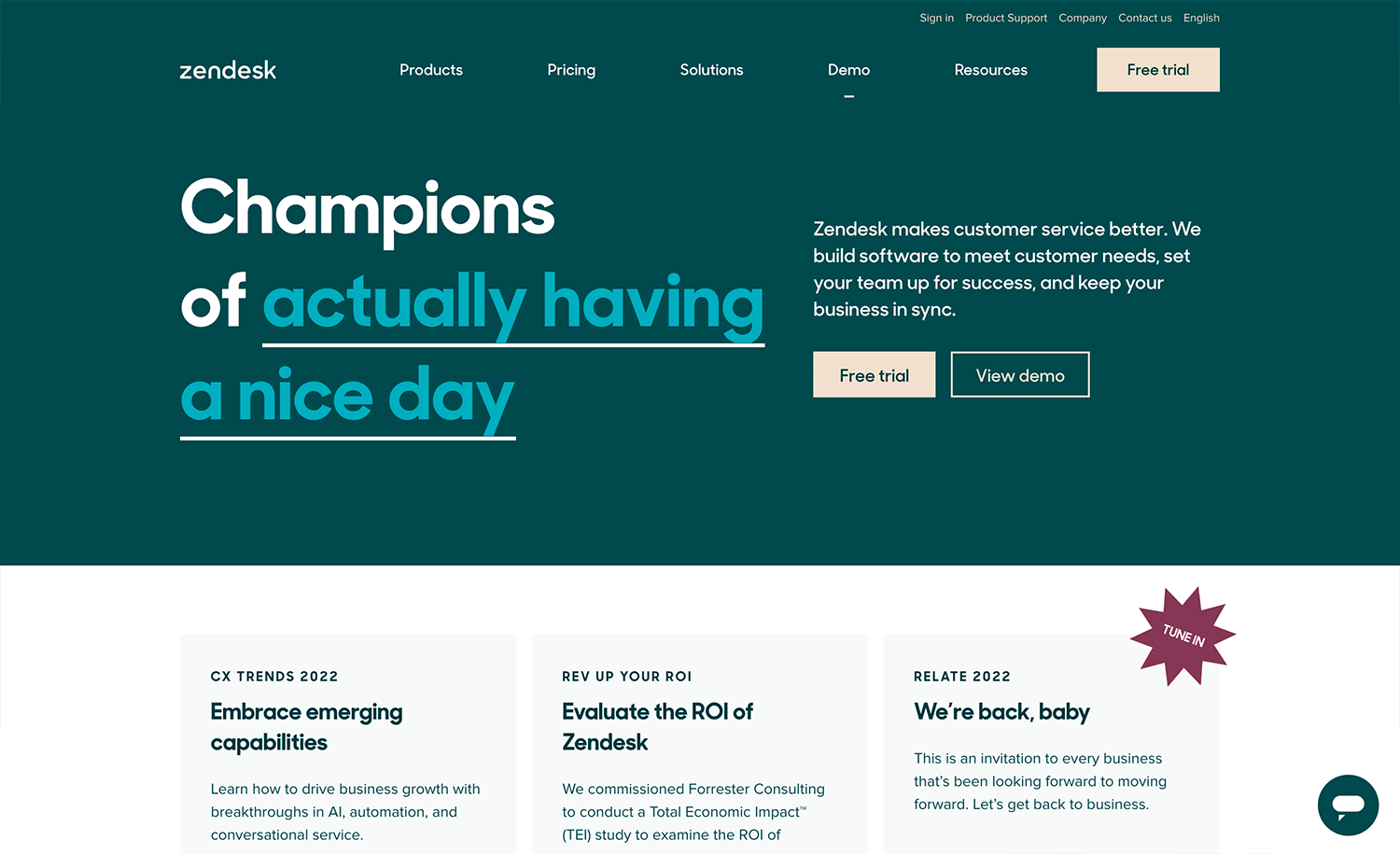 Best for: accessibility.
Zendesk is an excellent eCommerce customer service team solution for businesses of any size thanks to its broad price tiers and unique, intuitive approach to help desk software. As a result, it is one of the most accessible platforms on our list but don't let that fool you, it still delivers a comprehensive range of features.
Price: $51 – $103 per user/month.
Pros
Multiple pricing tiers
Unified agent workspace
Analytics and reporting
Cons
Variable customer support response times
No in-built asset management function
---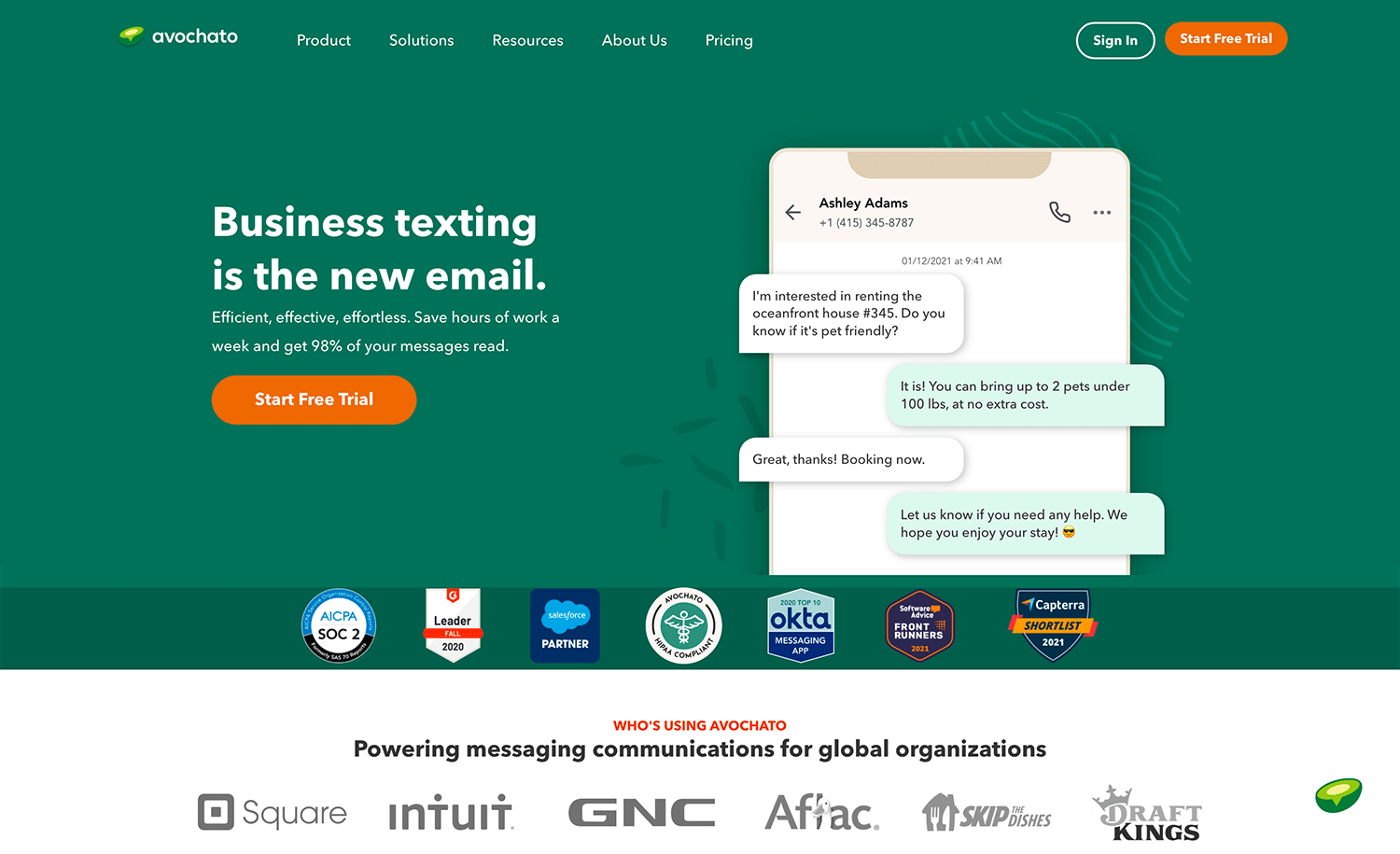 Best for: communication.
Yes, if your company prioritizes communication, Avochato is the right eCommerce customer service solution for you. This is because it provides numerous avenues of communication through which the customer service representative and consumer can interact directly.
In particular, the 'broadcast' feature enables agents to contact customers en-masse while accommodating individual, private replies. When combined with Avochato's keyword-triggered auto-response functionality, through Avochato, the customer journey becomes streamlined, encouraging a superior online shopping experience and brand loyalty.
Price: $19 – $35 per user/month.
Pros
Automated, intuitive messaging
Streamlined communications dashboard
Native third-party software integration
Cons
Contact tags unsupported via smart-phone
Price plan can quickly escalate
---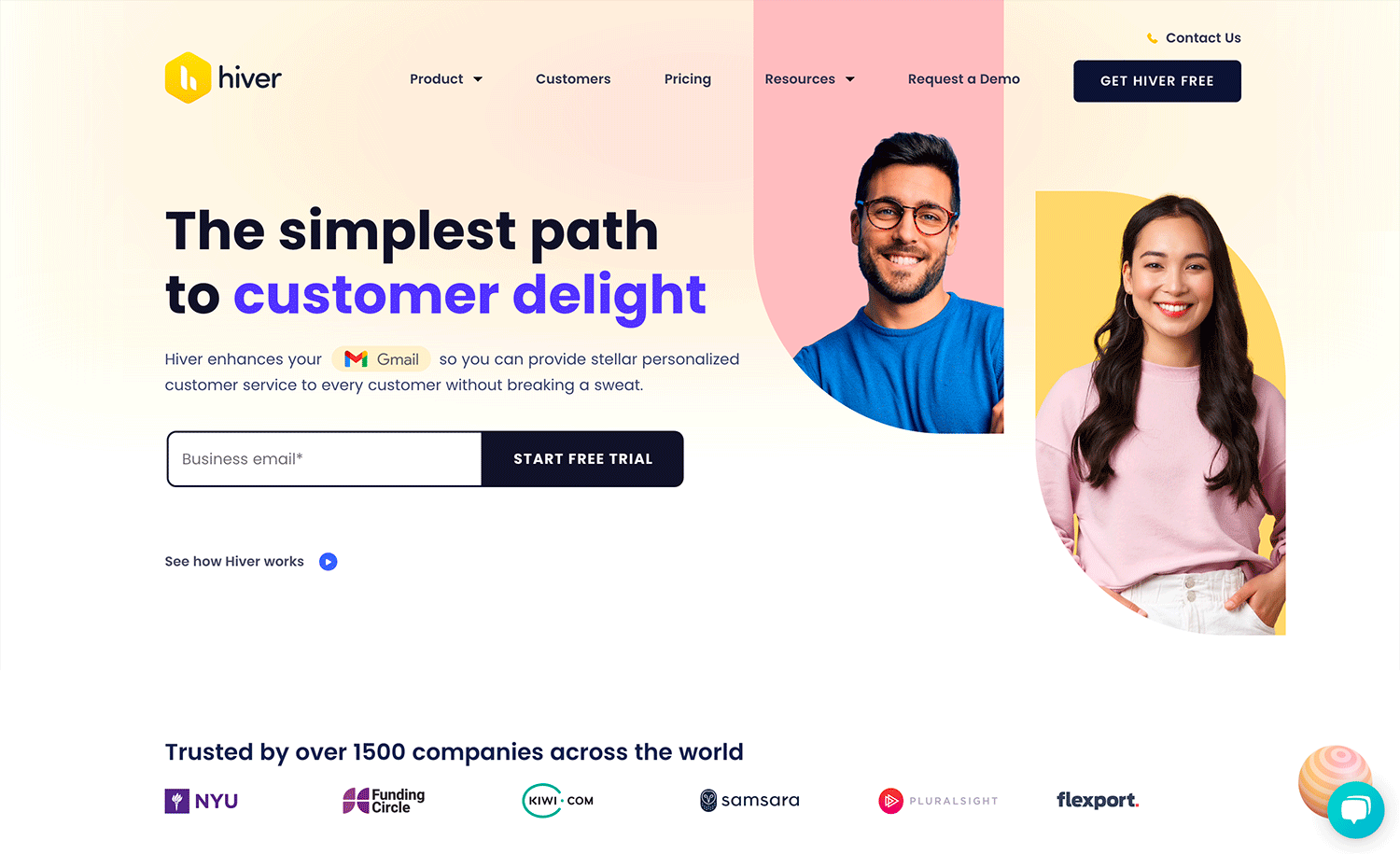 Best for: Google Workspace.
Hiver is designed to integrate seamlessly with Google Workspace and, in particular, Gmail. This enables users to monitor, allocate and interact with customer e-mails without having to learn how to operate new software.
Additionally, Hiver also accommodates e-mail tags, the automated allocation of customer queries, and in-depth analytics via means of the Gmail interface. So it truly is the pick for Google-centric online retailers.
Price: $12 – $57 per user/month.
Pros
Seamless Gmail integration
Broad pricing plan
Intuitive, automated e-mail & workflow assignment
Cons
Over-reliance on e-mail support
No report function
---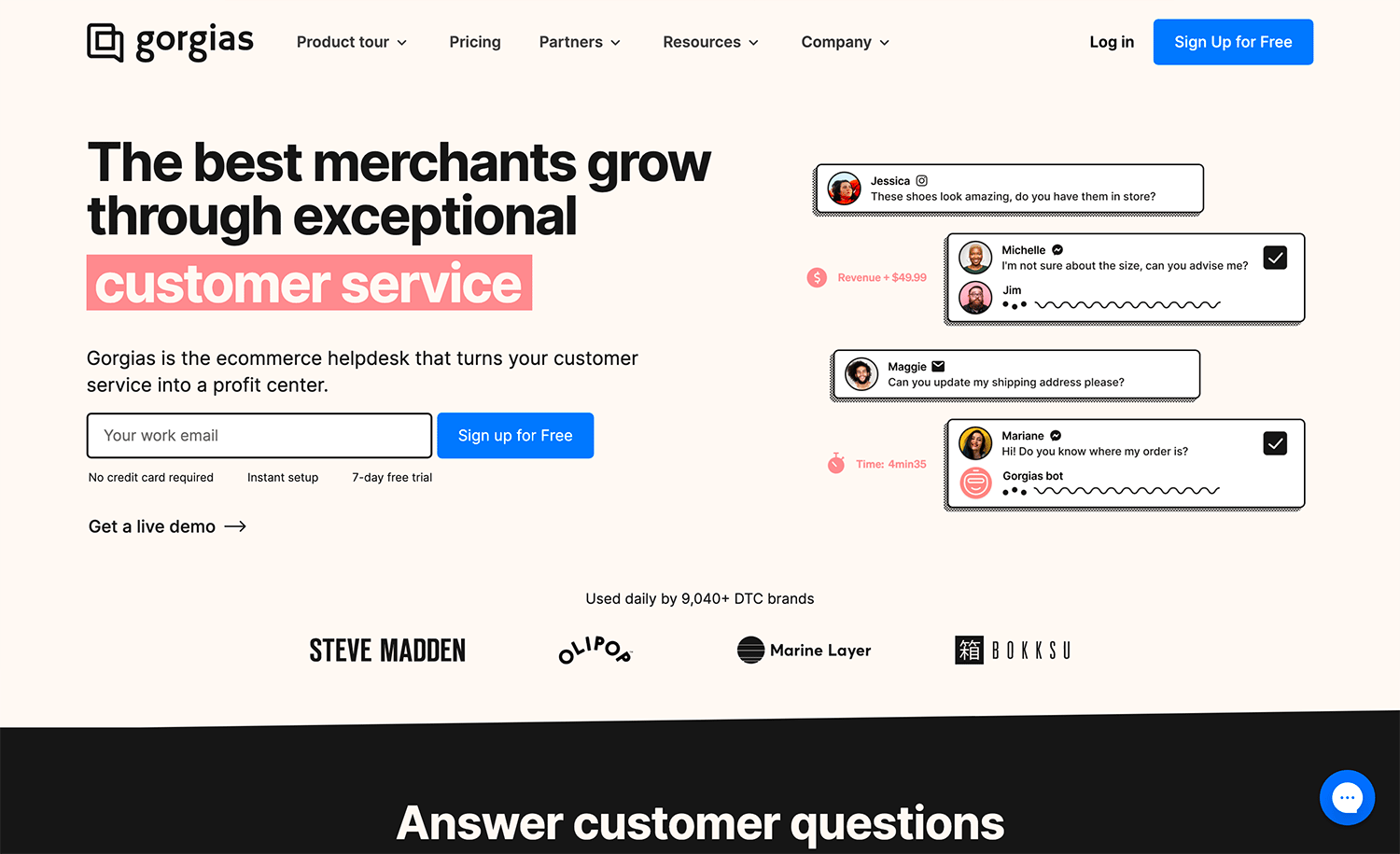 Best for: omnichannel support for non-Wix users.
Yes, indeed, Gorgias hosts live chat, e-mail, social media, and phone support from a single, manageable dashboard.
Additionally, thanks to the dashboard's condensed but not convoluted design, Gorgias also enables users to proactively deliver fast customer responses, both manually and via automation, across a variety of formats. As such, users can expect increased customer satisfaction and sales.
*It's worth noting that Gorgias' pricing structure is based upon monthly ticket volume rather than the number of users.
Price: $60 (350 tickets) – $750 per user/month (6000 tickets).
Pros
Omnichannel support
Easy to use
Live statistics and analytics
Cons
Suited to medium-sized eCommerce businesses only
Revenue statistics are reserved for advanced plans
Exceeding your ticket allowance will incur greater costs
---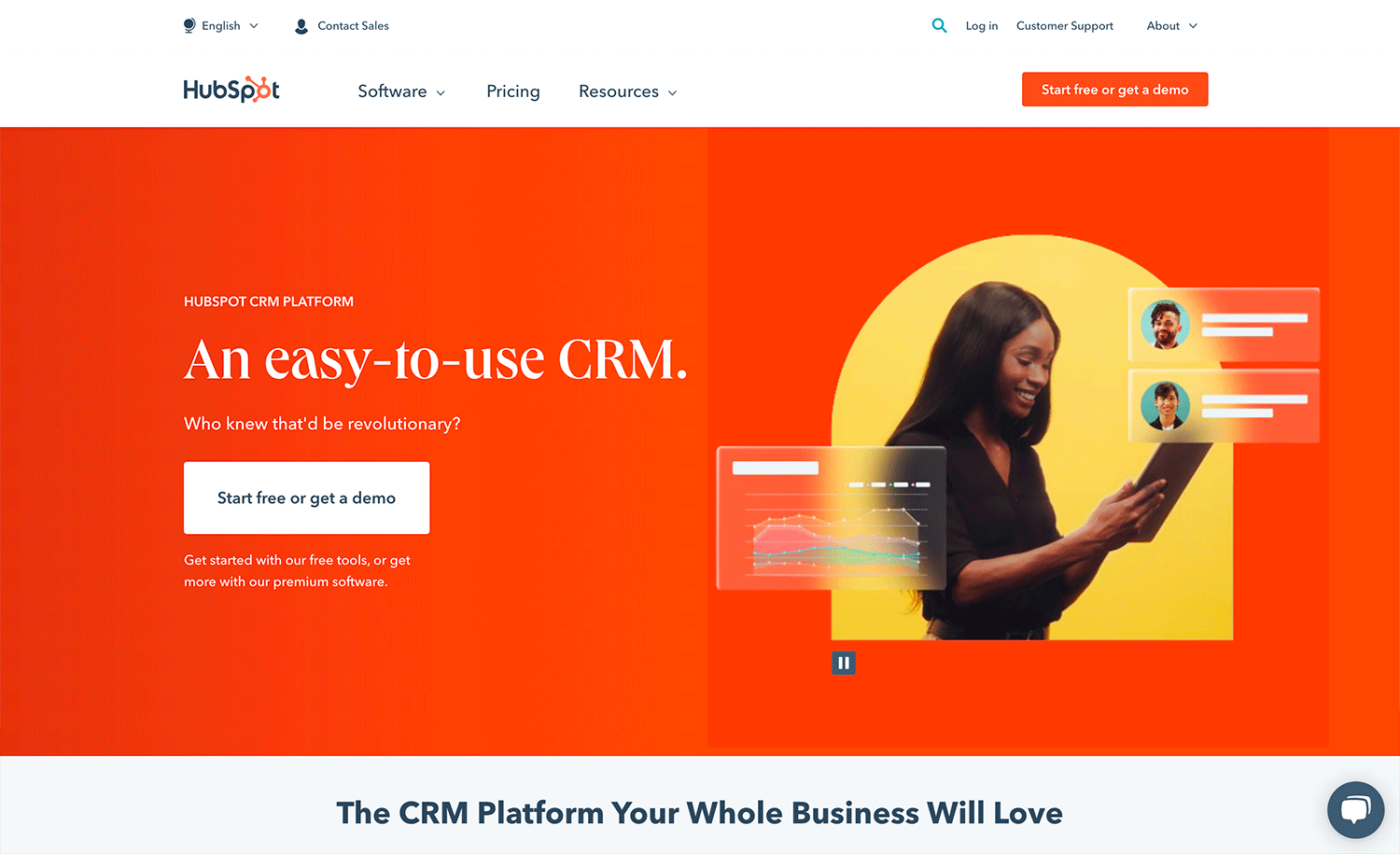 Best for: free customer service package.
The impressive HubSpot Free accommodates 2000 e-mails per month, up to 5 contact lists, and 3 dashboards respectively, providing invaluable eCommerce customer support free of charge. However, HubSpot Free does have its limitations, and the cost of paid subscription to HubSpot Marketing Hub and HubSpot Sales Hub can accumulate quickly.
The Marketing Hub package accommodates 1000 contacts, up to 25 contact lists, and 10 dashboards while the Sales Hub allows 5000 documents per account, 1000 meeting links, 10 dashboards, and 2 deal pipelines per account.
Price: $38 per user/month.
Pros
Clean user interface
Free package offers great value for small businesses
Cons
Free package has its limitations
Costs can quickly ramp up through paid packages
---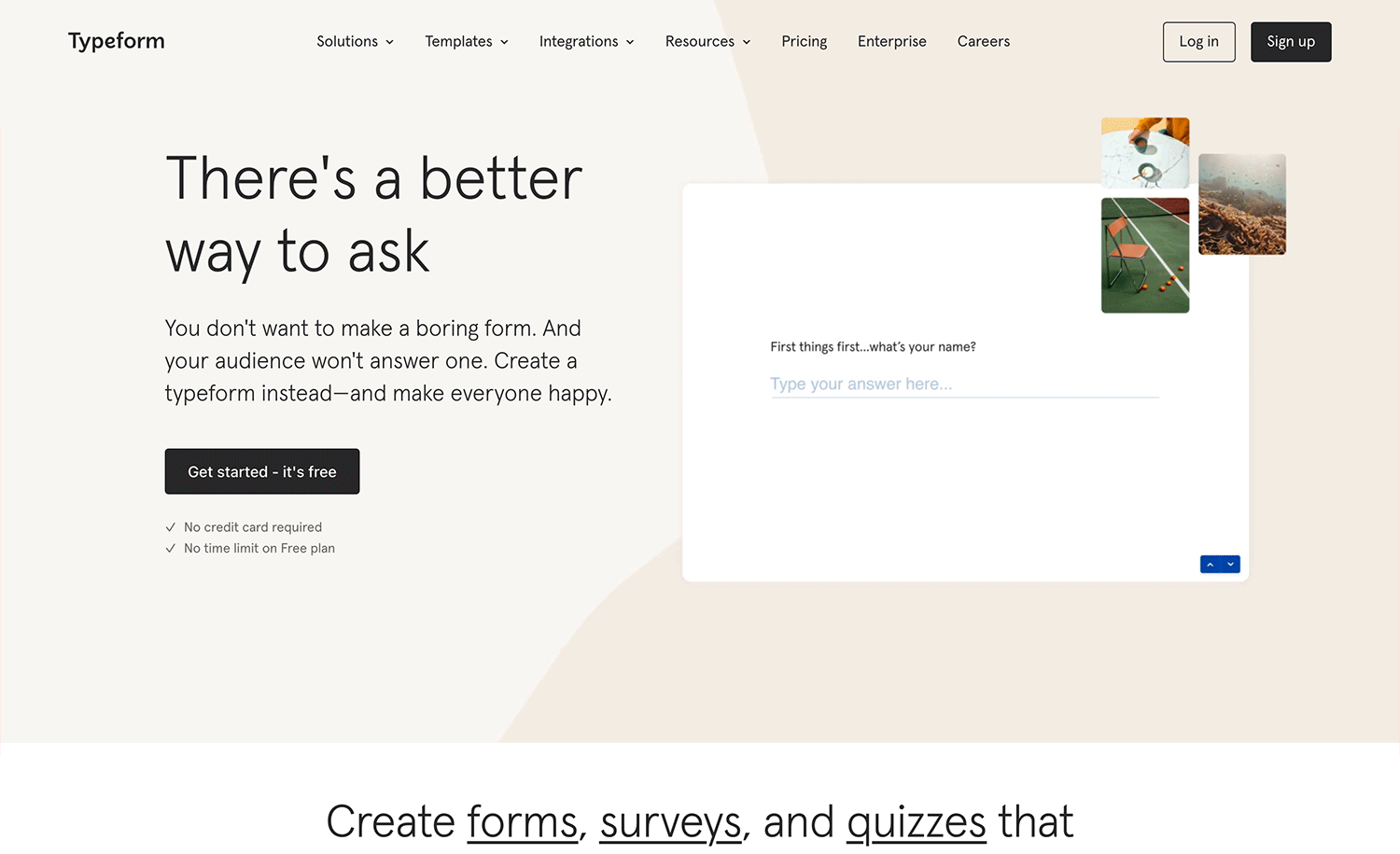 Best for: customer surveys.
Typeform specializes in producing premium customer surveys. However, due to this focus, the software is more a means of proactively securing customer feedback rather than reactively responding to customer service issues.
That said, Typeform does what it does very well, providing a large range of customer feedback templates, an intuitive, notebook-like interface, and fantastic support for logic jumps.
Price: $28 – $87 per user/month.
Pros
Premium survey templates
Collects high-level customer data
Logic jumps (create multiple forms simultaneously)
Cons
No reactionary customer service channels
E-mail only user support
---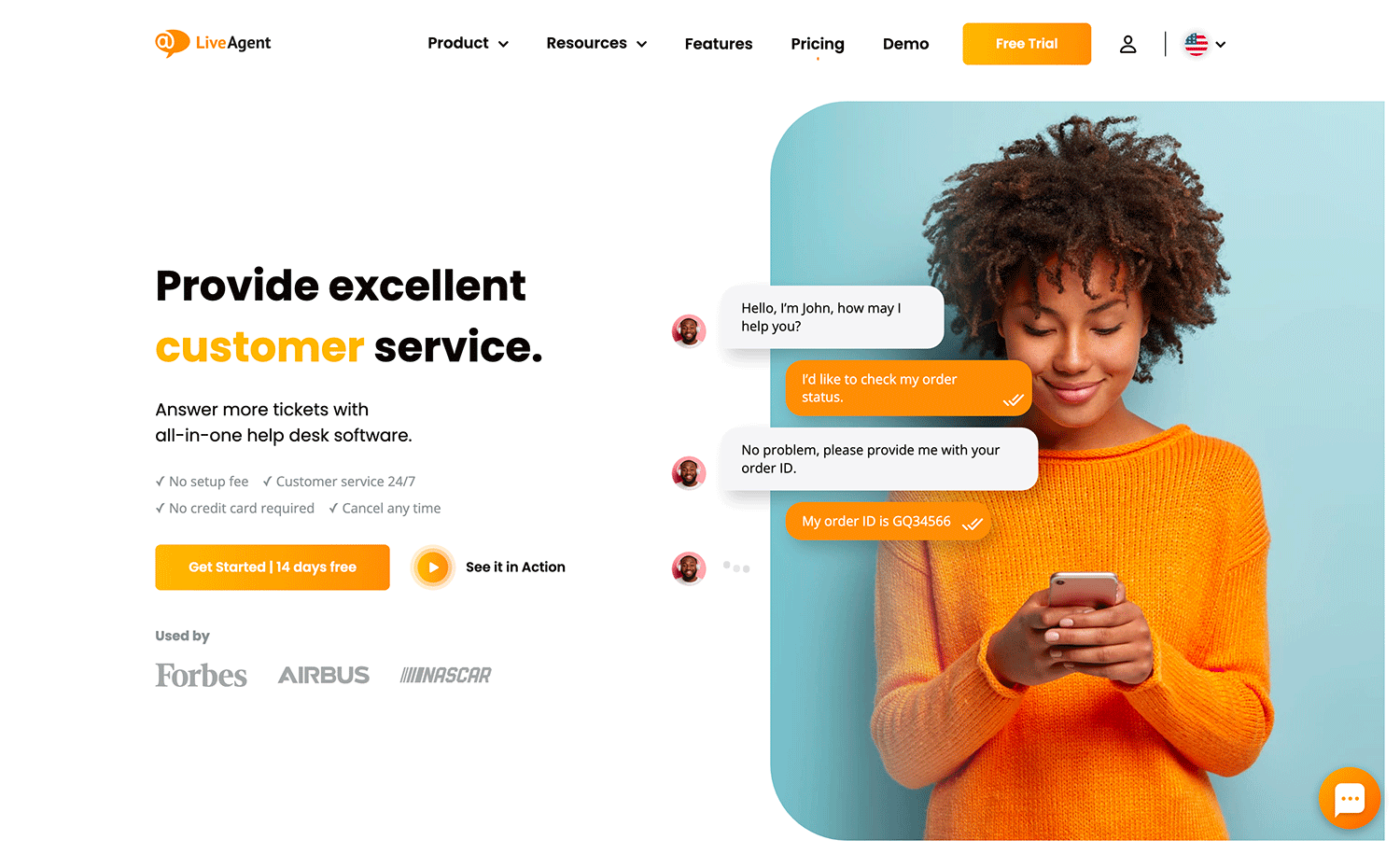 Best for: live chat.
LiveAgent delivers the most advanced online chat feature of all the solutions on our list thanks to its combined automated ticketing/live chat function. In short, this feature ensures that agents can keep track of all customer messages in one place, thus easing their distribution and response times, and maintaining high consumer expectations.
While this is the jewel in LiveAgent's crown, it must also be said that the software provides commendable e-mail and phone support options and a user-friendly interface that is bolstered by 24/7 technical support.
Price: $15 – $39 per user/month
Pros
Exceptional live chat function
Comprehensive free package
24/7 technical support
Cons
No chat to SMS capabilities
Expensive social media support
---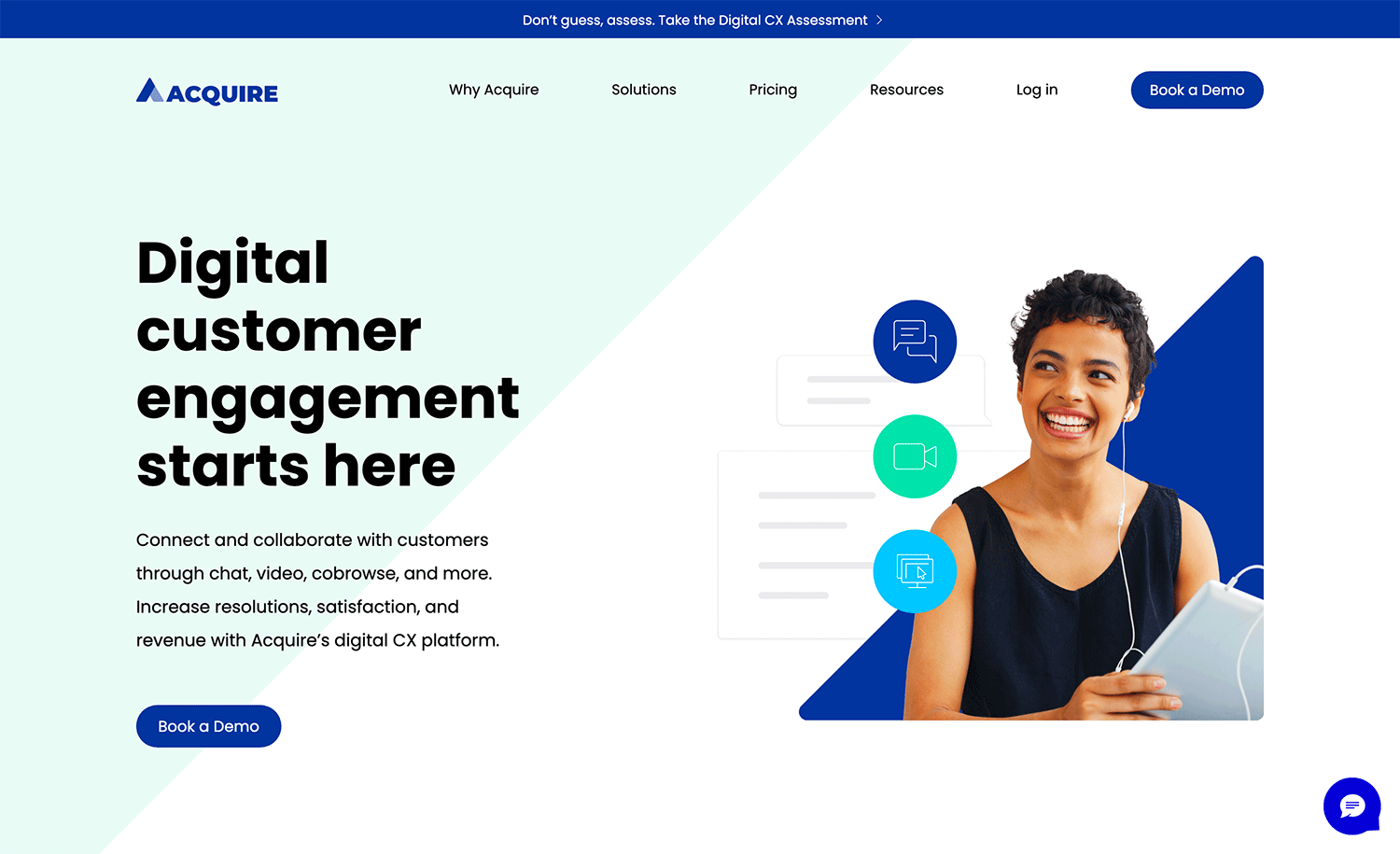 Best for: medium to large-scale eCommerce business.
Acquire enables users to deliver excellent customer service thanks to its plethora of intuitive features. In particular, the software boasts streamlined live chat, telephone call, video chat, and chatbot capabilities while also maintaining accessible profile management and analytics functions.
Price: $50 per user/month – $480 per user/year (or secure an Enterprise package).
Pros
Multiple contact channels supported
Intelligent chatbot support
Widescale third-party integration
Cons
Not designed for small-scale business
Expensive price tiers
---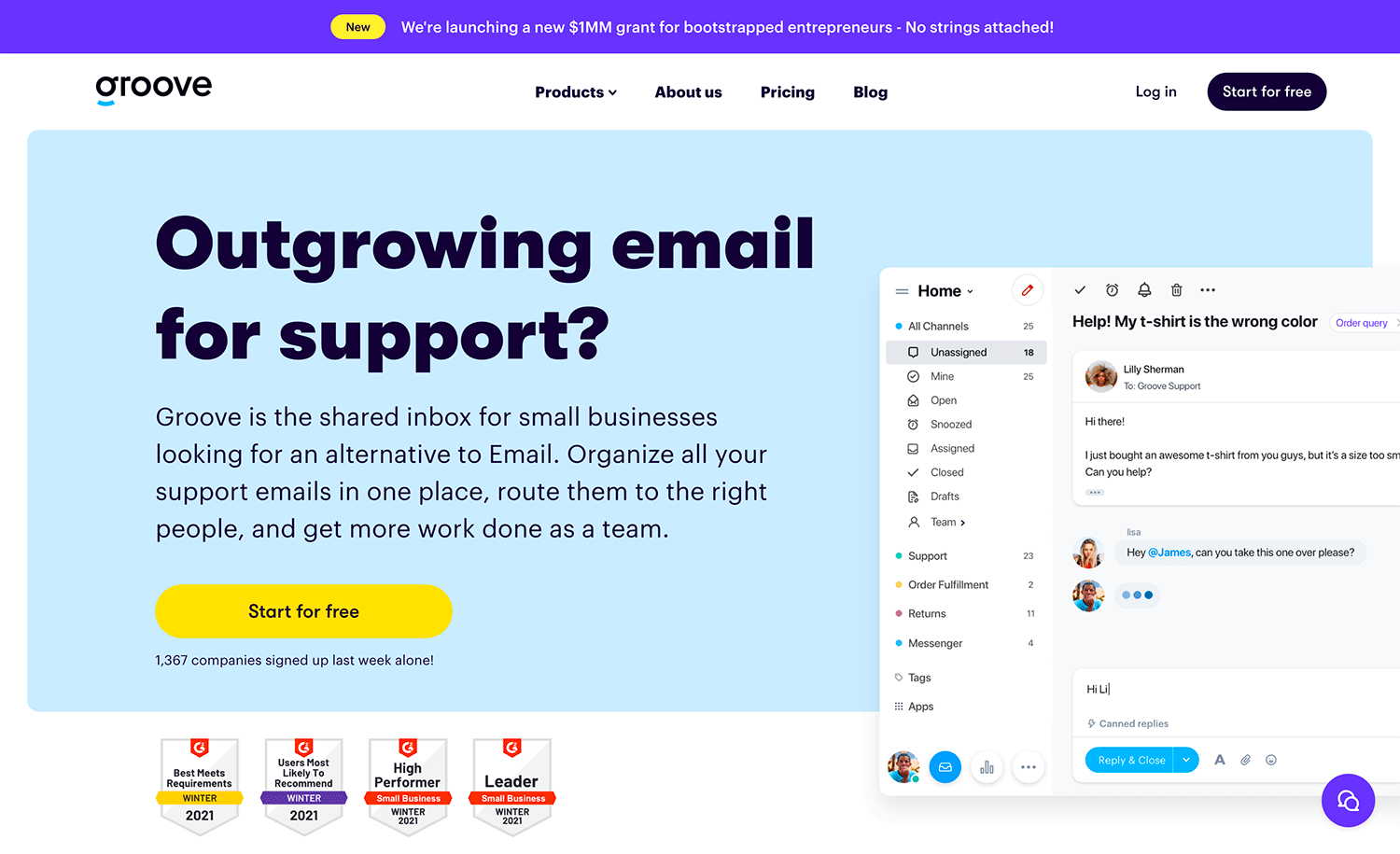 Best for: 120-day free trial.
Groove is designed to integrate with other eCommerce and e-mail marketing software such as Shopify, Stripe, Mailchimp, and HubSpot. Consequently, it is the most basic eCommerce customer support software on our list.
However, what it lacks in features, it makes up for in value, offering a 120-day free trial, an affordable pricing structure, and basic required functionality. Groove is, therefore, more suited to small businesses that are yet to determine what their support eCommerce customer service agents need to provide.
Price: $12 – $34 per user/month.
Pros
Multiple software integrations
Intuitive mobile app
Simple user interface
Cons
Requires conjunction with other eCommerce and marketing software
Limited customer support
Lack of live chat (coming soon)
---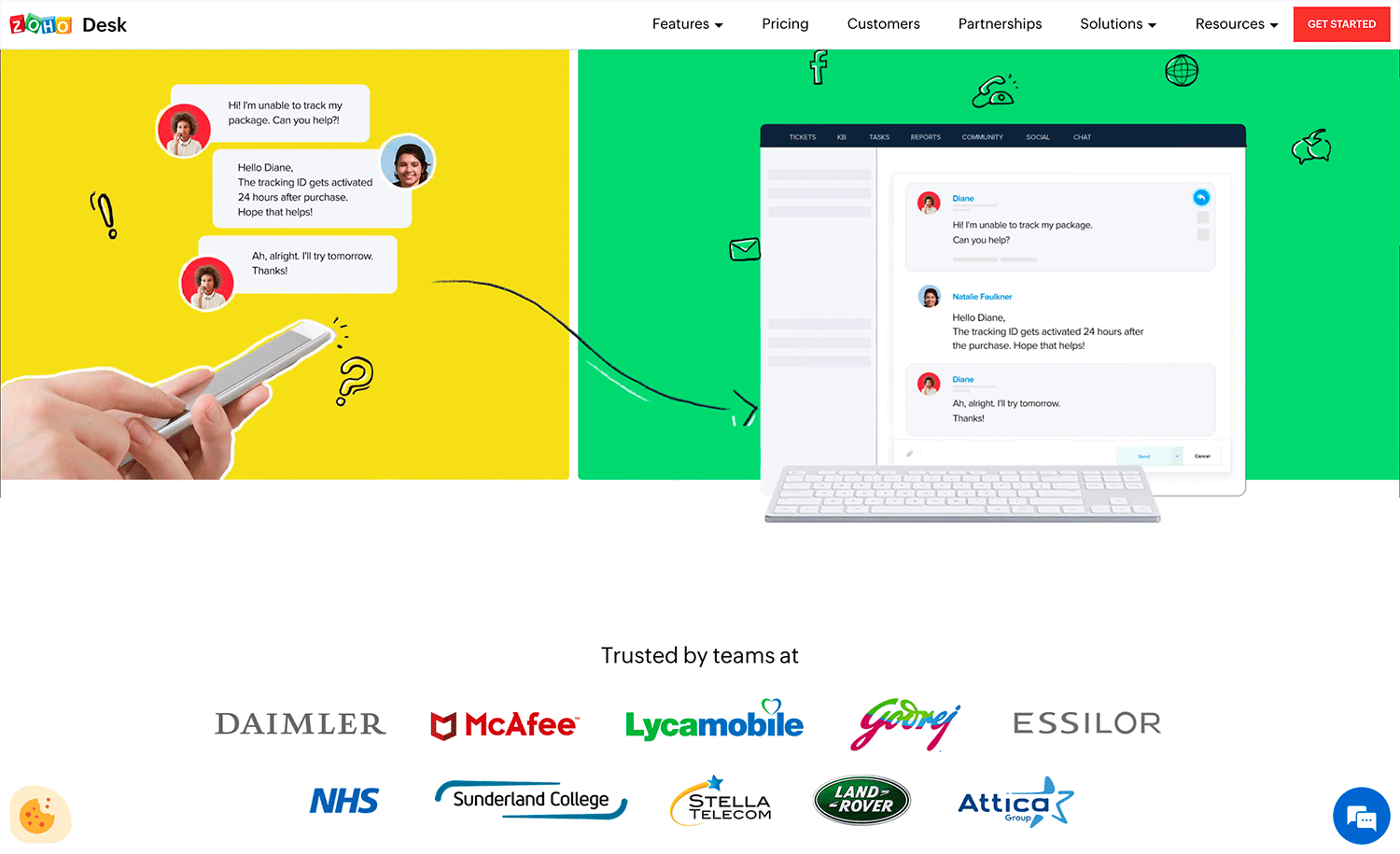 Best for: an affordable, feature-rich solution.
Zoho Desk delivers a comprehensive, affordable eCommerce business customer service solution that includes omnichannel support, a multi-brand help center, automated multilingual ticketing functionality, and an in-built chat-bot AI (Zia).
Perhaps most impressive, however, is the multi-department feature. A fantastic addition for those with a complex business structure, the feature allows you to organize your dashboard to match that of your business's structure.
Price: $12 – $35 per user/month.
Pros
Omnichannel support
Reasonably priced
Multi-department
Cons
Free plan is limited
Wealth of features can be difficult to navigate
Higher-level user support is a paid add-on.
---
What to Consider When Choosing Customer Service Software for Your Business
The size of your customer service team
The size of your customer service team has a great bearing on which software you choose to deliver your customer service solutions.
With that in mind, for small, independent businesses with few online shoppers and customer service agents, the free packages provided by Freshdesk, HubSpot or LiveAgent may be sufficient to deliver proactive customer service and maintain customer satisfaction.
For larger businesses with a greater budget, however, services such as that provided by Acquire or Gorgias may be more suitable.
Supports a range of channels
The range of channels required to deliver proactive customer support is subjective to each business. However, generally, the more communication channels available, the better your customer service representatives can interact with customer queries and improve customer experience.
Features
The features you require to provide great customer service are also subjective to the size, scope, and nature of your business. Clearly, SMBs are less likely to need a comprehensive customer service solution package while large online businesses might benefit from their support.
However, it's advisable to build your customer service strategy on multiple channels of communication and clean functionality.
Price
The price of your eCommerce customer service software will rise in tandem with the number of agents you have. As such, the crucial thing is that your package must represent value for money. If, for example, you have one customer service agent, clearly the more expensive, comprehensive solutions are a needless investment.
However, if you have a larger team, spanning numerous communication channels and thousands of existing customers, a comprehensive package is likely to yield more value for you and your company.
---
FAQs
Can you connect HubSpot to Gmail?
Yes, HubSpot can be integrated with Gmail.
Is Zoho helpdesk free?
Zoho offers a free trial period for its services, however, outside of this offer, Zoho has three paid packages:
Standard – $12 per user/month
Professional – $18 per user/month
Enterprise – $35 per user/month
What platforms does Sprout Social support?
Sprout Social supports a number of third-party platforms including HubSpot, Zendesk, UserVoice, Twitter, Instagram, Facebook, and many more.
Does Typeform integrate with Shopify?
Absolutely, Typeform integrates with Shopify to help users add customers, collect their orders and, of course, make engaging forms and surveys.
---
Final Thoughts
Clearly, there is a whole host of eCommerce customer service help desk solutions available to help improve customer experience, satisfaction, and sales. Moreover, each has its own virtues and drawbacks, so only you can judge the right software for your company.
However, in order to aid the process, we would recommend taking advantage of the free trials offered by the majority of the services and also conducting a customer satisfaction survey. This will enable you to build a more informed opinion regarding what your business needs from its customer support team.