It's often said that marketing is the greatest art form of the 21st century, and so, in order to ensure that their eCommerce website fulfills its potential, online store owners need to tap into the marketing power of eCommerce copywriting.
Yes, high-quality eCommerce copy can help drive a potentially unlimited amount of traffic to your online store and, crucially, help to convert that traffic into sales. So, what copywriting tips and tricks can you use to transform your content into a lucrative art form?
---
What Is eCommerce Copywriting?
eCommerce copywriting is the content that an eCommerce website owner writes and publishes on their website.
Furthermore, from landing pages to product descriptions, eCommerce copy can be produced for any page of a site across a multitude of formats. However, for all its variety, each eCommerce piece is written with the same ultimate goal; to drive the user towards purchase. Copywriting is a key component of product page best practices.
This Samsung copy is a fantastic example of eCommerce copywriting. It seamlessly conveys product features, benefits, and, crucially, a call to action (something we'll discuss later) into a palatable chunk of copy.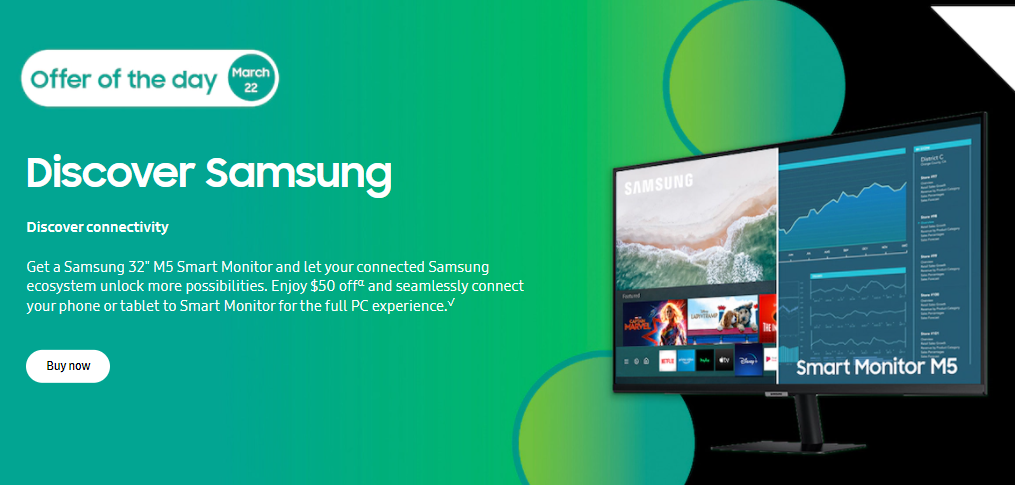 Below is another great example. The tone is really fun, but the copy still contains the important details about the product, like the dimensions and materials. Again, there's a clear call to action – a bold, red, 'Add to Bag' button.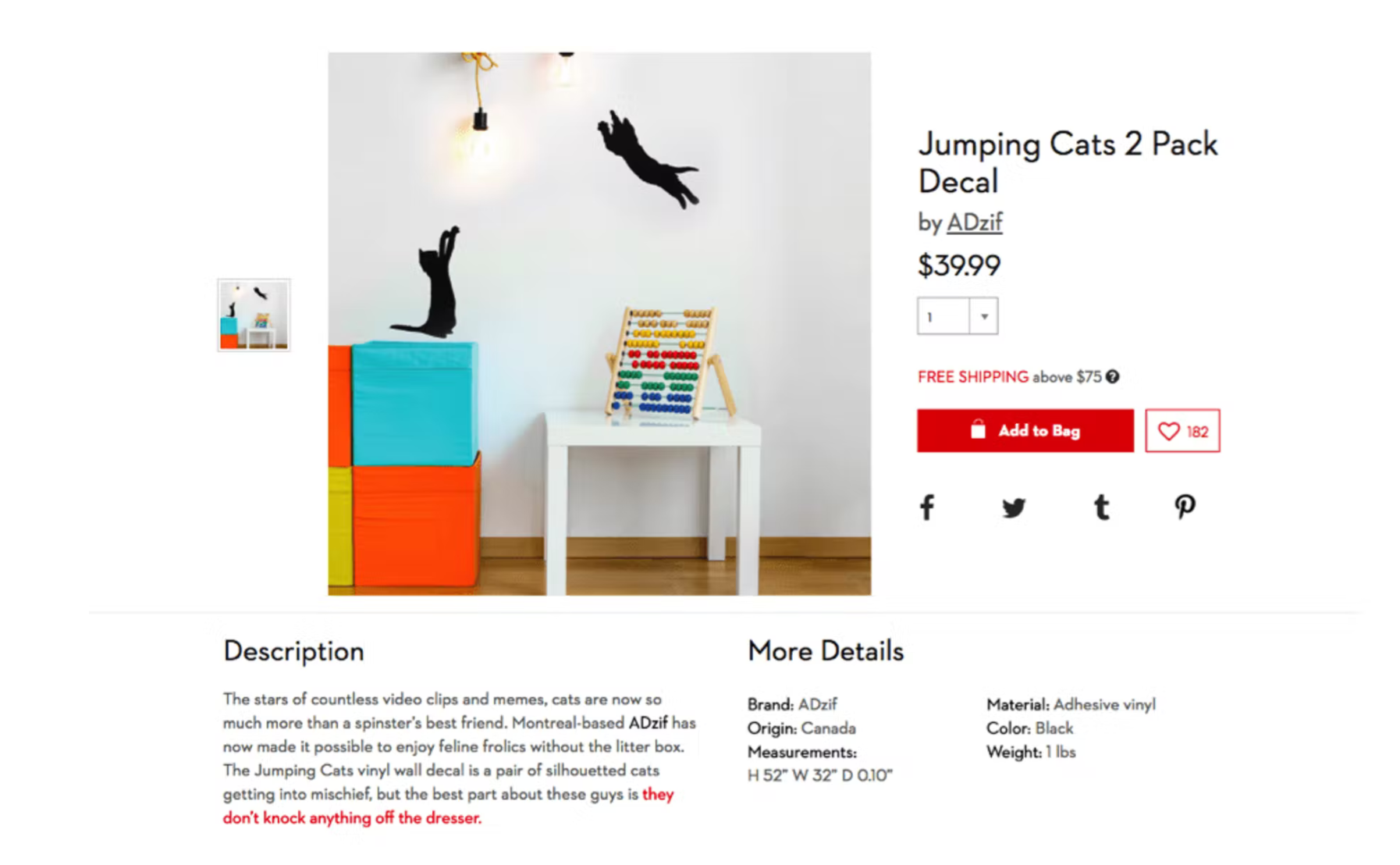 ---
Types of eCommerce Copywriting That Works
Be specific and keep your writing simple
If you're a content marketing manager, it can be tempting to produce complex copy in order to generate a sense of authority and trust. However, by doing so, you actually risk alienating much of your target audience.
As such, it's important that any language you use is simplistic and accessible to the largest possible proportion of your target audience. To that endeavor, the use of online copywriting tools such as the Flesch reading score (try to achieve a score of 60+) and also writing copy to a middle-school reading level is ideal.
Create compelling CTAs
It may be a basic feature of eCommerce stores, but a call to action (CTA) can be an incredibly powerful device. In fact, data analysis suggests that the use of a CTA, such as a "Buy now" button, is three times more likely to result in user purchase than an equivalent online purchase form.
That said, a CTA can manifest in a variety of forms, including a text hyperlink and even plain text with no link. The key is to make it compelling, and to that end, a few techniques we'd recommend are:
Instilling a sense of urgency: "Act now to secure this limited time offer!"
Use authoritative phrases: "Buy, Subscribe, Claim, Find Out."
Tap into user emotion and intent: "Book your dream holiday today!"
Another great technique is to use a CTA that stands out. Why 'sign up' for a newsletter when you can 'be awesome' instead?!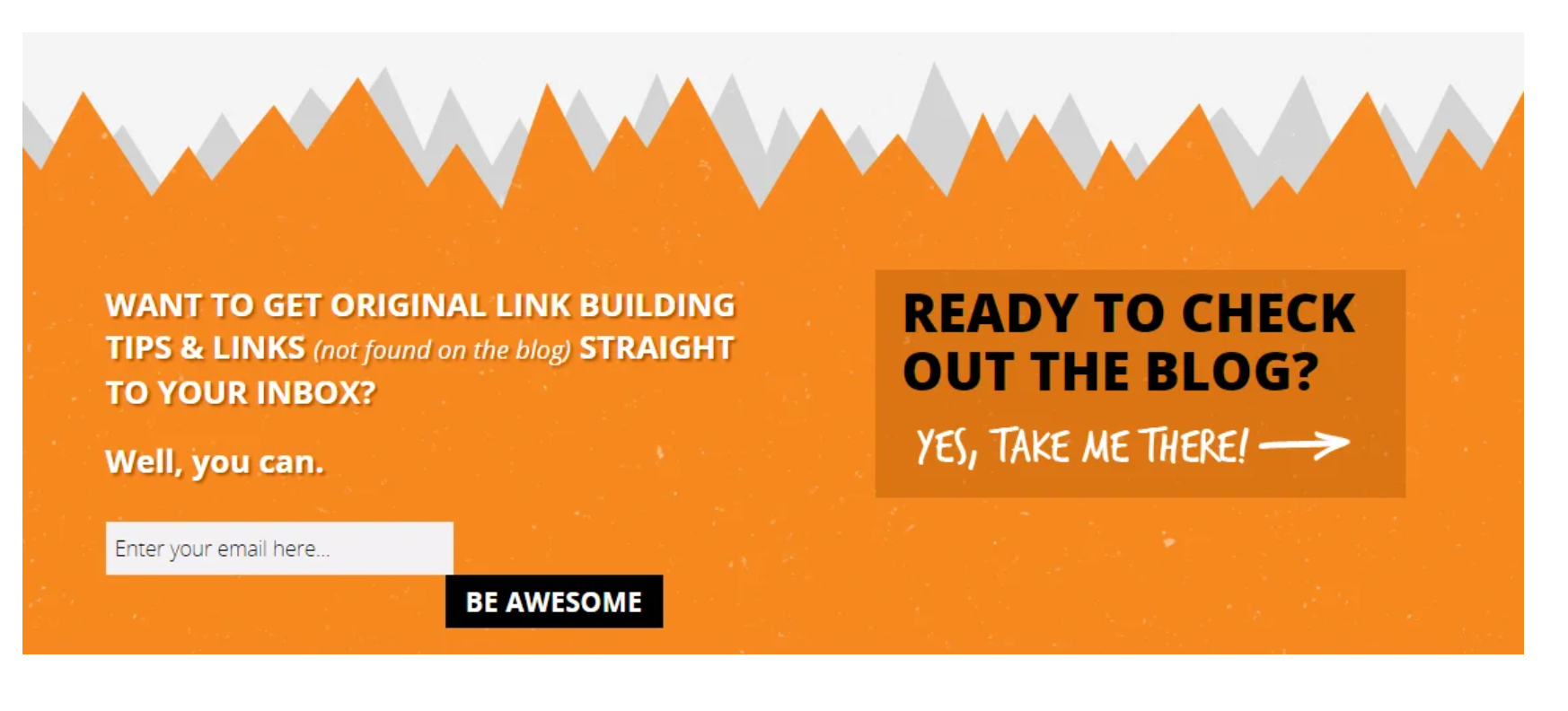 Use positive wording that appeals to the emotions of visitors
In the case of eCommerce, positive wording requires you to tap into your user's intent and weave it into the copy on your site. It's an excellent way of instantly reassuring the user that they have arrived at the right place and, thus, securing their custom.
For example, "Welcome to Johnson's Travel, if you're looking to make massive savings on your dream family getaway, you've landed in the right place!" is clearly more enticing than "Welcome to Johnson's Travel, the home of cheap family holidays.".
Benefits should be prioritized over features
Whatever your online store sells, it's important that your eCommerce copywriting refers to its benefits rather than simply stating its features. After all, the purpose of a feature is its benefit, and if you can't convey that to your user, all they're going to see is a convoluted, needless expense.
To do this, you'll need to deliver three things:
An overview of your unique selling point that explains its benefits.
Customer testimonials that back up your position.
Evidence as to why your pricing and shipping structure is attractive
Do so, and you'll go some way to converting traffic into customers.
Stand out from the crowd
There are millions of eCommerce stores operating in 2022, so it pays to stand out from the crowd. Happily, well-written copy can help you do just that, so try to focus on the following:
What benefits do you provide that no one else does?
What are your values?
Do you have a unique tone of voice (TOV)?
Do not use negative language
Negative language isn't bad per se. However, it isn't good either, and good is the least we should be aiming for in our pursuit of top-class eCommerce business copy. Take a look at the following examples of positive and then negative language:
"Rocket up the rankings with our industry-leading content." – positive, good.
"Stop wasting your time and money on low-quality content." – negative, not good.
Sure, both phrases have their virtues, and the latter statement will entice a certain number of users in… but as we stated earlier, the game is to entice in as many users as possible, and that is the difference.
Find the perfect tone of voice
Finding the perfect tone of voice for your niche is key to generating, retaining, and converting passive organic traffic into active custom and sales.
With that in mind, conduct some customer research to uncover what your audience wants. People are inherently mistrusting of sales-orientated copy, so from your category pages to your landing pages, yours must be interesting enough to make your visitors stay, purchase, and return.
Express your values
Recently, shoppers have made a significant shift towards conscious consumerism. In other words, they look to support online stores whose values and ethics are similar to their own.
As a result, you shouldn't be afraid to wear your values on your sleeve. Not only will this help build brand personality, but it'll help your copy target your audience with even greater precision.
---
What Pages On Your eCommerce Site Need Copywriting
Product page
As the last stop before purchase, your product pages are arguably the most important section of your site. As such, this is your chance to articulate exactly what your product's unique selling points are and what benefits customers will reap from purchasing it.
If you can convey that information in around 50 – 200 words, then you'll greatly enhance your chances of securing the sale.
Take a look at this Keto Bars product page (below). The copy provides a succinct product description while delivering additional information via means of bullet points underneath the CTA. Clear, informative, directional.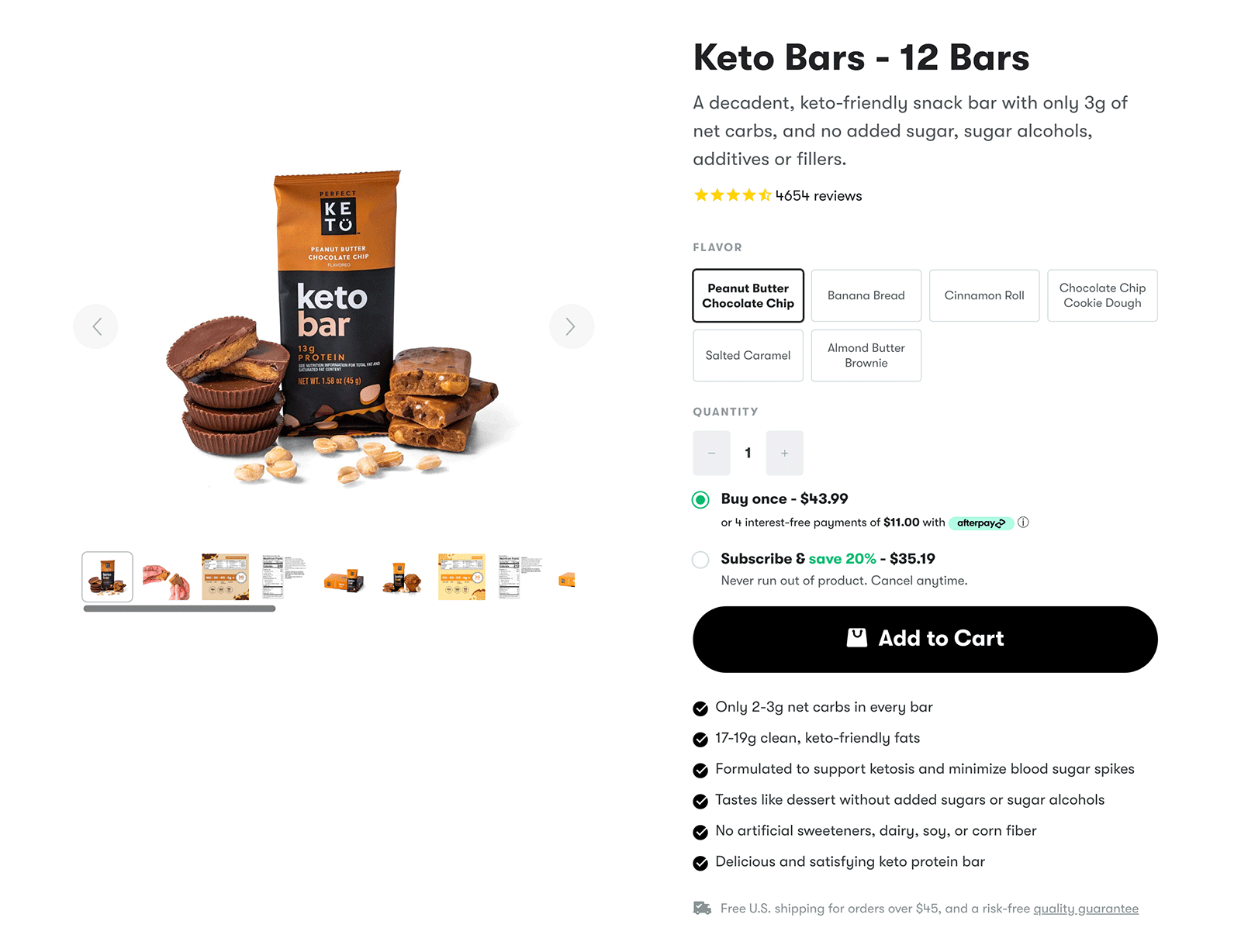 Category pages
The primary function of your category page copy should be to inform your users (and Google) what the topic of a given category page is. While this provides direction, it also represents an opportunity to cement your company's authority and increase conversion rates. 100 words (max) should suffice.
The following Tiffany & Co. 'Women's Wedding Bands' page is a perfect example of a clean, informative category page. Note the emotive language, "Symbols of enduring partnership and commitment…" and the restating of what sets them apart, ".. crafted by Tiffany's master artisans."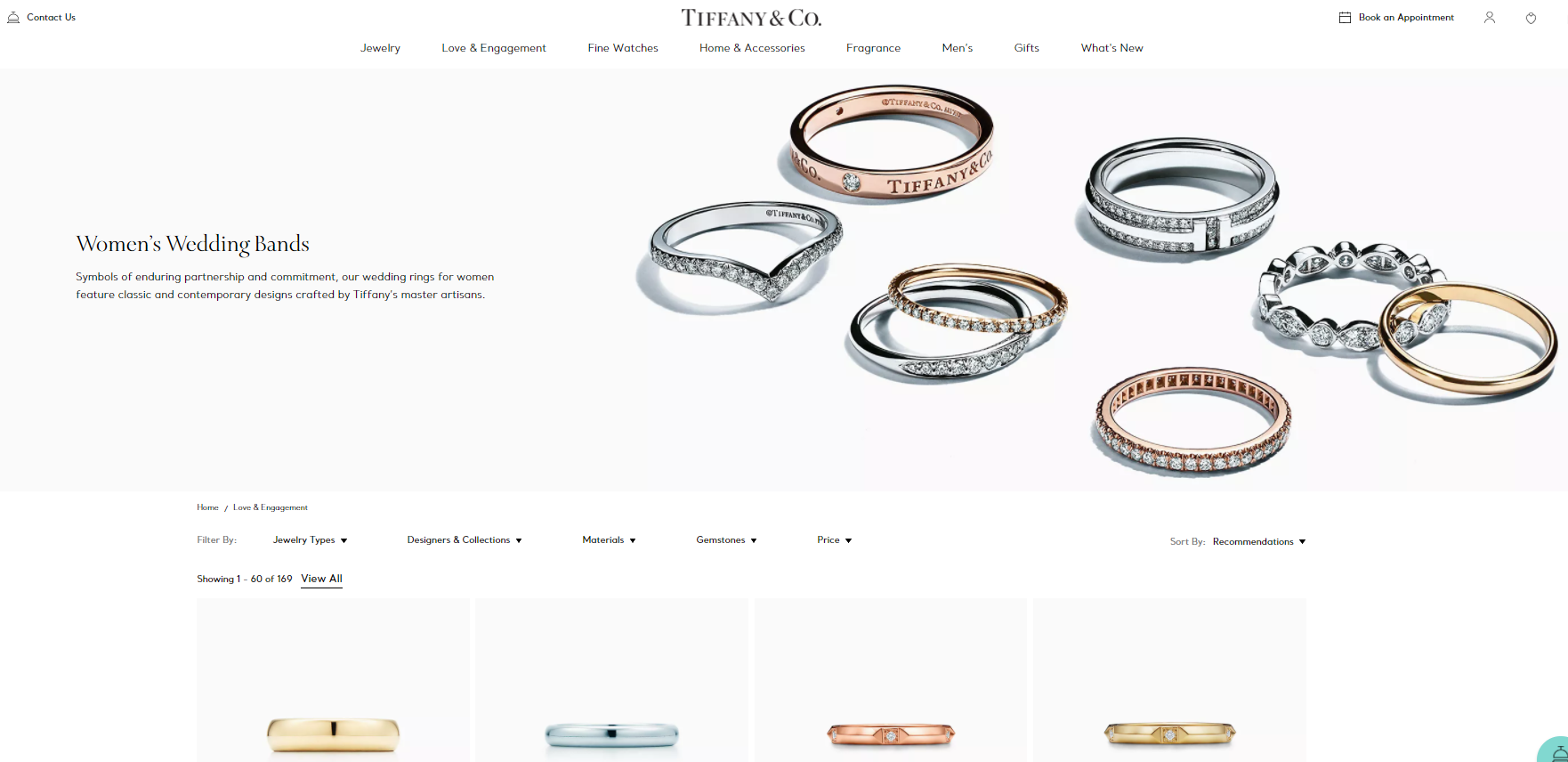 About page
The focus of your about page should be to introduce your brand as a whole. As such, it's a brilliant time to state your values, establish your tone of voice and purpose, and, indeed, what sets you apart from the competition.
If your home page is your profile pic, the about page is the all-important blurb underneath, so utilize it to connect with your userbase.
The following grab, taken from Apptopia's about page, demonstrates all of the above perfectly. The TOV is accessible yet authoritative, and the purpose is stated as a recognition of a problem, "Publishers need to know what apps to build…" etc.
Finally, we discover what sets the company apart, "Apptopia provides the most actionable mobile app insights in the industry."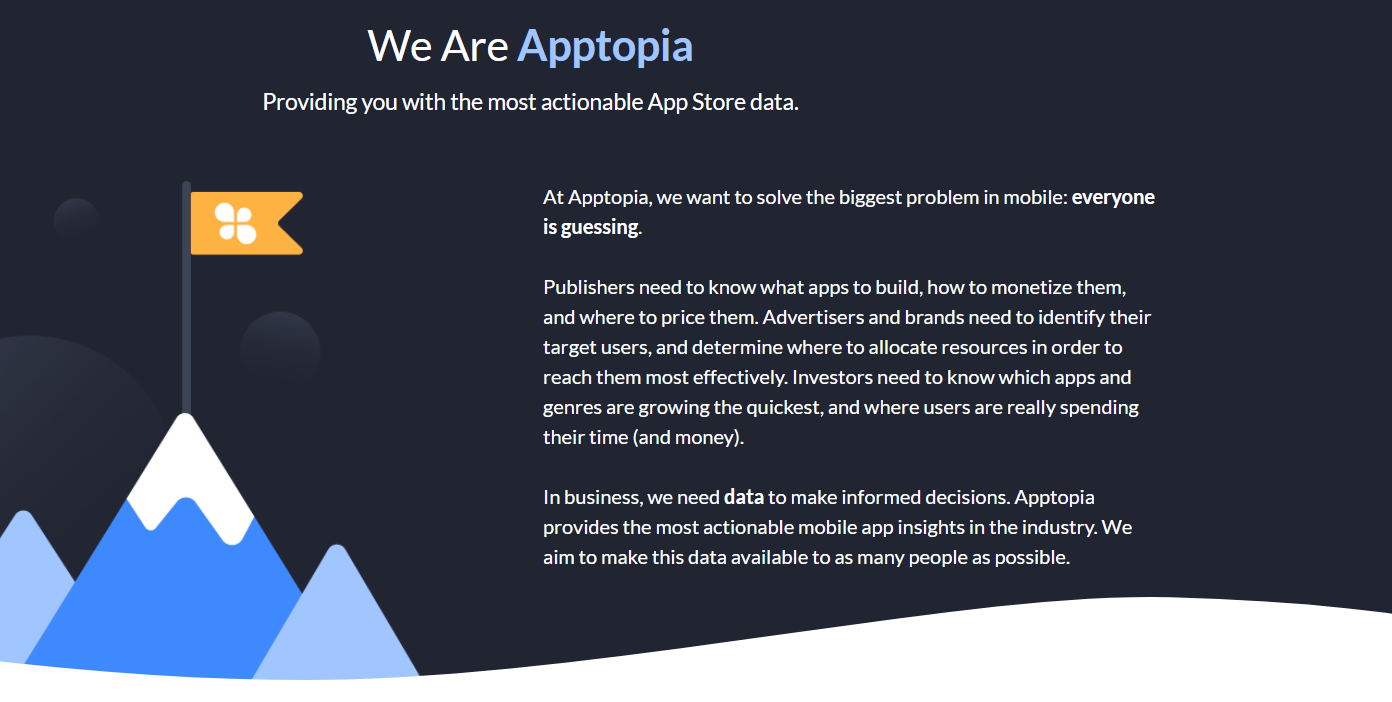 Home page
First impressions are important, and to get off to the best start, your eCommerce homepage copy should meet four main functions in 200-600 words:
Welcome and engage your customers
Demonstrably match user intent and offer direction
Establish brand identity
Incorporates your main target keyword into the Meta Title and Meta Description.
We were particularly impressed with this FreshBooks home page. It immediately engages the user, asserts their benefits, and provides a particularly enticing CTA, "Try it Free".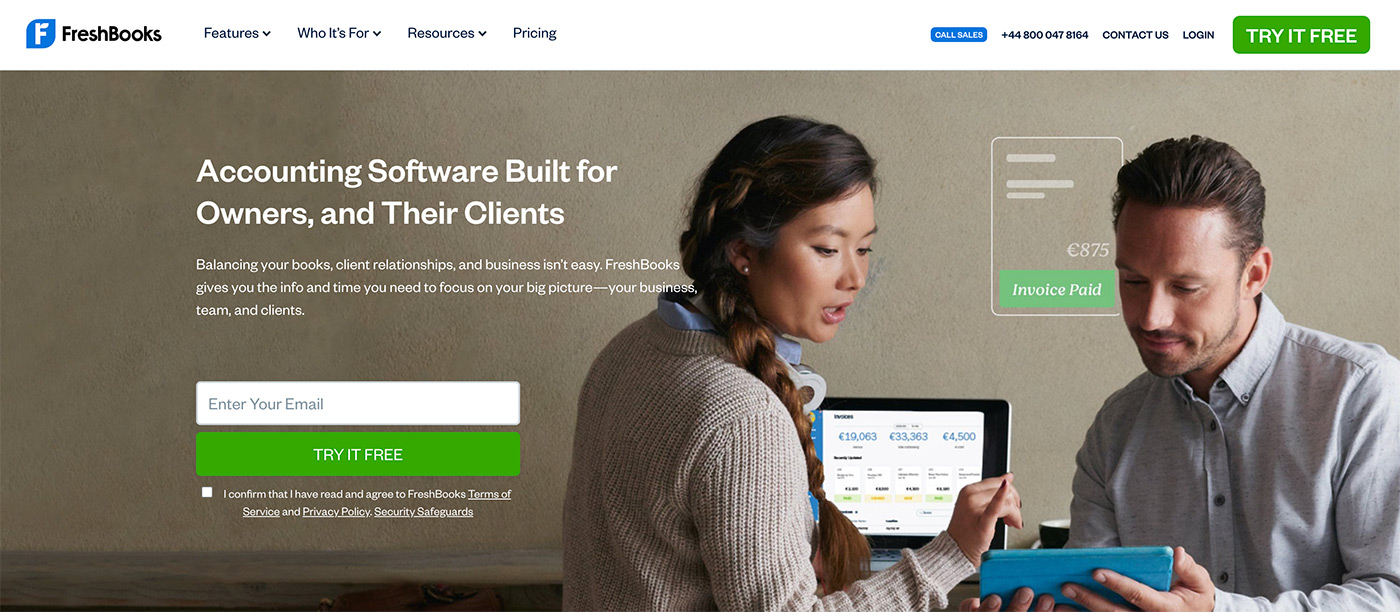 ---
The Benefits of Well-Written eCommerce Copywriting
Improve conversions
Yes, there is a positive correlation between fantastic eCommerce copywriting and higher conversion rates. By delivering copy that informs, engages, and meets user intent, you're far more likely to convert traffic from search engines into sales.
Establishes authority
At its heart, the best eCommerce copywriting is the practice of telling customers the most important information about your products in a concise and engaging manner.
Not only does this contribute to a greatly increased volume of traffic, but, critically, it also helps to establish market authority and build a self-sufficient community of returning clientele.
Enhances your site's SEO
Fantastic eCommerce copywriters are able to use their writing skills to tick all of the SEO boxes. As such, the SEO boost that perfectly keyword optimized, engaging, concise, informative, and actionable content can provide is potentially unlimited.
Moreover, great copy will also positively affect the architecture of your site, making it more navigable and, thus, further heightening your ranking.
Defines your company's identity
Brand identity is everything for your eCommerce store, and top-quality sales copy will seamlessly convey who you are and what your business delivers.
Additionally, consistently high-quality content writing can help a business to enhance its position in the search engine results while also defining brand identity as a focal point of its niche market/community.
---
Tips On How to Improve Your eCommerce Copywriting
Understand Your Audience
To truly connect with an audience, you must first understand it. That means broadening your research process to incorporate user intent and refining consumer experience and journey.
Once you know your potential customers inside out, you can tailor your product/service copy to boost sales with increasing precision.
Tell a great story
If you can use your own story to connect with your desired userbase, then you'll quickly be able to establish that all-important trust and authority. However, it's important not to force it; there's nothing more off-putting than contrivance but if you have a story to tell, tell it.
Make use of action words
Another point worth revisiting is the power of action words. Calls to action exist in eCommerce for a reason… because they work. So don't be afraid to use strong terms; they truly will contribute to increased sales.
Cut the fluff out
Fluff is the death of good copy. Excellent copywriters are able to convey personality, information, value, and action concisely.
Ensure keywords are included in the copy
Keywords remain one the most influential ranking factors on all search engines. As a result, it's critical that you conduct keyword research and integrate the appropriate phrases into your copy.
However, beware; keyword stuffing or using highly competitive keywords will cause more harm than good. So choose target keywords carefully and don't sacrifice readability.
Consider using bullet points for product pages
Bullets are an underused tool by online retailers. They provide a clean structure for your product pages, highlighting the benefits and specifications of your product with clarity; that can help to generate more sales. See an example of this on our own Shoptimizer demo product page.
Test and optimize your copy
Always remember that this is a marathon, not a sprint, so monitor the performance of your copy. If it's not working, tools such as Ahrefs, Google Search Console, and Surfer SEO can help you work out why and refine, so use them.
---
FAQs
What should the length of the meta title and description be?
A meta title should be approximately 55 characters long, excluding spaces. The meta description should be under 160 characters to ensure it is detailed enough but can be viewed on most devices.
Should I include all caps in CTAs?
This is a subjective decision and depends on the context of your CTA. As such, when deciding whether to write in full capslock, keep in mind that it can convey an overly aggressive marketing tone and, thus, negatively affect user experience.
How many times should I use keywords on a page?
This varies depending on page type, content length, and the prominence of the keyword. However, as a general rule, using keywords between 1 – 3 times each should be sufficient for the average eCommerce page.
How long should your eCommerce home page be?
Copy on your eCommerce home page should ideally register between 200 – 600 words.
---
Final Thoughts
To conclude, great copywriting is an inherently subjective art, and the overriding key is to match user intent.
As a result, as long as you can engage your users, demonstrate value, and guide them towards their desired product/service, your users should soon convert into paying customers.