You may have heard Google Analytics is the best solution for tracking eCommerce data. However, there are many other platforms that work great, and in some cases, better than the popular analytics platform.
This is particularly true if you're serious about privacy. Google Analytics, though incredibly feature-rich, collects personal and personally identifiable information from site users. This includes online identifiers such as IP addresses, visited pages, browser fingerprints, and more.
The good news is that there are some excellent Google Analytics alternatives out there that offer a privacy-focused approach to tracking analytics for eCommerce stores.
In this post, we'll dive deeper into some Google Analytics alternatives and explore the features they have on offer. We'll also help you decide on the right analytics tool for your business.
---
Why do eCommerce stores need to be tracking analytics?
Tracking analytics on eCommerce stores is important for making sure you're always on top of your online store's data. From a more technical standpoint, this means you need to track a certain set of eCommerce metrics and KPIs to know exactly where your online store stands and identify areas that need improvement. This way, you can easily know what changes to make to improve your store's visitor numbers and, ultimately, generate more revenue for your business.
Let's take a look at some of the most commonly used eCommerce metrics and KPIs:
What is the average order value? This is the average total of every order placed on your online store. The higher your store's average order value, the more you get from each customer. The average order value of your store can help you make better business decisions regarding product pricing and advertising spend.
How many users convert? What is the conversion source and path? You also want to make sure you're aware of the total users that convert from all your marketing channels as well as those who find your brand organically. Understanding the conversion source and path makes it easier for you to commit to the ones that earn your brand the most revenue. For this, you can track the CLV or the Customer Lifetime Value metric. This tells you the total time a user spends on your eCommerce site. This also gives you insight into which marketing channels 'drive interested users that actually go on to make a purchase and better identify the underperforming ones.
What is the cart abandonment rate? The cart abandonment rate essentially lets eCommerce site owners know how many users leave the shopping cart before checking out. Once the cart is abandoned, you lose the potential of making a sale.
Some other eCommerce metrics you might want to track include:
How many people access your product pages?
How many people reach the checkout funnel?
How far do users get in the checkout funnel before bouncing?
What is the customer acquisition cost?
Tracking these metrics helps store owners learn more about customer behavior. You can better understand how customers interact with your online store and make changes accordingly to improve the user experience.
This also lets you identify areas that need to be improved for maximizing conversions for your brand. While identifying the problem is the first step, you'll also need to customize your eCommerce site's elements so they're optimized for conversions. For more information, you can go over our guides on how to make your product pages stand out and the best practices for creating conversion-optimized product pages.
All in all, tracking analytics of your eCommerce store is beneficial for a variety of reasons. For starters, it helps you make improvements that ultimately lead to a boost in sales. This is because if your online store offers a better customer experience, more people will be likely to buy from your store.
Tracking analytics can also help your eCommerce store reduce cart abandonment rates. This way, you're more likely to grow your eCommerce store's bottom line by encouraging more users to complete the checkout process and place their orders.
---
Google Analytics: overview, pros/cons, and limitations
Google Analytics is one the most popular analytics monitoring tools that let users easily measure the performance of their websites and online stores.
As a business owner, you want to make informed decisions when committing to certain marketing and promotional campaigns. With detailed insight into the performance of your online store, the decisions you make can actually impact your brand's revenue and help you grow the bottom line. For more information, check out our guide on how to add Google Analytics to your eCommerce site.
Google Analytics comes pre-built with all the tracking metrics you may need to effectively manage your eCommerce site and make timely decisions based on metrics. While there are many pros to using the robust tool, there are also a few cons worth highlighting.
Let's start with the pros:
Pros
Google Analytics offers a robust free version that doesn't require any initial investment to integrate it with your eCommerce site. This can be a great way for small businesses to start tracking their site's performance without having to spend a penny.
It offers functionality to track real-time traffic data on your eCommerce site. This tells you how many active users are on your store right now, what pages they're on, how they found your page, and where they're from.
According to your brand's unique requirements, you can also create custom goals and reports and track them as you go. This is great for tracking and analyzing specific metrics or KPIs relevant to your industry.
Google Analytics works across all digital environments such as websites and mobile applications.
Cons
Google Analytics is a feature-rich analytics platform. While a wide range of features is great to have, most stores won't need all the features it offers. It can be overwhelming for less tech-savvy store owners.
It has a steep learning curve which isn't ideal if this is your first analytics tool.
Google Analytics doesn't offer any privacy-focused features. This means if your eCommerce site requires you to abide by privacy laws such as the GDPR, you won't be able to use it to track user data.
If you're going to use the free version of Google Analytics, you will not have access to any customer support. This means you're left figuring out everything on your own.
Limitations
While many eCommerce stores still use Google Analytics as their "go-to" analytics tool, some are switching over to other Google Analytics alternatives. This is primarily because of these reasons:
Lack of GDPR compliance. Google Analytics is not privacy-focused and doesn't offer GDPR compliance. This is crucial for eCommerce stores that sell within the European Union (EU).
Complex dashboard. Google Analytics features a complex dashboard that can get overwhelming, especially for new users. This isn't ideal for eCommerce site owners that want to use a simple UI to track only the most important metrics and KPIs.
Optimized performance. By default, the Google Analytics dashboard is not performance optimized and doesn't work the fastest, especially once you have a lot of user data that you're working with. This can be an important reason for eCommerce site owners to start looking for Google Analytics alternatives.
Intrusive cookie notices. By using a Google Analytics alternative, you don't have to worry about displaying intrusive cookie notices on your eCommerce site. This is a simple way to improve the user experience and Core Web Vitals (page speeds) of your site.
---
Google Analytics alternatives for eCommerce stores
Let's dive deeper into some of the best Google Analytics alternatives for eCommerce stores.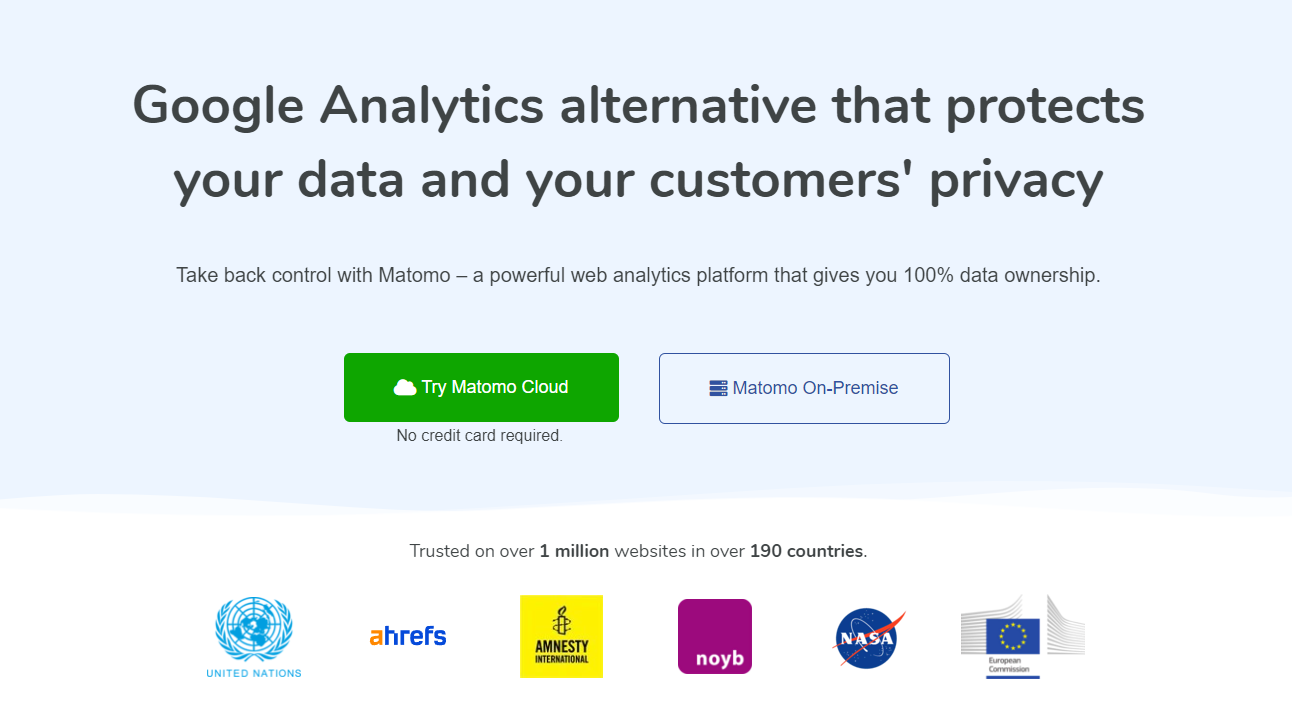 Matomo offers an all-in-one solution for analyzing important analytics and KPIs for your eCommerce site and is one of the best privacy-conscious Google Analytics alternatives out there.
It gives you the option to import all previously recorded data with Google Analytics. This means you can migrate all of your user data to Matomo and continue tracking analytics.
Another great thing about the robust tool is that it offers more accurate data without data sampling. This way, eCommerce site owners can have full confidence in their data and can make accurate and informed business decisions.
The best part about Matomo is that it securely records user data on your eCommerce site without violating any privacy laws. It uses data anonymization to ensure GDPR compliance. This makes it perfect for stores that sell to customers in the EU.
In addition to this, the platform features an easy-to-use dashboard. Overall, the user interface is easier for users to understand and navigate than Google Analytics'.
Pricing – You can get started with Matomo for free using the On-Premise pricing plan.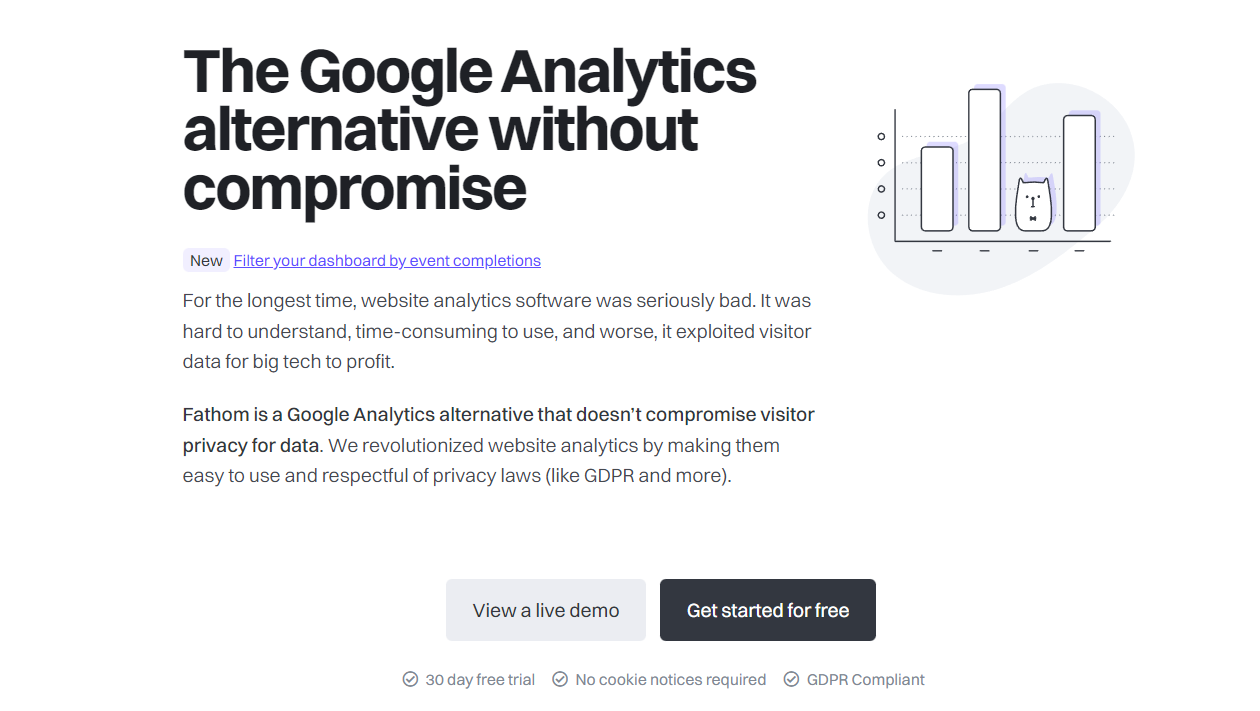 Fathom is another great Google Analytics alternative that does a much better job at securely analyzing customer data from your eCommerce site.
One of the standout features of Fathom is that it doesn't require eCommerce site owners to display an intrusive cookie banner. The platform is designed with a privacy-first approach in mind. Fathom automatically routes EU traffic to your online store through European-owned infrastructure. The platform is fully GDPR, CCPA, ePrivacy, and PECR compliant.
In addition to using a much faster embed code than Google Analytics, Fathom also is fully SEO optimized and features an easy-to-use dashboard in the back-end of your eCommerce site.
Pricing – You can get started with Fathom for $14 per month for up to 100,000 monthly page views.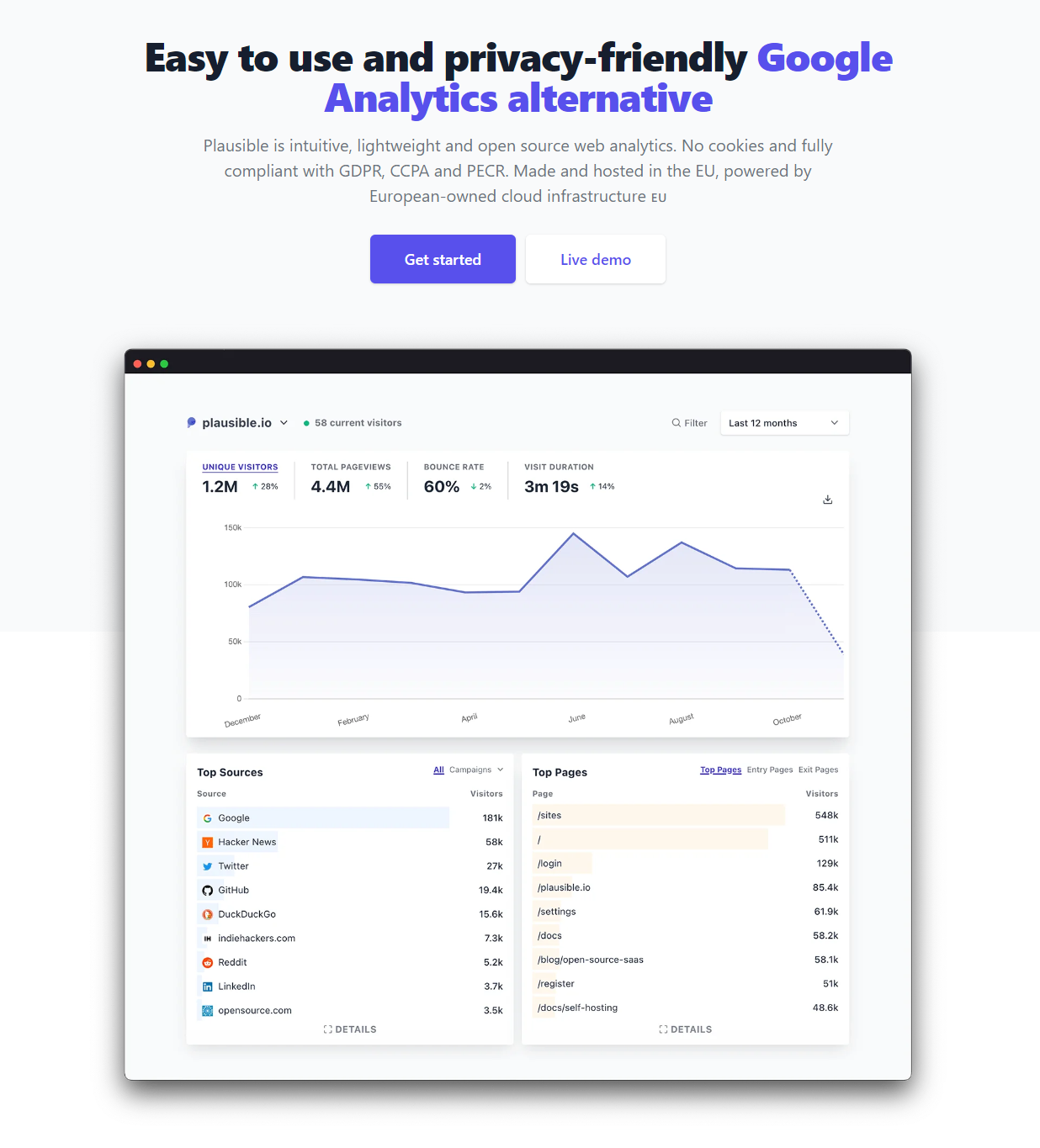 Plausible is an open-source Google Analytics alternative that enables you to track the performance of your eCommerce site. It's made and hosted in the EU and is powered by European-owned cloud infrastructure.
Plausible is all about simplicity and features a user-friendly interface. Compared to the Google Analytics dashboard, it's much easier to use for tracking important metrics of your eCommerce site. It shows all essential insights on a single page, no need to build custom reports or navigate through multiple menus.
In addition to this, Plausible is GDPR, CCPA, and PECR compliant. The platform doesn't collect personal data or use cookies. If you've already been using Google Analytics, you can important stats and get started with Plausible.
Pricing – You can get started with Plausible for $9 per month for 10,000 page views.
---
Which analytics platform is right for your eCommerce store?
Deciding on which analytics platform is right for your eCommerce store comes down to your specific needs and requirements. If you're only considering which platform has the best features then Google Analytics is probably the best option for you. This is because Google Analytics is hands down the clear winner in terms of features.
The platform also offers a wide range of features in the free version as well which is something most businesses are looking for. In addition to this, it integrates seamlessly with Google Ads and other important tools you might be using to run your business.
The best part about Google Analytics is that it provides reports out of the box without you having to set up anything. You get access to your eCommerce site's Audience, Acquisition, Behavior, and Conversion reports with Google Analytics.
However, if you're looking for a privacy-focused analytics tool for your eCommerce store, you'll need to consider going for a Google Analytics alternative:
Matomo. It's perfect for eCommerce sites that want to securely record user data without having to worry about breaking privacy laws. Similar to Google Analytics, it also offers a free-to-use pricing plan that's great for startups and businesses that are not looking to spend their budget on an analytics platform just yet.
Fathom. Fathom is a premium analytics platform that's suitable for businesses that are looking for a more professional Google Analytics alternative that's not only easy to use but securely tracks user data.
Plausible. For brands that want access to a simple UI and easy-to-understand metrics, Plausible is the right Google Analytics alternative solution. It's GDPR-compliant, performance-optimized, and promises a smooth transition from Universal Analytics.
Personal and personally identifiable information isn't collected by the Google Analytics alternatives listed above. This is especially important for eCommerce stores in 2023, especially the ones that cater to customers from the EU.
---
Conclusion
Tracking analytics on your eCommerce site is important for increasing sales and generating more revenue for your business. With insight into the performance of your eCommerce site and user activity, you'll be able to make much better decisions for your business.
To recap:
If you're looking for a feature-rich solution for tracking analytics, Google Analytics is your best bet.
However, if you're more concerned about the security and privacy of your eCommerce store, we recommend going for a Google Analytics alternative such as Matomo, Fathom, or Plausible.
Which is your favorite tool for eCommerce analytics? If you use any of the options mentioned above or have any additional suggestions let us know in the comments below!