Searching for the best WooCommerce POS plugin to take physical orders on your WooCommerce store?
WooCommerce handles everything about eCommerce out of the box, but what if you want to remove the "e" and also use your store for in-person commerce?
With a point of sale (POS) plugin for WooCommerce, you can create sales and manage orders from a front-end system on your computer, tablet, or smartphone.
In this post, I'll share a little bit more about how a WooCommerce POS plugin works. Then, I'll take you through the nine best WooCommerce POS plugins.
What Does a WooCommerce POS Plugin Do?
A WooCommerce POS plugin gives you a front-end interface that you can use at your physical stores or on the go (like setting up a merch booth at an event).
The POS plugin will automatically connect to your online order store to sync orders, inventory, and other details. Typically, most WooCommerce POS plugins rely on the WooCommerce REST API, which provides a seamless integration.
While the exact method varies depending on the plugin, most of these tools will give you dedicated apps/tools for desktop computers and tablets. Some plugins don't offer dedicated tablet apps, but do offer responsive designs to let you use the web-based POS on different devices.
For example, you could use an iPad to manage orders if you're selling at a local event. You'll also be able to print receipts, scan barcodes, and capture important customer information.
Many of these tools will also work offline, so you don't need a steady Internet connection (though you will need to connect at some point to sync data with your store).
Let's dig in…
Nine Best WordPress POS Plugins
---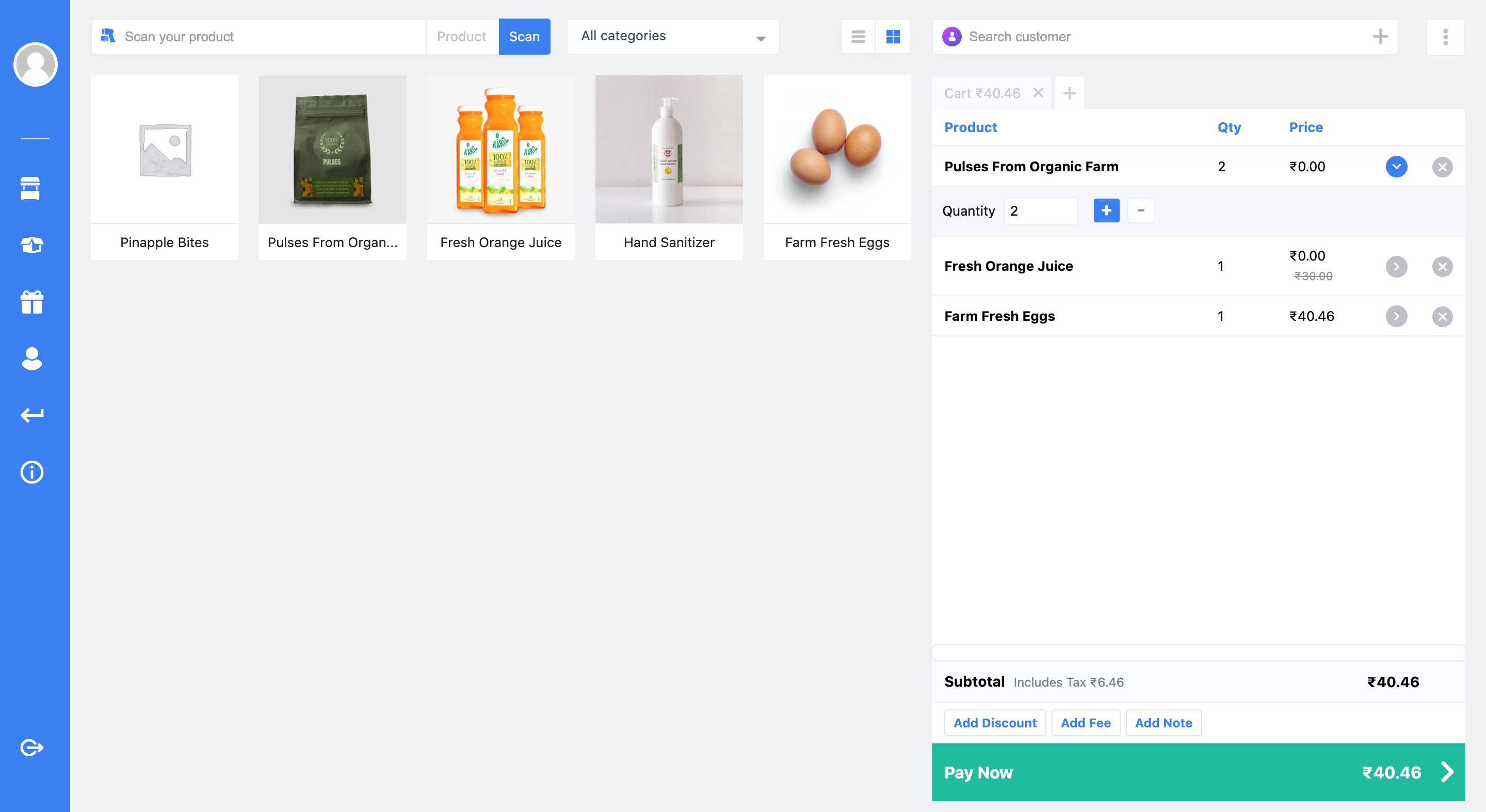 wePOS is a popular WooCommerce POS plugin that comes in both a limited free version and more full-featured premium versions.
With the premium version, you can add unlimited physical locations with unlimited "counters" at each location (like separate checkout counters or devices).
When cashiers log in, they'll be able to choose their location and counter.
The interface itself is well-designed and includes a grid as well as a speedy Ajax search to help cashiers find products. wePOS also works with variable products and cashiers can choose variations when they select a product.
Cashiers can also manage multiple carts at the same time thanks to a tab-based cart management system.
You can accept orders via both cash and credit card. And once you process an order, you can print out a physical receipt, including an option to customize your receipts' appearance.
Other useful features include:
Offline support
Tax calculations
Secure login panel for cashiers
Barcode scanner support
The limited free version lets you process payments via cash (along with some other limitations). Then, the paid version starts at $199 for use on a single site.
---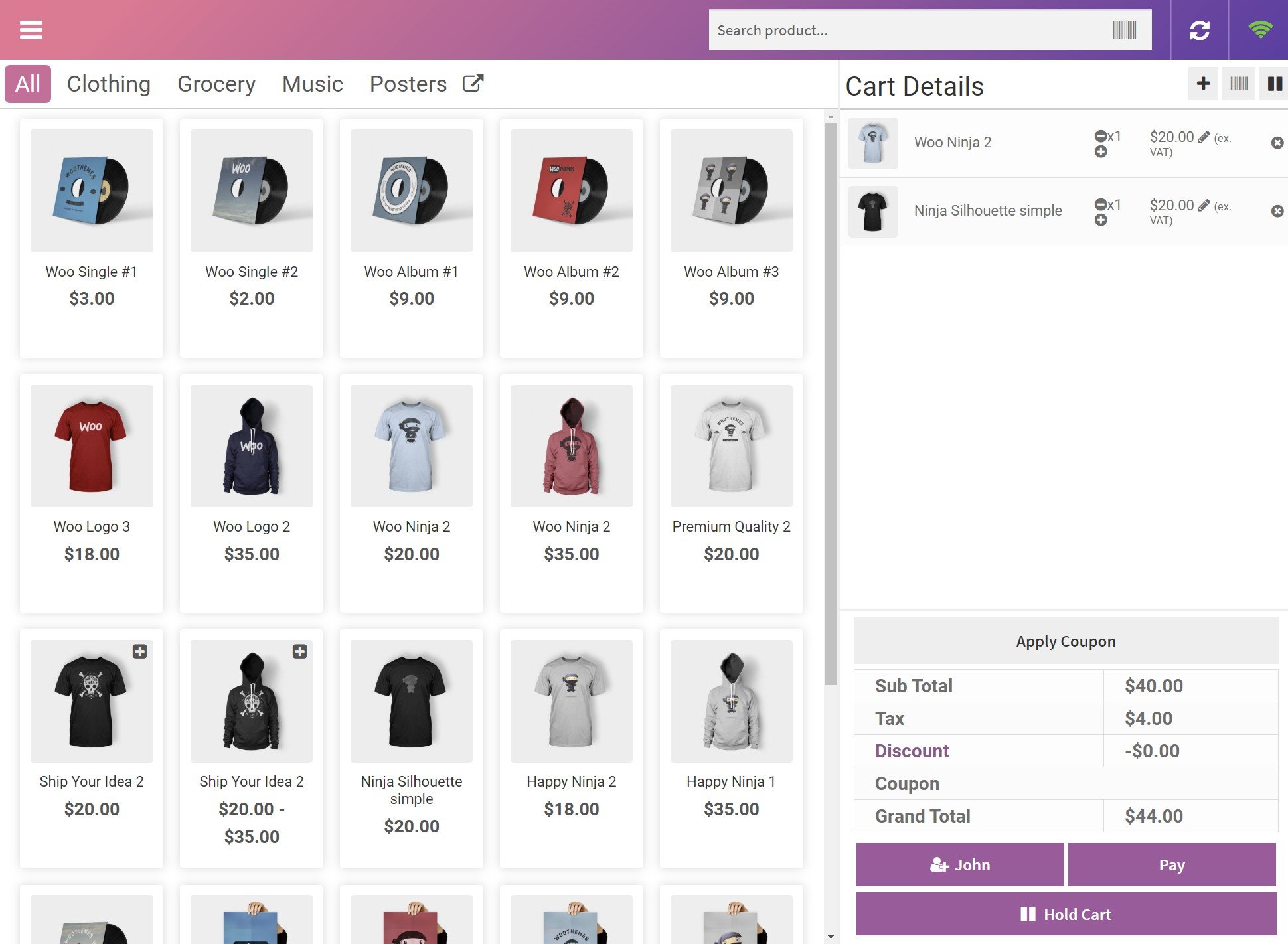 Point of Sale System for WooCommerce is a premium WooCommerce POS plugin from Webkul.
It offers both online and offline support. For offline use, you can install the dedicated extension for Chrome.
You can create unlimited physical locations and agents. Agents can:
Add customer details from the POS
Apply discounts from the POS
Add products manually or with a barcode scanner
Switch between currencies
Manage multiple carts, including holding a cart for later
You can accept payments with cash or card and even split payments between the two methods.
The POS system itself is built with React and is quite user-friendly, as you can see in the example above. You can interact with a full-featured demo here.
Point of Sale System for WooCommerce costs $99 with standard Envato licensing (lifetime updates for a single site and six months of support, with an option to pay to extend support to one year).
The fact that you get lifetime updates makes this one by far the most affordable premium WooCommerce POS system plugin.
---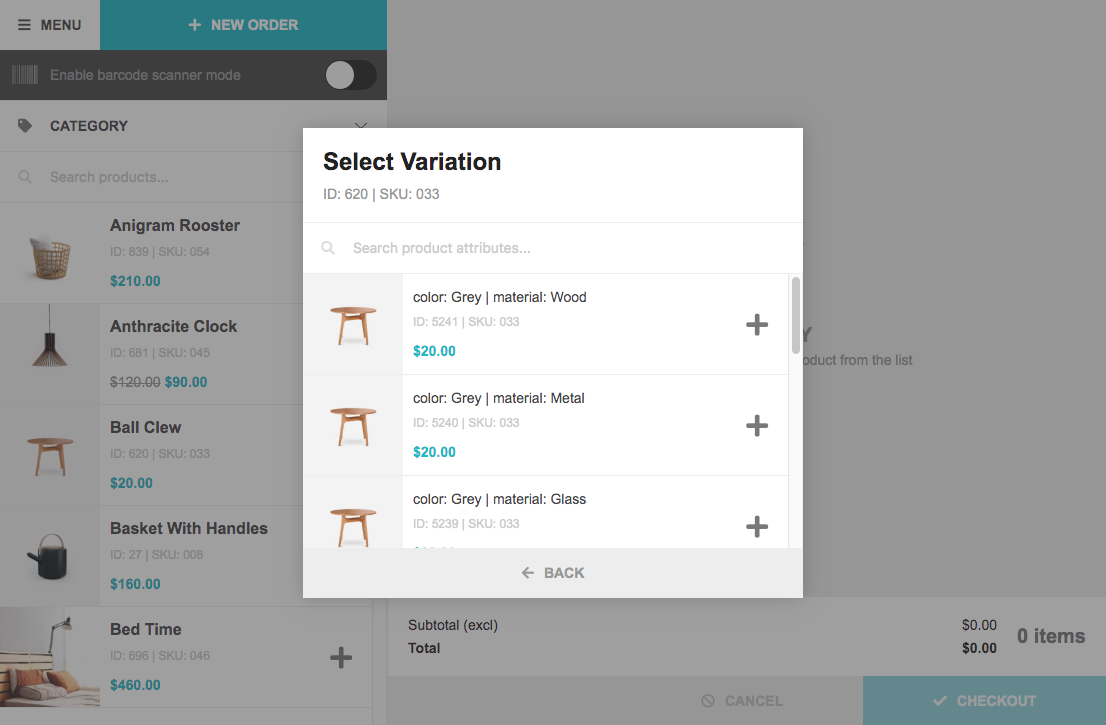 FooSales is a WooCommerce POS plugin that comes with both a web version and dedicated tablet apps (for both iOS and Android).
The tablet apps are fairly unique and make it a solid option if you're looking to use tablets for your POS. With the apps, you can also use offline mode.
To add products, cashiers can either search for them or use a barcode scanner. Cashiers can also manage customer details from the POS interface and sync them with WooCommerce.
Cashiers can process payments via cash, credit card, debit card, and other methods. They can also apply coupons to orders and calculate taxes.
You can email WooCommerce receipts to customers and, with the tablet apps and some supported hardware, you can also print physical receipts.
Cashiers also have an option to process refunds from the POS system.
One unique feature is the ability to integrate with the separate FooEvents plugin for WooCommerce to sell and manage event tickets.
FooSales offers a 30-day full-featured free trial to let you test it out (no credit card required). After that, paid plans start at $15 per month, which makes it a little pricier than some of the one-time payment plugins.
---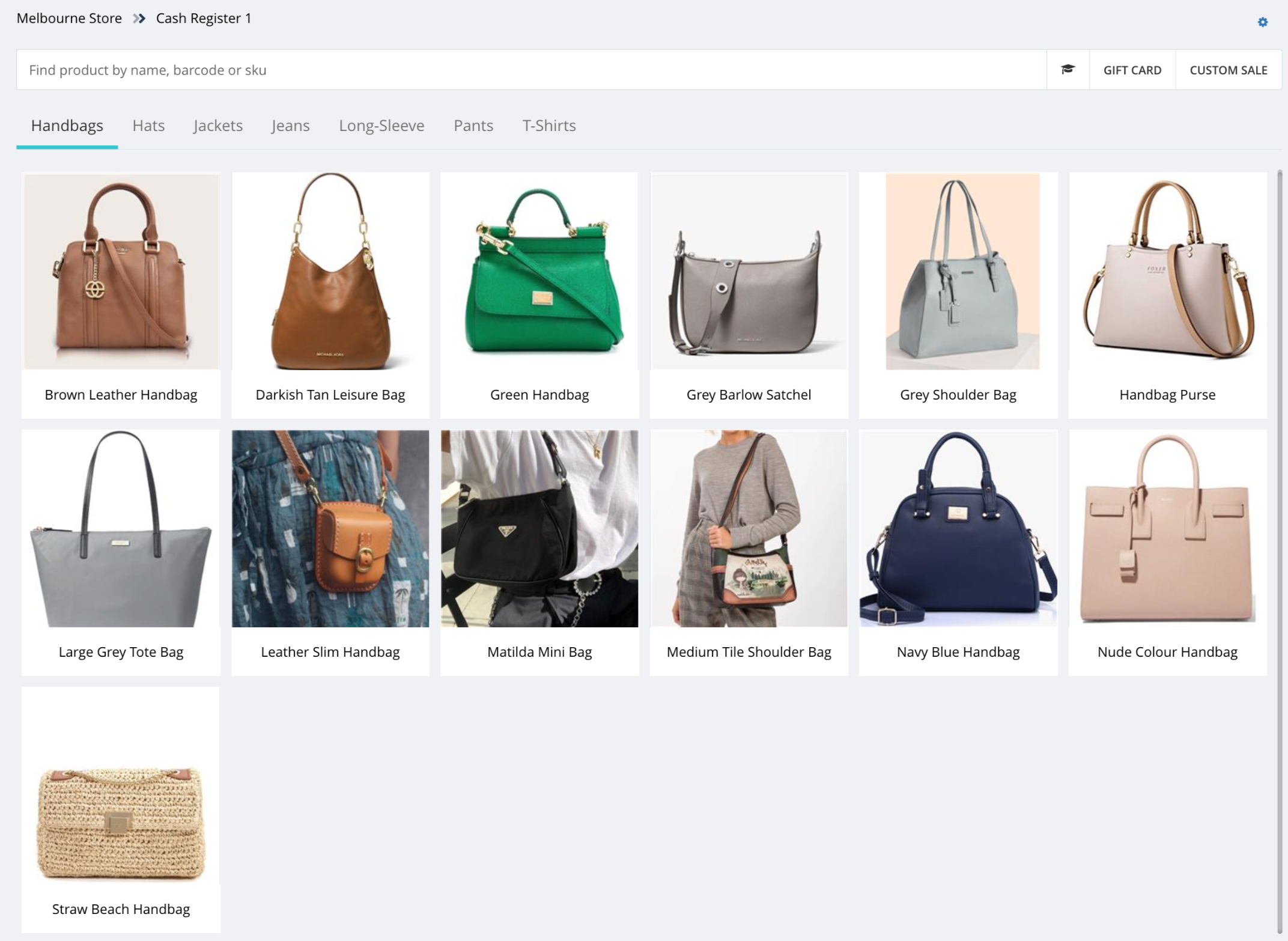 Unlike the previous three plugins, Hike POS is not a dedicated WooCommerce POS plugin. Instead, it's a standalone POS service that also offers a dedicated WooCommerce integration.
With that integration, you can easily sync product catalogs and inventory, orders, customer profiles, and more.
The Hike POS itself works on iPad, PC, and Mac (no Android tablet app) and offers a speedy interface that works both offline and online and supports barcode scanning.
At checkout, cashiers can apply discounts and process credit card payments. You can even offer gift cards, which is unique.
Other helpful features include:
Refund processing
Staff access PINs to manage access
Detailed analytics
Multi-store support
It's definitely a sleek package, but it's also pricey. Plans start at $59 per month (billed annually) or $69 per month (billed monthly), which makes this by far the most expensive WooCommerce POS system on this list.
You can try it out with a 14-day free trial, though.
---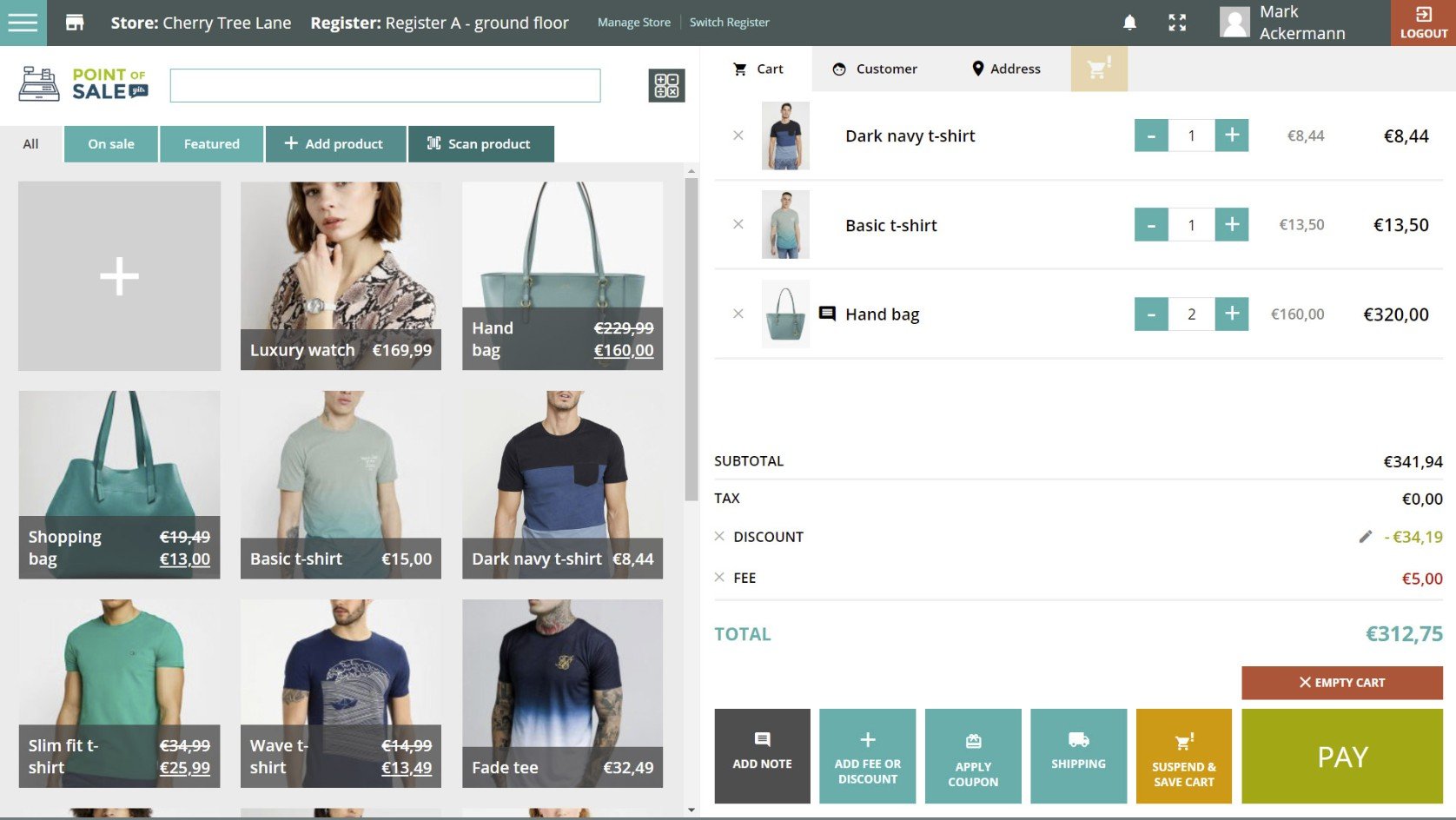 YITH Point of Sale for WooCommerce is a new'ish POS plugin offering from the YITH empire of WooCommerce plugins (YITH makes a lot of WooCommerce plugins, if you're not familiar with the name).
You can create unlimited locations, each with unlimited registers. Your orders and inventory will then sync over the WooCommerce REST API.
Cashiers can search for products or scan barcodes to quickly look up products. Cashiers can also add new products right from the POS system.
At checkout, people can pay with cash, credit or debit cards, and other offline methods. You can also use multiple payment methods and split the order between them.
Cashiers can also apply discounts, coupons, and markups to adjust the cost of an order.
And once the order is finalized, you can print out a physical receipt, including an option to create multiple different receipt templates (like different templates for different physical locations).
YITH Point of Sale for WooCommerce does not seem to support offline mode, though, which is something to consider if you want to be able to take your POS system on the go. There are also no dedicated mobile apps, though the POS interface is mobile responsive so you can open the web page on mobile devices.
YITH Point of Sale for WooCommerce starts at $199.99 per year for use on a single site.
---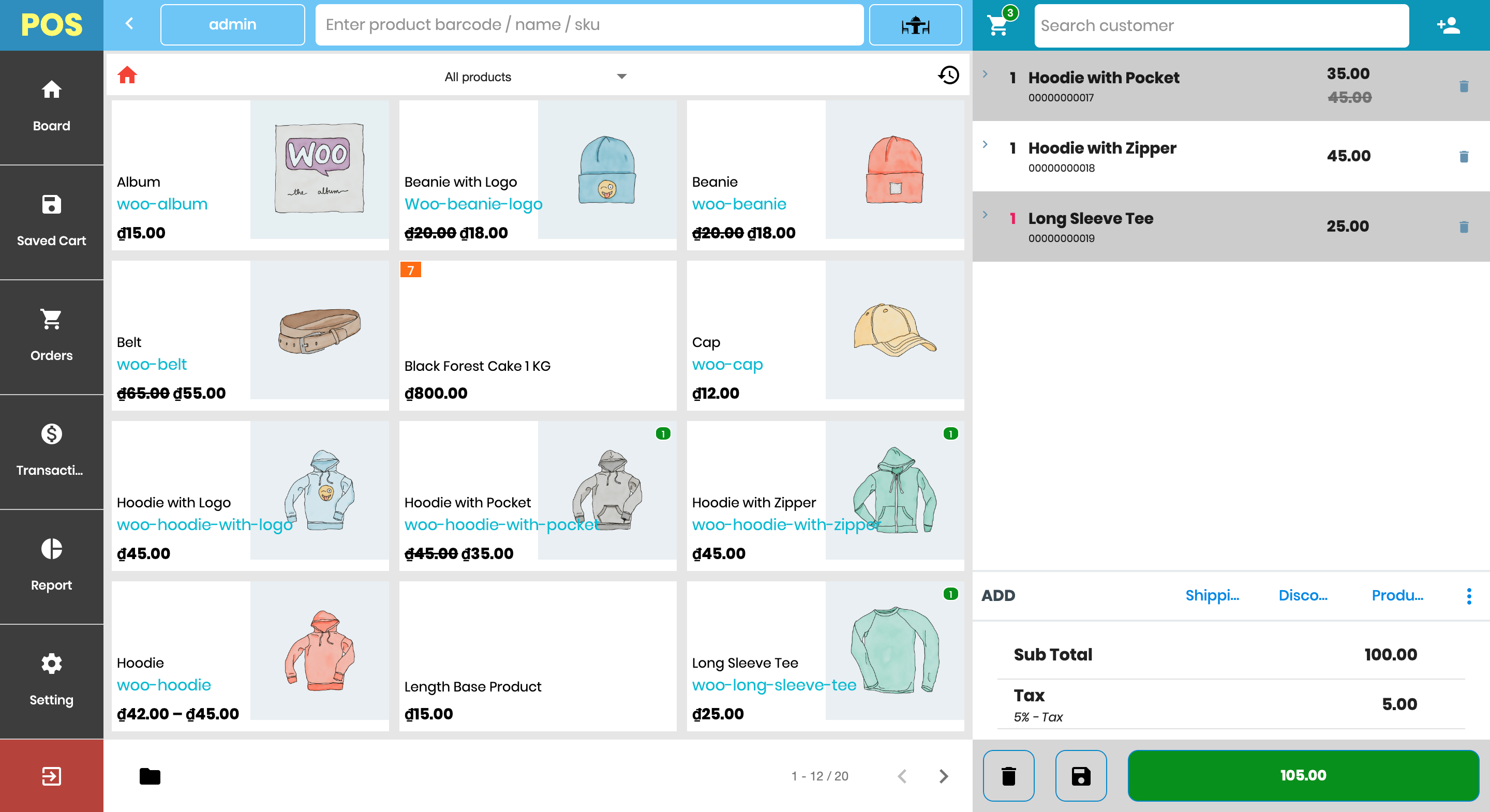 OpenPOS is a popular WooCommerce POS plugin that lets you sync data between your eCommerce website and physical store. It supports multiple outlets, registers, and barcode scanner devices.
Cashiers can scan product barcodes or add them manually by typing in the product's name or SKU. The WooCommerce POS plugin also supports weight-based pricing as well as coupons and discounts.
It's perfect for all sorts of businesses including retail stores, cafes, gyms, pubs, hospitals, and supermarkets. The plugin comes with different modes for different types of businesses. For example, you can enable the Cafe/Restaurant Mode to get access to features like table management and kitchen view screen.
One of the latest features OpenPOS has to offer is its progressive web app for desktops. It makes it incredibly easy for service workers to use the POS system.
Some other notable features include:
Checkout with multi-payment method i.e. split payment.
No touch order processing.
Transaction and sales reports.
The OpenPOS plugin will cost you $64 for a single site license.
---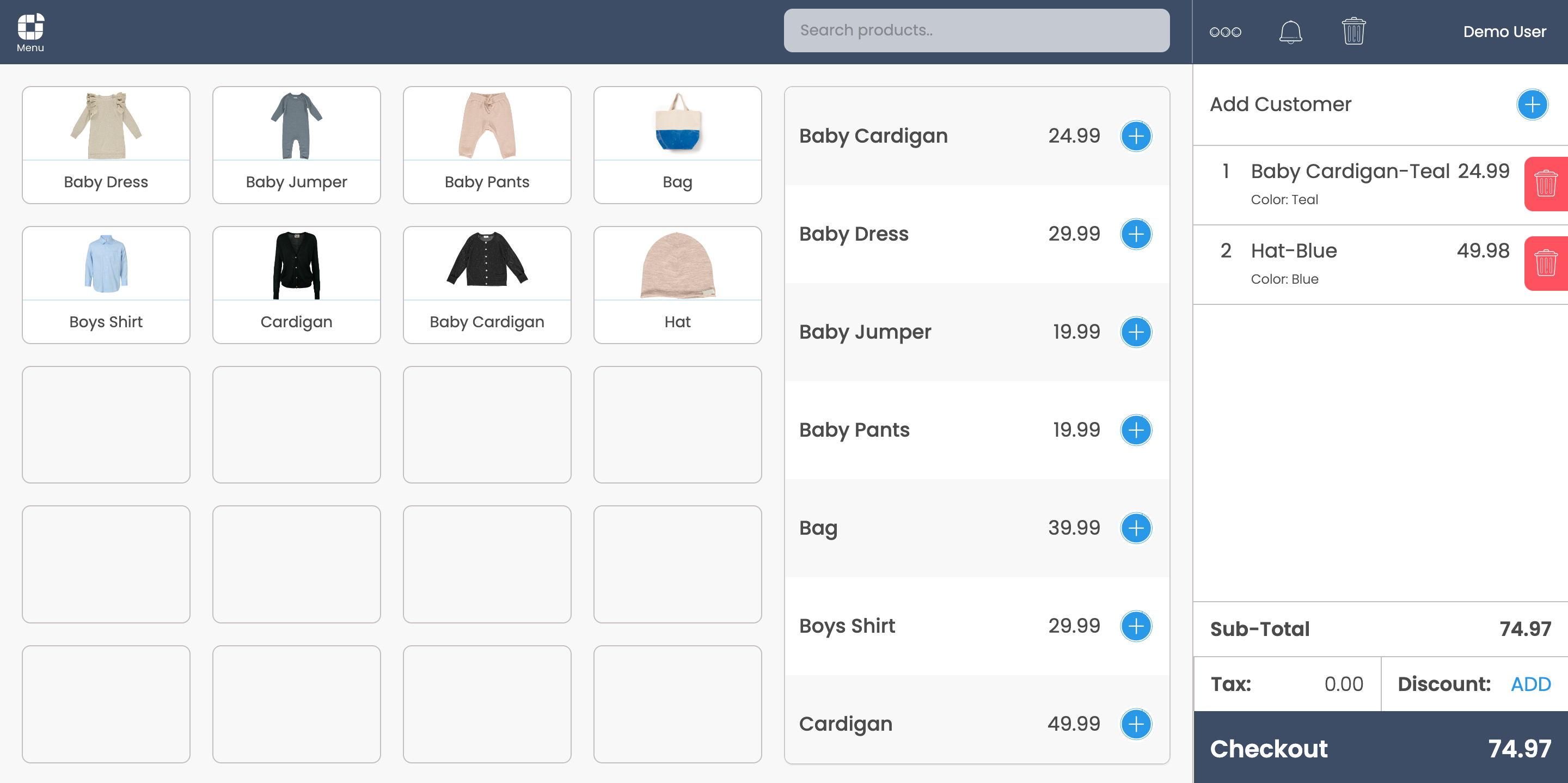 Oliver POS is a WooCommerce POS plugin is designed to help businesses streamline their omnichannel retail stores. It's a cloud-based POS solution that automatically syncs to your WooCommerce store.
With Oliver POS, store owners can run their online store and physical store together. Once the plugin is installed and set up, you'll be able to access customer data, view online orders, and manage inventory on the devices you already own. This makes it incredibly easy to sync inventory and manage products between your online store, retail store, and warehouse.
In addition to this, the plugin lets you track performance and optimize business operations with its built-in reports. Oliver POS generates customer reports, payments reports, sales insights and summaries, inventory reports, and more.
You can get started with Oliver POS for free for one employee with the Starter plan that supports one register and location. Paid plans start from $19.99 per month (billed annually).
---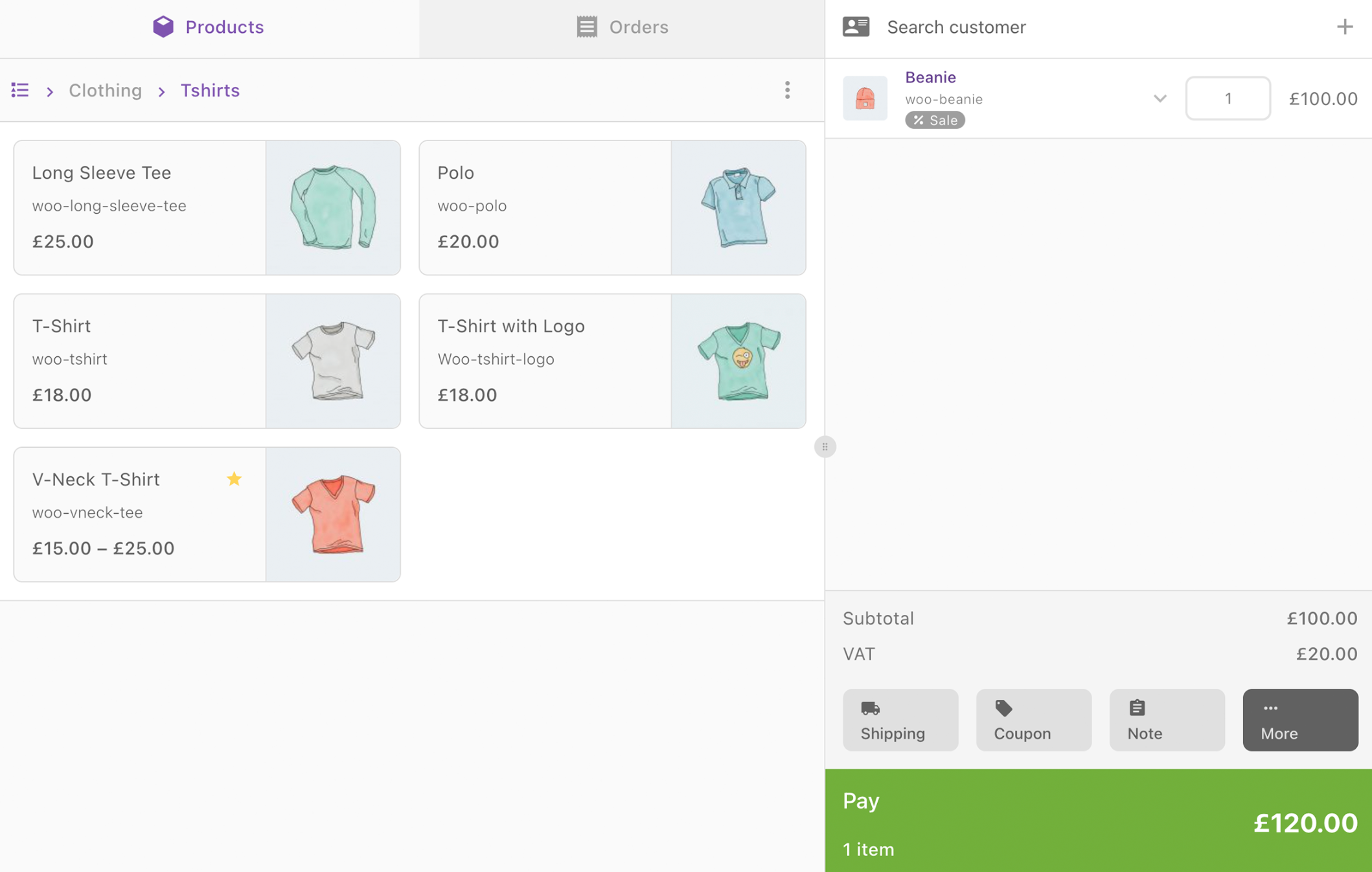 Point of Sale for WooCommerce is an official WooCommerce POS extension that integrates your online store with brick-and-mortar sales. You can use this WooCommerce extension to turn your browser into a fully-functional cash register.
The Point of Sale for WooCommerce extension lets you set up cashier restrictions to improve security and control business operations. It has built-in options to switch between cashiers or log them out after each sale.
With the Point of Sale for WooCommerce plugin, you can manage multiple outlets and registers at each location. It also lets you set up discounts and fees to improve customer retention.
In terms of usability, the extension is incredibly intuitive and easy to get started with. It lets you customize product grids for each store department and offers multiple viewing options. It also lets you add products on the spot with product attributes.
The Point of Sale for WooCommerce extension will cost you $16.59 per month.
---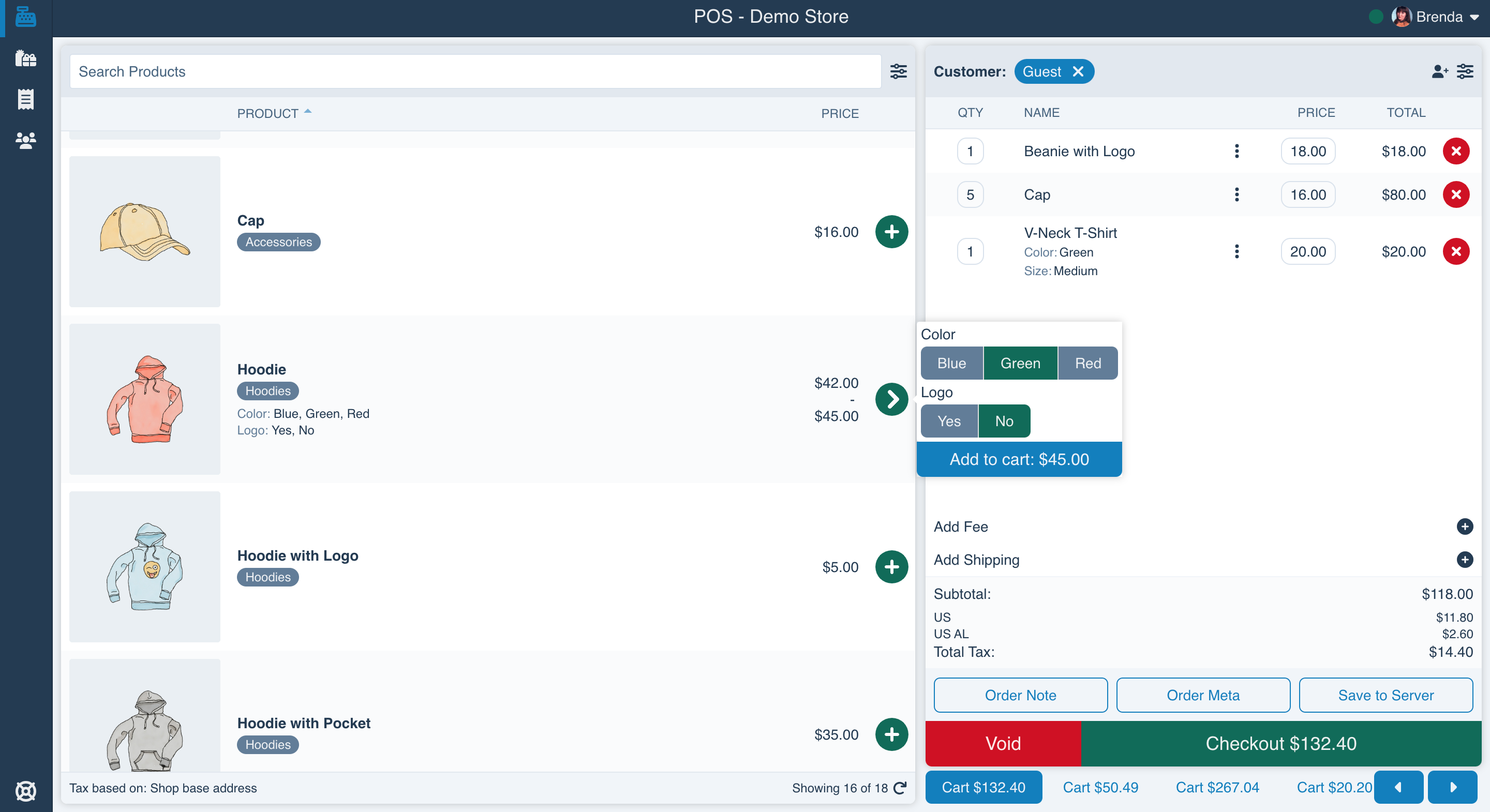 WooCommerce POS is a free point of sale plugin for WordPress sites. The plugin stores your product inventory locally (in the same database as your WooCommerce data) thereby ensuring optimized performance.
You can use the WooCommerce POS plugin to sync product and sales data between your online store and retail store. This ensures that your inventory is always in sync, whether you make a sale in your physical store or online. In addition to this, the WooCommerce POS plugin is translation-ready.
The WooCommerce POS plugin is free to download from the plugin directory.
---
Which is the Best WooCommerce POS Plugin?
The best WooCommerce POS plugin for your store obviously depends on your needs and budget. For example, do you need a tablet app? Do you need offline support? Can you swing $30+ per month? Etc.
If you're on a tight budget, going with wePOS, Point of Sale System for WooCommerce, or YITH Point of Sale for WooCommerce will be your best bet because they offer one-time billing. Of the three, Point of Sale System for WooCommerce is the most affordable because it offers lifetime updates.
FooSales and Hike POS offer a little more polished offerings with features like dedicated mobile apps, but that comes at the expense of a hefty monthly fee.
And no matter which plugin you choose, all of these plugins work great with the Shoptimizer WooCommerce theme, which can help you nail the online experience for your WooCommerce store.
Do you have any questions about picking the best POS plugin for your store? Let us know in the comments!