Are you looking to measure just how effective your marketing campaigns are for your eCommerce store? Wondering just how much revenue you really make from different channels? You need to incorporate marketing attribution into your strategy.
Marketing attribution can help your brand identify the most effective marketing channels and map out the customer's conversion journey. This is immensely important for business owners that want to minimize ineffective spending on marketing channels that are underperforming and grow the ones that are actually bringing in more conversions.
In this article, we'll take a look at how marketing attribution works in the context of eCommerce and go over one of the best tools which works on both the Shopify and WooCommerce platforms.
---
What is Attribution in eCommerce?
Marketing attribution has become one of the most talked about topics amongst online store owners. In simple terms, it involves analyzing all marketing touchpoints your customers see that lead to a successful sale on your online store.
For instance, a user might typically need about 10 to 15 touchpoints before they're comfortable making a purchase. Marketing attribution lets you analyze each touchpoint so you can understand the most efficient and effective way to reach your target customers. As a result, store owners can quickly identify the most effective touchpoints and develop a better understanding of why they work so well.
The great thing about marketing attribution is that it helps you identify the best marketing channels that work for your business. You don't have to rely on generic strategies or take a blind shot when investing business resources into marketing channels for your business.
---
Rockerbox Overview
Rockerbox offers the ultimate solution for all types of businesses that want an easy way to view all their marketing data in one place and make data-driven marketing decisions.
It's touted as the single "source of data truth" for digital marketers. This essentially means that, with just one data analysis program like Rockerbox, businesses can make informed marketing decisions for all their marketing channels, online and offline. This is because the robust program provides all necessary customer touchpoint data across all your marketing channels so it's easier to analyze and glean insights.
While Rockerbox lets you view marketing data across multiple marketing channels, it also displays marketing data across all devices. You can view marketing data from say Google and Facebook ads as well as offline channels such as TV or direct mail using the same tool. This ensures you know a customer's journey through your marketing channels and helps you uncover the most effective marketing channels for your business that ultimately led to a sale. So you can clearly see what are your brand's most profitable marketing channels.
The great thing about Rockerbox is that it uses a multi-method approach that's designed to suit all types of businesses. It offers rule-based attribution, halo analysis, geo lift, in-channel testing, media mix modeling, and most importantly, multi-touch attribution.
With a feature like multi-touch attribution in your arsenal, you can get an overview of all the touchpoints a user takes – both offline and online – and better gauge how much influence each marketing channel has on the user that eventually became a paying customer. This way, it's much easier for marketers to pinpoint the "best" performing marketing channels and re-invest more resources into them.
Unlike many other marketing attribution tools like Triple Whale, Rockerbox is also compatible with WooCommerce. It uses pixel tracking to track all events and user data on your WooCommerce site. This helps you get a bigger picture of what's working and what's not on your online store.
The best part about Rockerbox is that it features a free plan for users that want to give the marketing attribution tool a try before investing in it. eCommerce store owners can centrally access and see data from their Google marketing channels that is auto-formatted into Google Sheets by default. This gives you a feel for how Rockerbox is useful for tracking analytics across some of the marketing channels your brand uses.
---
Rockerbox Key Features
Rockerbox has a lot to offer in terms of features and functionality that let you analyze all marketing data, measure marketing channel performance, and perform accurate marketing analysis for your brand.
Let's go over some of the major features on offer:
Data centralization
Rockerbox is great at giving marketers access to all important data such as cross-channel marketing analytics, customer data, business revenue, spending, and conversion data in a single place. This is where the "single source of marketing truth" bit really shines as it lets you view all aspects of your marketing in one place.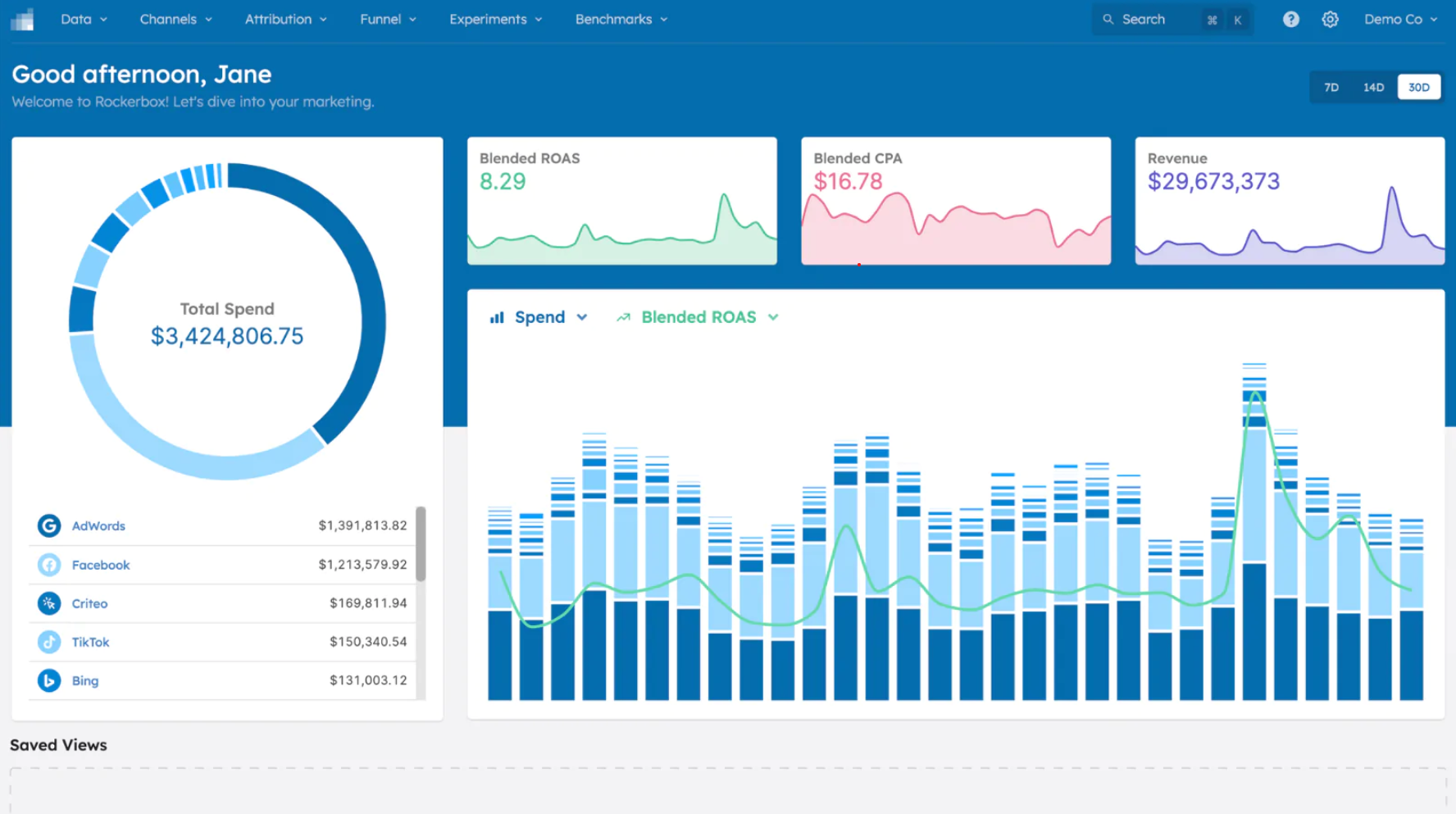 The data dashboard in Rockerbox lets you filter data by each marketing channel. For instance, if you want to view the marketing performance of your social media channels only, you can select it using the filters. Similarly, you can view all marketing channel data combined to give you an overview of what's going on across all marketing channels.
Marketers can also access all the conversion data to better understand how each conversion happened by highlighting all the touchpoints in the customer journey. While this gives you an accurate revenue number for each conversion, it also gives you insight into which conversion required the least number of touchpoints so you can put more effort toward that specific marketing channel.
Marketing channel measurement
Creating an effective marketing strategy that gives you the best return on your investment can be a challenge. However, if you're using a marketing attribution tool like Rockerbox, it's much easier to evaluate and see which marketing channels are performing the best.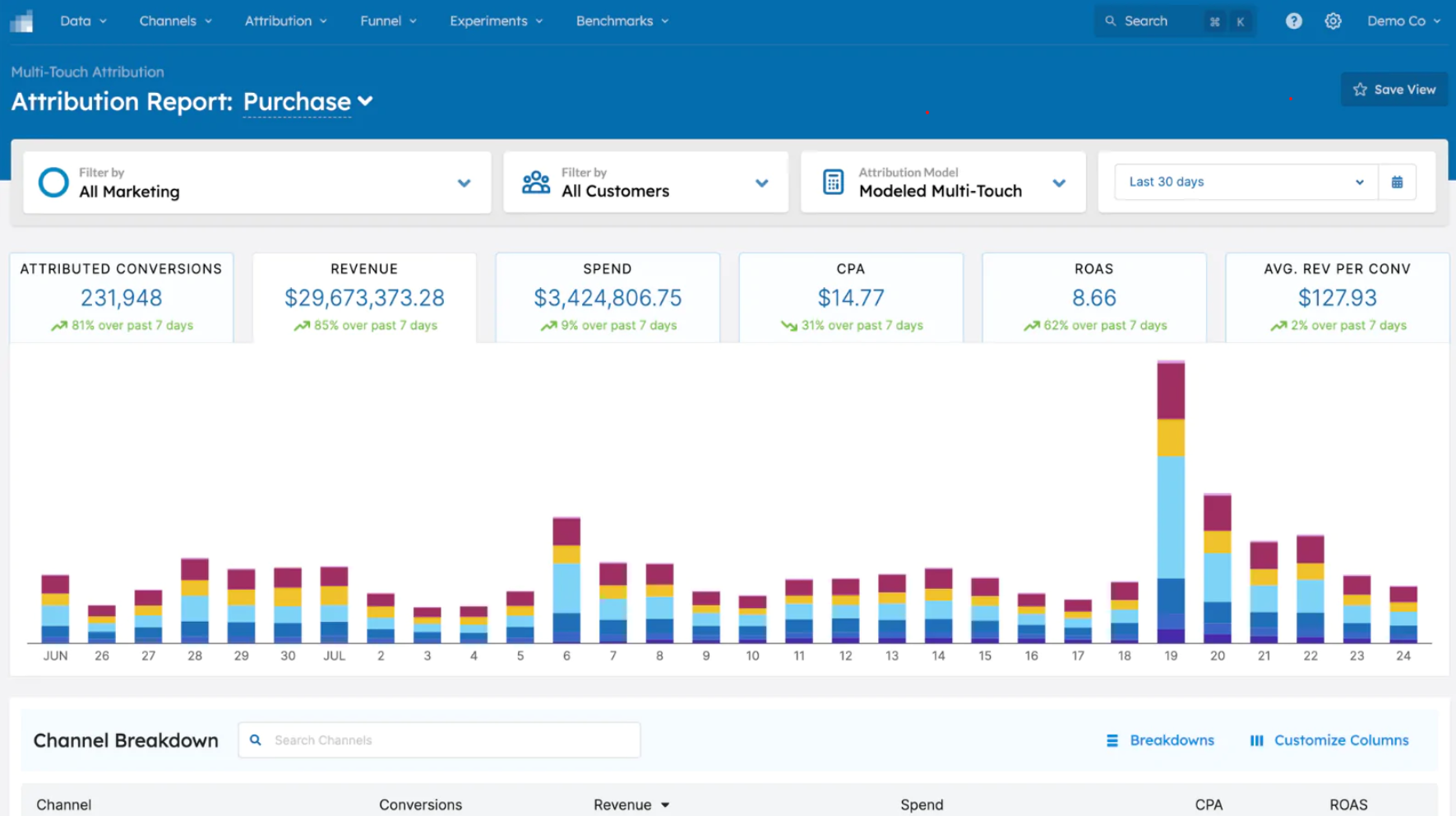 Whether your business only uses Facebook or Google Ads as its primary marketing channels or has multiple marketing channels, Rockerbox lets you track all campaigns on multiple marketing channels online and offline. This means you can track metrics from popular platforms like TikTok and Facebook while being able to keep track of direct mail or linear TV metrics using the same platform.
These features make Rockerbox highly scalable and suitable for all types of businesses, including small and large-scale brands. Even if your brand only uses a few marketing channels now, there's a pretty good chance you'll need to use more in the future when your business grows. This is why it's important to use a market attribution tool like Rockerbox to keep all your marketing channels and spending in check.
Marketing analysis
Knowing what's working and what's not is important when budgeting for your marketing channels. With Rockerbox, you can see all marketing data and analyze the effectiveness of each channel from a single platform.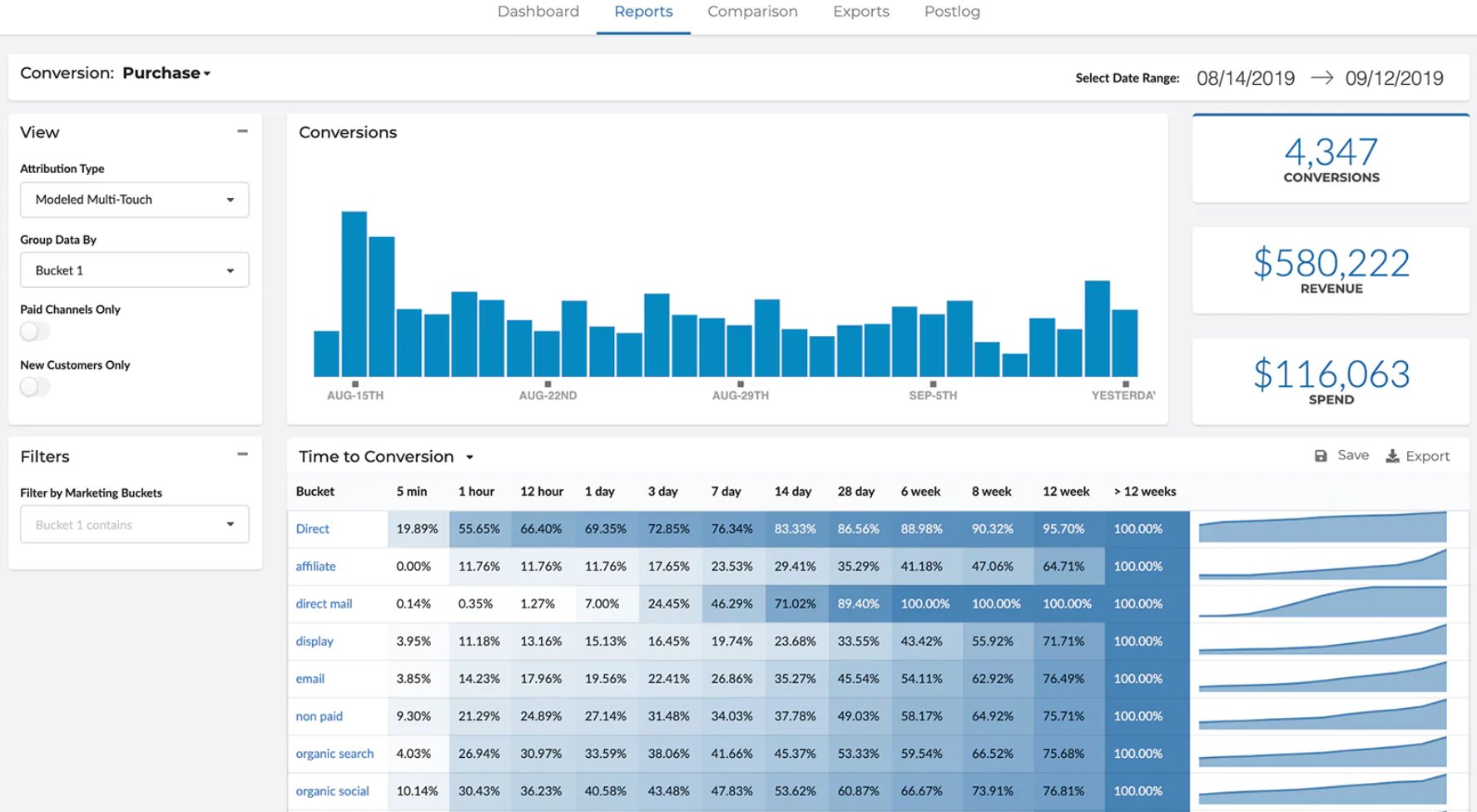 You can run experiments using Rockerbox so it's easier to identify optimizations that can be made to your brand's marketing efforts. You also have access to Media Mix Modeling (MMM) which combines your brand's unique marketing data with historical data to deliver the most impactful tips for improving your brand's marketing performance.
On top of this, Rockerbox also offers full-funnel visibility functionality so it's easier to understand the path of conversions for your brand. This way, you can not only see which channel led to the sale but also all the channels the user touched before reaching the end of their customer journey.
Additionally, you can also compare multiple user paths and see which ones are the most effective for your brand. For example, if a conversion takes less time and only two touch points as compared to another that took more time and over 20 touch points, you'll know with certainty which is the more efficient channel.
Multiple channel support
Rockerbox is designed to let you track the performance of multiple marketing channels including social media platforms, search engines, digital ads, direct mail, or TV ad buys.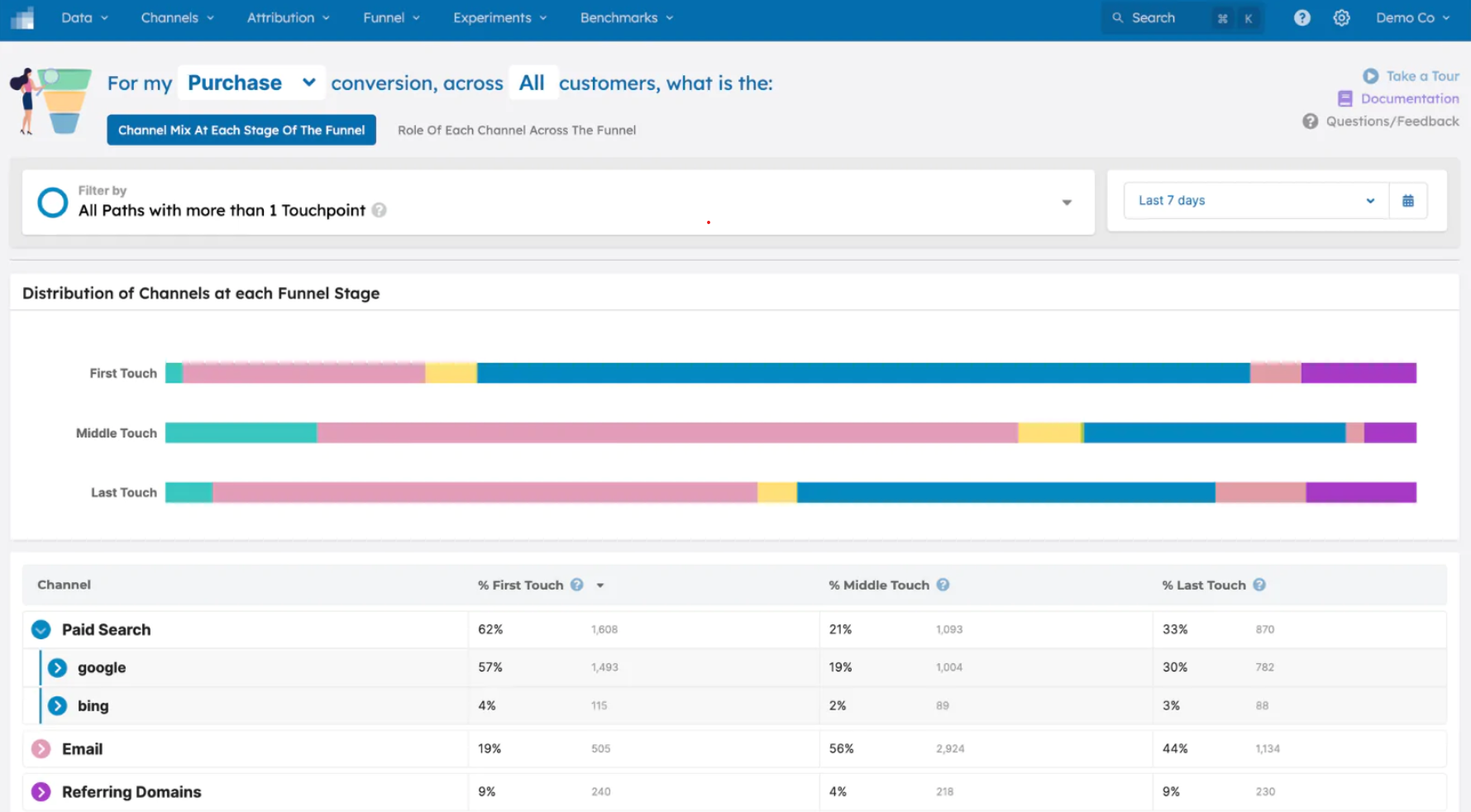 Since marketing attribution is highly important for social media, you can use Rockerbox to track the total spending and activity of your brand's social media accounts. This gives you a better idea of your paid and organic traffic from social media channels so it's easier to budget for your next marketing campaign.
Similarly, if you run any type of digital ad, such as Google Ads or Bing Ads, you can track your total spending from all the platforms you're buying ads on. This in return gives you accurate ROI metrics for each digital ad platform so you can make an informed decision.
Integrations
Rockerbox integrates seamlessly with some of the most popular platforms businesses use for affiliates, email capture, eCommerce, digital advertising, and customer acquisition.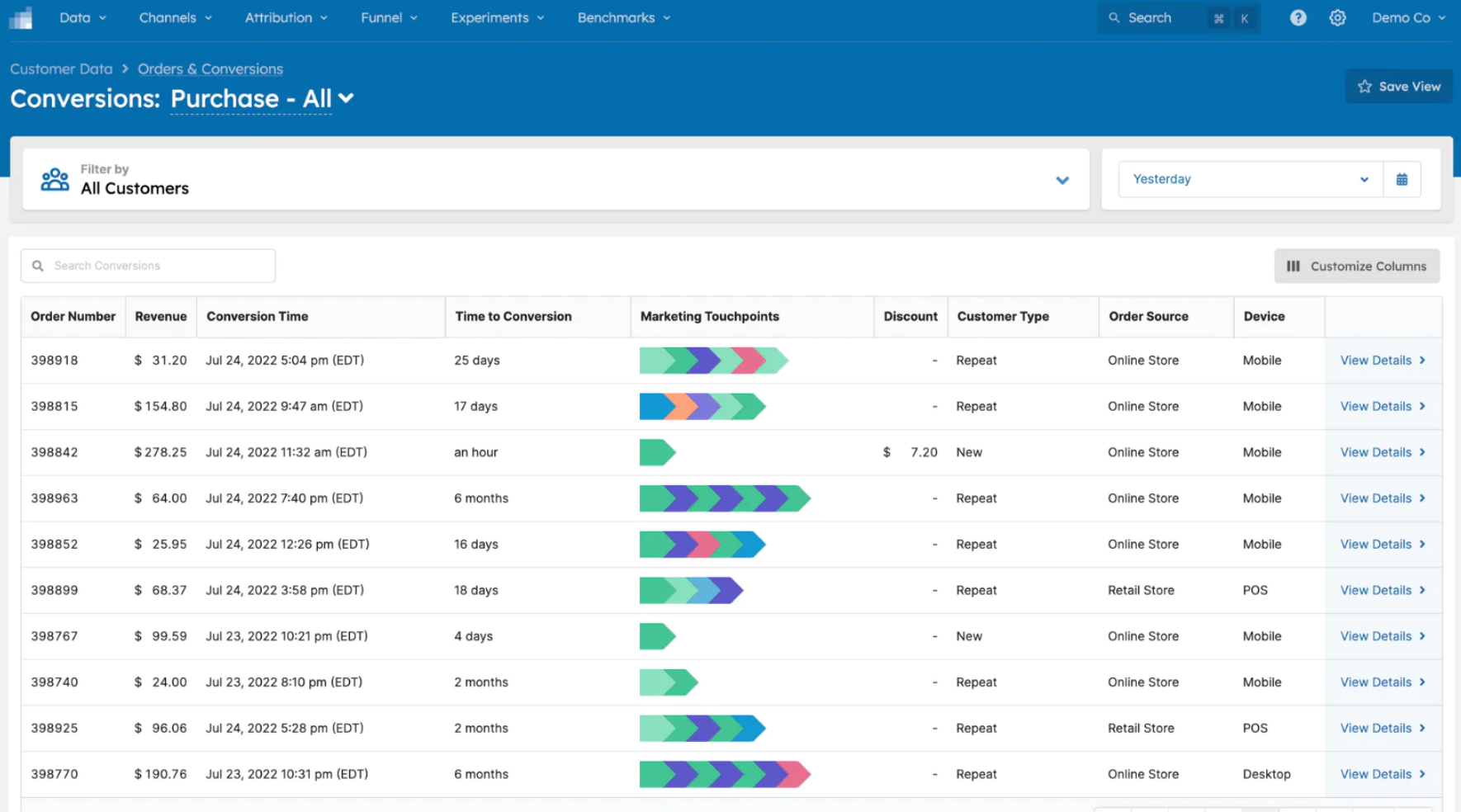 Let's say your brand uses WooCommerce or Shopify to run an online store. You can use Rockerbox to easily track all customer touchpoints so it's easier for you to understand the conversion journey. This also means you can enhance your marketing campaigns and make improvements based on accurate data-driven metrics.
---
Rockerbox Plans and Pricing
Rockerbox comes with a lot of features out of the box and offers flexible pricing plans that are suitable for different types of businesses.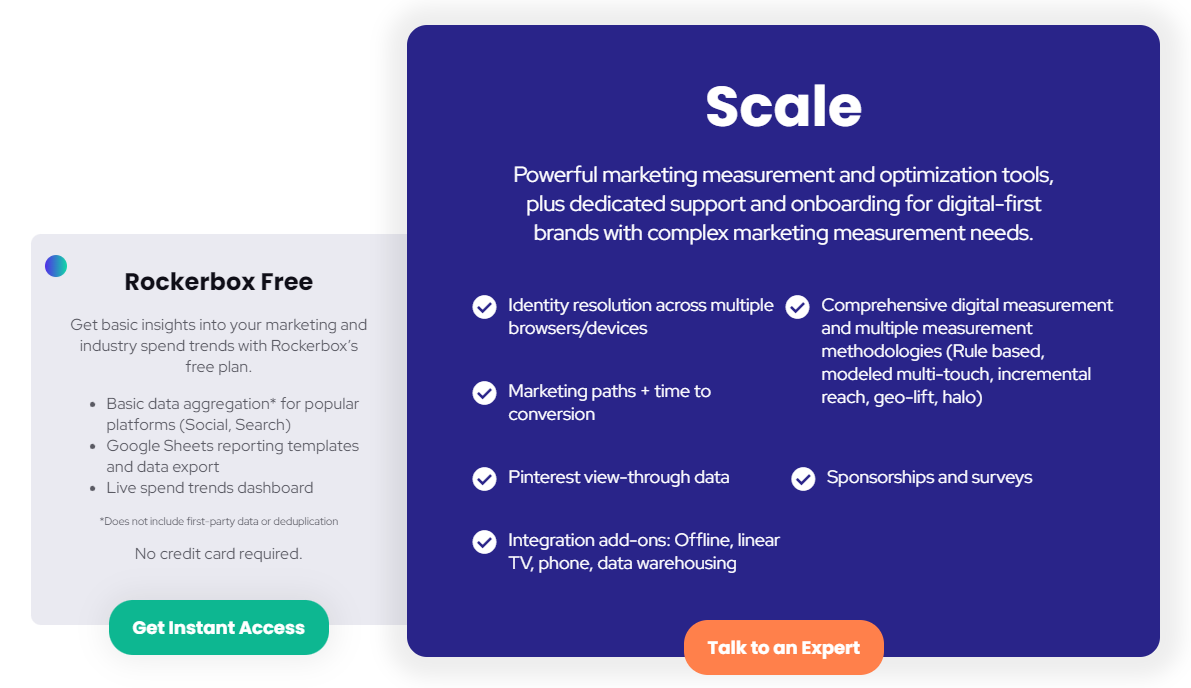 The pricing plans from Rockerbox are designed to help businesses that are in the launch phase as well as businesses that reach IPO.
The Rockerbox Free plan is designed to help small businesses and startups that want to overview multiple marketing channel performances without having to spend a single penny.
The Rockerbox Starter plan starts as low as $200 per month and offers support for many more marketing channels.
Rockerbox Scale plan is designed for large-scale, well-established businesses that have complex requirements for market attribution.
---
Conclusion
Marketing attribution plays an important role in eCommerce for better understanding your brand's most effective marketing channels and using that information to drive more conversions. This way, you can identify marketing channels that are performing the best and see which ones are underperforming so you can cut them out.
While there are other popular market attribution tools, Rockerbox stands out from other solutions because it integrates with WooCommerce.
This makes it easier for WooCommerce site owners to track all site events such as clicks, searches, and screen visit time, in hopes of better understanding a customer's journey from learning about your product or service to becoming a paying customer. As a result, it helps you gauge the marketing performance of your brand and make a well-informed decision to re-invest in the channels that perform the best.
Let us know in the comments below if you use Rockerbox or any other attribution platform and share your own insights with our audience. We'd love to hear them.