There are lots of ways to turn people into repeat buyers. Setting up a loyalty program is at the top of many lists.
And it's easy to see why: customers get rewards for shopping at your store.
A loyalty program is a good fit for all sorts of eCommerce stores, whether they're powered by WooCommerce or Shopify. And you can set it up however you'd like!
However, choosing the right points and rewards plugin that will help you effectively manage your rewards program can be challenging.
In this article, we'll explain how points and rewards plugins can help increase customer retention, boost sales, grow your brand value, and more. We'll also cover some of the best points and rewards loyalty plugins for WooCommerce.
---
Benefits of using a WooCommerce Points and Rewards Loyalty plugin
A loyalty program is essentially a way to boost engagement and customer satisfaction by awarding customers points and rewards when they complete certain tasks.
You can award points to customers when they buy a product, share details about an ongoing sale with their followers, or refer your products to their friends and family.
For example, you can award 100 points to customers when they shop for over $50 from your WooCommerce store. They can redeem their points later to qualify for a discount on their next order or receive a free gift.
A points and rewards program is an incredibly effective way to retain loyal customers.
Imagine the revenue opportunity you're missing out on if you don't have a loyalty program integrated into your WooCommerce store.
Depending on your brand and your audience, using a WooCommerce points and rewards plugin can help you increase customer retention and boost sales.
These are just some of the benefits of setting up a loyalty program on your eCommerce store:
Boost sales. Customers are incentivized to purchase products from your WooCommerce store so that they can receive the reward points and redeem them later for discounts or gifts.
Build a loyal customer base. Since you're rewarding your customers, it's a great way to give back to your community. People are more likely to trust and value your brand over competitors.
Can grow your brand value. With more people committed to your brand, you can increase your brand value. Prospective customers will have an easier time trusting your brand and recommending your store to friends and family.
Increase customer lifetime value. When you have a loyalty program, customers are more likely to stick with your brand for the long term. It's a sure-fire way to increase customer retention and maximize customer lifetime value.
Stay ahead of the competition. Offering a points and rewards program can help make your WooCommerce store look and feel unique. As a result, it can set your brand apart and help you stay ahead of the competition.
To sum it up, setting up a loyalty program is a great way to increase brand engagement and customer retention.
---
Examples of rewards programs
Before we jump into the different tools and plugins that you can use to create a points and rewards system in WooCommerce, let's take a look at how successful businesses use loyalty programs to engage their customer base and boost sales.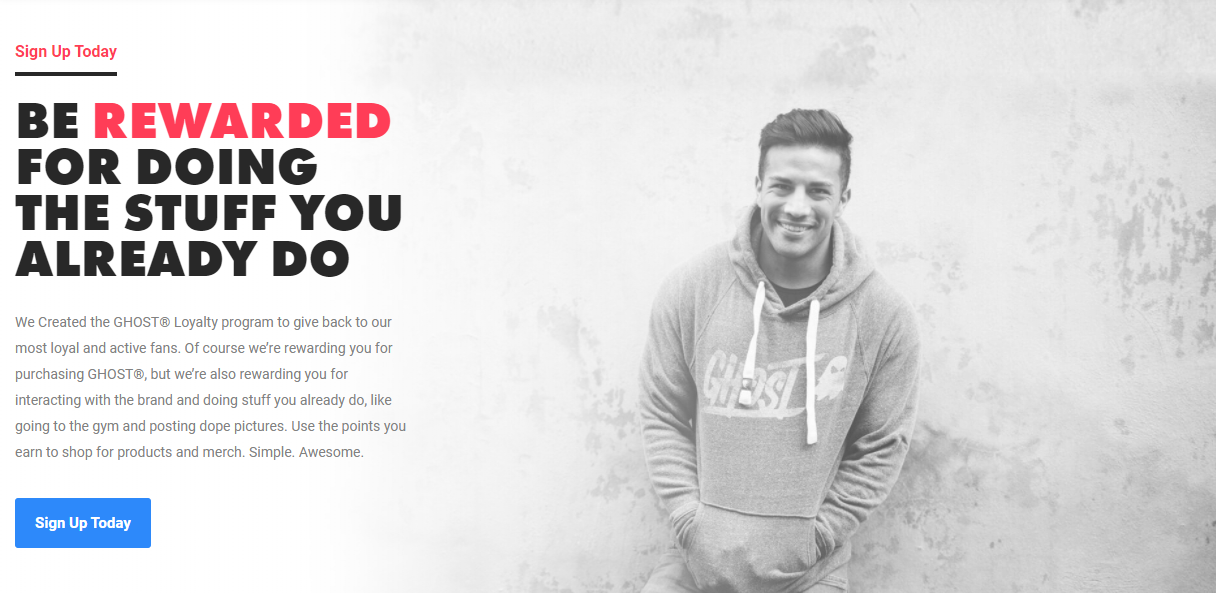 GHOST adds a modern spin to a rewards and loyalty program. Their customers get rewarded for purchasing GHOST products and can also get points on a daily basis for interacting with the brand.
One clever thing that GHOST does with its loyalty program is rewarding additional points to customers for interacting with their content. This way, the more customers engage with their brand, the more rewards they will get.
Key takeaway: Awarding points for brand interaction is a great way to boost engagement and increase customer retention for your brand.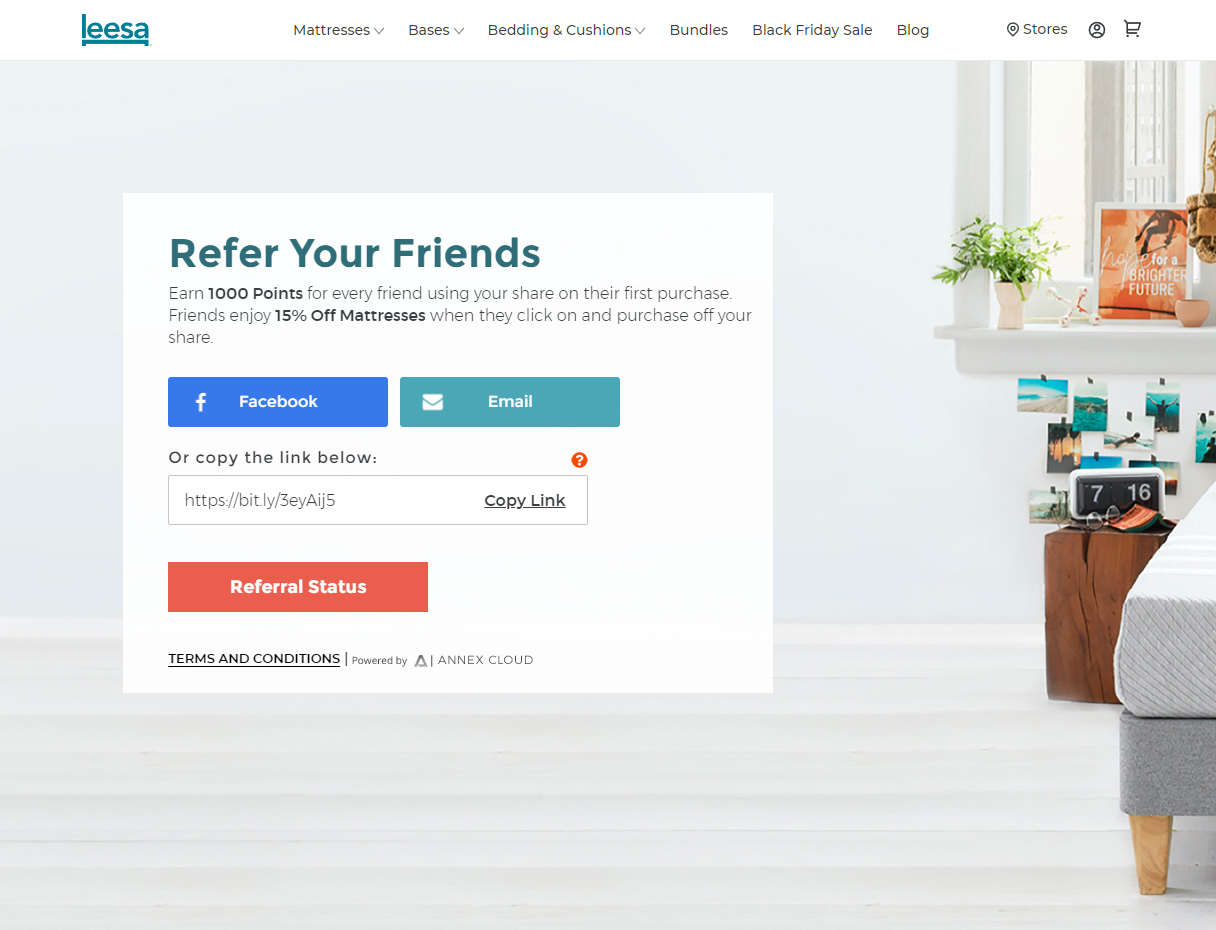 Leesa offers its customers a fairly simple yet effective loyalty program. Users can refer a friend and, when the friend makes their first purchase, it rewards the user 1,000 points for sharing a unique code, plus rewards the person you refer a 15% discount on mattresses.
Notice how Lessa offers a simple, user-friendly way of referring and earning points on their online store? It makes it easy for their customers to refer their friends and earn points along the way.
Key takeaway: People don't actually have to spend money to gain points. This simple tactic encourages more people to share a referral link with friends and family.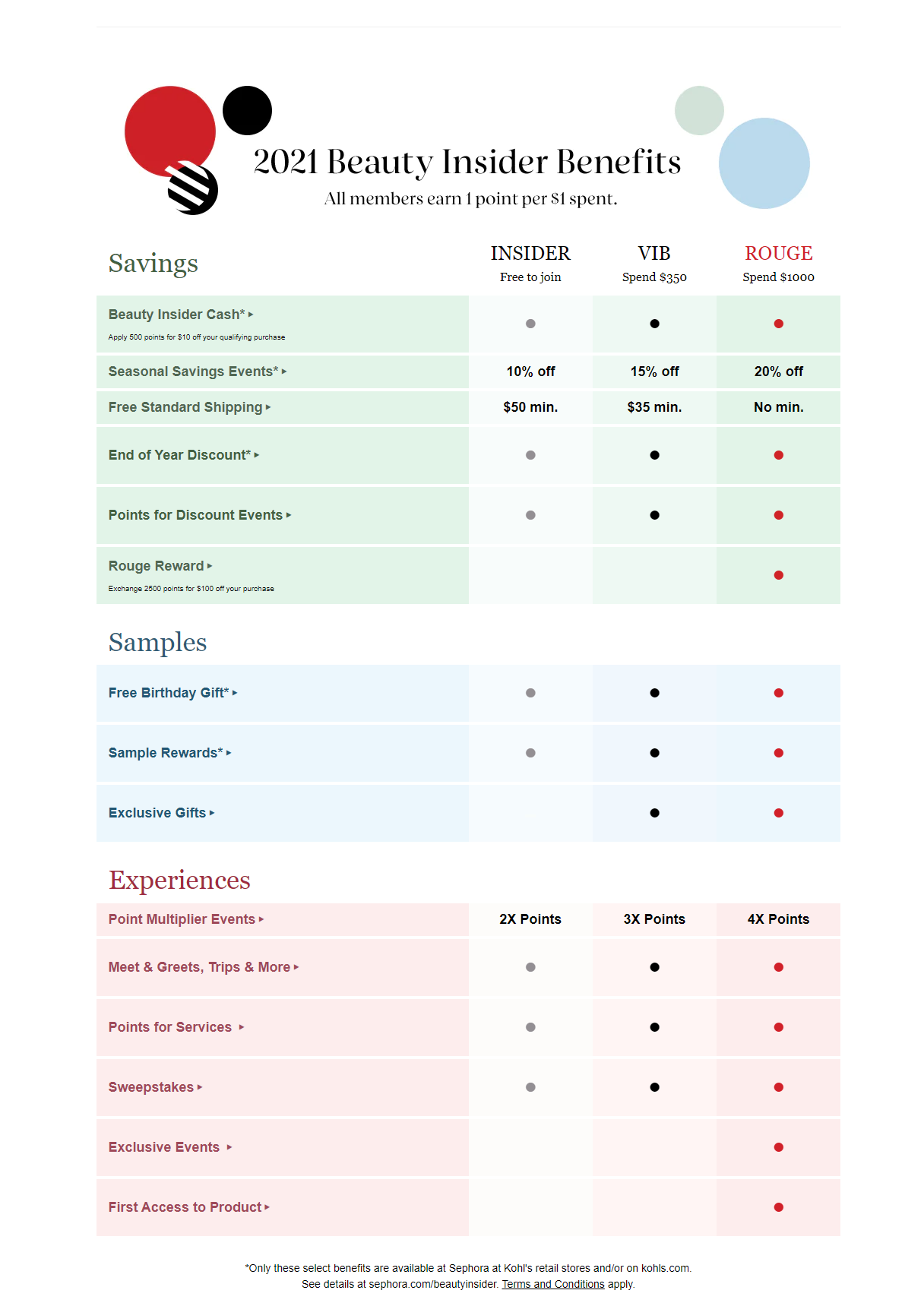 Sephora offers a more "traditional" rewards and point system where customers earn 1 point per $1 spent on their website.
However, Sephora adds its own twist to the whole program by offering point multiplier events for tiered membership programs. This way, users can register as different members and buy from their website and earn as much as 4x the rewards, compared to a regular customer.
Key takeaway: Organizing multiplier events is a great way to improve customer retention and loyalty while also encouraging customers to become members and spend more on your online store.
---
8 best points and rewards plugins for WooCommerce
The easiest way to implement a loyalty program on your website is by using a WooCommerce points and rewards plugin.
Here are our recommendations: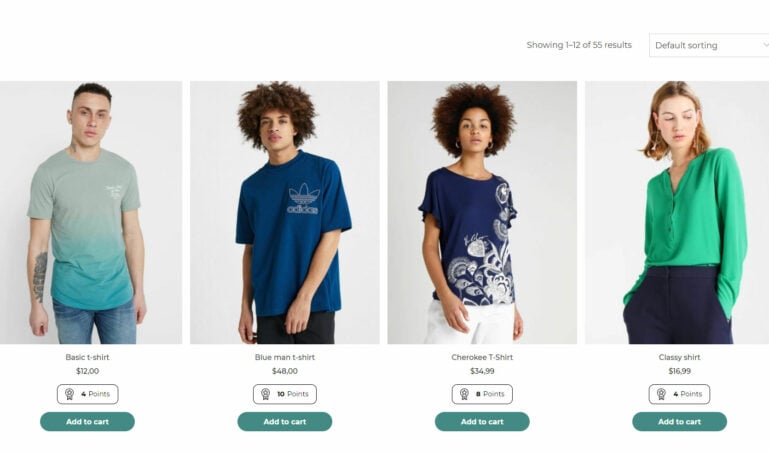 The YITH WooCommerce Points and Rewards plugin offers an effective way of building a loyal customer base by granting them instant rewards through a loyalty program.
It offers extensive customization features that let you create a unique loyalty program according to your brand requirements.
Pros:
Let's you offer different points and rewards for specific user roles on your website. This is great for setting up a tier-based loyalty program on your WooCommerce site.
You can create a public ranking page to display all customer's points and who has collected the most points.
You can fully personalize the My Account page in WooCommerce to display messages that encourage customers to earn more points.
Cons:
Can be overwhelming especially if you're not very experienced.
Pricey.
Price: YITH WooCommerce Points and Rewards plugin starts at $129.99 per year.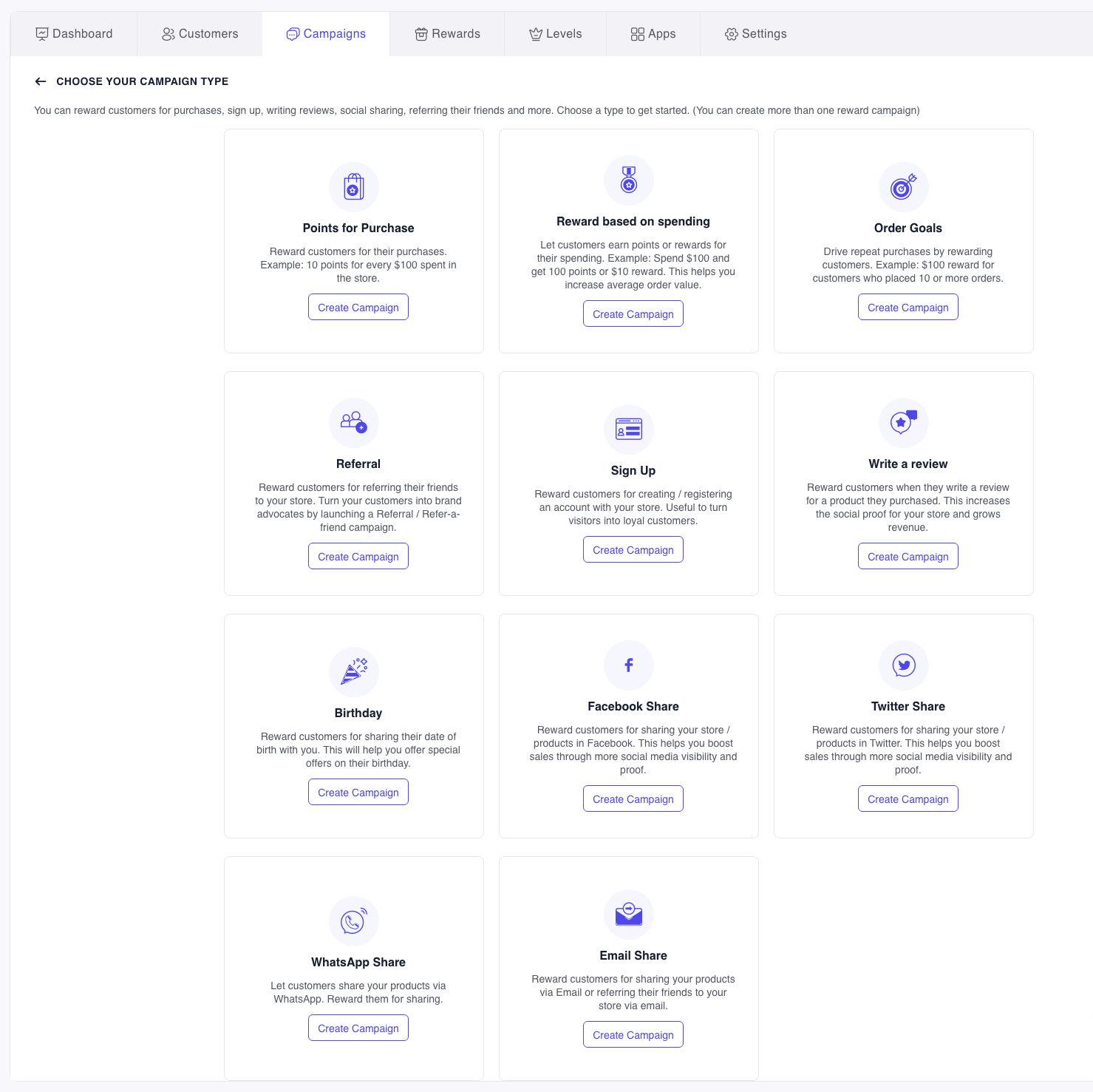 WPLoyalty assists in rewarding and retaining your customers. With the help of this plugin, you can give away rewards to your customers for every action they make. The exciting thing is that it can be done automatically once your preferences are set.
Pros:
Set up rewards in the form of coupons or points, and you can also create a level based on your customers' purchase.
You can customize the rewards according to your preferences.
Additionally, there are conditional rules such as language, currency, payment method, etc.
Cons:
There is no internal sharing of points option between the customers.
Price: The WPLoyalty plugin starting price is $99/year. For professional use, it is $129/per year. For stores with a high volume of customers, it is $199/ year.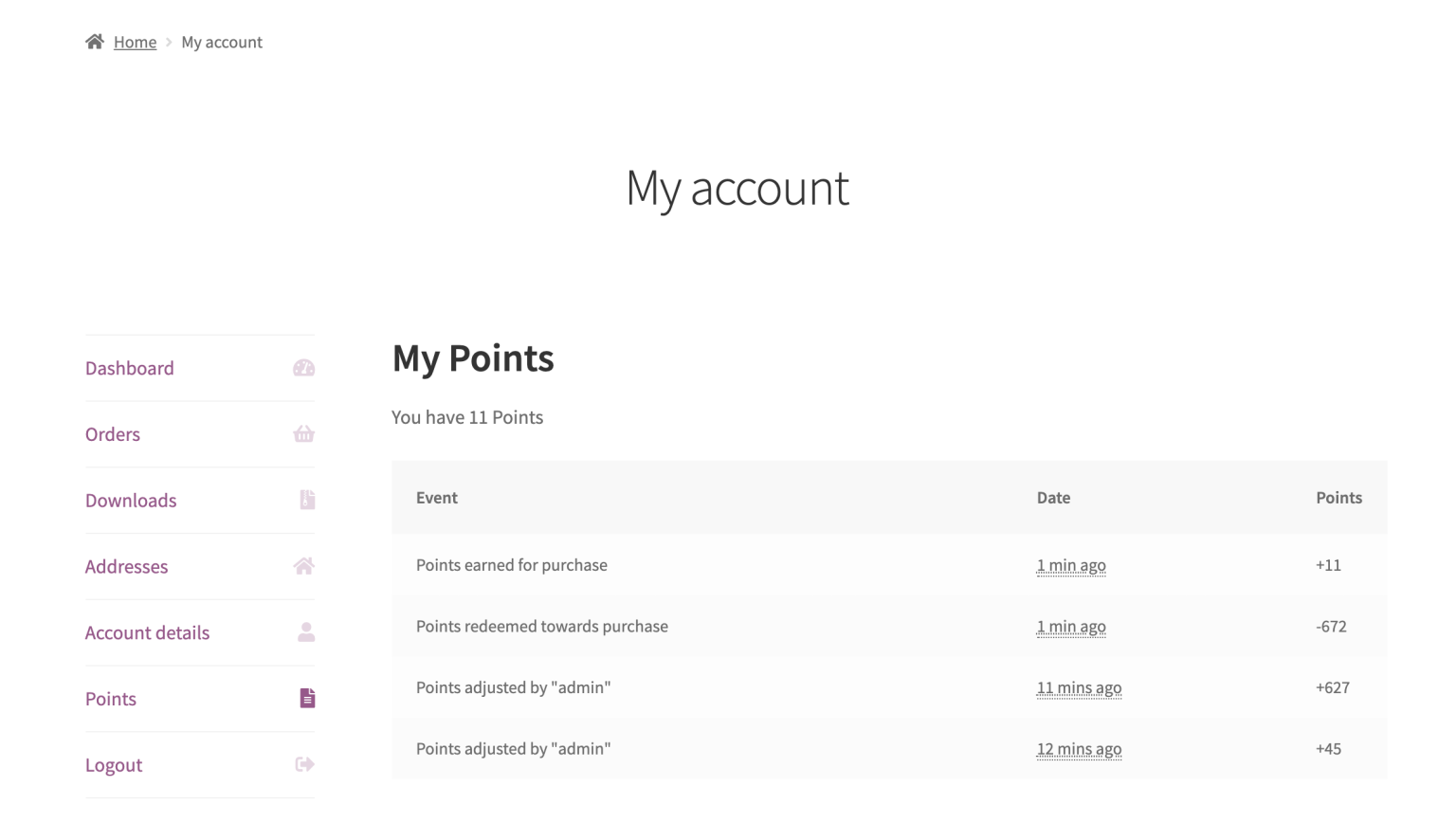 One of the more popular options for WooCommerce store owners is the WooCommerce Points and Rewards plugin. It offers an intuitive way of rewarding customers for shopping on your online store.
It lets you predefine how many points users can redeem for a specific discount. Customers can use the rewarded points to redeem discounts for shopping on your WooCommerce site. For instance, you can give customers $1 off for every 100 points they redeem.
Pros:
Gives you full control over how your points reward program works. This means you can define the number of points customers earn and the value of those points for redeeming discounts.
Lets you adjust point balances for customers and overview all changes made on a clean points log page.
Cons:
The plugin offers a lot of advanced functionality that you might not need depending on your WordPress site and the products or services you sell.
It's not very budget-friendly, especially for small-scale businesses that are just starting out.
Price: The WooCommerce Points and Rewards plugin's pricing starts at $77.40 for the first year and then $129 for the following years.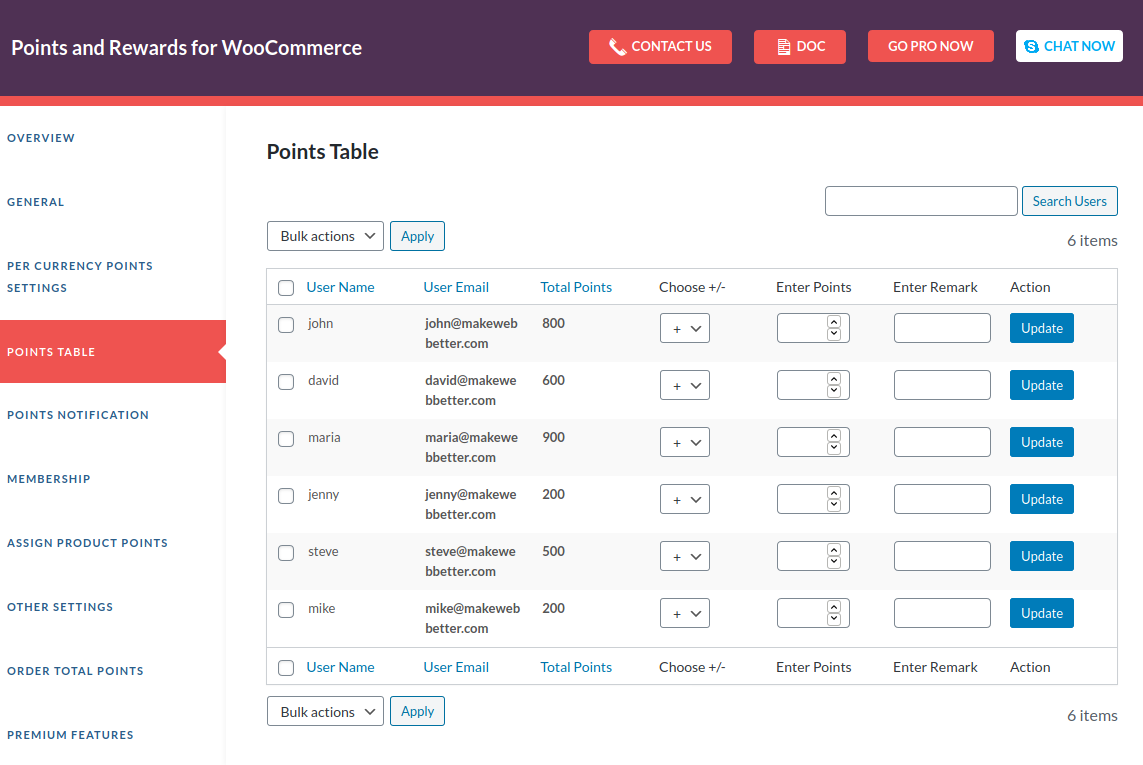 Points and Rewards for WooCommerce is a professional WooCommerce points management plugin that lets you engage your customers and convert them into loyal brand advocates.
Shoppers on your WooCommerce site can earn points through on-site activities such as signing up, purchasing, and referrals. Earned points can be used to buy products or sign-up for a membership program on your WooCommerce site.
Pros:
It lets you reward points on actions. This way, customers are fully engaged with your brand and they earn points for supporting you.
Enhanced shopping experience due to an easy point redemption system.
Membership system for offering exclusive deals or discounts on your WooCommerce site.
Cons:
The "Free" version offers limited functionality for customization.
Price: The Points and Rewards for WooCommerce plugin is free to download and use on your WooCommerce site.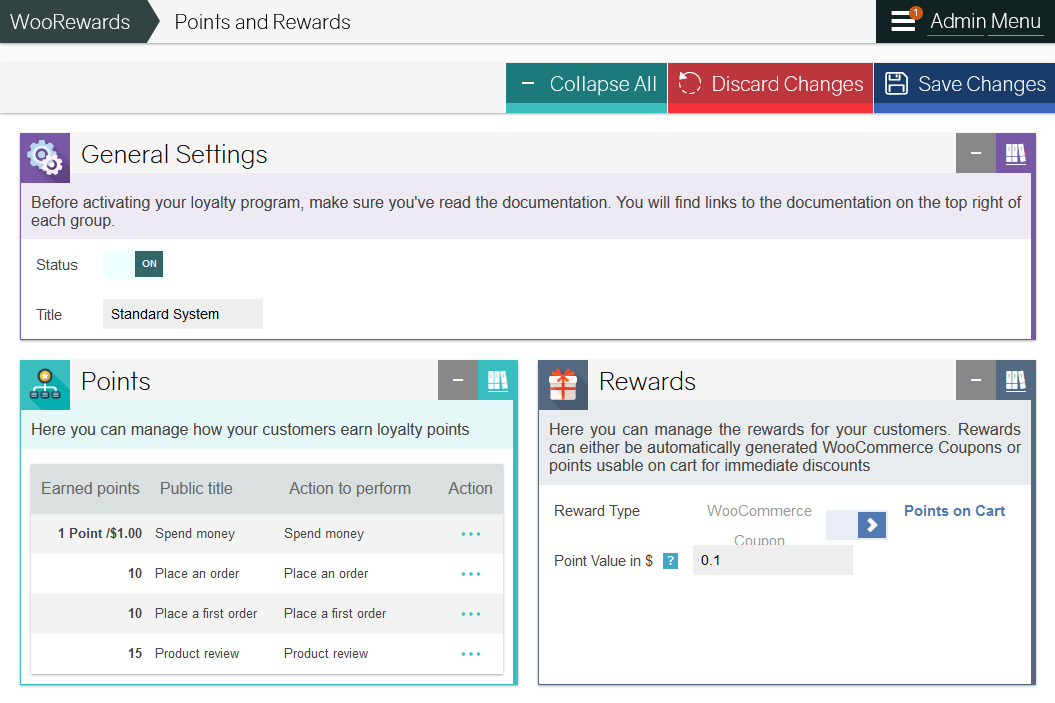 MyRewards is a simple points and rewards plugin for WooCommerce sites. It lets you create a customizable points and rewards program for your online store that helps engage prospective customers and boost conversions.
Pros:
You can generate WooCommerce coupons and let users automatically redeem them using their earned points.
Offers an easy way to manage all customer points history and adjust points as necessary.
Cons:
You cannot create different loyalty programs for different use cases on your website.
Price: The MyRewards WooCommerce plugin is free to use.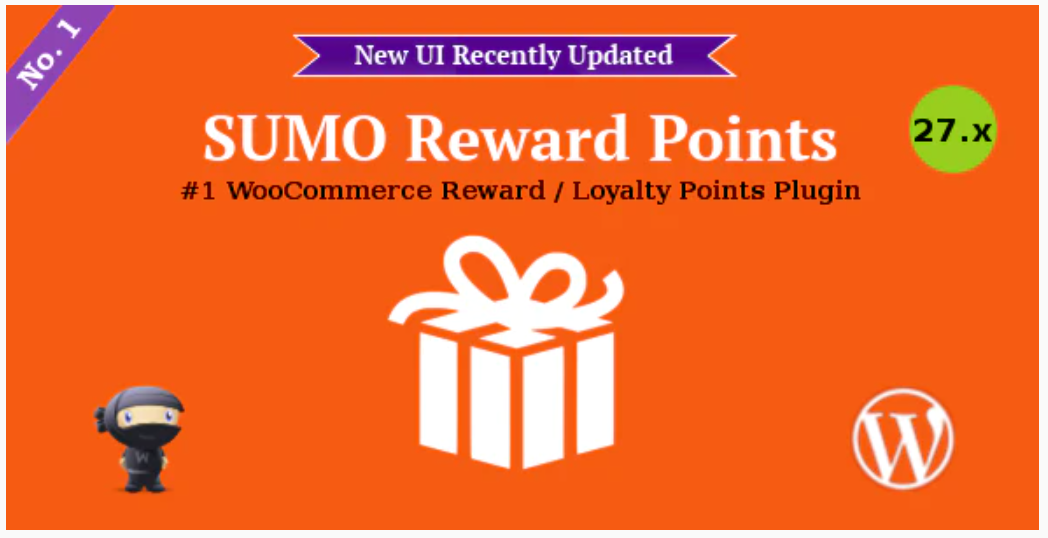 Sumo Reward Points is a powerful points and rewards plugin that lets you create customizable and efficient loyalty programs for your business.
You can offer rewards and points at the product level, category level, and globally on your site. Shoppers can get rewards for their earned points at the checkout page by redeeming their coupons.
Pros:
The plugin lets you offer points that have an expiry. This is a great way to create urgency and boost sales on your online store.
SUMO Reward Points is fully compatible with any WooCommerce-supported theme.
Cons:
The functionality can be overwhelming, especially if you just need a basic rewards plugin to get started with.
No free version is available.
Price: SUMO Reward Points Regular License pricing is $49.
LoyaltyLion is professional loyalty program software that lets you increase customer satisfaction on your WooCommerce site by awarding users points.
Customers can use these points to redeem premium rewards from your store. This not only helps increase revenue but is also a great way to encourage customers to return to your online store.
Pros:
Let's you reward points for on-site activities such as reviews, birthdays, social shares, social likes, or referrals.
You can create a personalized loyalty page for users to view their earned points and the potential rewards they can redeem.
Cons:
Can be too "Basic" for some brands. It offers basic functionality to reward points to customers and can make your points and rewards system feel generic.
It isn't very easy to set up. Users have to book an appointment to get started with LoyaltyLion.
Pricey.
Price: The entry-level pricing plan starts from $399 per month for the Classic package.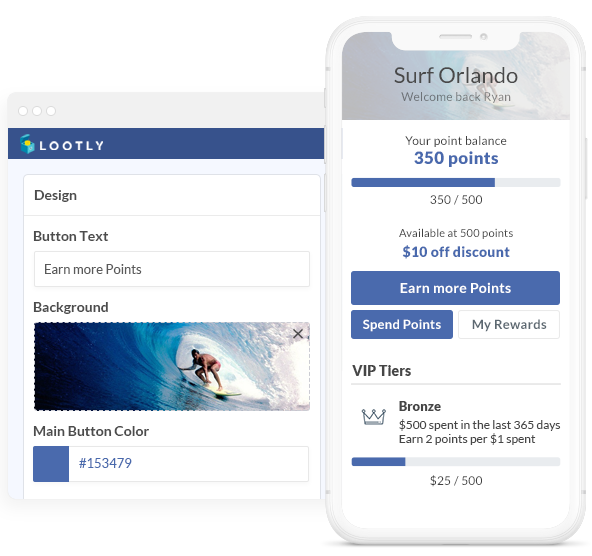 Lootly offers an all-in-one solution for creating a fully personalized loyalty program for your business. It lets you launch a fully functional points and rewards program within minutes after installing the WordPress plugin.
Pros:
Offers extensive customization options for creating a unique loyalty program.
Offers a custom loyalty tier system. You can reward points based on the user's loyalty tier level.
Cons:
Lootly can be overwhelming for people who just want a simple rewards and points system for their WooCommerce store.
Price: Lootly pricing starts at $249 per month for the Pro package.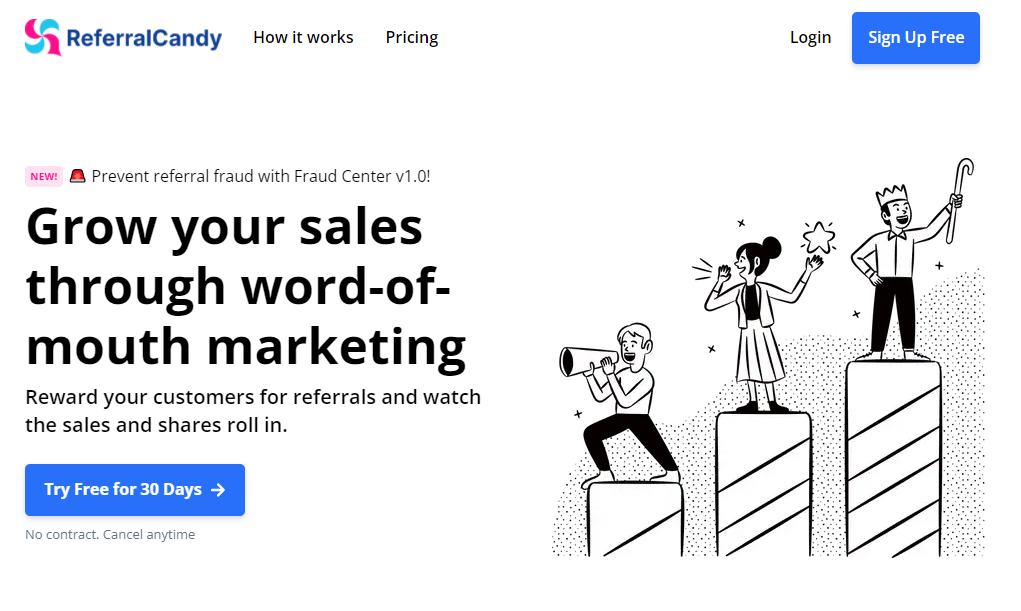 ReferralCandy is a tool dedicated to helping businesses grow sales by rewarding customers for bringing in referrals. This will run your loyalty program by itself and you let your shoppers do all the work in bringing in new customers.
Pros:
Integrates with most big-name platforms such as Shopify, WooCommerce, BigCommerce, Klaviyo, Google Analytics, and Mailchimp.
It offers personalization features that help your brand stand out.
Cons:
ReferralCandy focuses on rewarding points based on referrals generated. This makes it different from full-fledged points and rewards systems.
Price: ReferralCandy pricing starts at $49 per month for the Premium plan. However, you can also try it for free for 30 days.
Smile.io (Shopify only for now)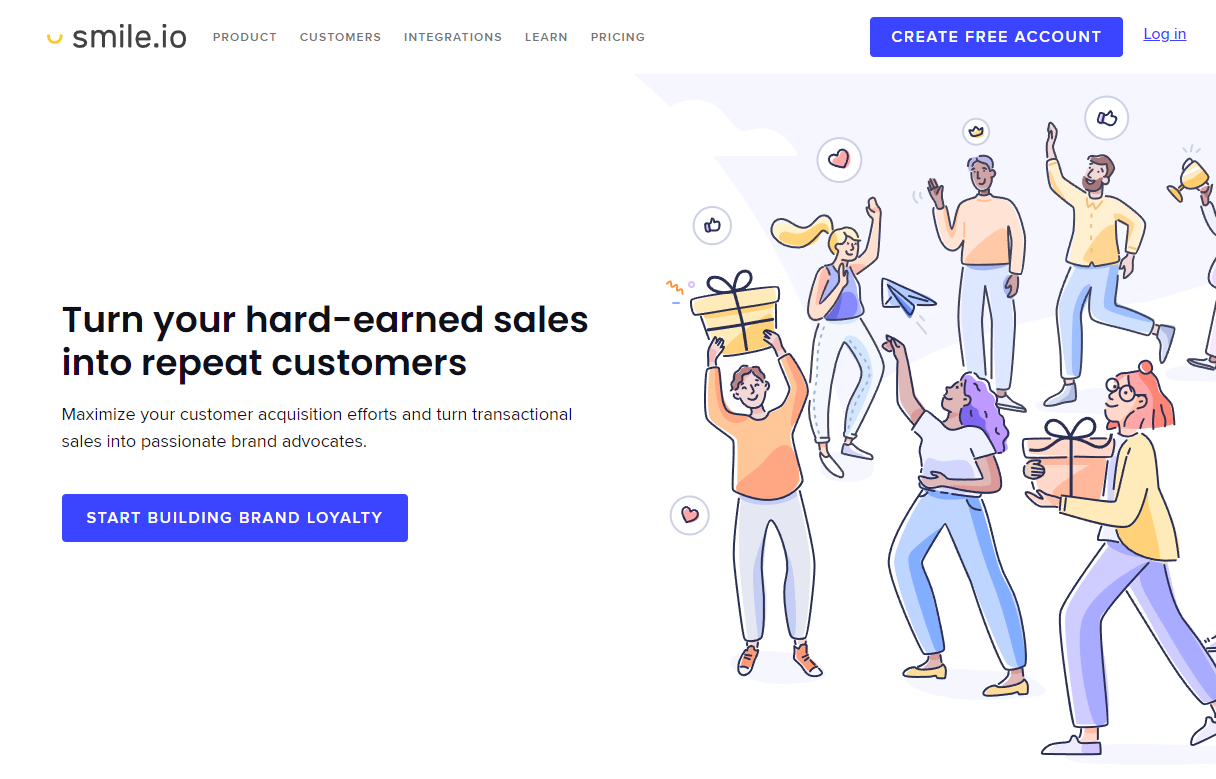 Smile.io offers one of the best solutions for creating a rewards and loyalty program for your business.
It lets you offer users points when they join your program, packs robust tools to keep your customers engaged with your brand, and lets you create referral links so loyal customers can share details about your brand with their friends and family.
It's just a shame there isn't currently a WooCommerce version available. If you're running a Shopify store, it would be the one I'd pick.
Pros:
Smile.io integrates seamlessly with popular platforms such as Shopify, Shopify Plus, BigCommerce, and Wix.
Offers a user-friendly interface that lets you enhance the customer experience on your store.
The Smile Admin is intuitive to use. You have full control over your loyalty program and can manage it effectively, even if you haven't used a rewards and points tool before.
Cons:
Smile.io doesn't have a WooCommerce integration yet but they might in the future.
Price: Smile.io pricing starts at $49 per month for the Starter package. However, you can also subscribe to the Free plan to get a feel for the tool.
---
Conclusion
Choosing the right points and rewards plugin for your WooCommerce site can be difficult, especially if you don't know where to start. You want to choose the tool that suits your customer base, your brand, and the products you sell perfectly.
With the right WooCommerce points and rewards loyalty plugin, you can offer an enhanced shopping experience while also encouraging customers to engage with your brand.
The more they buy from your WooCommerce store, the more points they will be awarded. Customers can then redeem points on your WooCommerce site in exchange for discounts, exclusive access to products, or free gifts.
Do you have any other loyalty program plugins or services you'd like to recommend? Let us know in the comments below!