In this WooCommerce hosting review, we'll be testing out WooCart's Development plan (same resources as the Shop plan) on a WooCommerce-powered store to gauge website performance.
Since we started making themes and plugins for WooCommerce many moons ago, we've always spent a lot of time evaluating the best WooCommerce hosting options available so we could make solid recommendations to the thousands of wonderful customers we've welcomed over the years.
Our WooCommerce Hosting Guide has captured many of the best WooCommerce hosting recommendations from that research. Our recent WooCommerce hosting reviews are a good place to start if you'd like to see who will feature in the next version of the hosting guide which will be published soon.
As covered in our Nexcess review, the past couple of years have been a wonderful period of rapid innovation and increased competition in the WooCommerce hosting industry. And todays review is a deep dive into one of those very interesting relatively new upstarts that we've been keeping an eye on now since prior to their launch called WooCart.
WooCart – A WooCommerce Hosting specialist like no other
WooCart is not like other WooCommerce or WordPress hosting companies. It was created solely for WooCommerce. Many of the largest WooCommerce hosting companies in 2021 are actually just WordPress hosting companies who pay lip service to being WooCommerce hosting providers. When the truth is they do very little to tune their hosting infrastructure for optimal WooCommerce performance. In fact it's almost certainly the first hosting company exclusively dedicated to Managed WooCommerce.
And while WooCart itself is a relative newcomer to the WooCommerce hosting market, the team behind the business are real pros. Niteo have been making innovative software products for well over a decade now and have significant contributions to the global open source community.
As someone who has dabbled with the idea of starting a WooCommerce hosting business in the past, I watched with great interest when Dejan published the first WooCart product update back in October 2018. Now, almost three years on and 26 product updates later, WooCart has evolved into a mature, comprehensive and incredibly well crafted WooCommerce hosting experience.
When we sat down to write our WooCart review earlier this year we struck up a conversation with Dejan about their platform and which has ultimately led to something very exciting for Shoptimizer customers (more than below).
What makes WooCart special?
If you've read our WooCommerce Hosting guide, you'll already be familiar with the criteria I described for my magical, mythical WooCommerce host.
(TL'DR summary: Hyper focused on WooCommerce, Automated daily backups, Staging->Production environments with workflows to manage them, WooCommerce optimized stack, Top tier security, data privacy & threat detection, CDN integration and World class WooCommerce support).
For many years no single host come close to meeting those criteria. Then in 2021 Nexcess got pretty close (and continue to be a great option). But WooCart have definitely risen to the top of the pile in terms of ticking all the boxes for my ideal WooCommerce host. I'm delighted to say that my mythical WooCommerce host is no longer just a myth – it finally exists and it's name is WooCart.
Let's take an in-depth look at WooCarts standout features.
Kickass WooCommerce Performance
Needless to say it doesn't matter how many boxes WooCart ticks on our mythical host list, if the performance sucked we wouldn't be recommending it to you. We'll take a deeper dive into WooCart performance later but overall I'm happy to report that performance is stellar. WooCart runs on Google Compute Engine which brings all the benefits of Google's infrastructure to your WooCommerce store. But picking the right cloud partner is not even half the battle when it comes to tuning infrastructure for WooCommerce. WooCart have taken the time to tune their stack under the hood for optimal WooCommerce performance. This includes:
Exclusively using SSD's
Dedicated PHP-FPM works with OPcache enabled
Automatic MariaDB performance parameter optimization based on load (including query cache and InnoDB pool parameters)
Custom full page caching served from RAM
Auto image optimization using pngquant or Jpegoptim which doesn't rely on resource intensive PHP image processors
Redis object caching for WooCommerce product metadata
CDN via Bunny.net
Google Pagespeed module (mod_pagespeed) to auto deliver WebP's to browsers which support them
One-click autoscaling to easily scale up to handle traffic surges (especially important for seasonal events like Black Friday / Cyber Monday)
External cron execution (far more reliable than WP's internal cron handler)
If you're a complete #webperf nerd like me you can even enable Tideways APM and New Relic APM!
WooCart currently offer three Google Cloud Datacenter locations: Iowa (US), Netherlands (Europe) and Singapore (Asia) with other locations available upon request.
A custom control panel purpose built for WooCommerce
Sometimes a custom control panel can end up being a net negative for hosting companies as it's extremely difficult to compete with the infinite resources of the big control panel vendors like cPanel and Plesk. But the WooCart Control Panel is a thing of beauty.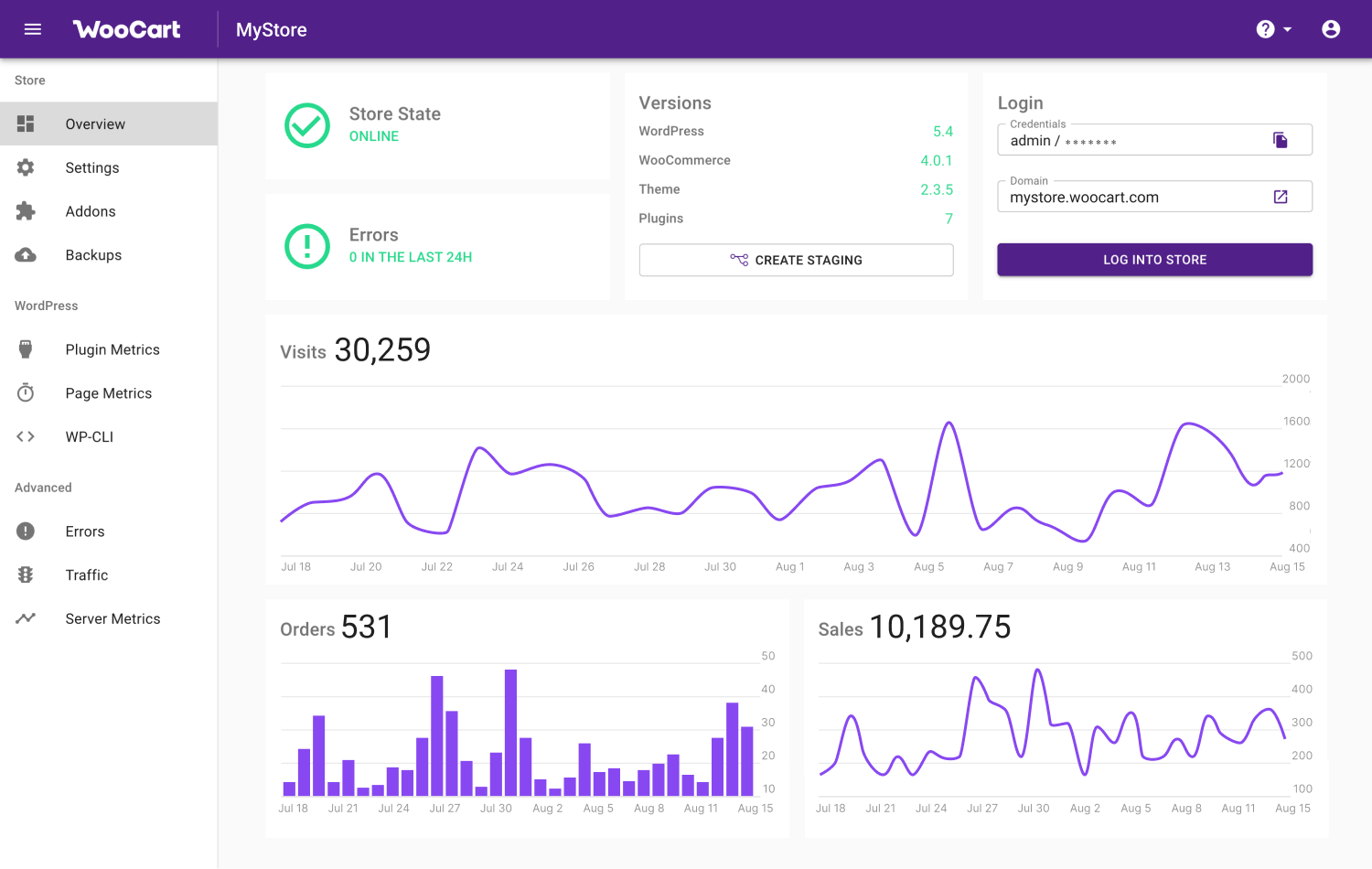 Every aspect of the WooCart Dashboard has been carefully crafted to make managing WooCommerce simple. It has all the features you need and none that you don't. This includes:
1-Click Login to your WooCommerce Admin area
DNS hosting
Let's Encypt built in as standard for secure https
Easy access to daily backups
WP-CLI access right from the dashboard (no need to login via the terminal)
Easy access to logs and store metrics
Simple Backups and Staging – a match made in heaven
I applaud any WordPress/WooCommerce hosting company who provides the ability to create a staging version of your WooCommerce store. It's probably the number one thing we keep telling our customers to do before they update their store. But some hosts do this in such a half assed manner that it's actually a net negative feature. WooCart has orchestrated their stack with Kubernetes which makes their staging/clone/backup feature a joy to use.
WooCart lets store owners create a staging site so that they can test out new designs, updates, and features before making changes to their live site. The best part is that it lets you directly publish the changes from the staging environment to the live store without losing orders.
Store owners can put their updated store online in a few simple steps. Here's what happens behind the scenes: WooCart runs an automated checkout test and puts your live store in maintenance mode. Next, it downloads the latest orders and customers and publishes the new store online.
Backups and staging creation are combined, effortless and require no work on your part. It. just. works.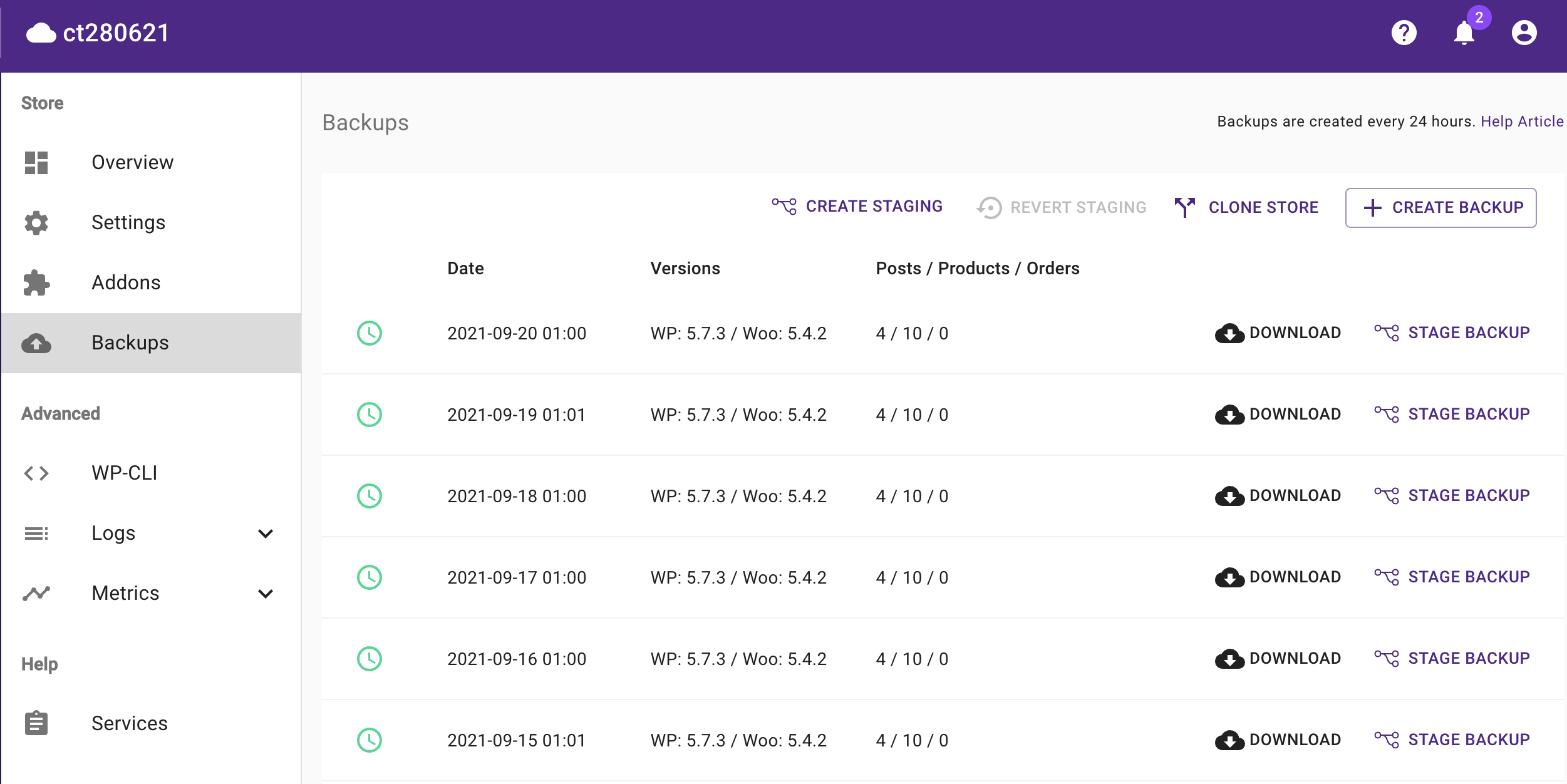 This is absolutely critical for any WooCommerce store and WooCart couldn't have made it any easier for you.
Best in class eCommerce Security
Ticking another box on our mythical WooCommerce criteria is WooCarts security infrastructure. WooCart deploy a full Web Application Firewall (WAF) in front of your store which is now a must have for any WooCommerce store. WooCart are so confident in their security infrastructure they offer a No-hack guarantee!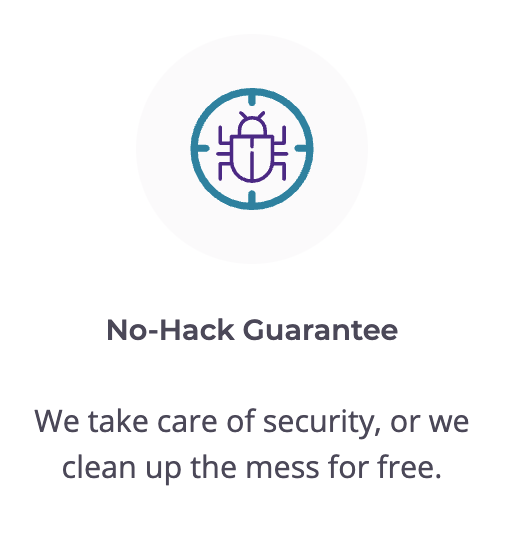 World class WooCommerce Support
This is where often where previously excellent WordPress web hosts go to die. The hosting industry is littered with web hosts who have destroyed years of hard earned good will by growing too fast and not being able to scale their customer support operations. As WooCommerce continues to grow and merchants using it build increasingly successful businesses on it, there is a real need to have a hosting partner who knows WooCommerce deeply and won't simply point the finger back at your plugin or theme developers.
WooCart's WooCommerce support is world class. I know this first hand as I put them through their paces when I first started testing the platform and wanted to see how their support agents handled sometimes tricky questions about how their platform is configured and how things like their caching infrastructure works. WooCart have also brought together a team of experts for customizations and performance audits and performance marketing.
WooCart Store Wizard – The Jewel in the Crown!
I've kept the single best stand out WooCart feature for last 🙂
The WooCart Store Wizard is a complete game changer for any new WooCommerce merchant. One of the biggest points of pain we've seen over the years for anyone new to WooCommerce is the sheer number of things a merchant needs to do just to get to the starting line to start selling. Sometimes those of us who are steeped in the world of WordPress and WooCommerce take a ton of things for granted that can have an entire potential generation of new WooCommerce merchants running for hills to the simpler world of Shopify.
Consider the process of setting up a brand new WooCommerce store for your average newbie:
Purchase a domain name.
Decide which host to use.
Figure out which WooCommerce theme to use.
Learn how to actually use WooCommerce!
Figure out which WooCommerce extensions you need for your specific store requirements (shipping, payments, email marketing automation, cart recovery, reviews and on and on.)
Setup backups, security plugins, caching plugins.
Tune and test your website for optimal #webperf and resilience to handle traffic surges.
And all of that before you're even ready to start figuring out where to get customers!
Simply put, there's far too much friction involved in setting up a new WooCommerce store.
The WooCart Store Wizard is one of the first big steps I've seen taken by any WooCommerce hosting company to try and solve one of the biggest challenges facing WooCommerce if it's to really take on Shopify as the easiest to use eCommerce platform on the planet.
In fact, we liked the wizard so much that we've teamed up with WooCart to bring Shoptimizer to the WooCart Store Wizard!
Introducing Shoptimizer to the WooCart Store Wizard!
After some initial testing of the WooCart platform we had several conversations about some minor improvements that could be introduced to the WooCart platform to further optimize it for Google's Core Web Vitals. If you're not already familiar with Core Web Vitals you can check out my in-depth tutorial here.
Core Web Vitals and FAST WordPress/WooCommerce - 95+ Google Pagespeed Insights Score!
We're deeply passionate about eCommerce website performance and we try to provide as much information to WooCommerce merchants as possible about how to ensure their website can avail of any marginal ranking signals that Core Web Vitals might provide. But therein lies the rub – sometimes it's too much information!
Some merchants simply don't have the time or the expertise to do all the things necessary to perform in a post Core Web Vitals world and we've long been searching for the best way to offer a completely turnkey solution to that problem.
So we're delighted to announce that we've teamed up with WooCart to bring Shoptimizer to the WooCart Store Wizard! What that now means is that you can setup a fully optimized, fully functional WooCommerce store that is completely optimized for Google's Core Web Vitals in less than 5 minutes!
No need to install a plethora of performance plugins that you need to configure – the WooCart Store Wizard with Shoptimizer takes all the steps we've detailed in our 78 minute video above and preconfigures everything for you in a matter of minutes.
On Step 2 of the WooCart Store Wizard you'll now find a "Shoptimizer Store" option.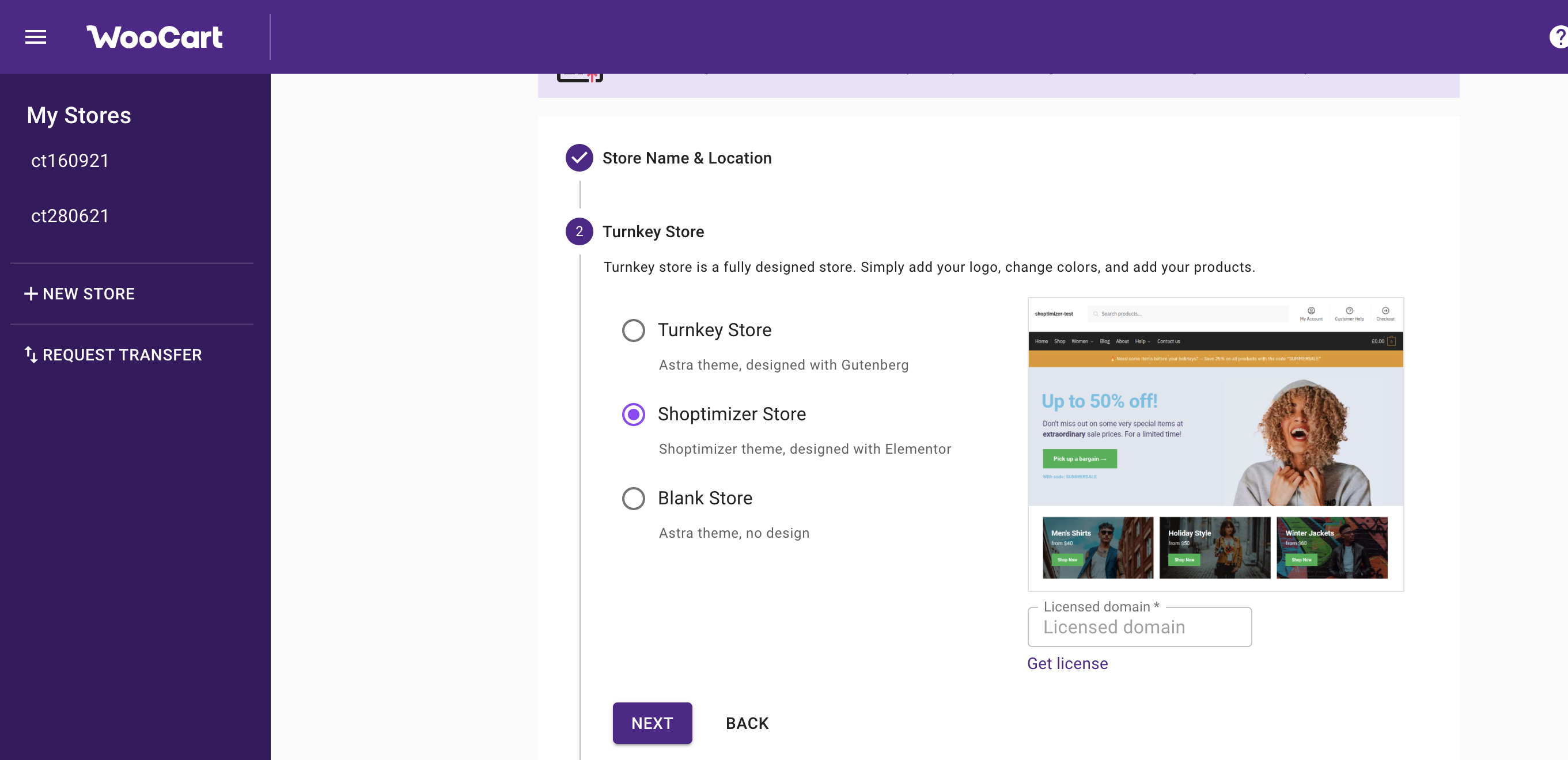 To proceed to the next step you'll need to first have connected your website domain via your account on CommerceGurus.

Once you complete Steps 2 and 3, the wizard will get busy building your brand new store..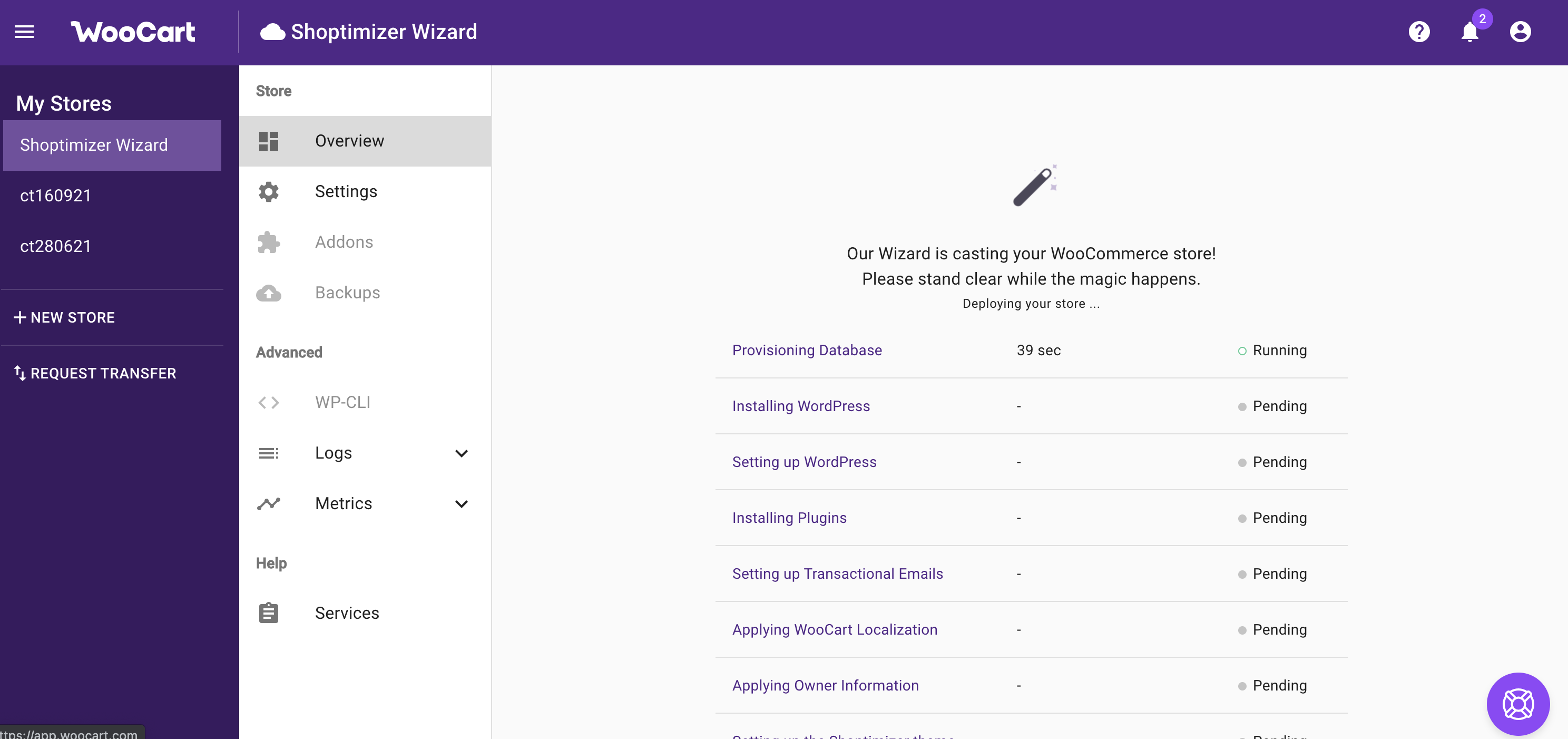 And a few minutes later you'll have a brand new Shoptimizer store running on WooCart!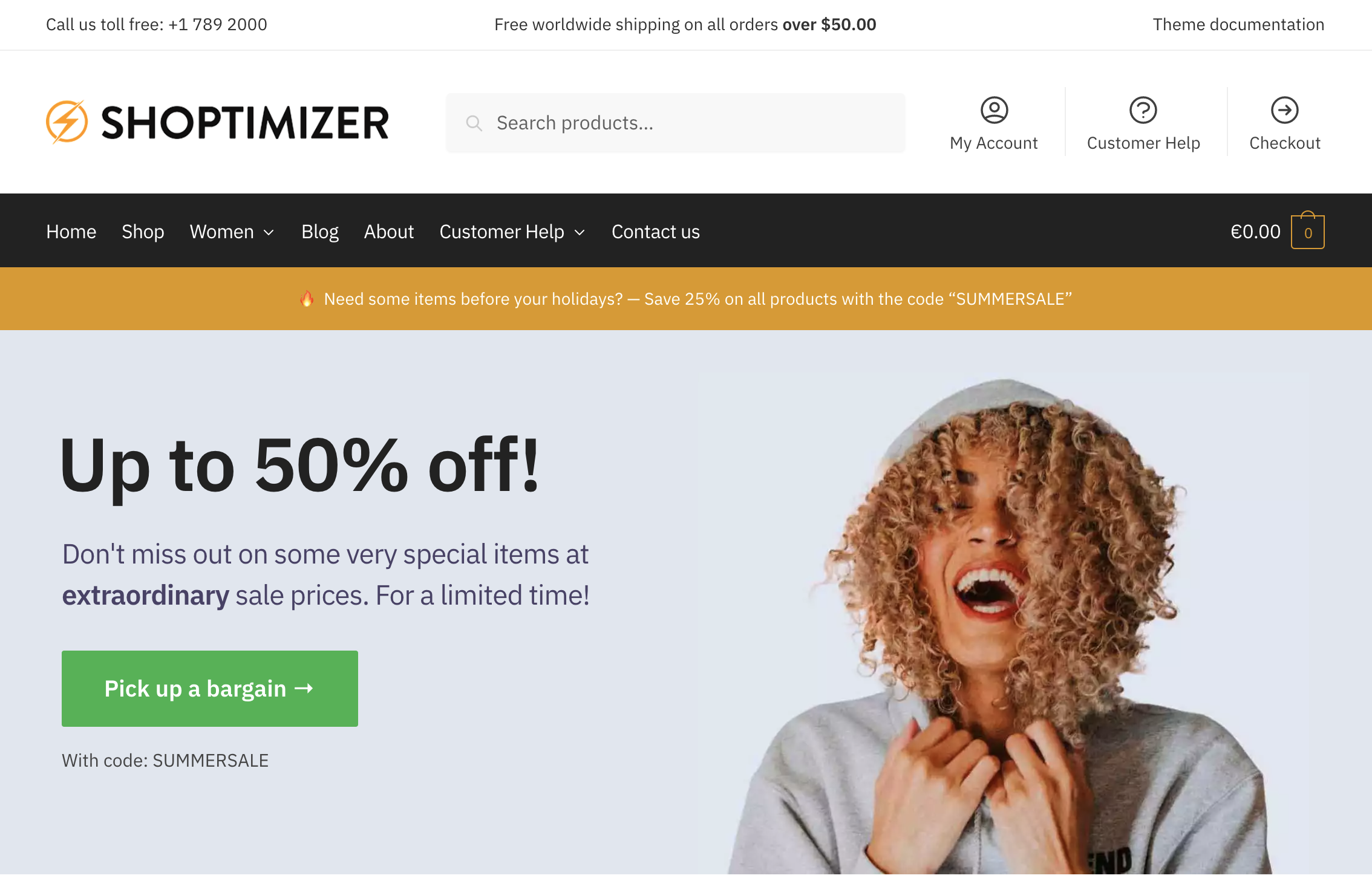 Here's the Google PageSpeed Insights Mobile score straight after the wizard finishes setting up the store. (oh and the Desktop score is 100/100 – but we don't really count that for much these days!).
How fast is WooCart?
For this WooCommerce hosting review, we're using WooCart's Development plan (same resources as the Shop plan which costs $49 per month). It offers dedicated cloud hosting with 1 GB RAM, 150m CPU, 10 GB SSD disk, and is suitable for around 50,000 visitors per month.
Before we jump into the performance tests, here's a quick overview of the testing environment we set up to measure performance. The WooCart Store Wizard with Shoptimizer install includes the following:
10 WooCommerce products each with high-quality product images, descriptions, and prices
11 plugins are installed and configured including:

Asset CleanUp
Autoptimize
CommerceGurus Commercekit
Contact Form 7
Elementor
Flying Scripts
Kirki
Shoptimizer Typography 2.0
WooCommerce
WooCart Sendgrid Integration
Redis Object Cache
The demo store homepage is a full featured homepage built in Elementor. In short, it's easy to get high PSI scores testing WooCommerce stores with minimal content and plugins. Our objective is to test a demo store that more accurately reflects real world conditions.
We'll test page speeds on the homepage, shop page, and single product page using Google PageSpeed Insights and WebPageTest.
Homepage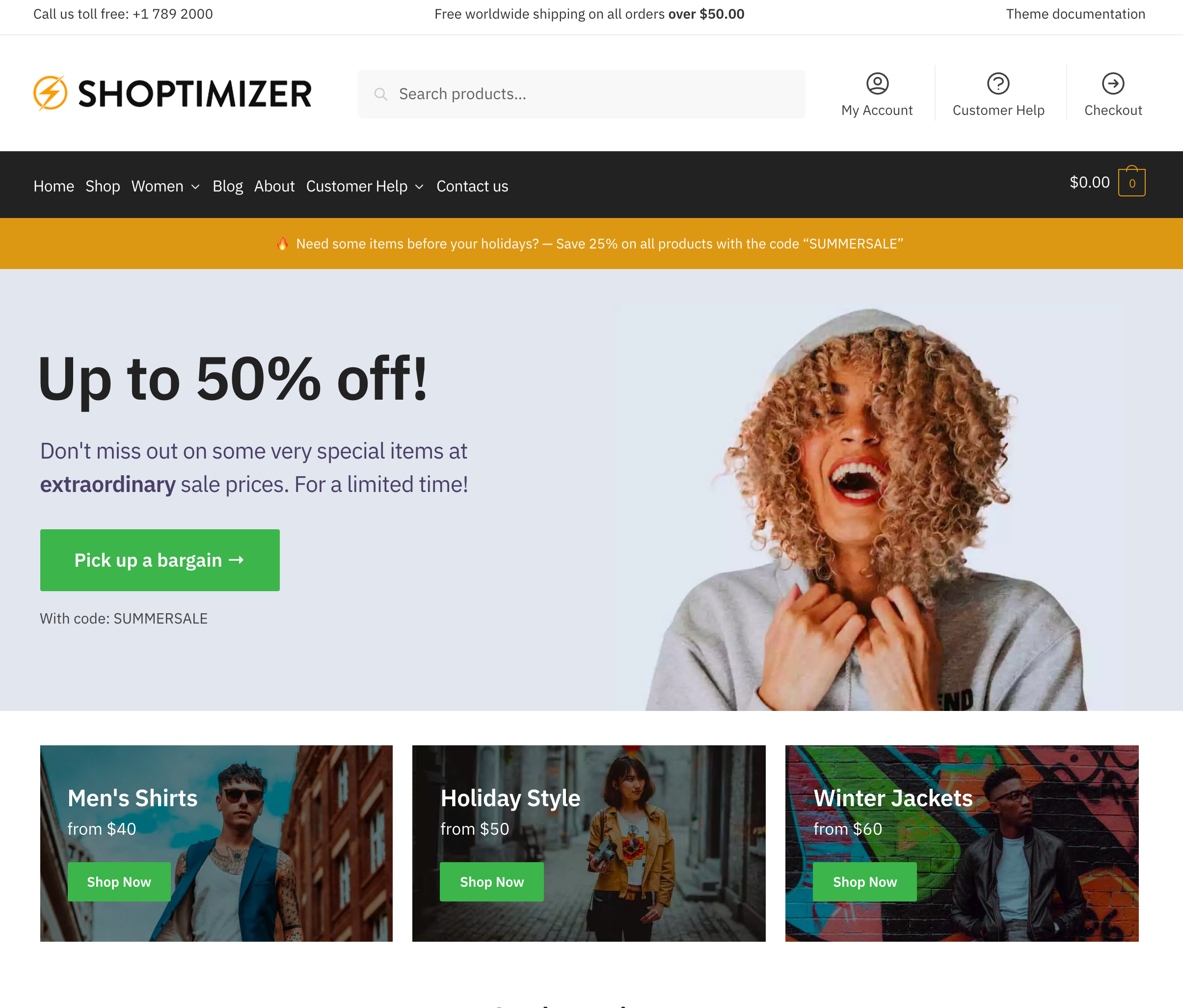 We'll start our performance testing with the online store's homepage.
When people visit your online store, they're likely to go through the homepage to navigate to other pages. In some cases, you might want customers to land on the homepage before visiting the shop page. The Shoptimizer homepage has banners, a hero image, CTA buttons, the latest products, testimonials, popular products, and more.
Google PageSpeed Insights
| | | | | | |
| --- | --- | --- | --- | --- | --- |
| Test # | 1 | 2 | 3 | 4 | 5 |
| Performance Score | 97 | 94 | 93 | 95 | 94 |
| FCP | 1.8s | 1.6s | 1.8s | 1.8s | 1.9s |
| Speed Index | 2.7s | 2.9s | 3.0s | 3.1s | 3.1s |
| LCP | 2.3s | 2.7s | 2.8s | 2.4s | 2.5s |
| TTI | 2.3s | 2.6s | 2.7s | 2.5s | 2.5s |
| TBT | 99ms | 59.5ms | 70.5ms | 59ms | 90ms |
| CLS | 0 | 0 | 0 | 0 | 0 |
On Google PageSpeed Insights, we got a PSI score ranging from 93 to 97. The speed index came out to be between 2.7s and 3.1s and CLS was 0 consistently throughout our testing. The largest contentful paint ranged from 2.3s to 2.8s.
For those unfamiliar, Google PageSpeed Insights' performance score is a weighted average of the metric scores.
In summary, these results are stunning for the price point ($49 per month). I also noticed that server response times from the Google Cloud machines were stellar in both the EU and US locations we tested (ranging from 58ms – 177ms).
WebPageTest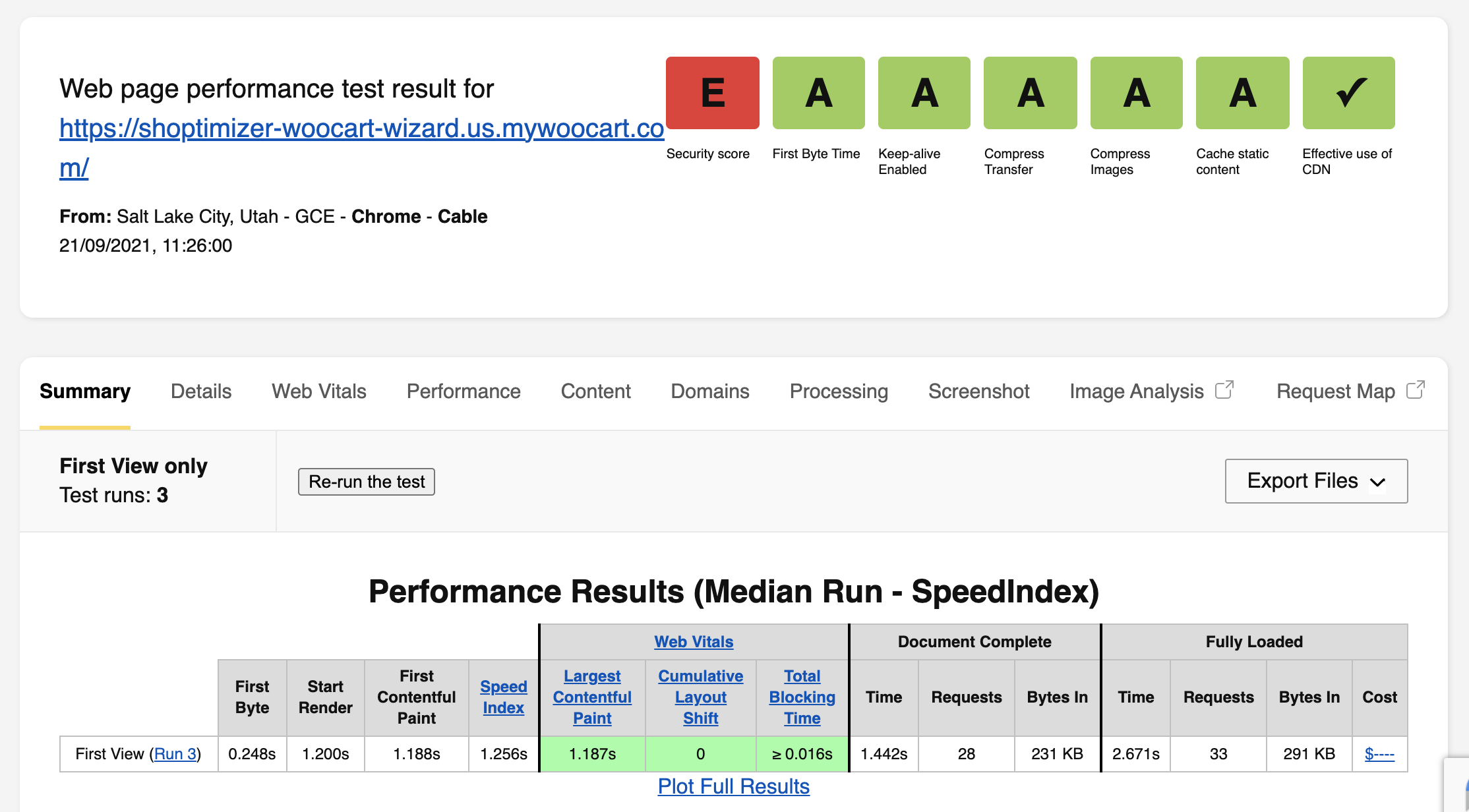 On WebPageTest, we set the Test Location to Salt Lake City, Utah USA and tested using the Chrome browser.
The document completed loading in 1.442 seconds and the homepage was fully loaded in 2.671 seconds.
Here's a link to the Waterfall View of the homepage test.
Again you can see how fast the First Byte and LCP times are from a US testing location. TBT is residual and CLS is also zero and consistent with our PSI tests.
Shop Page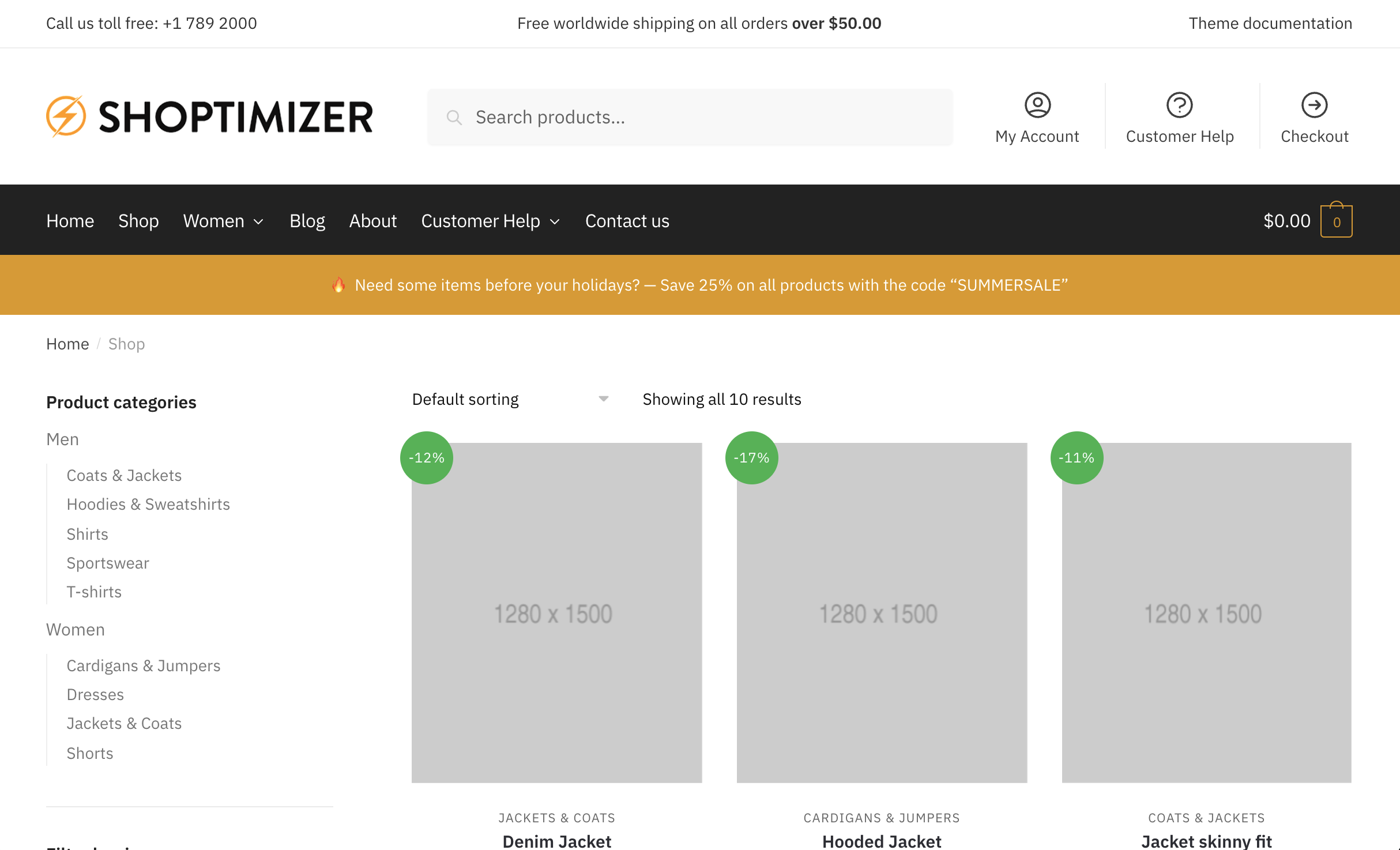 The second performance test we will run is on the online store's shop page. In our testing environment, Shoptimizer's shop page lists 10 products. It also has widgets in the sidebars including product categories, price slider filter, top-rated products, and more.
Google PageSpeed Insights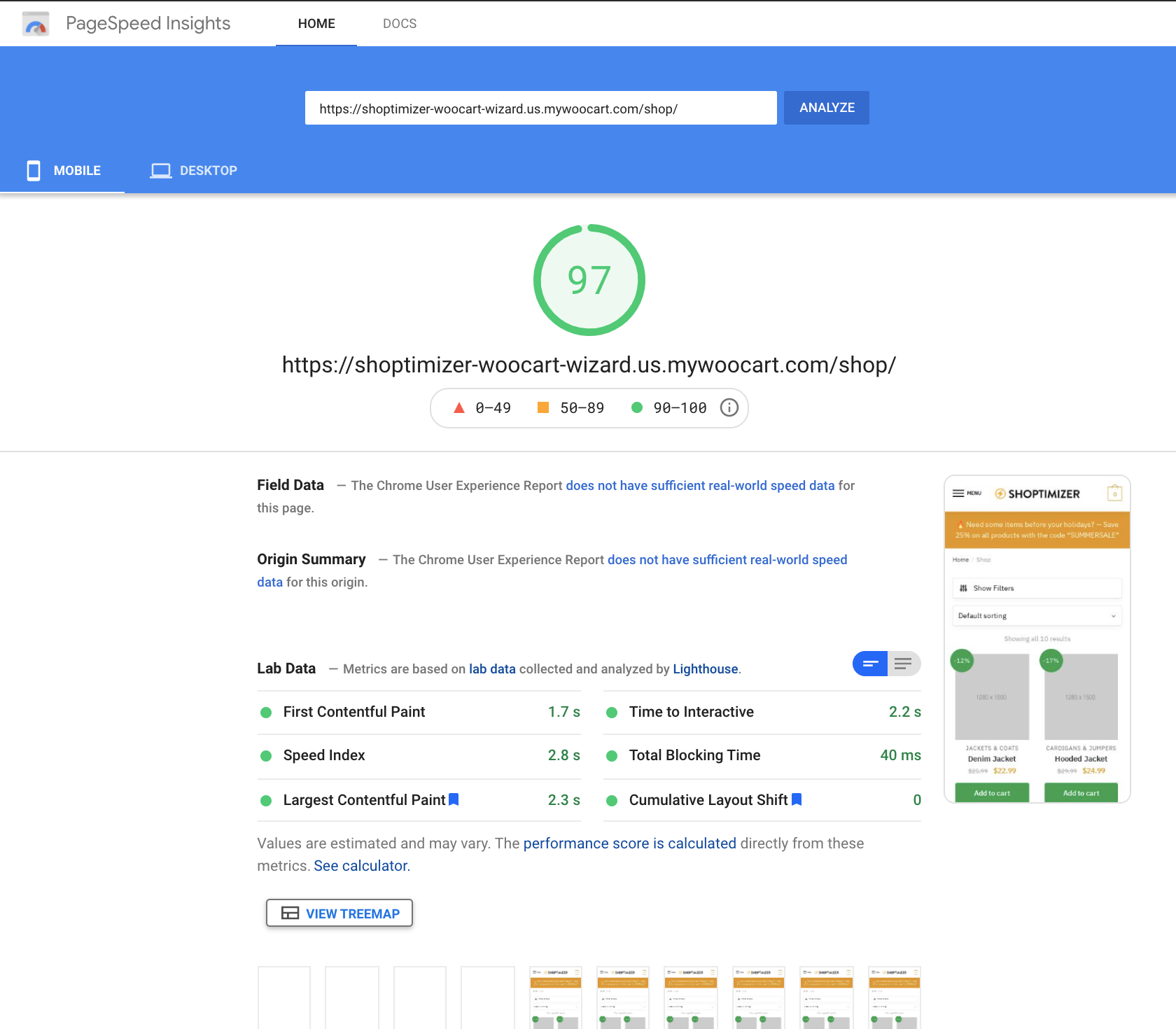 | | | | | | |
| --- | --- | --- | --- | --- | --- |
| Test # | 1 | 2 | 3 | 4 | 5 |
| Performance Score | 98 | 98 | 97 | 96 | 97 |
| FCP | 2.3s | 2.0s | 2.2s | 2.3s | 2.3s |
| Speed Index | 2.6s | 2.8s | 2.4s | 2.6s | 2.8s |
| LCP | 2.1s | 2.2s | 2.1s | 2.2s | 2.2s |
| TTI | 2.1s | 2.2s | 2.2s | 2.3s | 2.3s |
| TBT | 18ms | 53ms | 54ms | 105ms | 48ms |
| CLS | 0 | 0 | 0 | 0 | 0 |
On Google PageSpeed Insights, the PSI score ranged from 96 to 98. The speed index ranged between 2.4s to 2.8s and CLS was consistently 0. The largest contentful paint ranged from 2.1s to 2.2s.
Again, remarkably consistent and excellent PSI mobile scores on the shop page!
WebPageTest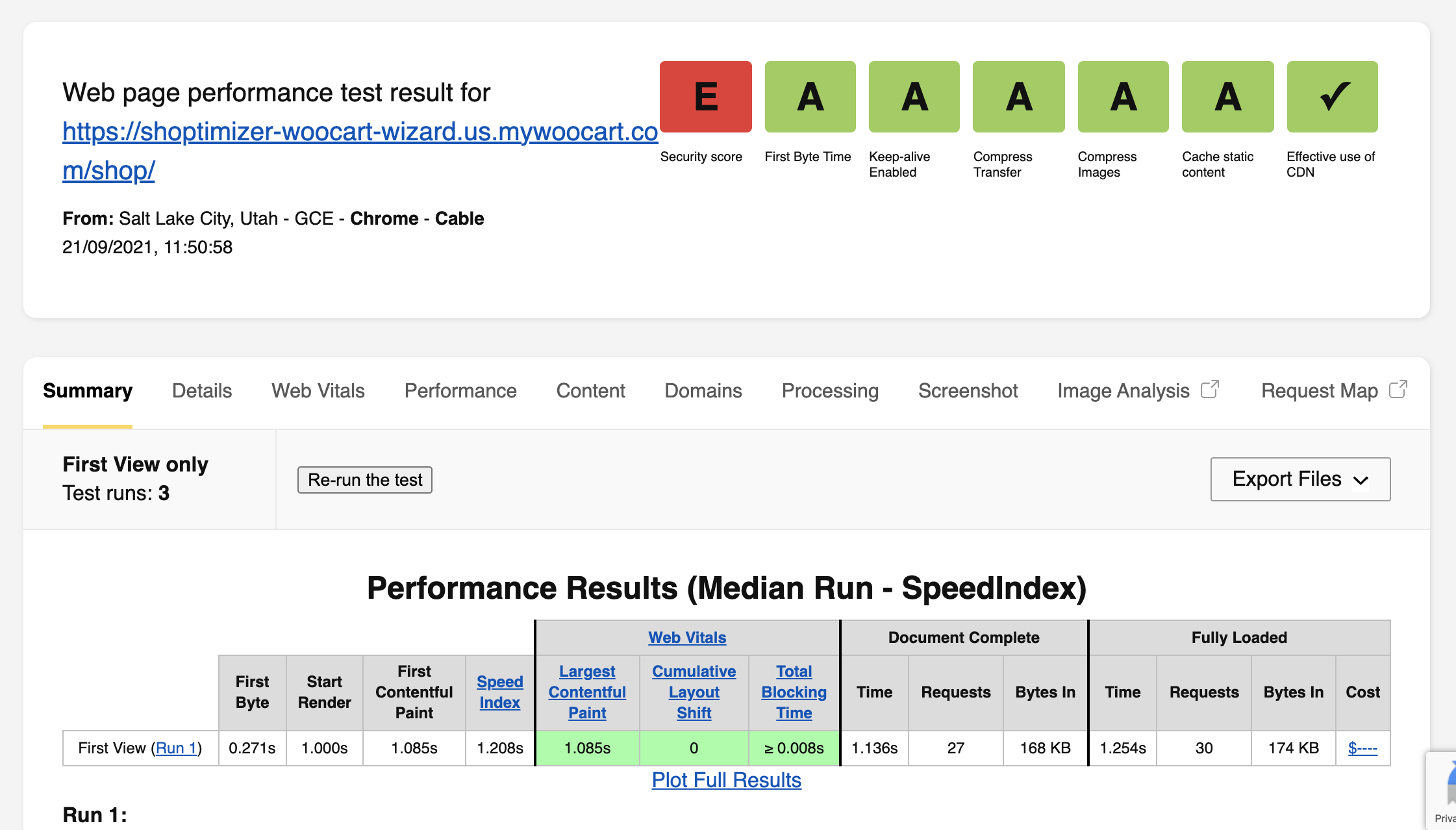 Same as before, we set the Test Location to Salt Lake City, Utah USA and tested using the Chrome browser.
The document completed loading in 1.136 seconds and the page was fully loaded in 1.254 seconds.
Here's a link to the Waterfall View of the shop page test.
Single Product Page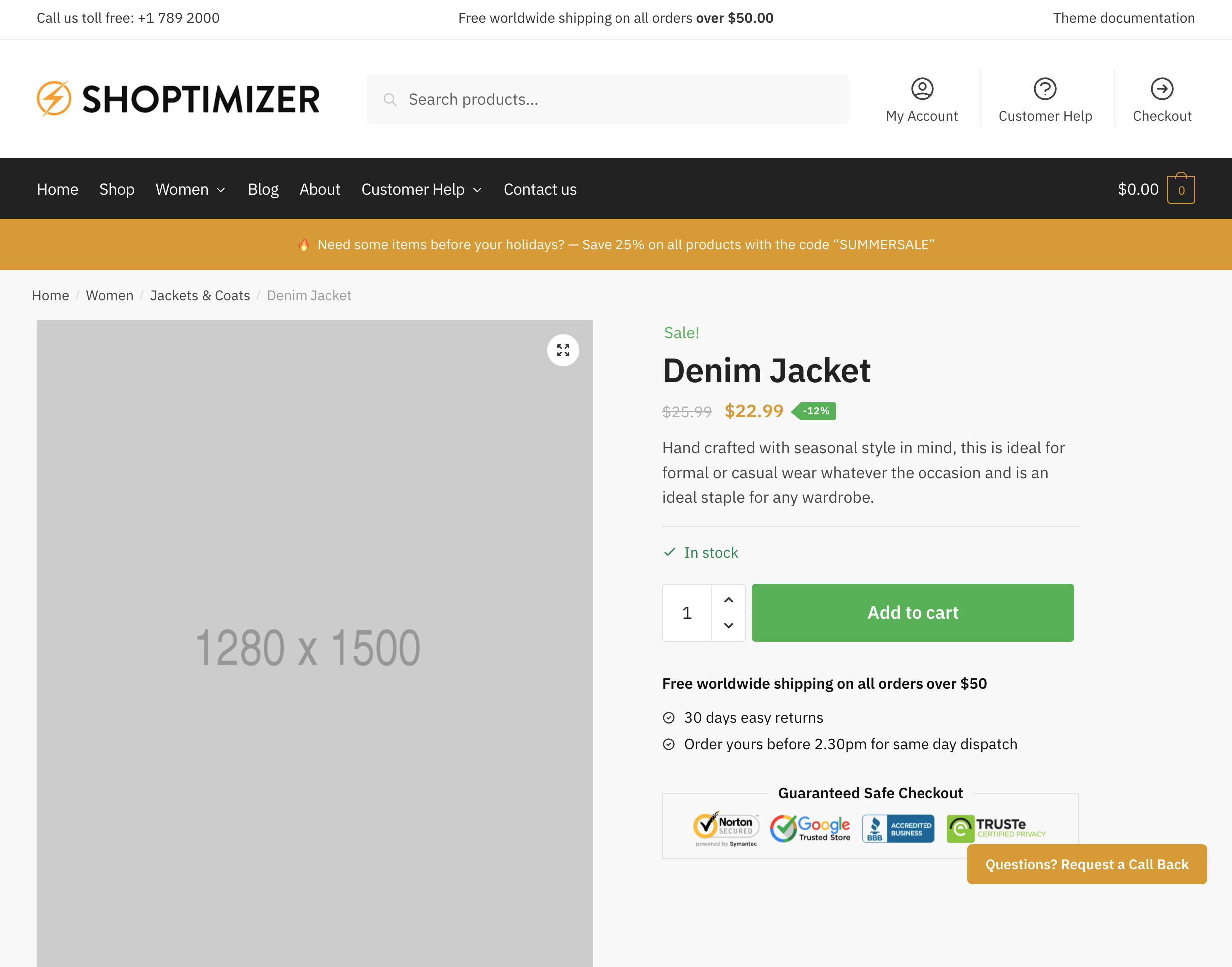 Finally, the third performance test we're running is on the single product page. Shoptimizer's single product page contains a product image, details, price, purchasing options, additional images in the description, related products, and more.
Google PageSpeed Insights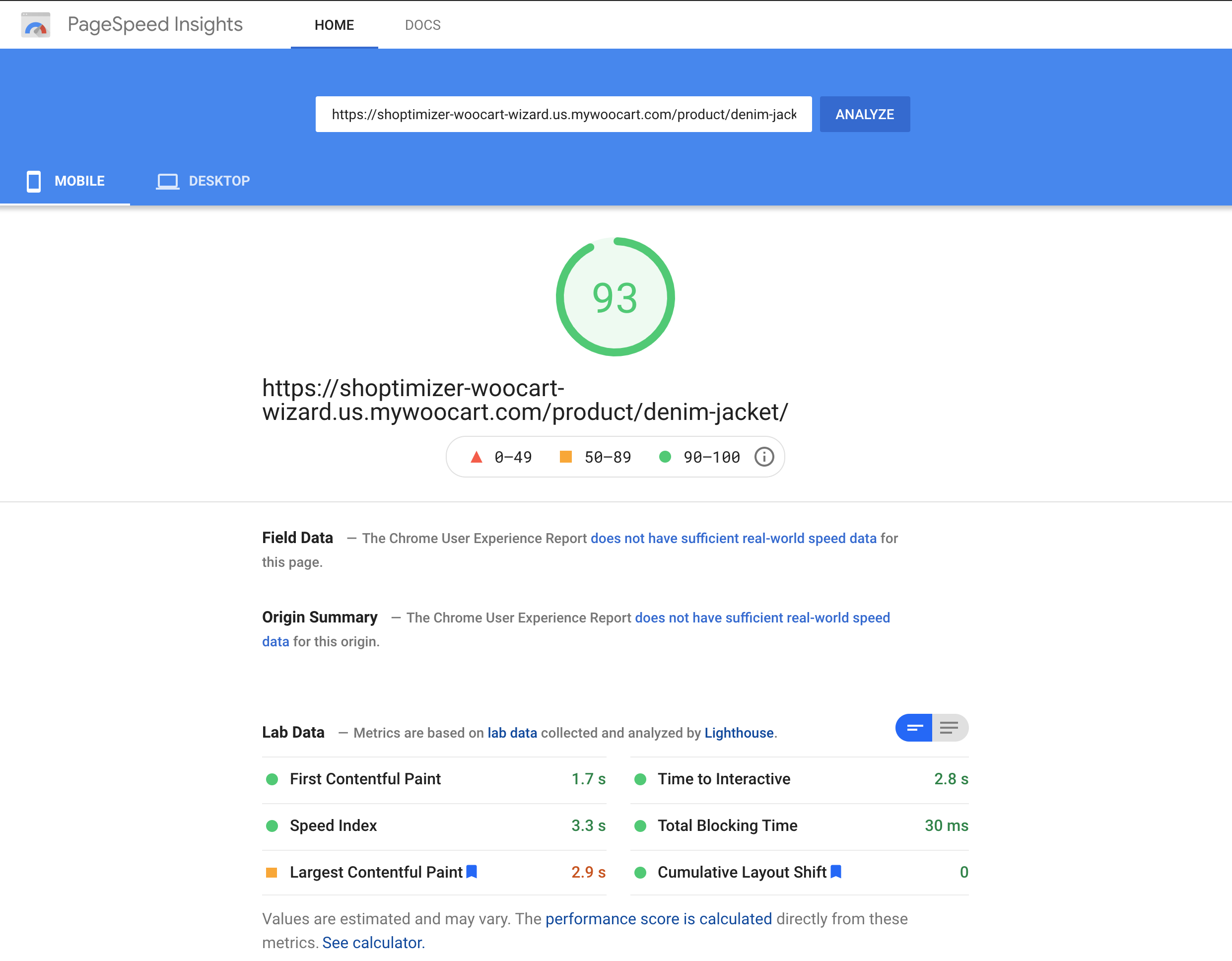 | | | | | | |
| --- | --- | --- | --- | --- | --- |
| Test # | 1 | 2 | 3 | 4 | 5 |
| Performance Score | 93 | 93 | 90 | 92 | 92 |
| FCP | 1.7s | 1.8s | 1.7s | 1.8s | 1.8s |
| Speed Index | 3.1s | 3.0s | 3.9s | 3.9s | 3.4s |
| LCP | 2.9s | 2.8s | 3.0s | 2.9s | 2.9s |
| TTI | 2.7s | 2.8s | 3.1s | 2.8s | 3.0s |
| TBT | 16ms | 24ms | 102ms | 48ms | 83ms |
| CLS | 0 | 0 | 0 | 0 | 0 |
On Google PageSpeed Insights, the performance score came out to be between 90 and 73 throughout our tests which is excellent for a product description page. PDP's tend to be the hardest to pages to optimize simply because they contain so many images and interactive elements like product image galleries and lightboxes. Note also too that we're testing the core WooCommerce product gallery in these tests rather than CommerceKit Product Gallery which would certainly add a few more points to these PSI scores. The speed index of the single product page was between 3.0s to 3.9s and CLS was consistently a perfect 0. The largest contentful paint score ranged from 2.9s to 3.0s.
WebPageTest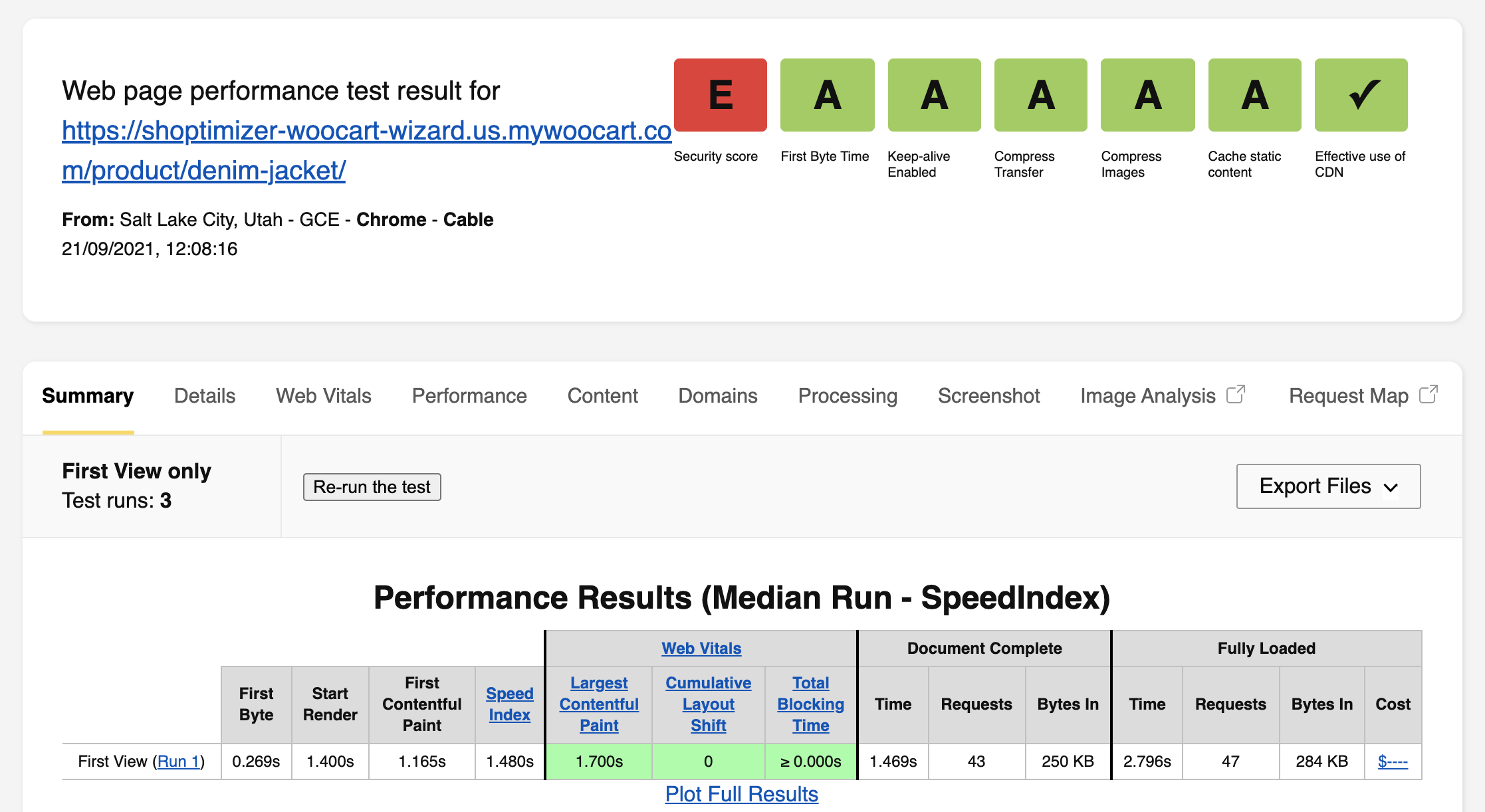 Same as before, we set the Test Location to Salt Lake City, Utah USA and tested using the Chrome browser.
The document completed loading in 1.469 seconds and the page was fully loaded in 2.796 seconds.
Here's a link to the Waterfall View of the single product page test.
---
Performance summary
Overall WooCart is the fastest WooCommerce host we've tested so far with Nexcess not far behind in second place. The combination of unbeatable Google infrastructure, a very well optimized WooCommerce tech stack and the pre-configured Shoptimizer optimizations makes for an extremely compelling fully managed WooCommerce hosting solution for both new and existing WooCommerce merchants.
---
Plans and Pricing
WooCart offers seven different pricing plans that are suitable for all types of online stores.
Here's a quick breakdown of the different plans WooCart offers for managed WooCommerce hosting:
Shop for $49 per month – 50,000 visitors and 10 GB SSD disk.
Market for $99 per month – 100,000 visitors and 20 GB SSD disk.
Mall for $199 per month – 150,000 visitors and 30 GB SSD disk.
Supermall for $279 per month – 300,000 visitors and 40 GB SSD disk.
Enterprise 1 for $379 per month – 40 GB SSD disk.
Enterprise 2 for $499 per month – 50 GB SSD disk.
Enterprise 3 for $599 per month – 50 GB SSD disk.
All WooCart hosting plans are for 1 WooCommerce store. In addition to this, all plans come with lossless staging, premium CDN, and daily backups.
If you're thinking this sounds expensive versus what you might be accustomed to with some of the more mainstream WordPress hosting providers you'd be right. Let's be clear, if you're not serious about running an online store, WooCart is not the right host for you. WooCart is best suited to WooCommerce merchants who need a rock solid, super fast managed WooCommerce hosting solution that lets them get on with the business of running an eCommerce store. For stores with even modest revenue the value provided by WooCart at the various price plans is a complete no brainer.
---
Conclusion
WooCart is currently by far my favourite WooCommerce host simply because they're the first hosting provider to finally deliver on what I've long wanted from a WooCommerce web host – and they've done it in style. Yes, they're more expensive than some of the competition. But as with most things in life – you get what you pay for.
Get started with WooCart (affiliate link) today.