The Loco Translate plugin is an easy approach to translating our Shoptimizer WooCommerce theme right in your dashboard. It provides you the opportunity to perform in-browser editing of any included PO file. So if you want to begin translating Shoptimizer read on for our quick guide.
1. Install Loco Translate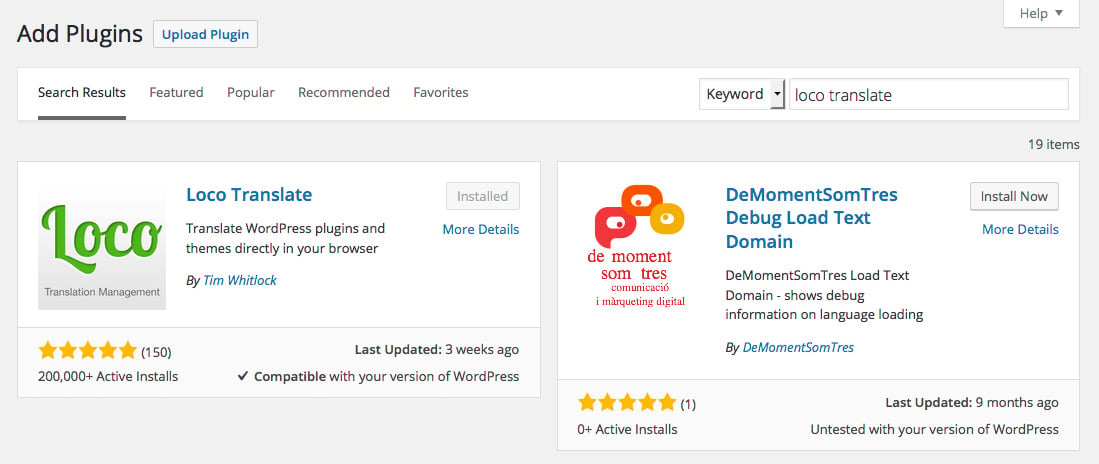 First search for Loco Translate within your Plugins section and install it.
2. Check you can switch Language
Next, make sure that you have WordPress set up in your language of choice. Go to Settings > General and under Site Language – switch to the language you want to use.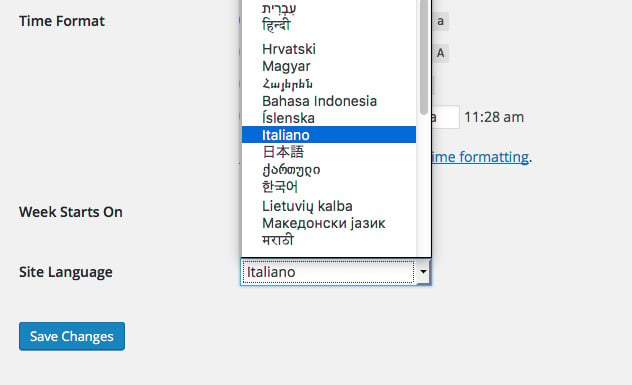 This will ensure WordPress and WooCommerce downloads the core language packs for say, Italian, and saves you a lot of trouble.
3. Next, Create a Translate File

When you are ready, you will have a new menu item named Loco Translate on the left in your Dashboard. Click on Loco Translate > Themes.
Find Shoptimizer in the list and click on that – and then the 'New Language' link at the top.
4. Creating a New Language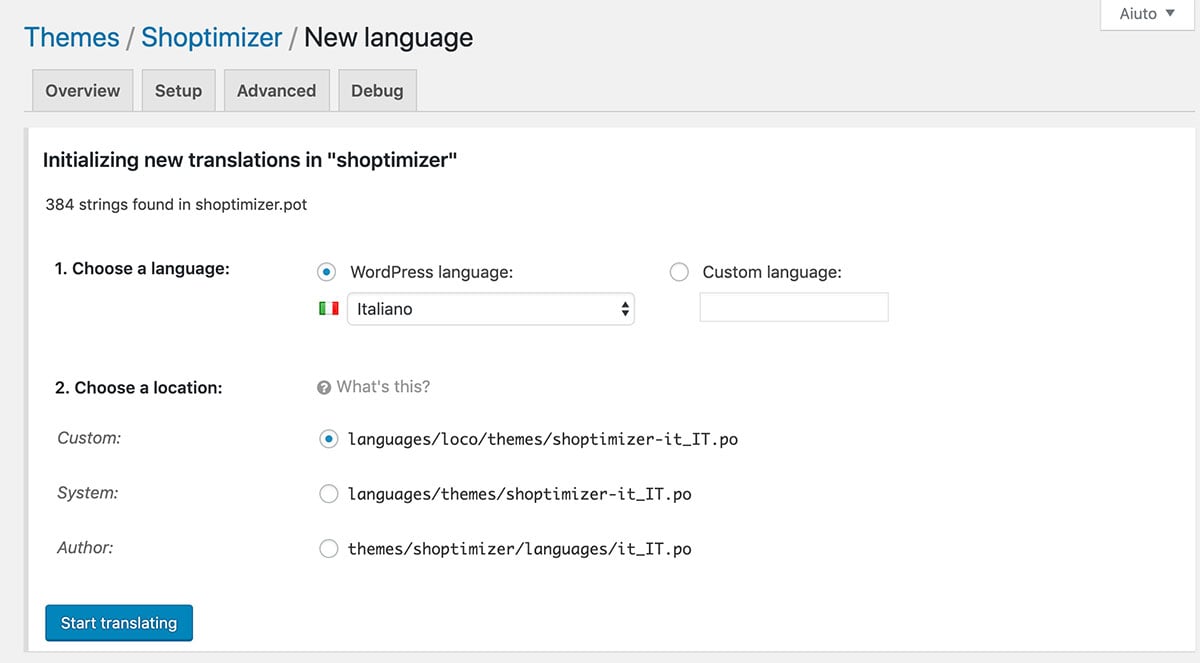 Next, set the language you want to use and leave the location to be Custom. This ensure that it is not overwritten if the theme is updated. You may need to contact your web host if you do not have the correct permissions set to create a new file and directory on your server.
Finally, click the Start translating button to begin.
5. Translate something
Let's translate the phrase 'Shopping Cart' which is found in the progress bar of our Cart page. Search for the phrase and you'll see it in the list. Next, add your translation in Italian below and click Save when done.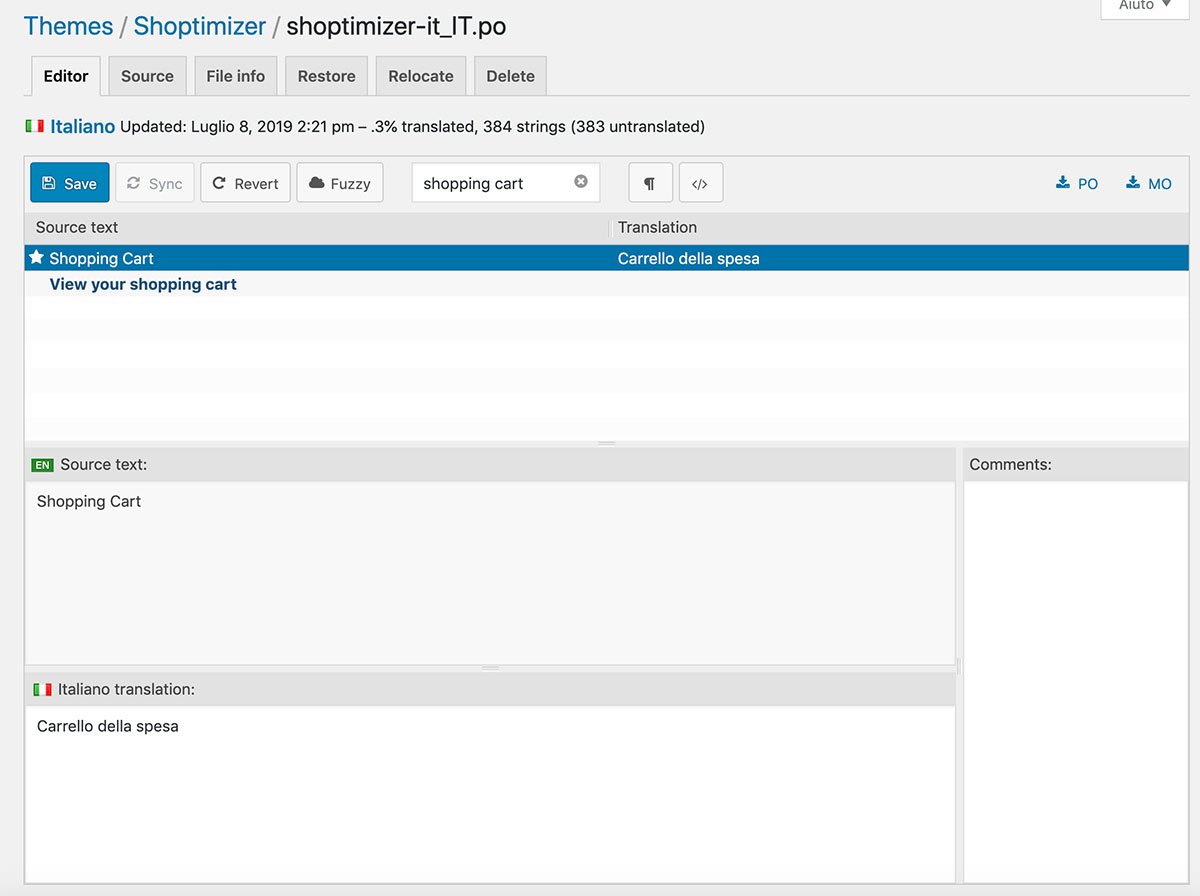 6. See the result
Now, when you look at your Cart page you'll see your new Italian translation in the progress bar. Follow the same process for the rest of the text strings.

7. Some text strings don't appear?
Ensure that you've clicked on the Sync button in Loco Translate. This is especially important if you've updated the theme and/or CommerceKit, and adds any missing strings.
8. Video Guides
Click the expand icon on the bottom right of the video to make it fullscreen.
In this guide, John explains how to translate the "View cart" text within Shoptimizer.
---
He translates the "Additional information" tab on product pages within the WooCommerce plugin.