It's essential when contemplating a small business idea to perform market research before committing. You should discover if there is enough of a healthy customer demand within the chosen niche to make it a viable, profitable business.
Even if you're convinced that your idea is a practical one, investing time into market research can unearth crucial information which can help you avoid mistakes made by others. There are a host of excellent case studies and interviews from existing business owners. They outline how they started, what went well, and what they would do differently if they started again.
Of course, every business is unique, and the environment of today is never the same as it once was. Nonetheless, there is still so much to be gained from smart, targeted market research, no matter the niche.
Online competition is as fierce as ever but using the tools outlined below will give you a strategic advantage when planning your online store. They help provide accurate information before you make crucial business decisions.
In this article, we'll go through some of the free tools and sites you can use to make market research into your business idea as pain-free as possible.
Let's get started!
Keyword Research
First up, the Keyword Planner tool from Google is a great way to look at the volume of searches for a keyword. You don't even need to invest in an Ads budget to use this tool and it provides a terrific method to analyze market demand.
Let's take an example business niche – selling homemade Korean hot sauce. Because who doesn't like Bibimbap? I'd like to find out how much of a market there is for this product in the United States.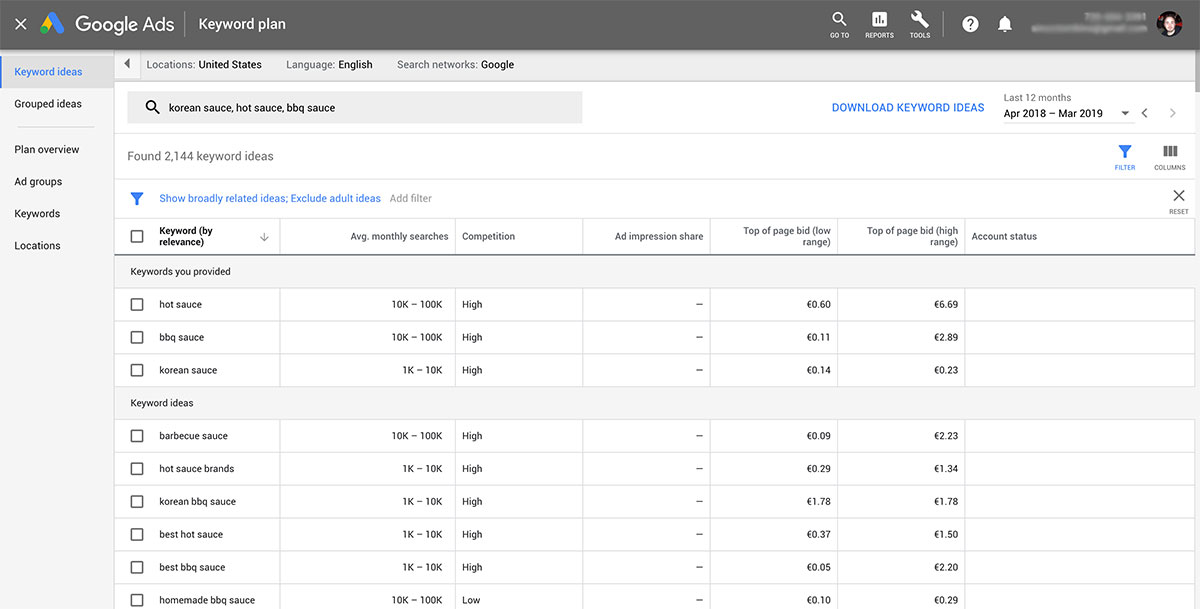 I used 'Korean Sauce' as my search term, and added a few more – a generic 'hot sauce' and 'bbq sauce'. The holy grail is a term with a high number of average monthly searches with low competition. They're difficult to find but I spy one at the bottom of the list – 'homemade bbq sauce'.
Spending some time with the keyword planner can reveal these gold nuggets of content terms – product ideas which people are looking for and not discovering many results for. With low competition, it's much easier to rank quicker, as long as your content and product offering is a good one.

Clicking on the Avg. monthly searches column displays the results from the most searches to the least. The first keyword idea for 'kimchi' – has a whopping 100k to 1 million searches in the US with low competition and has a low page bid of only 5c. This could be a great supplementary product to look at if you're planning a Korean Sauce company. Or maybe just focus on that?
The keyword ideas suggested by the planner are ones which you should be heavily focused on within your site content. Some of the things you could do are:
Create blog posts on each.
Add these key terms to product detail pages.
Use within your site metadata, such as titles and descriptions.
Create social media content based on them.
Google Trends
An excellent tool you can use for gauging interest in a particular topic is Google Trends. You can specify the timeframe and choose a worldwide search, or, if you plan to ship domestically at first, a particular country.
If there is nobody searching for your topic – that's not a promising sign regarding existing demand. Your keywords may be just incorrectly phrased. Perhaps instead of searching for 'passata' in the United States, they search for 'tomato sauce'. This turns out to be the case.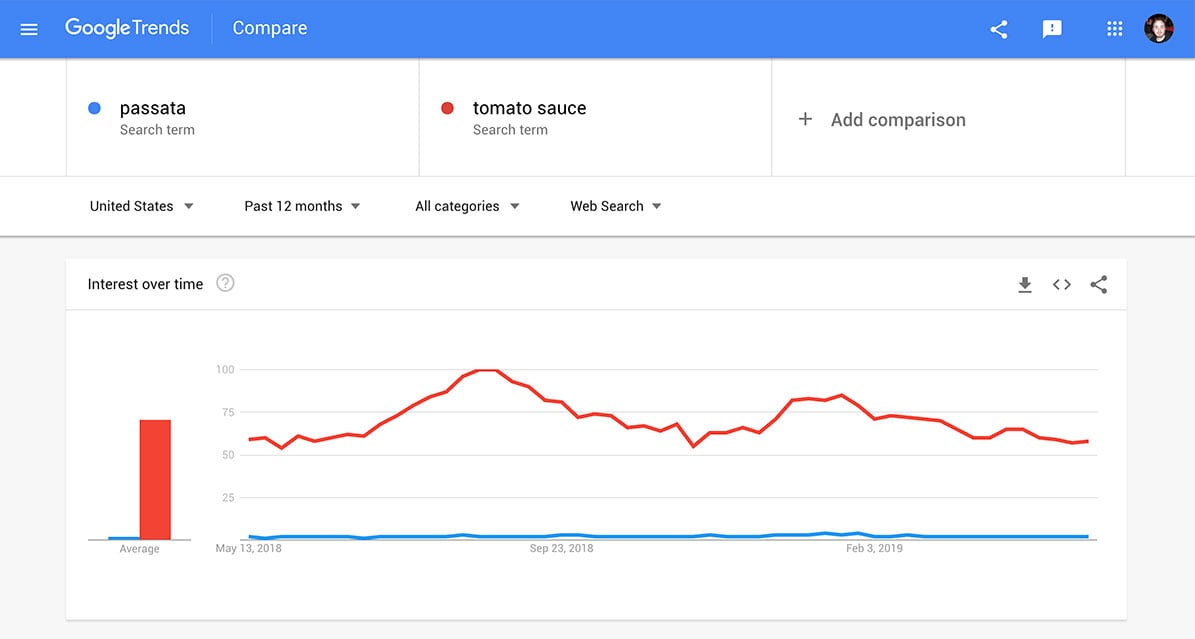 Knowing the language of customers and focusing on the common terms they use is really important. It will help you with keyword content so that your products are actually discovered. There is little point is using an obscure term which few people are searching for in the country you're targeting.
Let's see what the trend line is for 'Korean sauce' within the United States from 2004.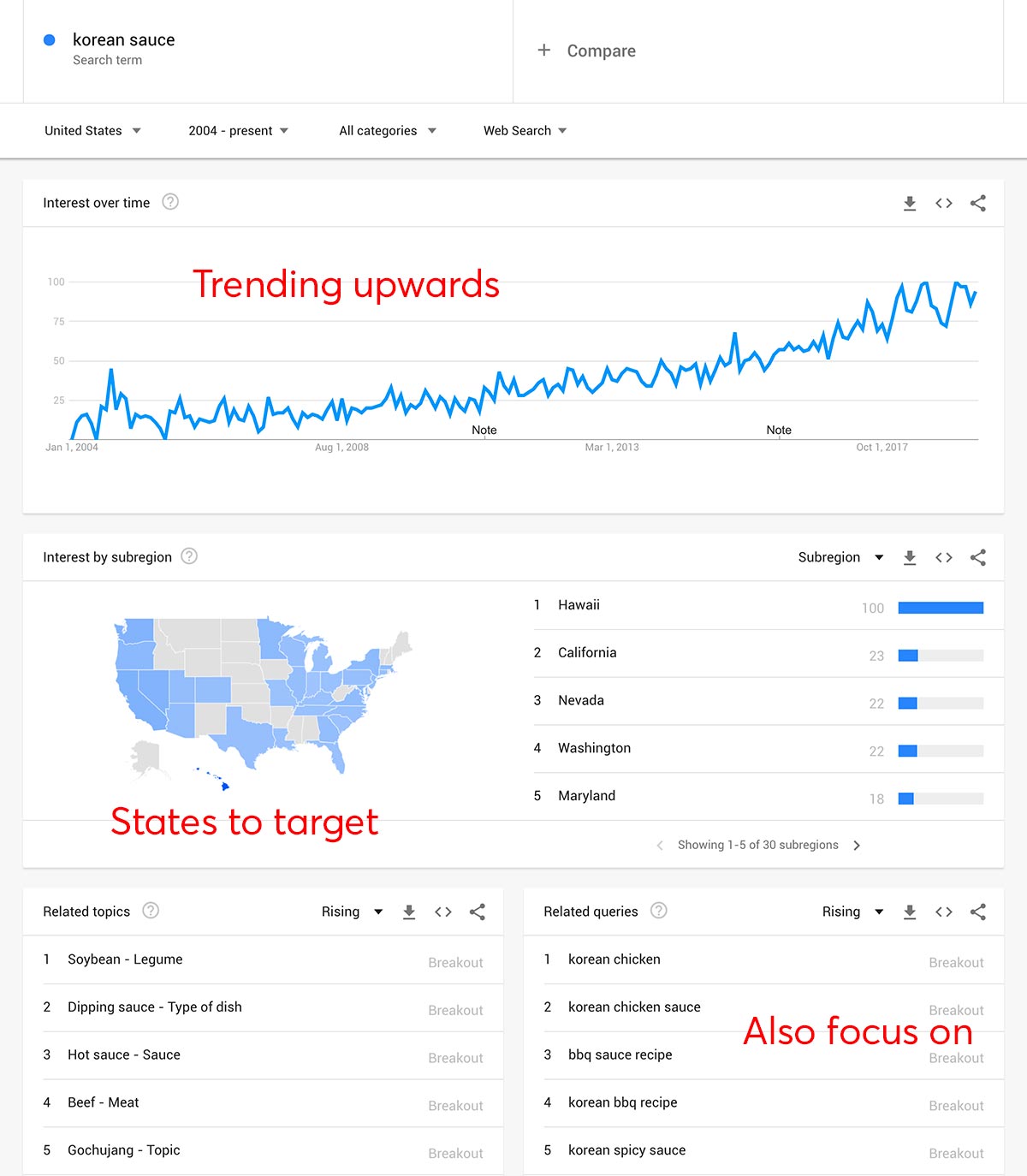 If you search for any term or idea you have for a business you can see the search volume for it, going back all the way to 2004. This is a great way to see if interest in a topic is rising or falling. You can also dig down into a country and see, as in the example above, which regions it is most popular in. Limiting shipping to just these states might be a cost effective approach when you're starting off.
The related topics and related keywords areas below offer excellent additional content ideas. In the example above, there are quite a few searches for 'Korean chicken' and 'Korean bbq recipes' so blog posts or a dedicated recipes section would be a great way to tap into this need.
Market research with Instagram and Pinterest
Using popular social media platforms such as Instagram and Pinterest is useful also to see what tags people are using around your chosen topic. You can use Instagram's search facility in much the same way as Google to see which are the most popular. In the example below using the #koreansauce hashtag is far more likely to generate views than the plural #koreansauces.
When posting on your own account you'll need to include these popular hashtags in order to be discovered by the engaged community around the topic. Studying and learning from popular accounts provides a treasure trove of ideas for your own brand.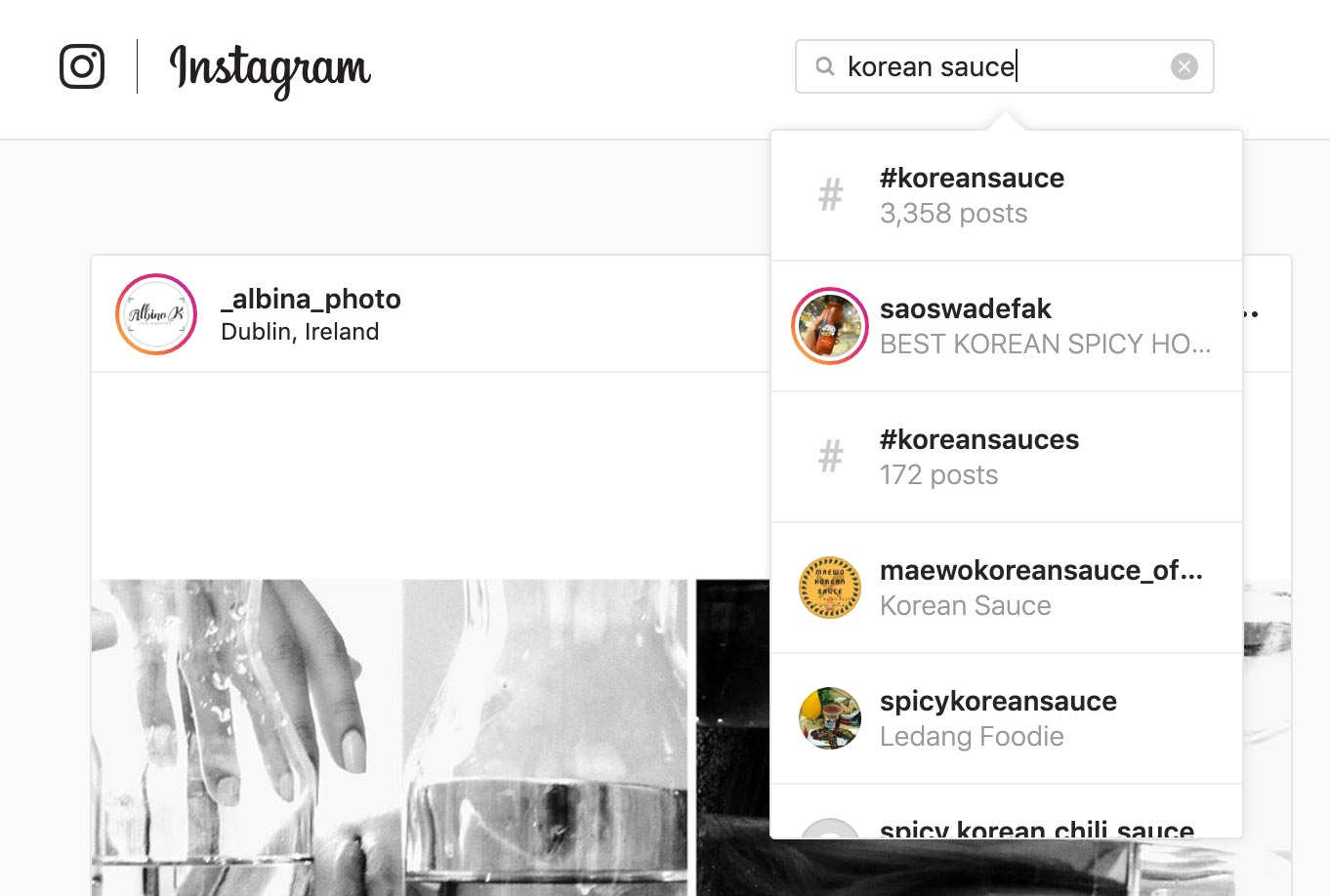 Similarly, on Pinterest, you can see the most popular images around a particular search term. Directly underneath the related tags provide additional food for thought when it comes to creating additional content.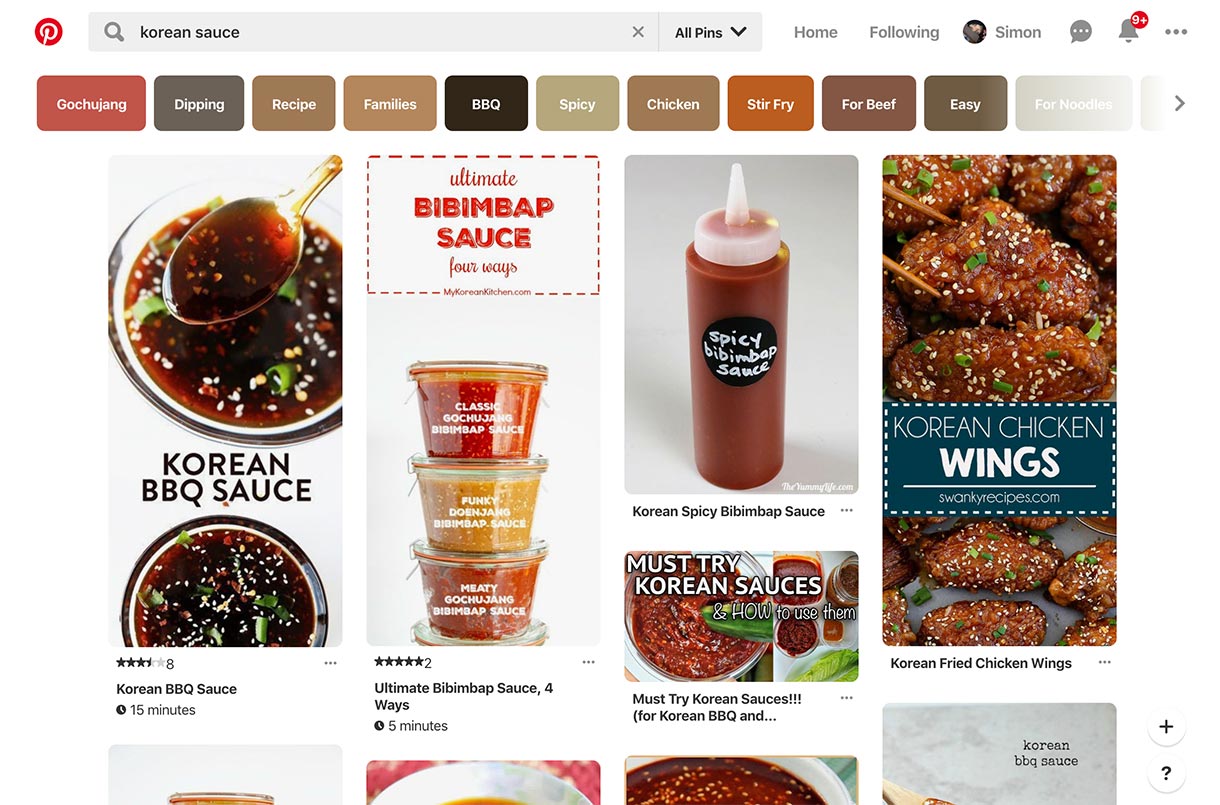 Engaging with the community is a great way to build up goodwill with buyers who are clearly interested in the topic already. There should be no hard sell here. With a bit of gentle nurturing, including regularly posting updates, and replying to questions and comments you can build up an eager cohort of ready-to-go customers.
Reddit
Reddit, the "homepage of the internet" is a great place to find people passionate about a particular topic. You'll find boards on nearly everything, no matter how obscure you think the fanbase might be. It is a great place to conduct market research with passionate devotees within a particular area.
Taking some time to read through the likes and dislikes of posters can provide valuable information. The /hot sauce board alone has nearly 25,000 members, so you'll find plenty of posts to learn from.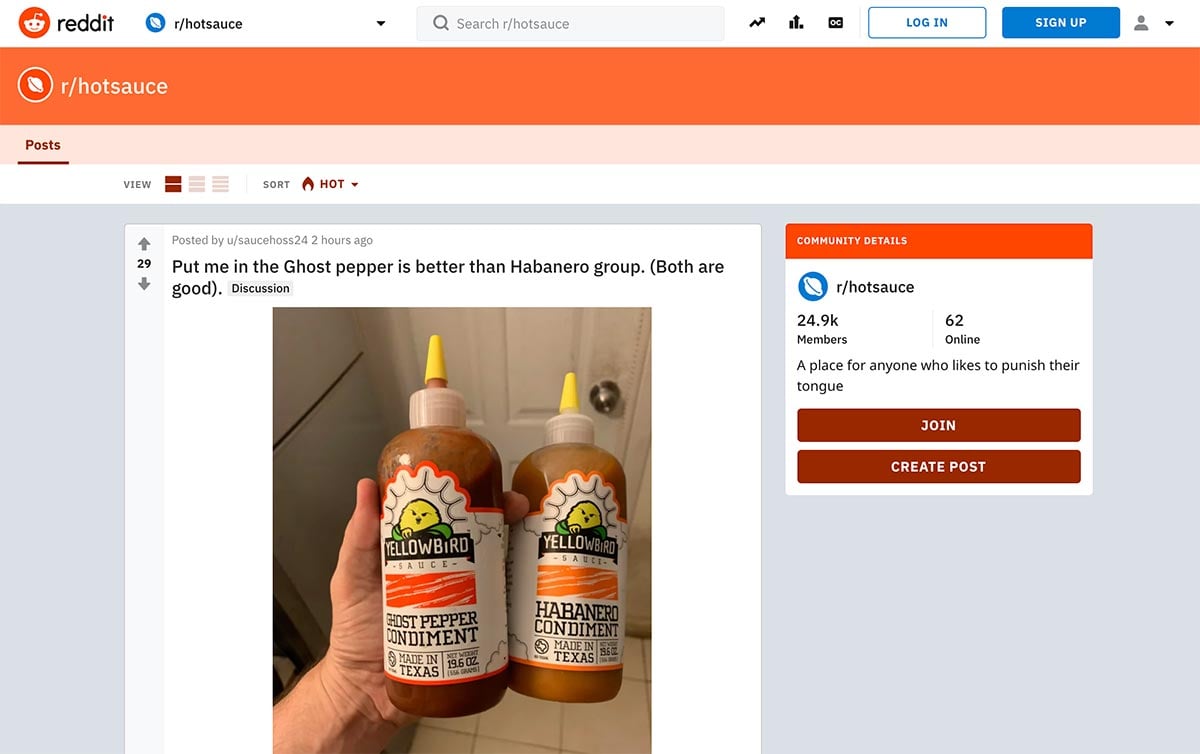 Be sure to read over the rules of each board before posting. It tends to be frowned upon to engage in direct promotion. By observing the etiquette, and seeing how other contributors behave, it is possible to mention your brand and chat to others in the context of providing valuable information.
Using Starter Story for market research
A great way to research the challenges of starting a business is by spending some time reading through Starter Story. Founded by Pat Walls, it features a wealth of fantastically informative interviews with entrepreneurs from all walks of life and covers their challenges setting up a company from scratch.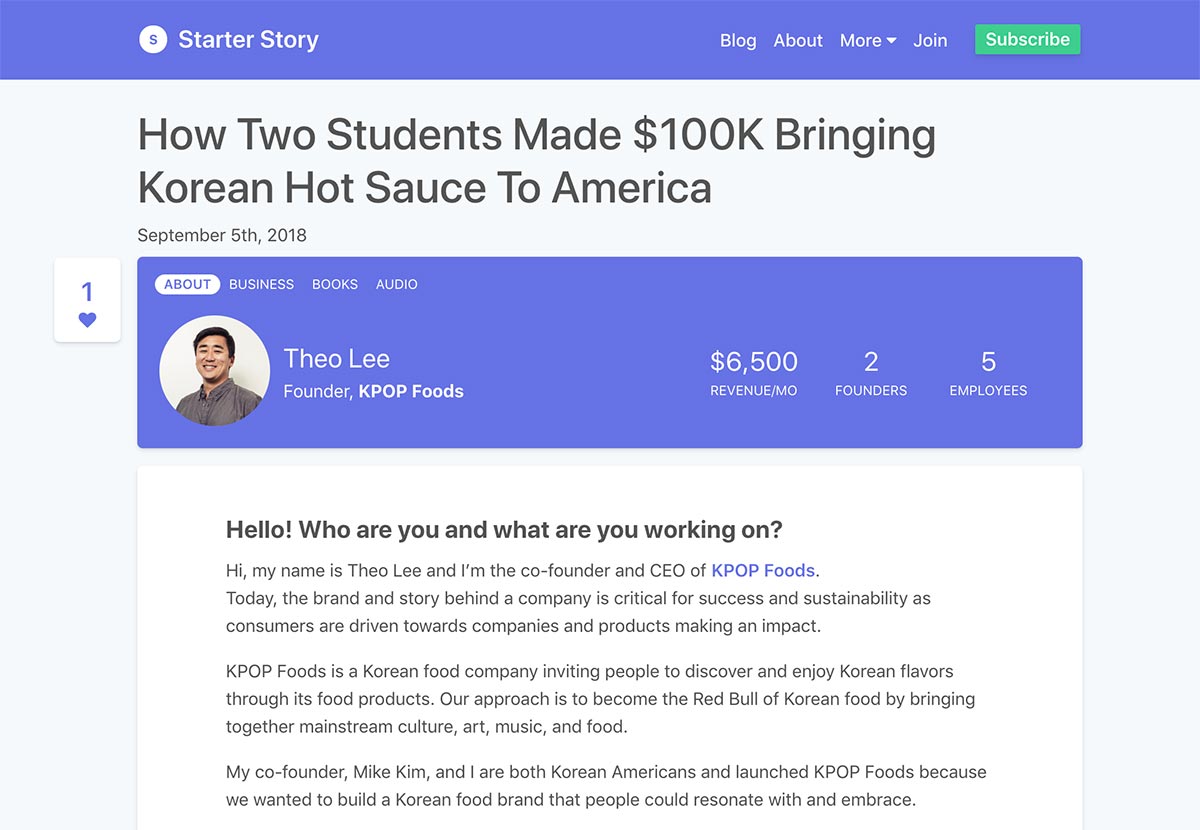 It includes extremely useful tips from each on how they got started and the pitfalls they encountered along the way. The advice proffered is a great way to avoid the same mistakes. No matter the industry, you'll find some wonderful inspiration seeing monthly revenue numbers and how a brand grew from nothing to where it is today.
To keep with our hot sauce theme, the interview with Theo Lee from KPOP Foods shows how a slight twist, in this case Korean Hot Sauce, can bring in over $100k in revenue. Starter Story has hundreds of interviews from entrepreneurs in many industries, there's a lot to help budding business owners.
Kickstarter and IndieGoGo
Platforms such as Kickstarter and IndieGoGo are also great for marketing research. A lot of businesses have used such platforms to provide the funding needed to bring an idea to launch and they provide ready-made tools to communicate with buyers and supporters.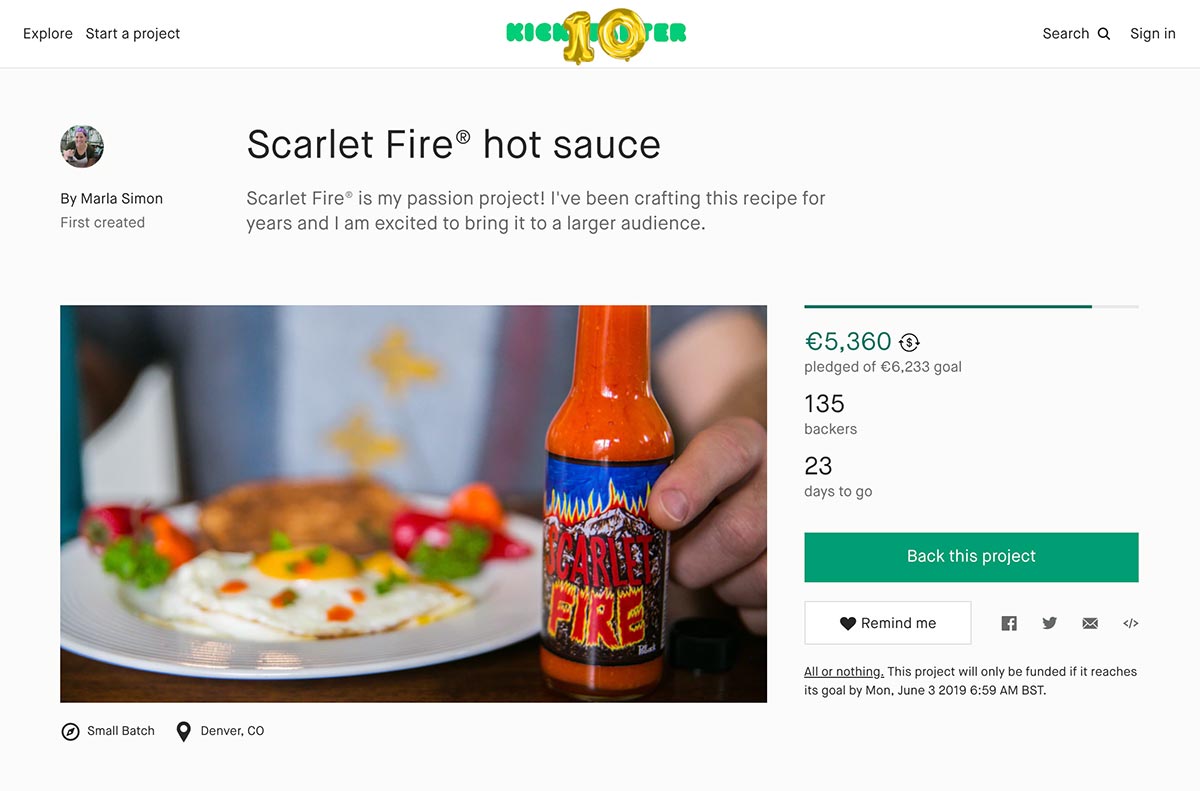 It's essential on both IndieGoGo and Kickstarter to tell your story. It needs to be both personal and a labor of love. Even if you don't go down this particular route there is a lot to be gained from reading about these projects and using a similar story-telling approach on your own site or eCommerce store. By making your brand more personal, you can build empathy and goodwill with perspective customers.
Did I miss anything?
Now, I'd like to hear from you. Which market research tools are you using for your store? Is there a great tool we should know about? Let me know by leaving a comment below right now.